Rizza Joyce Mira, MD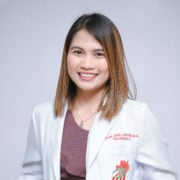 Rizza Joyce Mira, MD is a medical doctor and a general practitioner who specializes in pediatrics, nutrition, dietetics, and public health.
As a pediatrician, she is dedicated to the general health and well-being of children and expecting parents. She believes that good nutrition, a healthy lifestyle, and prevention of illness are key to ensuring the health of children and their families.
When she's not in the hospital, Rizza advocates and mobilizes causes like breastfeeding, vaccination drives, and initiatives to prevent illness in the community.