There is no better way to charge your senses in the morning than with a cup of coffee brewed to perfection. While multiple blends and varieties are available on the market, the best Turkish coffee can give you an excellent cup of joe all the way from the land of Sufis and mystics.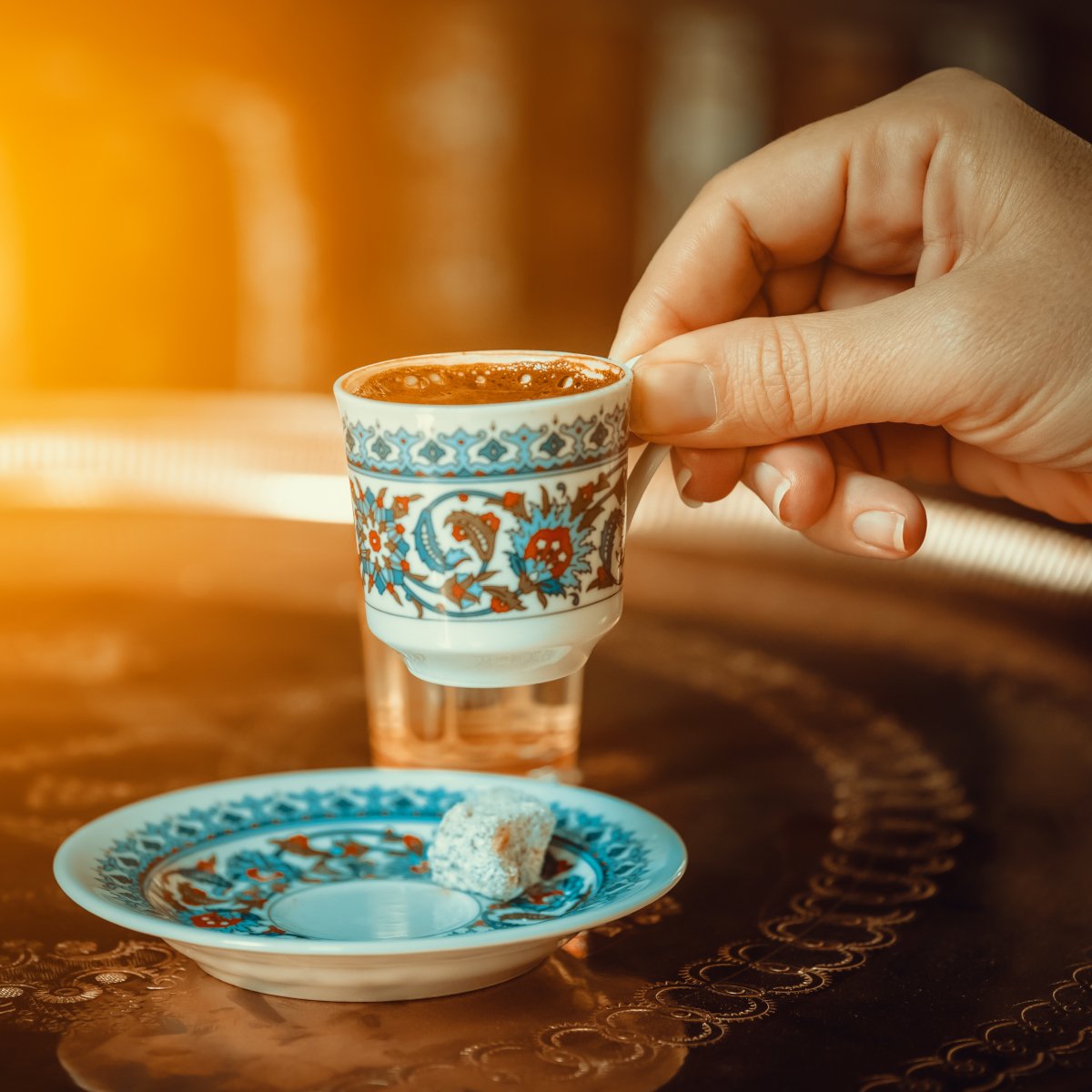 Turkish coffee dates back to the Ottoman Empire, where a unique form of brewing and coffee processing was introduced. The technique uses finely ground coffee, delivering the original taste and flavor with a heavenly twist.
The best Turkish coffee should be made with freshly roasted coffee beans and packaged in airtight bags to maintain aroma and freshness.
We researched various coffee brands to develop a list of the best Turkish coffee brands. We'll also take you through a dedicated buying guide with answers to common questions.
Overall, we found Café Najjar the best Turkish coffee today due to its dark roasted beans and aromatic flavor. Our product selection relied heavily on personal experience, user reviews, and extensive research.
Table of Contents
4 Best Turkish Coffee for an Authentic Experience
Best Overall: Café Najjar Coffee
This is our top pick due to the variety of products, flavors, and brewing strengths, making it a go-to option for coffee lovers who like to mix it up when it comes to their coffee's brewing strength and flavor.
Pros: Made with 100 percent ground Arabica beans, aromatic in nature, authentic flavors.
Cons: The dark roast can be a bit bitter.
Café Najjar coffee comes with dark roasted Brazilian Arabica beans and adds a relatively subtle tinge of cardamom, which is both appealing and tempting.
Café Najjar offers a variety of products, including ground coffee, whole-bean coffee, and instant coffee. The beans come with small amounts of cardamom and are blended in authentic Turkish style. The addition of cardamom can add flavors and the aroma of nutmeg, coriander, and cumin to the concoction.
The ground coffee version of Café Najjar comes in different strengths, ranging from mild to strong, and you can brew it using a traditional drip coffee maker or a French press. Whole-bean coffee is perfect for coffee lovers who prefer to grind their coffee beans fresh at home.
For those who are always on the go, Café Najjar's instant coffee is a convenient option. Instant coffee is made from high-quality coffee beans and can be prepared quickly with hot water.
Overall, Café Najjar is known for its high-quality coffee products that deliver a rich, smooth taste with every sip. Whether you prefer a strong coffee or a mild blend, Café Najjar offers something for every coffee lover.
Best Flavored: Kurukahveci Mehmet Efendi Turkish Coffee
With a rich, full-bodied flavor and aroma, Kurukahveci Mehmet Efendi Turkish coffee is perfect for folks who like a little flavor in their cup of joe, from chocolate to different spices.
Pros: Authentic Turkish flavor, rich blend of coffee, fresh ingredients, aromatic flavor, budget-friendly, quick to prepare.
Cons: A different blend from other common Turkish coffees, with a few strong notes of spices.
Kurukahveci Mehmet Efendi Turkish coffee is a well-known brand of Turkish coffee produced since 1871 in Istanbul, Turkey.
The coffee is made from 100% Arabica beans that have been roasted and ground to a fine powder. The coffee is known for its rich, full-bodied flavor and aroma, achieved through a slow roasting process and a blend of beans from different regions.
The Arabica beans used in this concoction offer a slight sweetness and acidity. The flavors in Kurukahveci Mehmet Efendi Turkish coffee are not as strong as some other Turkish coffee, but the blend offers a few strong notes of chocolate and spices.
Remember to serve your final brew of Kurukahveci Mehmet Efendi Turkish coffee in small Turkish cups to enjoy the true royal experience of Turkish coffee.
Best Authentic: Hisar Kahve Turkish Coffee
Hisar Kahve uses 100% Arabica beans with the taste and aroma of genuine Turkish coffee, giving you the best of what the country has to offer.
Pros: Unique range of flavors, strong taste, easy to serve, long-lasting aroma.
Cons: Not everyone may like the taste of Kahve.
Hisar Kahve Turkish coffee owes its success to a small yet decorated shop in Hisaronu, Izmir, some 95 years ago. Hisar Kahve was the first Turkish coffee brand to preserve its freshly ground powder in vacuum-sealed packages.
What sets this coffee apart is its smooth, balanced flavor and aroma. The coffee is roasted and ground to a fine powder using traditional methods, which helps to preserve its natural oils and flavors.
The beans are carefully selected and blended to achieve the perfect balance of acidity, sweetness, and bitterness.
To prepare Hisar Kahve Turkish coffee, you will need a cezve and a heat source, such as a stove or hot plate. You will also need cold water, sugar (if desired), and coffee.
Best Range: Kahve Dünyası Turkish Coffee
The coffee comes from the Eminonu district of Istanbul and offers a true blend of Turkish taste with a wide assortment of flavors and products.
Pros: Authentic Arabica coffee beans, great packaging, variety of flavors, delicious and decadent.
Cons: Not too strong; flavors are mild.
Kahve Dünyası Turkish coffee is a more recent product that first saw the light of day in 2004.
It offers premium-quality Turkish coffee with an aromatic fragrance and a unique blend.
It's available in four varieties: Medium Roasted, Mix, Turkish Gummy, and Dark Roasted. The Arabica beans used to make their Turkish coffee are imported all the way from Brazil, Colombia, and Ethiopia and are roasted in-house.
The final blend after the roasting process is truly Turkish and has all the tastes and aromas you expect.
Kahve Dünyası's Turkish coffee is popular for its rich, full-bodied flavor and strong aroma. Cafes usually serve this coffee with a piece of Turkish delight or a small glass of water to help cleanse the palate between sips.
Turkish Coffee Buying Guide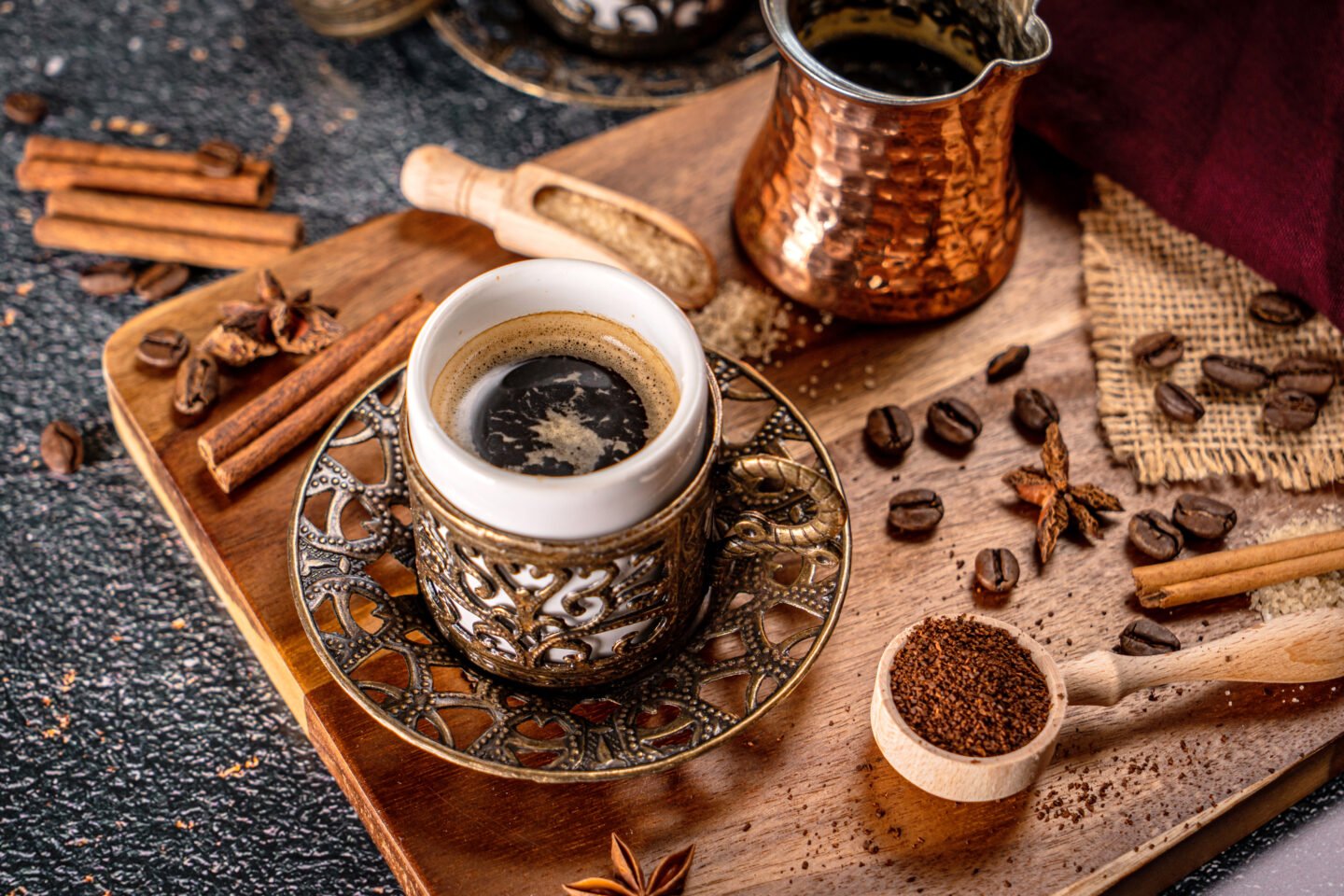 You can expect to find various brands and roasts when buying Turkish coffee. Some specialty coffee shops may carry a selection of Turkish coffee, while others may only carry one or two brands.
You can also find Turkish coffee online through various retailers. Consider the following factors to help you make the right choice.
Consider Roast and Grind
Turkish coffee is best when made with freshly roasted coffee beans. Look for a roaster who specializes in Turkish coffee and can provide freshly roasted beans. Freshness is essential because stale coffee can produce a weak, flat taste.
You can make Turkish coffee with light or dark roast beans, depending on your preference. Dark roasts tend to be more traditional, but light roasts can also produce a flavorful cup of coffee.
Additionally, Turkish coffee requires a very fine grind, almost like a powder. Make sure the coffee you buy is ground specifically for Turkish coffee, or grind it yourself at home using a burr grinder.
Consider the Origin of Coffee Beans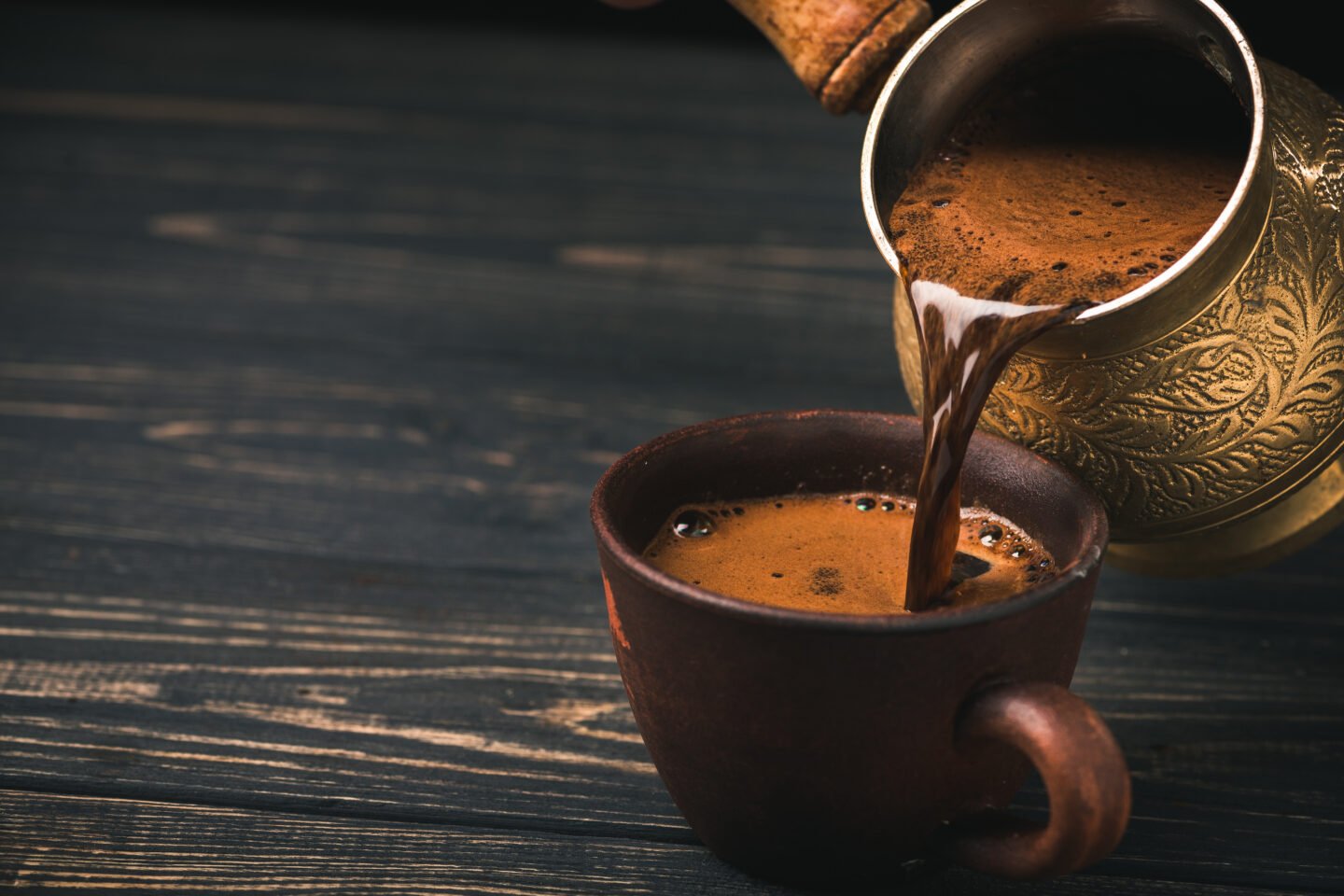 You can make Turkish coffee with beans from different origins, just like any other type of coffee. Some people prefer beans from specific regions, such as Ethiopia or Brazil. Consider the origin of the beans when making your choice.
Turkish coffee can also vary widely in taste and quality, depending on the brand. Feel free to try beans of different origins and roasts to find one that suits your taste.
Consider Packaging and Reviews
Coffee can quickly lose flavor and aroma if you don't store it properly. Look for beans packaged in airtight bags with a one-way valve to let carbon dioxide escape while keeping oxygen out.
Check out reviews online to see what others have to say about different Turkish coffee brands. This can give you a good idea of the quality and taste of the coffee before you buy it.
By following these tips, you can find a high-quality Turkish coffee that is perfect for your taste buds. Happy sipping!
Frequently Asked Questions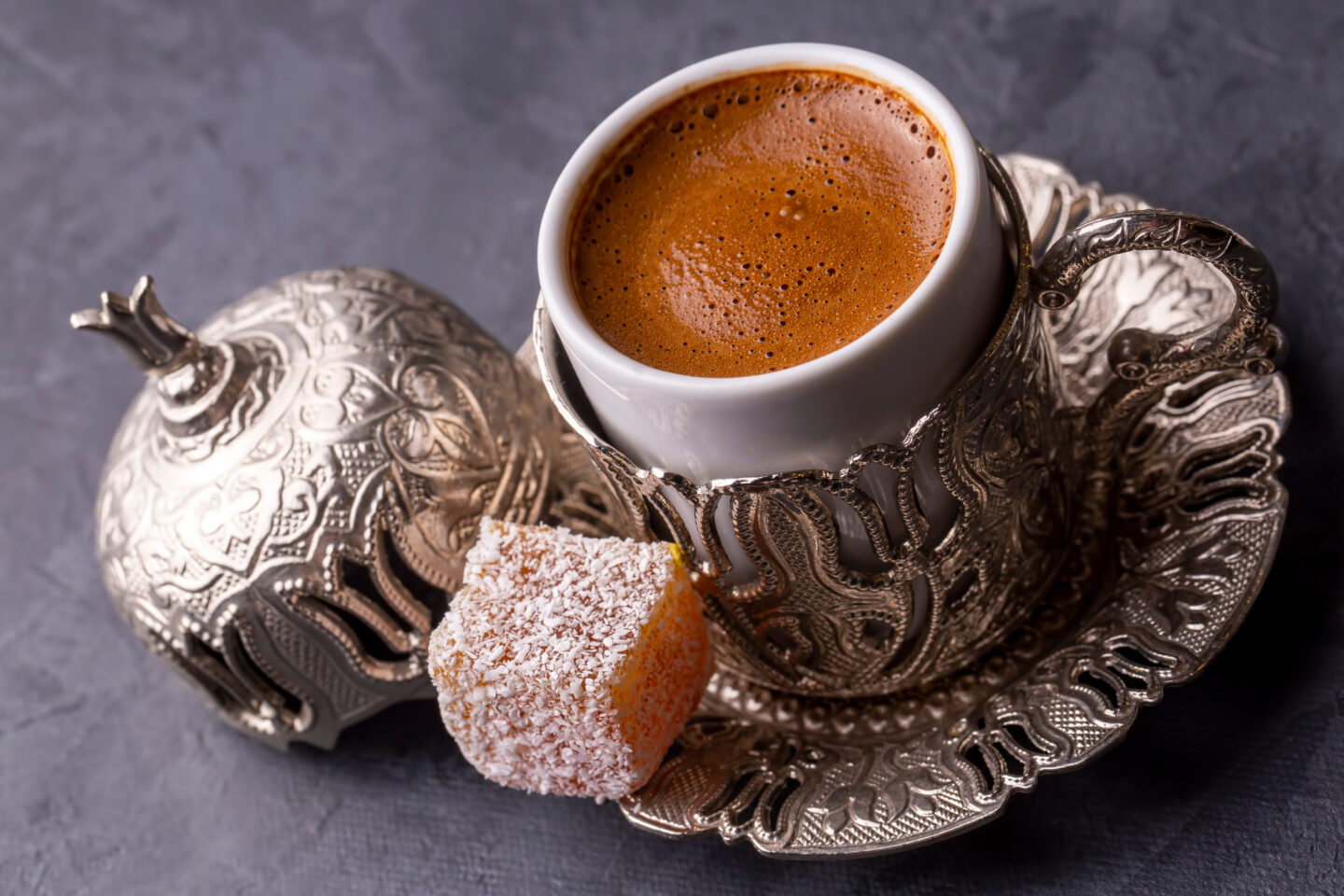 Can I grind Turkish coffee at home?
No, you cannot grind Turkish coffee at home. Turkish ground coffee requires 45,000 particles. Espresso coffee requires just 3,000 particles.

The grinding process for authentic Turkish coffee requires a specific industrial grinder, which may not be available at home.
Is Turkish coffee only sold in Turkey?
No. Turkish coffee is a popular type of coffee available in many countries around the world. You can find Turkish coffee in several Middle Eastern and Mediterranean countries and in coffee shops and specialty stores in other parts of the world. It may also be available for purchase online through various retailers.
What is that thick layer on my Turkish coffee?
The thick foam layer on your Turkish coffee indicates that the coffee has been brewed correctly. The lather on top of the coffee has its unique flavor.
How do you best serve Turkish coffee?
You can best serve Turkish coffee in a pot with a cup alongside. While authentic Turkish coffee is usually taken unsweetened, you can add some sugar or serve it with some chocolate or a dessert of your choice.
How do you prepare Turkish coffee?
Turkish coffee is a traditional style of coffee preparation that involves boiling finely ground coffee beans in a cezve. A cezve is a small, long-handled copper or brass pot filled with water and sugar.
.