Maybe you heard someone ordering a Cafe Misto and left wondering what that was. It isn't a drink that gets advertised much, and it's almost never even featured on the big menu in stores, so it makes sense that this relatively uncommon order left you feeling puzzled.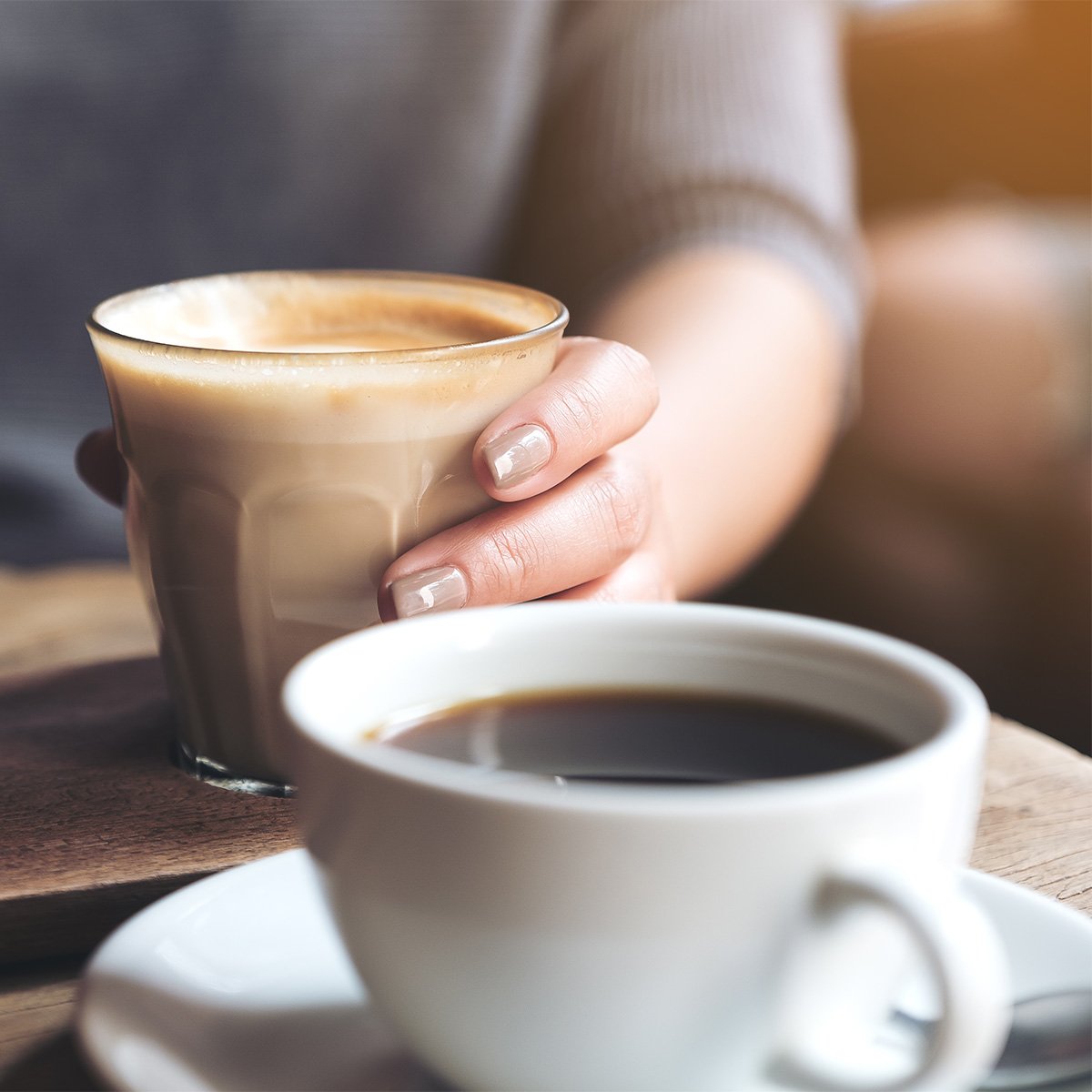 A Caffe Misto is a fancy way of saying a brewed coffee with equal parts steamed milk. Of course, you can add any flavorings or sugar packets you wish to it, but at its core, it's quite simple.
Table of Contents
Where Did the Caffe Misto Originate?
Caffe Mistos are a Starbucks original—kind of. There are a few different countries that have their own names and versions of the Caffe Misto. For instance, in France, this beverage is called cafe au lait.
However, while the word misto is an Italian word, this is not a drink you'd find in Italy. The word misto translates to "mixed." This does kind of make sense since the beverage is a mixture of coffee and milk.
The Caffe Misto is a tasty treat, regardless of whether Starbucks took inspiration from the French Cafe Au Lait or simply wanted to add something new to the menu.
What Is The Difference Between a Caffé Misto and a Latte?
While from the outside, these two beverages would look very similar, they are actually quite different.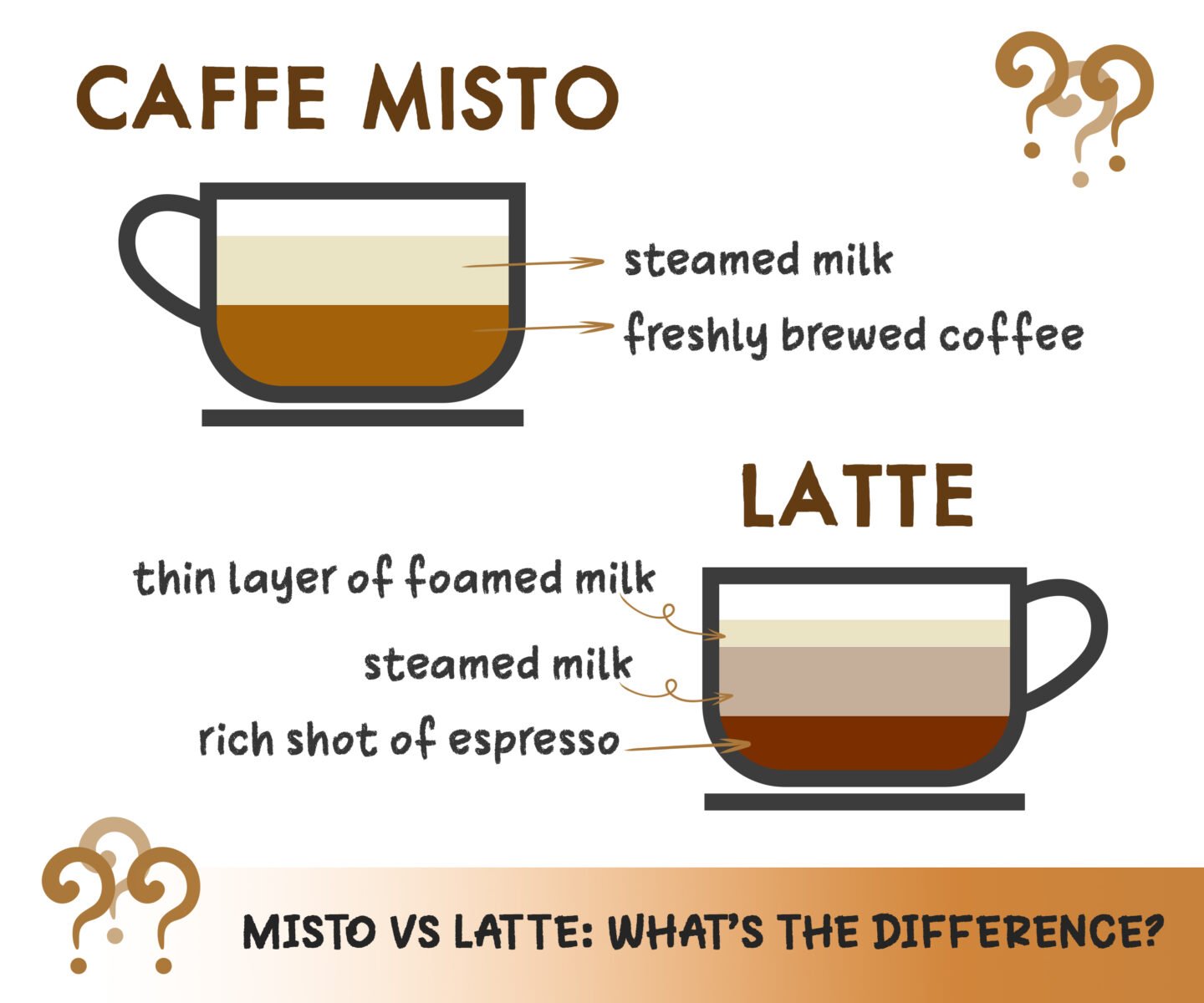 A Caffé Misto is half brewed coffee and half steamed milk. Your barista will use regular drip coffee unless you specify that you'd like it made as a pour-over or in a French press. This means that if you order a Grande Misto, you will get about eight ounces of milk and eight ounces of coffee.
A latté consists of an espresso shot and steamed milk. Espresso shots are much more concentrated than coffee and therefore yield much less liquid than a cup of coffee. Each espresso shot contains approximately 1 ounce of liquid. So for a grande latte, you'd be receiving 2 ounces of espresso and 14 ounces of steamed milk.
If you're more of a Cappuccino fan than a Latte fan, you could even specify that you'd like your milk to be extra frothy. Cappuccinos and Lattes are almost identical, except a Cappuccino is made with extra froth. A "dry" cappuccino is even frothier than a "wet" cappuccino—if you're a serious foam fiend!
Caffé Misto Versus Flat White
Another drink that looks like a Caffé Misto from the outside is a Flat White. Flat Whites are Australian-born beverages that have made their way overseas. A Flat White is more closely related to a Latte, but has some key changes.
First, it is traditionally made with whole milk, whereas both Lattes and Mistos are traditionally made with two percent milk. Second, Flat Whites are made with ristretto shots. Ristretto shots are pulled for a shorter amount of time than a regular shot of espresso. This makes them sweeter than regular espresso but also yields less liquid overall.
Again, Flat Whites will be overall higher in calories since they both use more milk than a Misto and also use milk with a higher fat content.
Why Order a Caffé Misto?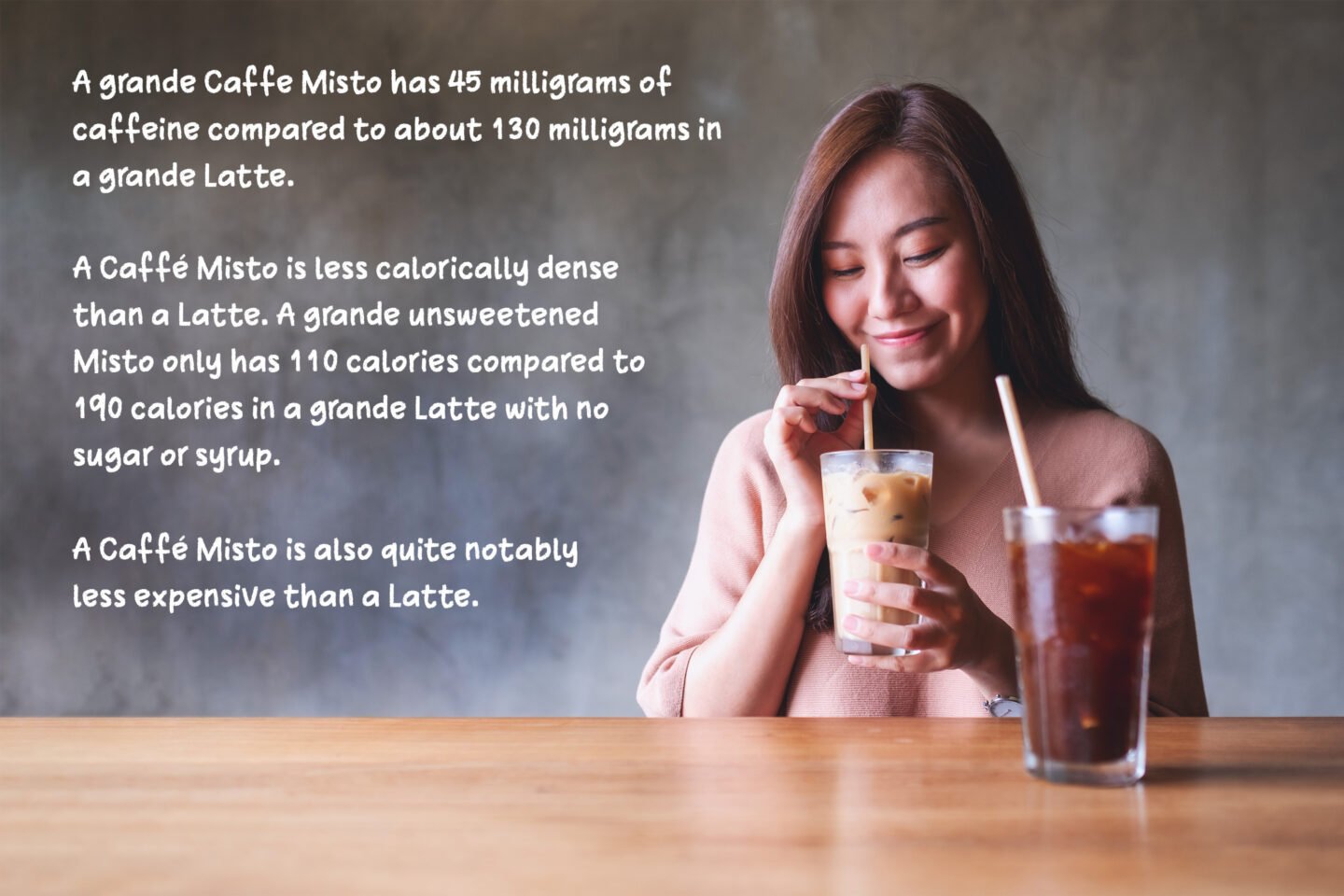 There are several reasons people are drawn to a Caffé Misto instead of other beverages. First, Mistos have less caffeine than a latte. Pregnant women and caffeine-sensitive individuals are only able to consume a small amount of caffeine per day. A grande Caffé Misto has 45 milligrams of caffeine, which is not much compared to a grande Latte, which has about 130 milligrams.
A Caffé Misto is also less calorically dense than a Latte as well since it doesn't require as much milk. A grande latte with no sugar or syrup is 190 calories, and a grande unsweetened Misto is just 110 calories.
Lastly, a Caffé Misto is also quite notably less expensive than a Latte. Espresso-based beverages almost always come at a higher price point. So if you're looking to save on money and calories and don't need as much caffeine, a Misto may be a great option for you!
What Does a Misto Taste Like?
A Caffé MIsto is a relatively simple beverage that tastes pretty similar to a Latte. The coffee flavor is more subdued than a latte, though.
If you're used to putting a splash of cream in your brewed coffee, you may enjoy the creaminess and richness of the steamed milk instead. While this drink doesn't come with any flavorings, you can always ask your barista to add pumps of any of the sauces or syrups they have available, or you can add a sweetener of your choice.
Some of the best flavors to try in your Misto are vanilla, hazelnut, white chocolate, and cinnamon dolce. You can even add toppings such as caramel drizzle, cinnamon, or chocolate curls. Truly, there are hundreds of flavor combinations you can try that are sure to jazz up your Caffé Misto.
Tips For Ordering a Caffé Misto
If you're wanting to try a Misto, there are a few different ways you can elevate the taste and make this drink shine even more!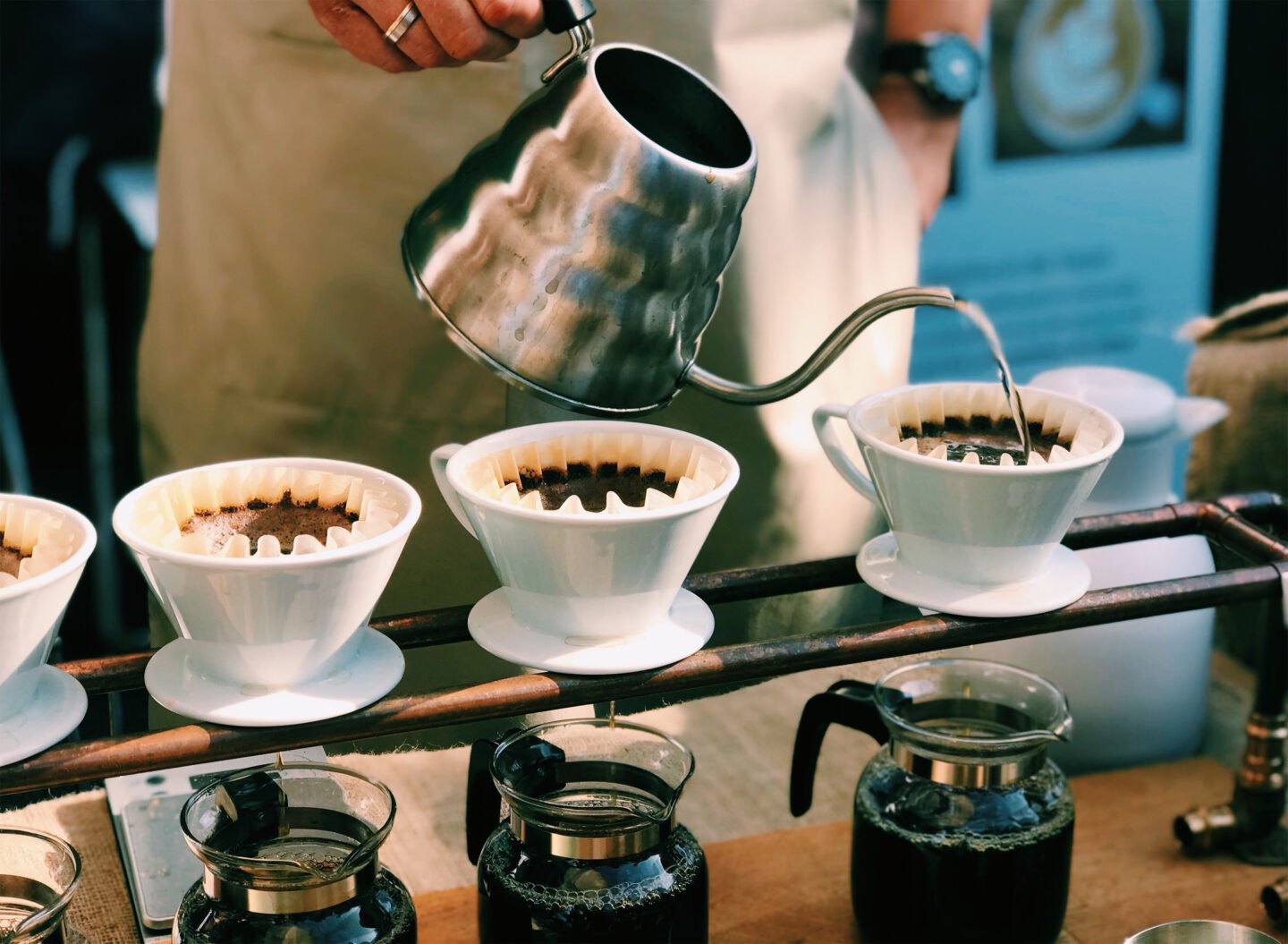 First, your barista will make this drink with just the regular brewed coffee they have on hand, but you can always ask for an alternative. All locations will typically have the Medium roast Pike Place blend on hand. They will also typically have a dark roast or blonde roast brewing in the mornings.
However, the baristas typically have a back stock of almost all of the other retail coffee they sell. This is a great way to try all of the available blends Starbucks offers. This is especially helpful if you've been eyeing a bag but want to try it before you buy it.
Also, if you're in a hurry, you could always just order your coffee to be made with regular brewed coffee, but a Misto is incredible when it's made from a French press or pour-over!
You could also order this drink with a milk alternative. This beverage will come standard with two percent milk, but it tastes wonderful with almond or oat milk. Coconut milk doesn't steam quite as well as the other milk options, but it can still be used.
Final Thoughts
Caffé Mistos are overall a great and underrated beverage at Starbucks. They're a fantastic choice for those who are looking for an inexpensive beverage that is light on calories, full of flavor, and easy on the caffeine.
While you could order a black coffee and add your own cold cream, the addition of foam from the steamed milk makes you feel like you're still drinking an indulgent beverage. So whether you want to experience a Cafe Au Lait like you would in France or just think this drink would be up your alley, you can't go wrong with this classic beverage!