Prunes are dried plums, and they're a popular snack that's known to improve several health conditions. Prunes are delicious, can be added to various dishes, and are widely available in stores.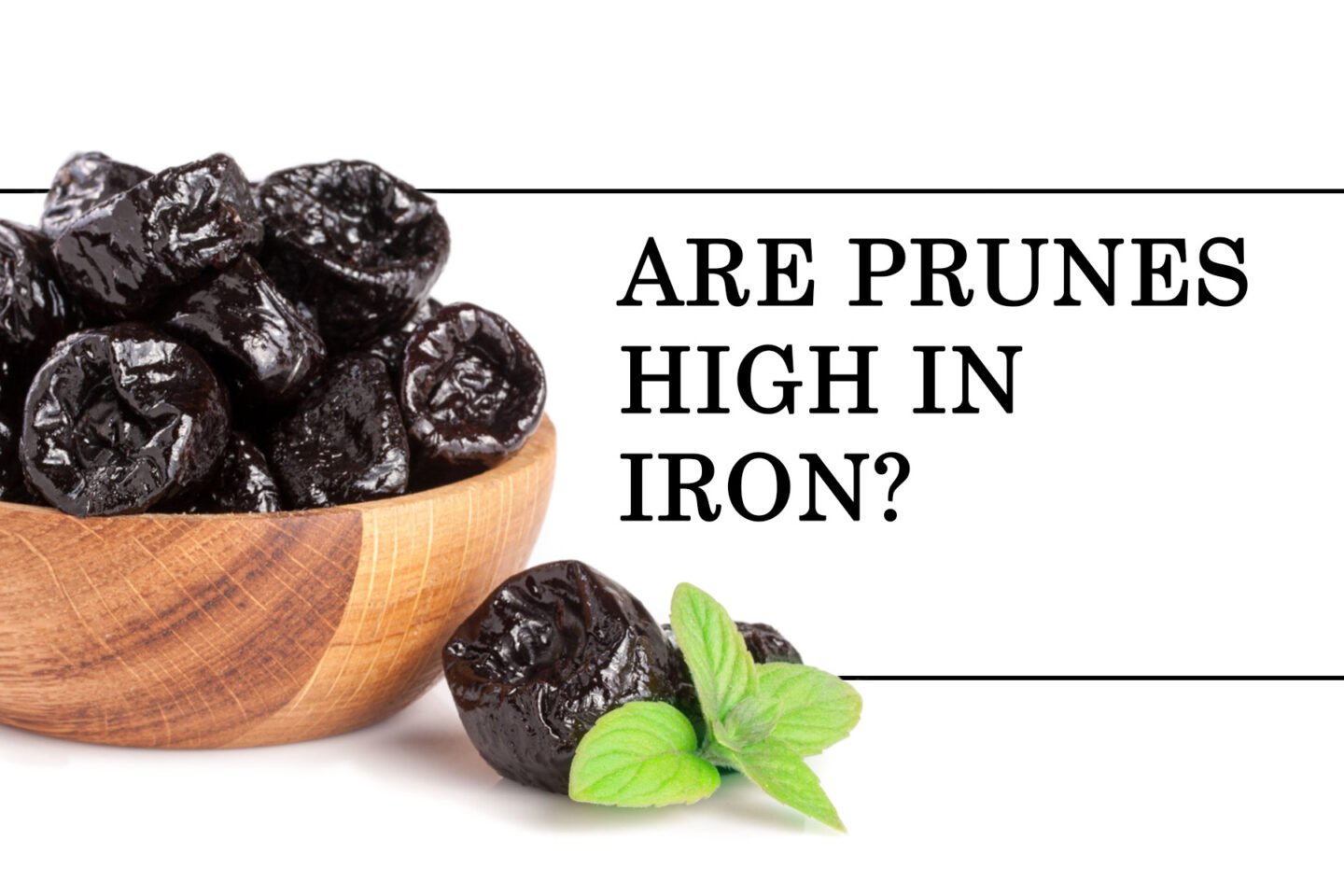 As people become more aware of the importance of a healthy diet, they're looking for foods that contain more nutrients, such as iron. Prunes are rich in nutrients, so are they a good addition to a healthy, balanced diet?
Table of Contents
Are Prunes High or Low in Iron?
Prunes contain one of the highest levels of iron among dried fruits. Although they are quite high in sugar and calories, eating prunes in moderation can help you reach your recommended daily allowance of several nutrients, including iron.
So, adding prunes to your diet is an easy way for you to achieve your dietary goals.
How Much Iron Is in Prunes?
Half a cup of stewed prunes contains 0.5 mg of iron, which is a lot for dried fruit. However, like other dried fruits, prunes are high in calories.
Prunes are also high in other nutrients and come with many health benefits.
Cooking, especially in water, flushes out some nutrients in food. So a half-cup serving of uncooked prunes contains 0.8 mg of iron, slightly more than in stewed prunes.
Can You Get Enough Iron From Prunes?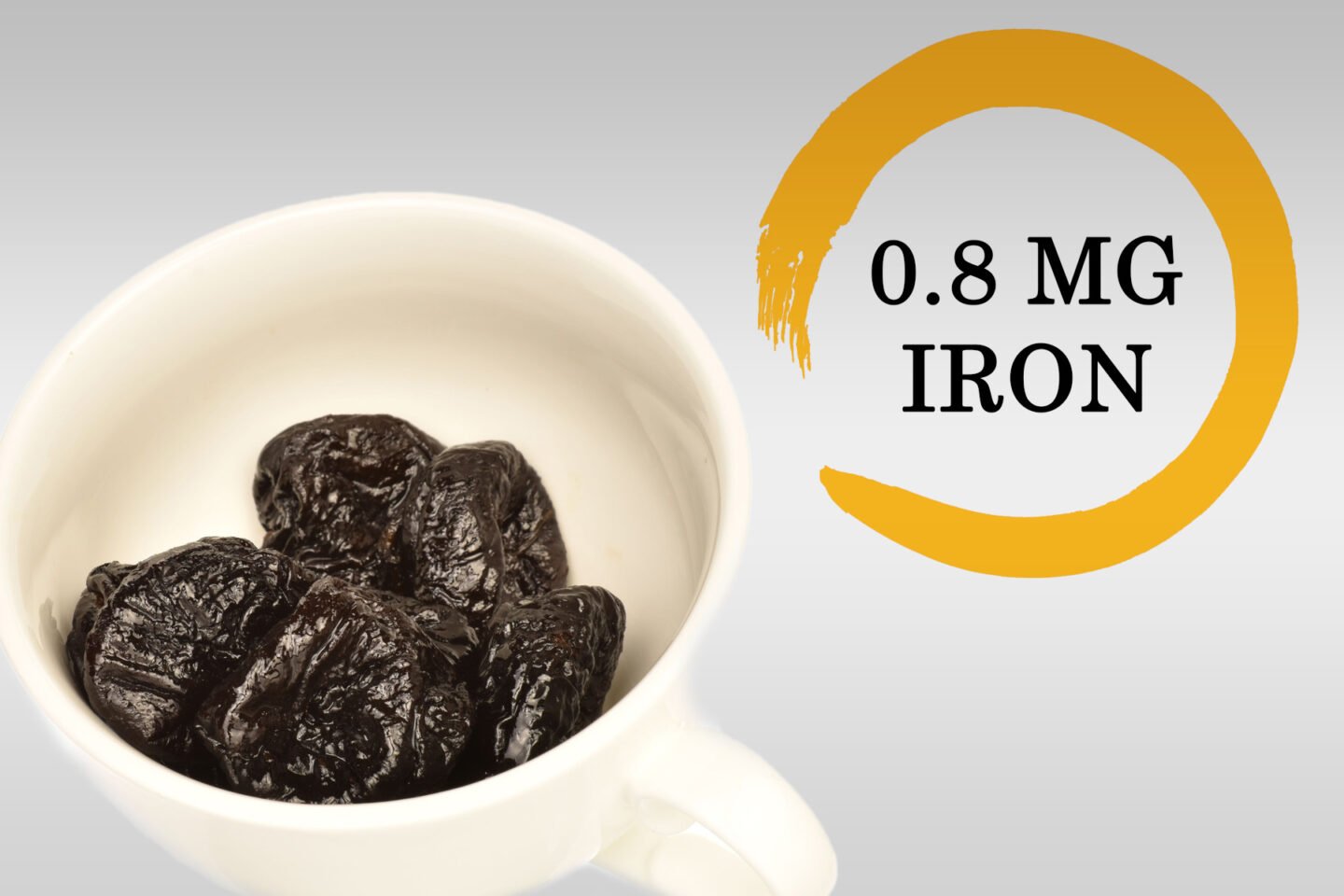 A single half-cup serving provides 7% of the recommended daily intake of iron. So adding prunes to your diet plan can definitely help you increase your iron intake.
This size serving also provides 11% of the recommended daily intake of vitamin C, which allows your body to absorb more of the non-heme iron found in prunes.
Prunes are also very high in fiber, with a half-cup serving providing 19% of your recommended daily intake.
Fiber keeps your digestive system in good shape and keeps problems like indigestion, constipation, and acid reflux from happening.
When your digestive system is healthy, it's more likely to absorb nutrients like iron. So consuming fiber-rich foods is also beneficial for maintaining good iron levels.
Can Eating Prunes Help Prevent Anemia?
Prunes are rich in iron, which is one of the most important nutrients for anemia prevention. Eating prunes can also benefit the cardiovascular system.
Prunes are also rich in copper, which helps keep bones, blood vessels, nerves, and the immune system healthy. Copper also helps the body absorb iron, resulting in the production of healthy red blood cells.
So, adding prunes to your diet can help prevent iron deficiency anemia.
Are Prunes Healthy?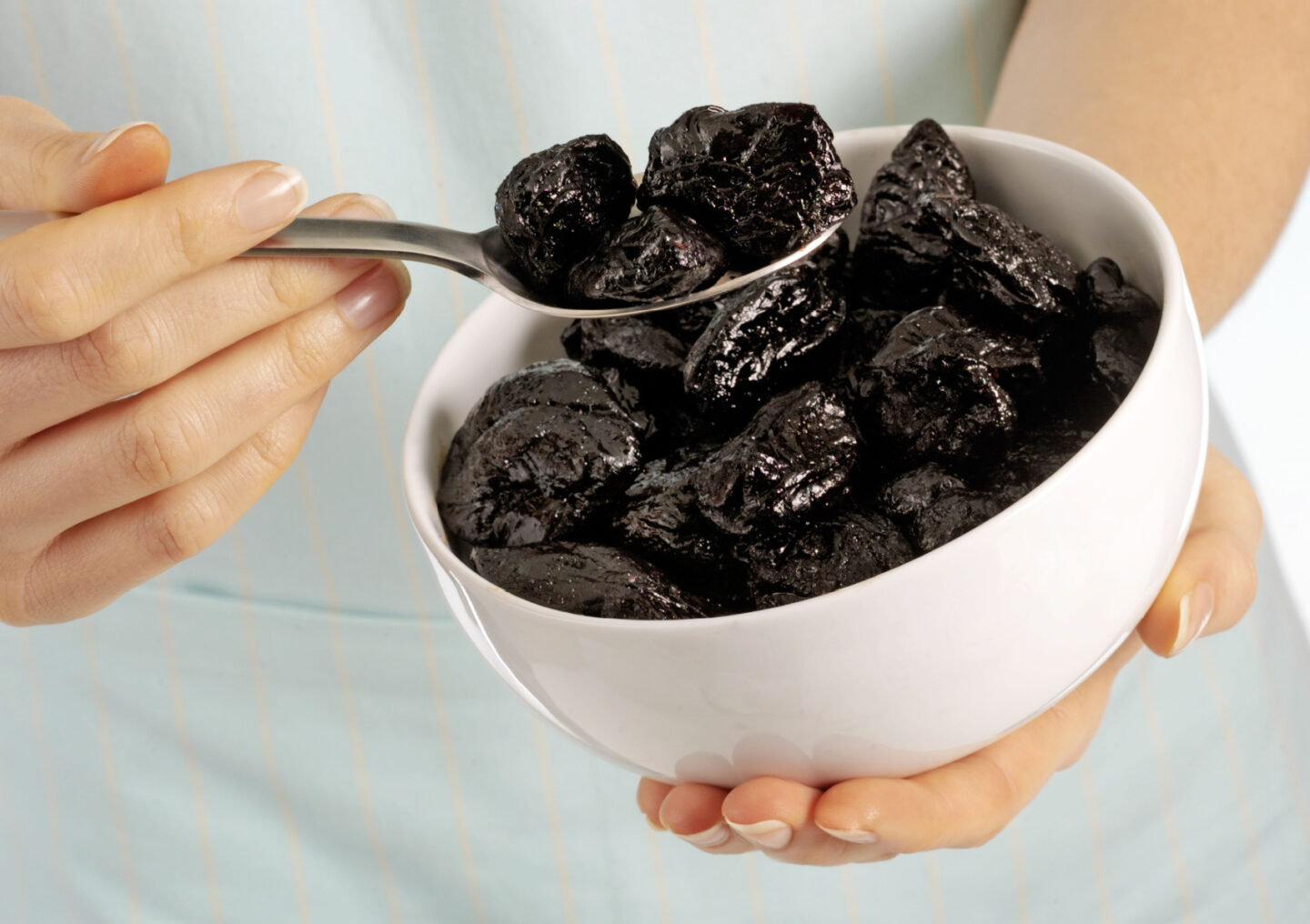 Prunes are relatively high in calories and sugar. This implies that they're bad for your blood sugar levels, but it's actually the opposite.
Studies show that this might be because prunes increase adiponectin levels, a hormone that helps regulate your blood sugar levels. This is very beneficial, especially as it can decrease your risk of obesity and Type 2 diabetes.
Prunes are a great source of vitamin K. This fat-soluble micronutrient plays a key role in blood clotting and bone metabolism.
Prunes also have anti-inflammatory properties and have been shown to prevent and reverse bone loss. Eating prunes may help prevent osteoporosis and osteopenia.
A single serving of prunes also provides you with a good amount of potassium. As one of the most important minerals in your body, potassium helps control fluid balance, muscle contractions, and nerve signals.
Eating high-potassium foods can help lower your blood pressure and offset the negative effects of dietary sodium, protecting you against stroke, osteoporosis, and kidney stones.
Prunes are a good source of insoluble fiber and sorbitol (a sugar alcohol with laxative effects). Many doctors recommend prunes and prune juice for constipation relief.
Like all fruits and vegetables, prunes are rich in several antioxidants that improve bone health and reduce the risk of heart disease and diabetes.
These antioxidants also have powerful anti-inflammatory effects, which help prevent the development of various chronic conditions caused by cell damage.
Can You Get Too Much Iron From Prunes?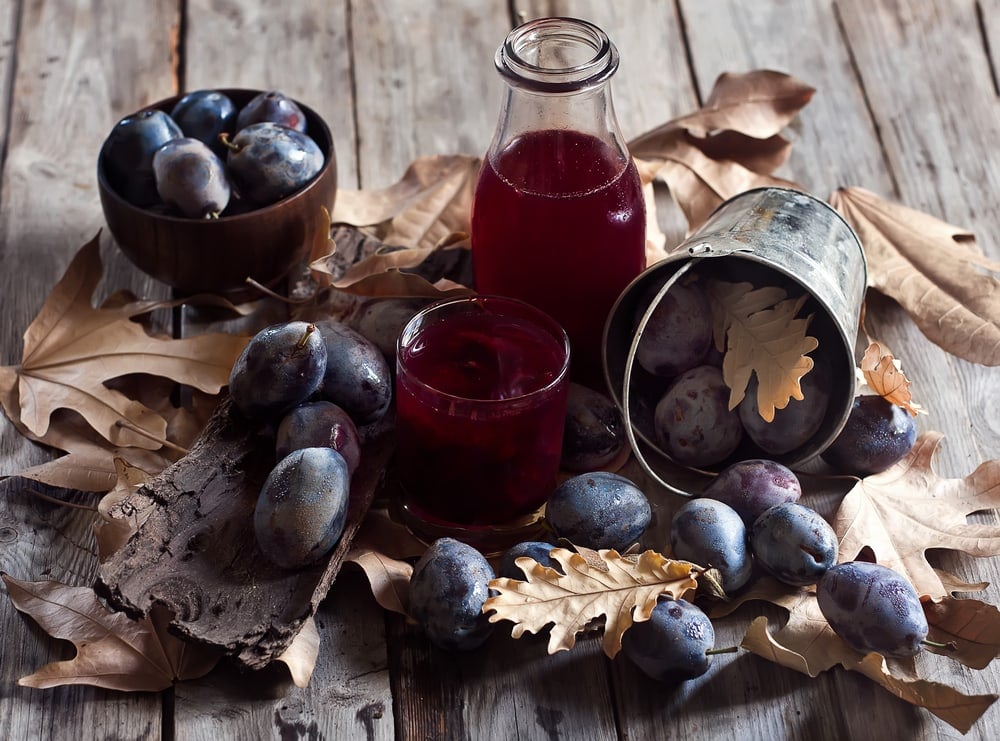 Adding prunes to your diet won't lead to iron toxicity. In fact, it's important to add other iron-rich foods to ensure you reach your recommended intake.
The iron in prunes is non-heme, so it's harder for your body to absorb than heme iron from animal-derived foods.
Is Prune Juice High in Iron?
A single glass of prune juice contains 3.0 mg of iron, so it's a great source of dietary iron.
Doctors often recommend prune juice for people with anemia or a low red blood cell count. Drinking prune juice can also help lower your blood pressure and improve your cardiovascular health.
Raw prunes have the same effect, but prune juice is better as its nutrients are more concentrated.
Prune juice is a good source of antioxidants, vitamins, and fiber, so it can help maintain a healthy digestive system and prevent constipation even better than prunes. However, prune juice is high in sugar and calories, so drink it in moderation.
Prunes contain iron and other nutrients that may help keep your blood healthy and prevent anemia.
Eating prunes and drinking prune juice can undoubtedly form part of a healthy, balanced diet.