Protein bars are a great source of energy and nutrition, especially for those with busy lifestyles. Unfortunately, they also contain a lot of carbohydrates, including FODMAPs, which are difficult to digest and can trigger irritable bowel syndrome (IBS) symptoms.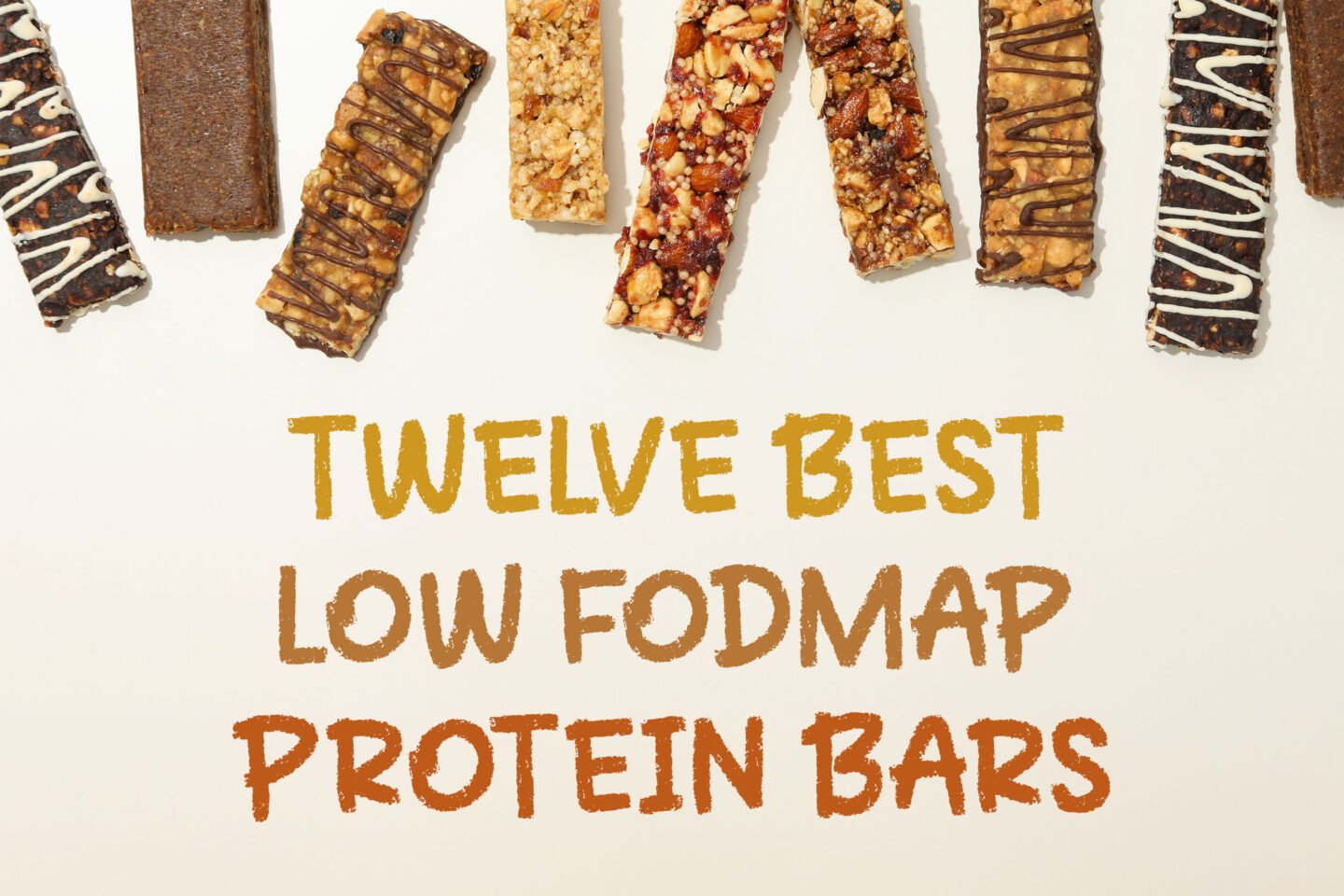 The low-FODMAP diet was developed to allow IBS sufferers to manage their symptoms. It's a challenging diet to design and maintain, as it requires followers to remove FODMAPs from their diet and then slowly reintroduce them and record their body's reactions.
Although most popular protein bars are high in FODMAPs, some aren't and are safe for IBS sufferers.
Table of Contents
Are Protein Bars High in FODMAPs?
A protein bar can contain as much as 43 grams of carbohydrates, of which 24 grams are sugars, and many of those FODMAPs.
So, although they can contain as much as 40% of the recommended protein intake, they may trigger IBS symptoms.
Below are 12 of the best bars for those on a low-FODMAP diet.
1. Orgain Organic Vegan Protein Bars
These protein bars are low in sugar and are made with only 10 grams of organic plant based clean protein (brown rice, pea, chia seeds). They're also gluten-, soy-, and dairy-free.
Each bar contains about 140 calories, 3 grams of organic dietary fiber, and 5 grams of sugar.
2. MariGold Keto Fat Bombs
MariGold Fat Bombs are made with healthy ingredients. They're GMO- soy-, lactose-, and gluten-free, and each bar contains healthy fats, 1 gram net carbs per bar, 11 grams of fat, plus 7 grams of protein.
With less than a gram of sugar per bar, they don't contain too many FODMAPs but do contain good amounts of fiber, potassium, and magnesium.
UPDATE: The Whey Isolate Marigold Protein Bars (we cannot find these at their Amazon Store) that we've linked to before have now been replaced with Fat Bombs (pictured above).
3. Carman's Original Fruit Free Muesli Bars
Each bar (one serving) contains about 201 kcal of energy, and around 4.5 grams of protein, 9 grams of fat, and 2.6 grams of dietary fiber.
However, unlike some other bars on this list, they may contain traces of peanuts, other tree nuts, milk products, lupin, or soy.
Carman's also makes nut bars suitable for those on a low-FODMAP diet.
4. Fody Foods Nut Bars
These bars are low FODMAP and IBS friendly. They are also lactose- and gluten-free. They're low in sugar, contain a good amount of fiber, and one bar contains about 210 calories and 6 grams of protein.
But these bars were made in a facility that also uses eggs, milk, soy, and other tree nuts.
Fody Foods has a selection of foods suitable for a low-FODMAP diet, including ketchup, sauces, and salsas.
5. GoMacro Protein Bars
Each organic bar contains about 10 grams of protein, 11% of the recommended daily intake. It also contains 2 grams of fiber, calcium, iron, and potassium.
Fiber supports good digestive health, and calcium boosts your immune system. Iron helps prevent anemia, and potassium offsets the adverse effects of sodium on your blood pressure.
6. Rachel Pauls Happy Bars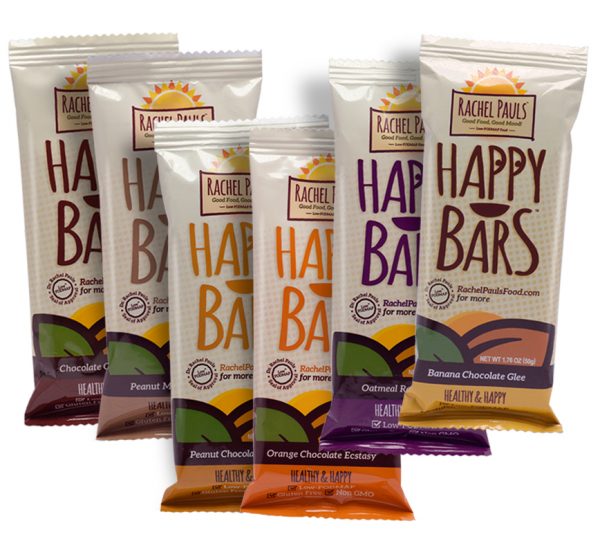 Courtesy of rachelpaulsfood.com
As they're certified gluten-free and low FODMAP, these bars are among the best choices for those with IBS.
One bar contains about 8 grams of protein and 3 grams of fiber, which feeds good gut bacteria, improving digestive health.
These bars also contain calcium, iron, potassium, and antioxidants that flush out free radicals and reduce oxidative stress.
7. Stellar Labs Bars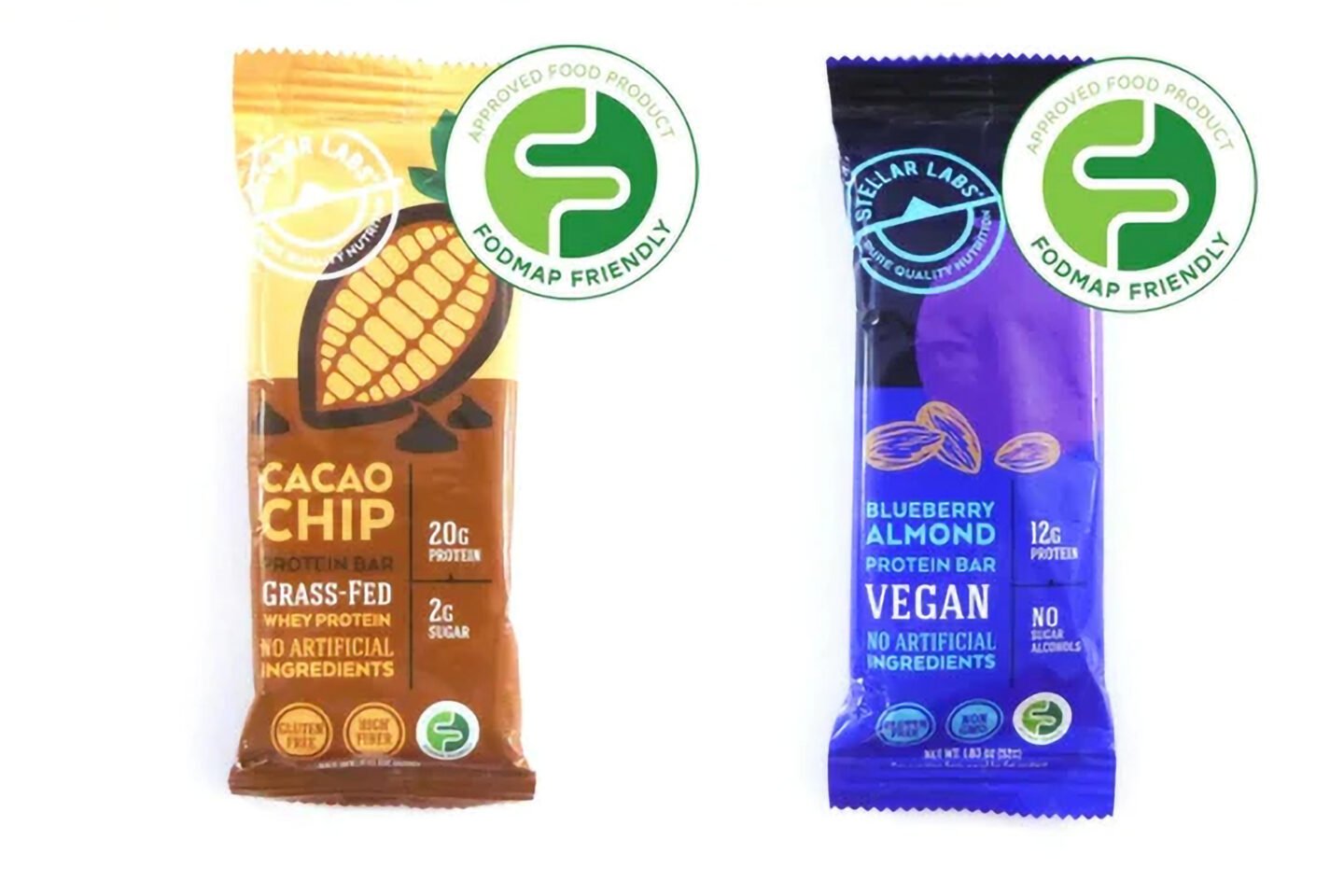 Courtesy of stellarlabsnutrition.com
Stellar Labs have designed a range of foods for IBS sufferers, including protein bars and powders, supplements, and other exercise nutrition.
Their bars contain a good amount of protein, fiber, potassium, and iron.
8. ONE Protein Bars
ONE Protein Bars contains 20 grams of protein and just 1 gram of sugar per serving. It's gluten-free, but it contains milk and soy (lecithin). Each bar contains about 9 grams of dietary fiber and provides 210 calories.
UPDATE: Caveman Protein Bars are currently unavailable.
9. Health Warrior Bars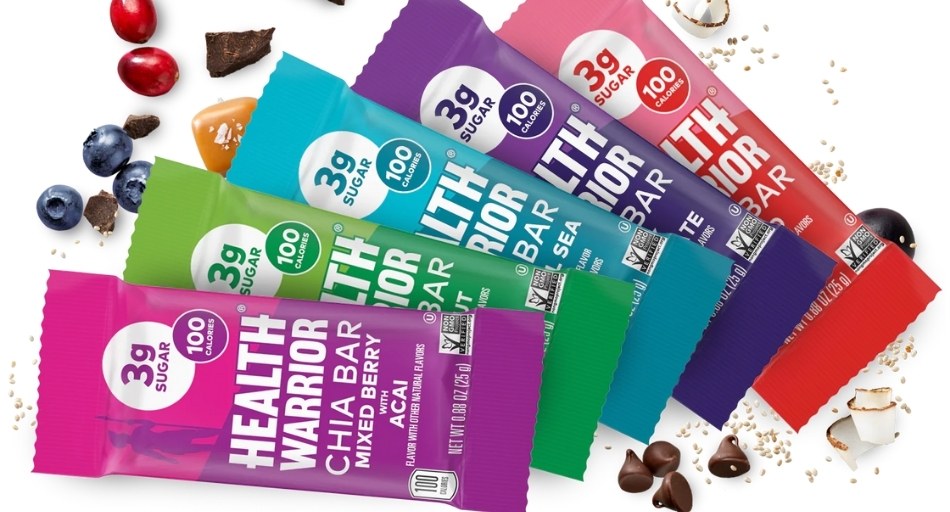 Each Health Warrior bar contains only 3 grams of sugar, which is great for those with IBS.
They're slightly lower in protein than others on this list, with a bar containing about 3 grams. However, they contain 18% of the recommended daily fiber intake, iron, calcium, and potassium.
10. 88 Acres Protein Bars
One bar contains 260 calories, 3 grams of dietary fiber, and 7 grams of sugar. It also contains 12 grams of protein, plus minerals like calcium, iron (20% of RDI), and potassium.
They're slightly higher in FODMAPs than others on this list, so start with half a bar and see how your body reacts.
11. Simply Protein Bars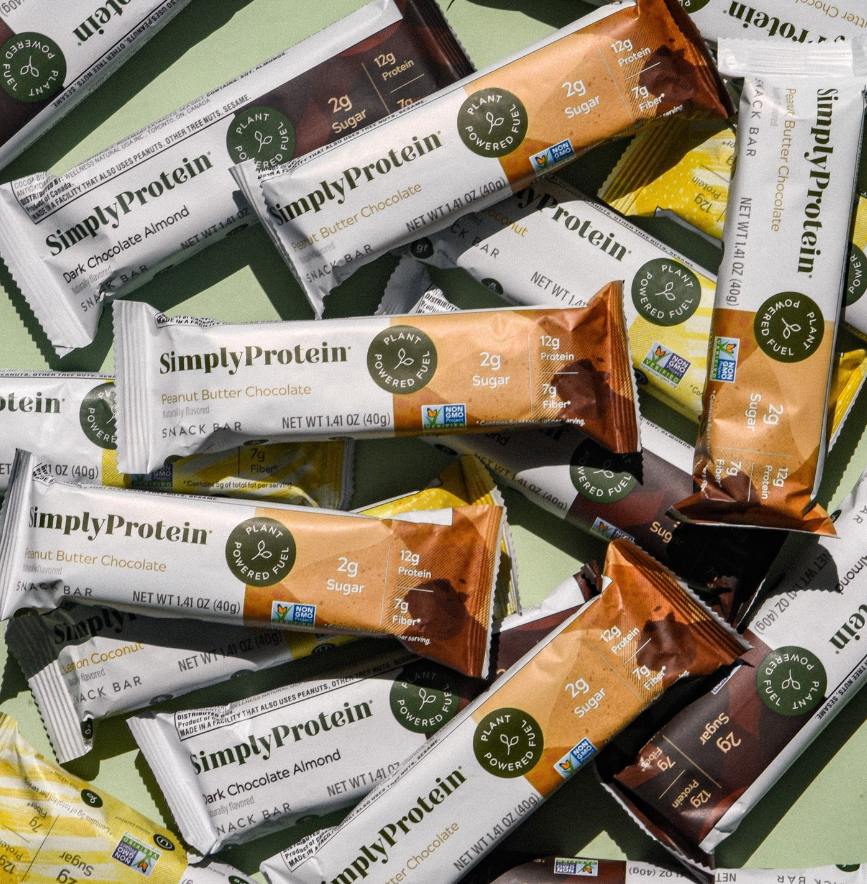 Courtesy of Simply Protein Instagram Official
One bar contains 160 calories and just 3 grams of sugar. It also contains 14 grams of protein, 7 grams of fiber, iron, and potassium.
12. Homemade Protein Bars
If you have the time, you can make protein bars at home, enabling you to limit their FODMAP content.
There are many healthy ingredients to choose from, including peanut butter, protein powder, rolled oats, honey, flaxseed meal, coconut oil, and cinnamon.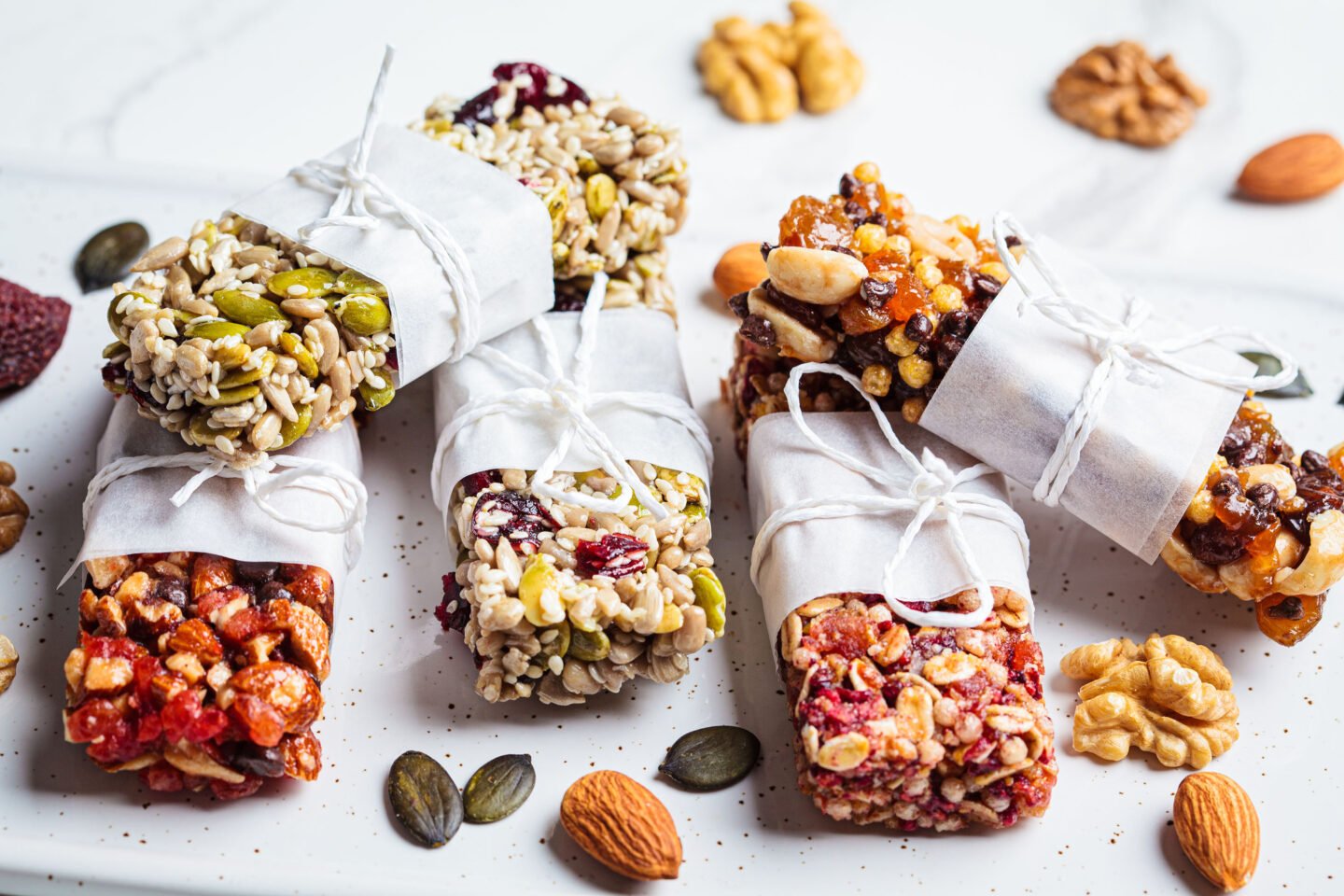 Should You Eat Protein Bars on a Low-FODMAP Diet?
In moderation, the protein bars above are safe for those on a low-FODMAP diet. However, everyone is different, so introduce them into your diet slowly and observe how your body reacts to them.
Can You Eat Protein Bars Every Day on a Low-FODMAP diet?
Protein bars are high in carbs, so people with IBS shouldn't eat them every day.
Conclusion
If you follow a low-FODMAP diet, it's certainly possible to enjoy the occasional protein bar.
Source: Nutrition Data