First, have no doubts: Owning an air fryer will change the way you cook. They slash the amount of time it takes to prepare frozen staples like fries, mozzarella sticks, and fish fillets. They minimize the cleanup when cooking meats, from chicken drumsticks to bacon to pork chops. The fact that they remove more fat from the finished product is merely a bonus.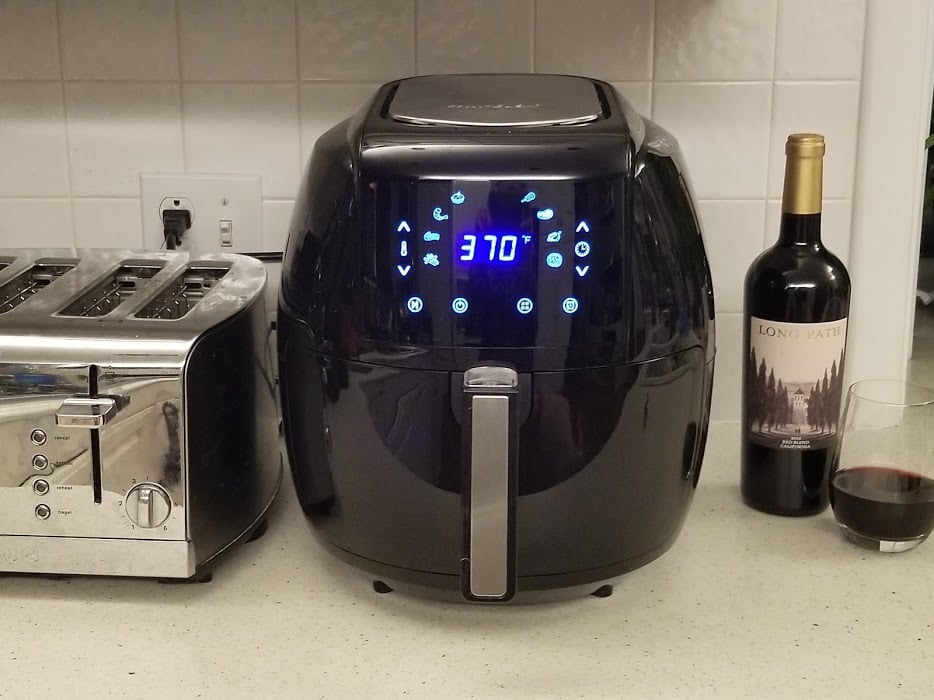 Picking the right one for your household is, first, a choice between the 3 main air fryer styles. You've probably seen ads for the "pod-style" air fryers with a basket that pulls out, but to save space in the kitchen, you can also get a toaster oven-style air fryer (which we love) and an instant pot-style air fryer that will reduce clutter by taking on the job of multiple appliances in your kitchen.
If you know the style you want, we can make some clear recommendations, after 6 months of testing more than 15 air fryers with countless bags of fries, roast chickens, dehydrated apple chips, and steaks.
For a pod-style air fryer that's affordable and versatile for a family of up to 4 people, you want the No products found..
No products found.
If you've got more people than 4 in the family and/or you're willing to splurge,, you want the Ninja Foodi 6 in 1. It's far from the cheapest option, but you searched for "the best", and this is it.
SAVE 30%
UPGRADE PICK: Ninja Foodi 6 in 1 Air Fryer
With two separate baskets and heat zones, this model lets you cook your main dish and a side simultaneously, at different temperatures. No other model does this and it's awesome.
Now, if you've got the counter space for it, we're going to put in a strong vote for a toaster oven-style air fryer. They have more heating elements, and more internal space to cook your food more evenly. They can do more stuff. They can cook you a pizza. Some can rotisserie cook you a whole chicken or roast pork. The big secret is, they're barely more expensive than their pod-style cousins.
The best toaster oven-style air fryer in our tests was the Emeril Lagasse Power Air Fryer 360. It's one of the more affordable models to come with a rotisserie. It has multiple rack positions to give you more heat control. It's sturdy and sleek and our chef hasn't stopped using it since his review.
BEST OVEN-STYLE AIR FRYER: Emeril Lagasse Power Air Fryer 360
With 9 cooking functions, 1500 watts of power and almost a cubic foot of internal space, the Emeril oven took our air frying to the next level. My rotisserie chicken was beautiful. The racks mean I can cook double the amount of fries. I even prepared ribs in the Emeril that could have come from your favorite bbq joint.
Last up, if you use an instant pot regularly at home, you could declutter by upgrading to an instant pot-style air fryer. It's a regular instant pot, with a special lid that can blast hot air, to air fry things. Simple, and genius.
According to our tests, the best one for your money is called the Instant Pot Duo Crisp, from Instant Pot themselves.
SAVE 25%
BEST INSTANT POT AIR FRYER: Instant Pot Duo Crisp
This machine cooked a perfect sausage, kale and white bean stew, and directly after it, an air fried whole roast chicken with crisp skin and moist tender meat. I can't say the same thing for any other air fryer in this comprehensive review.
So that's the air fryer quick take. For all the gory details, every test we ran and every meal we cooked, carry on reading below.
Why are air fryers so darn popular? This is a question I would ask myself often, that is before I found myself testing most of the industry's best examples over the past few months.
Before I became a convert to the church of air frying, I can vividly remember being genuinely confused by how passionate some of my friends were when speaking about their air fryers. It seemed from their point of view that these little machines could do no wrong.
They could fry, bake, crisp and toast, take out the trash, do the laundry and balance your checkbook as well! But I was definitely skeptical about the capabilities of these countertop cooking gadgets.
Now that I've had an opportunity to really dive into the appliance segment as a whole, from the pod style fryers to larger toaster/convection oven styles, and even instant pot air fryers, the variety, and value these tools offer is still astounding to me.
Air fryers are a must-have in any well-equipped kitchen. They truly can toast, bake, fry and roast with ease. They are simple to use, quick to clean, and in many - not all - cases, they live up to the hype. They can produce delicious, crispy, fried foods with 90% less grease and almost 100% less cleanup.
Take it from a professional chef, air fryers are all they are cracked up to be and more.
Over the course of this article, I hope to break down the various styles of air fryer and help you navigate the best choices in each segment. Whether you're looking for a small tabletop unit you can stash in a cabinet when not in use, a full countertop convection oven, or even an attachment for your instant pot multi-cooker, this list will help you find the perfect option.
Table of Contents
The Experiments
Over the past few months, I have devised a number of different experiments to gauge the performance of different styles and models of air fryers.
One constant baseline I always tried to test was a simple french fry. Most frozen french fries only ever taste "ok" out of the oven, but they are almost always delicious when cooked in a deep fryer.
My goal with this test was to determine whether or not air fryers could actually replicate a fried food taste without the fat. In almost every case, the fries were delicious, almost as good as deep-fried fries, and always better than I could achieve in an oven.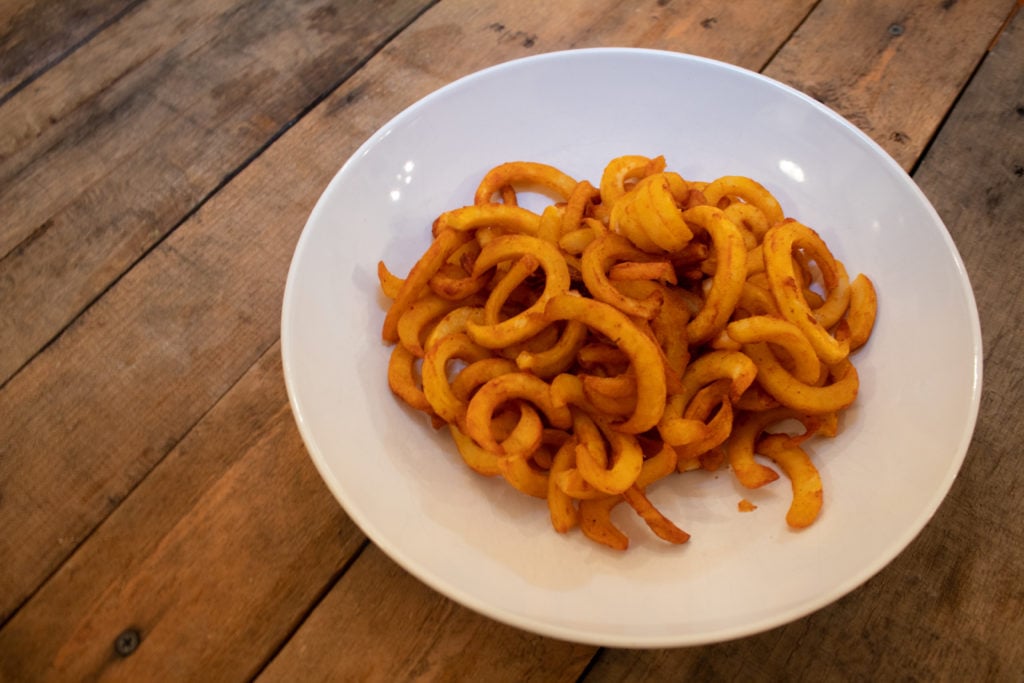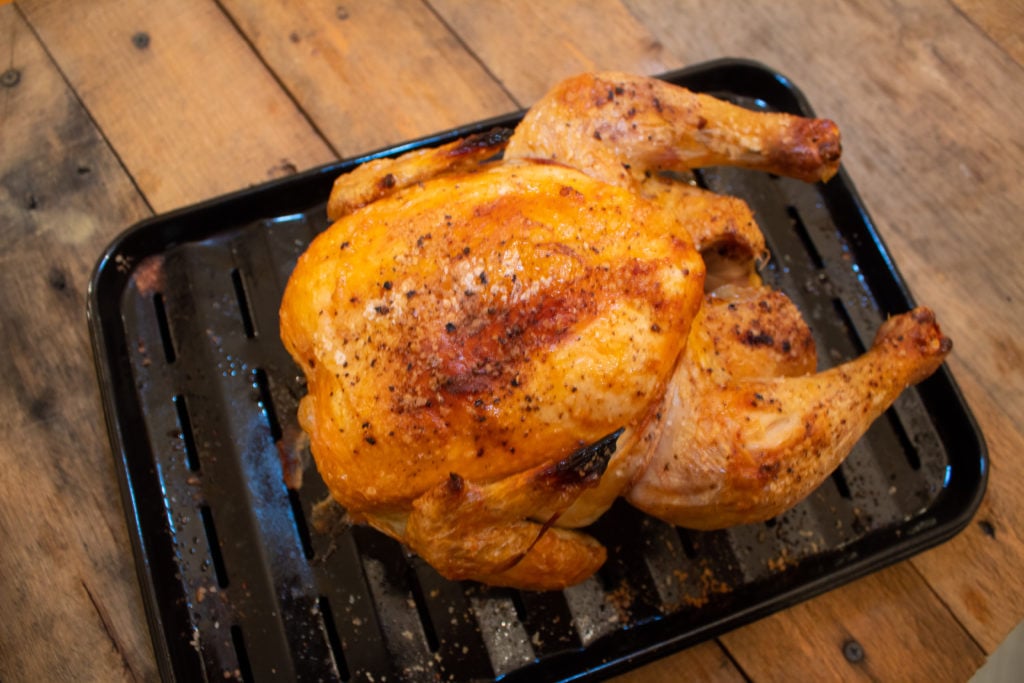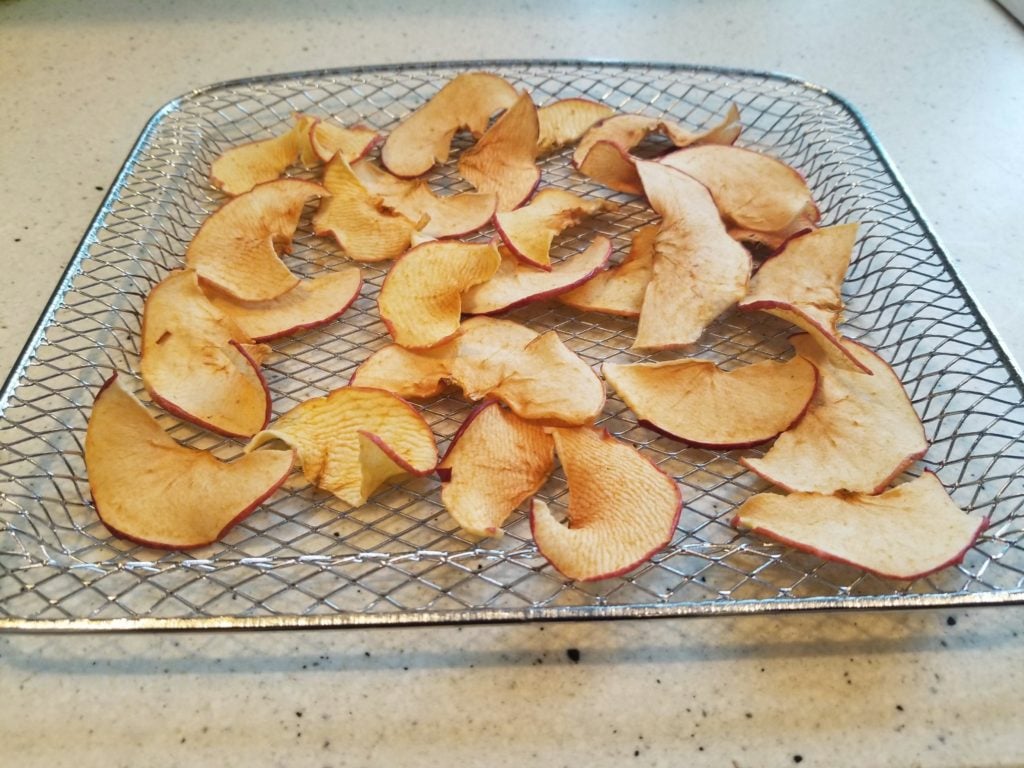 I also tested a range of different food items I might never have thought to prepare in an air fryer. From bacon to steak and whole roasted chickens, I tried to put these appliances through their paces as much as possible. Again, in almost every case I was able to cook all of these things with almost zero issues.
The high powered convection fans found in the air fryers are perfect for searing a steak or cooking crispy bacon to perfection. For roasting a whole chicken the rotisserie function on some models or the internal temperature probe on others helped achieve perfect results.
Lastly, and arguably most important, I wanted to test how air fried chicken wings compare to ones prepared in a deep fat fryer. With the Superbowl on the way, I had been considering getting an air fryer for some time just so I could have a machine dedicated to chicken wings for the big game.
After testing multiple batches of chicken wings, from boneless and breaded, to whole 3 piece wings, I was absolutely convinced of the value an air fryer can add to your kitchen.
The Best Pod-Style Air Fryers
Pod Style air fryers are the classic, most familiar style of the air fryer. They are small, usually egg-shaped or vaguely cylindrical. They have a top or side-mounted display, a removable basket with a front-facing handle. These fryers are able to produce air fried foods incredibly efficiently because of their small, well-contained design.
Why Pick a Pod Style, Air Fryer?
Most pod-style air fryers are best suited to under counter storage. While they are incredibly useful appliances, they are often a bit bulky and when counter space is at a premium, they can take up a fair amount of room. On the other hand, you might find yourself using it so frequently it might be easier to just leave it on the countertop.
Pod style air fryers are best suited to cooking traditionally fried foods, like wings, fries, mozzarella sticks, etc. Because of the bucket/basket-style design of these machines, they don't often handle things like bacon, steaks, or whole chickens as well as the other air fryer types (although of course, you can cook all of those things in one). Not to say you couldn't put an entire chicken in a pod style air fryer, it just might not work out exactly to plan.
On top of normal foods you'd put in a deep fat fryer, things like Brussels, carrots, sweet potatoes, and other veggies will work perfectly in your pod-style air fryer. I like to toss asparagus in a little oil and a touch of corn starch and rice flour before air frying for a crispy, crunchy, dippable asparagus snack.
One way I think pod-style air fryers remain more convenient than other styles, is in their ease of clean up. Because you can soak the air fryer basket/oven chamber in hot water at the same time, these machines are the easiest type to clean. Whenever I've finished a batch of wings or fries I simply remove the basket and oven chamber as 1 piece, place it in my sink and fill it with warm soapy water to soak before rinsing and wiping the machine clean.
Features to Look For
Most pod style air fryers have adopted similar designs over the past few years, and all of them come with varying degrees of similarity in their features and options offerings. Regardless of what air fryer you choose, here are some features you should keep high on your list of must-haves.
Preheat Function: The ability to preheat your air fryer like a traditional oven is an absolute necessity in my mind and not all machines come equipped. This is truly important when cooking wings. You want to put your wings into a very hot oven to ensure a proper sear, while I could just add 5 minutes to my cooking time and put the wings in at the 5-minute mark, a no-fuss preheat setting is a much better option.
Easy To Use Control Panel: Whether the control panel is digital or analog it needs to be simple and intuitive to use. Most of the models I looked at fit this bill and you will find all of the air fryers listed here to be simple to operate. When evaluating a display I like to imagine how it functions and also rely on the reviews of other purchasers.
Accessories: All air fryers come with differing amounts of accessories and while not a make-break factor for these reviews, they do provide a lot of value and convenience in certain circumstances. Some models come with a riser for roasting chicken/meats, others come with basket dividers to fry two items simultaneously. While these aren't the primary focus of our comparison, they do factor into usability and convenience.
Best Overall Pod-Style:
No products found.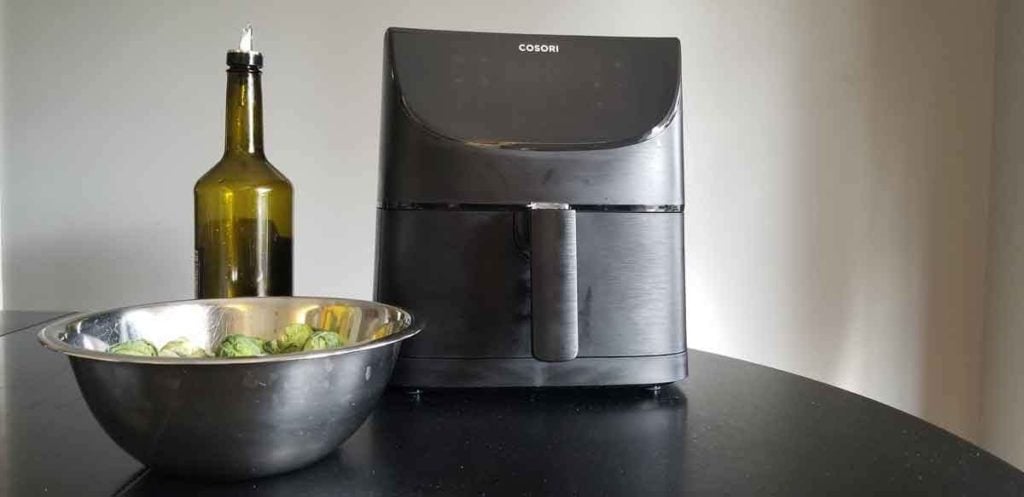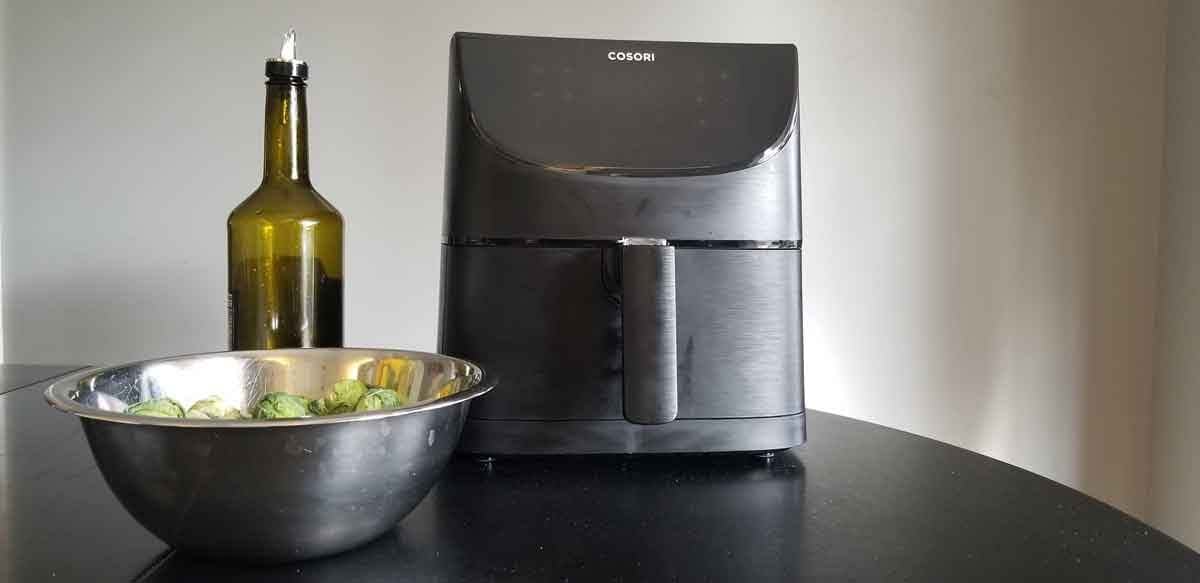 This was a hard category to judge because all of the models that made this list are incredible appliances that all deserve the top spot in some way. However, after some deliberation, it became clear that the Cosori 5.8 quart air fryer was the best option for those not wanting to splurge for a higher end machine.
With a sleek matte black exterior, a smooth well-engineered aesthetic, and a ton of cooking functions the Cosori 5.8 qt air fryer is everything you would expect in a high-quality, pod-style, air fryer.
The digital display is front-facing, which is nice because you can still operate this appliance with ease even when placed beneath an overhead cabinet on a countertop. Also, with 11 one-touch pre-programmed options and simple, easy to understand controls, producing delicious air fried food in the Cosori 5.8 qt air fryer is a snap.
I particularly liked how well fit the air fryer basket was into the oven assembly. Some of the other options on this list had a little more weft and warp to their basket design which at times led to difficulties loading and unloading the oven. The Cosori basket was tight and well manufactured.
One feature I loved on this oven was the shake warning indicator. The shake warning was pre-engaged on the preset cooking functions but you can easily add it to your cooking program with the press of the button. This function automatically alerts you halfway through the cooking process to shake the basket to agitate your product promoting even frying, resulting in crispier, evenly cooked foods.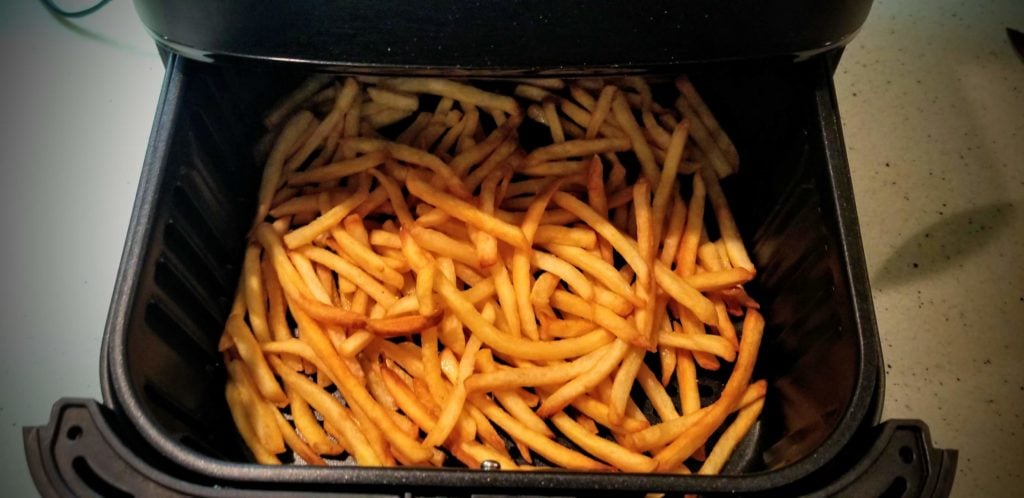 In terms of cooking performance, the Cosori 5.8qt air fryer handled every recipe I prepared in it with ease. It made short work of frozen french fries, wings, bacon, and veggies like Brussels sprouts. Though I didn't have time to test it, you could potentially fit an entire chicken into the oven chamber and I would love to see what those results might look like.
Combine this oven's high performance, strong design/build quality with a low price tag, and you have got yourself a great kitchen appliance.
I would recommend No products found. to anyone who wants to get started with a pod-style air fryer, but also wants a piece of equipment they can be confident in for years to come.
The Philips TurboStar Airfryer XXL is enormous. Designed to be able to fit over 2.75 lbs of food, enough for 4 hungry adults, this air fryer can handle a lot!
Honestly, a bag of fries will more than fill any fryer basket on the pod style list, except in the Philips Turbostar. In the TurboStar a bag of fries barely covered half of the available space. This fryer is impressively large.
Dimension-wise, at 17.1 x 12.63 x 12.4 inches this is by far the beefiest pod-style air fryer I had the ability to review, but the capacity outstrips the footprint in a big way. What I mean is, other pod-style air fryers might be a few cubic inches smaller, but they fit half as much food.
In the Philips XXL, I was consistently amazed by just how much food I could prepare at one time, and the easy-to-use digital display made this oven a pleasure to cook with.
There's also the bonus of the quick pre-heat. The company advertises that the air fryer is hot "in seconds", and while in my experience that number was more like "30 seconds", but other air fryers, even much smaller models we tested took up to 5 minutes to get hot. When one of the main benefits of cooking in an air fryer is time-saving, those minutes are precious. That time saving, multiplied by every time you use this thing, is part of what the premium price of this machine gets you.
Beyond size and ease of use, this is a Philips kitchen product and they make really high-quality kitchen equipment. This is definitely reflected in the price tag and that is the reason this fryer is in the runner-up position. This air fryer is definitely not for the budget-conscious, and at this price point, other larger more feature-rich options become somewhat more attractive IMO.
Overall, I would recommend the Philips XXL Air Fryer (at Amazon here) to anyone who needs to cook a large amount of food, really values their time, and wants the functionality of a pod-style fryer compared to any other style. If you're committed to spending this much, I would suggest taking a look at other options on this list, especially those in the Toaster Oven style category. However, if this is the fryer for you I can assure you it will make you incredible fried foods for yourself or for a crowd.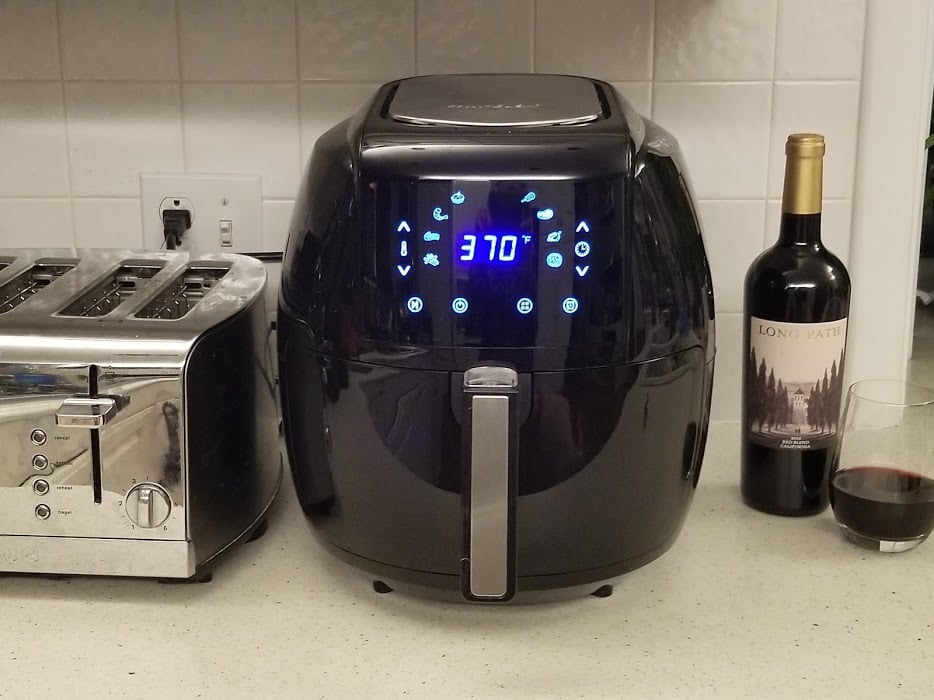 The GoWISE USA 5.8 qt Air Fryer is one of the most popular pod-style air fryers available to consumers. With 1000s of positive reviews from people eager to talk about how much they love their air fryers, there is a reason this is number 2 for the entire pod style air fryer category.
I had to place this fryer in second for a number of reasons but the biggest was its overall capacity. While it performed well in all tests and I specifically enjoyed the well-engineered fit of the frying basket/oven chamber, I could fit noticeably less food in this model than others. This is because the air fryer basket has an oval shape. While this isn't an issue for many foods, things like bacon or pork chops, which do really well in an air fryer, suffer from the odd shape of the air fryer basket.
Even though I couldn't fit quite as much food in this oven, it would still be possible to entertain a larger crowd by working in batches to keep a steady flow of food coming out to your guests.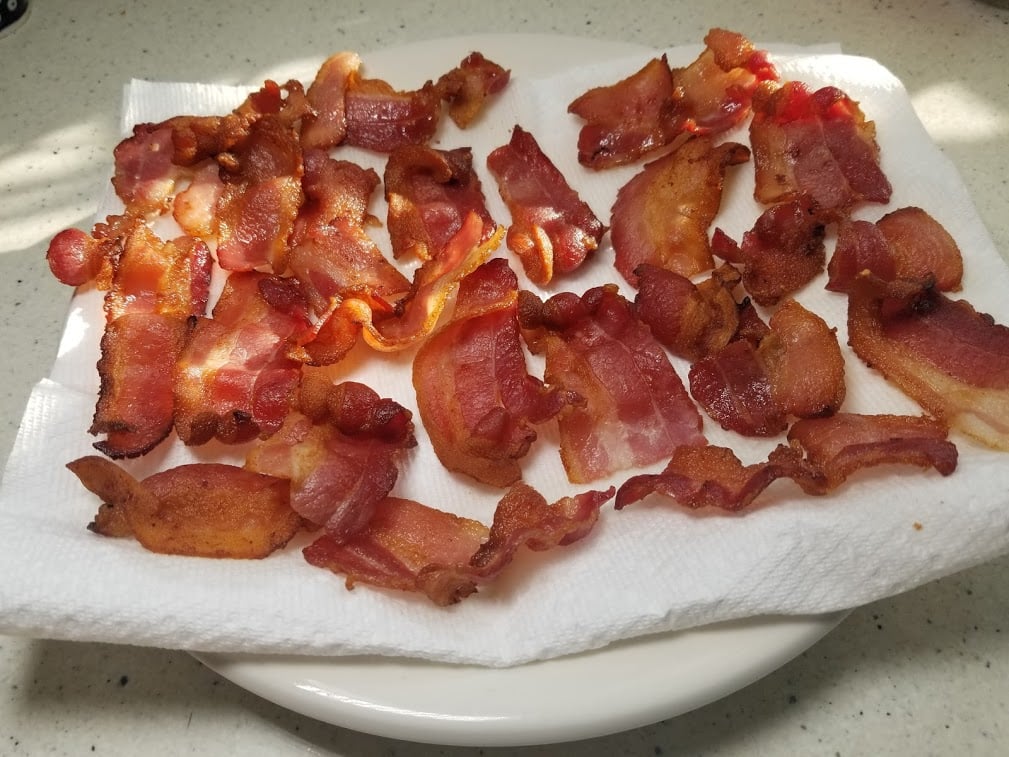 While the overall dimensions of the GoWISE USA 5.8 qt Air Fryer were similar to the other pod-style air fryers (Ninja, Cosori etc), because of its egg shape that tapers from the bottom to the top, it felt more compact and easier to store. The gloss finish and silver accents made it easy on the eyes, and it fit better on my counter than some of the other options on this list. If you're' not a fan of a matte black finish, this oven comes in a range of color options to suit almost any palate.
I would recommend this oven to anyone who is looking for a more compact, pod-style air fryer compared to the other larger models on this list. At such a low price the Gowise 5.8qt Air Fryer (at Amazon here) is a serious value that will provide a lot of incredible food for you or your guests.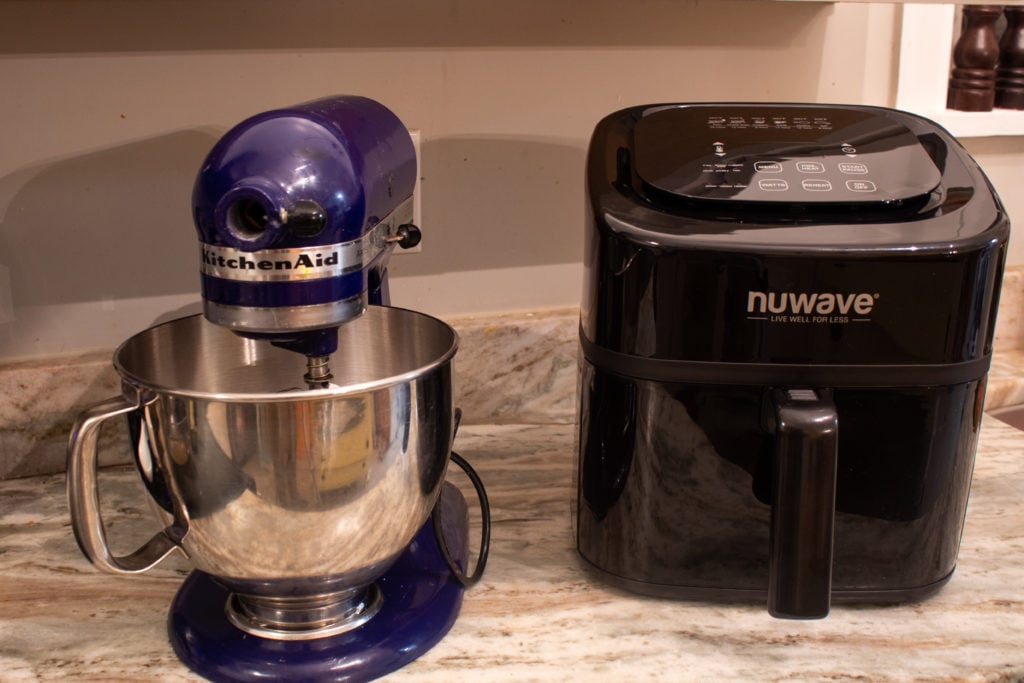 This oven was one of the first air fryers I had to opportunity to use and test. I was amazed from the moment I plugged it in with how well it produced incredible air fried food without any oil or mess. After months of running air fryers through their paces, I'm still amazed at how well this fryer can produce delicious food in no time with no mess.
With a 6 quart capacity, a ton of features, and an easy to use design, the Nuwave Brio is a really great air fryer. It has a deceptively large frying basket and comes with a divider so you can prepare multiple food items at the same time.
While this wasn't my favorite air fryer to use, it worked well and the digital control panel was easy to navigate. I particularly liked the inclusion of a preheat function which ensured my wings or french fries or Brussels sprouts were perfect every time.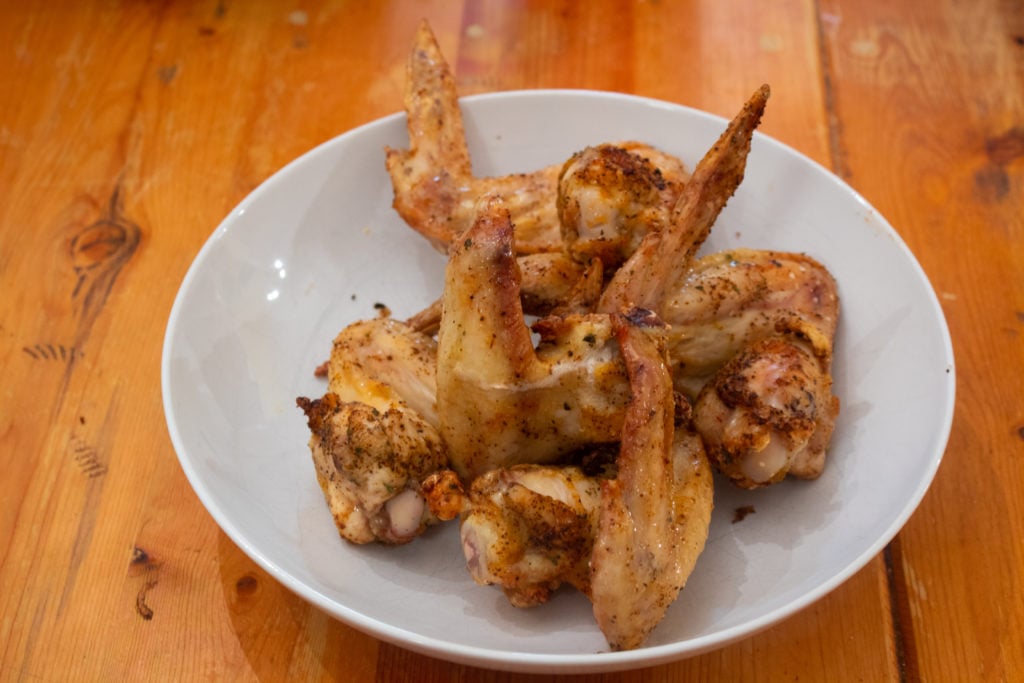 Because of its large size, this air fryer will take up a ton of counter space, and because of its boxy design, it doesn't always fit well alongside other appliances. You can always store it in a cabinet or drawer, but again its large size inhibits easy stowing.
That being said if you want a great air fryer, that can pump out big batches of food for a crowd, the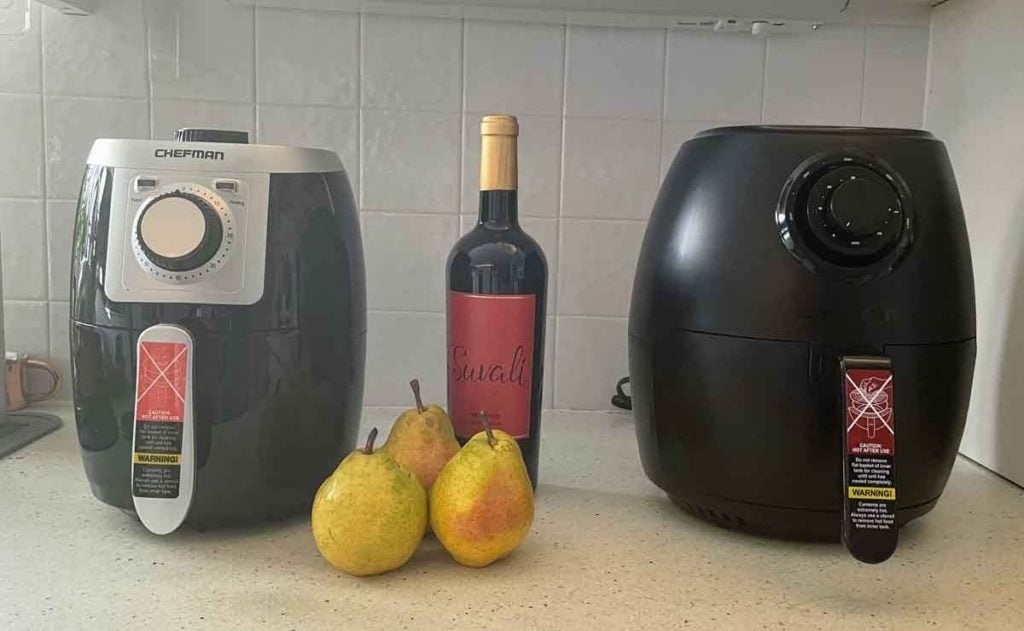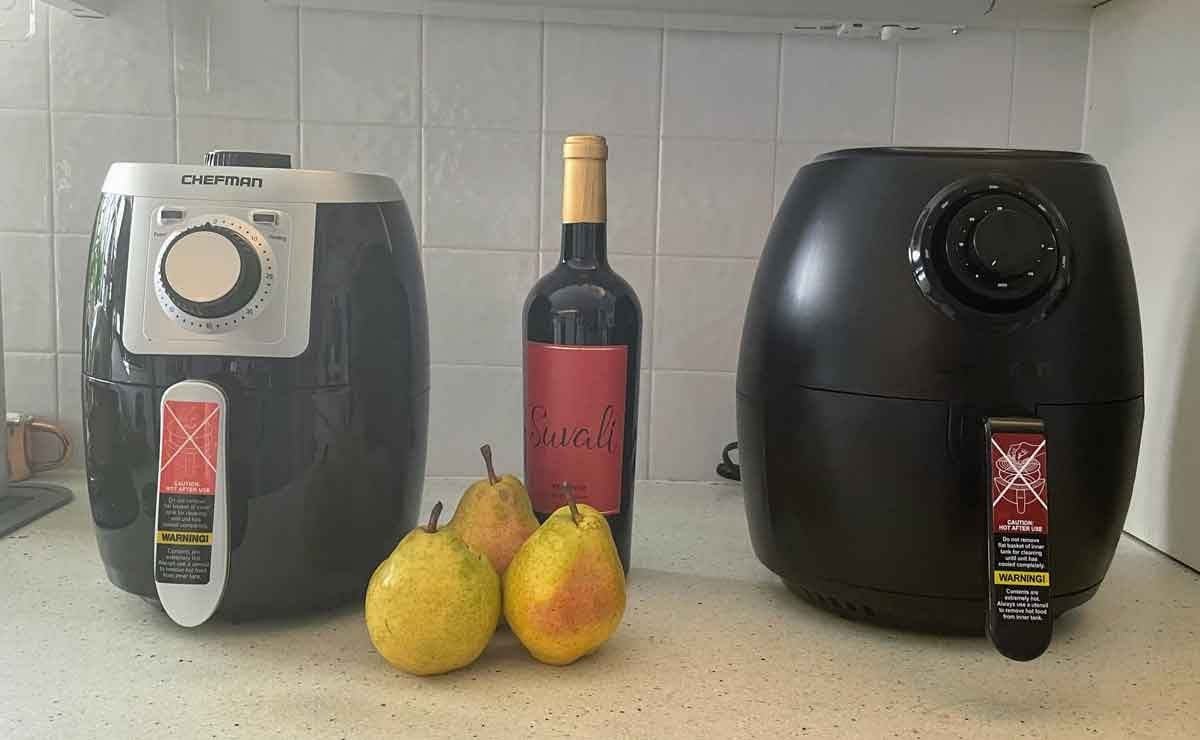 The Chefman Turbofry 3.6 qt Air Fryer (on the left above) is a no-frills, analog, workhorse of an appliance that will air-fry almost anything with ease. With. a price cheaper than any machine on this list, this little wonder won't break the bank, and at a 3.6-quart capacity, it can still handle a ton of food.
Unlike larger models, this air fryer stores well in a cabinet or drawer, and if you work in batches, you won't really notice the size difference at all. While this oven won't offer preset cooking modes or programs, and you can't preheat this oven as you can with other models on the list, you won't really notice the loss of those features, especially with all the money you'll be saving.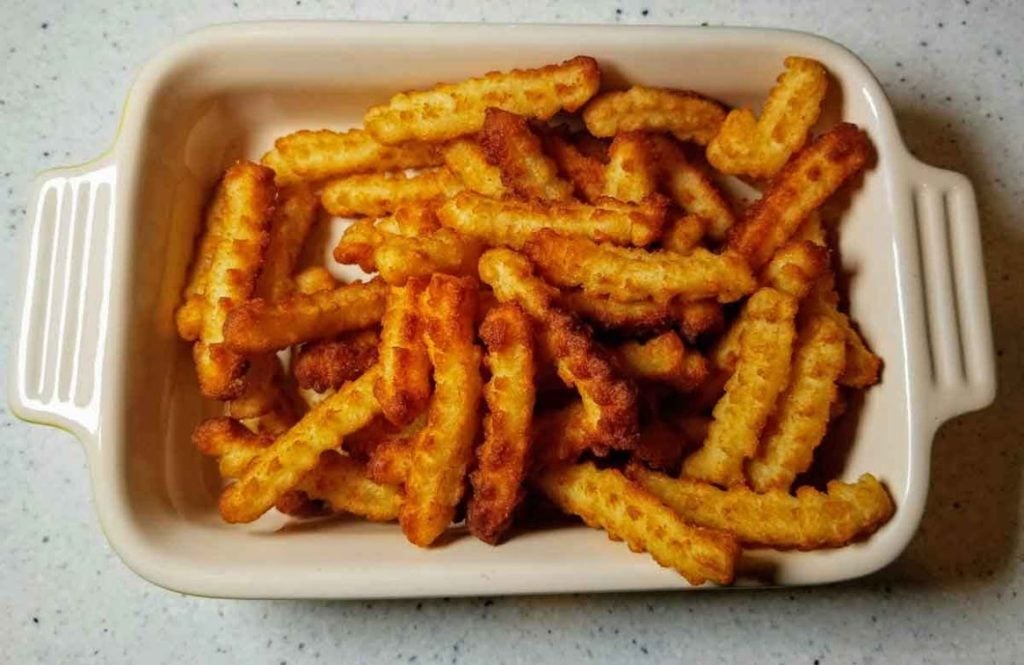 If adding a great air fryer at the lowest possible cost is the name of your game then the Chefman 3.6qt Air Fryer (at Amazon here) is the choice for you.
While the Farberware 3.2 qt multi-functional fryer didn't claim top honors in the value category for the pod-style models, it is still a great little air fryer. It can prepare wings, fries, and a myriad of veggies with ease and almost zero clean up.
Compared to the Chefman Turbofry the Farberware model is almost half a quart smaller, and while I expect a value-priced fryer to be smaller, 3.2 quarts is only enough food for 1-2 people. Also, the Farberware is comparatively expensive for the value category and its size, at a little more than the Chefman, at time of writing. That being said, this appliance does come backed by the Farberware brand, a long-standing paragon of quality in kitchen equipment and appliances.
While this fryer is not for everyone, the Faberware 3.2qt (at Amazon here) would be perfect for a smaller home, or even as an accessory in your camper or RV!
Comparing The Top 3 Pod-Style Air Fryers
Here's how the top 3 pod style air fryers look side by side: The best overall, best oversized, and best low cost.
No products found.




No products found.




No products found.


Nuwave Brio 6QT (Best Oversized)
$99.99

Chefman Turbofry (Best Low Cost)
$38.99
Power
1700 w
1800 w
1200 w
Temperature Range
170°F - 400°F
100°F - 400°F
200°F - 400°F
Presets
13
6
12
Capacity
5.8 quarts
6 quarts
3.6 quarts cubic inch
Color
Black
Black
Black
Timer:
60
12 hours
60 minutes
Rotisserie
N
N
N
Temperature Probe
N
N
N
Smart Home Compatible
N
N
N
Racks
N
N
N
Heating Elements
1
1
1
Recipe Book
Yes
Yes
Yes
Dimensions
14.3*11.8*12.6 in
110.5 x 10.5 x 13 inches
8 x 8 x 9.5 inches
Weight
15.87 lbs
15 lbs
9.98 lbs
Dishwasher Safe
No
No
No
Warranty
1 year
1 year
3 Months

No products found.

Check Price on Amazon
Check Price on Amazon
The Best Oven-Style Air Fryers
Oven style air fryers offer a great blend of air frying functionality and general cooking features, like baking, roasting, and toasting. These countertop convection ovens are often large enough to handle an entire chicken or even a small turkey, and high powered enough to handle crispy air fried wings or french fries with ease.
Why Pick an Oven Style Air Fryer?
In general, I prefer the convection oven style air fryer to the pod or instant pot style. They often have a larger overall capacity and a larger array of cooking functions making these countertop units far more versatile than their pod-style cousins.
That being said I think it's important to note that pod-style fryers often air-fry more quickly and produce crispier food overall. Because of the well-contained nature of the pod style air fryer, they are more efficient and I've noticed that air fried foods are often done in less time. While I do prefer pod-style air fryers for quality and speed, the expanded capabilities of an oven style air fryer are too attractive to pass up. I'm fine waiting a few minutes more for my fries if it means I can also handle 12-13 other cooking modes as well!
Features to Look For
Outside of the obvious convection fan and heating elements, models in this appliance category vary from unit to unit in terms of features and accessories. Depending on your wants and needs there are a number of features to look out for:
Multiple Heating Elements: Most oven style air fryers come with anywhere between 2 and 6 heating elements, these can be made from everything from iron to quartz and vary in quality from unit to unit. The majority of the units I tested had 5+ elements and all of them were strong enough for my purposes.
Rotisserie Spit: Some air fryers come equipped with a rotisserie spit and this can be an awesome feature for a ton of different food items. You can roast a chicken, a pork butt, prime rib, and more with a rotisserie! It is a bit of a pain to set up, so if cooking rotisserie-style recipes isn't a must-have, you can probably skip this function.
Internal Temperature Probe: One of the ovens I took a look at over the past month came equipped with an internal temperature probe and it was an absolute game-changer. I was able to track the current internal temperature of a chicken while it roasted without having to open the oven door. With a glance at my digital display I could check in on my cooking progress and it was incredibly convenient.
Smart Home Functionality: One of the interesting features available on more and more air fryer models is smart home connectivity through devices like Amazon Alexa or Google Smart Home devices. This may not be a high-priority feature for many, but if you are into home automation and connectivity this can be a fun option.
Easy To Use Control Panel: Throughout my testing, I found most of the models I used to have simple, effective control panels. With only one or two exceptions, these air fryers had simple, easy to navigate displays, that were intuitive and friendly. It is important to look at the controls of a potential purchase and also read reviews for notes about ease of use.
Range of Cooking Features: It's always important to take a look at the cooking features and presets you'll find in any given model. Some of the best air fryers I tested could even dehydrate fruits/veggies or ferment yogurt. Make sure to choose the model that fits your needs best, not necessarily the one with the most functions.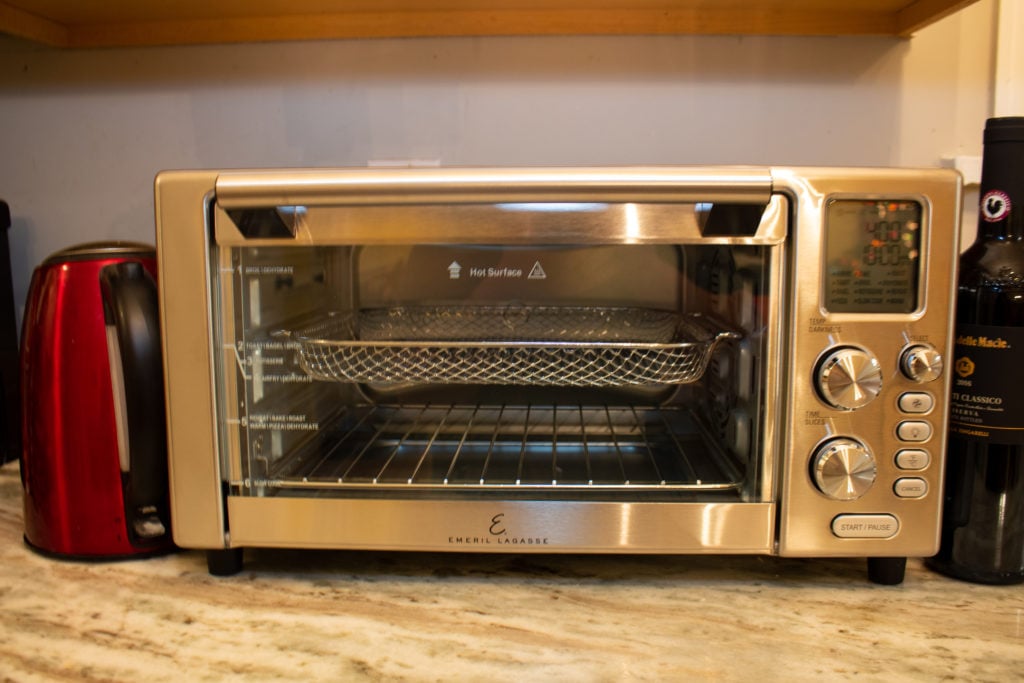 The Emeril Lagasse Power Air 360 is a full-function toaster oven style air fryer produced by the Power brand of air fryers and endorsed by the famous Chef, Emeril Lagasse.
When I first opened my Power Air 360 I was immediately struck by the overall build quality design. This oven feels like a much more expensive appliance than its price tag. With thick sheet steel walls, this air fryer feels sturdy, well made, and with an easy to use digital control panel it was a cinch to operate.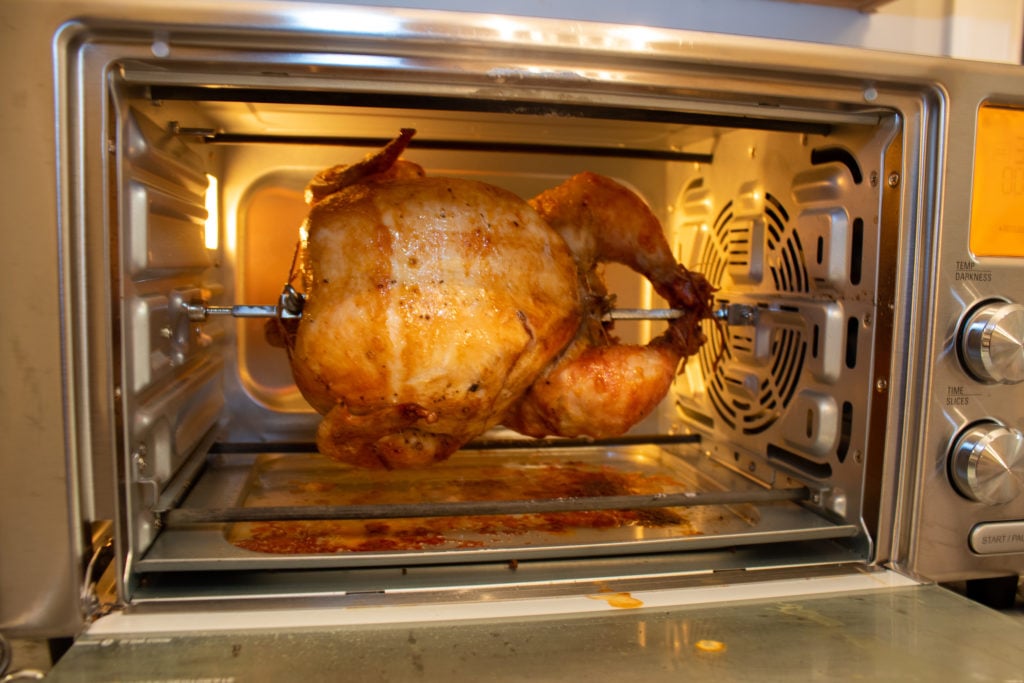 Beyond excellent air frying capabilities, this oven can handle a lot more than your average air fryer. With a rotisserie attachment you can roast whole chickens, pork butts, or even prime rib with ease, and with features like dehydrate or ferment you can produce high-quality yogurt or beef jerky/apple chips all in the same appliance.
While other air fryers on this list are simple to use or come with similar feature sets, the Emeril Lagasse Power Air 360 continually impressed me with its ease of operation and the quality of the food I was able to produce. I would recommend this oven to anyone who wants to add a top of line toaster style air fryer to their kitchen that delivers high-quality performance without breaking the bank. Overall the Emeril Power Airfryer 360 (at Amazon here) was one of the best air fryers I have had the chance to use.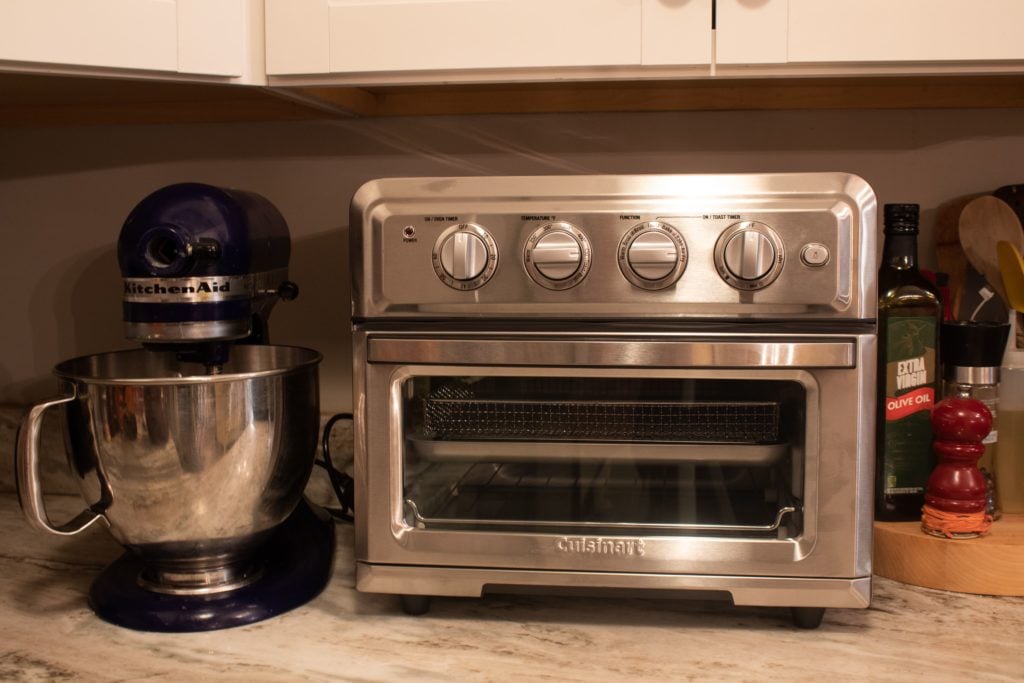 The Cuisinart TOA60 is a very straightforward and "basic" appliance compared to many on this list, but don't be fooled by its analog control panel, this air fryer is a workhorse that will provide years of quality food for you and your family.
While I have gone on record repeatedly in my support for digital control panels over analog options, this air fryer is almost enough to change my mind. Cuisinart has been making incredible cooking tools for years, focusing on design/aesthetic and overall usability, this air fryer is no different. With clean lines, a familiar Cuisinart design aesthetic, and a shiny, stainless steel facade, you're going to want to display this oven on your countertop instead of hiding it away in a cabinet.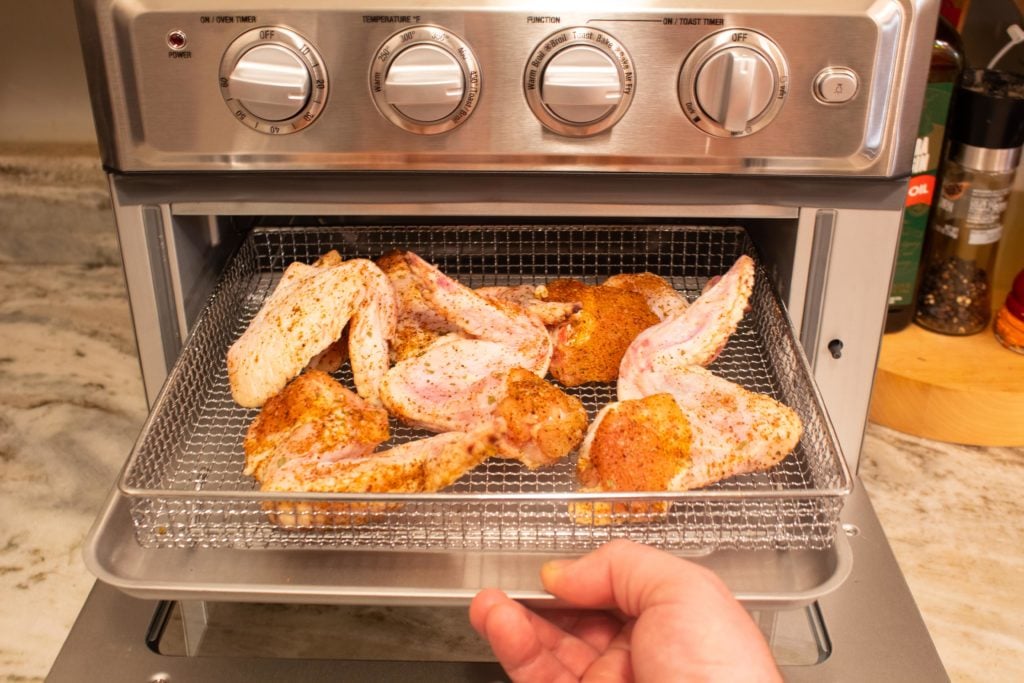 Aside from the great design quality found in this machine, the functionality is also superb. While it may not boost 11-13 preset cooking modes or a ton of accessories like a rotisserie or a temperature probe, this oven can create delicious fried foods with almost zero effort. With the turn of a knob, you can toast, bake, roast, or air fry with ease.
While this oven is not for every consumer, it will handle almost anything you throw its way and look good doing it. I would recommend this oven to anyone who wants to add an air fryer to their countertop but is also concerned with maintaining a classic aesthetic or a specific design theme. If your looking for a digital air fryer this is probably not the option for you, on the other hand, if you want an analog classic design, then you can stop here. Regardless of your reason for purchasing the Cuisinart Air Fryer Toaster Oven (at Amazon here), it is going to do a great job as an air fryer.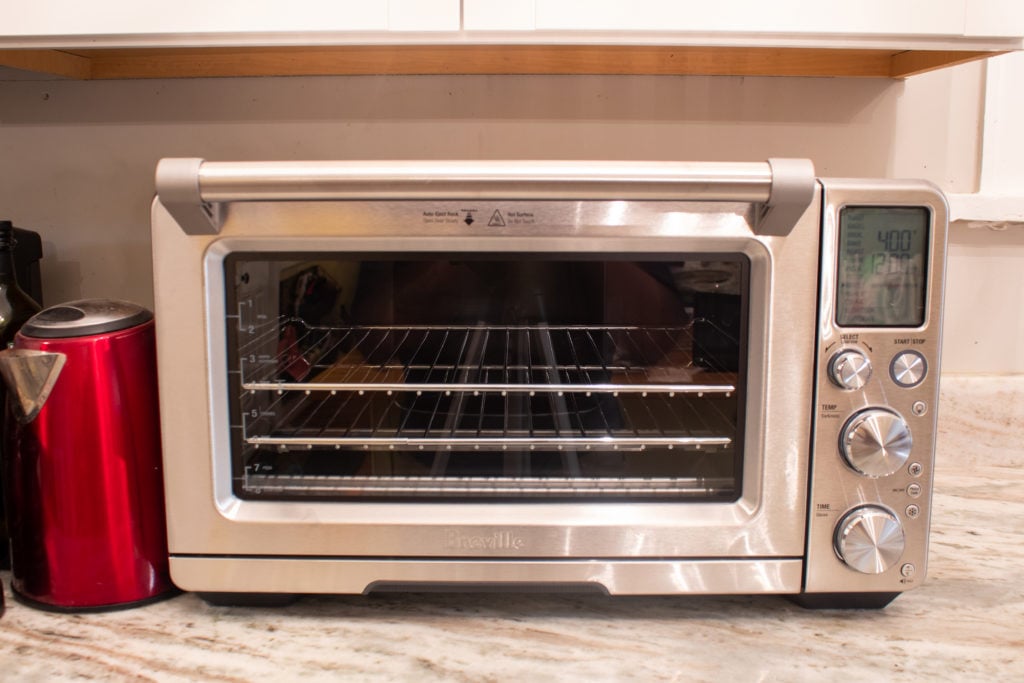 Realistically the Breville Smart Oven Air was the best air fryer I had the opportunity to use throughout my testing. This oven is a full-sized, countertop convection oven that also happens to have a really great air fryer function. For years Breville has been making uber high-end kitchen equipment for the discerning customer, and the Smart Oven Air is no exception.
Aside from being the best air fryer on this list, the smart oven air missed out on the top spot for one reason, it is also the most expensive air fryer on this list. With a higher price tag this air fryer is definitely not for everyone, and while it does air fry particularly well, it can also do so, so much more.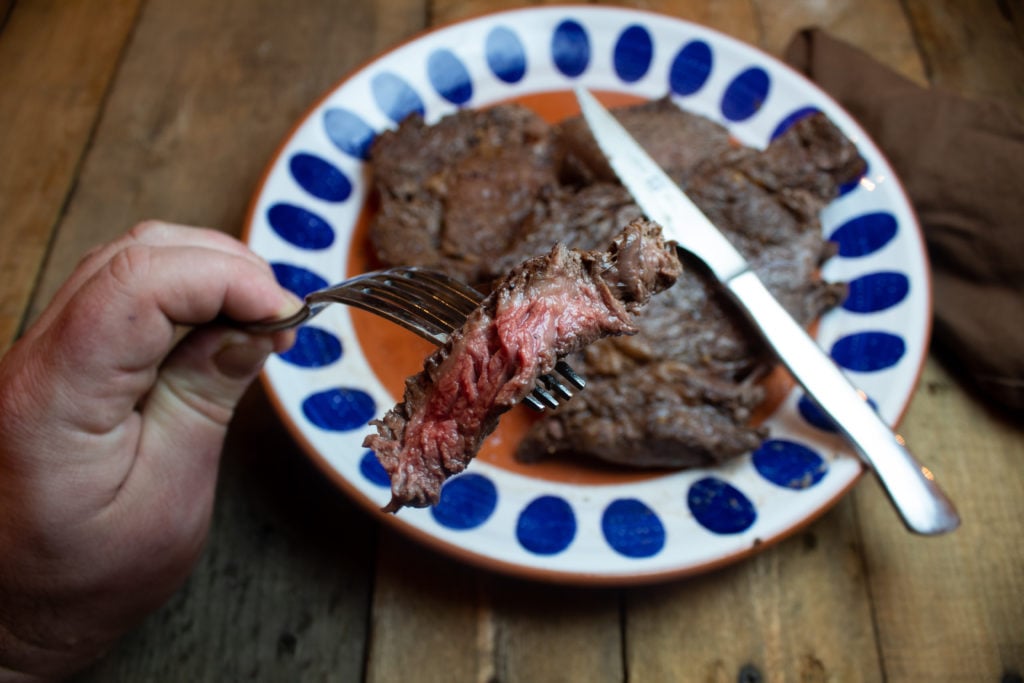 Size-wise this air fryer is at the top of the pack, while other toaster oven style air fryers on this list can accommodate a 4 lb chicken or 3 lbs of wing or french fries, you could fit a 14lb turkey in your Breville Smart Oven Air without batting an eye. Beyond taking care of the prep for your Thanksgiving dinner, you can bake crusty sourdough bread in this oven thanks to high powered quartz heating elements, and you can make yogurt or dehydrate vegetables with an accurate heat profile and strong convection fan.
This air fryer is definitely not for everyone, and despite its consistent high performance, it missed out on the top spot because not everyone needs an appliance like this. However, if you plan on using your countertop oven just as often as your traditional oven or you simply have to have the best air fryer money can buy, then the Breville Smart Oven Air (at Amazon here) is definitely the option for you.
Runner Up Oversized Oven-Style: Nuwave Bravo XL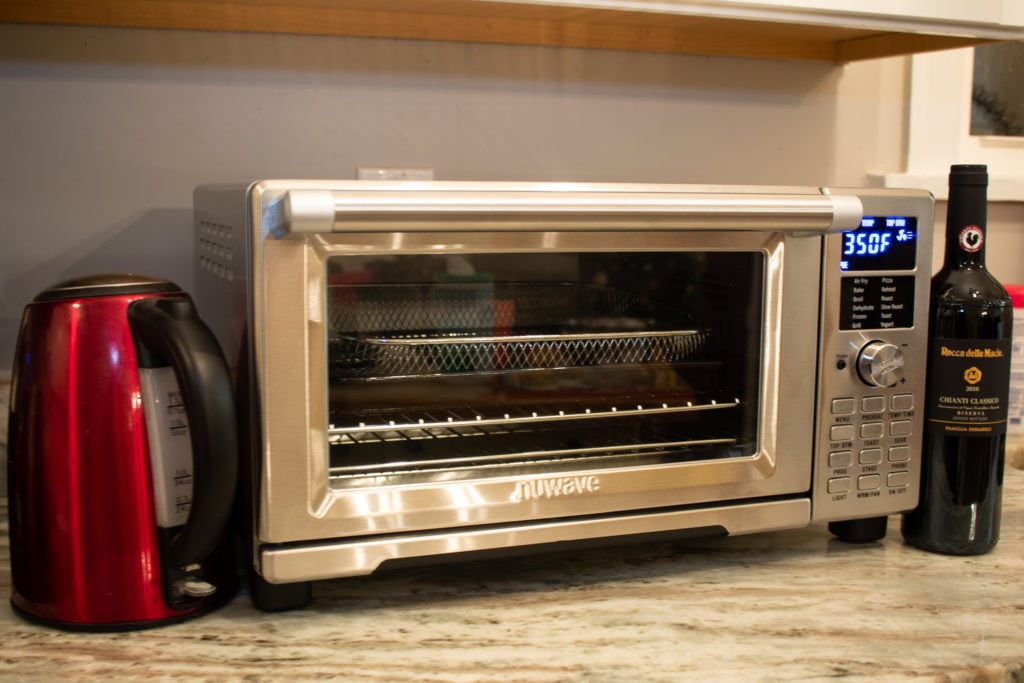 The Nuwave Bravo XL is one of the largest and also feature-rich air fryers I've seen, even in the toaster oven category which is populated by models with 10-13 functions on average.
With a 1 cubic foot capacity, you can fit a 10lb chicken in this oven, as well as a 13" pizza or 9 slices of toast, and with 5 quartz heating elements powering the Nuwave Bravo, it will handle anything you can think to cook in it with ease.
One feature I absolutely loved about this model was the inclusion of an internal temperature probe. This allowed me to monitor the cooking temperature of longer cooking items like a roast chicken without having to open the door. All I had to do was hook the temp probe into the front of the oven, insert the thermometer into the chicken at the thigh joint, and I was able to check the cooking progress by simply glancing at the display.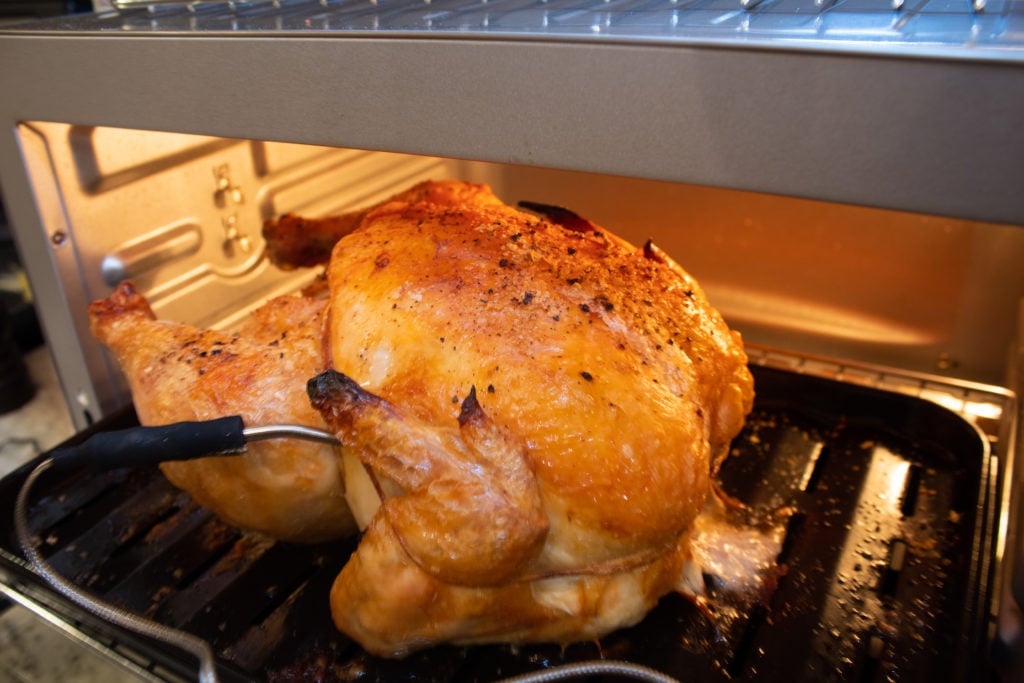 Despite this oven's large size and feature-rich option/appliance set, there is definitely a reason this oven didn't make the top spot in this category. This oven's control panel was the most frustrating to use of all the models I tested and if it hadn't had performed perfectly in every test it might not have made this list.
While the button-heavy, feature-rich control panel offers a huge amount of functionality at the user's fingertips, this oven was frustrating to use and confusing at times during operation. After a few days, I had mastered it enough to feel comfortable, but compared to other models on this list it was a much harder oven to get going the first few times.
The Nuwave Bravo XL (at Amazon here) is perfect for people who want a large capacity oven at a value or need complete control over their cooking process, including the ability to set multiple stages throughout the cooking program. If cooking chicken wings for a crowd is on your list or setting a multi-stage cooking program for a roast chicken or prime rib, then this is the best air fryer for you. On the other hand, if ease of use is your top priority there are better options on this list.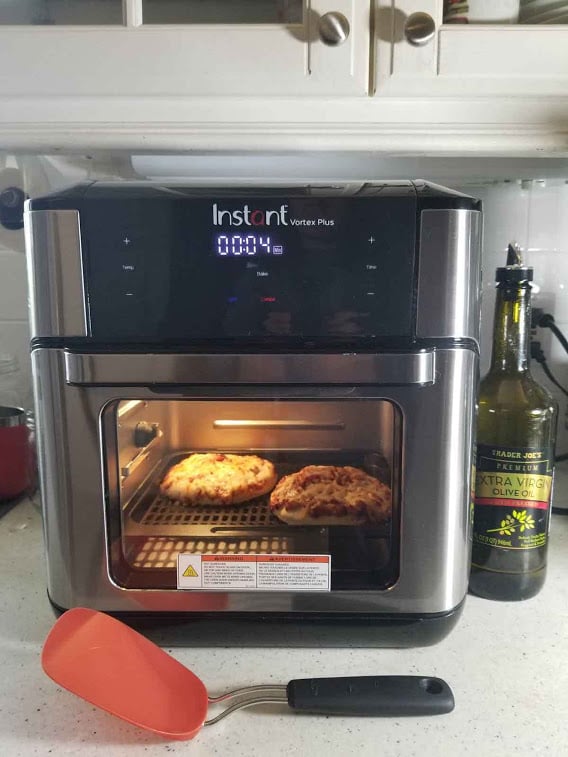 The instant line of product has become one of my absolute favorites, especially since adding one of their famous electric pressure cookers/electric multi-cookers to my kitchen. When I opened the box for the Instant Vortex Plus air fryer I knew I was in for a treat.
The Instant Vortex Plus is a big, boxy digital air fryer with a top-mounted digital display and a roomy oven interior. Equipped with a rotisserie and an innovative air fryer rotisserie basket, in addition to air frying trays, the Instant Vortex Plus offers a lot of options for its price.
One of my absolute favorite things about this oven was the air fryer rotisserie basket. While the machine comes equipped with traditional air fryer trays, the rotisserie basket was a real game-changer. By using the rotating rotisserie motors, you can fill the basket with small veggies, or things like shrimp, or chicken nuggets, lock it in place and it will spin freely allowing all your food items equal access to the hot circulating air of the oven. This simple accessory provided hours of delicious, perfectly crisp fries, nuggets, and other snacks that were definitely crispier and crunchier than some of the other models I tested.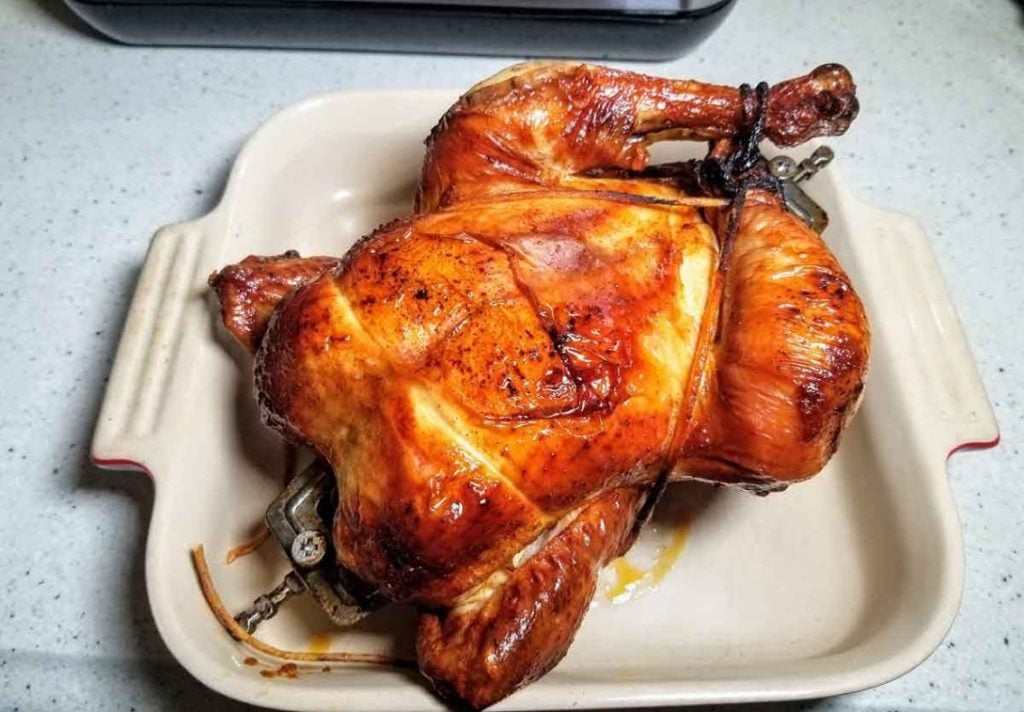 Because of this oven's top-mounted display and control panel, it may not work for everyone. It definitely sits higher than other models on this list and may take up more room on your countertop than is strictly ideal.
I would recommend this oven to anyone who wants to add a toaster oven style air fryer, with the added capability of a rotisserie function without ruining their budget. With a ton of functionality and a low price-tag, the Instant Vortex Plus Air Fryer Oven (at Amazon here) will expand your kitchen's capabilities and offer a ton of new recipe options for your weekly menu.
See also: If you need something larger from Instant Pot, the Instant Omni Plus also performed well in our tests.
I absolutely love the COSORI Smart 12-in-1 Air Fryer, it is sleek, well designed, and is definitely a value compared to a lot of this list. It comes in second in the value category for a few reasons but none of them are deal-breakers.
While the Cosori Smart Air Fryer is a value, it is slightly more expensive than the 1st place winner. In terms of value, the Instant Vortex Plus beats out the Cosori Smart Oven by a pretty fair margin. Additionally, the Cosori Smart Oven doesn't have a rotisserie function.
At a 25l capacity, this toaster can handle everything from a large chicken, small prime rib roast, or pork loin roast with ease. However, it would be nice to have seen a rotisserie included in the feature set.
The one feature this oven has over every other option on this list is smart home connectivity. For some, this might be a turn-off because the idea of talking to their air fryer isn't for them. I on the other hand am enamored with home connectivity/automation and try to add new smart devices as often as I can.
Overall, this fryer offers a great value and a pretty middle of the road feature set. If you are looking for a toaster oven style air fryer that can connect to your smart home devices, then the COSORI Smart 12-in-1 Air Fryer Toaster Oven Combo is the one for you. If you want to save more money or smart home connectivity isn't at the top of your list, you might find something else better suited to your needs elsewhere on this list.
Comparing The Top 3 Oven Style Air Fryers
Here's how our top 3 models look side by side: The best overall, the best oversized and the best low cost.
The Best Instant Pot Air Fryers
An instant pot air fryer can add a lot of added capability to your kitchen, without adding an entirely new appliance. If you already have an instant pot, purchasing the separate air fryer lid is as easy as a simple Amazon search and the click of a few buttons. On the other hand, if you've been thinking g about adding an instant pot or an air fryer to your kitchen then it only makes sense to get both options with only one purchase.
Why Pick an Instant Pot Style Air Fryer?
Overall, the instant pot air fryer category is small compared to the other parts of this list. There are only really a few options to choose from and they all look/operate in similar ways. Many users lament that while effective, recipes cooked in the instant pot air fryer aren't always as crispy or "well-fried" as foods cooked in a traditional air fryer.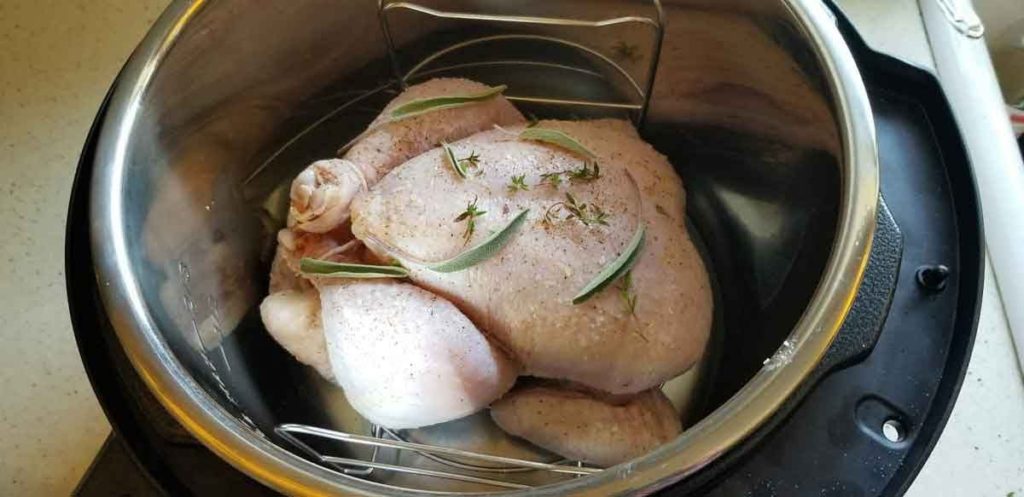 However, the air fryer lid for the instant pot does open up a ton of interesting options in terms of searing/crispy instant pot recipes after they've been pressure cooked/slow-cooked.
Features to Look For
Though the Instant Pot Style Air Fryer Segment of this review is the smallest, there are definitely some features you should be on the lookout for. Here are just a few of the most important.
Removable Lid While the ability to remove both of the lids, the instant pot pressure cooker lid, and the air fryer lid, would seem a basic feature for this category, you might be surprised. This is the thing that separates the first choice on this list from the runner up. If removing one lid to exchange it for the other is a must-have feature, you'll want to go with option 1.
Size: Two of the options on this list can accommodate the 6 quart model of an instant pot or comparable electric pressure cooker, while the final option is an accessory you can add to either a 6 or 8-quart instant pot.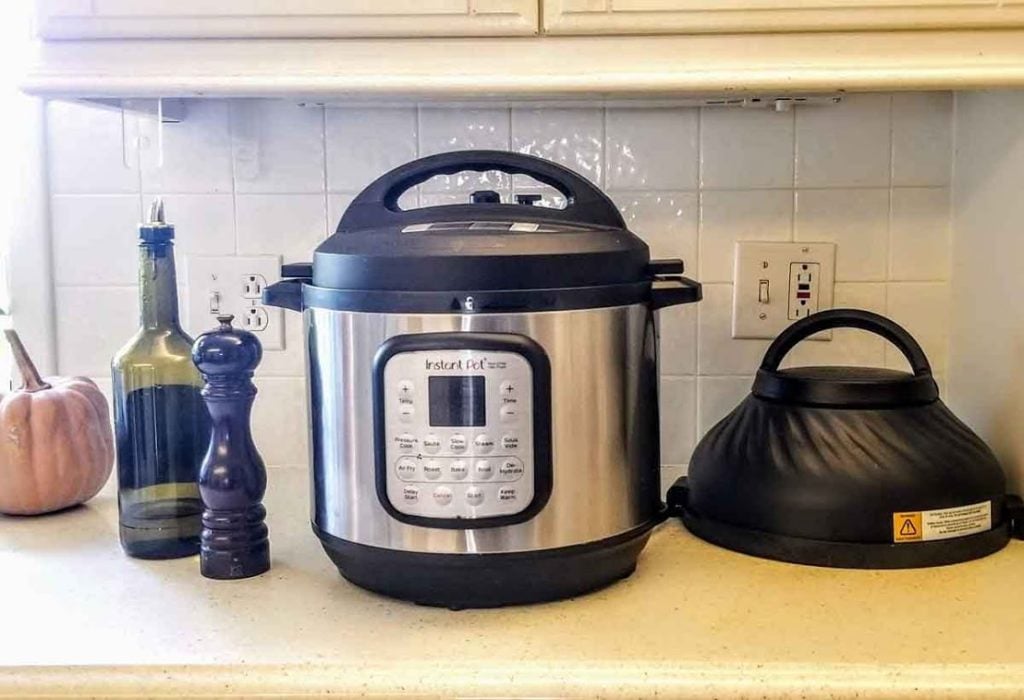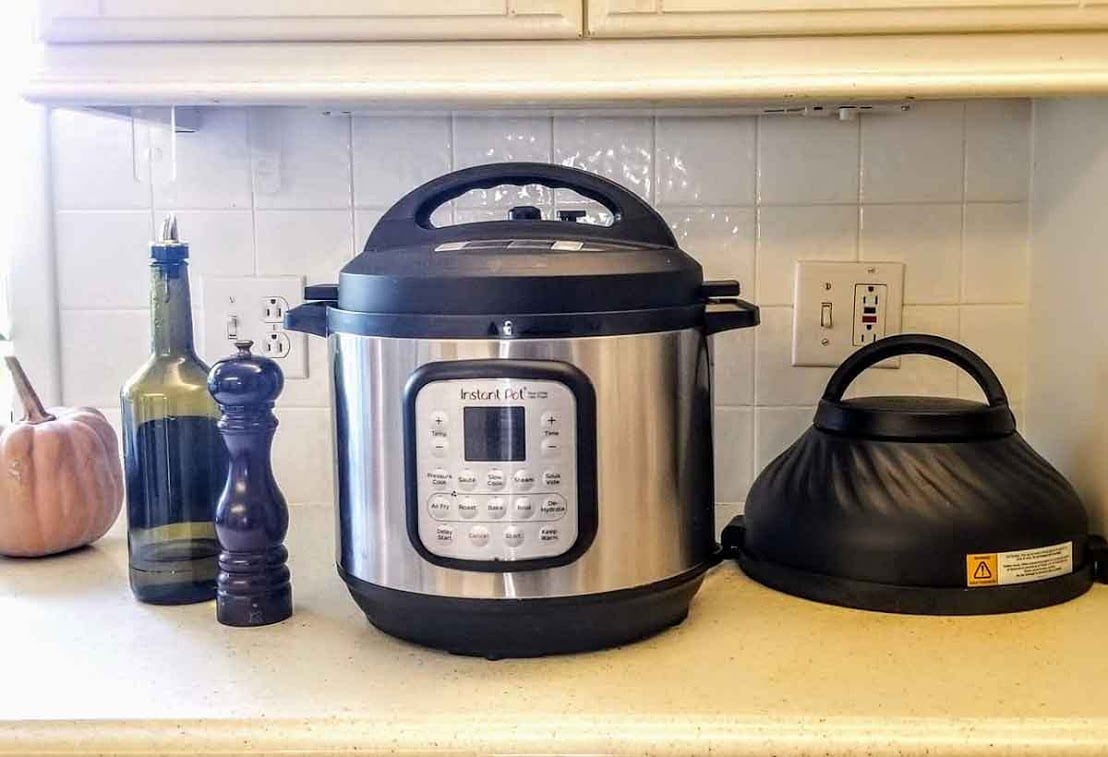 The Instant Pot Duo Crisp is the standard-bearer for the Instant Pot Air Fryer category. Designed by the Instant brand, the original makers of the electric pressure cooker/multi-cooker. The Instant Pot Duo offers the added capabilities of both a pressure cooker/slow cooker and an air fryer for the same price as the high-end pod-style model or middle of the road toaster oven style.
By purchasing two separate appliances in the same unit, you can save a ton of space in your kitchen, which is a huge plus considering how large both an instant pot and an air fryer usually are. Take it from someone who owns both an air fryer and an instant pot multi-cooker, this is a space-saving hack that you should seriously consider if you have limited space but want both appliances.
Overall the Instant Pot Duo is a high-quality air fryer, as well as a great muli-cooker. I will say that reviewers often lament that this is not the best example of the air fryer category because while the instant pot was designed to be a pressure cooker or slow cooker, it was not designed to be an air fryer.
While this oven might not handle everything I would normally cook in my air fryer, by combining the pressure cooker feature with the ability to crisp foods with a powerful oven attachment you can create some really special dishes. One of my favorite dishes you can only really cook in an Instant Pot Duo was pressure cooked and then roasted chicken.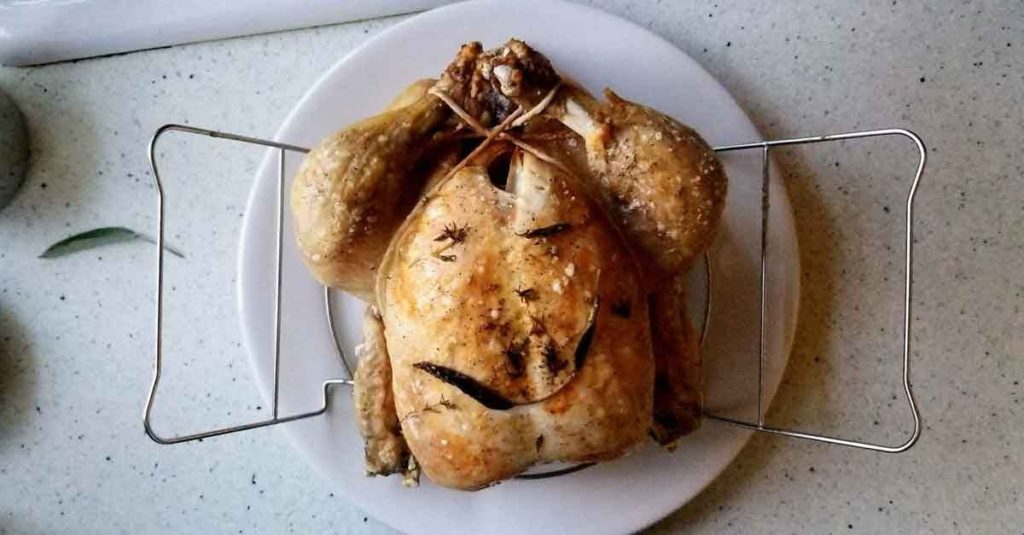 By pressure cooking the chicken with seasonings for 30 minutes you create a tender, juicy chicken as well as an incredible stock/broth in the pan to use for gravy or rice. After the chicken has been cooked to perfection you can attach the air fryer lid and in no time at all, you'll have incredibly tender, juicy chicken with crispy skin and incredible flavor. Furthermore, you can use the chicken stock from the cooking process to create an amazing rice pilaf right in your instant pot while your chicken is resting.
While you can absolutely roast a chicken in almost all of the air fryers on this list, pressure cooking can cut down your cook time significantly and it creates a juicy, tender chicken by preserving as much moisture as possible.
Overall I would recommend the Instant Pot Duo Crisp (at Amazon here) to anyone who wants to add both an air fryer and a pressure cooker/multi-cooker to their kitchen arsenal without having to purchase two separate appliances. While it doesn't do quite the job of other air fryer models on this list, it is more than adequate to handle most of your cooking needs on a nightly basis!
While the Instant Pot Duo seemed to be a pressure-cooker first and an air fryer second, the Ninja Foodi 9-in-1 multi-cooker has flipped the script and made the air fryer capability the focus of this cooker.
The Ninja designers have prioritized the air fryer function and this is obvious from a design standpoint. In the Ninja Foodi, you will find that you can remove the pressure cooker lid, while the air fryer lid remains a fixed component to the unit, remaining in an up position when not in use.
I can imagine that by keeping the air fryer lid as a fixed piece of the appliance, you can avoid an external power cord, but this convenience is overshadowed by how frustrating the air fryer lid is when not in use. Because the lid remains in an upright position it can get in the way when you're trying to adjust the pressure cooker lid, furthermore, it prevents the appliance from sitting in certain spots where overhead clearance might be at a minimum.
Overall, even though this air fryer was more consistent than the Instant Pot Duo which claimed the top place in this category, the lid was so frustrating to work around that it completely overshadowed this oven's performance. That being said this oven can handle everything from french fries to rice or beef stew with ease, and if you can get past the design of the lid system, you'll really enjoy this product.
I would recommend the Ninja Foodi 9-in-1 (at Amazon here) to anyone who wants to add the best air fryer/pressure cooker combo to their kitchen equipment line-up and who won't mind dealing with a less than ideal lid system. If getting the best quality out of your air fryer/multi-cooker purchase is your goal then this is the appliance you need, but if an easily manageable lid system that doesn't take up a lot of space is high on your list I would go elsewhere.
If you already own an instant pot you can add air frying capability with one simple purchase thanks to stand-alone air frying lid options like the MICHELANGELO Air Fryer Lid.
While you can absolutely buy the Instant Pot branded air frying lid as a stand-alone product, should you already own an instant pot, it can only accommodate the 6-quart model. It seems if you had the 8 quart Instant Pot model you were out of luck in the air fryer add-on department until the Michelangelo Air Fryer Lid came along.
This lid is simple to use and an effective way to add an air fryer to your kitchen while saving space at the same time. With a simple, compact design this air fryer lid will fit in a drawer or cabinet with ease. All you need to do to switch from pressure cooker to air fryer function is replace the pressure lid with the air fryer lid, plug it in, and set your cooking program with the top-mounted digital display.
Again as with the other models on the instant pot list, reviewers lament that while this air fryer lid does add a ton of functionality to their instant pot, it isn't as effective as a stand-alone air fryer.
I would recommend the MICHELANGELO Air Fryer Lid (at Amazon here) to anyone who wants to add an air fryer to their kitchen but wants to save money by expanding their instant pot's functionality. If saving space is your focus, then this air fryer lid will do the job, while also helping to prepare delicious air fried foods in your instant pot. If getting the best air fryer for your money is high on your list of priorities then this is probably not your best choice.
Comparing The Top Instant Pot Style Air Fryers
Summing Up
Buying a new appliance can be stressful. It's important to do as much research as possible, but remember all of the fryers on this list will produce incredible food, so whichever you choose you can be confident knowing you're bringing home an appliance that will provide enjoyment for a long while.
Now that you've chosen a fryer, and it's hopefully on its way, it's time to start looking up all the different recipes you'll be preparing. I would recommend trying out the usual suspects like wings, fries, onion rings, or nuggets. But also experimenting with things like bacon, roasted chicken, cauliflower, baked potatoes and Brussels sprouts.
The Best Air Fryer Accessories
So now that you've gone ahead and chosen an air fryer, it's time to accessorize!
Air fryers have been popular enough in recent years that an entire industry has sprung up around accessory options for these incredible appliances. From Pizza Stones to pan liners and specific baskets for preparing cakes or baked goods, these appliances help extend and expand the capabilities of your air fryer.
Here are some of my absolute must-have air fryer accessories:
Silicone Basket Liners
Cleaning your air fryer basket is easy at first but over the course of multiple uses, it's easy to build up stuck on grease and carbon. To prevent this there are a number of different options out there from disposable parchment liners to replacement baskets and my personal favorite, silicon basket liners.
Available in round or square shapes for different basket styles, these liners are designed for pod-style air fryers. If you have a toaster oven-style air fryer there are a few different options you could look at or in a pinch you could fashion your own liner with a silicone baking mat and a pair of scissors.
If you have a pod-style air fryer I would definitely recommend investing in this simple accessory and saving yourself a ton of headaches trying to clean your air fryer basket over the long term.
Oil Mister or Atomizer
One of the secrets to great air-fried food is to mist your ingredients with a light coating of oil before cooking. Often this is easiest to achieve with a bottle of canola oil spray, but if you are looking for a more green/responsible approach I would highly recommend investing in an oil mister or atomizer.
A spray bottle can work in a pinch, but if you really want to get the lightest, evenest coat possible, an oil mister is definitely the tool for the job. I personally love this model of mister, it's inexpensive and with just a few pumps it can coat my favorite air-fried foods in the perfect misting of high-quality olive oil or sunflower oil.
Multi-Accessory Kits
At its core all an air fryer truly is, is a well-contained convection oven with a top-mounted heat source and a high-powered fan. This combination of features makes for great air fried food, but it can do a lot more than just make wings or french fries.
With a multi-accessory kit, you can easily turn your pod-style air fryer into a full-fledged cooking suite. With the accessories included in this package, you can bake cakes, muffins, barbecue, pizza, and kebabs, all in your 5.3 qt pod-style air fryer.
While this kit is great for a pod-style air fryer, it isn't necessary for a toaster oven-style model. With a larger more traditionally shaped oven chamber you can fit many of the cake tins or baking trays you already own.
Wireless In-Oven Thermometer
I love to barbecue, slow roasting meats over charcoal or live fire is truly one of my absolute favorite things to do, and any good pit-master can tell you how important temperature control is to your success. Because of my bbq passion I've been a huge fan of using a wireless digital thermometer in my cooking for a long time now. Recently I've found a ton of success using one when I'm air frying larger ingredients, primarily whole chicken.
I love gadgets almost as much as I love barbecue and this thermometer is the perfect addition to your air frying set up, especially if you want to roast a chicken or prime rib. Simply connect the app on your smartphone to the thermometer, insert the temperature probe into your ingredient and begin the cooking process. You can set an alarm on the app to tell you when your product has reached the proper internal temperature, and you can check on the temperature from almost anywhere in your home. Talk about set it and forget it!
The Best Foods to Cook in an Air Fryer
Now you've chosen an air fryer, let's talk about the best foods to prepare once you get your new appliance home and maybe some foods to avoid in your new air fryer.
These foods are absolutely incredible when prepared in an air fryer. They are as good if not better than their deep-fried counterparts, and will absolutely become a heavy part of your air-fried food rotation.
Brussels Sprouts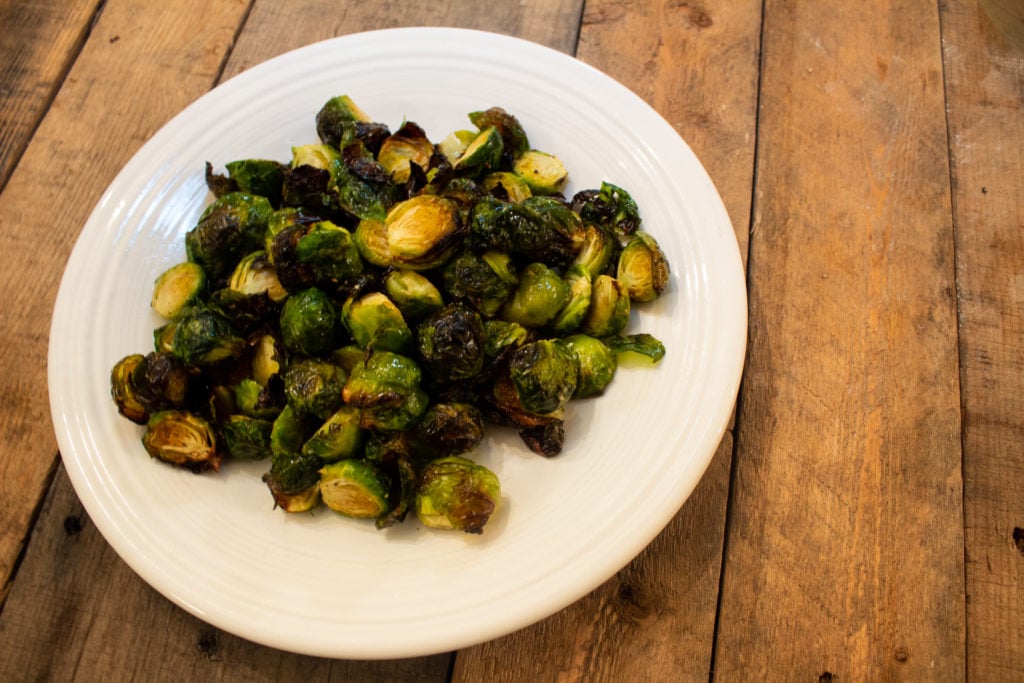 Fried Brussels sprouts are super trendy, they go great with almost any sauce, or seasoning you can think of, and they work perfectly in your air fryer. Crispy, crunchy with the perfect rich Brussels sprout flavor, if you are a sprout fanatic these will definitely satisfy your needs.
Frozen French Fries
Cooking french fries in an air fryer is as simple as choosing your favorite frozen bagged french fry, loading them into the basket, and waiting for about 20 minutes while your air fryer works its magic.
While frozen pre-cooked french fries are mediocre at best when prepared in a traditional oven, when you cook them in an air fryer you are able to get the closest thing possible to a deep-fat fried fry from your favorite restaurant. The best part is, air fried fries have 90% less fat and almost 100% less cleanup than a deep-fat fried french fry!
Wings
Buffalo wings were one of the first things I prepared in my air fryer, and after the first batch was finished I was an air fryer convert from that moment on. I am a pretty big fan of buffalo wings and some of my favorite nights in college were spent with a big group of friends at wing night at our local brewery. These wings were everything I could have wanted out of a deep-fat fried chicken wing, and they were so incredibly easy to prepare.
Whether you choose to bread your wings or not, your air fryer will easily create some of the best wings you've ever made at home. Simply season your wings, preheat your air fryer, and load the basket, ~25 minutes later you'll have restaurant-quality chicken wings for ¼ of the price!
Protein/Greens Combo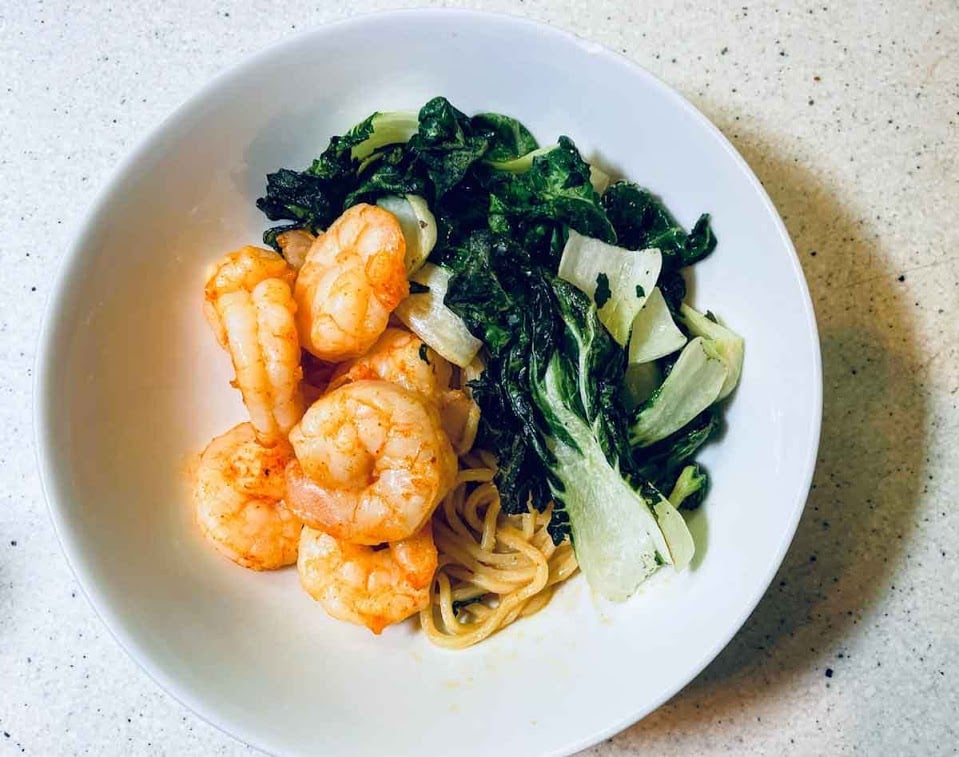 One of the more practical things you can do with an air fryer is to use the basket divider or racks that come with your machine to prepare an entire meal, all in one cook.
This often involves starting the cooking of one ingredient (often the vegetable) and pausing the air fryer part way through to add a protein (like shrimp or pork chops, which tend to cook quickly). Once you get used to the times and temperatures for your favorite foods there are unlimited combinations to experiment with in this realm. Cooking this way minimizes clean up too.
Whole Roast Chicken
Whether you've decided upon a pod-style or a toaster-oven style air fryer, the odds are you are going to pick a model large enough to handle a whole chicken. This is good news because some of the best chicken I've ever prepared in my kitchen at home has been in my air fryer.
Thanks to the high-powered convection fan you can cook a chicken quickly and evenly in your air fryer, and because of the small oven size, you can save a ton of energy doing it!
Baked Potatoes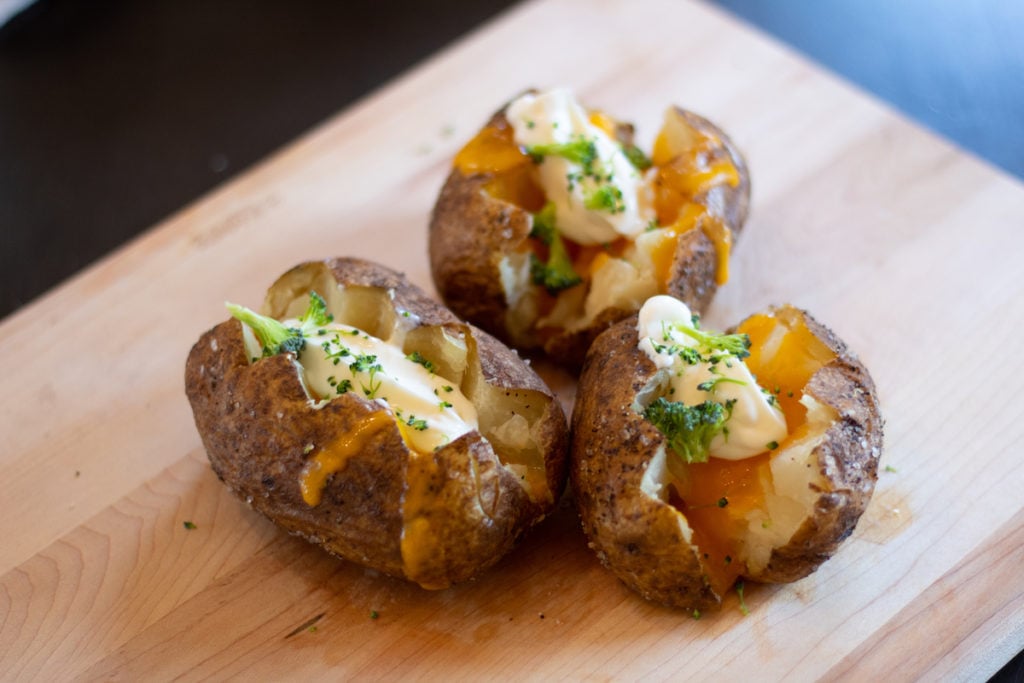 While not necessarily an "air-fried food" baked potatoes are an awesome side dish you can prepare in your air fryer with ease. Simply rinse and season your potatoes, then load them into the air fryer basket. Cook for 40 minutes at 400°f and when finished you'll have a perfectly baked potato with zero mess and little to no cleanup.
These are foods you might not want to air fry, some of them simply won't work, while others might be better prepared with other methods.
AVOID: Battered Foods Like Beer Batter or Tempura
Battered foods absolutely do not work in an air fryer. It's a hard truth to swallow, but if you were hoping to make incredible air-fried tempura, I'm sorry to say it's not in the cards. This is because while an air fryer can approximate a deep fat fryer it is more of an oven than anything else.
Battered foods need to be submerged in hot oil to stiffen the outside coating and properly fry. Because an air fryer is an oven with a high-powered fan, the batter will simply fall away from the foods you are trying to cook and create a terrible mess. If you want to create high-quality fried/breaded foods, you're going to want to use a dry dredge or a wet-dry breading method.
AVOID: Potato Chips
While baked or "air-fried" potato chips are certainly possible, there are a ton available on grocery store shelves, they aren't feasible in an air fryer. Because of the overall basket size, you can only fit so many slices of potato into a batch at one time and because of the capabilities of the oven, it won't be able to properly crisp the potato slices into a quality potato chip.
You can use some air fryer models as a dehydrator and this could be successful with certain root veggies as well as fruits, but making dehydrated potato chips is not something I would advise. Potatoes need to go through a caramelization process to become a quality potato chip, something that won't be possible under dehydrator temperatures.
AVOID: Hand-cut French Fries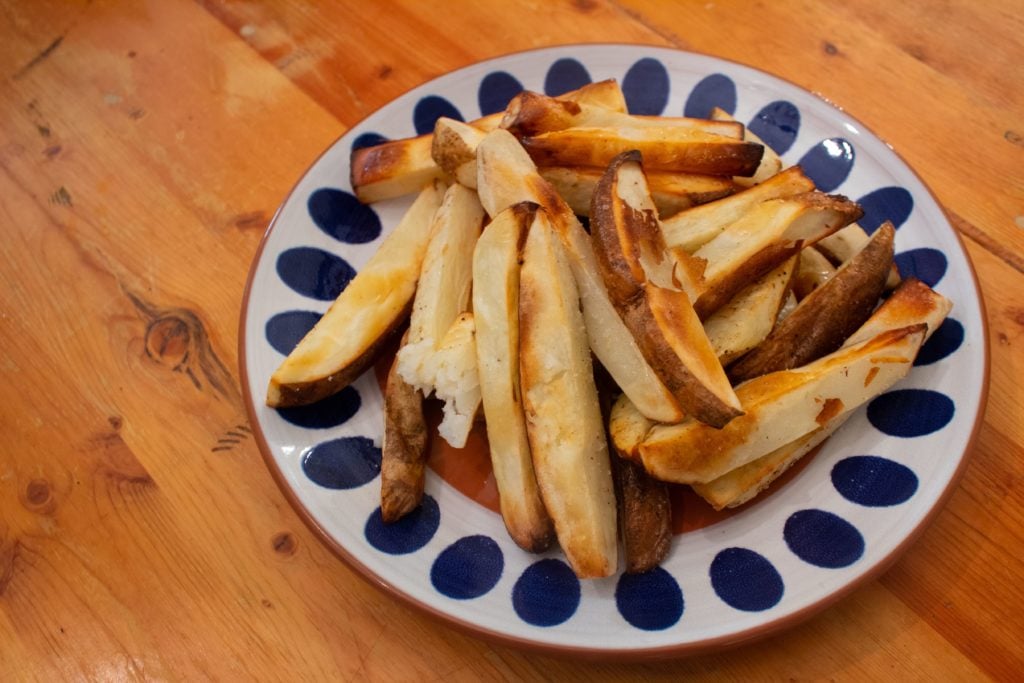 I'm not going to say it's impossible to create incredible hand-cut french fries in your air fryer, but I think it's important to mention that the work involved might outweigh the results.
To create an incredible french fry I firmly believe it's important to precook potatoes before giving them a final crisping in hot oil or an air fryer. This is why I'm such a big fan of pre-cooked frozen french fries at home.
In most of my early experiments making hand-cut french fries in my air fryer, I found my final product to be passable but far from a high-quality french fry. Most of these early tests were more like stick-shaped, roasted potatoes than a french fry. I did discover through my testing that if I fried leftover french fries again in the air fryer, the final product was much crispier and a lot more like a classic french fry than anything else I had made.
If a hand-cut french fry is your goal, you can absolutely make a delicious product in your air fryer but it will pale in comparison to a good, deep fat fried french fry. On the other hand, if you want to make the tastiest fry possible at home, consider a high-quality frozen product instead.
The Noise of Air Fryers
Air fryers are loud appliances. Thanks to their high-powered convection fans, and small size, they make a disproportionally large amount of noise. Luckily they rarely need to be running for more than an hour and they are definitely worth the noise considering the quality of food they can produce.
Pod-style air fryers seem to create more noise than the toaster oven-style models. I attribute this to their smaller more contained design, while the larger toaster-oven style can diffuse the noise a little more effectively.
If a quieter, less thunderous appliance is at the top of your list of features consider going with any of these fryers below:
Quietest Air Fryer I Tested: Emeril Lagasse Power Air 360
Runner Up: Breville Smart Oven Air
Then: Nuwave Bravo XL
Quietest Pod-Style: Cosori 5.8 Qt Air Fryer
Non-Stick vs Steel Air Fryer Baskets
One of the most common differences between pod-style air fryer models is the composition/coating of the air fryer basket itself. While many baskets come equipped with a non-stick coating, some opt for a classic stainless steel basket, while some others use more novel coatings like copper or ceramic.
In general, I like non-stick coatings, but they are much more difficult to care for over the long term. Because they are prone to scratching, you need to use silicone utensils when dealing with a non-stick coating and you absolutely must avoid abrasive cleaners or sponges when cleaning.
Instead of a non-stick basket, you could use something like the silicone basket liner found in the accessories section. This will help protect your basket, making it easier to clean and helping maintain a nice stainless steel finish or the non-stick coating on your basket depending on the model you've chosen.
The Most Common Air Fryer Defects
Even the best air fryer models can come with a defect or two. Even though all of these machines come with some sort of warranty or guarantee, it's important to remember that the warranty process can often be frustrating and it isn't always free considering shipping and handling fees. If you've followed the instruction manual properly and you notice any of the following, it's probably worth making a warranty claim.
Cracked/Chipping Baskets
Depending on your baskets design/coating cracking or chipping can occur throughout use. If your basket is chipping after 1-2 uses, definitely seek a warranty claim. To extend the life of your baskets I highly recommend using a liner and also always cleaning by hand. Avoid the dishwasher where possible and use a non-abrasive cleaner/sponge.
Machine Overheating
This is a possible problem with almost any kitchen appliance, so don't be too alarmed. If your machine is overheating out of the box, unplug it and immediately seek a warranty replacement. If you notice your machine is overheating or see smoke after multiple uses you should definitely clean the heating element and the oven chamber first to try to diagnose the issue.
It's important to remember that even though these appliances can handle a lot of food, they are much smaller than a traditional oven and will build up grease/sediment quickly. I like to wipe the inside of my fryer down with a damp cloth after every use to help avoid excess grease build-up.
Faulty Control Panel
Many of these machines come equipped with a digital control panel, and while I love a good digital display, they can be prone to failure over time. If your control panel fails during the warranty period it is best to seek a warranty replacement, it's rare that the control panel would fail because of user error and it's most likely due to a manufacturing issue.
One thing to note is to try to troubleshoot a control panel issue using the manual before attempting to contact. the warranty service. Sometimes something as simple as a lock button or a setting issue can remedy your problem, a google search can also help here as well to confirm whether others have had the same issue.
The Machine is Leaking
Most air fryers come with a vent somewhere on the back of the appliance to help release the steam that builds up while cooking. Depending on the placement of the appliance on your countertop this steam can condense around the base of the machine creating the appearance of a leak.
If you suspect your machine of leaking, try to troubleshoot the issue as best you can. However, if you notice grease/juices leaking from the machine while cooking, from chicken wings, for example, you should definitely contact the warranty service. This could be from an issue with the oven chamber/basket in a pod-style air fryer or from a crack in the bottom of a toaster oven-style air fryer.