There are air fryers. There are air fryer ovens. Then there are air fryer ovens with built-in rotisseries. Welcome to the luxurious world of home cooking in the 21st. century.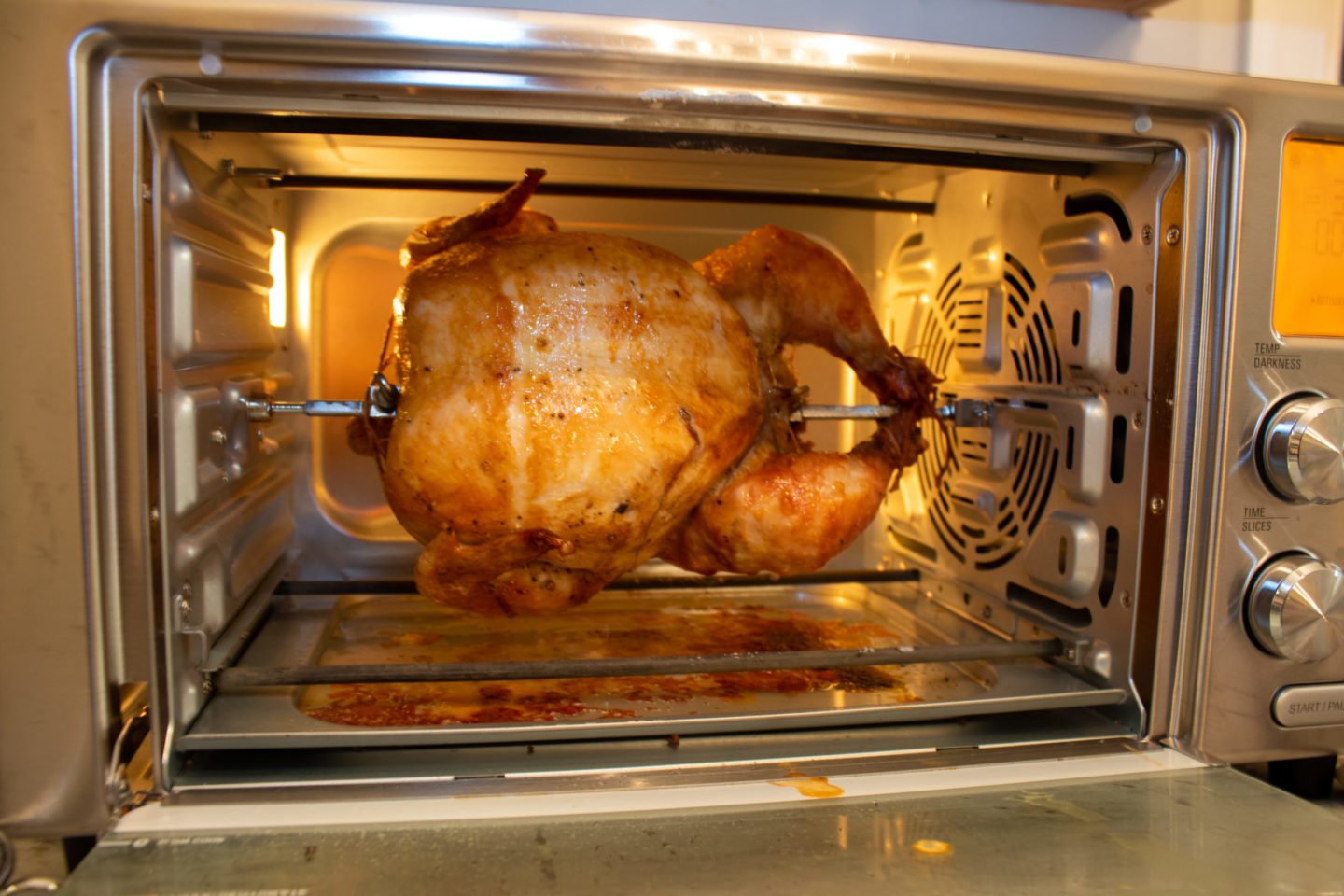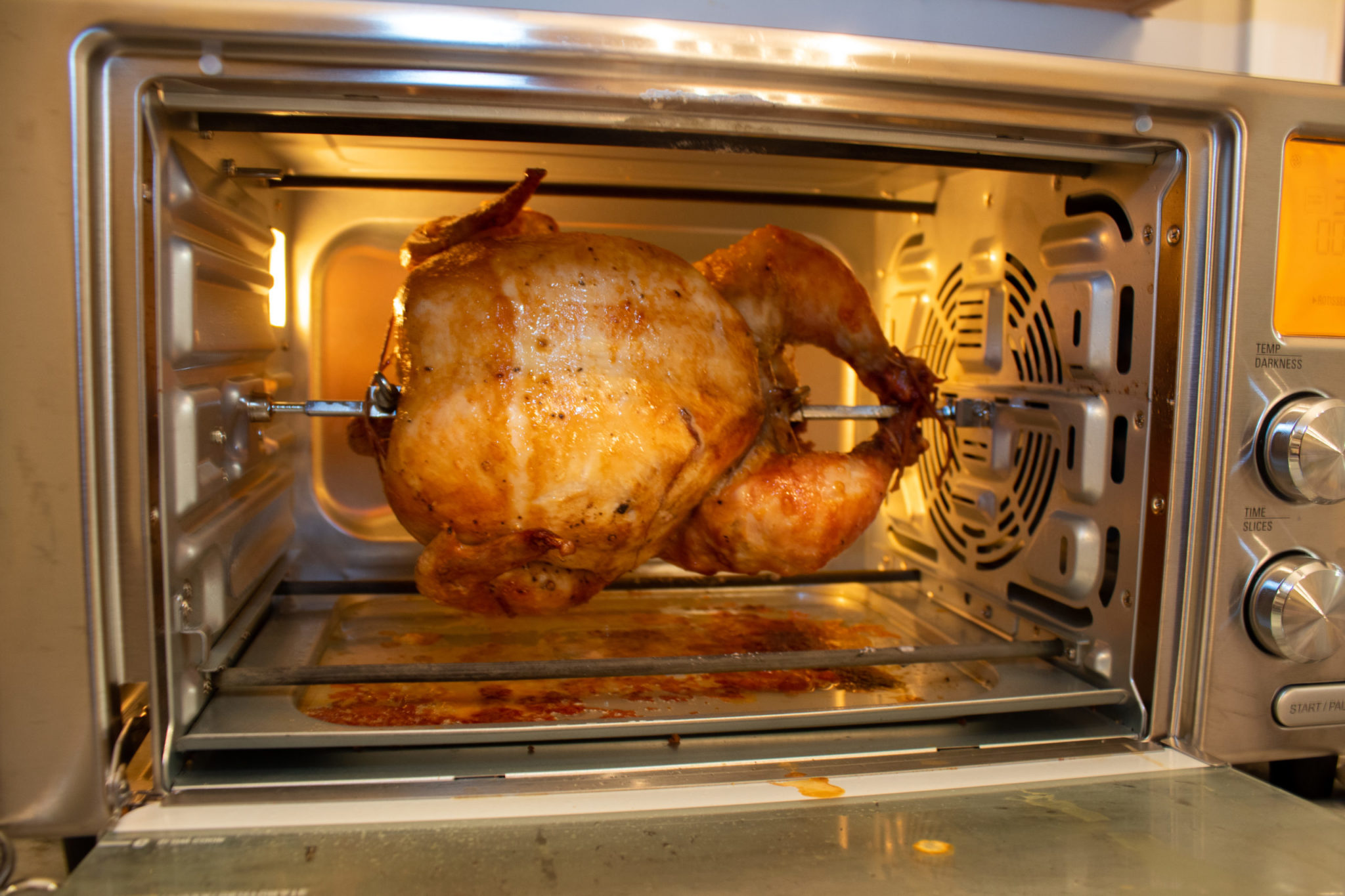 As you probably already know, these machines are amazing. They open up possibilities for the home cook that were previously reserved for restaurant kitchens.
What you might not know - unless like us, you bought and tested nearly all of these machines - there are some catches.
Some of these machines have a rotisserie but it's impossibly difficult to set up. Some have a rotisserie but not enough internal space to actually fit a decent-sized piece of meat on it. One rotisserie we tested fell down with a bird on it, and with the oven on! That was both a huge pain to clean up, and if I think about it... kind of dangerous.
I decided to test out 7 of the hottest models that are available on the market and I can honestly say that the Emeril Lagasse Power AirFryer 360 is the overall best air fryer with rotisserie that you can buy today. This air fryer really stood out because of how well it performed with any given task and how easy it was to use and operate.
If you own an air fryer, you already know how useful it can be when you need to make dinner in a rush. They really do get the job done in a matter of minutes where it would take your oven or stove two or three times as long to create the same meal. However, not all air fryers are created equal.
The most common type of air fryer is the traditional pod-style. These are great for cooking a multitude of different foods in a hot second. If you need to make a small meal or two these work great but if you are needing to make a meal for the entire family or say, roast a whole chicken, their limited size is not going to cut it. That is where the oven-style air fryer comes in.
Calling these machines a toaster oven-style air fryer is an understatement in terms of what they can accomplish. They are only called that because they look like a toaster oven. Some can be fairly small, perfect for apartments or dorm rooms while others can be very large, a better choice for big families. Usually, the internal capacity ranges anywhere from 10 to 40 quarts and is either rectangular shaped vertically or horizontally.
But oven-style air fryers with rotisserie are in a category of their own.
The internal rotisserie adds a new category of foods that can be cooked, from roast chickens to pork butt, to shawarma, and more. It's in this category of air fryer that you really get the most bang for your buck.
When I tested the different models I ran the same tests on each air fryer oven to compare performance across the most important metrics: How long did something take to cook? How well was it cooked? How easy was it to cook that item in this machine? How easy was it to clean up?
Here's how the models stacked up based on their overall scores.
Table of Contents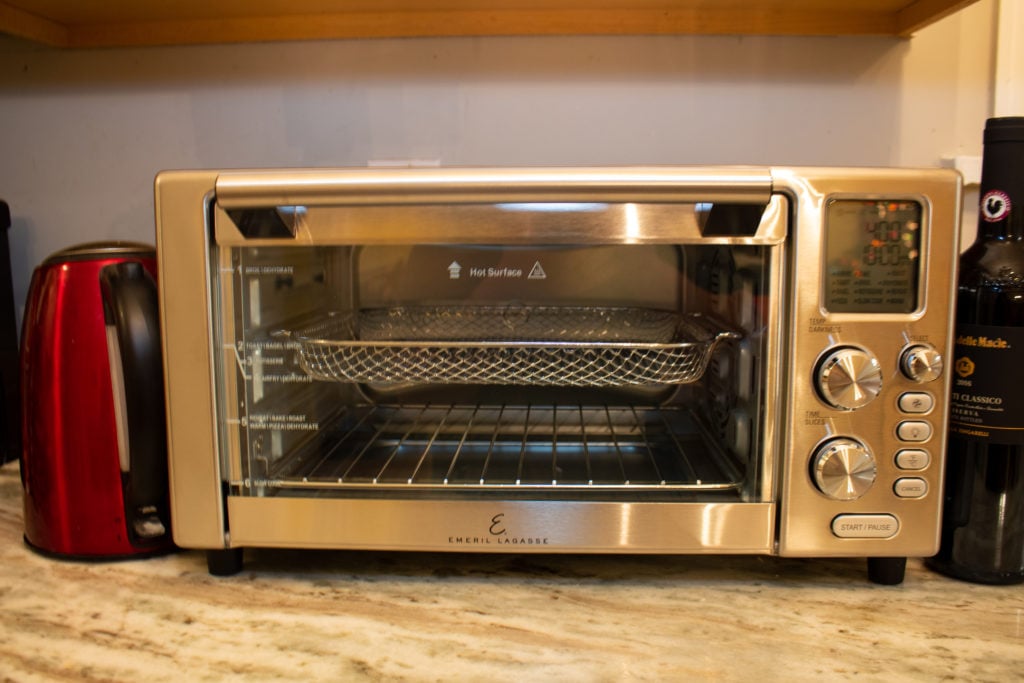 The Emeril 360 air fryer oven is our #1 best air fryer with rotisserie right now. It's affordable, with plenty of internal space, multiple rack positions, and all the accessories you need for common cooking tasks, so you're not constantly heading back to Amazon for another part for each new recipe.
Emeril designed and crafted this machine himself and really thought of everything when it came to cooking popular foods.
It has everything I would ever want in a tabletop convection oven and it really did look great in the kitchen. It has a fairly large inner capacity of 930 cubic inches (just under a cubic foot) which makes it great for cooking or roasting anything large: You can even fit a (small) whole turkey in there!
Even though it's not the biggest air fryer oven on our list, it was big enough to tackle some pretty tough tasks. Properly trussed we could cook a 4lb roast chicken in it, and it tasted great.
It fit nicely under the overhead cabinets which was nice since some of the other models like the Kalorik 26 QT Digital Maxx Air Fryer Oven or the COSORI Air Fryer Oven were too tall to fit.
The air fryer oven uses several heating elements (rather than just one) that create cyclonic air for 360° circulation, making it perfect to air fry, rotisserie & dehydrate. It is equipped with 9 different cooking functions such as roasting, toasting, baking, slow cooking, and broiling, as well as 12 different presets that are programmed into the machine which automatically set the time and temperature for different cooking tasks with just the touch of a single button.
Bonus Feature: The Emeril will even remember the time and temperature settings from the last time you used the machine, in case you want to quickly cook the same thing again.
It comes with several different accessories to help you cook your meals correctly and with ease. A crisper basket is included to help with frying items like french fries and the rotisserie spits allow you to cook whole chickens, turkeys, or kabobs. The air fryer also comes with the standard baking rack, drip tray, and roasting pan that you see with most other models around this price.
To maximize the value, you also get a recipe book created by Chef Emeril to help you on your cooking journey.
If you just want the best value-for-money air fryer oven with a rotisserie, grab the Emeril 360. If you have a specific need the Emeril can't accommodate, keep reading.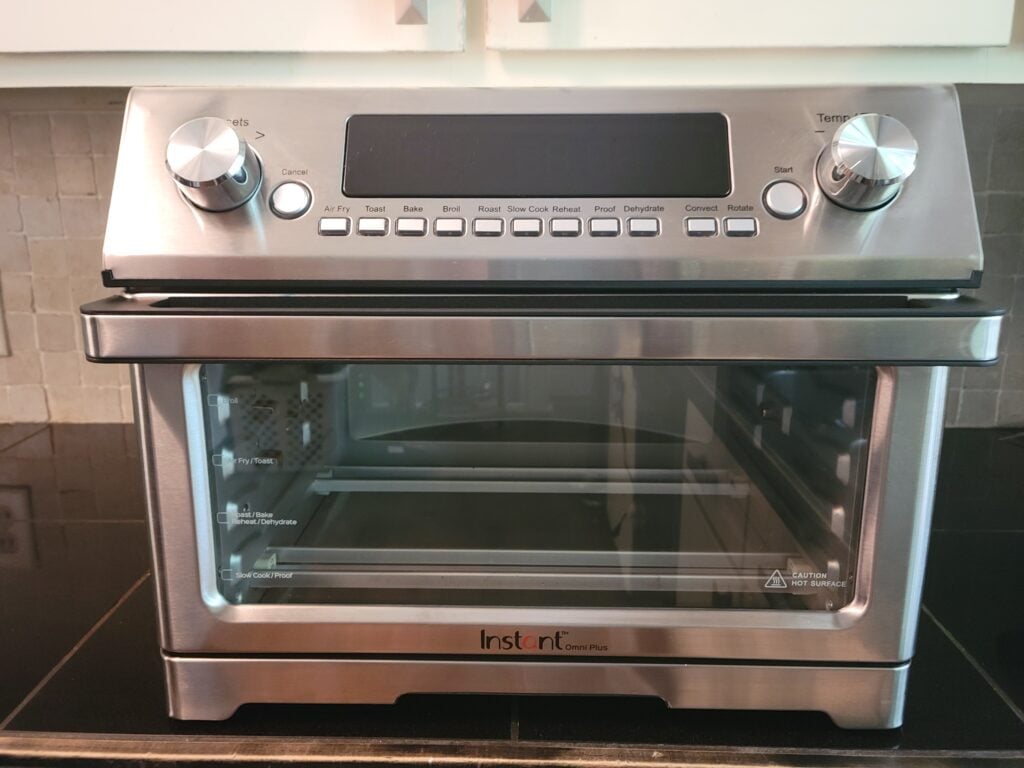 The Instant Omni sits at a very close second place in our rankings. Both of these air fryers have a lot of the same features and presets. They cost close to the same price (after a recent price reduction for the Omni) Aside from that, The Omni Plus does excel in some areas that may make you want to buy it instead.
The Omni is still able to cook everything you would normally cook in your oven at home and in about half the time. If you are a pizza lover then get ready to cook a large pizza in about 5 minutes from a fully frozen state. Your oven at home usually does that in about 20 minutes. The Omni works well to cook all sorts of fried goodies as well as whole meals in a matter of minutes.
The sleek stainless steel look of the machine really does pop on the kitchen countertop.
Reason #1 to Choose The Omni Instead: More Power
Both air fryers have the same number of heating elements but the Omni Plus has a higher wattage output of 300 extra watts. This means it is more powerful and will be able to reach higher temperatures faster and while maintaining them for longer.
The Instant Omni Plus can reach temperatures of 500 degrees while the Emeril Power air fryer will only go up to 450 degrees. The Omni Plus air fryer also has a longer timer which goes up to 12 hours. Normally, you will not need to cook food for this long, but it is nice to have the option! No, seriously, the reason for that timer length is dehydrating meats and veggies.
Reason #2 to Choose The Omni Instead: Proofing Function
The other reason the Omni Plus surpasses the Emeril Power is the proofing function. In fact, this is the only air fryer on the list that comes with this feature.
The proofing function allows you to proof your dough within the air fryer safely. Usually, if you were proofing your dough before baking it into bread pizza or muffins, you would just place the dough in a bowl, cover it with a towel and let it sit at room temperature for an hour or two. This will activate the yeast in the dough causing it to rise which is ideal for baking loaves of bread. This process is long, boring, and in some cases can be dangerous.
When uncooked food items are left out, especially when live cultures or bacteria are added to them such as yeast, there is always a risk for food-borne illnesses or food contamination. If you have ever worked in a commercial kitchen or even in a pizza delivery joint then you would know that these places use industrial proofers that create a warm and safe environment for their dough to proof. Now you can do the same thing at home with the Instant Omni Plus!
This behemoth of an air fryer is really great if you want to cook more than one item at a time. This model will be able to handle a protein plus a side or two at the same time.
The Kalorik Digital air fryer oven has a 26-quart capacity oven which is larger than any other model on this list. It will be able to tackle the largest proteins such as a thanksgiving turkey. It has a set of French double doors that open from side to side which is also different than the other models on the list. You should have no problem placing food in the air fryer or retrieving it.
It will still be able to cook french fries, use the rotisserie for whole chickens, or toast as much bread as your heart desires. It has a powerful 1700 watts that allow it to reach temperatures of 500 degrees which is perfect for creating the sear on all your proteins. It is also able to reach lower temperatures for dehydrating meats and veggies.
It is modestly priced and comes protected by a 1-year warranty. Just make sure you have the counter space for this machine because it is going to take up a lot.
Reason #1 to Choose The Kalorik Instead: Grilling
One of the reasons this machine is going to be better than the Emeril or Omni above is the grilling function. This allows you to grill steaks, shrimp, and veggies just like you would on the outside grill. Now you don't have to go outside and man the grill when you want to enjoy a steak for dinner.
Just place the steak on the grill plate accessory, and place it in the air fryer. There is a preset for the grilling function that is programmed into the machine so you won't have to guess how long or at what temperature to set the air fryer. When the steak is done, the air fryer will sound an alert to let you know it is ready.
Reason #2 to Choose The Kalorik Instead: Bacon Tray
It comes with everything you will ever need to cook in your air fryer. There will be no need to go to their website and purchase any other accessories that would not have come with the machine.
While most other machines do come with plenty of accessories, this one comes with an accessory that the others don't include. Aside from the grill plate, it comes with a bacon tray. The bacon tray is used for exactly what you think it would be used for.
Even though every air fryer can cook bacon, a problem arises almost every time. When you cook the bacon, it always curls up and doesn't seem to stay flat. The bacon tray keeps the bacon in place and separate from the other strips while it cooks. It will keep its shape and get nice and crispy in a matter of minutes.
The Cosori is one of the larger air fryers on the list. Other air fryers may be able to roast or rotisserie a whole chicken. However, the Cosori can do the same but with twice the size of the chicken.
It has 12 presets that will help you to cook any number of dishes with just the click of a button. This will really cut out the guessing work when you don't know how long or how hot to cook something. It also comes with plenty of accessories to help you cook, bake, fry or rotisserie with ease.
The Cosori is very reasonably priced and comes protected by a 1-year warranty as well. Since it has the largest size dimensions on the list, make sure to clear off some counter space because it will need a lot of room.
Reason #1 to Choose The Cosori Instead: Deeper (better for pizza)
One of the main reasons this product is better is the actual size of the machine. It has a much larger capacity than the Omni Plus or the Emeril but is similar in size to the Kalorik. However, when compared to the Kalorik, the Cosori has a longer depth. This means it will be able to handle some things that may be a tad bit bigger.
For instance, most large pizzas are about 12 inches in size but sometimes they can run a bit bigger, especially if you are making them from scratch yourself. The Cosori can cook a 13-inch pizza to perfection every time.
Reason #2 to Choose The Cosori Instead: Highest Temperature
It is one of the most powerful air fryers on the list with a whopping 1800 watts of power. The Omni Plus also has 1800 watts of power but the Cosori can reach extreme temperatures of 550 degrees and maintain them for longer periods of time. Not that you would need to cook anything for very long at 550 degrees, but it does come in handy when you need really nice sear on a protein or if you are trying to char some veggies for dinner.
This machine is vastly smaller than the others on the list. It also comes with everything you would need to cook, roast, grill, and baked foods. The machine does come at a reasonable price and a 1-year warranty. But it is one of the smallest air fryers on the list making it perfect for people that don't have a lot of space in the kitchen.
The oven capacity is only 15 quarts which does seem very small when compared to all the others on the list but it does have a couple of features that make it a formidable option. Inside the oven, there are several spaces to place multiple racks. The Nuwave comes with 4 separate racks but cannot be filled in large amounts.
Reason #1 to Choose The Nuwave Instead: Temperature Probe
The Nuwave oven comes with a temperature probe that allows you to gauge how hot the inside of your meats are while they are cooking.
All you need to do is place the meat probe thermometer inside the protein, place the meat in the air fryer and choose from one of the 100 different pre-programmed presets the machine has. The meat probe thermometer takes readings from the protein as it cooks and relays it back to the air fryer. Once the protein has reached the desired inner temperature, the air fryer will automatically shut off and alert the consumer that dinner is ready! This is a really cool addition that usually comes in handy with grills and smokers. It will take a lot of worries off of your plate and let the machine do all the work for you.
Reason #2 to Choose The Nuwave Instead: Rotating Basket
The Nuwave Brio comes with an air fryer basket that is used on the rotisserie. The basket is square-shaped and has about 2 inches of thickness when the basket is closed.
This type of basket is a game-changer when using the rotisserie function. It comes in handy if you wanted to cook other things that cannot be placed on the rotisserie spit or that would fall off during the rotisserie cook.
Just place the food in the basket and attach it just like you would with the rotisserie spit then you are ready to go. This makes it really perfect if you wanted to rotisserie a flaky fish like salmon or halibut that would eventually fall off of a rotisserie spit while cooking. In my opinion, all air fryer rotisseries should have this accessory. It would change everything when it comes to using the rotisserie function.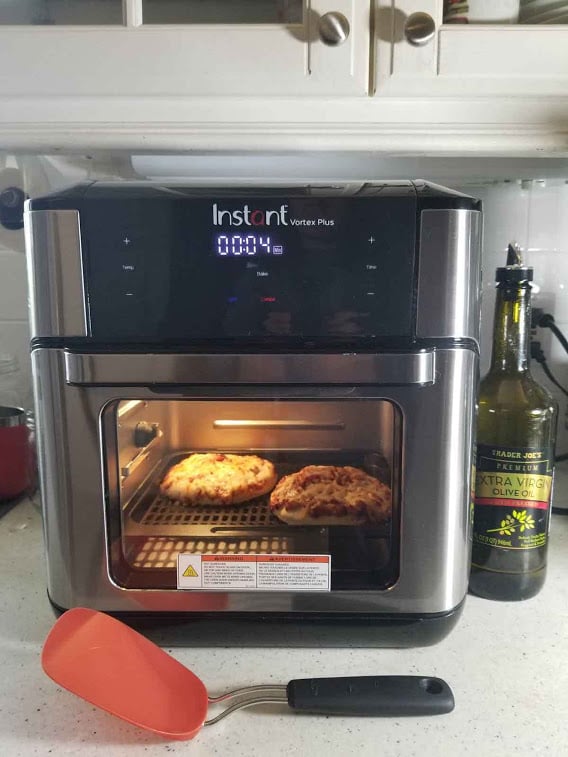 This air fryer is one of the smallest rotisserie air fryers on the market and comes from the same people who make the Omni Plus. It is pretty limited on what it will be able to handle when compared to all the others on the list.
However, it has a rotisserie function. You just won't be able to cook larger foods on the rotisserie spit and you certainly will not be able to cook a whole chicken either. It will manage to rotisserie cook smaller proteins like steaks, tenderloins, and cornish game hens.
Like the Nuwave Brio Air fryer, the Vortex can cook several different things simultaneously. It comes equipped with three different slots for baking trays to be placed in it all at once.
The Instant Vortex is very affordable and comes with a 1-year limited warranty to protect it. Because of its small size, it would be perfect for anyone who does not have much space or doesn't need to clutter their countertops with kitchen appliances.
Reason #1 to Choose The Instant Vortex Instead: Rotating Basket
One of the cool reasons this machine may be chosen over the others is the air fryer rotisserie basket just like the Nuwave Brio. The shape of the basket is a cylinder which makes it perfect for air frying french fries, veggies, or potatoes while still using the rotisserie function.
Reason #2 to Choose The Instant Vortex Instead: Compact
Since it is so small, literally anyone will be able to find a place for it on their countertop. Even if they don't want to display it in the kitchen all the time, it's so small that it will easily store away in a small kitchen cabinet with ease.
The Innsky air fryer is very similar in shape, size, and functionality to the Instant Vortex air fryer. However, the Innsky air fryer, is about half a quart bigger on the oven capacity.
It comes with a lot of the same accessories as the Vortex including the cylinder-shaped rotisserie basket and the number of racks it can hold on the inner oven. It is pretty safe to say that both of these air fryer rotisserie ovens are the same machine, just one of them comes at a lower cost. Even the materials they are constructed from are the same.
Reason #1 to Choose The Innsky: Cheap
It is the cheapest product on the list and in all honesty one of the cheapest air fryers on the market that comes with the rotisserie function. It also comes protected by a 1-year warranty as well.
If you are a person who doesn't have a lot of money to spend on fancy new kitchen appliances or just doesn't have that kind of budget then you should definitely take a look at this machine.
Reason #2 to Choose The Innsky: Kabob Skewers
The Innsky air fryer comes with 8 stainless steel kabob skewers. They can be used for placing protein or veggies on and cooked in the air fryer. It's not really a game-changer but they would come in handy in some cases.
The skewers are rust and corrosion resistant and are about 5 inches in length. They are very easy to clean and are even dishwasher safe as are all the other accessories that come with the air fryer. Since this machine is so very cheap, it is pretty cool that you do get all these other accessories that the other air fryers provide as well including the metal skewers.
Comparison Table

Emeril Lagasse Power AirFryer 360
$130.00

Instant Omni Plus 11-in-1 Toaster Oven


Kalorik 26 QT Digital Maxx Air Fryer Oven
$199.00

COSORI Air Fryer Oven
$199.99

NuWave Brio 15.5-Quart Air Fryer Oven + Grill
$161.49

Instant Vortex Pro 9-in-1 Air Fryer Oven
$99.95

Innsky 10.6 Quart Air Fryer Oven

Wattage Power:
1500 watts
1800 watts
1700 watts
1800 watts
1800 watts
1500 watts
1500 watts
Dimensions:
19 x 15 x 9.5 inches
17.68 x 16.34 x 14.39 inches
12.5 x 15.75 x 14 inches
20.1 x 16.5 x 12.1 inches
13 x 15.4 x 16.9 inches
13.75 x 14.37 x 13.23 inches
14.2 x 11.4 x 14.3 inches
Weight:
15 pounds
26.14 pounds
27 pounds
19.6 pounds
26 pounds
17.53 pounds
15 pounds
Temperature Range:
100 degrees - 450 degrees
75 degrees to 500 degrees
100 degrees to 500 degrees
100 degrees to 550 degrees
100 degrees to 400 degrees
100 degrees to 400 degrees
150 degrees to 400 degrees
Time Setting Range:
up to 10 hours
12 hours
10 hours
10 hours
8 hours
10 hours
1 hour
Presets:
Air fry, bake, rotisserie, dehydrate, toast, reheat, roast, broil, bagel, pizza, slow cook, and warm
Air fry, dehydrate, toast, roast, bake, broil, slow cook, proof, or reheat
Bake, toast, roast, grill, rotisserie, braise, sear, dehydrate, and broil
Pizza, Roast, Airfry, Toast, Bagel, Bake, Broil, Cookies, Rotisserie, Dehydrate, Ferment and Keep Warm
air fry, rotisserie, bake, roast, grill, dehydrate
Air Fry, Roast, Broil, Bake, Toast, Reheat, Proof, Dehydrate, and Rotisserie
air fry, bake, grill, broil, roast, toast, rotisserie & dehydrate
Accessories:
crisper tray, rotisserie spit, pizza rack, baking pan, drip tray, and cookbook with recipes written by Emeril himself
Oven rack, cooking pan, air fryer basket, rotisseries spits and forks, and a rotisserie lift
air frying basket, air rack, bacon tray, baking pan, crumb tray, rack handle, rotisserie handle, rotisserie spit, cookbook, and steak tray
recipe book, crumb tray, fry basket, food tray, wire rack, rotisserie fork set, and rotisserie handle
Rotisserie Kit, 2 Racks and Basket, grilling plate
drip pan, cooking trays, rotisserie basket, rotisserie spit and forks
high-quality stainless steel rotisserie basket, rotisserie shaft, 2 mesh racks, removal tool, 8 skewers, and drip tray
Capacity:
930 cubic inches
26 liters
26 quarts
30 liters
15.5 quarts
10 quarts
10.6 quarts
Warranty:
90-day money-back guarantee
2-year limited warranty
1-year standard warranty
1-year warranty
1-year limited warranty
2-year limited warranty
1-year limited warranty
Check Price on Amazon
Check Price on Amazon
Check Price on Amazon
Check Price on Amazon
Check Price on Amazon
Check Price on Amazon
Check Price on Amazon
Summing Up
If you want the best air fryer with rotisserie based on performance for price, go with the Emeril Lagasse Power AirFryer 360.
If you want an air fryer that has the best temperature range and time settings go with the Instant Omni Plus 11-in-1 Toaster Oven.
If you are wanting an air fryer to cook for no more than one or two people, then go with the Instant Vortex Pro 9-in-1 Air Fryer Oven.
If you're looking for the lowest cost, go with the Innsky 10.6 Quart Air Fryer Oven.
If you want the largest air fryer, go with the COSORI Air Fryer Oven.
If you want an air fryer that won't take up a lot of space, go with the NuWave Brio 15.5-Quart Air Fryer Oven + Grill.
If you want an air fryer that comes with a lot of accessories, go with the Kalorik 26 QT Digital Maxx Air Fryer Oven.
How to Choose an Air Fryer With a Rotisserie
When you are deciding on the best air fryer with rotisserie for your kitchen, there are a few different factors to consider that can help you to make a better, quicker decision.
Counterspace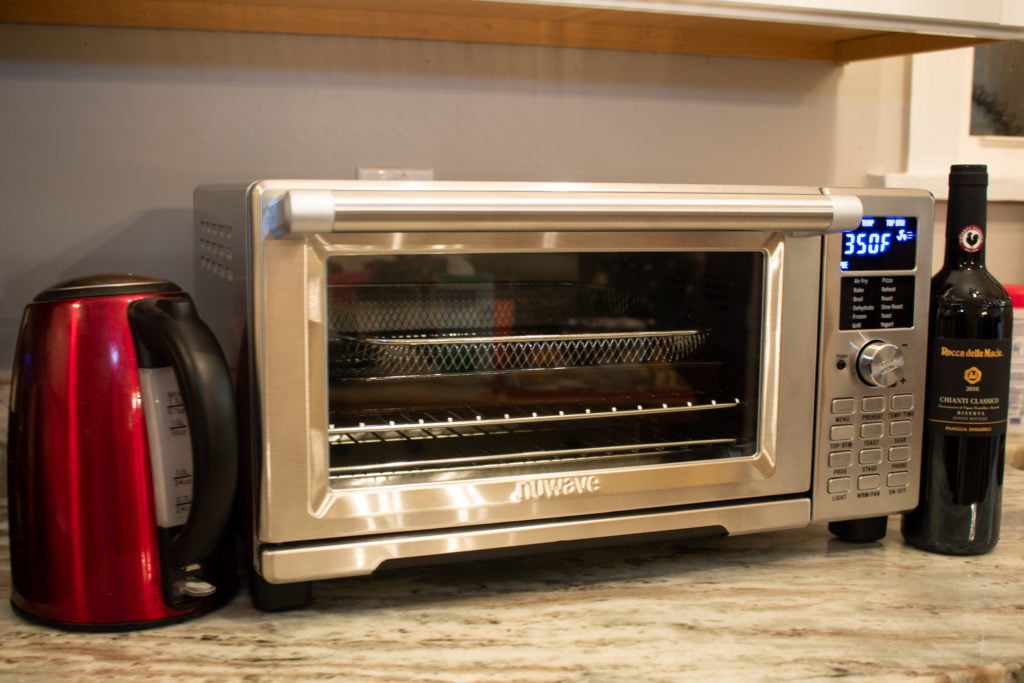 You should really consider how much room you are willing to give up to make room for your new rotisserie air fryer. Most of these machines are considerably larger than their counterpart "pod-style" air fryers that can just be tucked away in a corner. Not all of them are the same size, but not only the shape but the dimensions of the actual air fryer are going to matter a great deal if you are limited on space.
If you have plenty of room to spare, then don't worry too much about it. However, for those of you with smaller kitchens or limited counter space, then take heed. Generally, most of these machines are going to be the size of a full-size microwave. Some others are going to be taller but in all honesty, very similar in the amount of room they take up.
Make sure to measure out the space you want to place the air fryer before you just jump at a purchase. You would not want to bring one home to only find out that it won't fit on the counter or under the overhead cabinets.
Cooking Functions
When you start to look at all these machines side by side you will quickly learn that they don't all have the same presets or available functions. While they all will be able to use a rotisserie function, some may not be able to dehydrate foods, keep foods warm that you already cooked or grill steaks like you had hoped they would.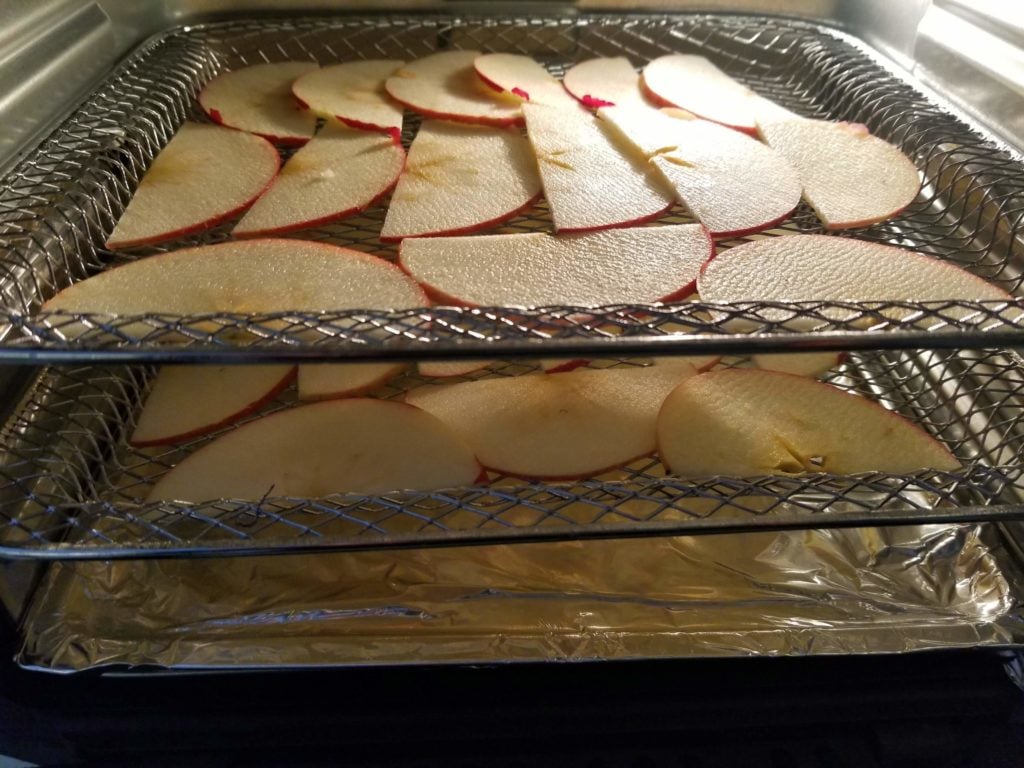 Make sure to think about what you want to use the air fryer for first. Then narrow down the list of air fryers with the functions you want.
Other Accessories
Some of the air fryers come with everything you could ever want aside from the rotisserie spits. This topic kind of goes hand in hand with deciding what you will use the machine for in the first place.
Such as, if you want to get really crispy french fries or chicken strips then you will want to make sure the air fryer comes with a crisper plate or fryer basket. If you want to grill steaks in the air fryer, try to get one that comes with a grilling plate. If you want to roast veggies and whole turkeys, you will need to get a roasting pan that comes with it.
Also, don't just figure you can use any old pan for cooking food on in the air fryer. 95% of the time, your sheet pans and roasting pans at home will NOT fit in the air fryer. Trust me, I tried. That's how they get ya. If the machine doesn't originally come with the pan you wanted, then of course you can buy that specific pan to fit in that specific air fryer from them. But it is going to cost ya!
Heating Elements
When you look at the power of the air fryer, it is going to be measured in watts. Naturally, you would think the higher the wattage, the hotter the machine will get and stay hot for longer. WRONG! The wattage is how powerful the machine is but doesn't regulate how hot the temperature will reach within the unit.
If you want to know the answer to that question, you need to see how many heating elements are in the air fryer and where they are placed, or how they are laid out. The number of heating elements is going to matter without a doubt but the placement can matter even more.
The purpose of a rotisserie is to cook the food evenly on all sides. Well, you would think that's what the actual spinning rotisserie spit is for. In thinking that you would be half correct. Say we had two identical machines side by side with the same amount of heating elements with the same wattage. We decided to cook the exact same-sized chickens on the rotisserie while one oven had heating elements strategically placed throughout the oven on all sides and the other had all the heating elements on the bottom of the oven. Which chicken is going to not only be cooked first but which one will be the better of the two in the long run?
What They Don't Tell You About These Rotisseries
When you read some of the reviews or watch some of the promotional videos of some of these rotisserie air fryers, they can be a little misleading sometimes. When an advertisement says that you can "cook" a 6 to 10-pound chicken or turkey in the machine, that doesn't necessarily mean you can rotisserie cook a bird that size. The rotisserie function requires a lot of extra space to allow the meat to spin without hitting (or even touching) the sides of the oven and burning.
I realized this very quickly after using some of these models to rotisserie a whole chicken. Most of the promotional videos and advertisements said I would be able to rotisserie a 6 pound chicken in the air fryers. I came to find out that is simply not true.
If you are laying a 6-pound chicken on a roasting pan and placing it in the air fryer, then you should have no problem at all. If you plan on using the rotisserie, chances are it will not be able to fit in the machine safely. When you roast a chicken, it is placed on the lower rack within the machine so it fits nicely. When you rotisserie a whole chicken, it is placed directly in the center of the machine. This means it leaves less room in the oven for the bird to rotate safely.
I tried to rotisserie a 5-pound chicken and it just didn't happen because as it would turn it would not clear the top or the bottom of the oven. When you use the rotisserie, the food cannot touch the heating elements as it rotates. If it does, this is a safety hazard and you could either start a fire or damage the heating elements themselves. Ideally, it is more realistic to rotisserie a 3 or 4-pound bird that has been prepared properly.
This brings me to my next point. You cannot just place the chicken on the rotisserie spit, place it in the machine, and turn it on. It really is not that simple. Additionally, the guide books that come with these machines tell you to do exactly that. Well, sadly it doesn't work like that. As the chicken turns, the legs and wings will constantly move instead of staying in place. This will cause the meat to touch the heating elements or cause the chicken to become off-balance or fall off the spit entirely.
To fix this problem, you need to do two things to the chicken when placing it on the spit for it to cook properly and safely on the rotisserie. First, you need to truss the chicken with kitchen twine. This is a cooking method in which you use kitchen twine to hold the wings and legs on the body to keep them in place while it cooks. Here is a pretty good video to learn how to do this properly. How to truss a chicken for the rotisserie. Also when you truss the chicken, it compresses the meat so it will cook evenly on the rotisserie.
The other thing you need to think about is having even weight distribution across the entire rotisserie spit. This goes for anything you may place on the rotisserie. You wouldn't have a larger amount of meat on one side of the spit when compared to the other side. This will cause an imbalance and the spit will fall off the holders or it just will not rotate within the machine properly. This is especially true when you have a chicken in the spit because the top of the bird is heavier than the lower half.
This is caused by having the cavity of the bird empty while on the spit. To fix this problem you will need to fill the empty cavity of the bird with something to even out the weight distribution on the spit. I like to use herbs, fruits, and vegetables that I stuff into the bird before I place the truss on the chicken. A good combination is to use half a yellow onion cut in quarters, half a lemon cut in wedges, and some fresh thyme or rosemary. If there is any other space in the cavity then I will use dense vegetables like potatoes or carrots as the filler.
There is a learning curve to using the rotisserie when you first get one. Make sure you know what you are doing before you try it out. Otherwise, you will end up with a headache, more problems, and possibly a damaged air fryer.
The Best Things to Cook in an Air Fryer Rotisserie
Some of these machines will come with a cookbook to help you on your way when using your new air fryer. However, there are thousands of recipes created by chefs and home cooks on the internet that you could also look up to help you out. Not all of these recipes will be very good. Some may not even work in your air fryer depending on the size and internal capacity you decide to go with.
I have been a professional chef for more than 20 years using mostly traditional kitchen equipment to create delicious food. When I started to use air fryers and countertop rotisserie, my outlook on how I created food in the kitchen changed drastically. After spending many quality hours with these machines, I have found a few favorite dishes I like to cook in these types of air fryers.
Since they do cook food faster than my oven in my kitchen, I cook a lot of normal food for my kids like chicken fingers, pizza, and french fries. I also like to use the rotisserie versus just roasting the chicken on the baking tray in the air fryer. I also like to use the air fryer to cook vegetables and potatoes. They are usually done in a hot minute and seem to come out better than just dousing them in oil and baking them in the kitchen oven for twice as long.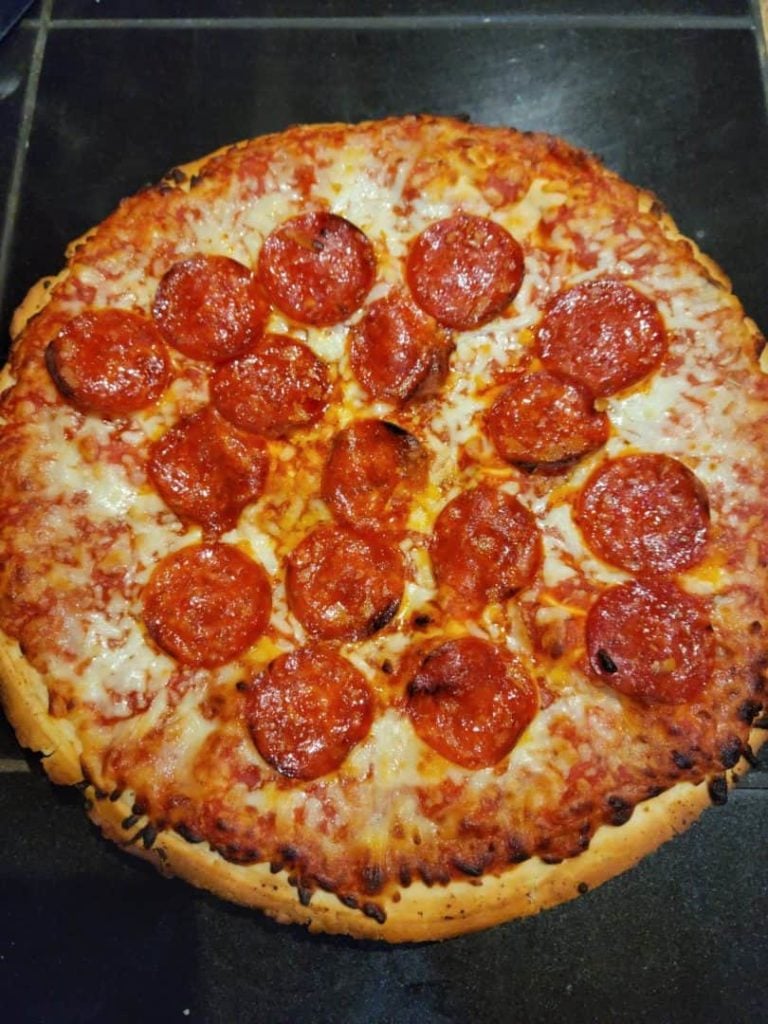 Aside from the normal stuff and side dishes, I like to use the rotisserie functions for other foods like kabobs. I do wish there were more than one rotisserie spit insert for larger meals, but they really were not marketed for these types of foods.
I also really enjoy using the dehydrator function. I have a food dehydrator in my kitchen but it is really a hassle to pull all the pieces out and stack them up on each other than leaving it plugged in on my countertop for as long as two days sometimes. When you use the convection dehydrator function it will do the same task in about a third of the time. They still heat up at the same temperature but how they are designed can really cut the cooking time by more than half.
I suggest you try everything in the new air fryer you decide to go with. I have pretty much used it for everything I cook in the kitchen these days because it makes my life that much easier and does a better job than the traditional kitchen appliances. So far, there has not been a single dish that did not go as planned when using any of these countertop rotisserie air fryers.