I love toaster oven-style air fryers. Provided you've got the counter space, they cook better than "pod-style" air fryers because they have more heating elements. They can cook a wider variety of foods because of the added internal space, the racks, and rotisseries. And the best part? They barely cost more than their smaller poddy cousins.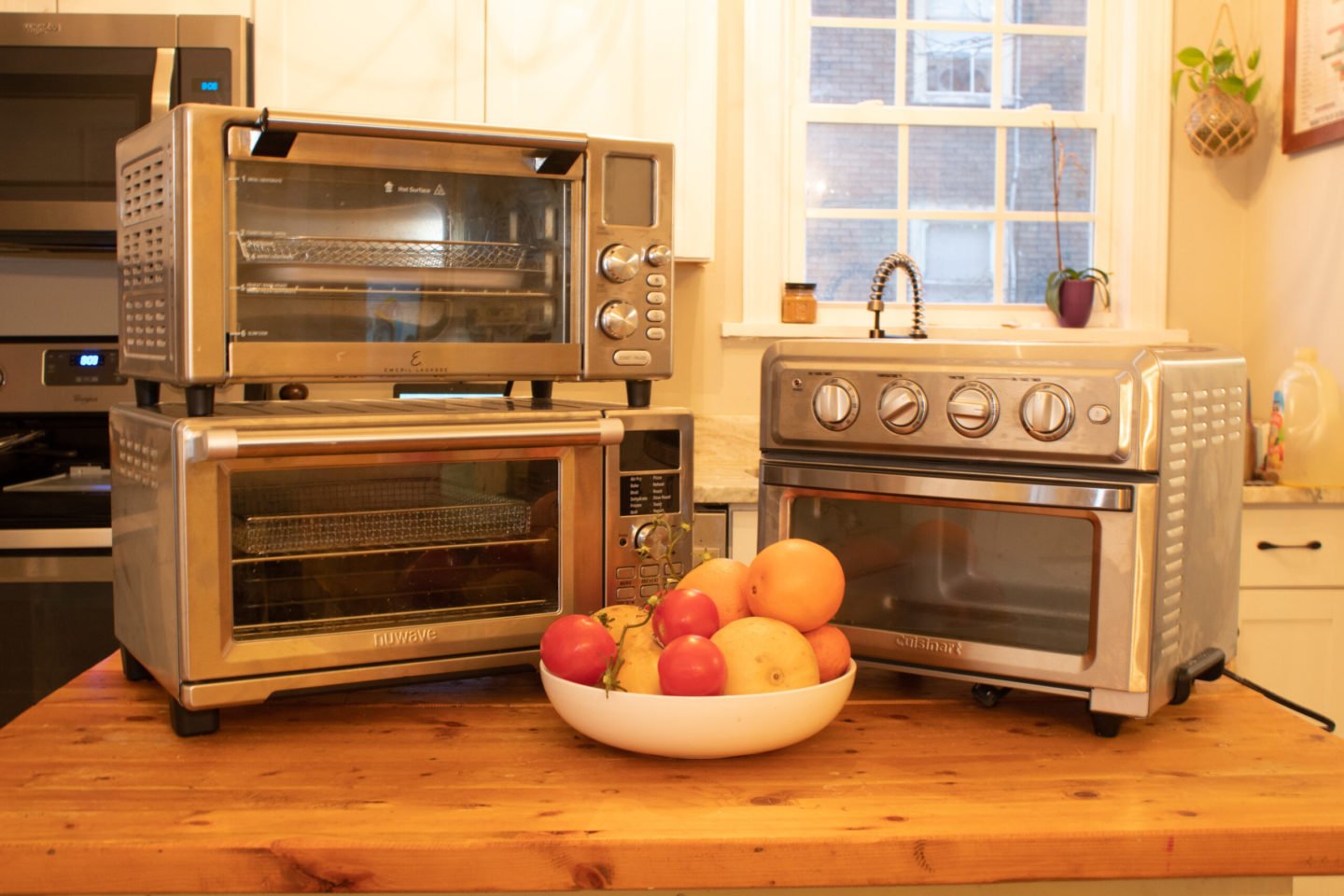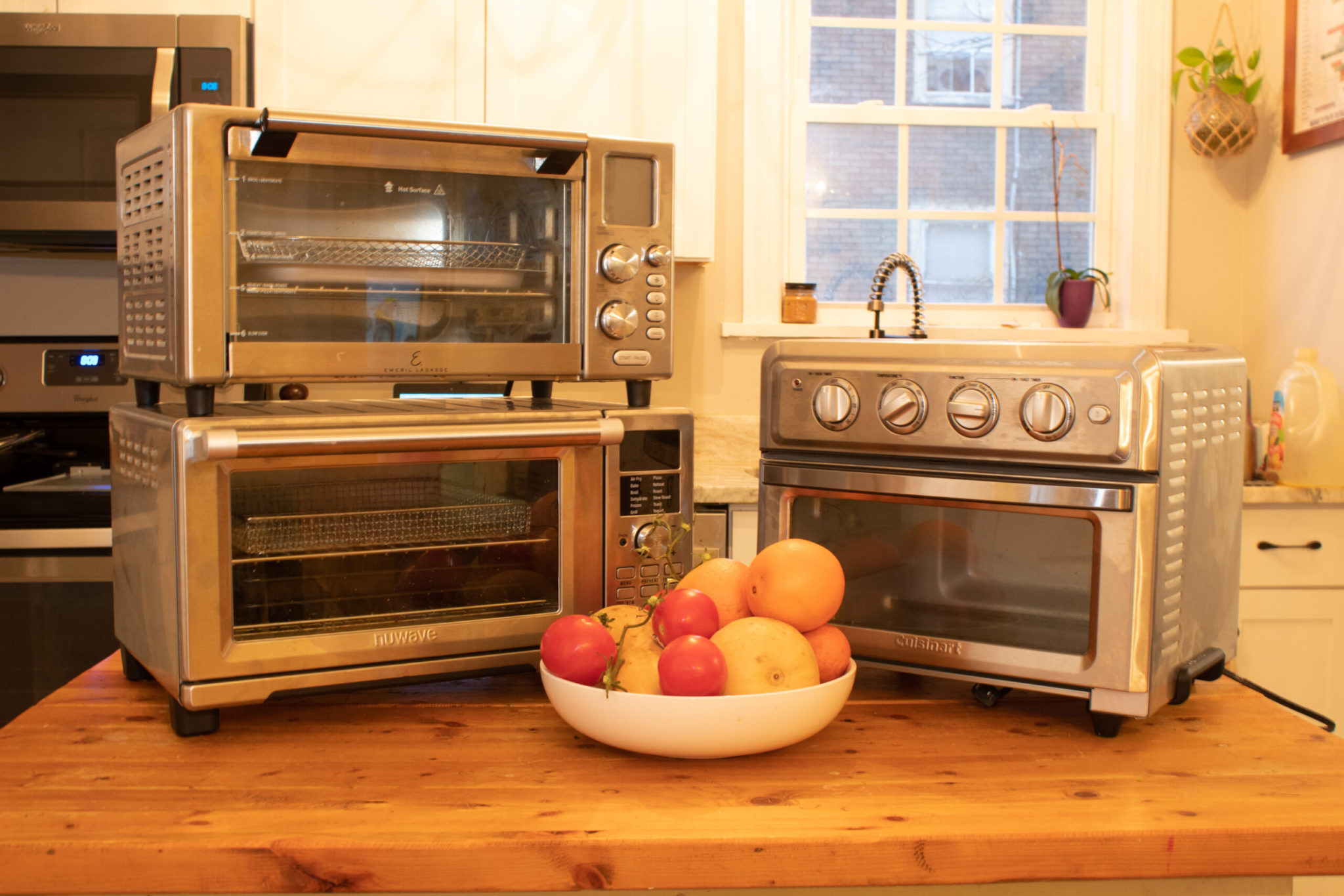 After testing 8 of the most popular models, I felt confident in saying that the Breville Smart Oven Air is the best model you can buy right now. This thing is the Rolls Royce. It has enough internal space to cook a 14lb turkey or 9 slices of bread. It also has the most heating elements, allowing the quickest pre-heat and the most consistent temperature of any model.
BEST OVERALL: Breville Smart Oven Air
For the extra spend you can get almost double the internal space, more racks, more heating elements, and the additional power of a true convection fan for faster more even cooking. There's a good chance you end up using this more than your regular oven.
For something more affordable that's still awesome, you want the COSORI CO130 Air Fryer Toaster Oven. There aren't many options around this price point that include a rotisserie, and of the ones that do, none had as much internal space to actually utilize it as the COSORI. The controls were also the most intuitive of any model I tried, meaning I rarely needed to use the instruction manual.
BUDGET PICK: COSORI CO130 Air Fryer Toaster Oven
When you actually test them, many toaster oven air fryers can't fit as much food as they say you can. Roast a whole chicken usually means a chicken so small you can't even buy one at the supermarket. Not the COSORI CO130. This thing fits a 5lb roast chicken on its rotisserie, a 13-inch pizza, 6 slices of toast and more. The temperature held well. It got hot fast, and the controls were simple. It outperformed even higher priced models by quite a way.
If you didn't want to spend as much as either of these, your best bet is the Instant Vortex Air Fryer Oven. It has a rotisserie that handled a 3lb roast chicken easily. It can roast a small tray of veggies with ease. It can bake, grill and dehydrate. For the low price, you can't do any better.
SUPER CHEAP: Instant Vortex Air Fryer Oven
In our tests, the Instant Vortex grilled delicious burger patties and cooked a 3lb roast chicken to perfection. It was easy to clean and didn't take up much counter space compared to the bigger models. To have all the important features and still get a bargain, the Instant Vortex is it.
To see the experiments I did and all the models I reviewed to reach this conclusion, carry on to the full article below.
Finding the perfect air fryer is a lot like looking for an apartment. There are a ton of options out there, and what works for one person or situation, might not work for you. Just like apartment hunting, when choosing any kitchen appliance, by doing a little research beforehand you can save yourself a ton of headaches down the road.
Air fryers have come a long way from the daytime TV, infomercial appliances of just a few years ago. These days you can find air fryers in all manner of shapes and sizes. From small pod-style units that can handle a small bag of french fries or a pound of wings to larger family-style, toaster oven models, that can rotisserie a chicken or dehydrate apple chips as well.
If you're in the market for the latter of the two, a toaster oven-style countertop air fryer oven, then you've come to the right place. Over the past few months, I've had the pleasure of testing some of the best toaster oven-style air fryers available on the market. Putting them through their paces, taking a look at their features/functions, and recording my experiences for healthybutsmart.com.
Now, my goal is to put together a list ranking these air fryers from first to last based on their performances and price point. Regardless of which option you choose, every model listed here is a high-quality piece of equipment that will bring a ton of joy to your kitchen.
Table of Contents
The Best Air Fryer Toaster Oven Combos Ranked
To begin with, all these ovens are incredibly similar. They all are front loading, toaster oven style air fryers that can function in multiple different modes beyond simply air frying. They all hold a similar amount of food, have similar overall cooking functions, and besides one or two models on the list, they all cost roughly the same amount of money.
To judge these appliances against one another, I looked at the small differences that might make one stand out against the other and looked at flaws that might make a specific appliance harder to use overall. Whichever option you choose, I can guarantee from experience that all these options are great air fryers and make delicious food.
So without further ado let's dive in!
The Cosori Smart CO130 Air Fryer Toaster Oven Combo is a front-loading countertop convection oven-style air fryer with a capacity 5L bigger than our #2 and #3 options below. It has the largest internal space of any machine at this price point (from a reputable brand with the reviews to match).
And yet somehow, it still fits under kitchen cabinets.
Function-wise it has the same list you'll see on most of these models: Roast, bake, fry, toast, broil, dehydrate etc. But it's in the small details where these machines separate one another.
One such detail? The COSORI's two fan speeds. Cheap air fryers are notorious for drying foods out, so having a lower fan speed allows for more careful cooking to lock in moisture on your favorite foods.
Another is the 3 rack positions. Many of these machines advertise an array of accessories (say a fry basket and a wire rack) and massive internal space, but you get them and realize the rack positions don't actually allow you to use those accessories to cook 2 things at the same time. Not the COSORI. With 3 rack positions, you can easily roast vegetables on one rack and a protein on another rack without either sitting too close or too far from a heating element.
BEST OVERALL: COSORI CO130 Air Fryer Toaster Oven
This thing fits a 5lb roast chicken on its rotisserie, a 13-inch pizza, 6 slices of toast and more. The temperature held well. It got hot fast, and the controls were simple. It outperformed even higher priced models by quite a way.
In addition to its air fryer function, the Cosori CO130 Toaster Oven Combo can slow cook, warm, dehydrate, ferment and bake anything you might think of. I personally love the addition of a countertop dehydrator in my kitchen, and while it can't fit quite as much as a multi-layer dehydrator might, it can still handle a fair amount of fruit chips or beef jerky.
For a family larger than 4, planning to use this machine for a range of cooking tasks, we're sure you can't find better value than the COSORI right now.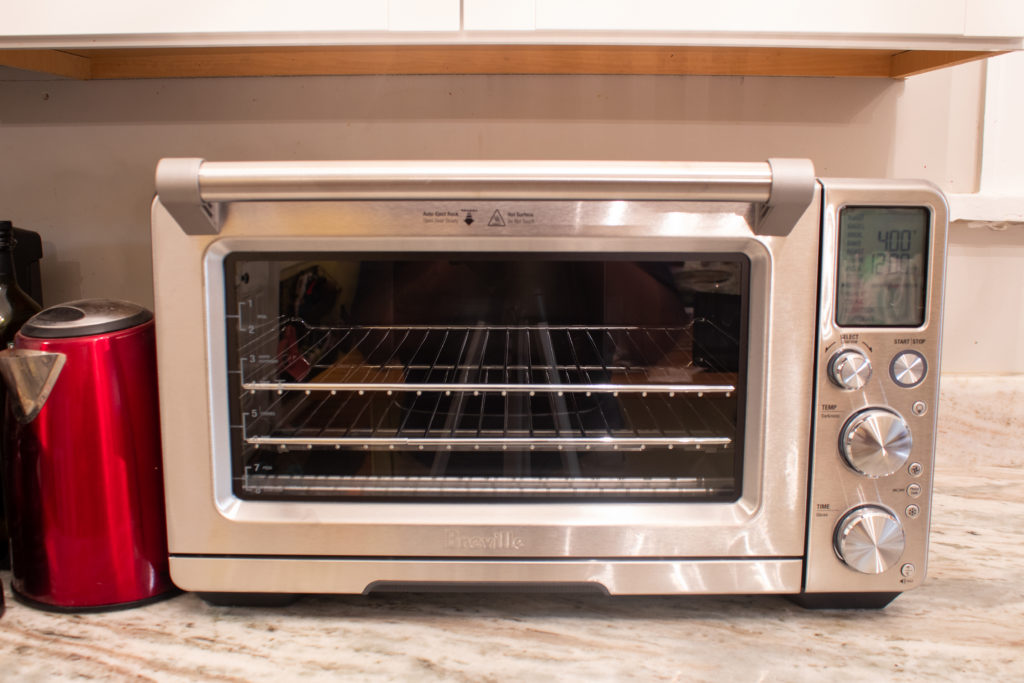 Of all the different air fryers I had the opportunity to test, this was my absolute favorite, mostly because it is so much more than just an air fryer.
Breville is well known for making high-quality, upscale kitchen appliances and the price tag on the Breville Smart Oven Air is the only reason that it doesn't hold the top spot on this list. As a Professional Chef, I have had the opportunity to use several Breville appliances throughout my career and I've always found them to be easy to use, and incredibly durable. They come with a great warranty, they last for years and like the Breville Smart Oven Air, they usually outperform their competition.
This oven is truly a countertop oven, and not just a well-made toaster oven. I could feasibly handle everything I might in my full-size oven, and with a larger capacity than the other toaster oven air fryers on this list, I don't have to worry about the same size constraints.
Beyond just air frying this oven can slow roast, bake, ferment, dehydrate and even make incredible pizza or sourdough with a high temp baking option. While I didn't have time to run this oven through all its possible cooking modes, I am confident, based on my experience, that it could handle anything I could think to throw its way.
BEST MACHINE: Breville Smart Oven Air
The extra spend gets you more heating elements, higher temperatures, and better build quality, means higher quality cooking of a wider variety of meals.
Reason #1 to Choose This Product: Larger Capacity
If you have the ability to spend more on an air fryer then the Breville Smart Oven Air is the option for you. It can handle all the cooking functions of the other models on this list, including the Emeril Lagasse Power Air 360, and it also dwarves them all in the capacity department.
While I could fit a 4lb chicken on the rotisserie in the Power Air Fryer 360, I could fit a 14lb turkey in the Breville Smart Oven Air so the size difference is pretty noticeable.
Moreover, the temperature control in the Smart Oven Air outstrips the abilities of all the other ovens on this list. It has stronger heating elements, a better fan, and a more consistent overall heat range.
Reason #2 to Choose This Product: Overall Range of Function
While most of the ovens on this list can function as a supplement to your normal oven, and in some cases replace it at times, the Breville Smart Oven Air can handle everything from roasting your Thanksgiving turkey to baking crusty, sourdough bread and everything in between.
The 6 quartz heating elements and super strong convection fan in the Smart Oven Air help create a heat profile that is as strong, if not stronger than most conventional ovens. This allows you the ability to bake sourdough bread, sear protein, and maintain perfect roasting temperatures throughout the course of your cooking process.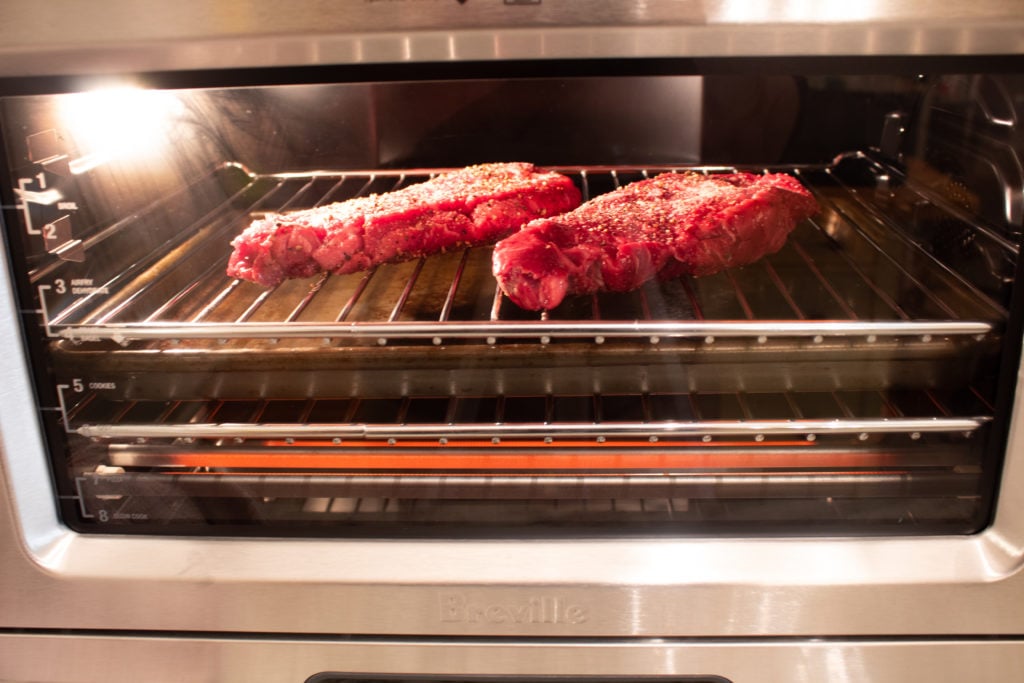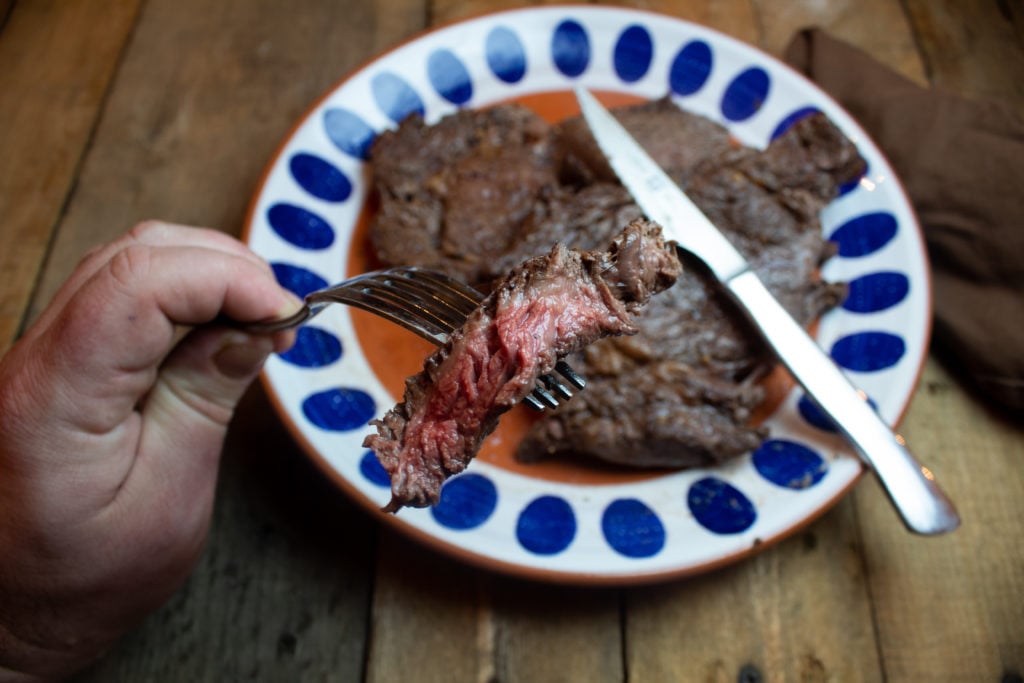 Again the price tag here is noticeably higher than its closest competitor on this list, so realistically this is not the right choice for everyone. But, if you have the room in your budget, or you are looking to add the best quality countertop toaster oven to your kitchen that money can buy, then this is the choice for you.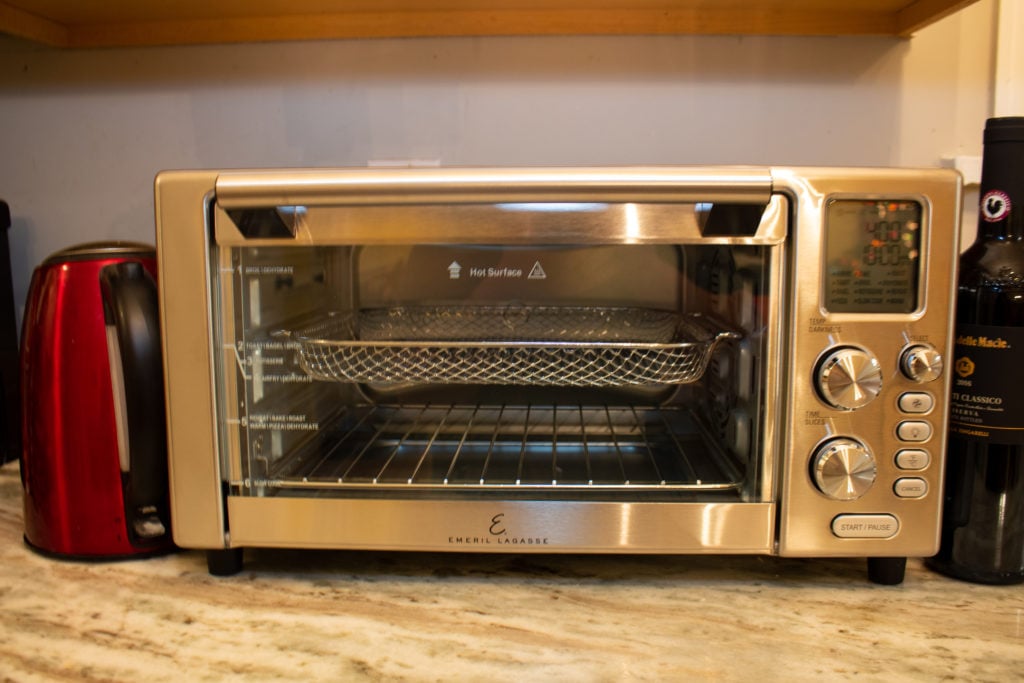 The Emeril Lagasse Power Air 360 is an incredible air fryer and toaster oven. It is well made, feels like it should be more expensive than it is, and handles a ton of different cooking functions with ease. On top of all that, it's competitively priced and won't break the bank.
Out of the box, I knew I was going to like the Emeril Lagasse Power Air 360. It has an easy to use digital display, with a straightforward control panel. The entire oven feels like a high-end piece of cooking equipment, everything fits together well, and the exterior is made from thicker gauge steel than I encountered on other machines.
The brushed stainless steel exterior, bright interior light, and multiple oven rack positions made this oven a joy to use. Some other models only came with a single oven rack position, so that even if you have ample internal space, you can never change the distance between the heating elements and your food. Not so with the Emeril 360.
I specifically enjoyed the simple to use preheat function and the ability to add a convection fan to cooking modes that might not normally use one. For example, the roast function doesn't include using the convection fan. I like to use it to help cook my ingredients evenly, and with the press of a button, I was able to add the fan option to my roasting recipes.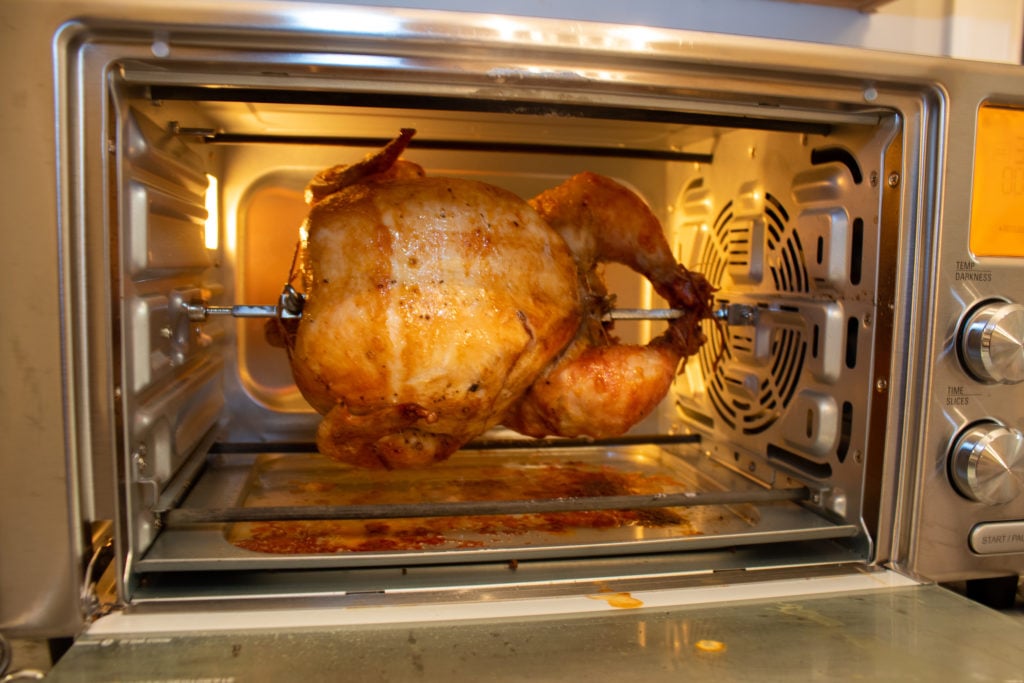 One of the features that really makes this air fryer stand out from the rest of the list is the rotisserie oven function. While all the ovens on this list can handle roasting a chicken and even a turkey in some cases, this was one of two models to come equipped with a rotisserie, which is perfect not only for roasting chicken but also for making pork butt or prime rib. It took me a little while to figure out, but with the help of an awesome video link included in the air fryer user's manual, I got my chicken ready and loaded with little to no issue.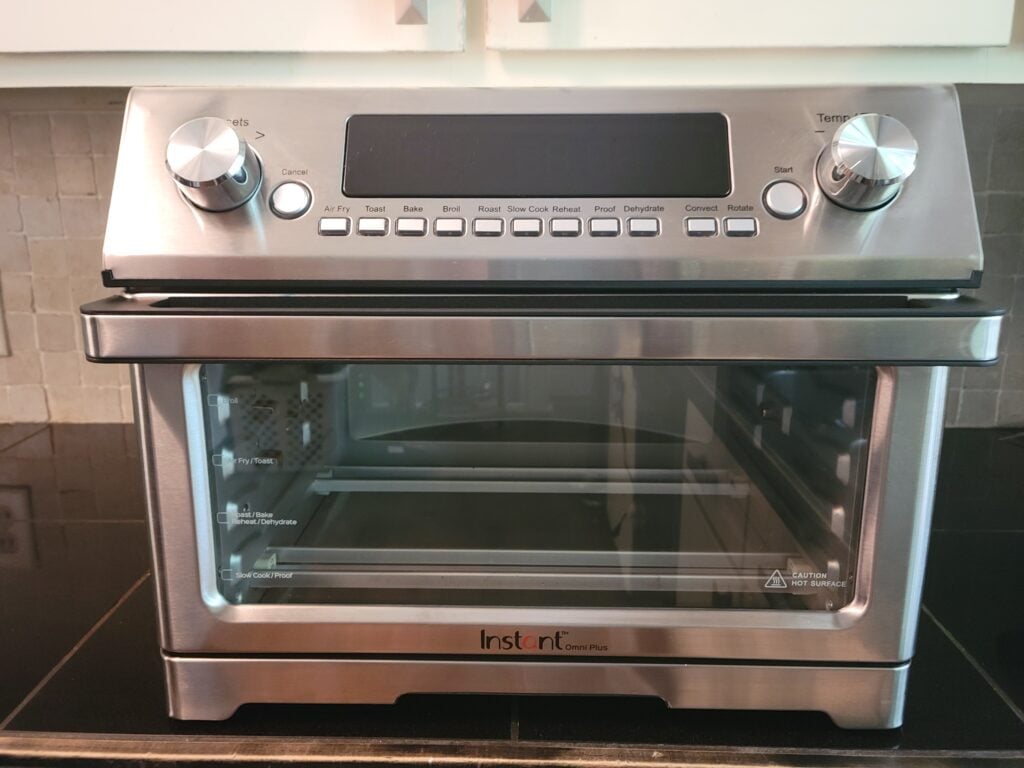 I love the Instant line of cooking equipment and I find myself using my Instant Pot almost as much as I use my air fryer. Instant makes high quality, cutting edge cooking tools and the Instant Omni Air Plus Air Fryer is no exception.
Like the Cosori model, the Instant Omni is a front-loading air fryer with a top-mounted digital display and like the Emeril Lagasse Power 360, the Instant Omni comes equipped with a rotisserie attachment as well.
The Instant Omni Plus does a lot right in the cooking department, with a large internal oven space, an easy to operate digital interface, and a range of cooking functions this oven can compete with any of the other models on this list. On the cost side of the equation this model runs toward the high side of the list, while much less expensive than the Breville Smart Oven Air, it is slightly more expensive than some of the other models with better features/performance.
I would choose this model if I was in the market for an air fryer with a rotisserie but also had to have a top-mounted display. If a rotisserie is a must but your open to a side-mounted display then there are other options better suited to the task. As well, if you are looking for a top-mounted display but the rotisserie function isn't a must-have then the Cosori is the better option in my opinion.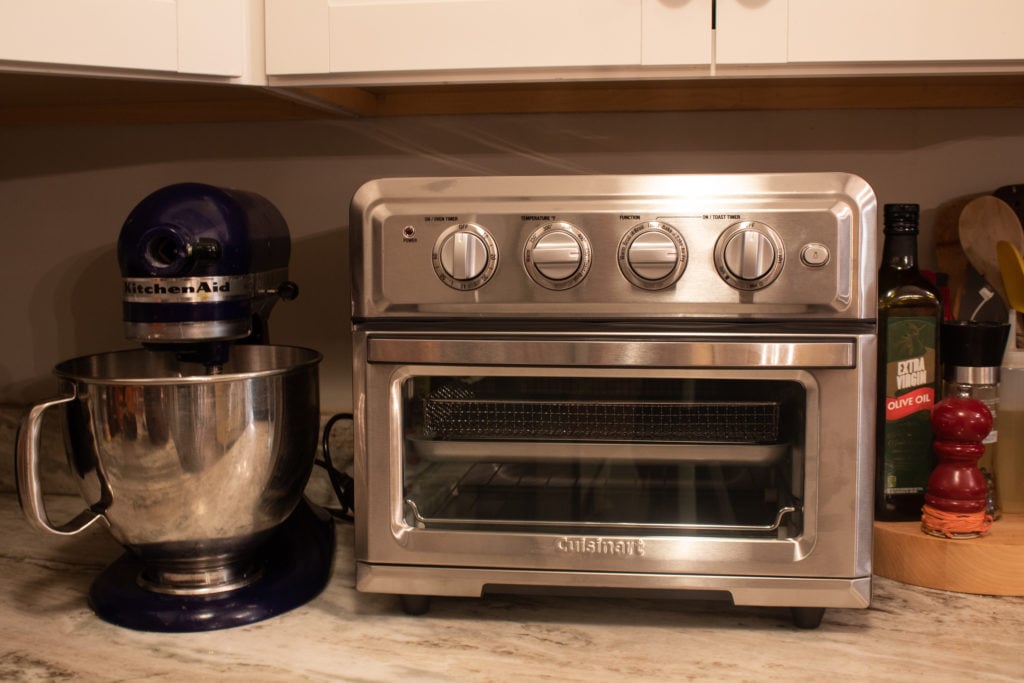 Despite coming in on the bottom half of this list, I want to say that I absolutely love this air fryer. The Cuisinart TOA60 Air Fryer Toaster Oven has a timeless design that feels sturdy, well made, and straight forward in its aesthetic. With a top-mounted analog control panel, the TOA60 is simple to use and needs little to no instruction from the user's manual to get going.
The reason I placed the TOA60 so low on this list is that compared to the other models before it, with only 7 overall functions, a 60-minute timer, and a smaller oven space this air fryer is comparatively under-equipped. However, if you are in the market for a straightforward air fryer/toaster oven that can cook delicious food with little to no effort on your part, then this is the model for you.
Personally, I like a digital display and the ability to customize my cooking program. Some of the other options on this list excel in this area, but there is something to be said for simplicity and this oven is that in a nutshell. Twist a knob or two, load the basket with fries and your meal is on its way. No muss, no fuss, no cycling through menus, or timers, or modes and functions.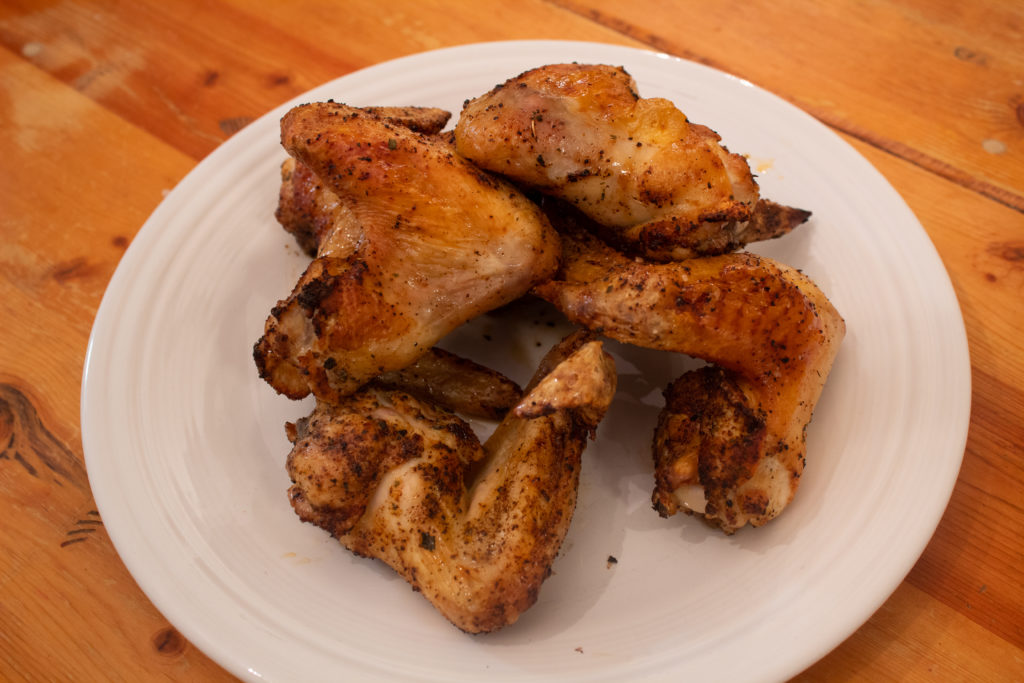 Lastly, if you are a fan of the simple, clean lines of the Cuisinart aesthetic, then the TOA60 is the choice for you. The timeless design of this oven will fit well in any kitchen and quickly become a focal point of your countertop. This is definitely not an appliance you'll want to hide away in a cupboard, but rather one that will sit happily on your counter for years to come.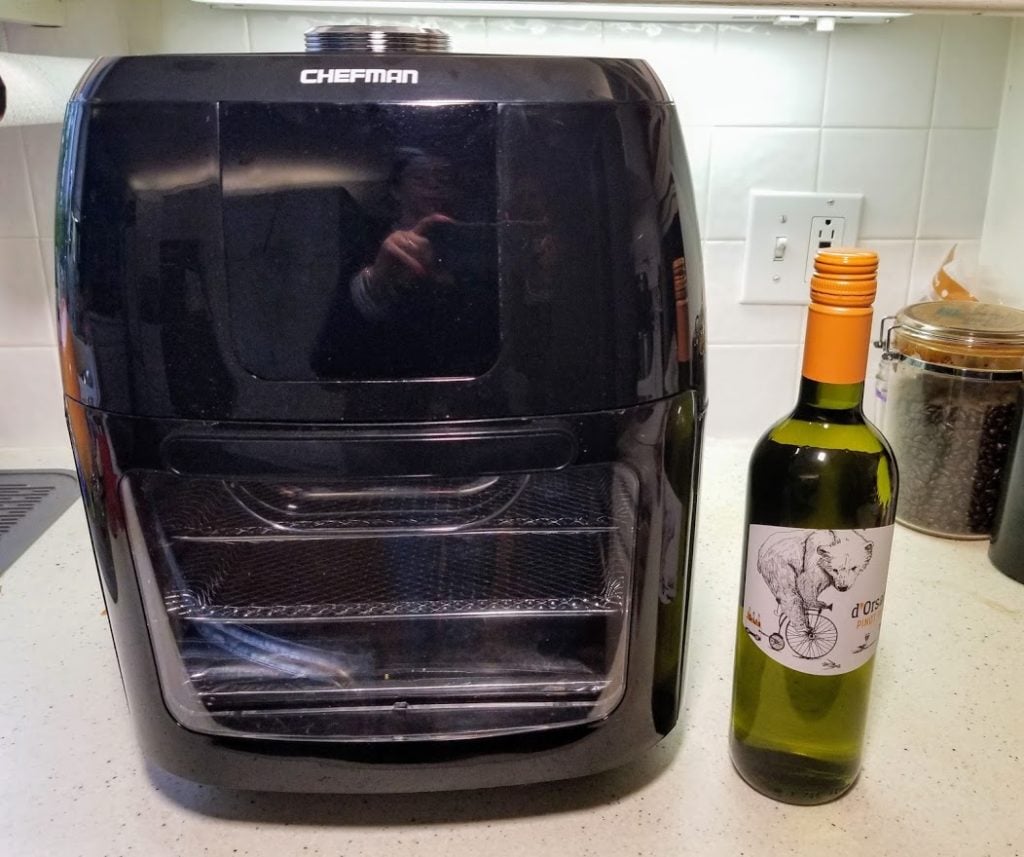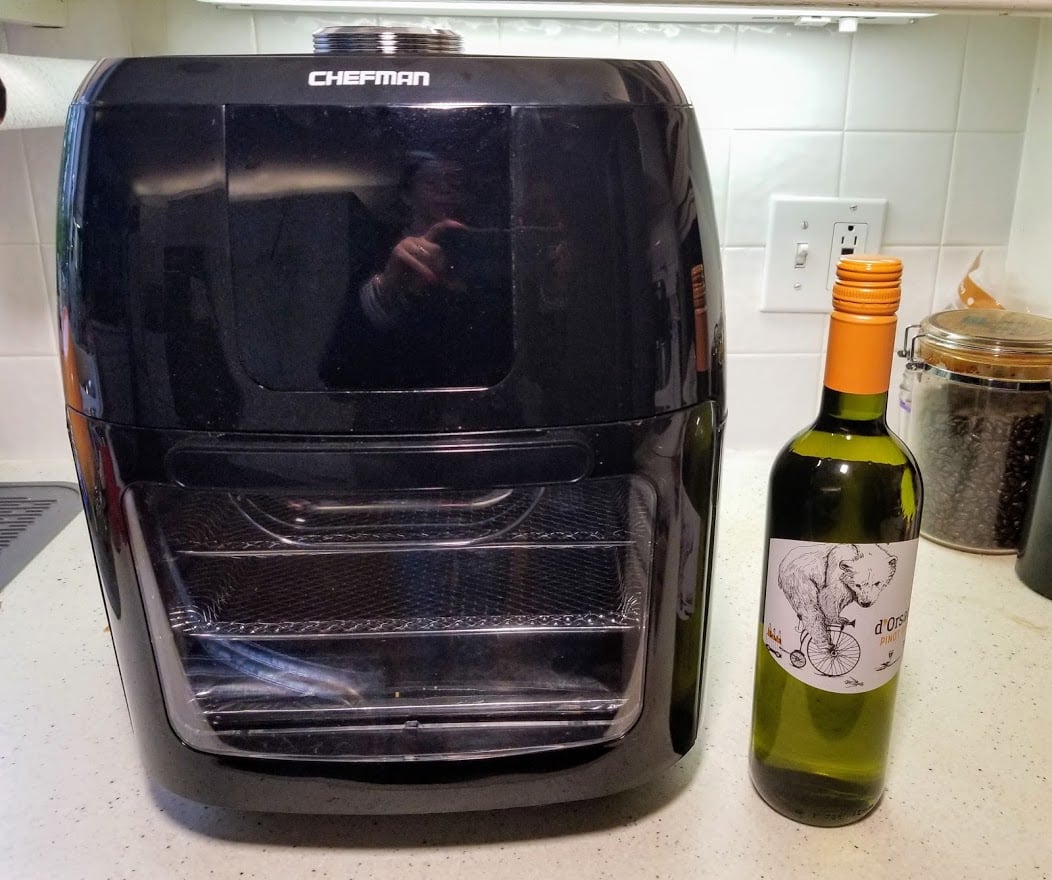 Like the Cuisinart TOA60 in 5th place, the Chefman Air Fryer Toaster Oven is an analog-style oven with a top-mounted control panel. It has a front loading door with two oven racks and can hold up to 25l putting it right in the middle of the pack in terms of capacity.
This oven has 7 different modes and with a simple analog interface, it requires little effort to get it up and running. One especially nice feature about this oven is the fact that the removable pieces like the oven rack and frying basket are dishwasher safe. While I always recommend handwashing your accessories where possible to extend their useful life, it is nice to know that in a pinch you can just throw them in the dishwasher and walk away.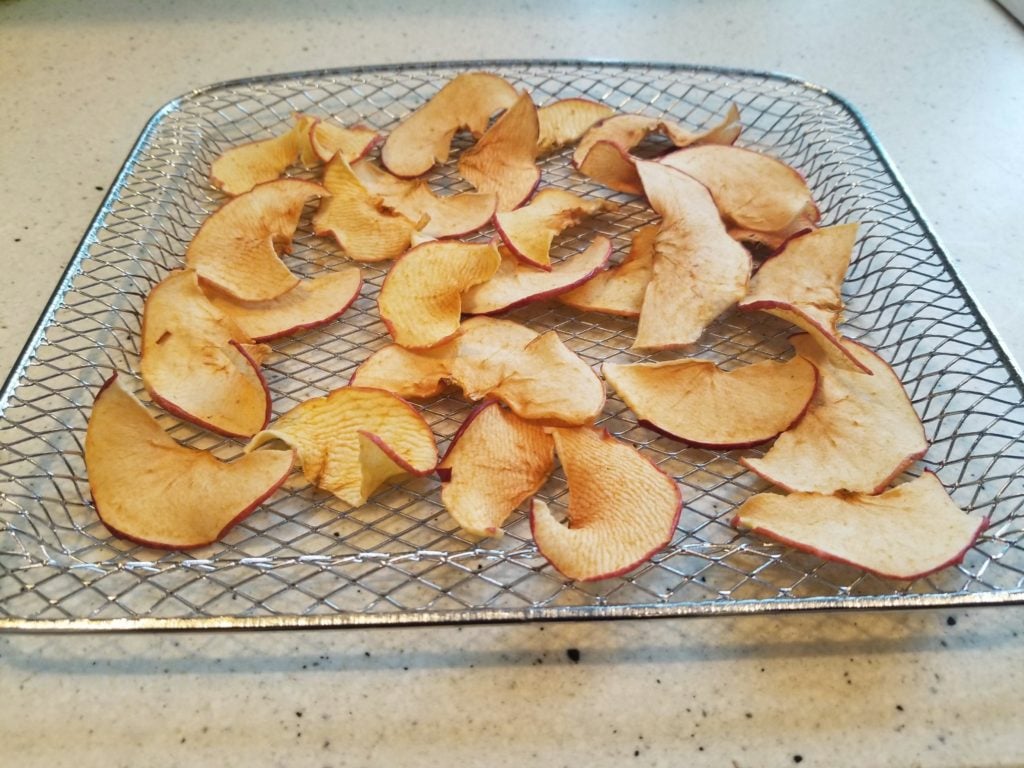 Price-wise this model is slightly less expensive than some of the models on this list, and if you are looking for a simple, easy-to-use analog air fryer/toaster oven then this is definitely the model for you. However, if you are looking for something a little more attractive or full-featured, then one of the other models on this list will probably work out a bit better.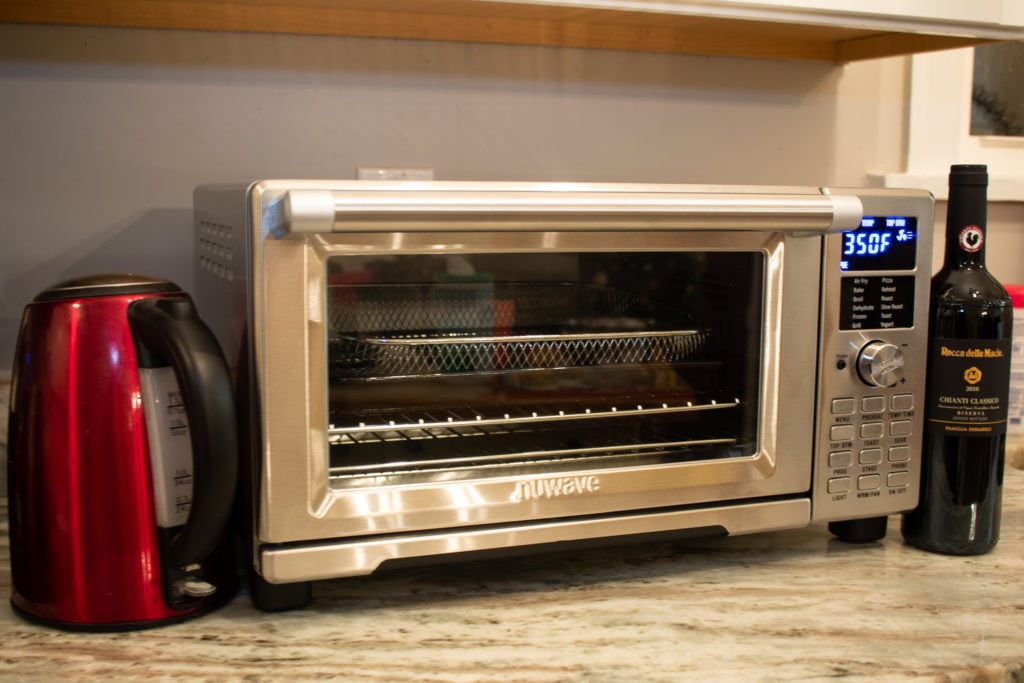 While I really did enjoy my time working with the NuWave Bravo XL there is one distinct drawback that landed it on the bottom of the list and that is the digital control panel. Overall, this oven is great, it works well, has a strong powerful fan, and a ton of options. That is all marred, in my opinion by how difficult the display was to use in comparison to the other models on this list.
The Nuwave Bravo XL is a front-loading toaster oven air fryer with a multi-button digital display mounted to the right side of the unit like the Power Air 360 or Breville Smart Oven Air. Apart from those ovens, it has a much busier control panel with 12 buttons and 1 larger selector knob.
Because of the multi-button display, coupled with this oven's wide range of cooking options, it took repeated references to the user's manual to make sure I was cooking each item correctly. That being said, once the oven was up and running it worked like a charm. Also, unlike the other model on this list, it came equipped with an internal thermometer probe that allowed me to track the temperature of a given item without opening the oven door.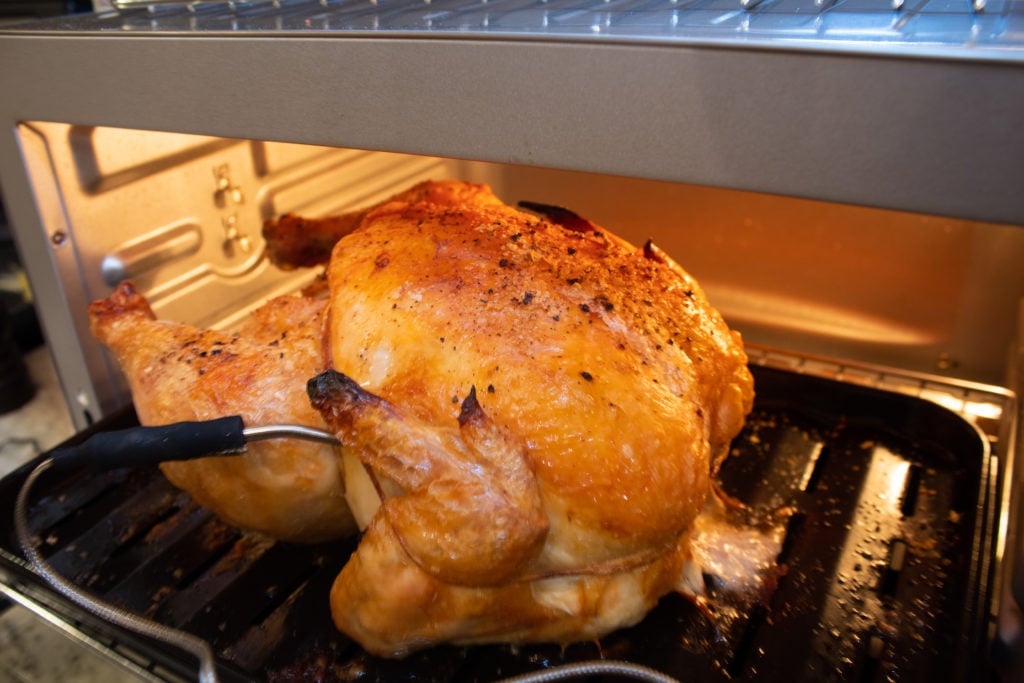 Even though this oven came in last, I want to assure you that it is still a high-quality piece of equipment. This list is meant to be a round-up of some of the best examples of the air fryer toaster oven category and this oven is no exception. While it is difficult to use out of the box, once I figured out what I was doing it wasn't that much of a problem.
In addition to customization, this oven has a huge oven chamber at a full cubic foot. This large capacity allows for big batches and the ability to cook much larger products or hold things in warming mode when you entertain a crowd.
One last note about this oven. At times during the operation of the oven, I wasn't always 100% clear on when the oven was actually running or not. My fan seemed very quiet compared to other models I tested and the display has a unique way of telling the user when it's paused or in use. When you are adjusting the temperature or the cooking program it can seem like the oven is running but it is actually paused, and it took me a second to get used to it. Most of the other ovens on this list have a clear method of communicating whether the oven is in use or paused, this display however was more confusing in this regard.
I would recommend this oven to anyone who values the ability to fully customize their cooking experience. With the ability to set a multi-stage cooking program, where you sear a product and then reduce the temperature in stages for a perfect slow-cooked product, this oven can really offer a ton of flexibility. Also, if the ability to monitor the internal temperature of a cooking item is a key concern then this oven is the one for you. However, if you are looking for ease of use out of the box I would go elsewhere.
Comparing Each Model Side by Side
If you want to see how each model compares by the quantifiable aspects, this table should help.
Why Pick a Combo Model in the First Place?
After spending time with several different styles of air fryers, I've learned that you can separate air fryers into two primary groups, pod-style air fryers, and toaster oven style air fryers.
A pod-style air fryer is a classic style that most folks are familiar with. They are self-contained air-frying units that come with a front-loading basket and usually, a top-mounted display/control panel. They don't do a lot other than air fry foods, but they do it extremely well.
Toaster oven style air fryers on the other hand are usually larger, countertop convection ovens that can handle several different cooking functions and recipes. Beyond just air frying, these models can usually rotisserie or roast whole chicken, slow cook or slow roast meats, make yogurt or dehydrate fruits/veggies, and much more.
Personally, I will always choose an appliance that can handle multiple cooking tasks. Counterspace is at a premium in my kitchen, which is already overflowing with appliances, so when I decide to add something new to my arsenal it must replace at least 2 other tools along the way. In this, a toaster oven style air fryer is far superior to a pod-style air fryer.
I do want to note, that because a pod-style air fryer is a self-contained oven with a top-mounted heat source and fan, it does often do a better job of producing air fried food quickly. However, given the added abilities of a toaster oven style air fryer, I think waiting a little longer for my french fries is worth the trade-off for expanded capacity and cooking abilities.
The Most Important Features of an Air Fryer Toaster Oven Combo Machine
Before a wide range of functions and unique cooking modes, the most important features of a good air fryer, for me, are fairly basic. The best air fryers need to have strong heating elements/fans, and an easy to use control panel.
When scouring the specs of a potential air fryer purchase it's best to do a deep dive into the description section and hunt down the user's manual if necessary. While most of the ovens on this list dial in at 1800 watts, and have an average of 4 heating elements, that doesn't necessarily mean a lot on its own.
A good air fryer blends a strong consistent heat profile, with great air circulation and a strong power level to create a very versatile convection oven. I always dive into the comments section and look for reviews that focus on the heating abilities as well as pictures of the dishes people have cooked. This will tell you a lot about how hot an oven can get.
While it's easy to get hung up on the specifics, 4 versus 5 heating elements, or 1800 watts vs. 1500 watts, it's important to look at the overall picture as well. I can tell you from experience that all the ovens on this list are high powered and well equipped, so you should also consider what other functions or design specifics you need.
The control panel for me is one of the most important pieces of the design package. There is little use for a ton of fun cooking functions if your oven can't do the basics well, like get hot and stay hot while moving air efficiently.
Moreover, no appliance is worth investing in if it's hard to use or difficult to understand.
A well-designed control panel is intuitive and easy to familiarize yourself with. While you might need to glance at the instruction manual, you should be able to navigate the controls with little to no training. A fair share of consumers doesn't ever read the instructions so it's important for the controls to be easy to grasp. This is where preset programs can come in handy, just like the "popcorn" button on your microwave, it can be convenient to load a product into the air fryer, press a single button, and walk away.
While a preset program selection can make an oven easy to get started with, it is also important to be able to customize your cooking experience easily via the control panel. An overly tedious user interface will lead to a less successful cooking experience and a bad review.
Finally, the control panel/display should inform the user when it's in operation in an easy-to-identify manner. If you're not sure if the oven's actually on it can be a danger to you and a potential waste of time while cooking. This sounds simple but some of the displays I encountered didn't check this basic box.
This is all personal preference but I found I preferred the digital displays that had multiple selector knobs and few buttons. Models with a button-heavy control panel were clunky and confusing to operate at least in my experience.
How to Make Your Choice
As I've said, choosing an air fryer/toaster oven is a lot like finding an apartment, you need to decide on must-haves and work from there. For example, when my wife and I were looking at apartments in our younger days we'd always wanted a garden so we always made sure a back yard or outdoor space was high on our search criteria.
In this case, you need to do the same things with our search for an air fryer. Let's say you are cooking for a crowd or often have big parties where you want to keep lots of food warm or cook in big batches, you might want to go with the Breville Smart Oven Air or the Nuwave Bravo XL.
Maybe you want to cook rotisserie style chickens or prime ribs for special occasions, in that case, you're going to want to go with either the Emeril Lagasse Power Air 360 or the Instant Omni Plus is going to be the one for you.
On the other hand, you might value ease of use or a classic analog control panel, for that you'll want to go with the Cuisinart TOA60 or the Chefman Air Fryer Toaster Oven. Finally let's imagine you have a smaller kitchen and a slimmer machine with a top-mounted display is what you need, for that you'll want the Cosori 12-in-1 or the Intstnat Omni Plus.
Regardless of which machine you go with, all of these models will air fry, roast, bake, and broil as well as a ton of other options depending on the one you choose!
Closing Thoughts Before You Buy an Air Fryer Toaster Oven Combo
Air fryers can do a lot, they can make delicious side dishes, wings, and nuggets. Within minutes you'll have easy onion rings and delicious mozzarella sticks that will quickly become favorites around your table. Beyond that these convection ovens will add a ton of capacity to your kitchen profile, allowing you to entertain parties easily while keeping the mess to a minimum.
It is important to remember that while air fryers can do a lot they can't replicate everything you might want to make in a traditional deep fat fryer.
Because these ovens are simply high powered convection ovens with top-mounted fans, they are going to do really well with a recipe that includes dry dredging or traditional wet-dry breading procedures. Battered items like beer-battered fish/onion rings or tempura are not going to do well in an air fryer and make a gigantic mess
So save the battered items for and whip up some cornmeal breaded chicken wings or curly fries in your new air fryer toaster oven!
Tips for Using Your New Air Fryer Toaster Oven
One last thing I wanted to touch on before this list came to an end was a few tips and tricks I've picked up over the past few months working with these air fryers. While most air fryers are pretty straight forward there are a few things you can do to improve your overall experience. Try these tips out as you begin to experiment with your air fryer.
1 . Always Preheat Your Air Fryer
Allowing your oven to preheat before filling it with whatever your cooking is always a good idea and the same thing applies to an air fryer. If your oven has a preheat function, and all the digital options, not this list do, it will automatically preheat and sound an alarm when it is ready. If you choose an analog option simply allow the oven to heat for 5 minutes before filling it with your desired food item.
2 . Clean Your Oven and Accessories Regularly
Because of the smaller size of these ovens, they will build up grease and sediment quicker than a traditional oven will. It's important to clean them regularly if not after every use to ensure they are clean and safe to use. Built-up grease and sediment can become a fire hazard, especially in these small high powered ovens.
3 . Cut a Small Nonstick Baking Mat to Fit your Broil/Baking Tray
I recently cut a small, inexpensive baking mat I had lying around to fit the interior dimensions of my baking/broil tray. This allows me to save on cleanup by using a high temp liner whenever I roast or broil something using the tray. I'm all about saving time on clean up and this has definitely saved a ton, moreover, it keeps the pan itself free from built-up carbon which extends the life of the machine.
4 . If Your Oven Comes With a Rotisserie, Make Sure to Watch the Video Explaining Its Use
I decided to go ahead and try to set up my rotisserie without watching the video and while I was eventually successful, it took a while and a lot of experimenting before I got it right. After watching the video later I realize I had haphazardly stumbled on the correct setup after a ton of adjustments and I could have saved a lot of time and energy by just watching the video in the first place. While it's nice to be bel to use an appliance without the user's manual sometimes it's best just to review everything before you get started!