If you've ever been to a meat shop, you'll notice that pork is available in various cuts. Pork steak and pork chop are the two most popular pork cuts. Now, if you're a novice, you might not be able to differentiate these cuts. So, how exactly are they different?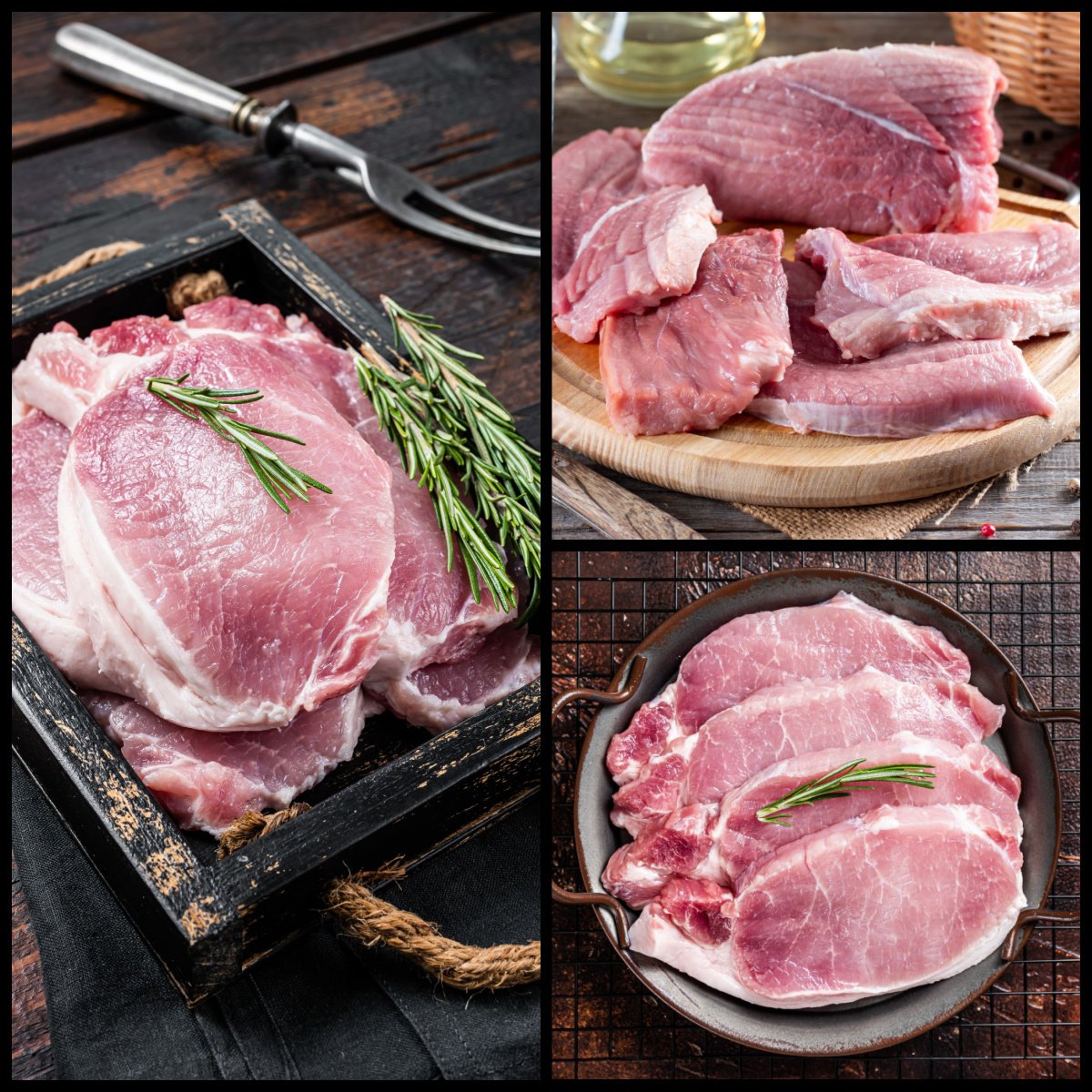 The main difference between pork steak and pork chop is that they come from different body parts of a pig. Pork steak comes from the shoulder part of a pig, and pork chop meat comes from the loin area. Pork steaks are tougher, while pork chops are comparatively leaner.
This article also talks about how they taste, how much they cost, what nutrients they have, and many other ways in which they are different.
Table of Contents
What Is A Pork Steak?
Pork steak is cut from the shoulder area of a pig, which is thicker. The shoulder muscle does not have many uses in a pig, and this makes it thick and full of fat. So, if the meat has more fat, there is almost no chance that it will be overcooked or become dry. The other names of pork steak are blade chops, blade steaks, blade roasts, pork shoulder steaks, etc.
Slow cooking is the most preferred method when it comes to using a pork steak. It is also available at butcher shops or stores that only sell boneless meat. Also, they are typically cut into larger pieces, almost the size of a hand. If you love braising, then this steak cut is just for you!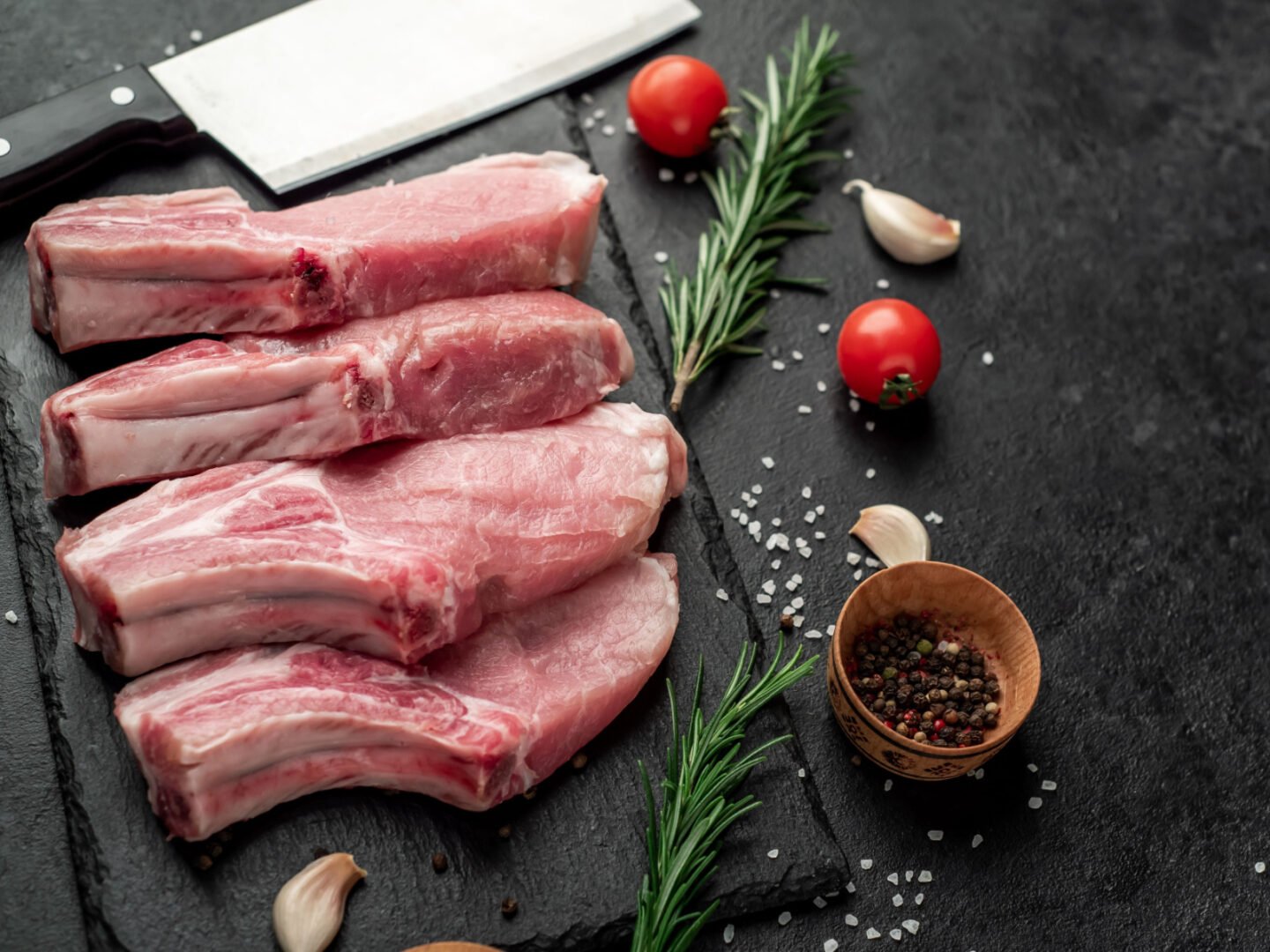 Even though pork steaks can be cooked in other ways, like on a grill or in a pan, the result may not be as tender. Faster cooking times for pork steaks result in chewy, tough pieces of meat.
Also, since pork steaks have a lot more fat than pork chops, the best way to cook them is by braising, stewing, or slow roasting in the oven. However, oven roasting may take a few hours, as the ideal temperature for slow cooking is 160°F.
What Is A Pork Chop?
A pork chop is a leaner cut of meat taken from a pig's loin. The loin area starts from the hip up to the shoulder. Note that pork chops are taken from different parts of the loin, namely the center loin, tenderloin, or sirloin.
You can also take pork chops from nearer the shoulder blade, known as rib chops. The back of a pig has lean muscle only. So, pork chops from here have less fat content when compared to a pork steak.
Butchers sell it with or without bones, too. At the end of the day, proper cooking methods produce juicy and tender meat. If you buy a pork chop with a bone, you can find a t-shaped cut.
In terms of how to cook them, pork chops that don't have a lot of fat tend to dry out faster. So, longer cooking times do not work here. It is always a good idea to cook pork chops at a high temperature for a short time to get the perfect dish.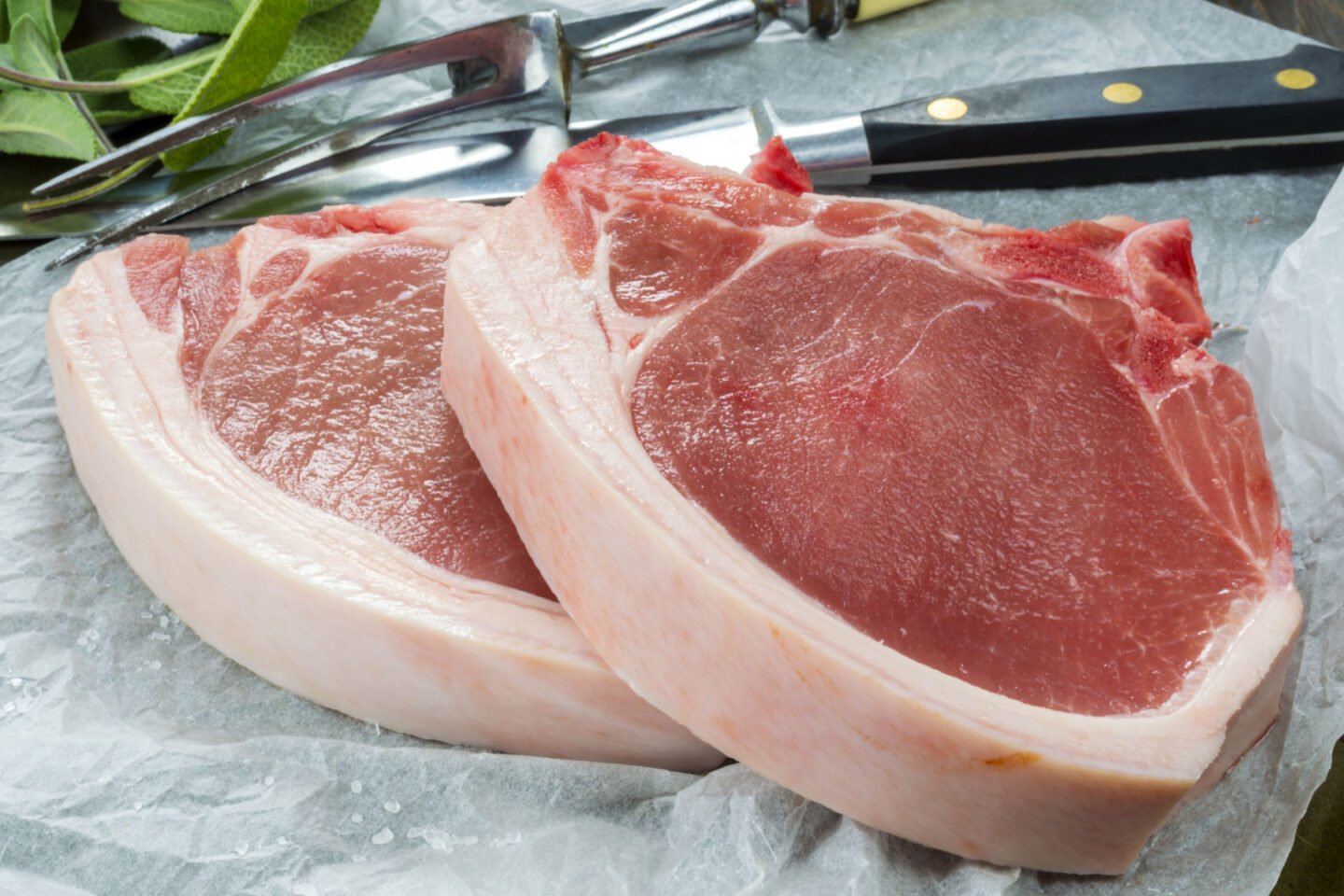 As opposed to pork steaks, it is easy to fry and grill pork chops. However, keep an eye on the cooking time, as they lose the fats present faster than expected.
You can use a grill or a cast-iron skillet to cook a pork chop. The internal temperature of a cooked pork chop should be around 120°F.
Comparison Table: Pork Steak vs Pork Chop
| | | |
| --- | --- | --- |
| Category | Pork Steak | Pork Chop |
| Cut From | Shoulder area | Loin Area |
| Fat Content | High | Low |
| Cooking Time Needed | High | Low |
| Temperature Needed | Low | High |
| Cooking Methods Suggested | Braising, stewing, oven roasting | Grilling, frying |
| Bone or Boneless | Boneless | Available in both bone and boneless types |
| Cost | Cheaper | Costlier |
| Variety of Cuts | Uniform | Different |
| Calories | High | Low |
Differences Between a Pork Steak and a Pork Chop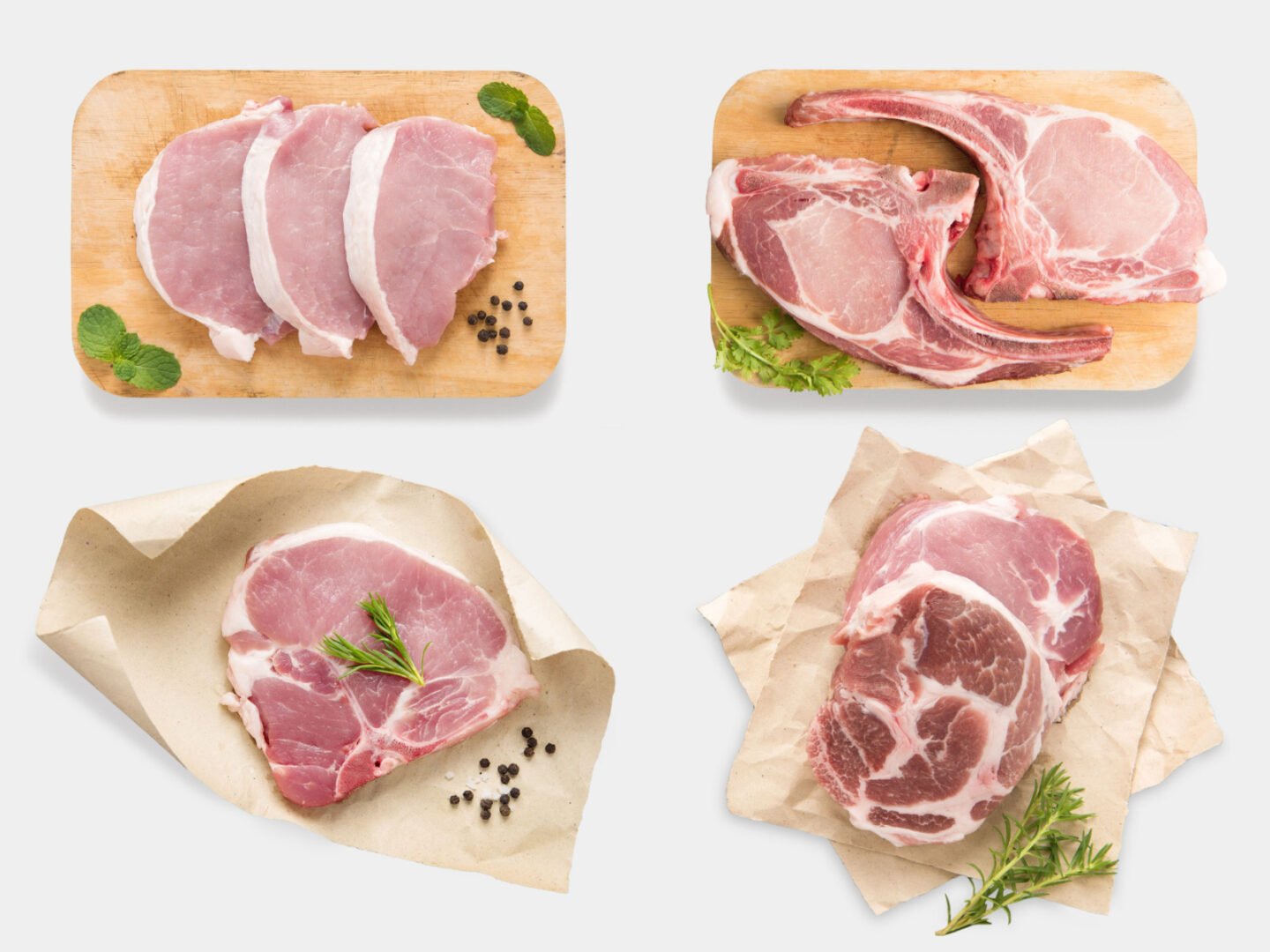 Let's elaborate on the differences a bit more to understand the cut of meat that would be appropriate for your cooking.
1. Nutritional Value
Without a doubt, pork steaks have a higher fat content. This means that the calorie intake while eating a pork steak would be higher than a pork chop.
| | | |
| --- | --- | --- |
| Nutritional Information | Pork Steak | Pork Chop |
| Calories | 210 | 193 |
| Protein | 20g | 24g |
| Fat | 14g | 11g |
From this comparison, it is clear that pork chops are the healthier pick. However, if you are a flavorful and juicy meat lover, forget calories and go for a pork steak!
2. Cost
There are no fixed values for either of these cuts. However, after careful searching, it is safe to conclude that pork steaks are more affordable than pork chops. The reason is that the cuts of pork steaks are uniform here.
Nevertheless, when it comes to a pork chop, each butcher or grocery store may charge it differently depending on whether it is bone-in or boneless and the type of loin cut.
The comparison here is based on the pound factor. One pound of pork steak is cheaper all around when compared to a pound of pork chop. To be specific, a pound of pork chops costs approximately $2.99, while the same quantity is sold at $4.
3. Variety of Cuts
Pork steaks all over the world have only one cut. It is taken from the pig's shoulder and has a thicker cut. Ironically, pork chops go through different cuts with each butcher as they come from many areas, starting from a pig's hip right up to the shoulder.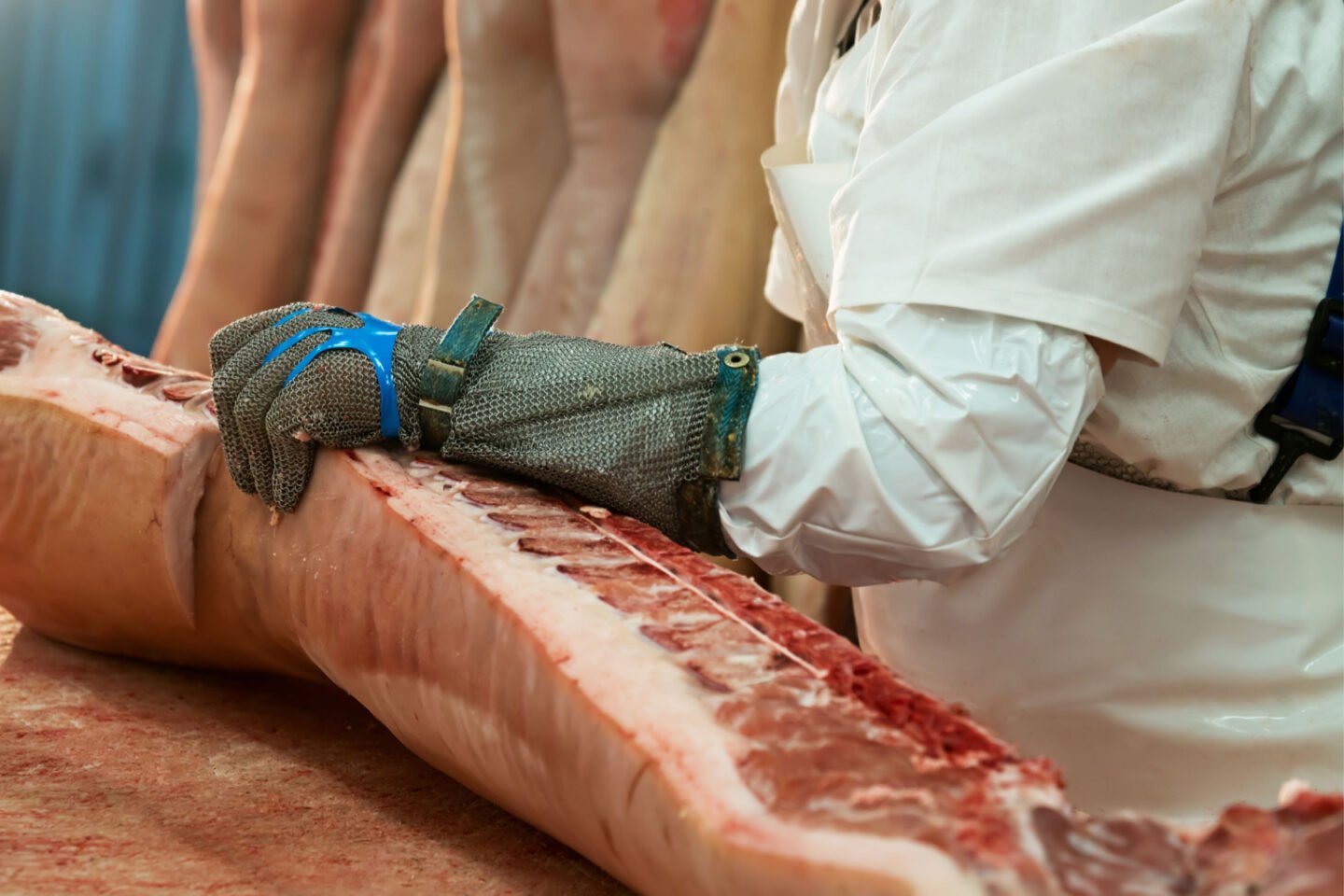 This makes understanding pork chops difficult. Since they all go by the same name, getting the right cut for your pork chop dish is tricky.
4. Cooking Method
Generally, pork chops are best cooked in an oven using a slow roasting method. Alternatively, you can go braising or stewing too. Pork chops, on the other hand, are best when grilled or pan-fried.
Since pork chops have different cuts, understanding the cooking method for a pork chop recipe is pretty difficult. However, if you stick to a single cut, you can easily practice cooking time and doneness as per your needs within a few tries.
5. Flavor
Pork steaks pack a punch in terms of flavor. Since they are fatty and thick, you can bring a flavorful meal to the table without much external prep like marinades and rubbings. On the flip side, the pork chop is leaner meat. As a result, it lacks the ability to deliver strong flavors.
You have to use strong and flavor-rich marinades while preparing the slices of meat before cooking. Dry rubs are also effective for packing as much flavor into pork chops as possible.
6. Appearance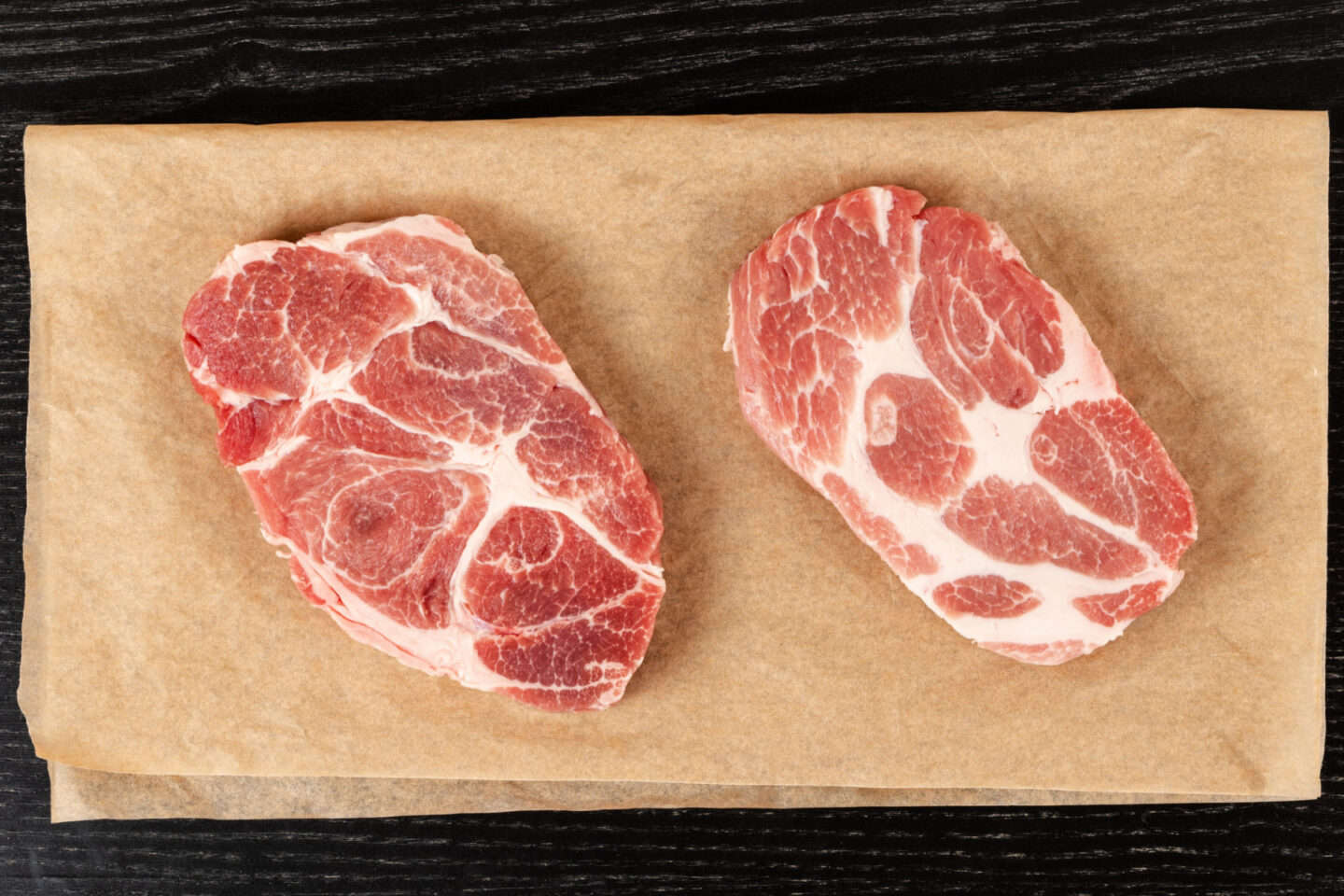 Due to their high fat content, pork steaks have a marbled texture and appearance. However, pork chops lack fat and so have a flat or leaner look.
Also, pork steaks have a lighter color than pork chops owing to the meat's density. Further, sometimes pork chops have a bone attached when taken from different parts of a pig's ribs.
Related Questions
Why are pork steaks chewy?
Pork steaks are taken from the shoulder of a pig and, hence, have a higher fat content. Thus, when cooked at high temperatures or quickly, pork steaks tend to dry out and become chewy. Cook them at the right temperature of around 135 degrees.
How to prevent overcooking pork steaks?
The best way to cook pork steaks is to pan-roast them for some time before popping them into an oven for slow roasting. An oven helps the cooking remain uniform, and a crunchy crust forms with the help of a slow cooking process.
Are pork steaks more tender than pork chops?
Pork steaks are not as tender as pork chops. Pork chops come from the loin area of a pig and are thus leaner. This makes the meat more tender and juicy when cooked perfectly to the right amount of doneness.