Fried Cauliflower has continued to be one of the trendiest appetizers on restaurant menus over the past few years. Crispy and crunchy on the outside, with a rich, creamy cauliflower center, fried cauliflower tastes great with a ton of different seasonings or sauces so it's easy to understand why it finds itself on so many menus.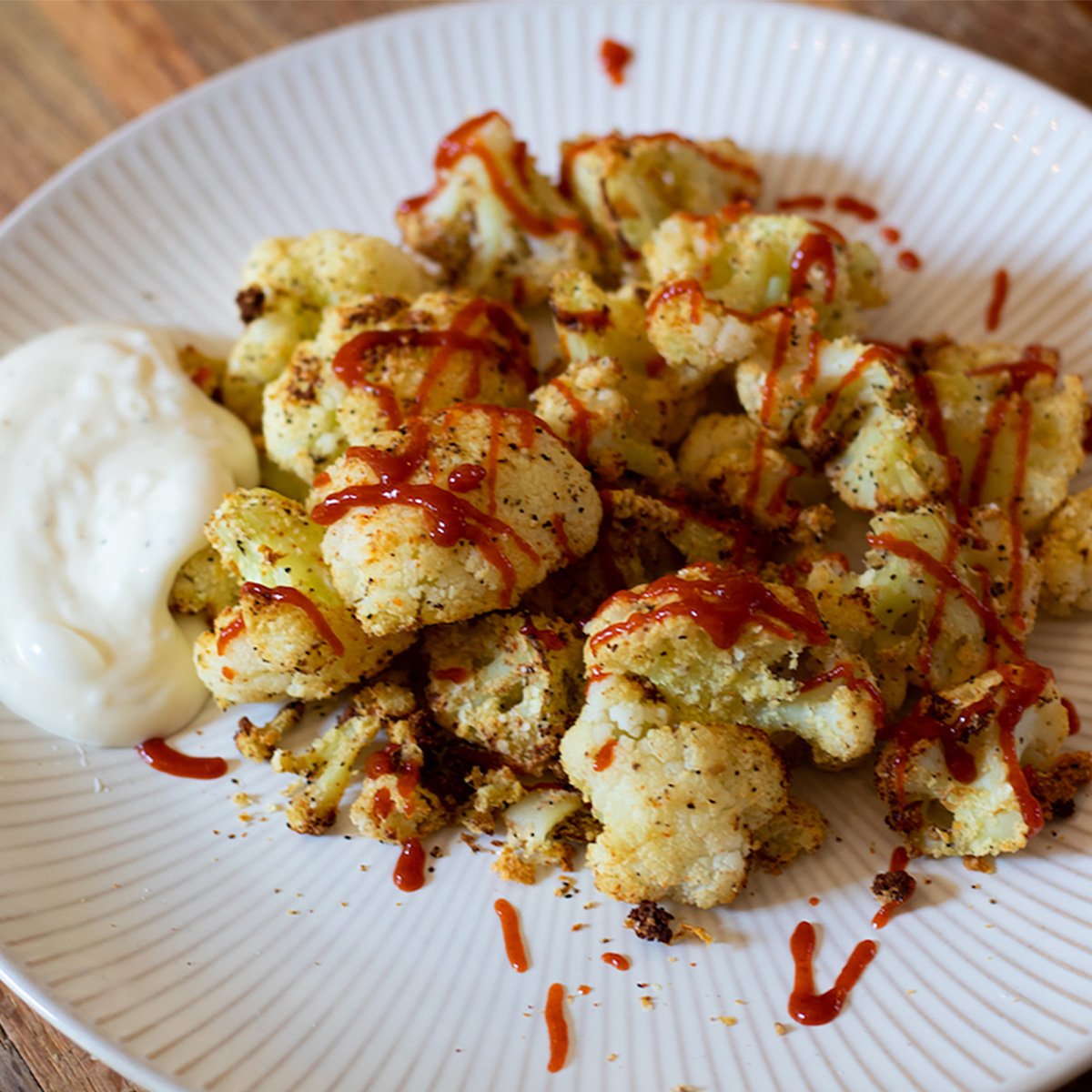 One of the benefits of having an air fryer at home is the ability to easily reproduce deep-fried dishes and restaurant favorites with just less mess or cleanup. The happy bonus of saving over 90% of the fat associated with deep-fried foods is definitely a big plus as well.
While an air fryer can't wholly recreate the deep-fried flavor and texture of many foods, it does a great job with wings, fries, and veggies like cauliflower or even Brussels sprouts. With a few simple modifications for an air fryer versus a deep fryer, you can easily prepare restaurant-quality fried cauliflower in your own home!
Table of Contents
The Strategy
I've seen a lot of ways to prepare cauliflower bites at home and I've done a fair bit of experimenting in this area myself. Most recipes recommend simply separating your cauliflower into bite-sized florets and tossing them in oil with seasonings before placing them into an air fryer or preheated oven.
This method gets the job done but it lacks some of the hallmarks of great cauliflower bites. Most deep-fried cauliflower will include at least a slight dredging or breading that helps lock in moisture creating crispy crunchy cauliflower with a creamy, fluffy interior, much like the perfect french fry.
When you omit a breading or dredging, all you are achieving is a heavily roasted vegetable. While there's nothing wrong with this approach, I love buffalo cauliflower, and the only way to achieve high-quality saucy, buffalo cauliflower, is to begin with perfectly crispy, lightly dredged cauliflower bites.
To achieve this feat we are going to use a two-step cooking method. First, we will separate the cauliflower into bite-sized florets and then blanch them in heavily salted, rapidly boiling water. Then we will stop the cooking process by straining the cauliflower and cooling immediately in ice water.
Once the cauliflower has been blanched we move to the air fryer (I'll be using my Cuisinart TOA-60 but any will work) after tossing it in a mixture of potato starch and seasonings. I like to use potato starch/potato flakes for this recipe for two reasons. Potato starch is relatively allergy/diet-friendly and can happily be consumed by anyone with gluten intolerance or celiac condition. The second reasoning is that it works really well as a dredge or coating for fried foods.
Typically I keep a box of "instant" mashed potato flakes on hand for dredging all sorts of foods I like to cook in my air fryer. By mixing the potato flakes with a touch of oil or fat you can create an easy breading of sorts that sticks well to foods and yields a satisfying crust. This works well for wings, fries, and cauliflower.
If you happen to have a bag of frozen cauliflower florets on hand you can defrost them and completely skip the blanching phase of this recipe. I always try to use fresh ingredients where possible, but this is definitely one recipe where a frozen veggie product might be more convenient overall, without sacrificing quality.
I don't often meal prep, but I do like to keep pre-prepped veggies and sauces on hand to make mealtimes easier. Some weeks I'll pre blanch 2-3 heads of cauliflower and keep the florets refrigerated in an airtight container. This way when I get a craving for air-fried cauliflower, half the work is already done.
Why This Works
By precooking the cauliflower in the blanching step, you can create a super crispy crunchy cauliflower in less time. As an extra benefit, you can blanch a ton of cauliflower at once and save it in the fridge for later!
Cauliflower has high moisture content and when you coat the florets in a starchy breading you lock in that moisture, steaming the inside of the cauliflower while crisping the outside.
Potato starch provides the dredge/breading for the roasted cauliflower while keeping this recipe gluten-free and whole 30 friendly.
Mistakes To Avoid
Don't over separate your cauliflower florets: Try to keep the pieces of cauliflower about the size of a wine cork or larger, this allows for some breakage throughout the cooking process and ensures you get as many big crunchy pieces of cauliflower as possible.
Preheat your air fryer: Make sure to use a preheat function if you have one available or to allow your fryer 5 minutes to heat up fully before adding the cauliflower to the oven. This allows the oven to get up to temperature and ensures an even, high temp sear resulting in crispier cauliflower overall.
Don't Overload Your Air Fryer: Like many air fryer recipes, it is key that you don't overload your oven basket and keep the cauliflower to a single layer. This is going to get the best airflow and largest amount of surface area exposed to the high heat convection currents in the oven chamber.
Recipe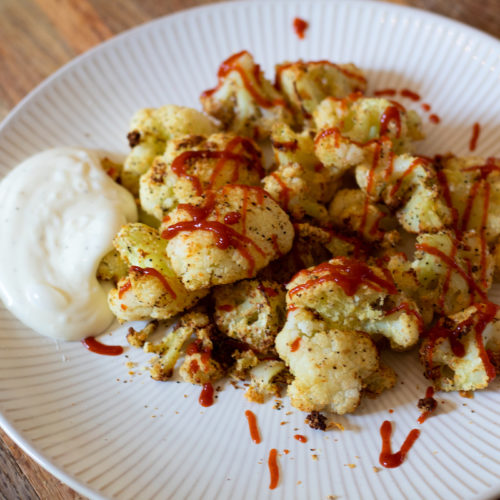 Next-Level Crispy Air Fryer Cauliflower Recipe
This is crispy cauliflower from an air fryer that's not dry or flaky or oily or weird.
Ingredients
1

head

Cauliflower, separated into large florets

¼

cup

Potato flakes or potato starch

1

tsp

Salt

1

tsp

Paprika

1

tsp

Garlic powder

1

tsp

Onion powder

1

tsp

Black pepper

2

tbsp

Extra virgin olive oil
Instructions
Bring a pot of salted water to a rolling boil.

Separate the cauliflower into florets.

Place the cauliflower florets into the boiling water, allow them to cook for 2 minutes.

Remove the cauliflower from the boiling water and transfer it to a bowl of ice water.

Allow the cauliflower to cool completely.

Drain the cauliflower from the ice water and dry it as much as possible.

Preheat your air fryer to 375°F. Set the time for 25 minutes, if your air fryer doesn't have a preheat function set it for 35 minutes and allow it to heat for up to 10 minutes before adding the cauliflower to the oven.

In a bowl mix together the cauliflower, olive oil, potato starch, and seasonings.

Fill the air fryer basket with a single layer of seasoning cauliflower.

Place the basket into the preheated oven and cook for 25 minutes.

Once the cauliflower is golden brown and crispy remove it from the air fryer and serve with your favorite dipping sauce.
Notes
Calorie data from MyFitnessPal. Estimate based on splitting a full head of cauliflower between two people. Dipping sauces not included.
Nutrition
Pro Tips
As I mentioned previously I like to blanch a few heads of cauliflower at one time and keep pre-cooked ready to use cauliflower on hand. This helps cut down prep time, and also allows some flexibility in my diet. If I'm more in the mood for a stir fry than for cauliflower bites I can use the blanched cauliflower there or on top of a fresh salad.
Try using the potato flake/starch method with other roasted veggies like sweet potatoes or even broccoli for an easy to prepare crispy coating!
One of my favorite ways to spice up this cauliflower is to add a touch of curry powder to the seasoning. For a real international flair try cutting up some paneer or halloumi cheese and frying it alongside your cauliflower, serve it with tahini and fresh herbs to create a middle eastern classic!
Alternative Approach
If you are looking to create something closer to a roasted cauliflower dish, then I would recommend simply separating the cauliflower florets, seasoning, and frying them from raw. This will result in a more dehydrated, roasted version of this dish. While I prefer the blanched, dredged version personally, a simply roasted style of cauliflower will need less prep time overall which for some is a big bonus.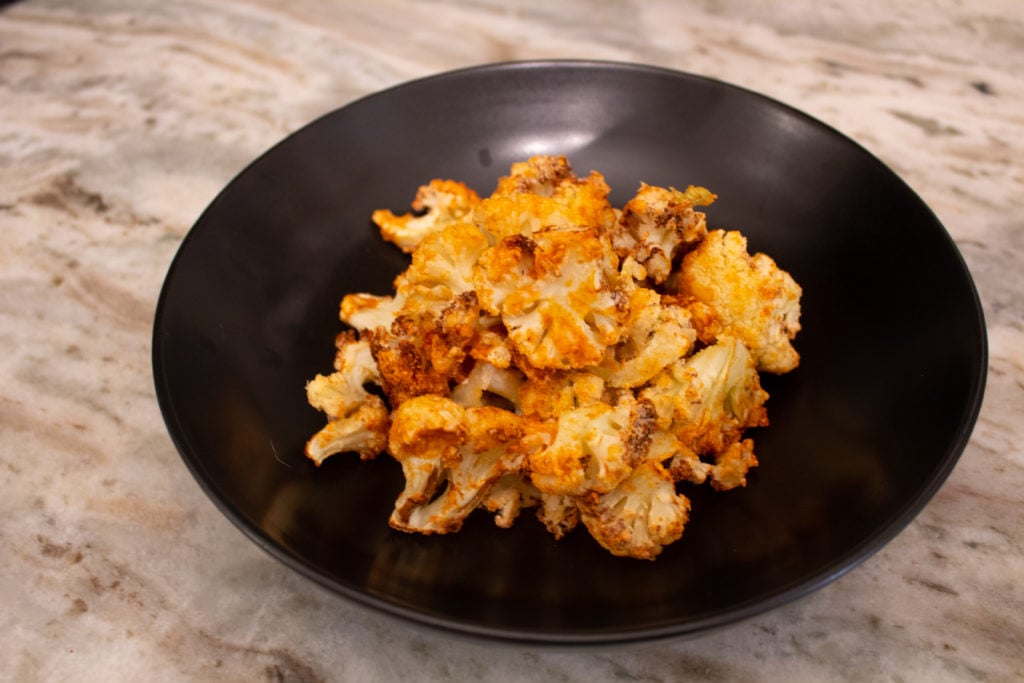 You can substitute the potato flakes in this recipe for flour, rice flour, bread crumbs, or completely forgo the dredging step depending on your preferences. I like to use the potato starch because I think the crust/crunch level is more ideal, but the added starch will up the calorie count slightly.
Lastly, you can freely omit or substitute the oil in this recipe depending on your needs, tastes. This will create a slightly less crunchy texture but it's not completely necessary, especially if you are watching your fat intake.
The Perfect Accompaniments for Air Fryer Cauliflower
Air fryer cauliflower works great as an appetizer, or a side dish for your main course.
I love to serve air-fried cauliflower as a snack before the meal or as a dish all on its own at more appetizer heavy gatherings/parties. One of my absolute favorite ways to serve it is dressing in an easy buffalo sauce. With a rich, cauliflower flavor, this crispy snack becomes something as satisfying as your favorite boneless chicken nuggets with zero guilt!
If you're cooking this air fryer cauliflower recipe in a basket style air fryer with a divider you can cook multiple food items at the same time and cut down on prep/cleanup! Alternatively, if you are using a front-loading, convection oven style air fryer try using another oven rack for your protein or main dish.
I like serving this roasted cauliflower with lamb or pork chops or roast chicken, all of which do well in your air fryer. No matter what way you choose to serve this cauliflower, feel free to experiment with the seasoning and sauces. Let us know what your favorite combinations are in the comments below.