I love frozen french fries. Seriously, they are one of my absolute favorite, go-to snacks or an easy side dish for any weekday dinner, especially now that I have an air fryer handy.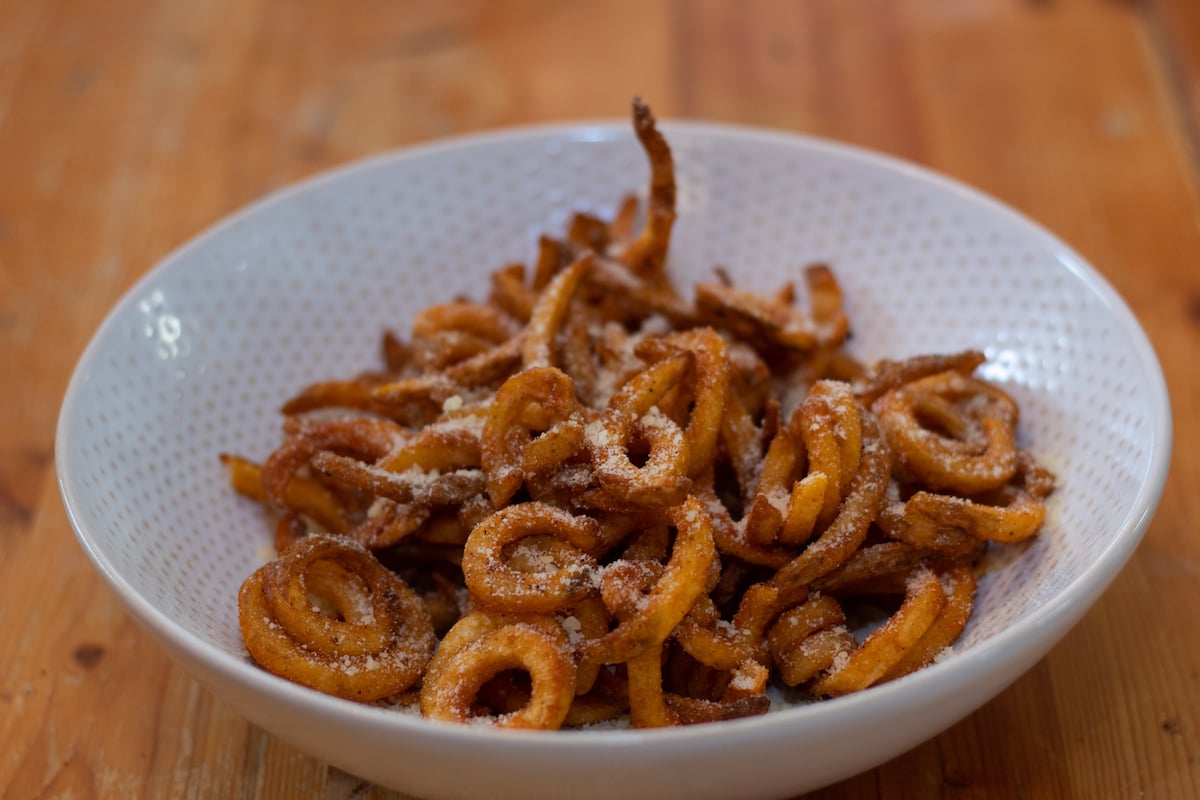 As a professional chef, it's a little embarrassing to say, but I really can't do a lot better at home than frozen, grocery story french fries. Without a deep fryer, it's virtually impossible to create consistently delicious, hand cut fries from scratch.
There are a number of reasons behind this, but it boils down to the fact that when you make french fries from scratch you need to pre-cook them before you get to the final frying stage. Potatoes are a high moisture vegetable and if you were to simply fry them from raw, they would soften considerably once out of the fryer or oven. Almost every fry you have ever eaten at a restaurant has been pre-cooked or "blanched" and then fried until crispy at the time of service.
This is also why frozen french fries are popular both for the home cook and in professional kitchens. It takes the pre-cooking step out of the equation and allows you to achieve incredibly crispy fries, super quickly.
Whenever I test a new air fryer, one of the first things I cook besides chicken wings (and before I get all the way to roast chicken) is air fryer frozen french fries. This is something that all air fryers can usually do well, and it helps me get a benchmark for quality and performance. Air fryer frozen french fries are also really delicious and with 90% less fat than a traditional deep-fried french fry, it's easy to justify having a few extra!
Table of Contents
The Strategy
Air fryers aren't actually a fryer in the traditional sense. Instead of surrounding food in hot oil, an air fryer uses a high powered convection fan to surround the food with superheated air that helps create a crisp texture as a deep fryer would. This works especially well with foods that would work well in a normal deep fat fryer like frozen french fries.
Because we are cooking the air fryer french fries from frozen it's important to preheat the air fryer beforehand. If you don't have a preheat function just increase the cooking time by 5 minutes and load the cooking chamber with fries once the air fryer has preheated fully.
The cook time for air fryer frozen french fries will depend a lot on your air fryer type and specifications. Though there is some variation brand to brand, model to model, I've found that fries usually take from 15-20 minutes at 375°-400°f.
Lastly, I like to shake the basket halfway through the cooking process. This helps create a uniformly crisp coating by exposing different parts of the french fries to the high-temperature air circulating throughout the cooking chamber. Some models come equipped with a "shake alarm" that will alert you when to shake the cooking basket, if your model doesn't have this feature just plan to shake the basket halfway through the cooking cycle.
Why This Works
Air fryers cook by circulating high-powered, superheated air through a well-insulated cooking chamber. This allows an air fryer to mimic the crisping ability of a traditional deep fryer and really stands out when cooking things like frozen french fries.
Frozen french fries are pre-cooked and frozen. This allows the outside of the fry to become incredibly crispy during the air frying process, while retaining a fluffy potato center, creating the perfect french fry!
Recipe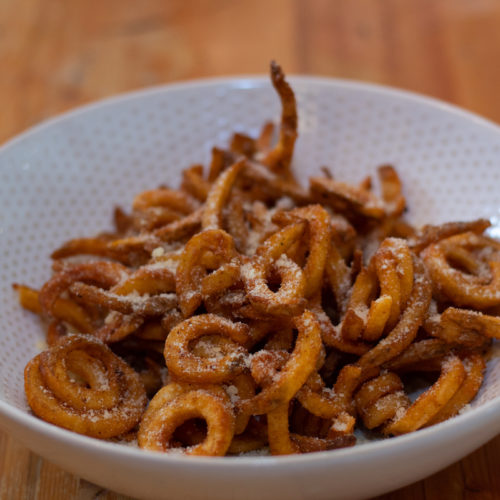 Perfect Air Fryer Frozen French Fries Recipe
Air fryers and frozen french fries are made for each other. Here's how to cook them quickly, retaining maximum crunch without making them dry.
Ingredients
1

bag

of frozen french fries (whichever style you prefer, I like curly fries)

Salt and pepper ( or whatever seasoning blend you have on hand)

Cooking spray or cooking oil in a spray bottle (optional)

Toppings (optional)
Instructions
Preheat your air fryer oven to 390°F.

Place the frozen french fries in your air fryer basket and arrange them in a single layer.

Place the oven basket into the air fryer and set the timer for 20 minutes.

At around the 10 minute mark, shake the air fryer basket to toss/turn the french fries.

Remove the fries from the air fryer.

Season or top your air fryer frozen french fries as desired and enjoy!
Notes
As discussed, I've used curly fries here but all frozen fry variations work equally well.
Calorie data from MyFitnessPal, based on a 3oz serving.
Nutrition
The Perfect Accompaniments for Air Fryer Frozen French Fries
Air fryer frozen french fries are a great vessel for all sorts of different toppings. and seasonings. From the simpler seasoning options like seasoned salt, old bay or plain old salt and pepper, to more complicated toppings like cheese curds and gravy or truffle oil and honey, there is a world of options to explore when it comes to toppings or dipping sauces to serve with your air fryer frozen french fries.
Here are some of my favorite flavor combinations/seasonings:
ranch dressing powder
old bay or any other seasoning salt
garlic, parsley, and parmesan cheese
truffle oil and honey
truffle oil, garlic, and parmesan cheese
sausage gravy and cheddar curds (poutine)
pizza sauce, mozzarella, and pepperoni (pizza fries)
cheddar cheese, grilled chicken or beef, salsa, avocado, and cream (nacho fries)
barbecue sauce, spicy mayo, ranch, blue cheese, or your dipping sauce of choice.
When it comes to air fryer frozen french fries the possibilities for flavor combinations and toppings are nearly endless!
One of the reasons I love making air fryer frozen french fries in my toaster oven style air fryer (for this recipe I'm using the Emeril Power Air Fryer 360) is the multi-rack feature. This allows me to cook my fries on one level and cook another ingredient like chicken thighs, sausages or pork chops on a separate level. If you have a basket divider for your pod-style air fryer you can double up as well and cook two items at the same time. This can be a great way to cut down on prep time while making a weekday supper, and air fryer frozen french fries make a great side dish with almost any protein or vegetable combo!
Which Type of Fry Works Best?
I've tried a ton of different styles of frozen french fries in my air fryer and I am happy to report that almost every one of them performed perfectly. They were all uniformly crispy and delicious with a great crunch and awesome texture. Here's a list of different styles that I've found to work really well in an air fryer:
Waffle fries
Seasoned Curly Fries
Steak Fries
Potato Wedges
Crinkle Cut Fries
Shoestring Fries
"Chip" style fries (also known as cowboy fries)
Tater tots (not really a fry but still a frozen potato product)
Hashbrowns (like tater tots, not a fry but still a great frozen potato product)
While I didnt arrange this list in any particular order, my favorite style of air fryer frozen french fry are seasoned curly fries. I have so many fond memories of curly fries, they are definitely the style that most often finds its way into my grocery basket.
In case you're curious, here are some of the other fries I've done in the air fryer.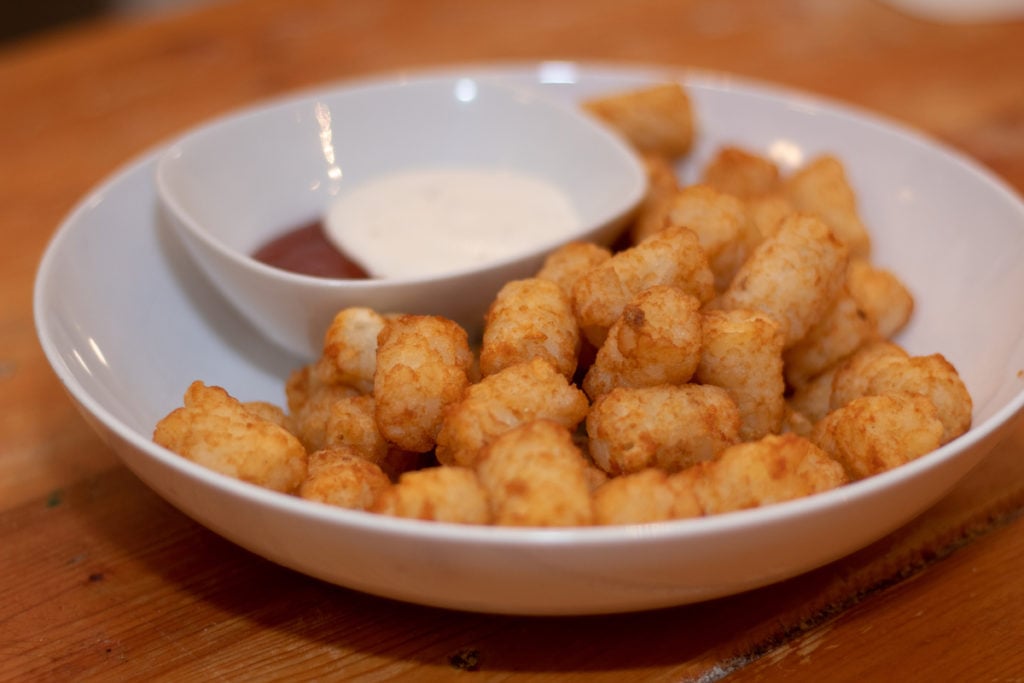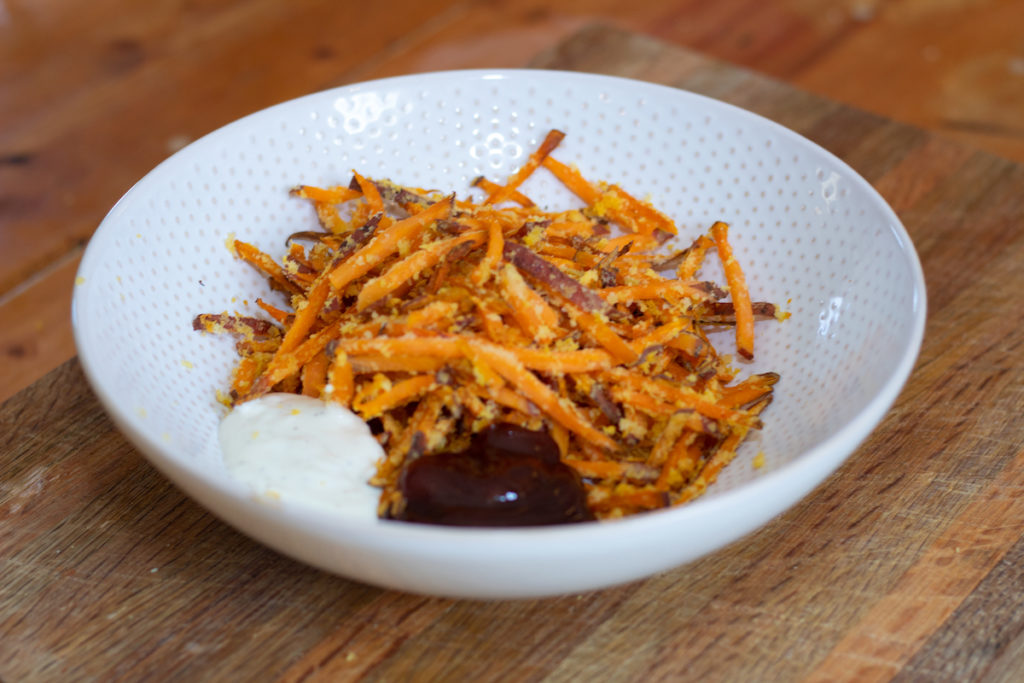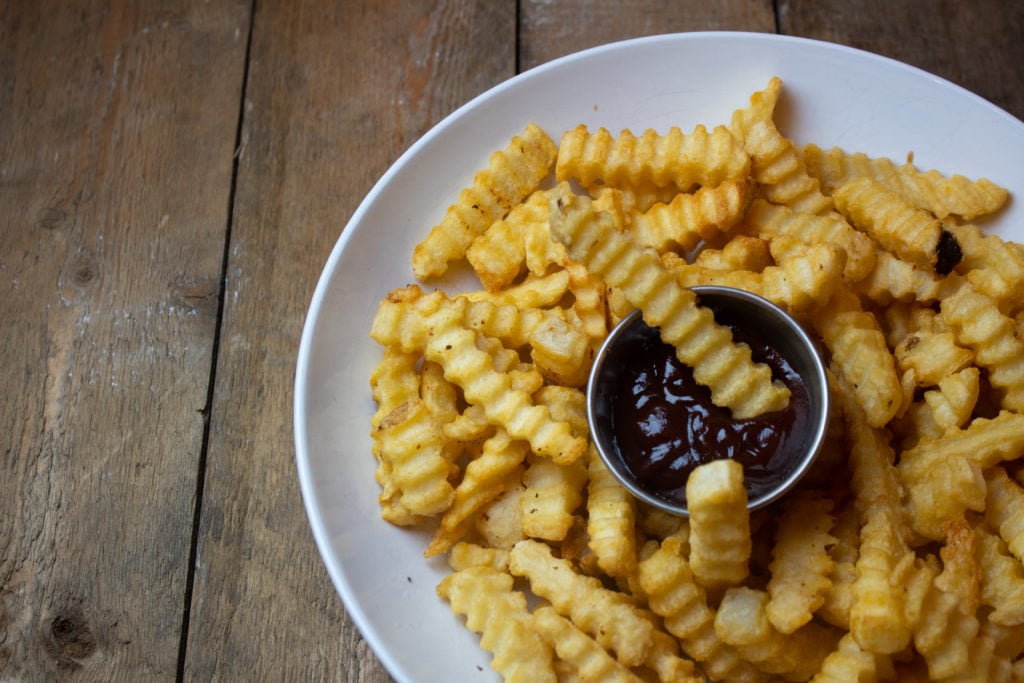 Oh and these are the hand-cut version that aren't pre-oiled. Despite my best efforts, they're just not as good.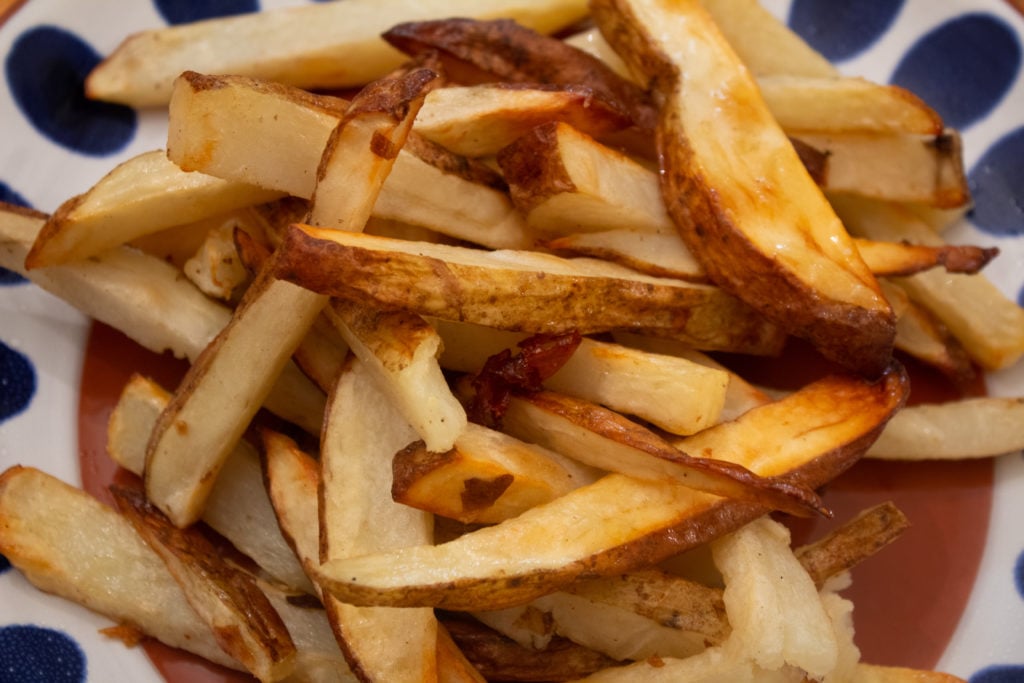 Mistakes To Avoid
Air fryer frozen fries are pretty straightforward and there's not a lot of potential ways you could go wrong while making them. The one place you might have an issue is overcrowding your fryer basket.
While air fryers are built to handle a lot, if you overcrowd the basket with fries you're not going to get the best results. Make sure to only load the basket with a single layer of frozen french fries to get the crispiest product possible. If you overfill the basket you will end up with soggy, mushy fries instead of the crispy delicious french fries you were hoping for.
Pro Tips
One way I ensure I get the crispiest fry possible out of my air fryer is to lightly spray my frozen french fries with cooking spray before putting them into the air fryer. This small amount of cooking oil helps keep the fries nice and crispy, while still remaining lower in fat than deep-fat fried french fries. I usually use basic canola cooking spray, but I've also seen people keeping olive oil or olive oil blends in a spray bottle to keep things even healthier!
I also like to wrap the crumb tray in my air fryer in tin foil when frying a lot of fries or similarly crumbly items. This helps with cleanup from crumbs and helps keep my air fryer looking newer longer. It also reflects the heat back into the fryer and acts as another small layer of insulation.
While not necessarily a pro tip for frying better fries, this is a pretty great solution to cleaning up messes in your air fryer and keeping it around for longer.