Purchasing new kitchen appliances can be a stressful process. You want to make sure you are getting the best machine for your money, and more than anything you want to know it's going to last.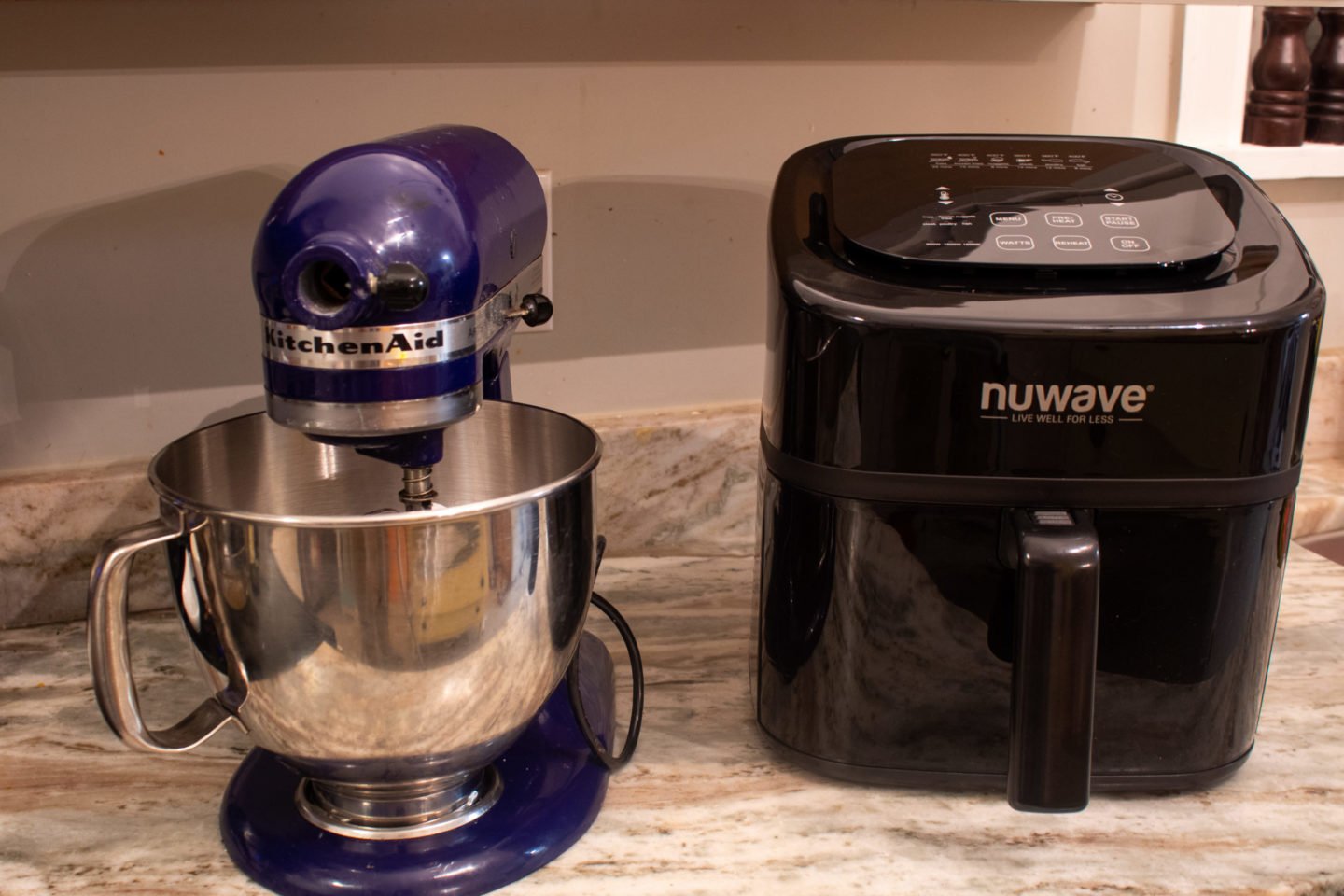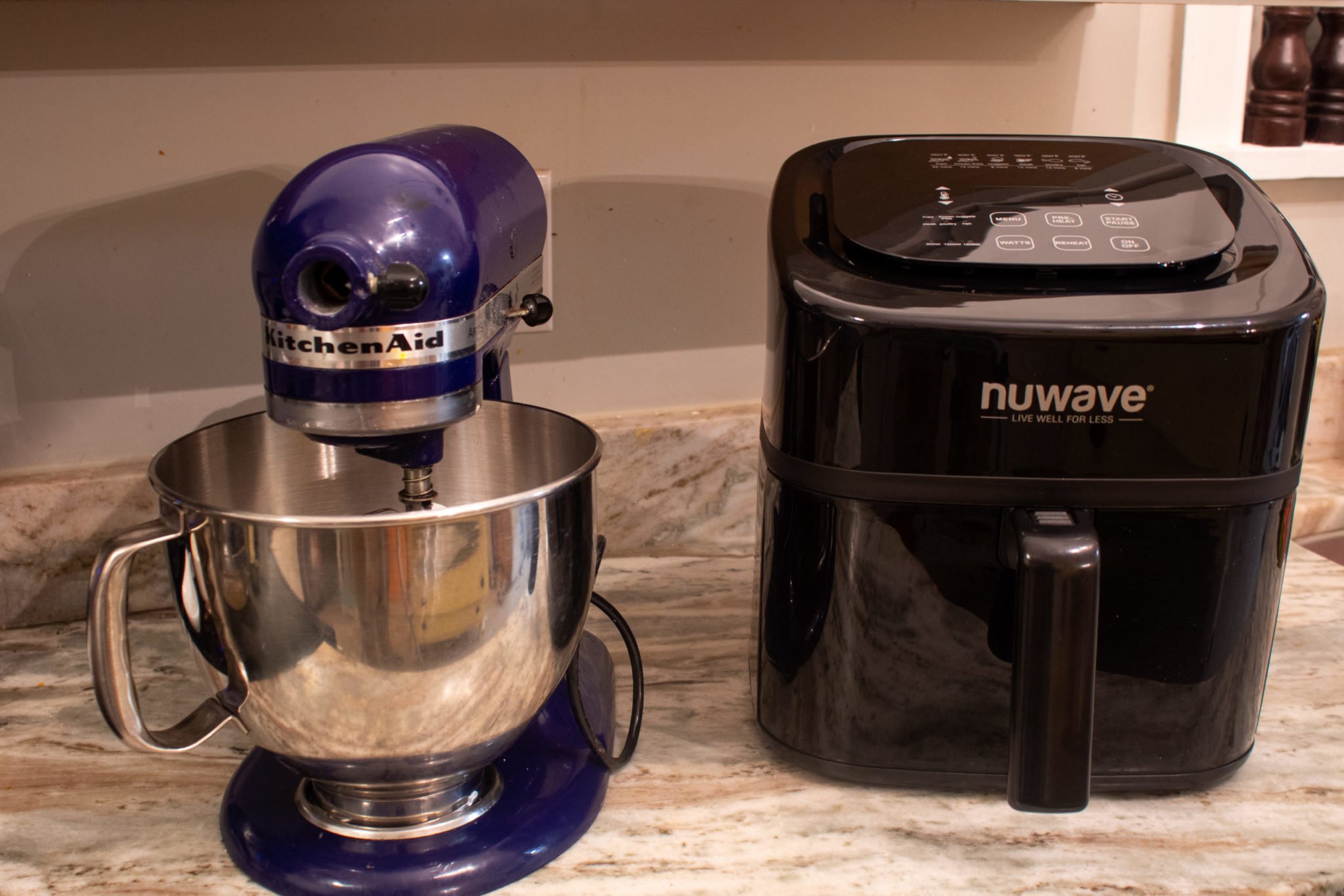 This is especially true with newer cooking technologies, like combination cookers, or air fryers. These appliances are relatively new to the market and have seen a lot of advancement in the last 5 years. What was once a cutting edge, top of the line machine, is now much more middle of the road. As innovation continues, it can be easy to feel a sense of buyers remorse after a few months. Therefore, it is important to take your time and do a little research before bringing home your next kitchen gadget.
Recently I was in the market for a value-priced air fryer option that I could use as a gift for friends during the upcoming holiday season. Luckily, I was able to take a look at the Nuwave Brio 6 quart Air Fryer, and over the course of this article, I plan on breaking down its performance in several different ways.
When looking at this air-fryer, I wanted to make sure I ran it through its paces, cooking several different fried foods, and really diving into the different functions and settings. I also wanted to give this air fryer a fair comparison to other similar models, in form, function, and price point, so you could make the most informed choice possible before bringing home your next kitchen appliance.
If you are looking for the TLDR; version of this review, I can make it short and sweet. This machine is a great value, it "fries" beautifully, and sits well on the countertop, should you want to keep it stationary and not hide it away in a cabinet. It is easy to clean and would make a great addition to any home cook's arsenal of kitchen equipment.
If you really want to get a feel for how this machine operates, and what you can expect when you get it home, keep on scrolling and check it out!
Table of Contents
What's in the Box?
Unpacking the Nuwave Brio 6 qt. Air Fryer was very simple. The majority of included equipment was stored within the air fryer itself, and other than a manual packet, it did come with one extra accessory, a basket divider for the frying basket. But more on that later.
The packaging was incredibly minimalist and didn't include a branded display box, which was just fine by me as I like to recycle as much as possible. It came with two manuals - a full users manual/recipe guide and a quick start guide. Other than some foam protective bumpers to help keep the machine protected, the packaging was actually very sparse, which again was appreciated as I love not having to throw away a ton of packaging material wherever possible.
In addition to the recipe guide included with the machine, Nuwave offers a mobile app called the Nuwave Cooking Club that offers air fryer owners access to tons of recipes and cooking techniques all in an easy to use mobile interface.
How Does the Nuwave Brio Air Fryer Look/Feel/Sit?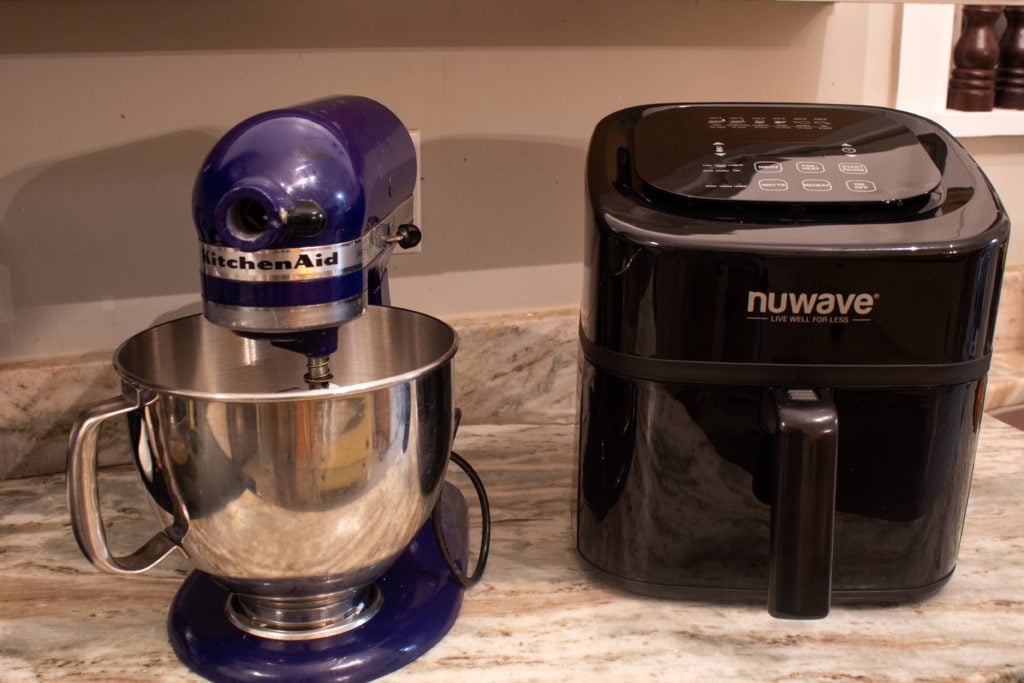 This model air fryer is a basket style fryer and looks almost like a pod or rounded cube when sitting on the counter. It is about the size of a stand mixer or bread machine, and with a sleek, glossy black finish, it looks quite striking on my light granite countertop.
The machine has a nice wide base and is very sturdy. The frying basket locks into place with a satisfying click and feels well made. The controls are digital, and the display is a relaxing blue hue that is easy to read even from a few feet away. The top of the fryer is angled so, even set away underneath an overhead cabinet, you can easily operate the controls without having to pull it out.
On top of the display, you'll find a time/temperature guide for different types of food/recipes. This guide will help give you tips for different foods, and the recipe guide included in the user manual also has a ton of cooking tips, tricks, and full recipes that are designed specifically for an air fryer.
Size-wise it is somewhat large and would take up a lot of space in a cabinet. Storage is possible, but some may choose to leave it on the countertop instead of storing it after every use. It is lighter than it looks and is very easy to move around, should you decide that storing it is the best option for you.
How Easy Is It to Set Up?
The set-up was quick and easy.It was very light and easy to maneuver onto my countertop. It does need at least 2" of clearance between the back of the machine and any other equipment or walls it may be placed in proximity to. The basket comes with a piece of cardboard between the basket and the frying chamber that obviously needs to be removed, but other than that, the machine is ready to cook right out of the box.
Personally, I like to give all my cooking equipment a quick rinse with hot water before the first use, and here I ran into my only issue with setup. It took me a second to figure out how to release the frying basket from the removable cooking chamber. It is attached with a spring-loaded button release on the handle. Once I understood how to properly release the basket, it was a breeze, but it took me a minute of fiddling with the release to get it to engage the first time.
The Nuwave Brio 6 qt. Air Fryer runs at 1800w out of the box. However, because not all homes can provide that level of power, the Nuwave Air Fryer comes equipped with wattage control settings that allow you to lower the power draw of the machine. By doing this you will alter the time and temperature recommendations for recipes, so you'll need to do some experimentation and use a thermometer to ensure the proper doneness of your cooked items. Because my kitchen can provide 1800w of power, I didn't experiment with lower wattages but including the ability to adjust for different power requirements was a nice touch.
Cooking Chicken Wings
For my first cooking experiment, I chose to give chicken wings a try. To be clear, I am a massive chicken wing enthusiast, and I have super-fond memories of wing-night in college with all of my friends hanging out watching Monday night football and enjoying an embarrassingly large amount of buffalo wings at our local watering hole. For years, I have been trying (somewhat successfully) to figure out the best way to cook wings at home without having to set up my messy deep fryer.
Deep fryers are one of the best ways to achieve incredible chicken wings because, while the chicken wings are submerged in the hot oil, they get incredibly crispy on the outside while remaining tender and juice inside. Cooking chicken wings in an oven, especially one without a convection fan, just doesn't provide the same level of crispness that I'm looking for.
To test out these chicken wings, I used just over 2 lbs. of whole chicken wings with the drummette, wing, and wing-tip still attached. Theoretically, I could have separated the wing pieces, but I wanted to see how whole wings would fair in the machine, especially because that is the way I prefer to prepare them whenever possible.
I tossed the wings in a very simple dry rub only. I sometimes like to bread my wings with a dredge of flour or sometimes premade cornbread mix (give it a try, it's delicious), but I wanted to see how simple, naked style wings would do before using some of my favorite cooking hacks.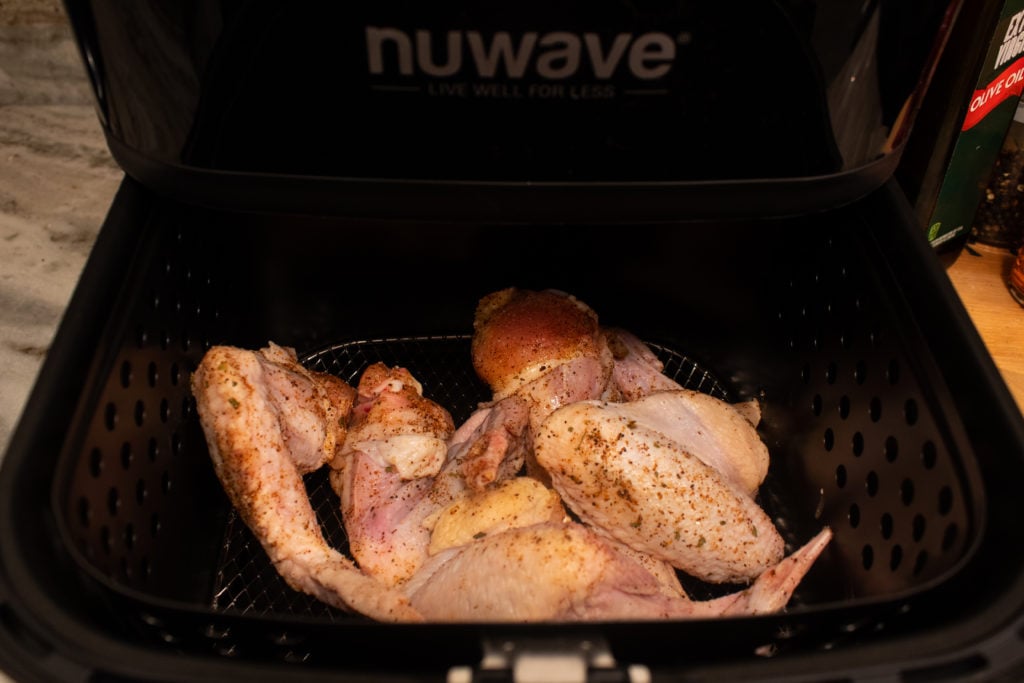 I preheated the oven to 390°F as recommended in the quick start guide. Once the preheat alarm went off, I pulled out the cooking chamber/frying basket, arranged all the wings in an even, single layer, and popped the cooking chamber back into the Nuwave Air Fryer. I set the timer for 25 minutes (as recommended by the recipe guide/user's manual) and sat back to wait while my wings cooked.
The Results
After my first bite of these incredible chicken wings, I can confidently say that I became an air fryer convert. They were simply phenomenal. They were crispy and delicious and could have gone without any sauce at all, which is sometimes used, in my opinion, to cover up mistakes in the cooking process. Dry rubbed, naked wings are a true test of a machine's ability to cook, and the Nuwave Air Fryer passed with flying colors.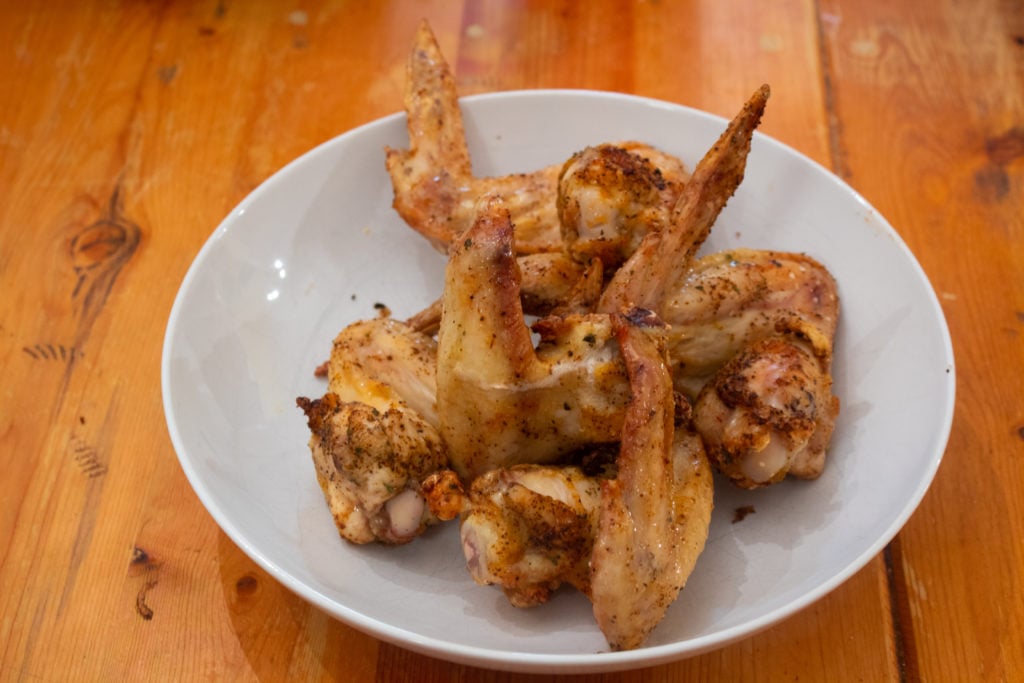 Though the wings took a little longer than I anticipated, at 25 minutes, they were well worth the wait, and as the machine was already preheated, I could have simply loaded the second batch of wings while I enjoyed the first batch. The ability to quickly reload is definitely an important quality if you plan on entertaining a group, and you're using the Nuwave Brio Air Fryer to handle the cooking. Additionally, the 2 lbs. of wings I used when testing the machine did not use up all the space available. I could have easily added at least another 1 lbs. of wings without issue.
Even though these wings weren't fried in the traditional sense (an air fryer is less a fryer and more of a small, convection oven with incredibly high-speed air circulation), they were everything I could have wanted. They were slightly less greasy than traditionally fried wings, but that, in my opinion, was a benefit, not a detractor from their overall quality. Because of the lower grease factor, I felt less heavy and full after my meal, which is something I absolutely loved.
Cooking French Fries
French fries are one of my favorite foods. For our honeymoon, my wife and I traveled to Belgium, and we absolutely loved that we could find a fry shop on almost every corner. On our trip, we were lucky enough to have dinner at a long-time family friend's home and were amazed at the in-counter deep fryer they had in their kitchen. We vowed at the end of that trip, if it was ever feasible, we would have the same appliance someday. Since the advent of air fryers, however, it's looking more and more like we might avoid the need for a messy deep fryer, in favor of a much lower mess air fryer option.
I knew, when I had the chance to review the Nuwave Brio Digital Air Fryer, that testing fries (sweet potato or regular) would be of the utmost importance. I just had to know - could I replicate the hallmarks of a crunchy, salty, delicious French fry without having to use a messy, deep fat fryer?
To start, I took medium-sized Idaho potatoes and cut them into ¼-1/2 inch by 4-inch batons. I left the skin on but could have easily peeled them. I just like "skin on" style French fry. I tossed the fries in a bit of salt and a little oil to help facilitate the cooking.
I preheated the oven to the recommended 400° F. and, once the preheat alarm went off, I loaded the fries into the food basket and put the cooking chamber back into the Nuwave Air Fryer. I set the timer for the 18 minutes recommended in the quick start guide and waited patiently to see how they would come out.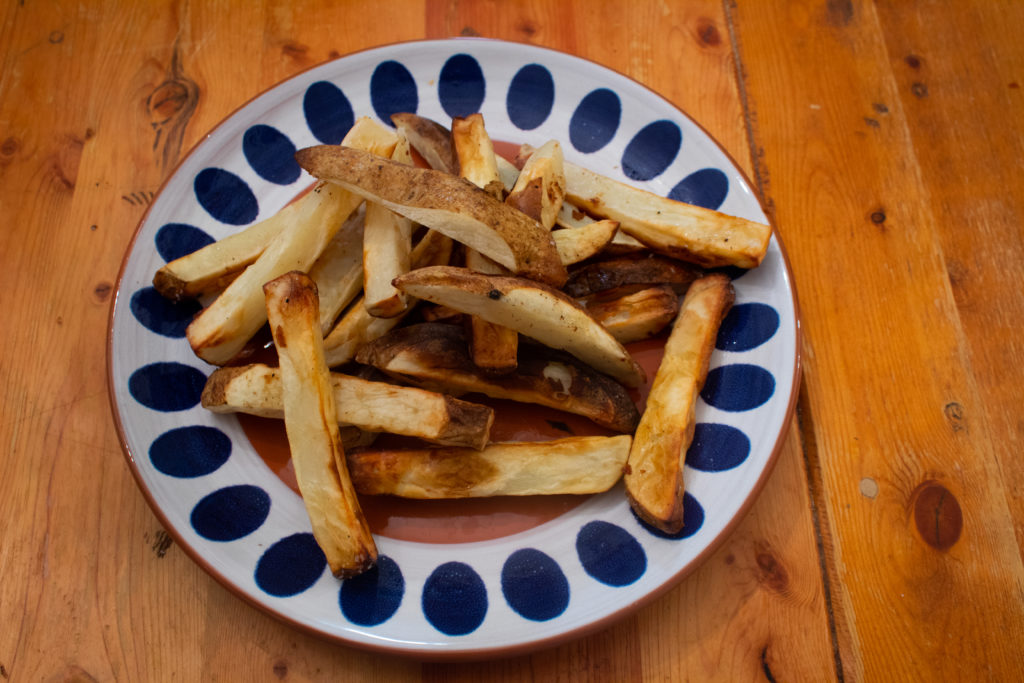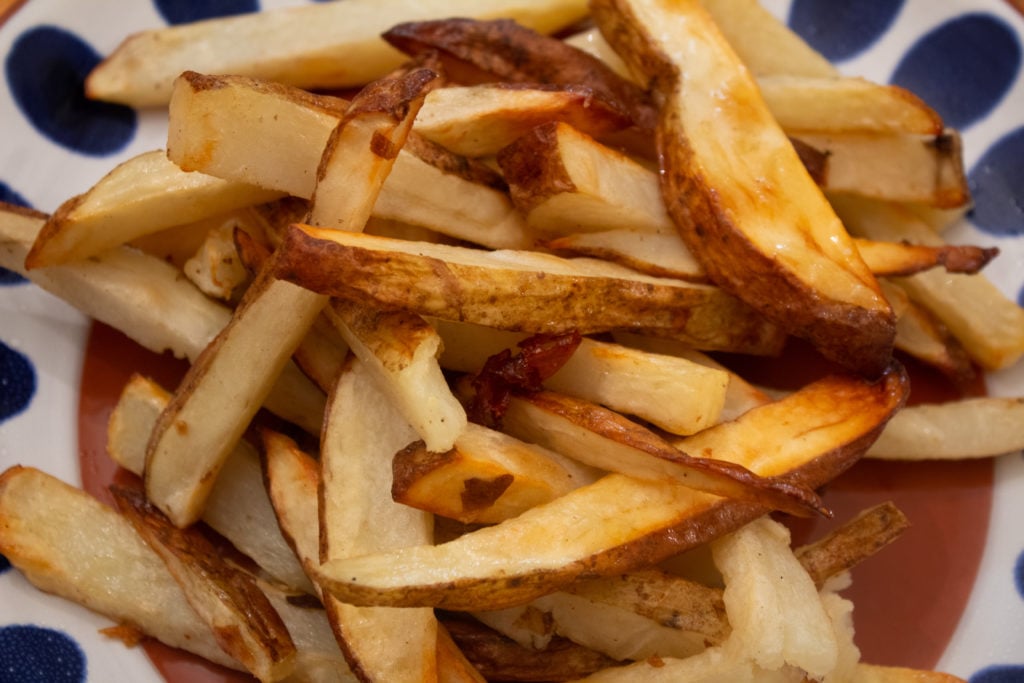 The Results
These fries were really good and even moreso, when compared with previous experiments making fries from scratch in my oven. Compared with traditional deep fat fried French fries, there was absolutely a noticeable difference, but considering they contained 90% less fat and made much less of a mess, they were definitely preferable in a lot of ways. Furthermore, throughout the process, I did learn one simple recipe hack that will make fries even better for me and you in the future.
The key to a good fry is to pre-cook the potatoes before frying them for a final time, allowing them to be fluffy on the inside and crispy on the outside. Almost all fries you've ever eaten have been pre-cooked in some fashion. Whether they were a frozen, pre-cooked fry that is then fried for a final time before serving or they were made from scratch by cutting potatoes into fries and then blanching them in the fryer at a lower temperature for 3-5 minutes, fries are almost always cooked twice before serving.
There are a few notable exceptions. Five Guys Burger and Fries, for example, makes all of their fries fresh to order. This is why, after the fries sit for a bit, they often become softer, almost more like roasted potatoes. This isn't a bad thing, definitely more of a preference, but I absolutely believe cooking fries a second time makes them better and far tastier.
In this case, I had a large amount of fries leftover, after testing them for this review. I put the fries in the refrigerator, and the next afternoon in a fit of brilliance, I loaded the cold fries back into the preheated air fryer at 375° F. for 5 minutes. The result was a much closer approximation of a deep fat fried french fry. Crispy on the outside, fluffy in the center, and with a satisfying crunch, they were definitely a far sight better than anything you could make from scratch in the oven.
I put the fries in the refrigerator, and the next afternoon in a fit of brilliance, I loaded the cold fries back into the preheated air fryer at 375° F. for 5 minutes. The result was a much closer approximation of a deep fat fried french fry.
Beyond making fries from scratch, I have found a lot of success in using frozen pre-made fries in this fryer. There are a lot of different options out there, and everything from crinkle to shoestring and waffle fries has worked exceptionally well in the Nuwave Brio 6 quart Digital Air Fryer. Additionally, thanks to the fry basket divider that is included with the machine, you can cook frozen chicken nuggets and frozen French fries simultaneously, which, if you have hungry kids at home and want to make something quick to eat, is an absolute godsend.
Cooking Buffalo Cauliflower
I love buffalo cauliflower, and luckily so does my toddler. Getting kids to eat veggies is a trying task, and if I find something she likes, I try to make it as often as possible. I try to keep it on the mild side when making it these days, but however you like it, buffalo cauliflower is really tasty and great for kids or adults alike.
Normally I would pre-cook cauliflower by blanching it in boiling salted water, and then I would lightly dredge it in seasoned flour before deep fat frying. I have had success at home by skipping the blanching process and roasting it from raw at high heat in my oven. It is definitely not as good as the deep fat fried version, but it's still tasty, and I get to skip the lengthy cleanup that comes with setting up a deep fat fryer.
When I had the opportunity to test buffalo cauliflower at home, I decided to keep the process closer to my oven-roasted version and skip the blanching process again. I separated the cauliflower florets into thumb-sized pieces and tossed them in a mixture of seasonings, oil, and seasoned flour. The oil allowed the flour to form a light crust around the cauliflower.
I preheated the oven to 375° F. using the control panel. Once the oven was preheated, I loaded to cauliflower into the baking pan and returned it to the Nuwave Air Fryer. I set the timer for 15 minutes and sat back to wait.
The Results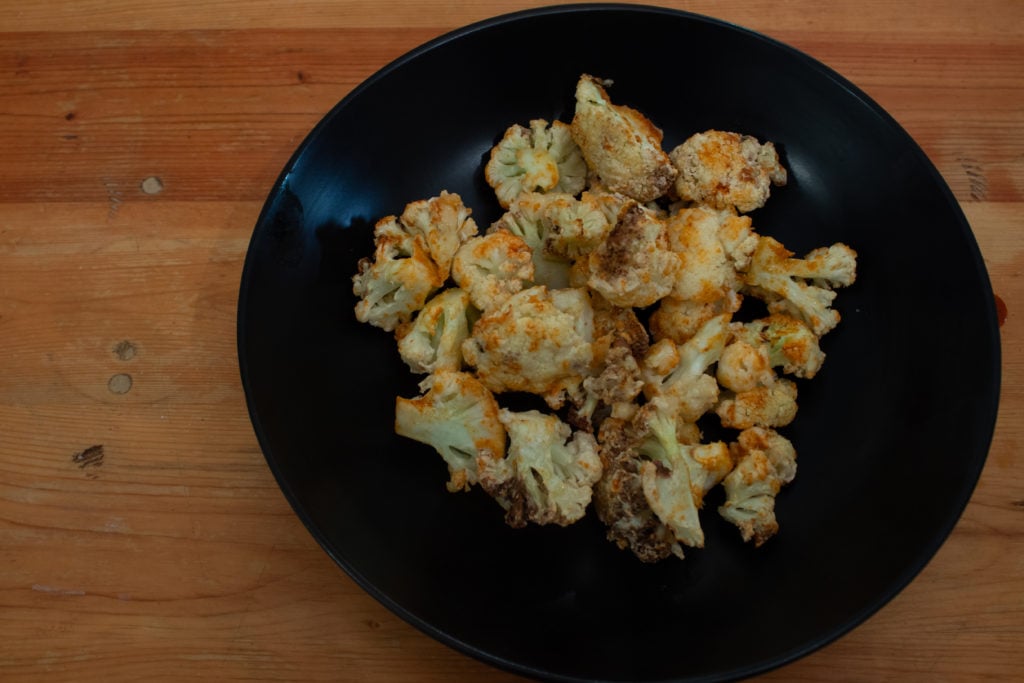 Once the cauliflower came out of the oven, I tossed it in a little melted butter and hot sauce and allowed it to cool slightly before enjoying. Overall I can say without reservation this cauliflower is amazing and will quickly become a fan favorite around your table. It is crispy out the outside, with just a touch of heat, and fluffy/buttery on the inside. In the future, I might add some sliced scallions for a bit of crisp onion flavor and a touch of blue cheese for a dipping sauce, but this is easily addictive without those garnishes.
Compared to crispy cauliflower prepared in a deep fat fryer, there is definitely a difference, but not so much that I would ever entertain the idea of pulling out my deep fryer instead of just using the air fryer. On the other hand, the Nuwave Brio Digital Air Fryer is far superior to my previous oven-roasted experiments, and I will, again, always choose to use this machine over the oven moving forward.
How Easy Is It to Clean?
Cleaning the Nuwave Brio 6 quart Digital Air Fryer was relatively simple. I removed the cooking chamber from the machine and separated the basket as well as the removable baking rack. The frying basket has a removable "baking rack" for a bottom that clicks into place and comes apart easily. I chose to wash all the pieces by hand, but the cooking chamber, basket, and baking rack are all dishwasher safe, which is a very nice feature. However, because the manual recommends washing all the pieces, include the large cooking chamber and basket on the top rack of your dishwasher, it is not feasible to regularly do so, especially if your top rack has limited clearance.
The inside of the cooking chamber is coated in a non-stick coating, so you are going to want to make sure you wash it using a non-abrasive cleaner and sponge. A quick soak in warm soapy water and using a non-abrasive sponge was more than enough to clean the inside of the cooking chamber in my experience. The food basket and cooking rack are made from stainless steel, and I was able to scour them a little more heavily with the scouring side of my sponge. That, and a quick soak in warm water, was enough to loosen even the toughest, stuck-on pieces, making them easy to clean even by hand.
Overall, it was very easy to clean, but because of the bulky nature of the pieces, you're going to want to always clean them by hand, even if they are dishwasher safe.
How Would I Improve the Nuwave Brio Air Fryer?
Overall the Nuwave 6 Quart Brio Digital Air Fryer is an amazing machine. It has clean, elegant lines, and an intuitive design. The controls are easy to use and, thanks to digital temperature control with individual degree increments, a precise digital timer, and wattage settings, it is incredibly easy to fine-tune your cooking process. There are a few small adjustments I would make, but nothing so dire as to impede the overall function of this machine.
The assembly of the cooking chamber/food basket is a little loose and, at times, loading it into the machine can be a chore. The detachable basket allows the cooking chamber to hang down a bit, and when filled with food, it means that you have to align the cooking chamber and the machine just so, to allow the chamber to slide back into the machine. It was a struggle at times to get the basket loaded back into the machine efficiently when filled with food.
Include brackets on the back of the machine to help maintain a proper distance from the wall and other cooking appliances. Though it may seem simple, it is very easy to find this machine pushed all the way to the wall or back of a countertop, which is not ideal for best operation and safety. Some models I've seen include small brackets or a protrusion that keeps the machine properly spaced from other equipment or walls. Including these would be a nice touch to ensure proper operation, but it isn't hard to just pull it out a few inches every time you decide to use it.
Including an internal temperature probe would be a nice option, but it is not something you see in value-priced options like the Nuwave Brio Digital Air Fryer. Regardless, the option for a temperature probe would add a lot of temperature control to the machine overall and further help fine-tune your cooking process.
What's the Warranty?
The Nuwave Brio 6 Quart Air Fryer comes backed by a 1-year limited warranty against all manufacturer parts or defects. The warranty protects against any defect or failure associated with the normal use of the machine and is only valid within the United States. To begin any warranty proceedings, you need to contact Nuwave via their customer service support line at 1-877-689-2838 or email [email protected].
Verdict
Overall this is an incredible air fryer, and I would highly recommend it to anyone looking to add an air fryer to their kitchen arsenal while working on a budget. It provides huge value and over-performs in every cooking metric I tried to test. It produces incredibly high-quality food, runs very quietly, and has amazing precision and temperature control, thanks to the digital display and incremental controls.
Beyond its performance, it is an attractive appliance, with clean lines and a glossy black finish. It is relatively small and will easily find a home on your countertop, or store well in a large cabinet or closet. It is relatively easy to clean, and I can see this piece of equipment lasting for years to come.
How Does It Compare?
These two air fryers are quite similar in form and function. They are both basket style air fryers, they both have a 6-quart capacity and digital controls. They have clean lines and sleek designs and are similarly priced, with the Instant Vortex Plus coming in slightly higher on the cost side than the Nuwave Brio.
The Nuwave Brio comes equipped with a removable basket and cooking rack, while the Instant Vortex Plus has an all-in-one design for their cooking chamber. The Instant Vortex has a very similar digital control panel in comparison to the NuWave, but it does come equipped with an added function that is not included in the Nuwave model - a dehydrator option. This is a great ability that I love to see in a combo-cooker item like this, mostly because I love vegetable chips and beef jerky. While I love dehydrated foods, I don't love having a dehydrator around. They are bulky, and I'm not usually a fan of a product that only handles one job, so having the added benefit of a dehydrator option is always a big benefit for me.
Both models have great reviews and customer ratings, but one thing did stand out in the Instant Vortex Plus reviews (that was not a problem in my experience with the Nuwave Brio), and that was the lack of a recipe guide. While both models come equipped with a quick start guide, the Instant Vortex Plus did not come with a recipe book as the Nuwave Brio did. For me this wasn't an issue. I've been cooking professionally for years now, so recipes are kind of second nature for me. However, if you wanted a recipe book for your machine, you won't find one with the Instant Vortex Plus. It's important to note that Instant Vortex has a large online recipe collection, but nothing that is included with the machine itself.
If sticking to a budget and choosing the air fryer that provides the greatest value is your ultimate goal, I would go with the Nuwave Brio. However, if the added benefit of a dehydrator option is an attractive feature, I would go with the Instant Vortex. Regardless of your choice, you can be sure that either model will produce excellent quality results every time!
Like the Nuwave Brio Digital Air Fryer, the Ninja Max XL is a pod-style air fryer (as opposed to an oven style air fryer) that is completely self-contained in an egg-shaped countertop unit. Size-wise it is slightly smaller, at 5.5 quarts, compared to the 6-quart capacity the Brio Digital Air Fryer offers. It can, however, hold similar amounts of food at 3 lbs. of fries, chicken wings or pork chops.
It comes with a ceramic crisper plate in the base of the food basket that allows the air to circulate around the food completely ensuring a crisp, crunchy finish. The Nuwave Brio Digital Air Fryer on the other hand comes equipped with a removable fry pan basket attachment to allow the air to circulate.
In addition to all the features offered by the Nuwave model, the Ninja Max XL comes equipped with a dehydrator function that is a very attractive option, as discussed in the last comparison. Furthermore, the Ninja Max also comes with a broiler stand that allows you to elevate food closer to the heating element, should you wish to broil any of your recipes at the end.
Aesthetically the Ninja Max XL and the Nuwave Brio are incredibly similar with a sleek black finish, polished lines, and a bright, easy-to-read, digital display. Both machines have an identical temperature range and top out at 450° F., which is more than hot enough to crisp even the trickiest of foods.
Overall these fryers are incredibly similar, and while the Nuwave Brio is slightly less expensive, the Ninja Max XL does offer a dehydrator function that is great if you like vegetable/fruit chips or beef jerky. Either of these machines offers a great option for someone looking to get started air frying without breaking the bank!
UPDATE: We just completed a review of a different Ninja model, the AF101 which is much cheaper than the Nuwave, only giving up 2qt of space, but retaining most of the power. That's an alternative worth considering if you don't need quite as much space, but you really care about speed.
Nuwave Brio Air Fryer vs
No products found.

Nuwave Brio 6qt Air Fryer
$84.00

No products found.




No products found.




No products found.

Capacity
6Qt
5.8Qt
Basket
Square
Square
Preset Functions
6
11
Recipe Guide
Yes
Yes
Max Temp
400F
400F
Pot Coating
Non stick
Non stick
Watts
1800
1700
Check Price on Amazon

No products found.
I am an avid fan of anything that has wifi connectivity and can be tied into a smart device, so when I looked at the specs for the COSORI Smart WiFi Air Fryer, I was truly excited to see that had a ton of connectivity options. Much like the Nuwave Brio Digital Air Fryer in form and function, it has the added benefit of being able to pair with just about any of your smart devices, from your tablet/phone to Alexa or Google, via a smart home device.
Size-wise the COSORI Smart WiFi Air Fryer is slightly smaller than the Nuwave Brio, at 5.8 quarts, versus the 6 quart capacity of the Nuwave. They do hold identical volumes of food at 3 lbs. of chicken wings or French fries, so regardless of your choice, you won't be sacrificing any cooking ability.
Aesthetically they are both similar in their black coloring and cool blue digital displays. The outer finish of the COSORI model is matte and textured, where the Nuwave is a high gloss, reflective finish. In this case, I prefer the COSORI finish because it won't show fingerprints and grease spots nearly as much as the Nuwave model, but that is simply an aesthetic preference on my part. The Nuwave is a very sleek and attractive machine, while the COSORI model feels a bit more squared and squat, despite having very similar dimensions.
Power-wise the COSORI model runs at 100w less than the 1800w Brio Air Fryer, and it doesn't offer the same ability to select different wattages, which is a great feature for the Nuwave model.
Both come equipped with recipe guides, but where the COSORI Air Fryer stands apart is the hundreds of preprogrammed recipes found in the VeSync app, which will help make your cooking experience almost effortless.
While both these fryers are similar in size, capacity, and performance, they truly differ in the connectivity department. The Nuwave Brio is a great machine, but if you want the ability to control your air fryer using a smart home assistant or from an app, the COSORI is the model for you. On the other hand, if wifi connectivity isn't important, and you're looking to save some money, the Nuwave Brio Air Fryer is an incredible value that will make you delicious food every time.