Over the past few years, I have seen the air fryer appliance segment grow from "gimmick" gadgets, primarily found on daytime infomercials, to high-end, must-have kitchen appliances. Now even the Celebrity Chefs are branding their own products and entering the marketplace.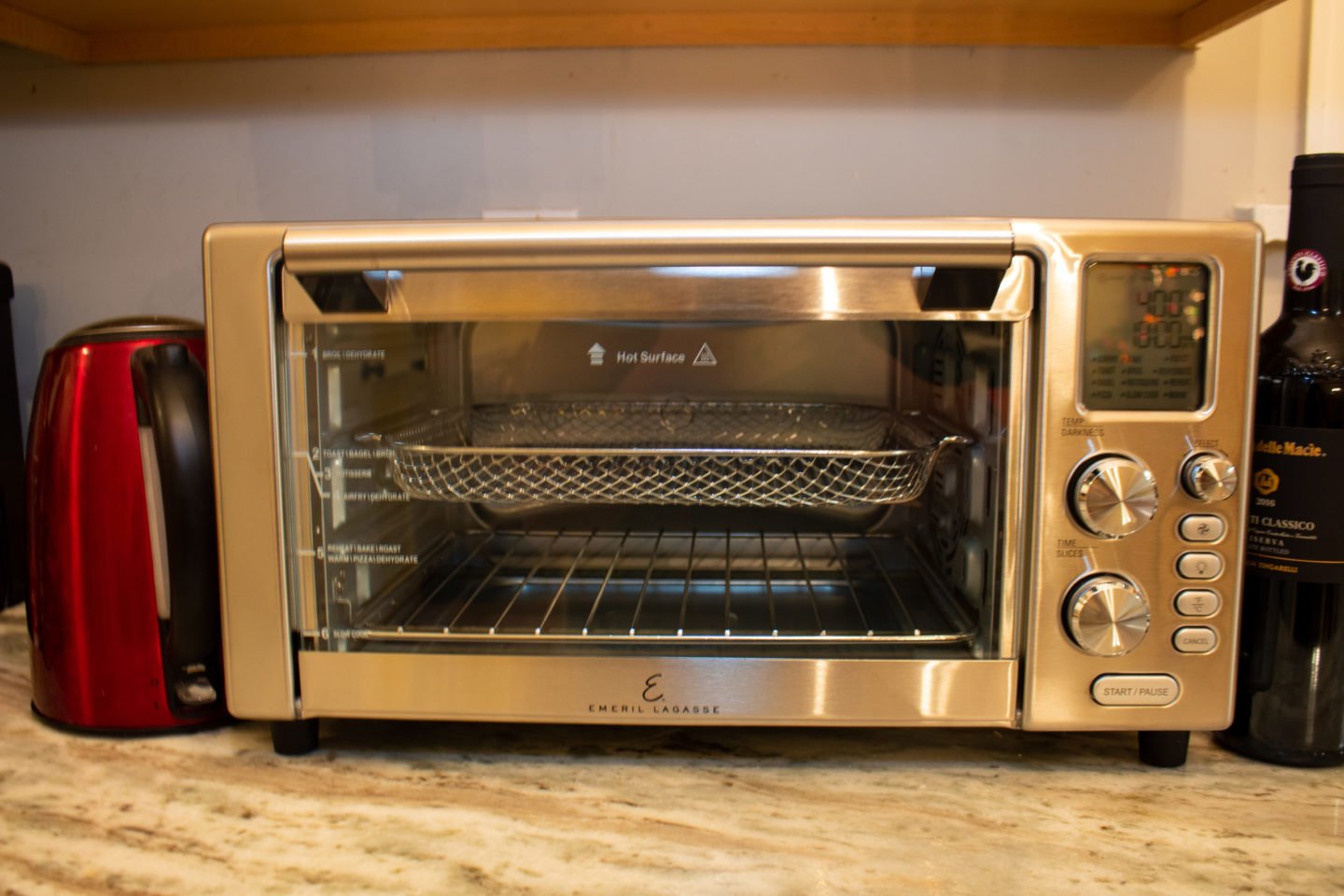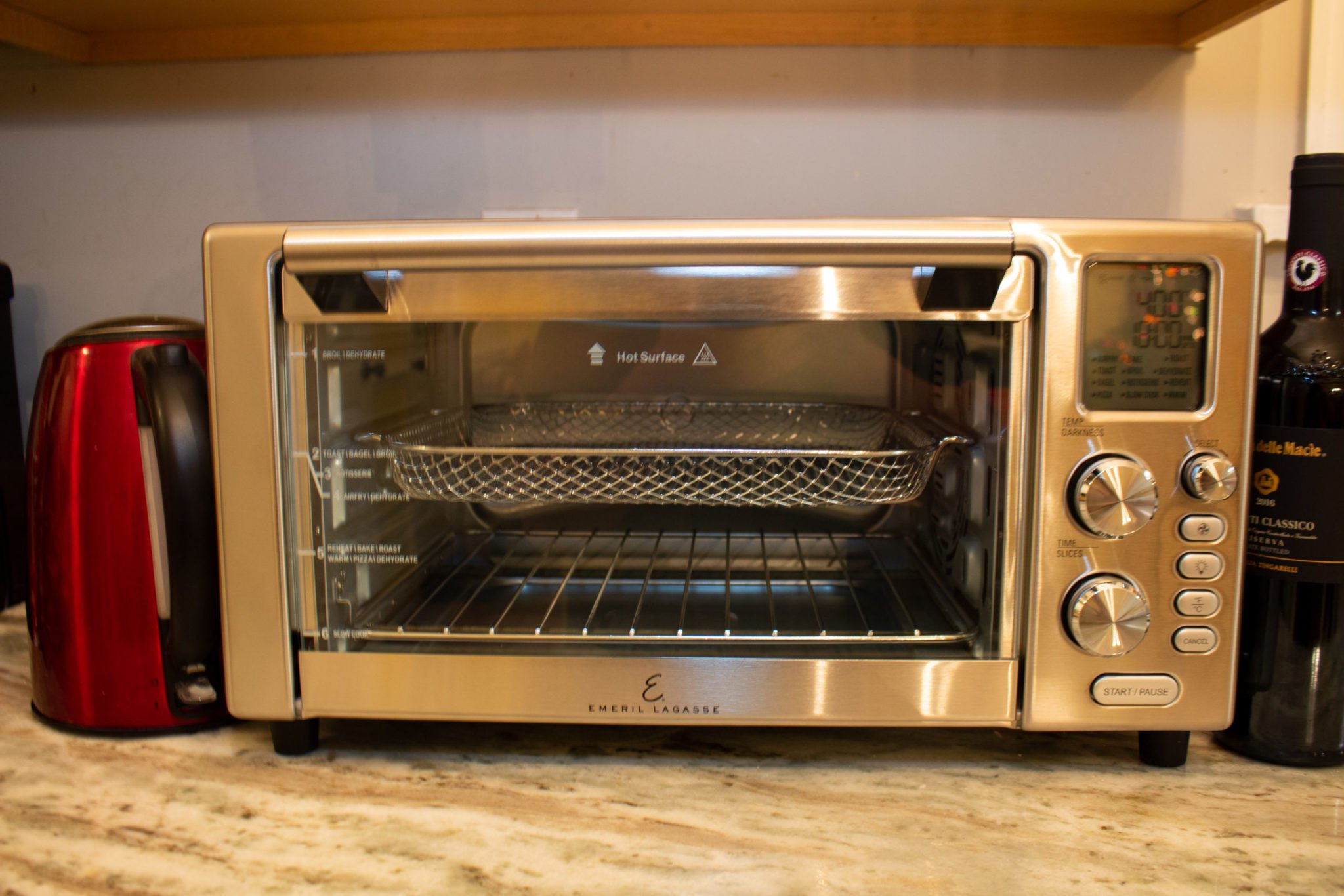 Recently I was lucky enough to spend some time with the Emeril Lagasse Power Air Fryer 360 and take a look at its performance over several different recipes and cooking modes. To be honest, I've always been a fan of Emeril, from my younger days watching Food Network as a kid and dreaming of culinary school, and eventually watching him transcend hospitality becoming a brand unto himself. So I was really excited to get a chance to run this Air Fryer through its paces, especially considering the great reviews I've seen and received from friends who were given this model during the holidays.
Over the course of a few days, I cooked 4 different food items to test 4 different functions and capabilities of this air fryer/toaster oven. With over 12 different preset cooking functions there were a ton of different recipes to choose but I decided on a rotisserie chicken, curly fries, crispy "fried" Brussels sprouts, and dehydrated apple chips.
Overall, I was incredibly impressed with the capabilities and functionality of the Emeril Lagasse Power Air Fryer 360. If you stop here and read nothing beyond this introduction, you can leave safe in the knowledge that the Emeril Lagasse Power Air Fryer is an awesome multi-purpose cooking tool that is well worth the investment.
Table of Contents
What's in the Box?
The packaging for the Emeril Lagasse Air fryer was minimal, which as I've mentioned before is a big plus for me. I love nice boxes as much as the next guy, but when it's all going in the recycling, I like to keep it to a minimum where possible.
Inside the box I found:
1 Emeril Lagasse Power Air Fryer 360
1 frying basket
1 grill rack
1 rotisserie spit assembly
1 rotisserie stand
1 roasting tray
1 drip tray
1 owner's manual
1 recipe book
1 quick start guide
How Does the Emeril Lagasse Air Fryer Look/Feel/Sit?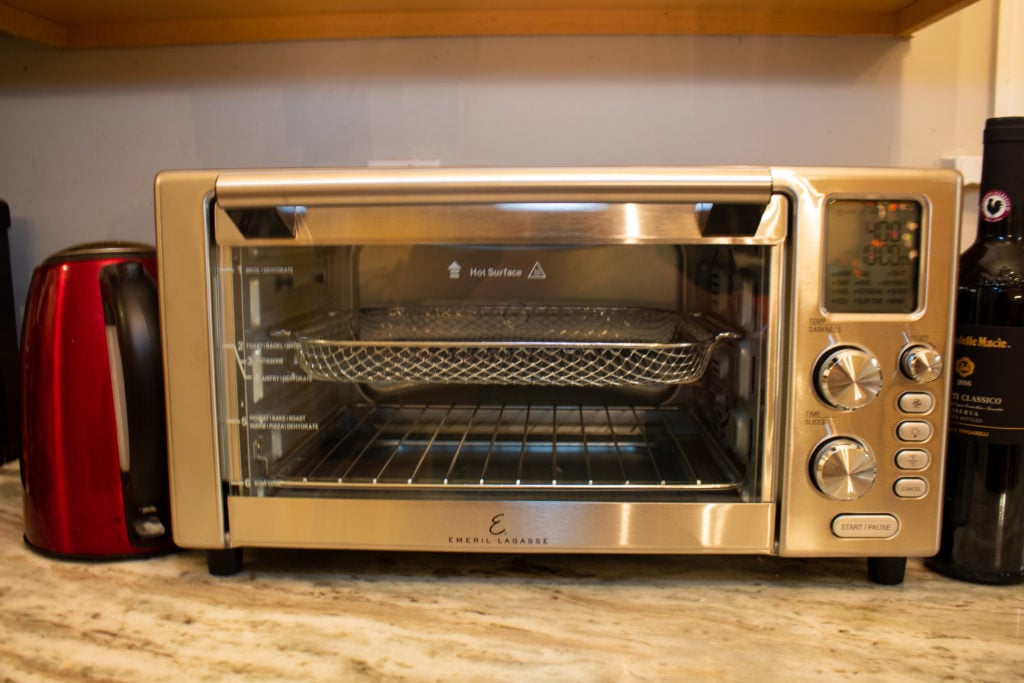 The Emeril Air Fryer 360 is a front-loading, countertop oven style air fryer and multi-purpose cooking tool. Realistically it's probably not accurate to call these devices "air-fryers" anymore because this style can achieve so much more than the air-fryers of yesterday.
At just under 20 inches long and 15 inches wide it takes up a sizeable amount of space on the countertop. It sits at 9 inches high and there was a sizeable amount of space between our builder-grade cabinets and the top of the Emeril Air Fryer. It is definitely feasible to store items on top of the oven when not in use, but it is absolutely critical to remove anything from the top of the oven before use, it gets pretty hot and will affect the overall performance as well as potentially melt anything left there.
The air fryer is made from thick seeming stainless steel, and though it isn't heavy, it does feel sturdy. The oven door is glass and the handle attached to the face is well-positioned and unobtrusive. The front of the oven door is adorned with an infographic that outlines the best oven rack level for specific cooking methods. I've seen something like this before in a much more expensive machine and I think it is a really nice touch.
The display is a small digital window located to the right of the door and the controls are below. The control panel consists of two large knobs 1 for temp/darkness and one for time/slices as well as a small selector knob to choose the cooking mode/function. There are four buttons for fan speed, oven light, F°/C°, and cancel. Finally, there is a large-ish start/pause button a the very bottom.
The inside of the oven is brushed aluminum, it is vented from the back and the convection fan is located at the right-hand side. There are 4 visible heating elements but it is advertised as having 5 heating elements so my feeling is the 5th is located in the convection fan unit itself.
Despite its large footprint, the usable cooking space of the oven itself is only 12.5X11X5.5 inches when you account for the heating elements and other interior structures.
How Easy is it to Set Up?
The instructions provided were easy to understand and the quick-start guide helped get the oven ready to fry in no time.
I gave the individual oven rack and accessories a rinse in hot water and plugged the oven in. The digital display and control panel was easy to use and intuitive. Despite never having used the oven I didn't have to consult the manual to get it to function as I needed. It does come equipped with several preset recipes that are convenient, but for my purposes, I like to operate these air fryers on manual settings when possible.
I selected the air fry function, set the temperature to 400°F and the timer to 15 minutes to allow the oven to burn off any residual oils or chemicals from the packing process. After my initial oven cycle, I reset the oven to air fry and got down to testing some recipes!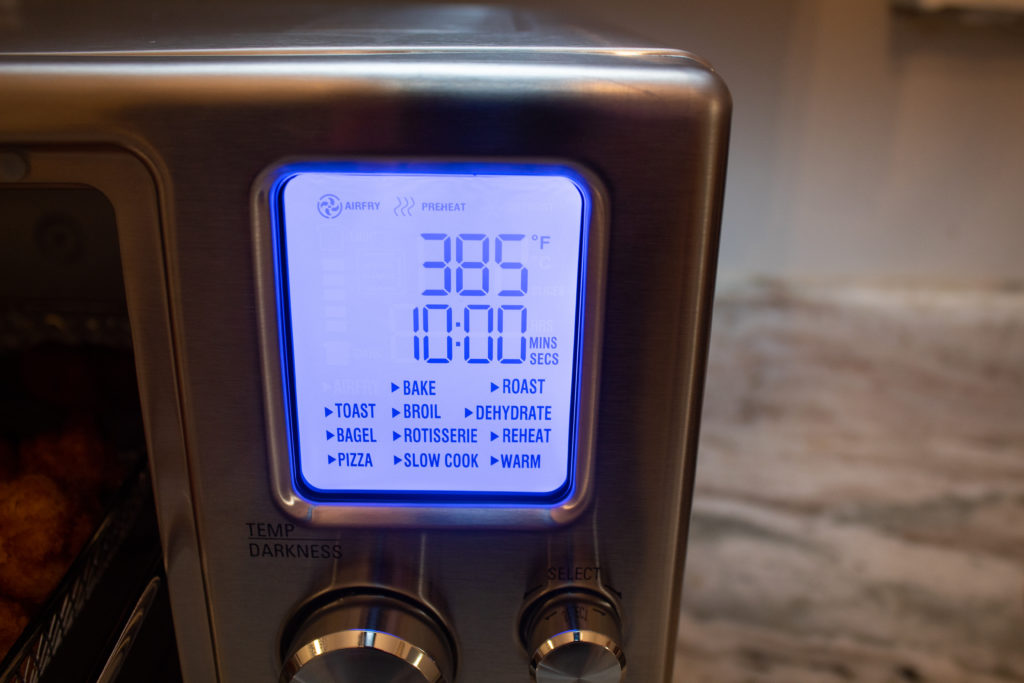 Cooking Curly Fries
One of the food items I love to use as a benchmark when testing an air fryer or countertop convection oven is frozen bagged fries. Most fries we use on an everyday basis in restaurants are basically identical to the frozen bagged fries you might find in a grocery store freezer section. While we Chefs have a lot more options to choose from in terms of coating, size, cut, and seasoning options, frozen fries are pretty similar.
The reason most restaurants choose to use a frozen, pre-blanched fry like those found in grocery stores is that when you cook a pre-cooked fry from frozen, the outside can get very crispy while the interior of the fry remains fluffy and delicious. This is especially true when you cook them submerged in oil in a deep fat fryer.
While oven-baked frozen french fries aren't nearly as good as their deep-fried cousins, they can be extremely satisfying when prepared in an air fryer. Because of the superheated air that circulates in an air fryer, frozen french fries can achieve almost the same amount of crispy deliciousness that you can with a deep fat fryer, with none of the mess.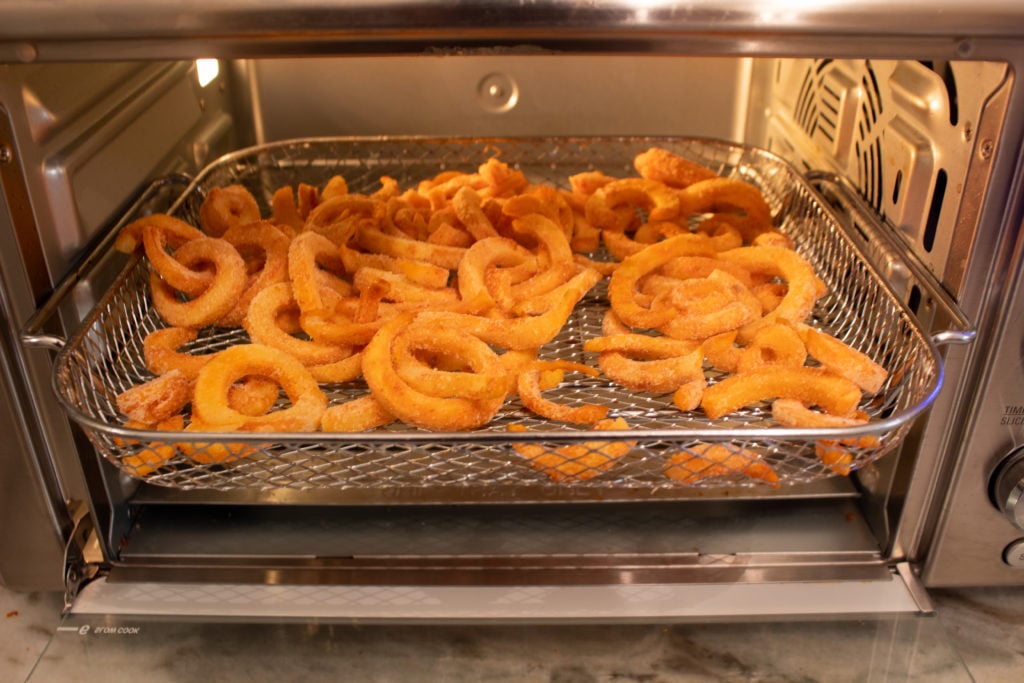 To prepare my frozen curly fries, I selected the air fryer option from the function menu, set the temperature to 400°F, and the time to 15 minutes. I allowed the oven to preheat while I loaded the basket with a generous portion of french fries. Once the preheat alarm sounded I loaded the air fryer basket into the oven and waited patiently for my fries to be finished cooking.
The Results
After 15 minutes of staring at the oven as it cooked (I really, really love french fries) my curly fries were ready. I removed the basket from the oven, dumped the fries onto a plate, and got down to the business of taste testing.
Usually, curly fries are difficult to prepare at home without a deep fryer because they overlap as they cook. It's easy to end up with soggy, undercooked fries when they are being oven baked. These fries had none of those issues. Because of the high-powered, superheated air that circulated throughout the cooking chamber, the fries were crispy and delicious with no soggy or undercooked middles.
Even though these fries didn't have the fatty, greasiness I usually associate with a good curly fry, the trade-off is more than fair especially considering these fries contained so much less fat than a deep-fried fry. By the way, it was these experiments that allowed me. to develop my sweet potato fries technique.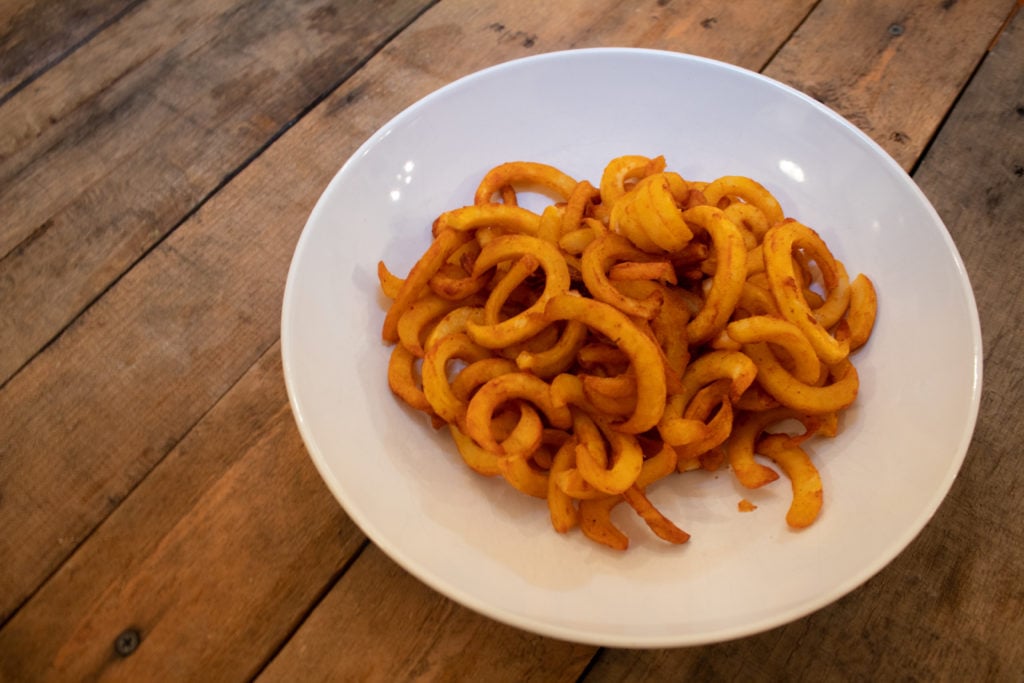 Cooking Roast Chicken (with Rotisserie)
One of the biggest selling points for me about this appliance was the inclusion of a rotisserie function. I absolutely adore rotisserie cooking and ever since the "Showtime Rotisserie" infomercials of my youth, I have been enamored with the idea of having a rotisserie in my home. Luckily with the addition of the Emeril Lagasse Power Air Fryer 360 to my kitchen appliance lineup, I get to have a rotisserie and so much more!
To prepare my rotisserie chicken I began by navigating to the rotisserie function and setting the temperature to 350°F with the desired time of 1 hour. While the oven began to preheat I prepared the chicken.
First I trussed the chicken to contain the wings and legs. This is important because if you don't the chicken can touch the heating elements as it cooks, burning the chicken and degrading the abilities of the elements over time.
Next, I threaded the rotisserie spit through the bird and attached the rotisserie "forks", these help secure the chicken to the rotisserie skewer, and keep the food spinning as it cooks. Finally, I secured the legs to the skewer by tying them together at the end of the drumstick and seasoned the outside of the chicken liberally with salt and pepper.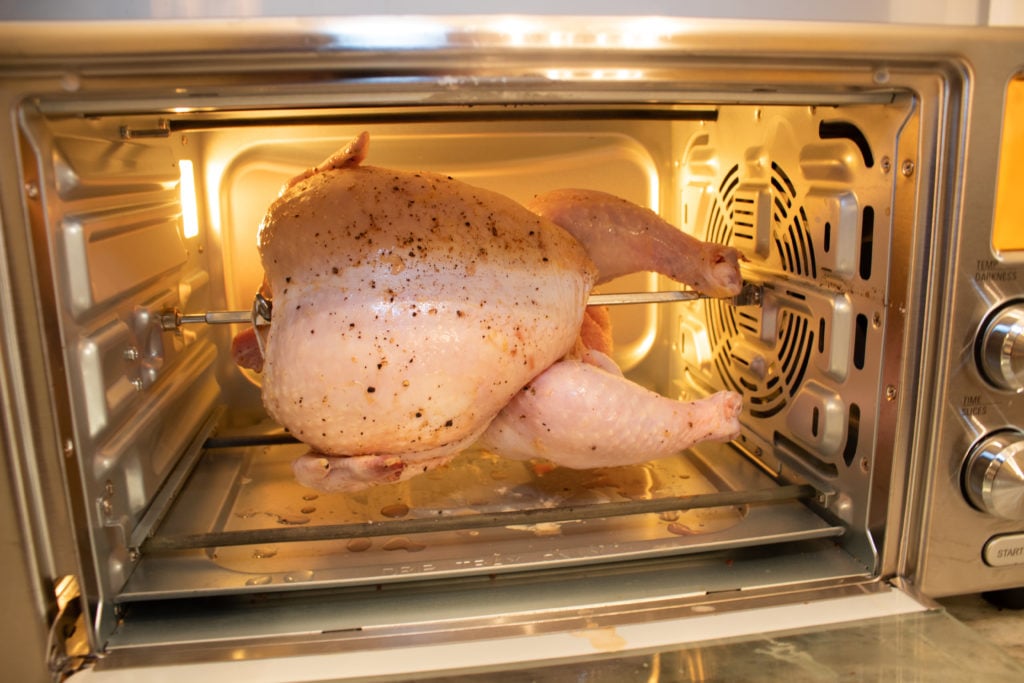 The Emeril Power Air Fryer 360 comes equipped with a rotisserie stand that allows you to keep the rotisserie skewer verticle as you load the chicken or protein onto the rotisserie spit and secure it but I didn't see a need for it in my preparations. It is a nice addition and could be helpful in certain situations but I didn't find it necessary in my prep.
I pressed the start/pause button on the control panel to stop the rotisserie fitting from spinning and carefully loaded the chicken into the oven. It's very important to remember that the chicken needs to be even and level when situating it on the skewer, if it isn't it will touch the elements as it spins. Luckily the folks who created the Emeril Air Fryer took the time to create a great instructional video that outlines the best way to use the rotisserie attachment.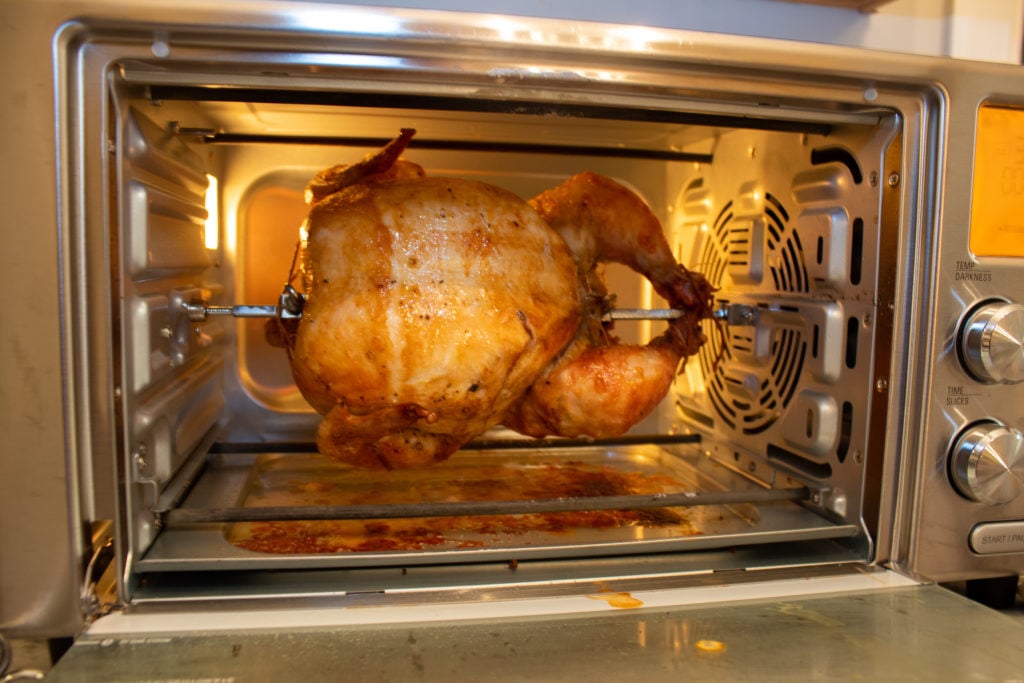 The Results
After the allotted hour I checked the temperature of the chicken at multiple places and decided to keep it cooking for another 15 minutes. After the extended cooking period, I checked the temperature again and was satisfied that it was fully cooked and ready to eat.
I let the chicken rest for 10 minutes before slicing to allow the juices to redistribute. The chicken was pretty simple to remove from the rotisserie skewer, but the resting period is also important here because the skewer is incredibly hot when it's removed from the oven.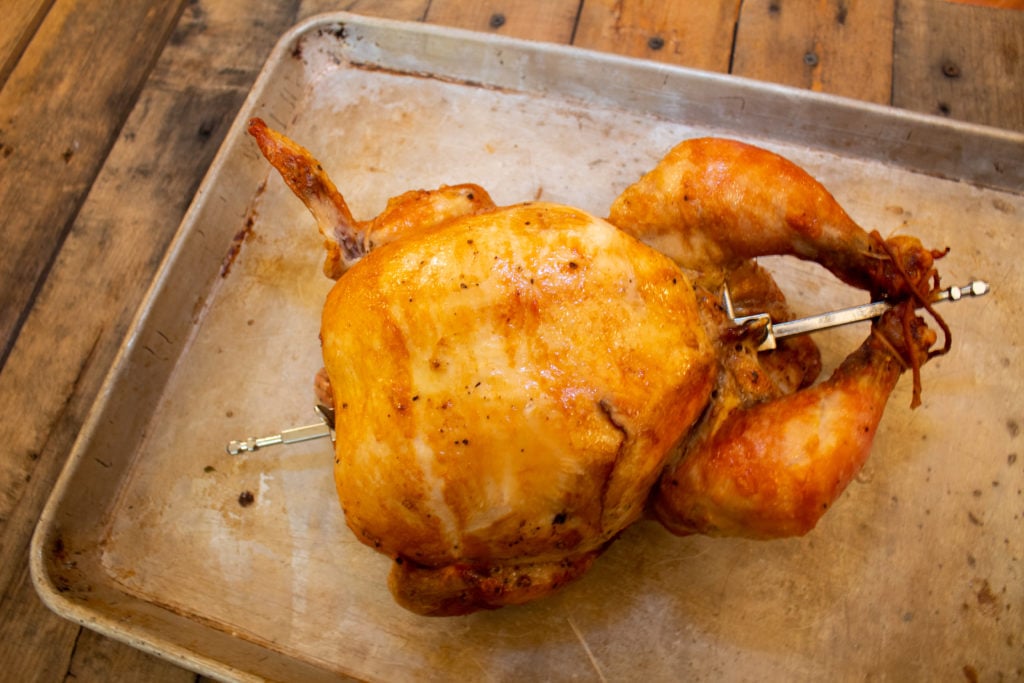 Once the skewer was removed, I sliced the chicken easily, gave it try and I can safely say that having a rotisserie at home is going to drastically change my menu every week.
This was one juiciest, most evenly cooked chicken I have ever prepared at home. Rotisserie cooking is a lot of fun, and with evenly distributed, high-speed air from the convection fan it can achieve an evenness of cooking that radiant and normal convection ovens just can't match.
Cooking Crispy "Fried" Brussels Sprouts
I absolutely adore crispy Brussels sprouts and as a Chef, I have included them as a menu item in almost every restaurant I have headed for the past 5-6 years. What was once a dreaded dinner time side as children, has become one of the more popular food trends of the past decade, and Chefs, like myself, have come up with a bunch of different sauces and preparations for these delightful tiny cabbages.
One of the problems with crispy Brussels sprouts at home is that using a deep fat fryer to make them is out of the question. Sprouts can be pretty flamboyant when you fry them in a professional kitchen and though I'll do a lot for the perfect dish, even I'm not willing to clean up that kind of a mess at home.
Even though oven roasting or pan-roasting Brussels at home can create a wonderful side dish, what I really want to make are crispy, crunchy, addictive Brussels sprouts that soak up delicious sauces for the perfect bite. Luckily, an air fryer is just what the Chef ordered!
To begin I took 1lb of Brussels sprouts and cut them in half after removing the very bottom of the core. I tossed them liberally with olive oil, salt, and pepper and loaded them into the air fryer basket attachment. I preheated the oven to 375°F on the air fryer setting and once it reached the desired temperature I loaded the basket into the top oven rack position. I set the timer for 15 minutes and let the Emeril Lagasse Power Air Fryer 360 work its magic.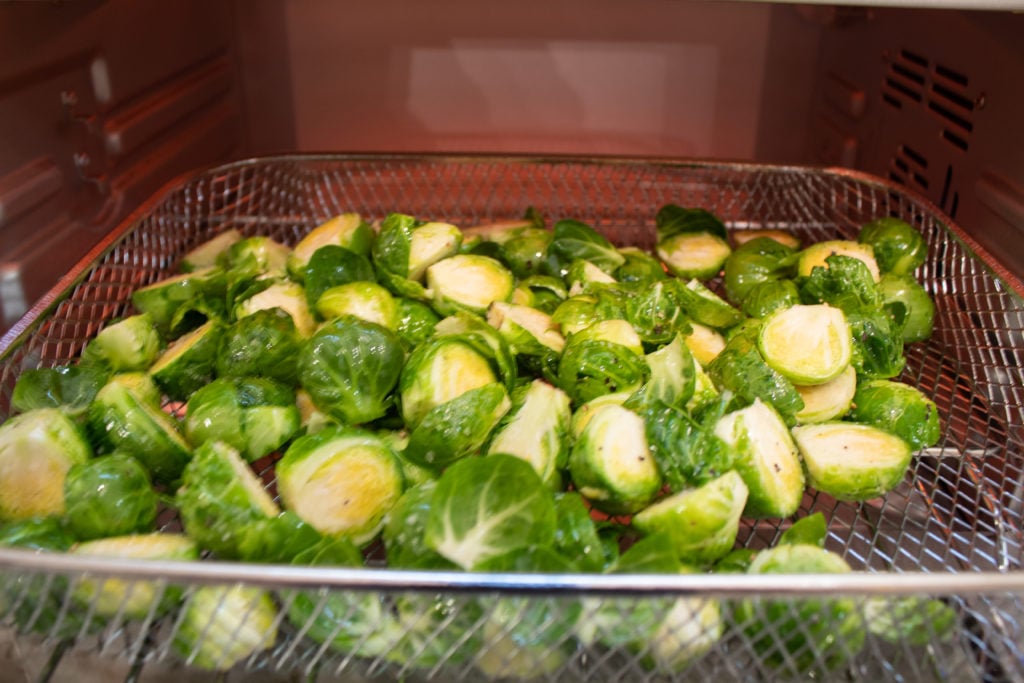 The Results
I've heard a lot of hyperbole over the years about air fryers and how the food you can make in them is "just as good as the real thing". I'm the first to sing the praises of these wonderful appliances because they truly are incredible machines, but I'm also realistic enough to say that even though the food I make in them is absolutely delicious, it is not "traditionally fried food".
That being said, the Brussels sprouts I made in the Emeril Power Air Fryer 360 were almost indistinguishable from the dozens of orders of fried Brussels Sprouts I serve on a nightly basis in my restaurant.
These sprouts were, crispy, flaky, rich, and delicious with almost none of the grease I normally associate them with. After frying Brussels for years, it was a little confusing to eat such a guilt-free version without sacrificing any of the quality. Actually, I had a similar feeling after I nailed crispy cauliflower in the air fryer.
After I tossed these Brussels lightly in a sauce of honey and soy sauce, I have truly become an "air-fried" Brussels sprouts convert.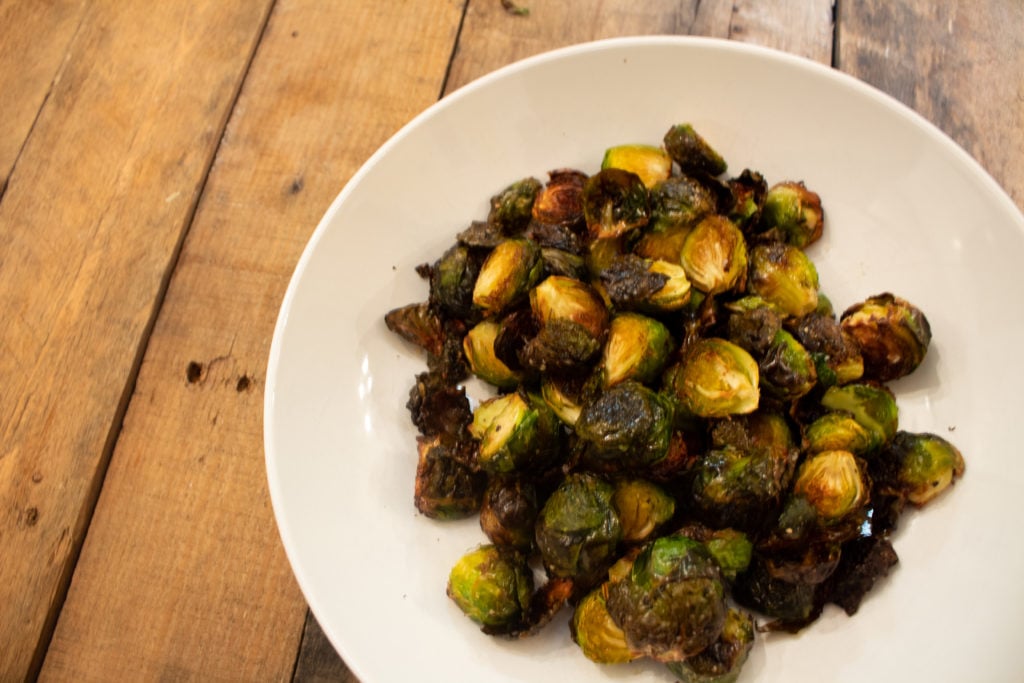 Dehydrating Apple Chips
With over 9 cooking modes the Emeril Power Air Fryer 360 is an absolute workhorse that can truly replace a ton of countertop cooking gadgets. One of my favorite functions beyond the air fryer and rotisserie is the dehydrator setting.
A good dehydrator is a great addition to any kitchen, but sometimes the added footprint of a new appliance just isn't worth the investment. This is why I like to find high-quality appliances that can handle more than one task, like this Emeril Lagasse Power Air Fryer 360.
To begin preparing my apple chips, I cut 1 apple into ¼ inch slices and arranged them on a piece of parchment paper after them dipping them in a light syrup of sugar, water, and lemon juice to preserve their color. I placed the parchment paper onto the oven rack and set it in the oven chamber at the appropriate oven rack level.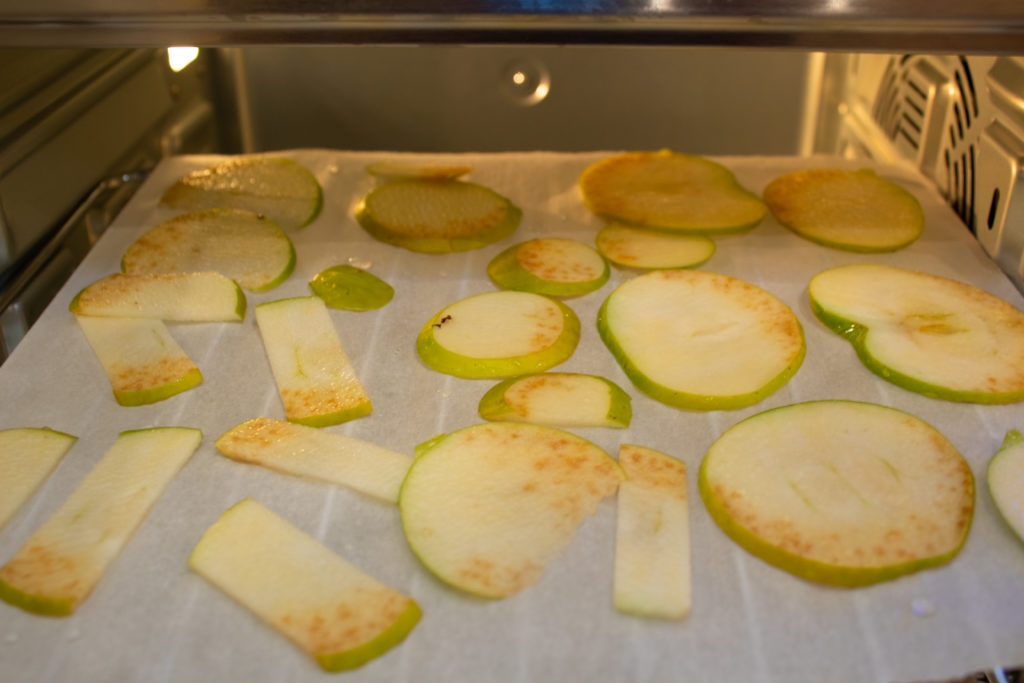 I set the air fryer to dehydrate and decided to go with the preset time and temperature settings of 120°F for 6 hours. At this point went to bed and let the dehydrator handle its business.
The Results
After a restful night's sleep, I awoke to find a pan of perfectly crisp, lightly chewy apple chips in my Emeril air fryer. They were absolutely delicious and an awesome surprise for breakfast time. I think in the future I'll extend the time to 8 hours, but 6 was more than enough to create truly delicious dehydrated fruits and I look forward to trying some jerky soon!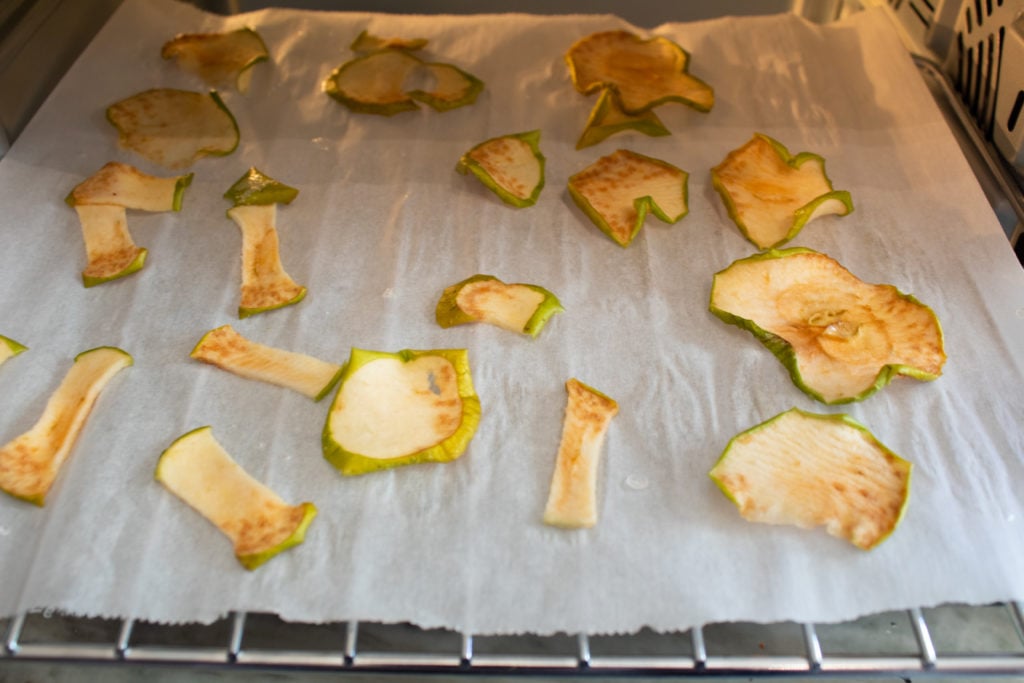 How Easy Is It To Clean?
Because this oven is a countertop toaster oven style appliance it is relatively straightforward to clean. To begin I unplugged the unit as recommended in the user's manual and wiped the inside clean with a towel soaked in warm water.
I removed the drip tray and oven racks and soaked them in warm soapy water before scrubbing lightly with a non-abrasive sponge. I couldn't find in the manual whether or not the accessories were dishwasher safe so I erred on the side of caution and opted for hand washing. I mostly handwash my appliances to help extend their useful life, but for some the ability to load racks and pans into the dishwasher is pretty important.
One important note about air fryers and especially the countertop convection oven style models like this Emeril Lagasse Power Air Fryer 360 is the necessity to keep up with the cleaning and maintenance of the oven chamber. Because of its small size, the oven chamber can quickly become coated in a layer of grease and fat. It's important to make sure to wipe the inside down frequently to prevent build-up and a potential fire hazard.
How Would I Improve the Emeril Lagasse Air Fryer?
I truly love this air fryer/convection oven/multi-cooker. It is easy to use, made from high-quality materials, and overall well designed/engineered. The control panel was intuitive and easy to use, with a wealth of different cooking modes/options to choose from. The instructional video for the rotisserie attachment was an especially thoughtful touch, considering how difficult it can be to set up the first few times.
All that being said, there is always room to improve and there were a few small changes I might make to this air fryer oven moving forward.
The interior cooking space of the Emeril Power Air Fryer 360 is smaller than I anticipated, it was definitely appropriate for cooking the rotisserie chicken and air fried recipes, but when it came to using the appliance as a dehydrator I quickly rain out of space. To create a lot of dehydrated fruits or veggies you need to start with much more initial product than you might think, because of the large amount of shrinkage throughout the dehydrating process. With the smaller capacity of this air fryer oven, I could see myself quickly running out of space to prepare dehydrated foods.
I wish the producers of this oven had included more than one oven rack. Because this oven can handle so many different cooking functions, the ability to cook on multiple levels or cook multiple pans of food at one time is an absolute must and without a second oven rack, it is much harder to do so. It does come with an air fryer basket that could be used as an oven rack and a baking tray/drip tray that would also be useful in a pinch, but the inclusion of a second oven rack moving forward would be incredibly helpful.
What's the Warranty?
The Emeril Power Air Fryer comes equipped with a 90-Day Money-Back Guarantee. It doesn't explicitly cover against any specific type of damage or failure, but it does guarantee a replacement or your money back should you be unhappy for any reason in the first 90 days of ownership.
To take advantage of the guarantee you need to call customer service at 1-973-287-5149 and request a return merchandise authorization number. At that point, you need to pack the unit carefully and include a note with Your Name, Mailing address, Email Address, Phone Number, Reason for Return, and Proof of Purchase. Finally, you need to specify whether you are requesting a refund or replacement.
You will be liable for the shipping cost to return the item and handling and processing fees will be subtracted from your refund or you will need to pay them before receiving your replacement machine.
While this isn't the best warranty I've seen, it is nice to know that if you find yourself dissatisfied with the unit during the first 90 days you can return it or replace it.
For more information on the 90-Day Guarantee head to this website.
Verdict
The Emeril Lagasse Power Air Fryer 360 is an amazing machine and for an appliance that can handle over 9 different cooking applications, it's an incredible value.
This multi-cooker is perfect for a smaller family that wants to add an air fryer to their kitchen appliance selection, while also possibly replacing a toaster, dehydrator, or other countertop cooking tools. The Emeril air fryer oven can handle everything from toast to rotisserie chicken and even make yogurt or dehydrate apple chips! It has a high-end appearance and feels like a much more expensive, boutique appliance. The digital display and control panel is intuitive and easy to operate with almost zero need to reference the User's Manual. In fact, the only reason I needed to consult the manual at all was for direction in using the rotisserie function.
If you are a larger family or intend to cook more food than The Emeril Lagasse Power Air Fryer 360 can handle then you might want to consider investing in the XL version that offers a larger capacity but also a higher price tag. However, if you are a family of 3-4, this air fryer is the perfect size for you!
How Does it Compare?
These two ovens are almost identical in form and function. The Cosori 12-in-1 Air Fryer and the Emeril Lagasse Power Air Fryer 360, look and feel much like one another. They both are front loading, glass door, air fryer toaster oven combo machines. They both have digital displays and circular selector knobs and they both can handle up to 12 different preset cooking modes including a rotisserie function. The digital display on the Chef Emeril model is larger and I like the organization of the control panel more than the Cosori option but that is a highly personal choice.
With similar footprints, the Cosori 12-in-1 Air Fryer is slightly larger at 20.1 x 16.5 x 12.1 in with a similarly bigger interior cooking chamber. The Cosori 12-in-1 Air Fryer is also slightly more expensive than the Emeril air fryer oven, but not so much as to be prohibitive.
Both ovens can handle a multitude of cooking functions from air frying, to roasting and dehydrating as well as more unique functions like making yogurt or fermenting bread. The Cosori 12-in-1 Air Fryer lists one of its functions as "ferment" while the Emeril model labels this function as "yogurt", both are low-temperature settings that are great for making everything from greek yogurt to proofing sourdough bread.
In terms of accessories, both models come equipped with identical offerings including an oven rack, rotisserie spit, drip tray, and baking pan. The Cosori 12-in-1 also comes with a rotisserie handle for removing cooked foods, which while nice is probably less effective than it might seem, and I found a towel or oven mitt to be more than enough to remove the rotisserie when finished.
Overall I would recommend the Cosori 12-in-1 Air Fryer to anyone who wants the functionality of the Emeril Lagasse Power Air Fryer 360 but also wants slightly more cooking space at a higher price tag. I would recommend the Emeril air fryer oven to anyone who is looking for the functionality of both ovens while also sticking to a budget. Both are great options at this price point and offer incredible functionality for a relatively small investment.
From 10 yards away these ovens appear very similar, as with many options in this market segment. Most of the front loading, countertop convection oven style air fryers all work similarly and therefore tend to resemble one another. Like the Emeril Lagasse Power Air Fryer 360, the Nuwave Bravo XL is a front-loading, glass door style convection oven, with a digital control panel to the right of the machine.
While the Emeril Air Fryer Oven has a more minimalist control panel design with few knobs and buttons, the NuWave Bravo XL comes with 1 large selector knob and 12 individual buttons on the control panel. In addition to a larger control panel, the Bravo XL has a small fitting to the left of the display for the temperature probe accessory.
The Nuwave Bravo XL is a larger appliance overall but it also has a markedly larger cooking chamber, which is great for larger projects or recipes. Additionally, the Nuwave Bravo XL comes with two oven racks as well as a roasting pan, air fryer basket, and drip tray, while the Emeril Air Fryer only comes with one oven rack.
The Emeril Air Fryer 360 comes with a rotisserie spit attachment, while the NuWave Bravo XL has a much nicer roasting pan but doesn't have the ability to work as a rotisserie. Both can handle 12 different presets from roasting and air frying to dehydrating and yogurt making. Both work really well as basic toaster ovens as well and can reheat pizza or leftovers with ease.
I would recommend the NuWave Bravo XL to anyone who is looking for a larger cooking chamber with the same functionality as the Emeril Lagasse Power Air Fryer 360. Overall I think the Chef Emeril model has a better design and I would recommend the Power Air Fryer 360 to anyone who values ease of use over increased size.
Unlike the past two comparison air fryers, the Kalorik® MAXX® Digital Air Fryer Oven has a slightly different design than the Emeril Lagasse Power Air Fryer 360. While the Emeril Air Fryer has the control panel located to the right of the oven assembly, the Kalorik Oven Air Fryer has the controls located above the oven chamber, resulting in a smaller footprint but less overhead clearance because of its greater height. While both ovens have similarly interior cooking chamber sizes, the Kalorik takes up less counter space, but also has less of an ability for storage on top of the machine. This isn't really an issue, however, because you shouldn't store items on top of the oven while in use.
The Kalorik® MAXX® Digital Air Fryer Oven comes equipped with 21 preset cooking functions including a dehydrate function and a rotisserie while the Emeril Lagasse Power Air Fryer 360 comes with 12 preset function options. In addition to the 12 functions, the Emeril Air Fryer comes with a slow cook feature and a yogurt/ferment function
The Kalorik model has upper and lower heating elements just like in the Emeril model and both have high powered convection fans that circulate high powered, superheated air.
The Kalorik model is the more expensive of the two and with less functionality that can be a hard trade-off, but if a minimum overall footprint is important to you then the Kalorik is absolutely the model for you, with 3-inch space savings over the Emeril Air Fryer.
On the other hand, if increased functionality with the addition of a yogurt option and slow cook setting is important as well as a reduced price-tag then you'll want to go with the Emeril Lagasse Power Air Fryer Oven 360.
Either model will deliver high-quality, air-fried food, as well as a ton of other incredible options like juicy proteins (hello pork chops) and dehydrated treats!