My experiences with testing Air Fryers have been rather eye-opening. To start, I was really unsure of how these appliances would fit into my life, as well as my kitchen. I have come to realize that there are so many applications for these machines that can be adapted to any level of cook and that there is always more than meets the eye.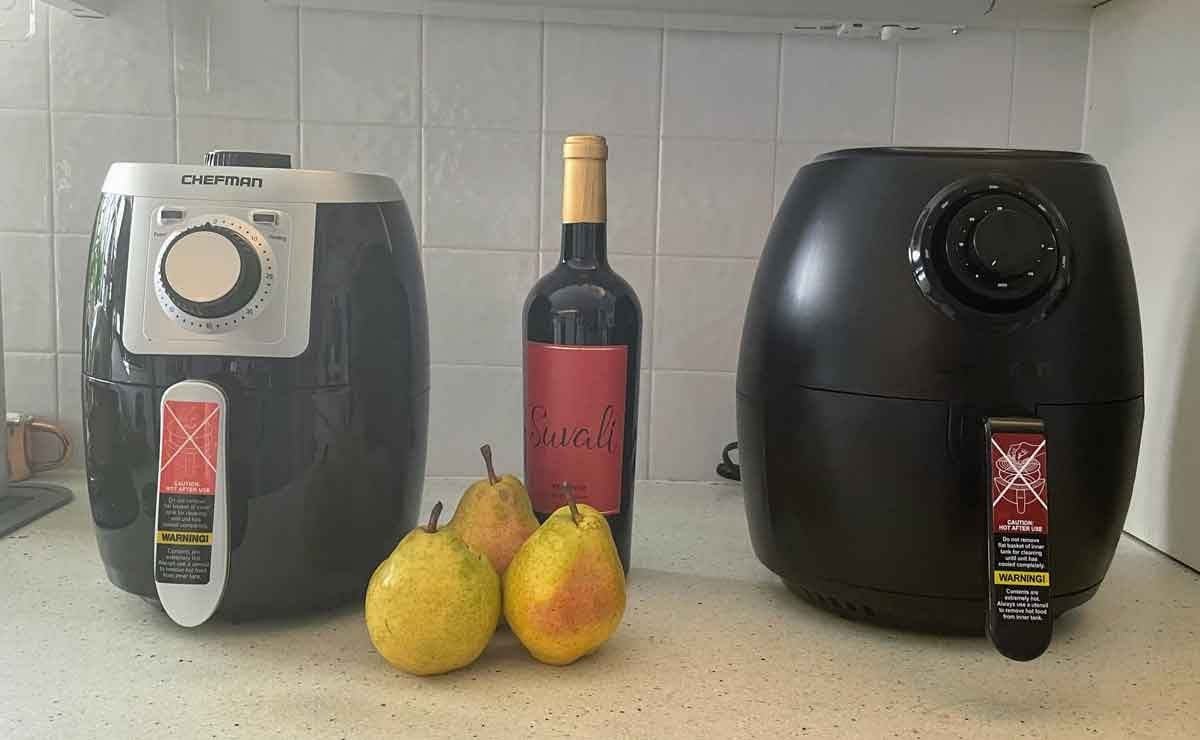 I am a professional cook by trade, but my cooking style is so much different in my home kitchen than it is in the professional one. If I am being perfectly honest here, I am very busy with work and a family, so there are times when I need to get food on the table quickly as anyone else. It turns out the air fryer is the type of tool that can really step up and meet the challenge of cooking in a manner that is both healthy and fast.
In this review, I will show you how two of the best rated Chefman air fryers - the 2 liter and the 3.5 liter - measure up in terms of size, function, quality, and price. This is the 2.5L model:
And this is the 3.5L:
I will show you how they compare with one another, as well as some of the other air fryers on the market today. There are so many to choose from and it can be a bit overwhelming. This review will help you make a well-informed decision so you can purchase the air fryer that suits your needs, as well as your budget.
Table of Contents
What's in the Box?
Both models came very similarly packaged with the baskets and inserts in place. The unboxing really could not have been any easier.
After removing the styrofoam packing material it was very simple to just lift the unit out. The removable fryer baskets were held securely in place with tape that was easily removed.
Inside the baskets was a compatible perforated cooking tray that was fitted with heatproof rubber grips to keep them snuggly in place without damaging the non-stick surface of the basket.
Each machine came with a user guide that provided safety and operating instructions. In the case of the 3.5-liter version, a Chefman Air Fryer Recipe Book entitled "Frying Fit" offered 20 pages of color photos and recipes. The smaller unit did not offer the same printed material, though a link to their website will take you to a number of tutorials and recipes to get started once you make a free account.
How Do the Chefman Air Fryers Look/Feel/Sit?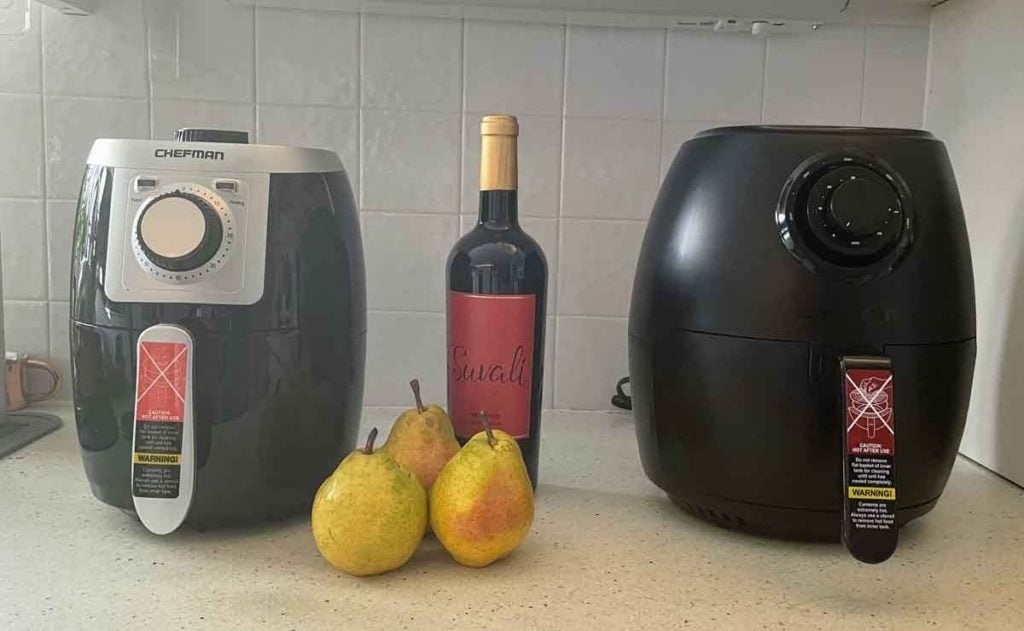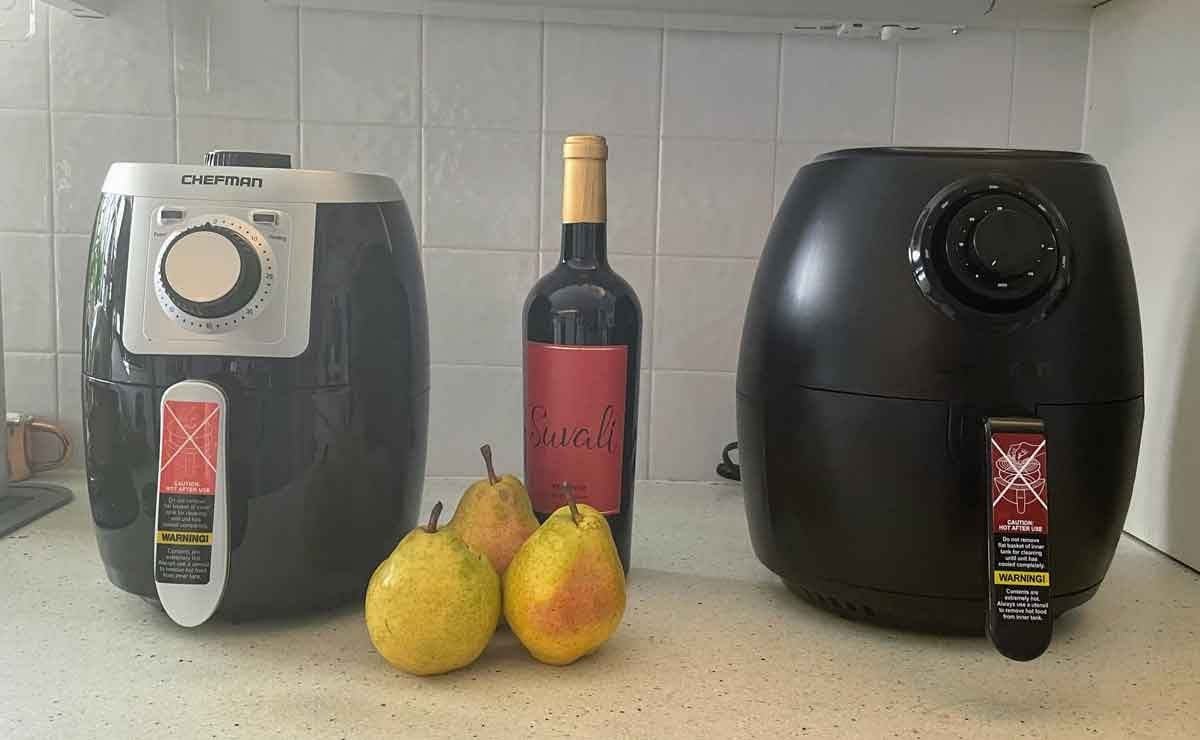 These two machines are similar in style with glossy black plastic exteriors and a rounded shape, each with a large basket removal handle on the front.
The 2-liter model has silver accents in the handle, top, and front dial. It is rather small in size, measuring just 10.5 inches (H) x 8.5 inches (W) x 8 inches (D). In terms of weight, it is just 6.5 pounds making it the lightest air fryer I have tested, although notably the smallest in cooking capacity.
The 3.5 liter (3.7 qt) model is entirely black with its dials situated on the front of the machine, one inside of the other. It is a bit larger measuring 12 inches (H) x 12.8 inches (W) x 9.7 inches (D) and weighing 9.3 pounds.
Both of these air fryers feel solid and compact, yet easy to move out of the way if you choose.
For those who have limited counter space, it is worth mentioning that the smaller unit has handle-like indentations under the machine on either side to accommodate moving it with ease.
Healthy, Easy Meals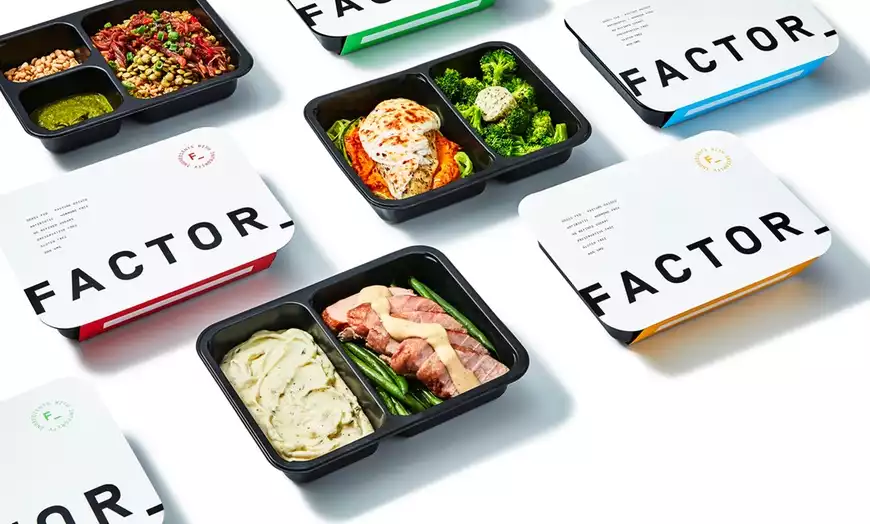 How Easy Are They to Set Up?
These air fryers are super easy to set up. Once they were out of their boxes and untaped, I removed the baskets from each with the basket handle and washed them thoroughly in warm soapy water. As recommended in the user guide, I also wiped down the exterior with a damp cloth.
In order to prepare the basket for cooking, it is necessary to insert the small tray into the basket. The trays on each model have small removable rubber feet that create a bit of resistance when getting the tray situated into the basket. The use of this tray is essential to keeping the food off of the bottom of the basket in order to create proper airflow.
The timer and temperature are adjusted with dials. In the case of the 3.5-liter model, both dials are on the front of the unit. The smaller air fryer has its temperature dial on top of the machine with the timer dial in the front.
There are easy to follow safety and operating instructions provided with each machine. Even without reviewing the user guide, these are both quite self-explanatory. It really could not have been easier to get them ready to use.
Cooking Frozen Fries in Each Model
Perhaps the most widely cooked item in an air fryer is french fries. At HBS we've tried everything from frozen french fries to sweet potato fries and baked potatoes in them and so this seemed like an obvious place to get my feet wet.
What I was looking for in this first cooking attempt was evenly cooked, crisp fries. We all can attest to the fact that deep-frying can achieve this kind of results, but what I hoped for here was something that was nearly as good, without the addition of a lot more fat; something better than I could expect from my conventional oven.
It was really as easy as removing the air fryer basket with the bottom tray in place, adding the fries, inserting the basket in place, and selecting the time and temperature with the dials. But first, I wanted to make sure I was giving enough space to these fries to cook properly.
The 2-liter model claimed to be able to accommodate up to a pound of fries, while the 3.5-liter model suggested a capacity of 1.5 pounds. I thought this sounded ambitious and, after seeing what that actually looked like inside the baskets, I opted for fewer than that recommendation.
After all, I know that these machines work best with proper airflow. Filling the basket to full capacity would not allow for that, so I adjusted to about half that weight.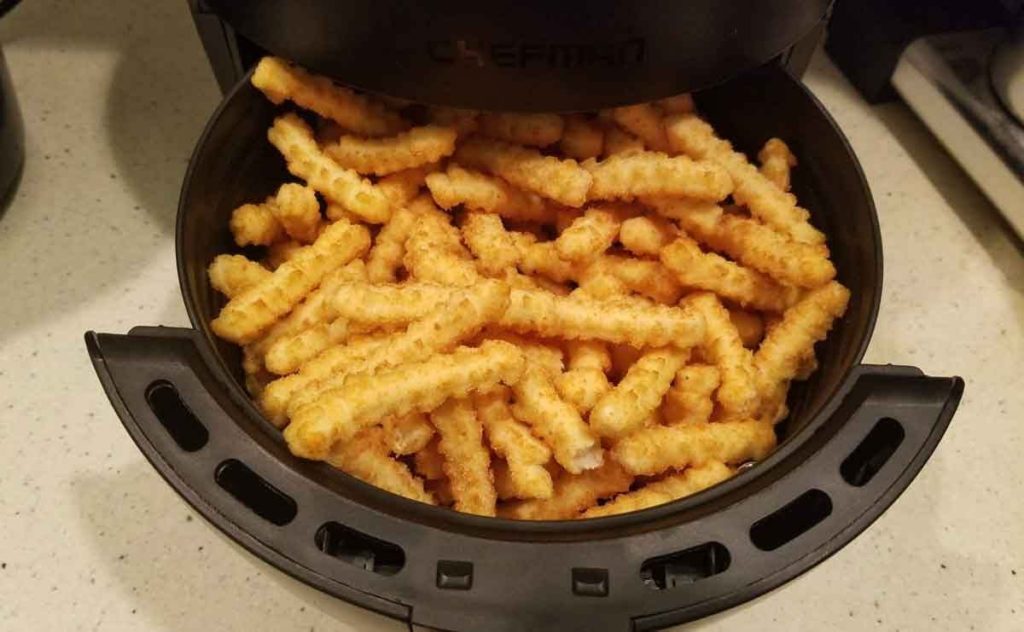 I set the temperature dials on each air fryer to 400 degrees for 16 minutes as recommended by the user guides. At the halfway point I removed the baskets and gave them a toss, noting that they were browning nicely. I replaced the baskets and let the timers run out which was indicated by a 'ding' much like the sound of a standard kitchen timer, at which time they automatically shut off. I brought these fries to the table to have them evaluated by my family who would give me the feedback I needed.
The Results
These fries came out pretty good, according to my family. They were crisp and golden with soft white interiors for good contrast.
One might think that it is impossible to mess up frozen fries and while these fries did, in fact, turn out quite fine, I do think it is worth noting some of the steps that made them a success.
As I mentioned earlier, I was careful not to overcrowd the basket with fries. My intuition served me well because even though they had a sufficient amount of space between them and the heating element which sits just above the basket, the fries on top got more color than the others. Had I filled the basket any further, I suspect they may have burned.
The other thing that was really important in achieving even color is pausing to toss the fries a couple of times during the cooking cycle.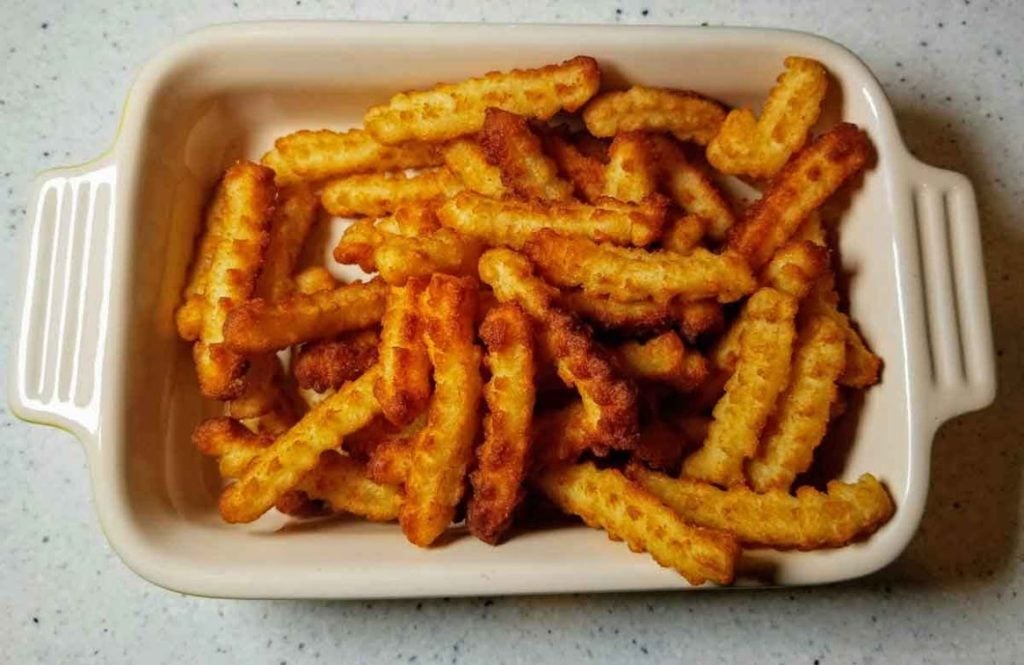 Both machines yielded good fries, but it is worth noting that you can't just walk away and come back 16 minutes later. It may serve you well to set 5-minute timers so that you can be reminded to give them a toss.
Ultimately, the air fryers were successful in delivering crisp gold fries that I had hoped for, but they did require a bit of attention. Worth it, I feel, considering I was able to get by with a lot less fat.
Cooking Chicken Tenders
My next attempt was to see how chicken tenders worked out in these air fryers. Knowing well that my oven could do the job with adequate results, I hoped to get something a little more like the deep-fried version with less oil and mess.
I chose frozen chicken tenders for their ease of use. Again, it was super easy and rather quick. As recommended in the user guide, I set the temperature for 400 degrees for 10 minutes. The tenders went straight into the cooking baskets, keeping them from touching so I could ensure good airflow for good crisp results. At the halfway point, I opened the baskets and gave them a turn, resuming the process for the remainder of the time. At the sound of the timer, I checked their internal temperature for a safe 165 degrees then brought them to the table for my family to assess.
The Results
These chicken fingers certainly were definitely better than anything of this sort that I would have cooked in my standard kitchen oven. They were super crisp and had great color. This really was as close to fast-food fried chicken as I could have gotten at home, I imagine. I think getting a lot of airflow is the key here. Crowding them in the basket would likely yield less desirable results.
Here are the tenders from the smaller Chefman Model: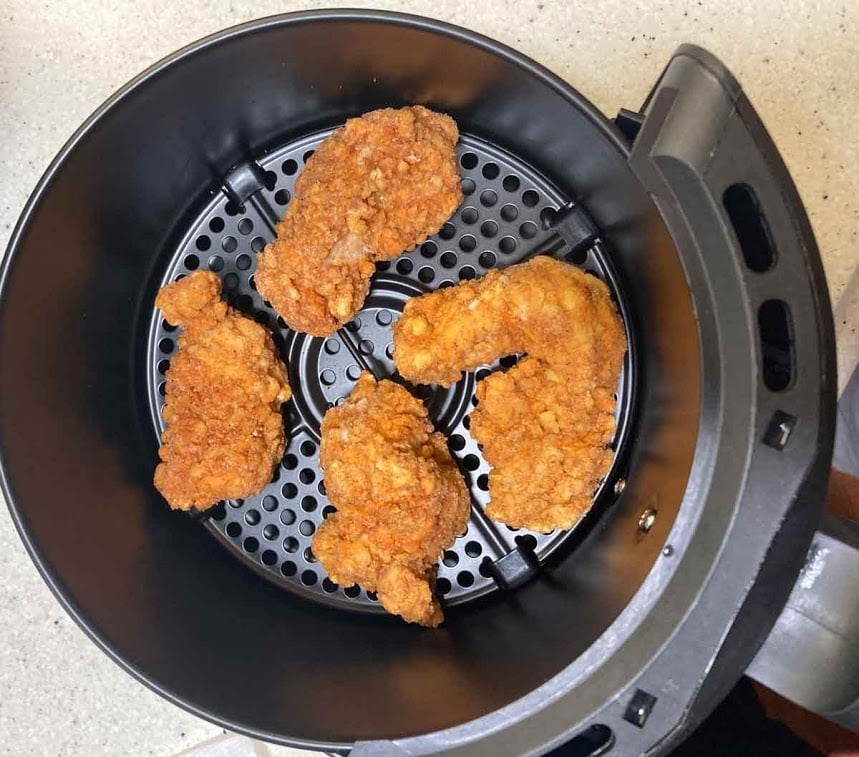 And from the larger: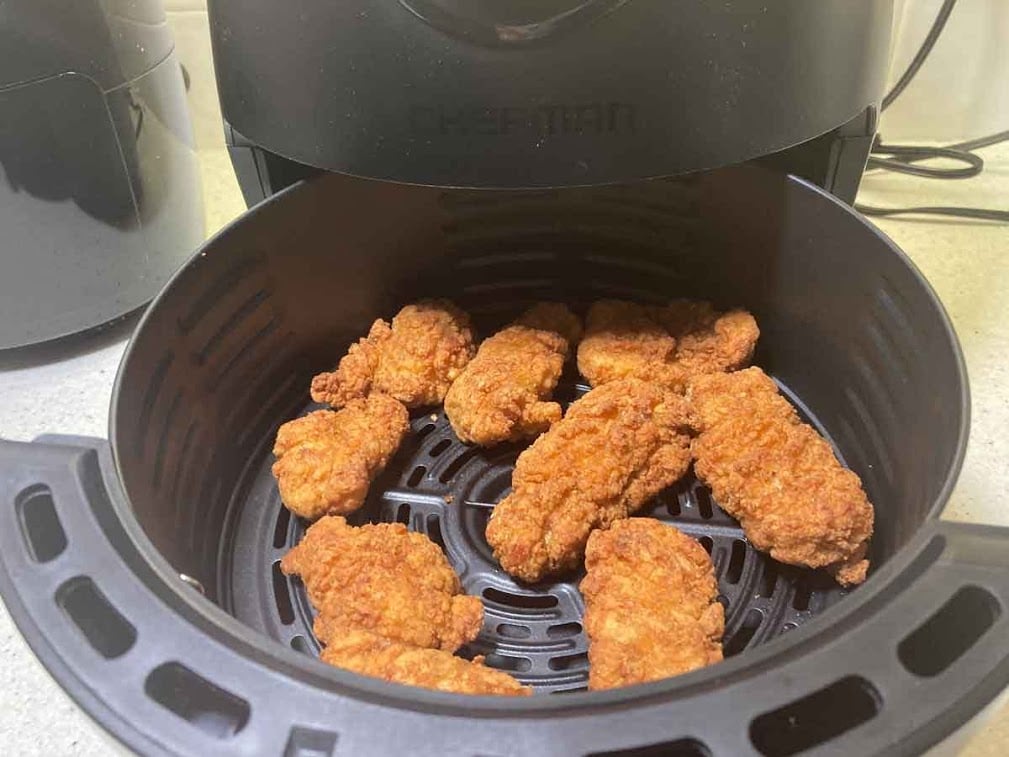 One more thing worth noting here is that the air fryer heats up really quickly in both cases. Within minutes, both the 2-liter and the 3.5-liter Chefman air fryers were up to the proper temperature. I have to say, this is a real perk when getting food out in a very timely fashion is the goal. The way I see it, if you are preparing frozen chicken fingers then you probably don't have a great deal of time to preheat an oven in the first place.
These air fryers require no preheating at all and that is a real asset to this type of cooking. I feel this is in large part due to their size. There are some models out there that do offer a preheat function and that may certainly be beneficial if you are cooking in a larger oven or perhaps something that is a bit more time and temperature-sensitive like pork chops.
In the end, not only are you reducing the amount of fat, but you are also shaving a few precious minutes off of your cook time with both of these smaller Chefman air fryers.
Cooking Shrimp with Bok Choy
My last cooking attempt would be to see how these Chefman air fryers could handle something a little more involved. I wanted to see if it was possible to simultaneously cook shrimp and bok choy in an effort to create a more complete meal.
For this, I used raw shrimp that were peeled and deveined and bok choy that was clean and dry. I was kind of grasping for the right cooking temperature and time, so I relied on the user guide once again and decided to follow the recommendation for shrimp which is 400 degrees for 12 minutes.
I prepared the shrimp and bok choy with a drizzle of olive oil and seasoned them liberally. I placed enough shrimp and bok choy in the smaller air fryer for one serving (8 shrimp), and enough for 2 servings (16 shrimp) in the larger unit. Closing the basket, I stood by, prepared to give my food a toss at the halfway point.
Here they are in the smaller model: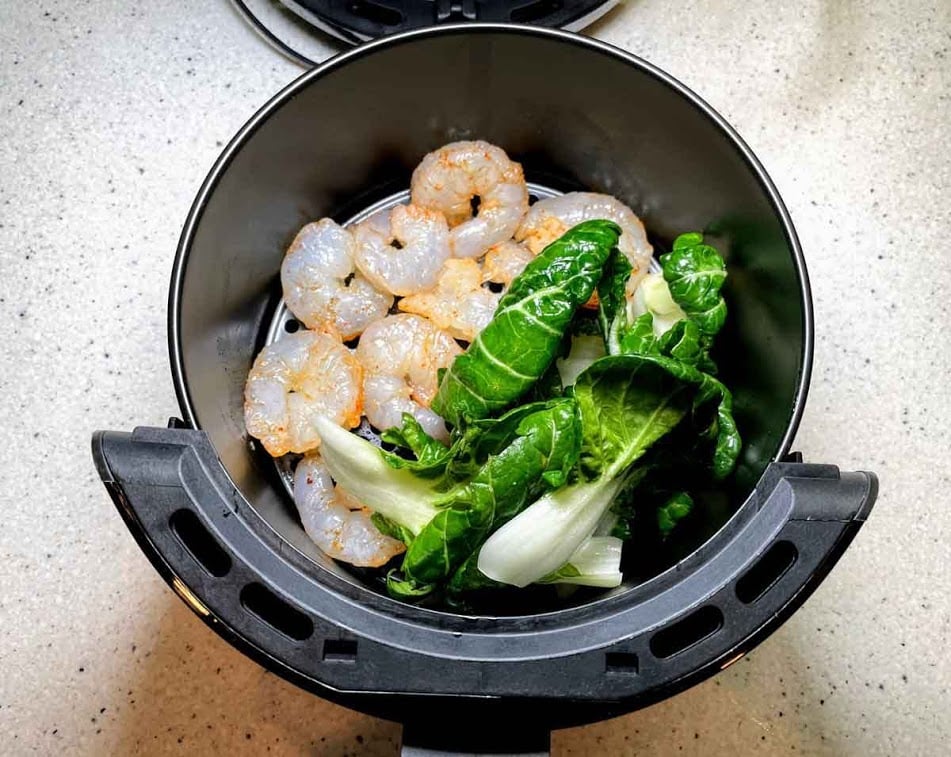 And the larger model: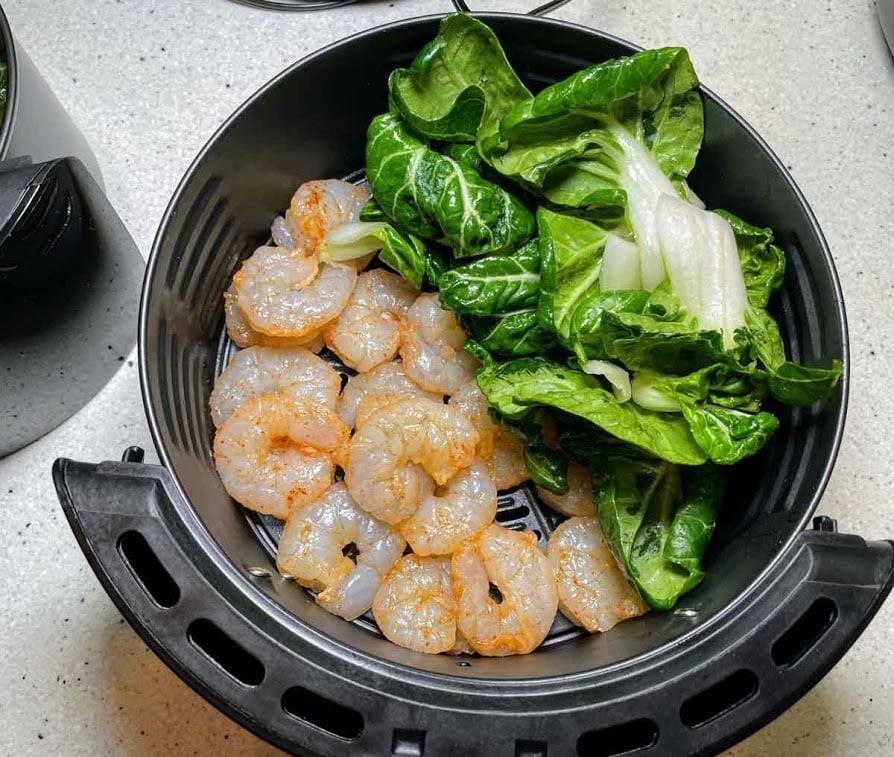 After a full 12 minutes, the shrimp was definitely done. The bok choy had gone a bit crisp in that time, and it seemed time to plate things up. I placed them onto a bowl of noodles that I had cooked in the time it took the shrimp to cook and seasoned the whole thing with soy sauce and sesame oil. Dinner was served.
The Results
This attempt made me feel like I was really cooking, and in the end, it was really good! My family was really into this dish, especially with the addition of some Asian-inspired noodles. The shrimp were tender and juicy and the bok choy had wilted just enough but remained toothsome and crisp.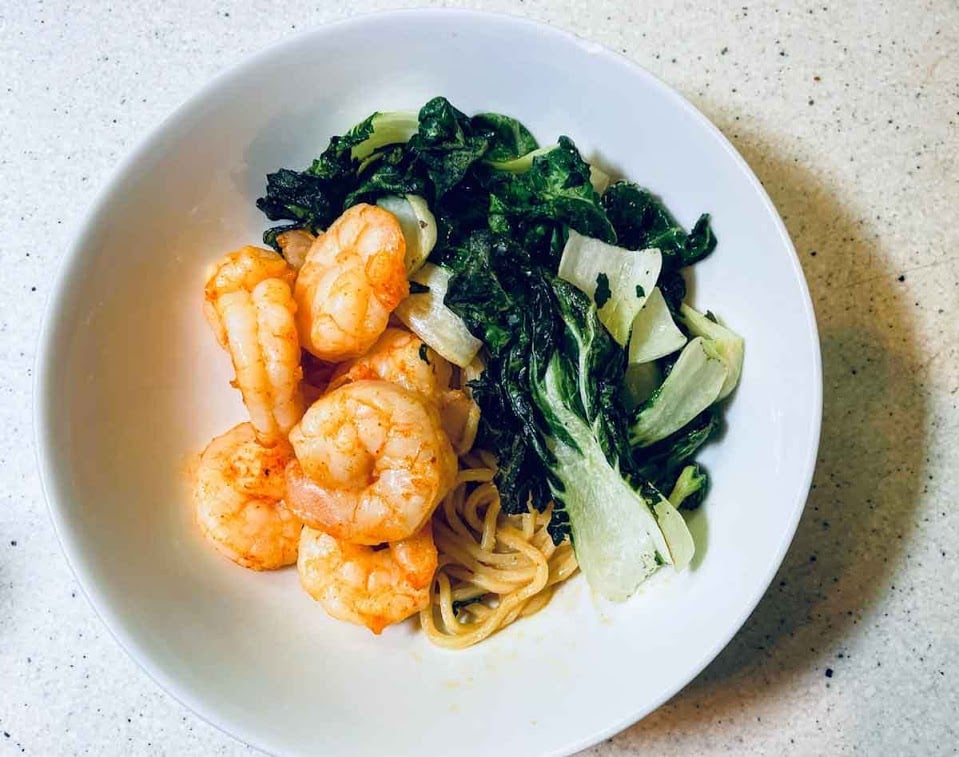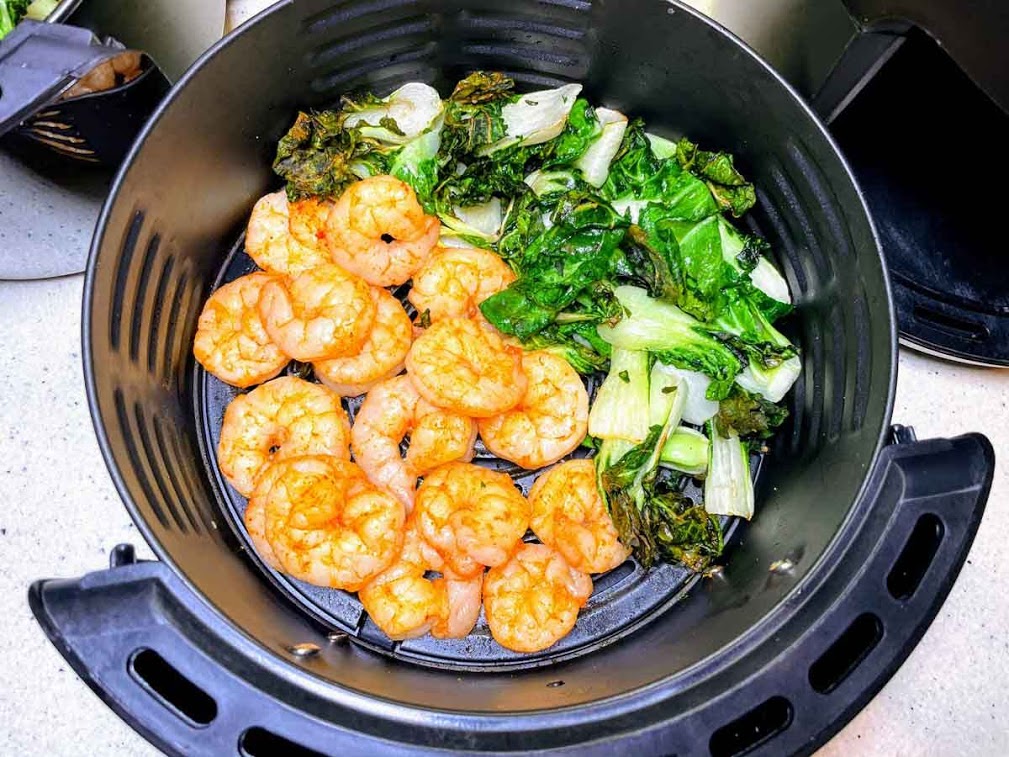 The cleanup after this meal was really so simple and for that reason alone, I could see myself trying other combinations of this nature where a protein and a vegetable were to be cooked simultaneously. I think roast chicken and cauliflower would work out quite nicely, or even salmon and asparagus. With one small pot to wash, I was an instant fan.
Both machines worked really well in this attempt, so if you are cooking for one, the 2-liter model will serve you well while a couple would benefit from the larger model.
How Easy Are They To Clean?
With their straightforward design and streamlined baskets, I found both of these machines very easy to clean. Even with excess pan drippings, I found that the best way to restore them to like-new condition is to allow them to cool after use, then fill them with warm water and dish soap. Leaving them to soak for as little as 5 minutes will make a big difference. After that, a soft cloth or sponge is really all you need to clean the baskets and racks which is also recommended in order to maintain the non-stick coating.
It is worth noting that the baskets and racks of both of these fryers are dishwasher safe. While on the small side, I have to say that they would definitely take up quite a bit of valuable dishwasher space, so I opted for hand washing. Good to know that the option is there, however.
How Would I Improve the Chefman Air Fryer?
After testing several air fryers of various styles, capacities, and functions, I can tell you that there is not perfect one out there. With that said, there are a couple of things I think could use improvement on these machines that would make them just a bit better.
First of all, I struggled a bit with the rubber feet on the inner basket. More specifically, it became pretty clear that they could easily slide off and either end up in your food, as one reviewer experienced, or go missing as others experienced. I agree that they are really small and easy to misplace. One way to rectify them would be to make them either harder to remove or offer replacements if they did happen to slip off. Misplacing them would make this basket less than desirable as it would potentially damage the non-stick surface of the basket.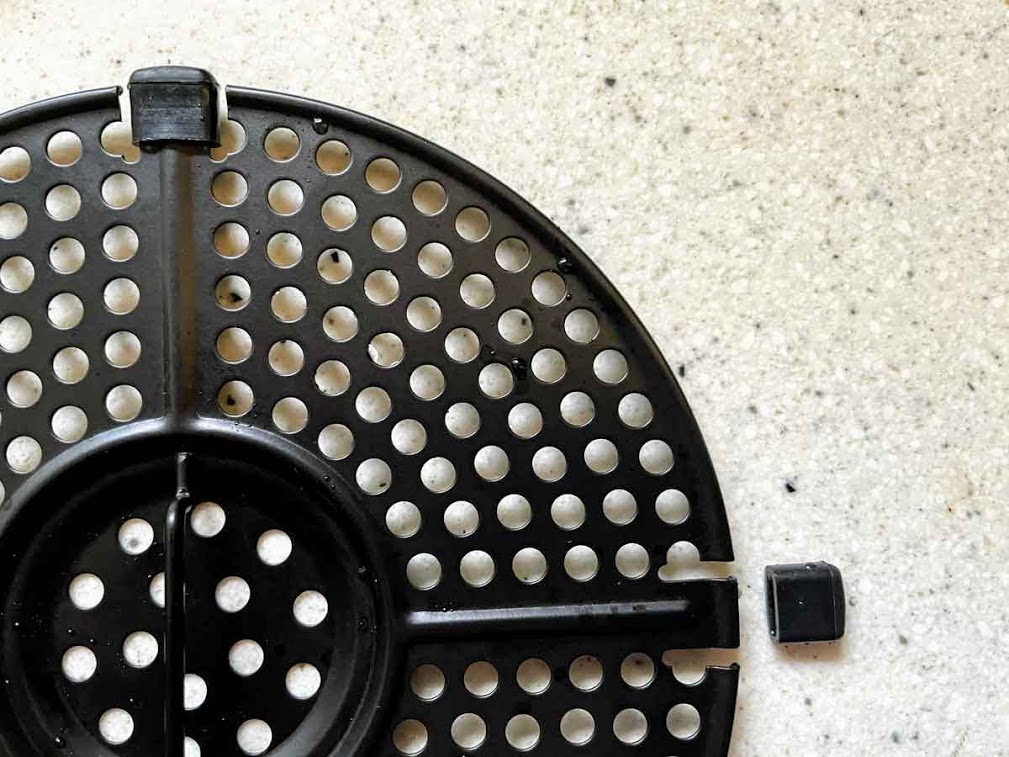 Another thing that I feel would benefit these air fryers, in particular, the 2-liter version, would be to make the baskets wider, and shallower. Because all air fryers function as convection ovens, blowing hot air over the top of the food with a fan, I think it would enable more even browning and even cooking if there was more surface area. I felt that these baskets were particularly deep for their size, limiting the amount of food that you can cook at one time.
What's the Warranty?
All Chefman products are backed by a limited 1-year warranty. Note that this covers manufacturer defects, but does not protect you from misuse or poor maintenance.
If you do experience a defect in the materials or workmanship of these products within a year of purchase you will be sent a new replacement. In order to claim this warranty, it is necessary to register your appliance which can easily be done through the following link: Chefman.com/register
For questions about Chefman products you can reach them at: Chefman.com/contact. You can email them directly at:
[email protected] or call them, Monday-Friday at: 888.315.6553
Verdict
After a little bit of time in my home kitchen with these two air fryers, I got a pretty good sense of their capabilities which led me to think about who would benefit from these machines.
As far as the 2 liter Chefman goes, its size makes it perfect for any small apartment or galley kitchen. I think college students would be thrilled to have it in a dorm room. Singles would probably use it most frequently with its small capacity. I even read the review of an older user in an assisted living facility who keeps this particular model in her kitchenette for her own private use.
The 3.5-liter model would be perfect when cooking for two or three people. I read reviews written by users who loved this size for their RV. For my family of four, it was a bit on the small side for a main course or entree, but cooking a vegetable or side dish would certainly yield adequate quantities.
How Does it Compare?
In order to make a really well-informed decision before bringing any appliance into your home kitchen, it is wise to see how it compares to some of the other similar models on the market.
In this next section, I will compare the Chefman 2 liter and 3.5-liter air fryers with others in terms of size, function, and price. In the end, I will give you my unbiased opinion so that you can make the best choice for your needs and budget.
In my first comparison, I wanted to have a look at the Cosori XL which is the beloved, highest rated pod-style air fryer (not including oven style models) on the market today.
It is worth noting that the Cosori boasts a rather large basket, more than twice the size of the smaller Chefman model and 2 quarts larger than the bigger Chefman contender. With that difference aside, there are some other differences that are significant.
First of all, the shape of the Cosori basket is square, rather than round like the Chefman baskets, which is really conducive to cooking certain foods like bacon and burgers. The larger surface area ensures more even browning by increasing the amount of airflow which is something that you may find important.
Another big difference is the number of preset functions that accompany the Cosori XL. With 11 options for a wide variety of food, these presets take some of the guesswork out of cooking with this model. If you are a cook who is looking for a bit more out of your air fryer, this may be something to consider, while the streamlined interface with just two adjustable knobs may appeal to the more minimalistic home cook who seeks simpler appliances.
Finally, the price of the Cosori is more than twice the price of either of the Chefman air fryers. If cost is something that defines your search, perhaps the Cosori is not within your budget. With so many stellar reviews, I have to wonder if the cost is somehow justified with quality or longevity. Perhaps those who are looking for an entry-level air fryer would do well to step into one of the Chefman Turbofry options for a considerably more affordable price tag.
I chose the Black and Decker Purify 2-Liter Air Fryer in my next comparison. The capacity of this machine is exactly the same size as our small Chefman contender, so this seemed like a fitting match up.
The style of these machines is similar, as well as the shape of the basket. Where things begin to differ is in the basket design. The Black and Decker air fryer has a removable inner basket that clicks into the outer basket, rather than the Chefman's tray that just lays into the basket. The problem this presents with the Black and Decker model is that over time, according to a number of reviews, this presented problems with the mechanism holding these two baskets together. I think the simple design of the Chefman models wins in this area.
Another similarity between these three air fryers is the timer and temperature dials. For those cooks who may frown upon the digital display, this is a great option, though several Black and Decker users complained about the size of the numbers on their machines, claiming it was nearly impossible to read because it was just too small.
Finally, I thought the cost was worth mentioning. When I compared the price of the Black and Decker 2-liter model with the Chefman 2-liter model it seems to be a rather large disparity. Chefman wins in this category, priced at nearly half as much as the Black and Decker.
In my book, either of the Chefman air fryers is the better choice for cooks looking for a basic, streamlined analog air fryer to add to their kitchen arsenal.
In my final comparison, I had a look at the GoWise 3.7-Quart Programmable Air Fryer. I selected this version because of its size which is exactly the same capacity as the larger of the Chefman models I tested.
The biggest difference between these two machines is the programmable screen that enables you to select one of 8 preset functions. This takes the guesswork out of your cooking with this unit. However, for those cooks who already have time and temperature in mind, you can easily adjust to your specifications.
Another difference between these machines is the design of the basket. In the case of the Gowise model, the inner basket clicks into the larger cooking pot and locks it into place. This mechanism can be a bit of a challenge, according to some users, who struggled to get these two parts assembled properly. The problem arises when the basket isn't lined up when inserting it into the machine which results in a malfunction in the air fryer's on/off mechanism.
For those who are interested in something that is dishwasher safe, the Gowise is not your machine. While I can tell you that these types of non-stick cooking baskets are rather easy to clean, they will require that you take extra care when washing by hand with a soft cloth or sponge.
Because the size and shape of these two air fryers are so similar, it really comes down to what types of bells and whistles you are looking for in your new appliance. Streamlined and simple, or programmable and digital; the options are out there, but you can assuredly expect to pay quite a bit more for the Gowise air fryer. If budget is your gauge, the Chefman model may be the one for you in the end.
Healthy, Easy Meals