There are a variety of ways you can cleanse your body, often called cleanses or detox diets. These include fasting, eating only a certain kind of food, drinking only juices or smoothies, using herbs, colon cleanses, etc. They are done to remove toxins, lose weight, or promote health.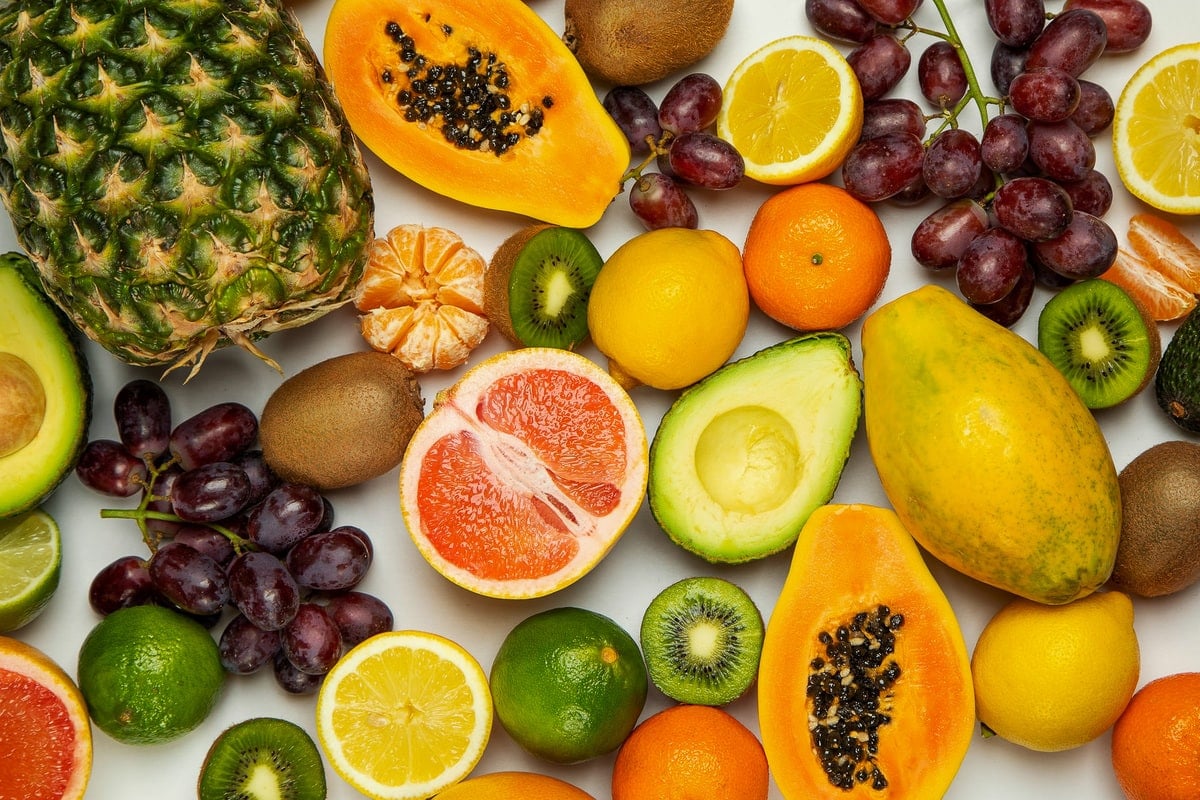 The master cleanse and juice cleanse are just two types of detox diets. In this article, we will take a look at the effects of these two cleanses on the body, their pros, cons, as well as some recipes for each. Then, we will help you decide which one might best be suited for you.
Table of Contents
How Do Cleanses Work?
Many of the toxins in our bodies come from things we consume or come into contact with every day—food, water, personal care products, the environment. Even stress and negative thinking can cause toxins to accumulate. The toxins then builds up in our bodies, causing physical and mental health issues such as chronic fatigue, headaches, insomnia, and diseases.
Granted, the human body already has a sophisticated process of eliminating toxins involving our organs—liver, kidneys, digestive system, skin, and lungs. But while our body can naturally eliminate toxins on its own, these cleanses make sure these organs are healthy, thus, optimizing our body's natural detoxification system.
Why Are Cleanses So Popular?
Cleanses have been popular in the health world for years, and for good reason. These detox diets boast a wide variety of benefits—boosting the immune system, increasing energy levels, improving digestion, increasing concentration levels, and increasing your endurance are just some of them. Cleansing your body will not just boost your physical and mental health, but will also result in better sleep for you.
Health Risks
Despite the benefits, going on a cleanse has some health risks that you should take note of. If you are a healthy adult, it is generally safe to go on a fad diet. But before deciding to do so, you should always consult your doctor first. Your doctor knows best whether going on a cleanse is safe for you or not. They can also help you decide which type of detox diet is best for you.
Severe calorie restriction. Many detox diets recommend not eating, intermittent fasting, or a drastic calorie restriction. If your body is not used to it, experts recommend easing into a detox program as limited calorie intake can result in fatigue and irritability.
Weight loss is not sustained. Experts advise against going on certain types of detox diets for longer than three days. Cleanses often include fasting or severe calorie reduction, thus, rapid weight loss is often a result. However, because these types of diets are not recommended for long periods, weight loss is often not sustained.
Kidney stones might form. Some detox diets restrict you to drinking only juices for a certain period. Such juices might contain food high in oxalate, including spinach and beets. Drinking large quantities of high-oxalate juice can increase the risk of kidney problems.
It's not for everyone. Experts do not recommend detox diets for certain people who need to intake enough nutrients per day. These include children, adolescents, older adults, malnourished individuals, pregnant or lactating women, and people who have diabetes or an eating disorder. If you are one of them, it is especially crucial for you to consult your doctor before going on a detox diet.
Now, we will look into two of the most popular types of cleanses: the master cleanse diet and the juice cleanse diet.
Master Cleanse Diet: What is it?
The master cleanse diet is a short-term liquid fast for quick weight loss and detox. It is also known as the lemonade diet, as it involves drinking "lemonade" for at least 10 days. In fact, the cleanse calls for drinking 6 to 12 glasses of spicy lemonade throughout the day.
Aside from that, a salt-water flush should be drunk each morning, and a cup of store-bought, herbal laxative tea every night. This daily regimen will need to be followed during the 10-day period. Because it involves only liquids, it is actually more of a fast despite being called a diet.
Whether you decide to stick to 10 days or follow the diet longer, 1,200 calories is the maximum you are allowed to intake every day. Rapid weight loss is inevitable because you are restricted to so few calories. However, the weight you lose mostly comes from muscle and water, and you are likely to gain the weight back after the diet.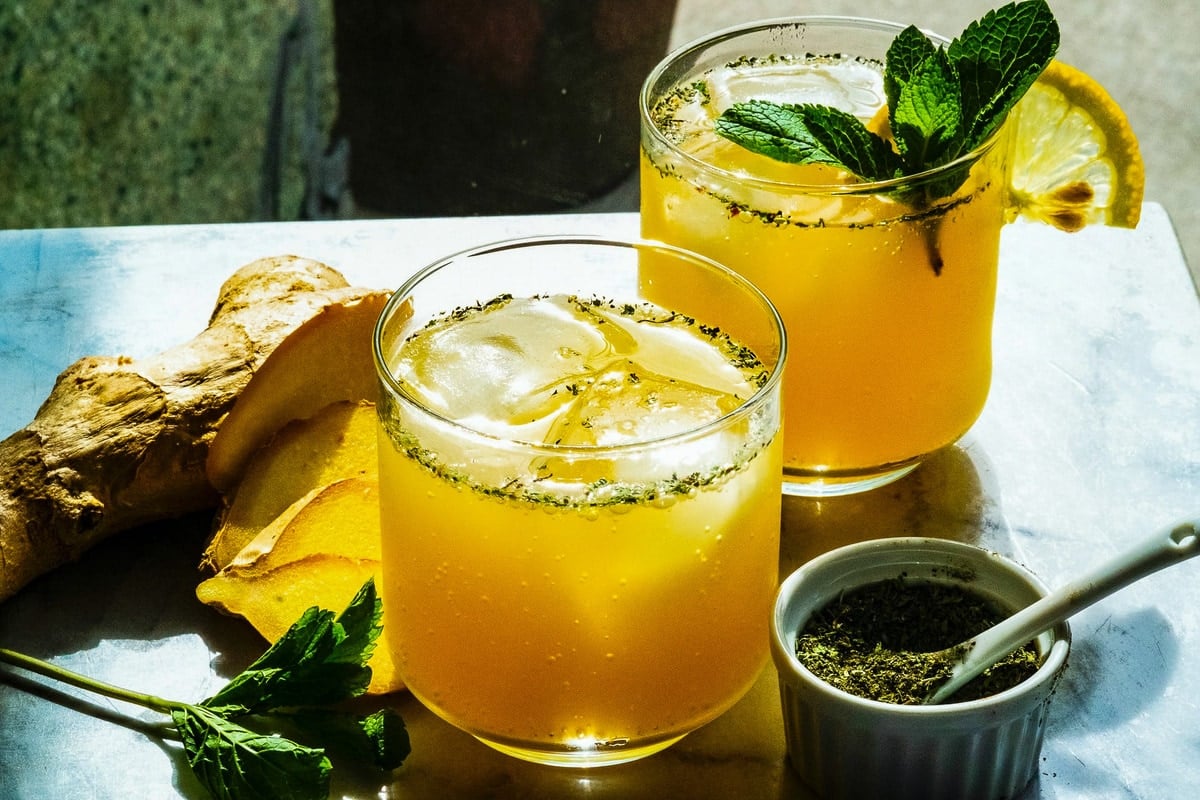 What Can You Eat?
If your doctor has cleared you for a master cleanse, you will not be eating any solid food for at least 10 days. Throughout the duration of your cleanse, this spicy lemonade beverage will be your main source of nutrition.
The master cleanse lemonade is made up of:
2 tbsp. of freshly squeezed organic lemon juice
2 tbsp. of pure organic maple syrup; it should not contain any additives
A dash of ground cayenne pepper (about 1/10 tsp)
10 oz. of purified or spring water
Meanwhile, the master cleanse recipe of the saltwater flush contains:
1 quart of warm water
2 tsp. of non-iodized salt
Once you have completed a master cleanse, you will need to wait at least 60 days before going on another cleanse.
The Master Cleanse Diet Pros
The master cleanse is so popular because it promises many health benefits, including:
It is easy to follow. All you need to do during a master cleanse is make the spicy lemonade and drink it when you get hungry. You will not need to cook or count any calories, making it hassle-free and ideal for those who have busy schedules.
It is inexpensive. Most of the ingredients you will need to make the lemonade drink can be found in your kitchen. If for some reason you do not have them, everything you will need during the cleanse—organic lemons, organic maple syrup, cayenne pepper, salt, water, and laxative teas are generally inexpensive.
Weight loss is guaranteed. A weight loss of 2 pounds per day of the master cleanse is typical. Because of the low-calorie intake while on the cleanse, you are sure to lose weight.
The Master Cleanse Diet Cons
While there are many upsides to master cleanses, there are some downsides as well.
Weight loss isn't likely to last. The weight loss is the result of intaking very few calories while on the cleanse. Thus, once you go back to your regular diet, you might quickly gain back the weight you lost.
It is not a balanced diet. Lemon juice, maple syrup, and cayenne pepper do not provide enough fiber, protein, carbohydrates, fat, vitamins, or minerals for your body. Because the spicy lemonade beverage is the main source of nutrition during the master cleanse, it is not a balanced diet.
There are some side effects. People on the master cleanse commonly experience headaches, dizziness, nausea, and diarrhea. This is why experts recommend that physical activity be kept at a minimum. Exercising while on the master cleanse can be dangerous.
No scientific evidence supports detox claims. If your goal is to cleanse your body, it is important to note that research still needs to be done to back the detox claims of the master cleanse diet.
It is not for everyone. Like we always say, always consult your doctor before making any changes to your diet. Pregnant or lactating women, people who have diabetes, heart issues, or a history of an eating disorder should take extra caution before going on a master cleanse.
Master Cleanse Diet: The Bottom Line
Like most fad diets, the master cleanse has both positives and negatives. While many professionals have different opinions about detox diets, most experts advise proceeding with caution when considering the master cleanse because of the lack of clinical proof or evidence.
As a short-term liquid diet, the master cleanse diet can be effective for quick weight loss. However, it is neither a sustainable plan for weight loss nor does it promote a healthy eating lifestyle. You might lose water weight due to the master cleanse, but that weight will usually come back once you start eating regularly.
All things considered, always talk to your doctor before going on a master cleanse. If you are considering going on a cleanse, your physician can help you decide whether the cayenne pepper diet is best for you. They can also help you determine if the benefits you will gain from the master cleanse outweigh the risks.
Juice Cleanse Diet: What is it?
The juice cleanse diet, also known as the juice fast, is another type of detox diet that involves consuming only juices from fruits and vegetables to lose weight and detoxify the body. Most juice cleanses typically involve consuming only juice for 1 to 3 days, with some lasting up to 10 days.
Before getting started, it is important to know that there are many different varieties of juice cleanses. Some involve consuming only fresh fruit and vegetable juice made with a juicer or blender, while others require drinking store-bought juices. Other varieties allow you to drink one or more smoothies per day, while others permit vegan meals and snacks. These smoothies, meals, and snacks serve to curb hunger and provide protein, fat, and other essential nutrients that the juices do not contain.
Another key point is that a busy schedule should not stop you from going on a juice cleanse if you want to. Homemade juice can stay fresh in the refrigerator for up to 5 days, so you can make some ahead of time. How long fresh juice lasts will depend on the quality of ingredients, type of juicer used, and how it is stored.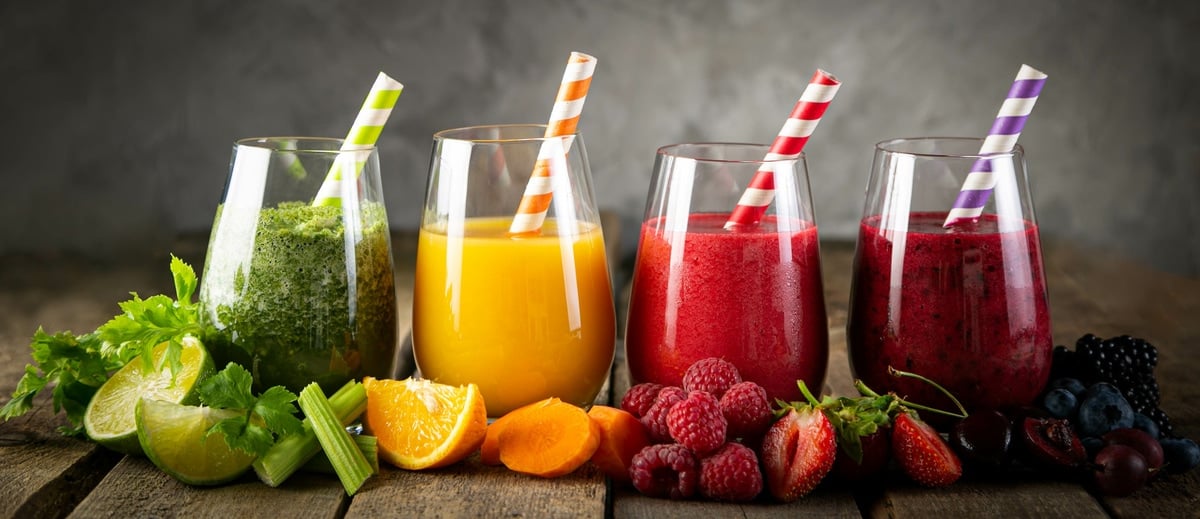 Sample Juice Recipes
Once you have consulted your doctor and decided to go on a juice cleanse, the next thing you should do is figure out what kind of juice you will drink. Typically, juice recipes contain a combination of fruits, vegetables, herbs, and spices. However, it is important to note that some fruits should not be juiced together.
Common fruits juiced include:
Apples
Lemons
Pineapples
Oranges
Grapes
Limes
Mangoes
Depending on what fruits you use as the main ingredient, the right veggies will add the essential nutrients they lack. For instance, some vegetables are included to add fiber, while some vegetables should not be juiced. Common veggies added to juices are:
Adding spices can create, balance, or enhance flavor in juices, such as:
Mint
Ginger
Parsley
Cinnamon
First up, this extremely flavorsome fruit and vegetable juice is guaranteed to satisfy your craving while providing you with natural antioxidants, vitamins, and minerals. It contains many health-enhancing micronutrients like carotenoids, polyphenols, and vitamin C.
This juice contains:
Oranges
Apples
Mint
Pomegranate
Carrots
Lemons
The superb combination of all the fruits results in a flavorful juice, but adding the mint only makes it better. Not only does it boost your gut health, but its role in treating Irritable Bowel Syndrome (IBS) is also well known.
This detox juice cleanses your body thoroughly as well as boosts your energy levels. It is not only delicious and healthful, but it also helps in preventing obesity. The ingredients it contains make you more mentally active and alert while decreasing your stress levels and restoring your mental health in the process.
This detox juice contains:
Grapefruit
Apples
Lemons
Radishes
Carrots
Ginger
Cinnamon
This detox juice also cleanses the liver and makes it function optimally. People who suffer from hypertension will benefit from drinking this juice regularly as it can help regulate their blood pressure levels.
This fresh fruit juice contains several ingredients, all of which offer a ton of vitamin C. The tangy flavor will keep you energetic all day long while providing a boost to your immune system. The sweetness of the apples also complements the tartness of the orange juice and the lemon.
This fruit juice contains:
Orange
Red bell pepper
Carrots
Apples
Lemons
Vitamin C provides many health benefits aside from boosting the immune system, such as helping lower the risk of many chronic health conditions. However, many people find it difficult to incorporate vitamin C into their diets. In such a situation, this fruit juice can come in handy as it is easy to prepare and consume.
The Juice Cleanse Diet Pros
Detox diet enthusiasts agree that juice cleanses provide many health benefits, including:
It is an easy way to obtain nutrients. Research has shown that many people's diets do not provide enough nutrients. But when fruits and vegetables are juiced, it is easy to consume them. If you cannot stand eating fresh fruits or cooked vegetables, then juicing might be a good alternative for you.
It can improve overall health. Fruits and vegetables are packed with vitamins, minerals, antioxidants, and plant compounds. Drinking only juice or mostly juice on a cleanse could boost your overall health.
It can lead to increased energy levels. These juices are also rich in anti-inflammatory compounds, which give the immune system a boost that helps you feel more energetic.
It can detoxify the body. A juice cleanse is also called a detox because it helps our organs do their job more efficiently. By restricting solid food from the diet, a juice cleanse allows the body to remove all impurities. If there is a specific organ that you want to cleanse, make sure to do your research so you can choose the juice cleanse that detoxifies that organ, just like the colon cleanse does.
It can improve digestion. Drinking juice rich in fiber can help improve digestion by making the gut work more efficiently.
The Juice Cleanse Diet Cons
While juice cleanses provide many health benefits, there can be some downsides as well.
Kidney stones may form. Beets and dark, leafy greens are high in oxalate, which can cause kidney stones. Thus, drinking large quantities of juice containing beets or dark, leafy greens can increase the risk of kidney problems.
No long-term results. A 2017 review determined that juicing diets result in quick weight loss, but the weight tends to come back once the diet goes back to normal.
Metabolism might slow down. A juice cleanse diet helps you lose weight quickly through a severe calorie restriction. However, experts advise against such a drastic calorie restriction as it can slow your metabolism in the long term.
Contains sugar. Fruits contain fructose, a naturally occurring sugar in fruits. Thus, people with diabetes should take extra caution. Moreover, research has linked 100% fruit juice with childhood obesity. So consider making your juice diet mostly out of vegetables.
Can be expensive. Juice cleanses can be expensive, especially if you choose to drink store-bought ones instead of making your own. A three-day cleanse can cost you anywhere between $99 and $225.
Juice Cleanse: The Bottom Line
Many juice cleanse programs require you to consume only juice and water during the cleanse, but some varieties also encourage you to eat seeds, nuts, fruits, or vegetables to help curb your hunger and add other nutrients that the juices do not contain. If it is your first time going on a juice cleanse, easing into it by including healthful food can make it a better experience for you.
If you have already started your juice cleanse but find yourself lacking energy, you might want to include organic, unprocessed food in the diet. Vegan meals or fresh fruits and veggies are some good ways of boosting your energy levels and curbing hunger while detoxing your body.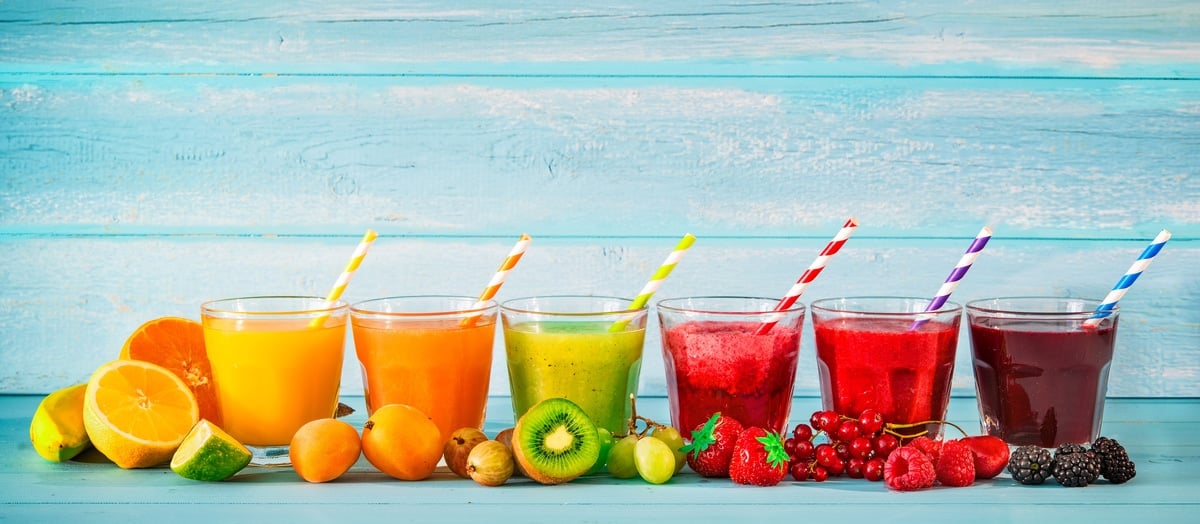 Juice Cleanse Vs. Master Cleanse Diet: Which Is Better?
Sticking to a detox diet is not always easy, but it is definitely doable. If this is your first time considering a detox diet, it can be difficult to decide which one you should do. Whether you decide to go on a master cleanse or a juice cleanse, remember to consult your physician first.
So, which is better between the master cleanse diet and the juice cleanse diet? Both diets are effective at weight loss and have their own pros and cons, but health enthusiasts generally prefer going on a juice cleanse.
For one thing, the master cleanse diet restricts you to consuming only spicy lemonade for at least 10 days, which can lead to a nutritional deficiency. You can drink a salt-water flush in the morning and a laxative tea at night, but you are not allowed to eat anything. Thus, all the nutrients you intake throughout the period of the master cleanse are limited.
On the other hand, a juice cleanse allows you to drink different types of fruit and vegetable juices throughout the duration of the diet. There are infinite combinations you can make, which ensures that your body will get all the nutrients it needs. Also, first-timers should keep in mind that some juice cleanse diets allow you to include healthy food in the diet, such as vegan meals or snacks and whole fruits or veggies.
While the juice cleanse diet can be expensive, choosing to drink homemade juice instead of drinking store-bought ones can make it more affordable. Of course, if you decide that a juice cleanse is better for you, remember to consult your doctor.
Sources:
https://www.nccih.nih.gov/health/detoxes-and-cleanses-what-you-need-to-know
https://www.lifehack.org/articles/lifestyle/why-you-should-cleanse-and-detox-your-body.html
https://www.healthline.com/nutrition/detox-diets-101
https://www.verywellfit.com/the-master-cleanse-89799
https://www.verywellfit.com/juice-cleanse-89120
https://tastylicious.com/what-happens-to-your-body-on-a-three-day-juice-cleanse/
https://tastylicious.com/do-detox-diets-work-check-out-these-pros-and-cons/