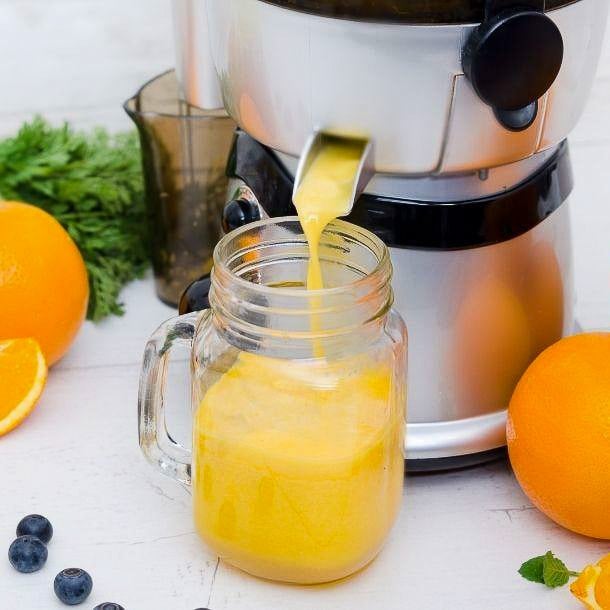 You must have heard the term "detoxification" a lot of times. It has become a buzzword often heard from the mouths of health experts, celebrities, and fitness enthusiasts
But what is detoxification? As the word suggests, it's the process of detoxing or eliminating the body of all harmful substances.
The human body is capable of detoxing itself through mediums like urine, sweat, and feces. However, if you also get rid of the toxins such as alcohol, caffeine, and sugar in your system, it enhances your health like never before.
Why is Detoxing through Vegetable and Fruit Juices So Good for You?
The primary reason juicing vegetables and fruits is beneficial for you is because of the ready accessibility of vitamins and minerals. When these micronutrients are available in liquid form, your digestive system quickly and easily absorbs them.
It doesn't have to work overtime to digest juice as it does with whole food. Hence, all the waste substances from your colon are easily flushed out.
Daily exposure to toxins like pollutants, preservatives, and heavy metals leads to their build-up in our body. As the levels of toxin in your body increases, you may start experiencing symptoms like bloating, constipation, fatigue, nausea, headaches, and various skin problems.
So, through vegetable and fruit juice detox, you get physical benefits in the form of weight loss and healthier skin.
Additionally, you can also experience great mental clarity, calmness, and peace. They boost your energy levels and prevent the occurrence of major health problems.
Detox juices are an integral part of a plant-based diet. Nowadays, people are constantly consuming processed food, dairy, and alcohol. All these types of food trigger inflammation in the body.
The high levels of antioxidants found in fresh fruit juices counter the inflammation and help the body to repair itself.
Another great advantage of drinking detox juices is that they provide your body with much-needed hydration. Did you know that more than half of the world's population drinks less water than the recommended amount?
These juices fulfill all your hydration needs and enhance your mood and cognitive functions. All these are reasons why detox juices are rapidly gaining recognition all over.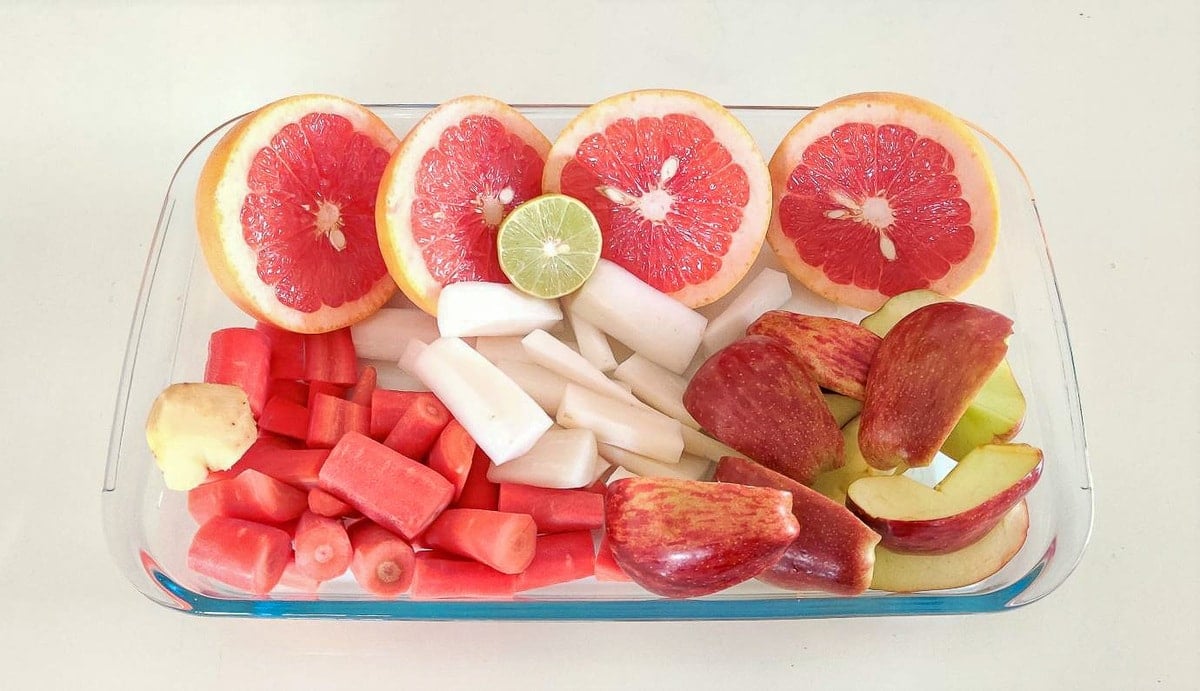 Benefits of Drinking the Radiant Detox Juice
This juice is great for you. Keep reading to know the various ways it improves a person's health!
Extremely low in calories, grapefruit is a great source of vitamin A which functions as a potent immunity booster. It keeps your eyes and skin healthy, and it's especially good for pregnant women as it contains a high amount of folate. Apart from this, it also contains crucial micronutrients.
Apples contain loads of fiber. Studies have repeatedly linked its consumption with a reduced risk of developing diseases such as diabetes and cancer. You will never again complain of any digestive issue if you drink juice made out of it regularly!
Lemon is a good weapon against all kinds of viral infections. It assists you in weight loss, digestion, and the vitamin C in it makes your skin healthy. Drinking lemon juice is a great way to keep yourself hydrated and remain free of all viral diseases and infections.
Packed with folate, vitamin B2, and vitamin C, radishes help to make your heart and digestive system healthy. Minerals found in it help keep your blood pressure under control. Radishes also effectively regulate nerve and brain function!
Carrots are a great source of beta carotene which prevents the development of age-related diseases such as weak eyesight and muscular degeneration. They also reduce the bad cholesterol in your body and safeguard you against cardiovascular diseases.
Ginger has anti-inflammatory properties that can help people manage arthritis. It boosts the circulation in the body and inhibits the growth of bacteria that cause digestive issues like diarrhea. It can also inhibit the development of ulcers in the stomach that are caused by many medications.
Cinnamon is a potent spice that prevents the development of diabetes and inflammation. It's especially great for postmenopausal women and middle-aged men.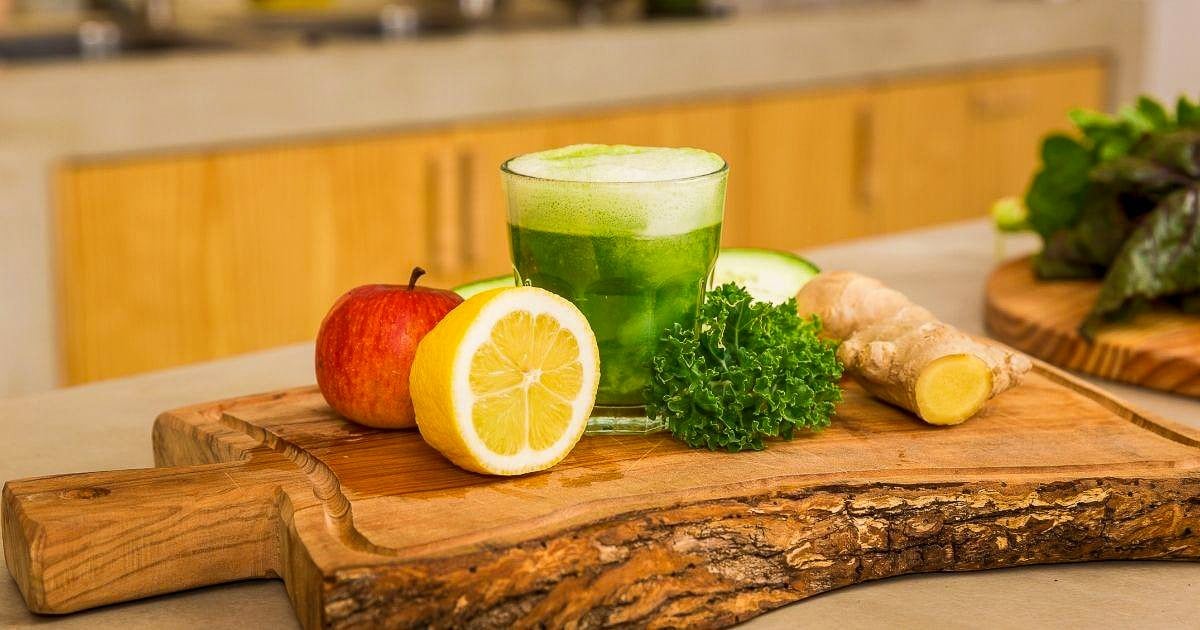 Health Conditions that a Detox Juice Helps to Prevent
Today, obesity has become an epidemic. But by detoxifying your body with this juice, you can prevent yourself from falling prey to it.
This detox juice cleanses your body thoroughly as well as boosts your energy levels. Ingredients such as ginger and lemon make you more mentally active and alert. These ingredients decrease your stress levels and restore your mental health in the process.
In recent years, our lifestyles have become extremely hectic. Alcohol, caffeinated beverages, soda, and nicotine have become a common part of everyone's diet. This detox juice cleanses the liver and makes it function optimally.
Problems like kidney stones and jaundice can be easily prevented by drinking this juice regularly. Radishes, carrot, and grapefruit are great for people who suffer from arthritis pain. They reduce the inflammation in the body and impart relief from the never-ending pain of this condition.
Fruit and vegetable juices also aid in maintaining the body's heart healthy.. As they contain no cholesterol, they prevent the arteries of your heart from hardening and helps you to regulate your blood pressure levels.
You will never suffer from cardiovascular diseases like hypertension and stroke if you drink these healthy detox juices regularly! The detox juice keeps you satiated for long periods of time, which makes it easier for you to attain your weight loss goals and remain healthy all your life.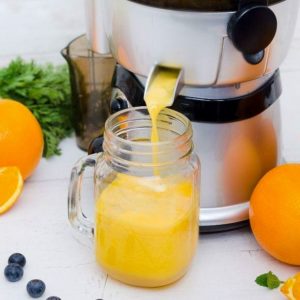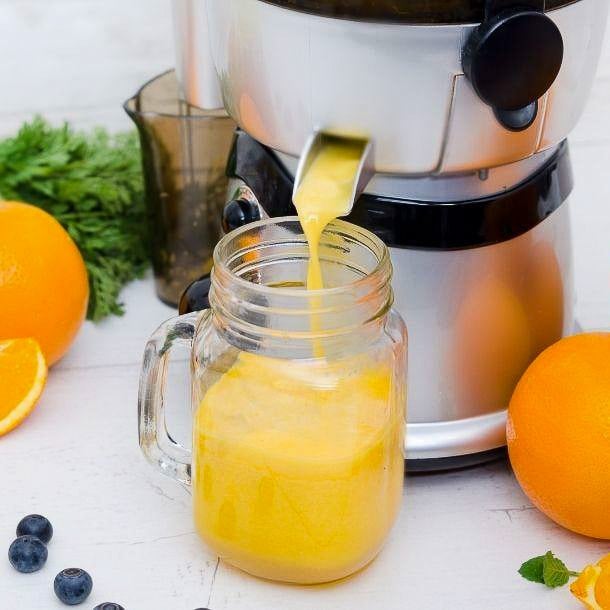 Radiant Detox Juice Recipe
This detox juice contains an array of delicious fruits and vegetables. Get ready to delight your taste buds with this flavorsome and healthful glass of juice that will leave you feeling refreshed. You will surely look forward to making it a part of your daily routine!
Ingredients
2

grapefruits

2

apples

½

lemon

2

radishes

2

carrots

1

inch

ginger

1

dash

cinnamon
Instructions
Wash and rinse all the ingredients thoroughly.

Peel the grapefruit to prepare it for juicing.

Remove the core of the apple and cut it into smaller pieces.

Peel the skin of the carrots, radishes, and ginger and cut them into small pieces.

Juice all the ingredients except the lemon. Add a dash of powdered cinnamon.

Squeeze the lemon to the juice.

Pour the mixture into a glass and drink it immediately.
Nutrition
Calories:
115
kcal
Carbohydrates:
24
g
Protein:
3
g
Sodium:
7
mg
Potassium:
1598
mg
Fiber:
1
g
Sugar:
14
g
Vitamin A:
26481
IU
Vitamin C:
214
mg
Calcium:
202
mg
Iron:
2
mg