Did you know that one out of every ten Americans isn't getting enough potassium? This mineral is vital to our overall health, and you can take supplements to boost your levels.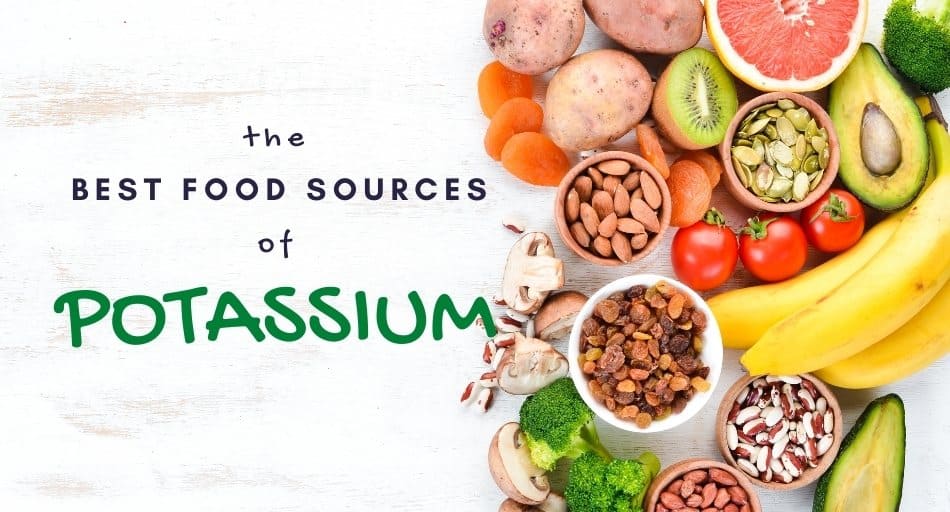 But, the best way to up your potassium intake is to eat fruits, vegetables, and even meats that are rich in this important mineral. Here's the list of the 15 best food sources of potassium.
RELATED: Potassium 101: All You Need To Know About Potassium
Table of Contents
1. Bananas
When you think of potassium-rich foods, you probably think of bananas. As much as it makes sense that other food would have potassium, it just doesn't occur to most people.
Every time someone mentions they have a potassium deficiency, they're told to eat more bananas.
One medium banana has roughly 422 mg of potassium. That's a whole lot of potassium in one single fruit.
If you're anything like me and get sick of eating bananas plain, you can add them to your oatmeal or smoothies to still get the incredible potassium benefits.
2. Avocados
Not only are avocados trendy and tasty, but they're also a great source of potassium. Half of an avocado has about 487 mg of potassium.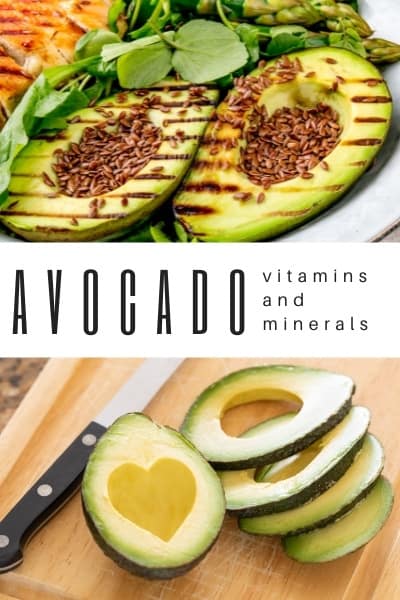 If you ate an entire avocado, you'd have close to 1,000 mg of potassium from one food.
That's way more potassium than a single banana! Avocados are great to incorporate into your diet when you're trying to live a healthier lifestyle. Now you can eat avocados knowing they're healthy but also a good source of potassium.
So, if you ever feel guilty about ordering avocado toast for the fourth time this week, just remind yourself you're trying to up your potassium intake.
Read more in our article: Are Avocados High in Potassium?
3. Watermelon
Everyone knows how hydrating watermelon is, but did you know it's a great source of potassium? It's hard to believe a fruit that is over 70% water could have a large amount of a vital mineral, but it does.
Eating two watermelon wedges gives you over 600 mg of potassium. I don't know about you, but that sounds like the easiest 600 mg of potassium I'll ever get.
Now you can munch on watermelon all summer long without worrying too much about whether you're getting enough potassium.
Read more in our article: Are Watermelons High in Potassium?
4. Sweet Potatoes
Sweet potatoes are almost as popular as avocados nowadays. Many people are using them as a substitute for regular potatoes since they're supposedly healthier.
The best part about these veggies is that you can eat them in a savory dish or for something sweeter.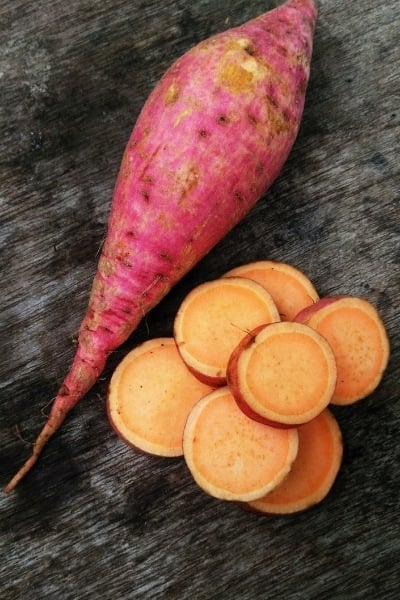 As if you needed any more reasons to eat more sweet potatoes, they have a lot of potassium.
Whether you're eating a baked sweet potato, fries, or mashed sweet potatoes, one medium sweet potato has over 500 mg of potassium.
Make sure to check out: Can You Check Your Potassium Level At Home? and The Best Low Potassium Snacks (Eat This, Not That).
5. Black Beans
Black beans are a favorite bean in many cultures. They're the perfect addition to burritos and other Hispanic dishes.
These beans don't give you as much potassium as different types of beans, but they're still worth adding to your diet if you need more of this mineral.
One cup will still give you a little over 600 mg of potassium. Beans are easy to add to most everyday dishes.
You can make a tortilla salad with black beans, a quesadilla, burrito, or just serve it as a side to chicken or another meat option.
6. Potatoes
Potatoes are by far one of the most popular vegetables in the world. You can use potatoes to make hundreds of dishes, and you can prepare them in several ways.
Sometimes people hate on potatoes because they're carb-heavy, but these veggies are great for potassium. They have a similar amount of potassium to sweet potatoes, but regular potatoes have a little bit more.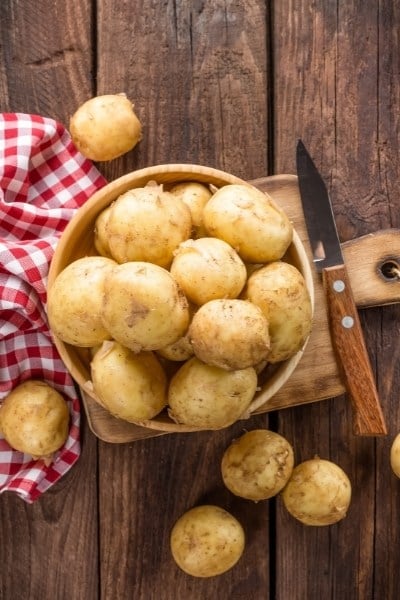 If someone ever gives you an attitude about eating French fries and mashed potatoes, just let them know you're getting some of your daily potassium intake.
Read more about potassium in potatoes in our - Are Potatoes High in Potassium?
7. Butternut Squash
The Fall and Winter months call for butternut squash everything, if you like it, of course.
Next time you feel like you're going overboard in creating dishes with butternut squash, there's no need to feel bad. You can justify your obsession with how high in potassium it is.
Whether you're eating butternut squash as a side dish or in a creamy soup, one cup of this veggie has 580 mg of potassium.
If you didn't know, you could get butternut squash at your local grocery store all year if you find yourself needing a potassium fix this veggie.
8. White Beans
White beans is an umbrella term for a variety of beans. These beans include lima beans, cannellini beans, great northern beans, and pea beans.
Beans are the perfect addition to soups, rice, or alone as a side dish. Adding just one cup of white beans to a meal will give you almost double the amount of potassium that one banana will.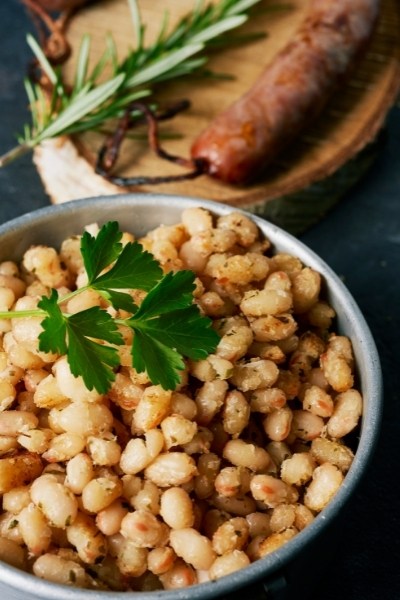 If you love chicken tortilla soup, consider making a vegetarian version with white beans.
Or even a white chili would be delicious and a great source of potassium.
9. Pomegranates
If you're tired of eating the same fruits over and over again, pomegranates are a great breath of fresh air.
They're not everyone's go-to fruit because they are a little unique. Most people prefer to eat this fruit's seeds by the spoonful, but you can also blend it up for a smoothie.
If you're wondering the different ways to eat pomegranates besides smoothies or one their own, there are plenty of ways. One whole pomegranate has just over 660 mg of potassium.
That's still a lot more than one banana.
10. Beets
Beets aren't everyone's favorite vegetable because the color can be off-putting for food, even if it's really pretty in other circumstances.
Plus, many people don't know how to prepare them, so they taste good. Beets or beet juice can give you about 518 mg of potassium per cup.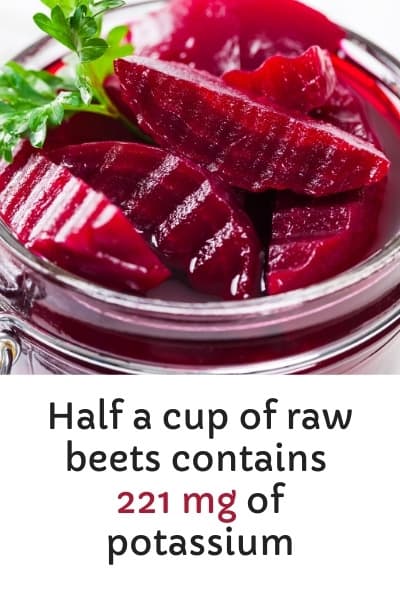 If you're interested in eating beets to up your potassium intake, popular ways to eat them are in a smoothie, pickling them, or boiling and seasoning them.
A great way to eat beets with another potassium-rich food is to make a salad with spinach and then top with beets, tomatoes, any other toppings you can imagine.
11. Ground Beef
I don't know about you, but it never occurred to me that meat could be rich in potassium.
There's no reason meat cannot have a high amount of potassium; it's just not the first place most people's minds go.
When people talk about high potassium foods, they generally focus on fruits and vegetables. Eating ground beef gives your body a decent amount of potassium.
Since ground beef is often used as the main protein source for a meal, it's nice to know you're getting potassium too.
Three ounces of ground beef has about 200 mg of potassium. If you pair ground beef with a veggie on this list, you'll have an overall high potassium meal.
12. Plain Yogurt
Plain yogurt is a yummy snack or breakfast item that will provide you with a good amount of potassium.
It's not as high in potassium as a banana, but six ounces of plain yogurt still have over 250 mg of this mineral. Eating plain yogurt with potassium-rich fruit is a perfect way to boost your potassium intake easily.
Yogurt can also be used to make various sauces and marinades that add subtle potassium levels to meals you wouldn't think had any.
13. Spinach
Eat your greens, kids! You've heard it all your life, and there's a reason for it.
Spinach is one of the most nutrient-dense leafy greens you can eat. Maybe that's why Popeye ate spinach so much. Let's face it, he definitely seemed to be very healthy. As healthy as a cartoon can seem.
Eating 100 grams of spinach will give your body over 500 mg of potassium. If you don't want to eat sautéed spinach all the time, try tossing a handful of spinach in a smoothie.
I promise it doesn't make it taste bad, and it adds vital nutrients.
14. Salmon
Another protein source that is a good source of potassium is salmon. Salmon is eaten by thousands of people every day.
Not only is it full of healthy fats and protein, but you can also get quite a bit of potassium per serving. Three ounces of salmon have about 300 mg of potassium.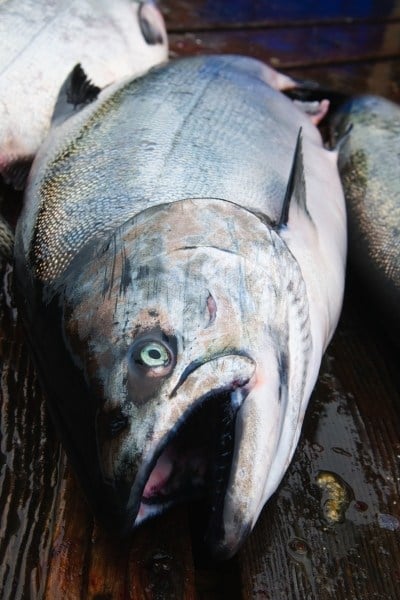 If you were to eat six ounces of salmon, you'd have more potassium from salmon than from one banana. Salmon goes well with almost any vegetable.
To give your meal even more potassium, you can eat salmon with spinach, sweet potatoes, or any other high potassium veggie.
15. Tomatoes
The ways you can eat tomatoes are almost limitless. They're the perfect topping on salads, mixed with cilantro and onions for Pico de Gallo, and roasted in your oven for a delicious side dish.
My favorite way is to mash them up and make a fresh tomato sauce for pasta. Eating tomatoes in any form will give you the potassium that your body needs. Fresh tomatoes have about 290 mg of potassium per fruit.
If you're using canned tomatoes, and there's no shame in that, the potassium levels will range from 200 to 300 mg.
Read more in our article: Are Tomatoes High In Potassium?
Make sure to check out: Can You Check Your Potassium Level At Home? and The Best Low Potassium Snacks (Eat This, Not That).
Better than HelloFresh!