Beet, also known as beetroot, red garden beet, or blood turnip, is one of the easiest root vegetables to grow. Betalains, a potent phytonutrient, give beets their deep red pigment and are responsible for some of the benefits beets bring to human health, especially for people with diabetes.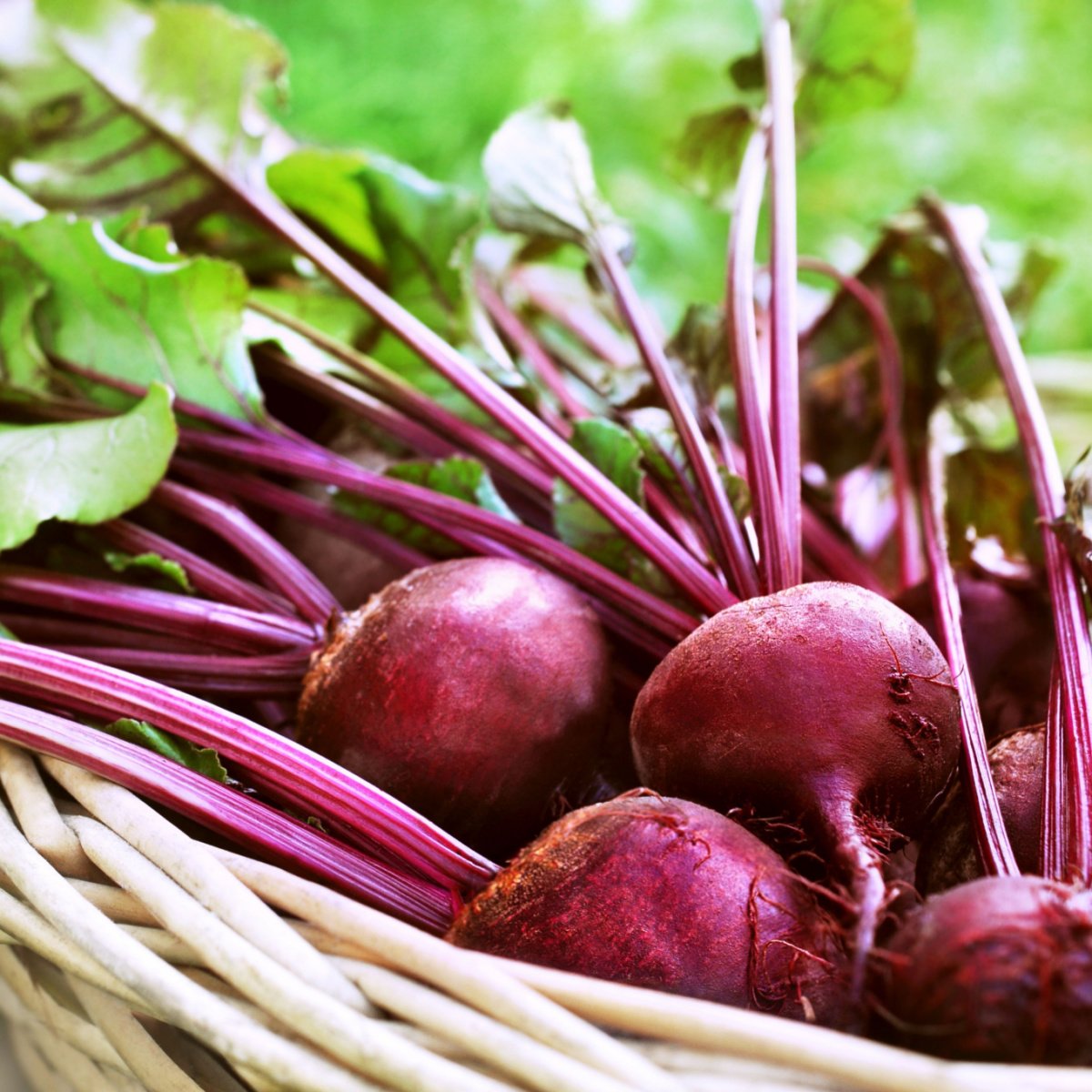 Beets have a glycemic index of 61, which is considered medium, but a glycemic load of 6.0 to 7.0, which is considered low. Generally, this means beets are safe and are a healthy addition to diabetics' diets.
Moreover, beets have 50 to 80 percent less starch than potatoes and sweet potatoes, making them a healthier energy source. Beets are also a powerhouse of antioxidants that protect body organs from damage caused by diabetes complications.
There's more to beets than meets the eye, so read on to learn everything about this vibrant root vegetable.
Table of Contents
Diabetes in a Nutshell
Diabetes is a chronic condition wherein your body does not make enough insulin to deal with all the sugar that your body either makes or gets from the food you consume. Insulin is key to allowing cells to take up the sugar in the bloodstream.
Without insulin, excess sugar remains in the bloodstream and eventually causes damage to blood vessels, the heart, kidneys, nerves, eyes, and other organs.
There are three main types of diabetes:
Although there is no current cure for type 1 or type 2 diabetes, you can help prevent complications by eating healthy foods, losing weight, and exercising.
Are Beets Good For Diabetics?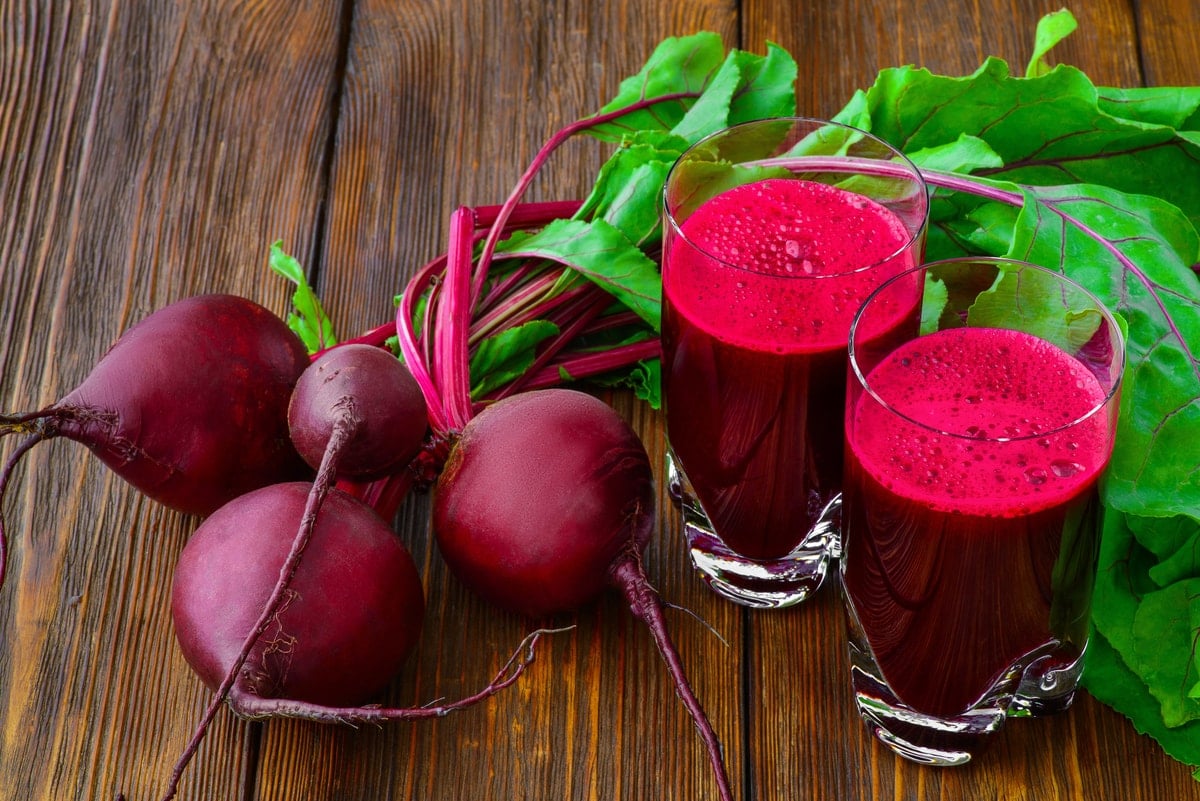 Beets have a low glycemic load (6.0 to 7.0) per serving, making them excellent for people with diabetes. Although they have a glycemic index of 61, which is considered medium, they contain very few carbohydrates, meaning they don't increase your blood sugar level as much as bread, rice, and other starchy foods.
What Makes Beets Good for Diabetics?
Here's a quick overview: beets have a very low glycemic load, contain high amounts of dietary fiber, prevent diabetes complications, and help reduce insulin resistance.
Beets Have A Very Low Glycemic Load
Glycemic load results from the number of carbohydrates consumed and the rate at which the body digests and absorbs them into the bloodstream (glycemic index).
While the glycemic index is an excellent way to start tracking your food, you also need to know the glycemic load, as it directly correlates to how fast a food raises your blood sugar levels.
Here's how you calculate a food's glycemic load: glycemic index multiplied by the carbohydrate per serving divided by 100.
Low Glycemic Load - 0 to 10
Medium Glycemic Load - 11 to 19
High Glycemic Load - More than 20
For instance, beets have a glycemic index of 61, with only 10 grams of carbohydrates per 100 grams of beets, which comes up to a glycemic load of 6.1.
Beets Contain High Levels of Fiber
Beets have 3.8 grams of fiber per cup. A healthy diet should include fiber because it can offer many health benefits. When managing diabetes, your diet should consist of fiber-rich foods, as they help prevent the spike in your blood glucose level after a meal.
Although dietary fiber is a carbohydrate type, the body cannot digest it, which means it cannot cause a sugar spike after consumption. Dietary fiber also helps you feel fuller for longer, so you won't feel the need to eat more.
Beets Prevent Diabetes Complications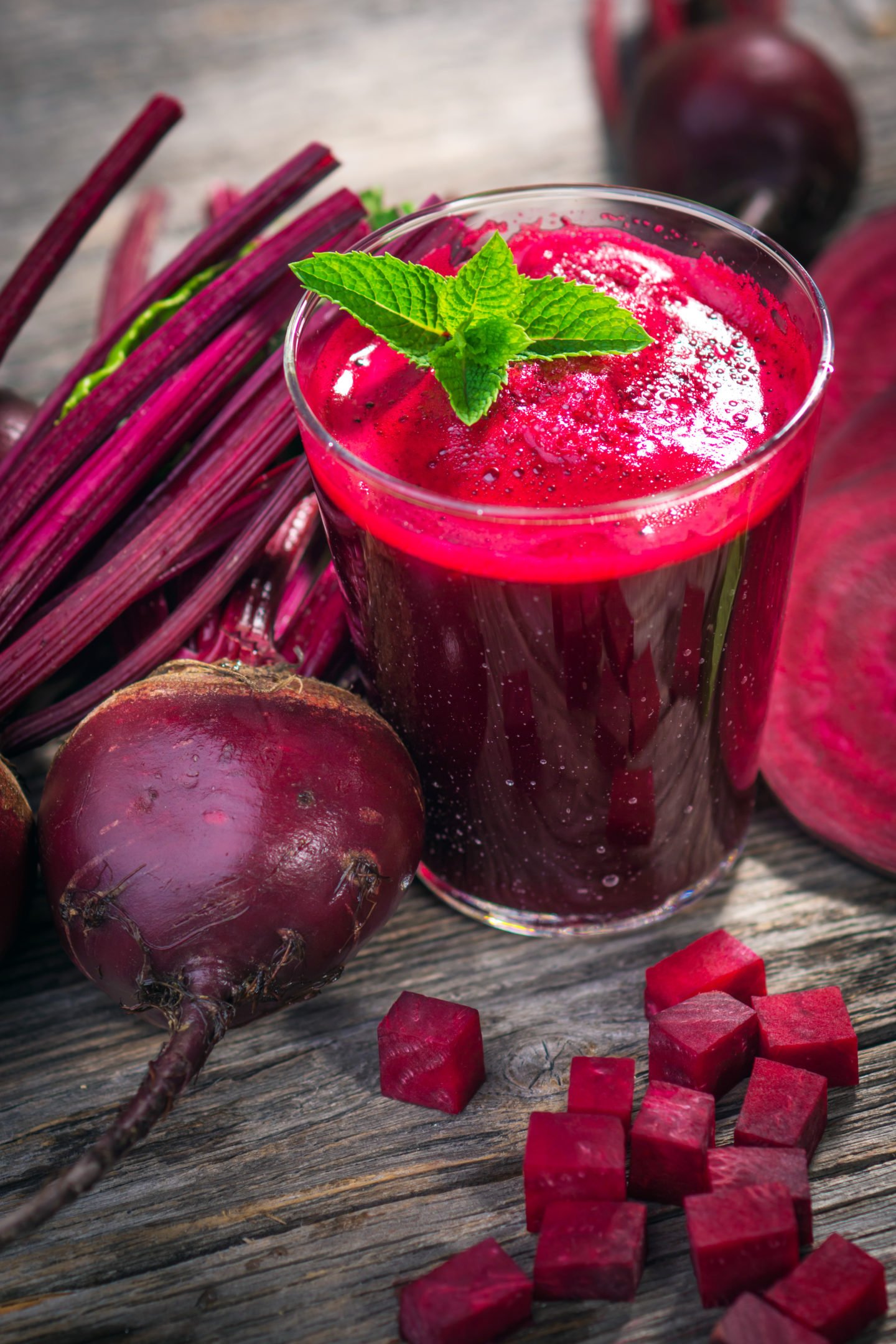 The antioxidants in beets can help keep diabetes complications like heart disease from happening. These complications are caused by oxidative stress and inflammation. This study found highly bioactive phenolics in beets, such as rutin, epicatechin, and caffeic acid, which are excellent antioxidants.
You can also find high amounts of nitrates in beets. The digestive system ultimately transforms these nitrates into nitric oxide, a blood vessel-dilating chemical.
Nitric oxide prevents high blood pressure, enhances blood flow, and eases heart strain by relaxing and expanding blood vessels.
Beets Help Reduce Insulin Resistance
Nitrates in beets also help lower insulin resistance and increase insulin sensitivity. This means that the cells in your body will interact more with insulin to cater to the sugar in your bloodstream.
When your cells become insulin resistant, there is no sugar uptake in your blood, increasing your blood glucose level.
In a study from 2017, people who were overweight and drank beetroot juice had better insulin sensitivity and less insulin resistance. The study concluded that obese diabetic patients would benefit from drinking red beet juice.
Can Beets Lower Blood Sugar Levels?
Even though there are no studies that back up the claim that red beet lowers blood sugar levels, there are studies that back up its ability to keep blood sugar levels at a normal level and prevent complications from diabetes.
Can Beets Increase Blood Sugar Levels?
No, beets do not increase blood glucose levels. Since beets contain minimal carbohydrates, they do not tend to increase blood sugar levels. People with diabetes should only take 45 to 75 grams of carbohydrates per day, and beets only offer 10 grams per 100 grams, which is very little.
A study by Cambridge University Press found that beets did not affect glucose levels compared to regular carbohydrates.
While this is the first study to look into the effects of beetroot juice on glucose levels, we can rule out beets from causing elevated blood glucose levels, making them ideal for diabetics.
How To Incorporate Beets Into Your Diet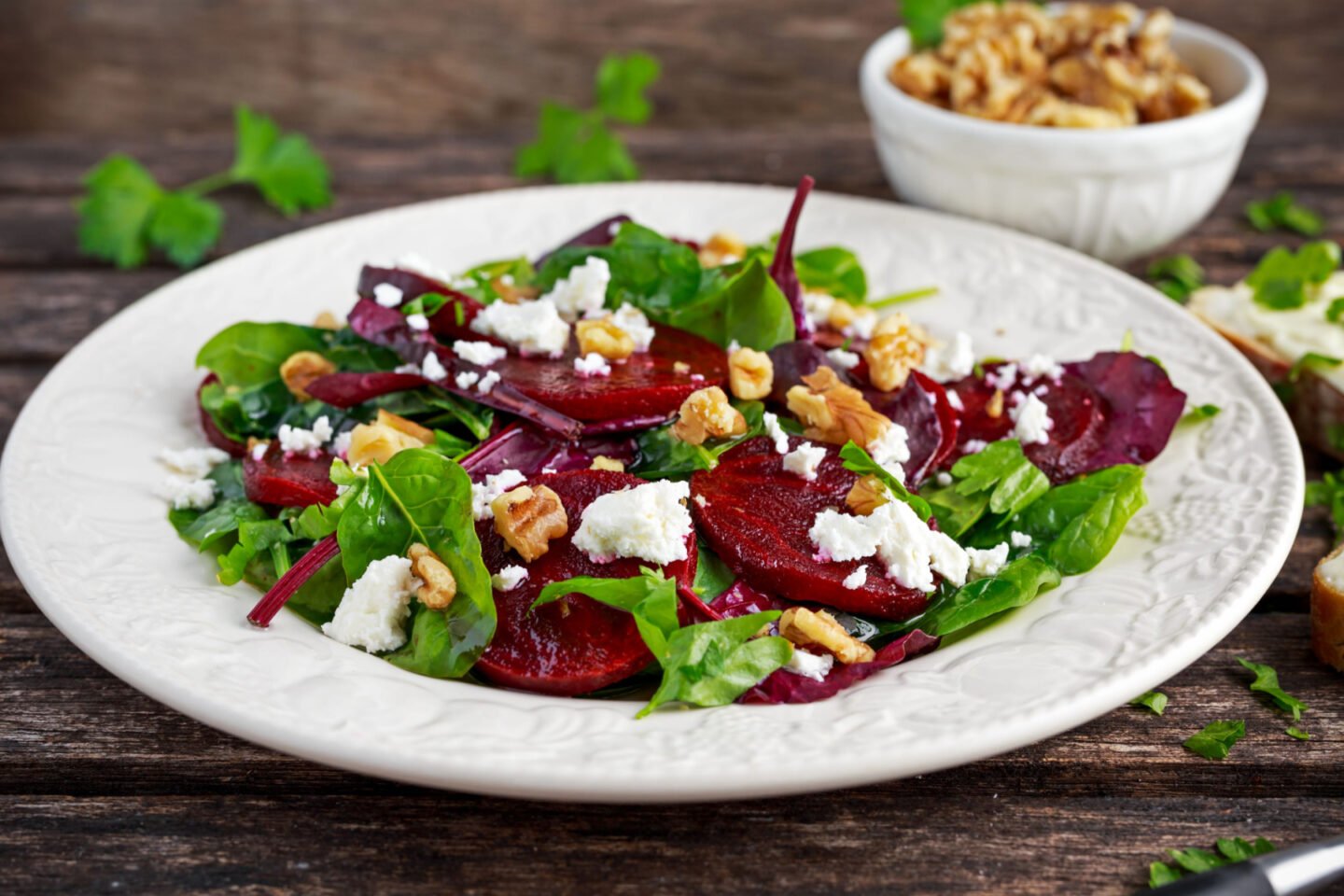 Beets are one of the non-starchy vegetables listed by the American Diabetes Association. According to their article, you should add one cup of raw beets or a half cup of cooked beets to your daily diet.
The American Diabetes Association also said that if you eat beets from a can, you should rinse them well to get rid of any salt or sugar that might be on them.
Here are a few ways to spice up your beetroot consumption.
Raw Beet or Fresh Beet
The best way to consume beets is to eat them raw. When eating raw beets, you can ensure that there is no added sugar in them, and they are technically lower in calories.
Beet Salad
Making red beet salad with other diabetes-safe food is an excellent way of consuming beet. You can include beet greens, broccoli, peppers, and tomatoes, and finish with sesame oil and walnuts.
Steamed Beets
Steamed beets are not a personal favorite, but they are still a great start to healthy eating. They can be a little bitter once cooked, and I don't recommend adding salt or sugar just to make them taste better.
Roasted Beet
You can also roast your raw beetroot and turn them into delicious chips. They are sweet when roasted, so you don't need to put any dressing or dip on them.
Beetroot Juice
Beetroot juice is another way to consume all the vitamins and minerals in raw beetroot. But if you use a juicer, you might not get all of the beet fiber, which helps a lot with diabetes management.
Beets Health Benefits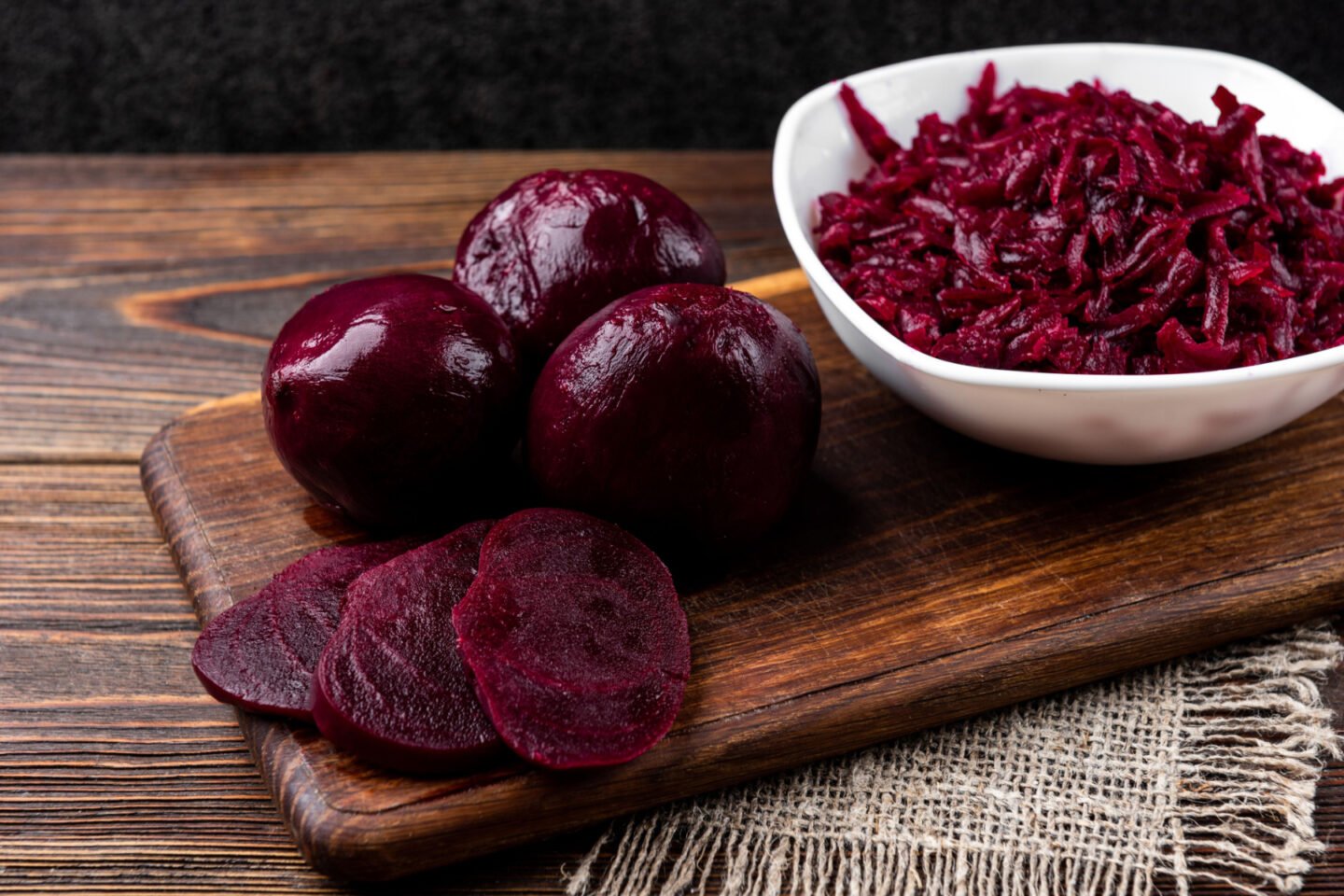 Aside from being an excellent vegetable choice for people with diabetes, beets have many more health benefits. Here's an overview of what beets do to your health.
Lower Blood Pressure
One of the most potent effects of beets is to lower blood pressure. The nitrates in beets act as a vasodilator that helps regulate blood pressure.
Increase Exercise Performance
The nitrates in beets also increase mitochondrial integrity, increasing energy, especially during heavy exercises. So if you're up to cycling, lifting, or just light exercise, beetroot would greatly help.
Improves Digestive Health
Due to their fiber content, beets are considered one of your gut's best friends and make you poop within the day of ingestion. Not only that, beets are great for cleansing and detoxifying your liver.
Supports Brain Health
Due to beet's ability to dilate your blood vessels, there will be more blood flow to the brain, which prevents damage and deterioration.
Improves Skin Condition
The antioxidants in beetroot prevent inflammation and premature aging. Beets are also an excellent source of vitamin C, vitamin A, folate, and iron, which we need for healthy, glowing skin.
Related Questions
Are beets too high in sugar for people with diabetes?
No, beets only contain 10 grams of carbohydrates per 100-gram serving, which is lower than sweet potato and potato.
Are pickled beets good for type 2 diabetes?
Pickled beets are delicious but contain high amounts of sugar and salt, so I don't recommend them for diabetics.
Can people with diabetes take beet juice?
Yes, beet juice is a delicious and healthy drink for people with diabetes. There are a lot of antioxidants, vitamins, and minerals in beet juice, and it does not raise blood sugar levels.