Designing and following a low-potassium diet can be difficult. It requires a lot of research into the potassium content of different foods and careful meal planning.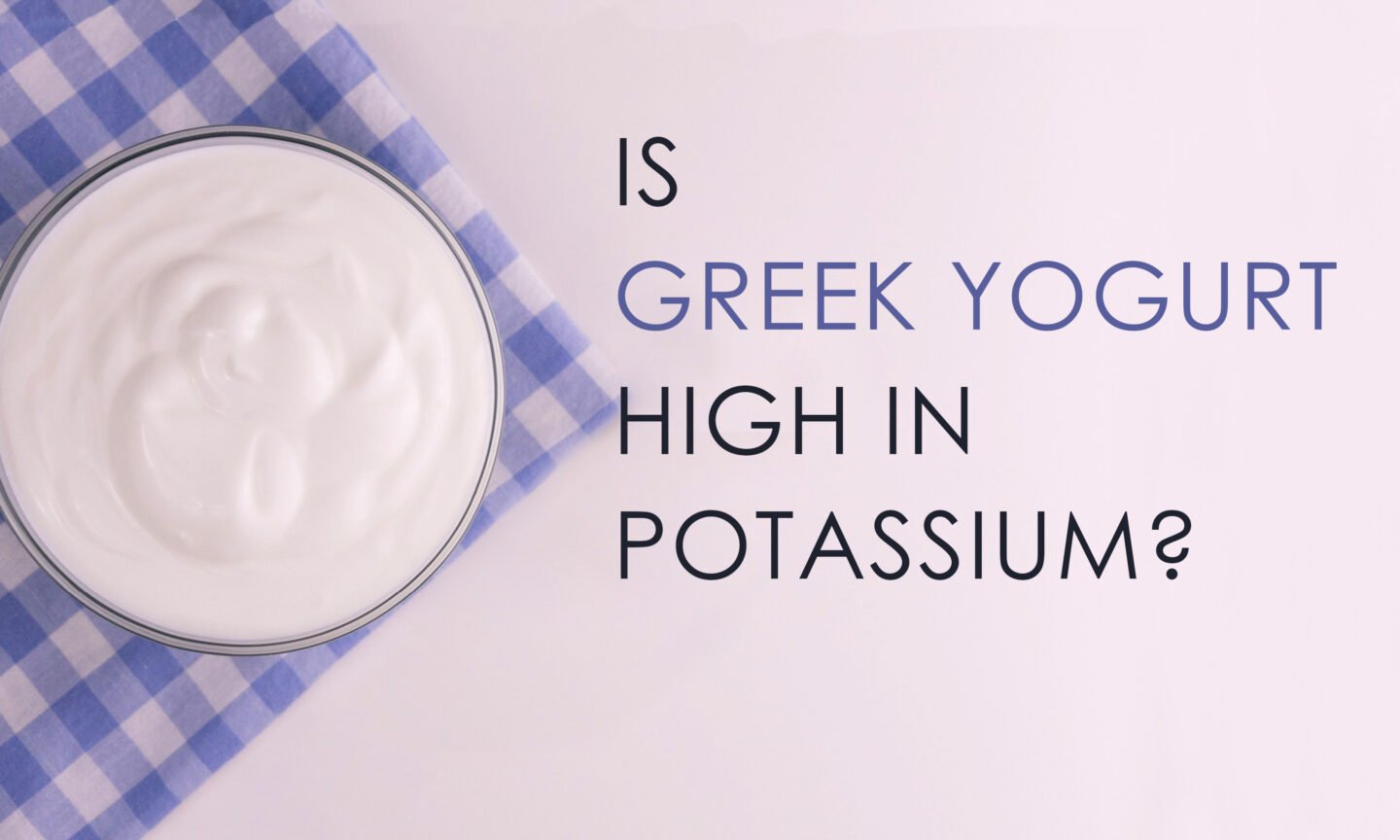 Many foods are naturally high in potassium, and it can be hard to plan your meals if you have to avoid them all. Some dairy products contain a lot of potassium, but what about Greek yogurt?
Table of Contents
Is Greek Yogurt High or Low in Potassium?
Greek yogurt is high in potassium, containing much more than the 200 mg per serving threshold for low-potassium foods. Therefore, it should be avoided or restricted on a low-potassium diet.
However, if your potassium sensitivity isn't too severe, adding a little to your diet could bring some great health benefits.
How Much Potassium Does Greek Yogurt Contain?
An 8-ounce serving of Greek yogurt contains around 320mg of potassium. So, eating too much can cause people with potassium sensitivity to suffer discomfort while urinating, painful intercourse, or bladder pain.
Potassium is an essential nutrient, though. So even those on a low-potassium diet must still get some. It helps offset the adverse effects of sodium, lowers your blood pressure, and protects your heart.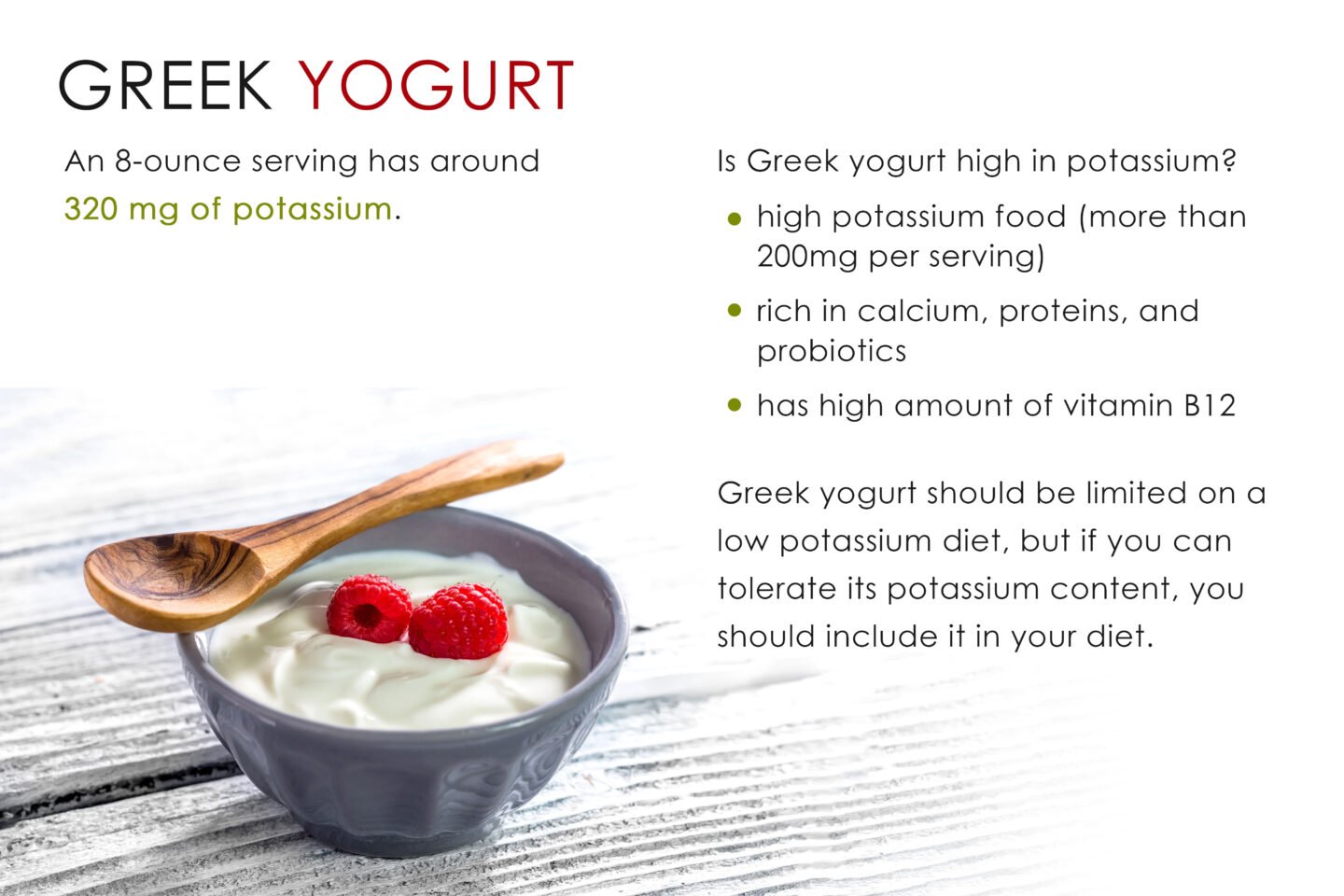 Is Greek Yogurt Healthy?
Greek yogurt is smoother, creamier, and more flavorful than regular yogurt. It's also healthy and contains a lot of protein.
Protein makes you feel full after a meal and rebuilds your muscles after a workout; foods high in protein can help you lose weight and maintain good muscle mass.
Greek yogurt is also very rich in probiotics, which feed good gut bacteria, preventing inflammation, ulcers, and certain cancers. Some research also suggests that a diet high in probiotics reduces the risk of depression, anxiety, and feelings of sadness. Greek yogurt contains way more probiotics than regular, plain yogurt.
As with most dairy products, Greek yogurt contains lots of calcium, which supports your immune system and builds strong, healthy bones and teeth.
Calcium is also essential for heart and nervous system health.
One serving of Greek yogurt contains up to 21% of the recommended daily intake of vitamin B12.
Vitamin B12 helps prevent anemia and feelings of weakness by supporting your circulatory system and red blood cell formation.
Is Regular Yogurt Lower in Potassium Than Greek Yogurt?
An 8-ounce serving of regular, plain yogurt contains between 573-625mg of potassium, depending on the fat content. It's even higher in potassium than Greek yogurt, so it is less suitable for those on a low-potassium diet.
Regular yogurt is also less nutritious than Greek yogurt.
Can Get Too Much Potassium from Greek Yogurt?
If you're on a low-potassium diet, it's possible to get too much potassium from Greek yogurt. In fact, doctors advise against eating too much of any yogurt on a low-potassium diet.
However, if you can tolerate a small serving, Greek yogurt would be the better choice.
Don't know which foods are high in potassium? Read our article, 15 Best Food Sources of Potassium. We also have a guide to this important mineral: Potassium 101: All You Need To Know About Potassium.