Beets are fantastically colored vegetables that add flavor and vibrancy to any dish. They're mainly eaten as a root vegetable, but the leaves can be added to salads for a splash of color and taste.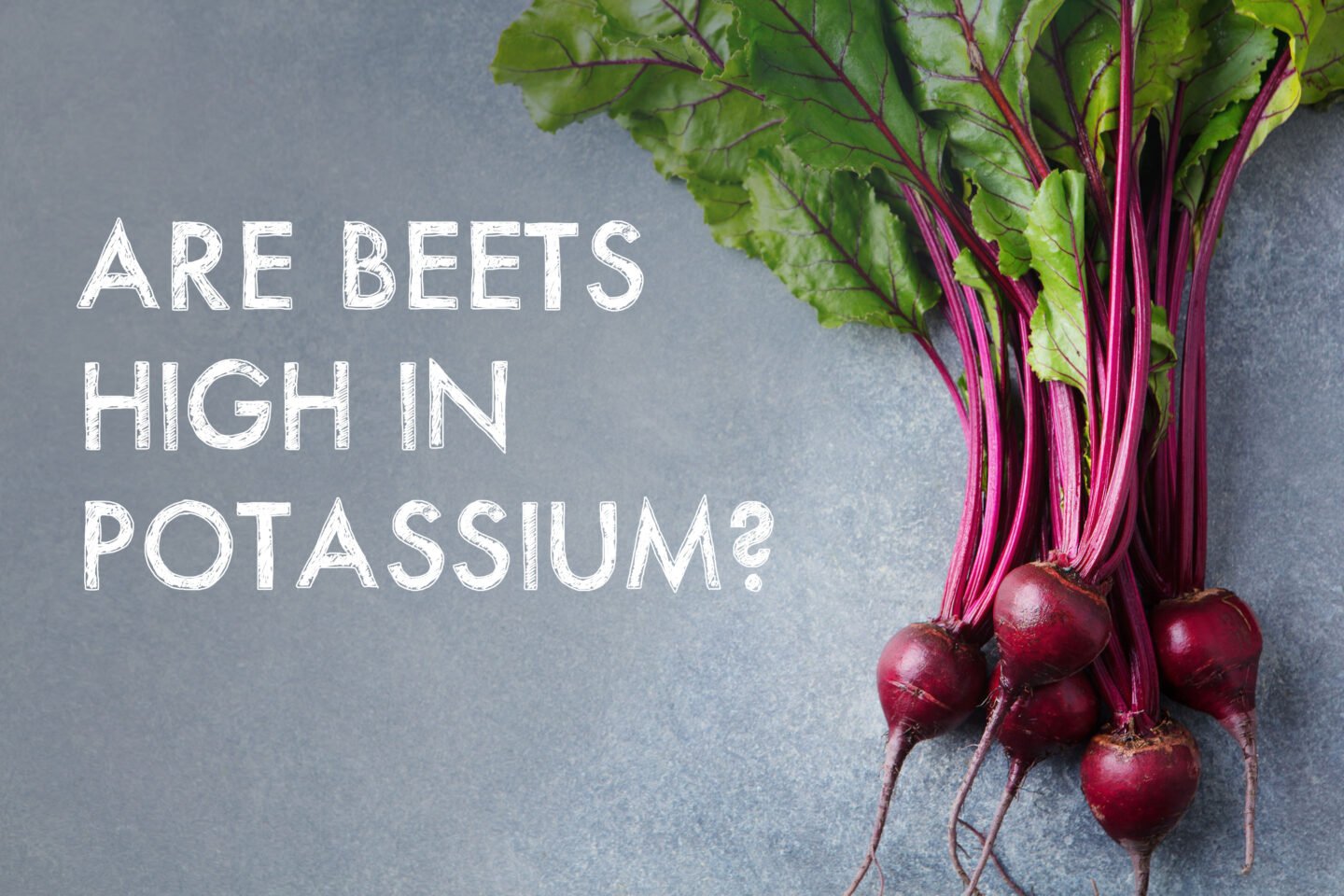 Both the root and leaves are highly nutritious, but as many people follow a diet restricting their intake of certain nutrients, are they suitable for all?
For example, can kidney disease sufferers who follow a low-potassium diet safely add beets to their meal plan?
Table of Contents
Are Beets High or Low in Potassium?
Beets are high in potassium, so if you have kidney problems, you may need to restrict your consumption or avoid them altogether.
However, they're a great addition to the diets of those who aren't sensitive to potassium or need to increase their potassium intake.
Can You Check Your Potassium Level at Home?
How Much Potassium Is in Beets?
Half a cup of raw beets contains 221 mg of potassium, while the same-sized serving of cooked has 259 mg.
The threshold for a food to be considered low-potassium is 200 mg per serving, so those following a strict low-potassium diet should be careful when adding them to their meals.
Raw beets are very nutritious and can be grated into salads or used as a garnish on soups.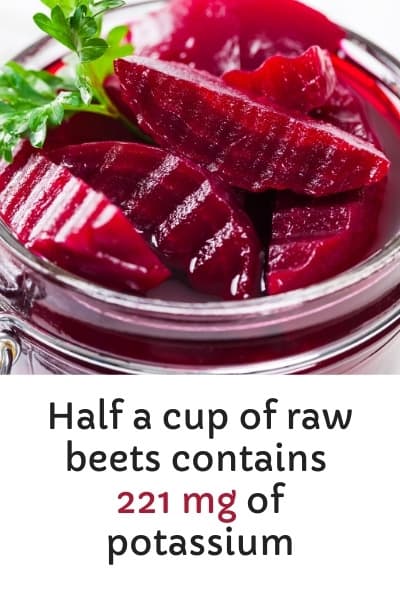 Are Beets Healthy?
Cooked beets are a great source of dietary fiber, which soaks up excess stomach acid, reducing the symptoms of acid reflux and GERD. Fiber feeds good gut bacteria, reducing inflammation and contributing to digestive health.
Studies show that drinking beet juice can significantly lower systolic and diastolic blood pressure, reducing heart attack and stroke risk.
Beets contain anti-inflammatory compounds, and inflammation increases your risk of osteoarthritis and other chronic conditions.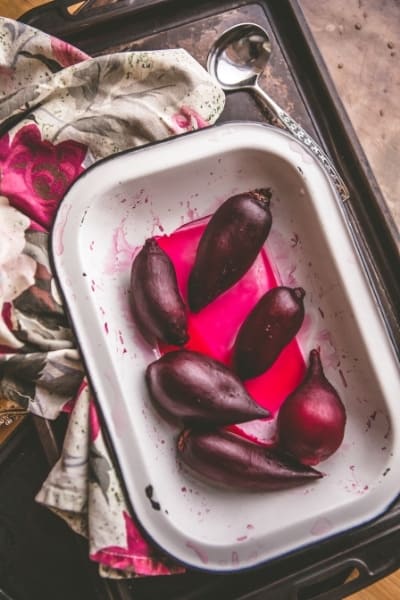 Can You Get Too Much Potassium from Beets?
Beets are rich in potassium, but only those with kidney disease can get too much potassium in their diet by eating beets. Even these people may be able to add some to their diets, but they should watch their overall potassium intake.
Are Canned Beets High in Potassium?
A one-cup serving of canned beets contains 232 mg of potassium, so they may be more suitable for those on a low-potassium diet.
Canned beets can be added to salads, sauces, and soups; however, like other canned foods, they're high in sodium.
Too much sodium may raise your blood pressure, increasing your risk of stroke.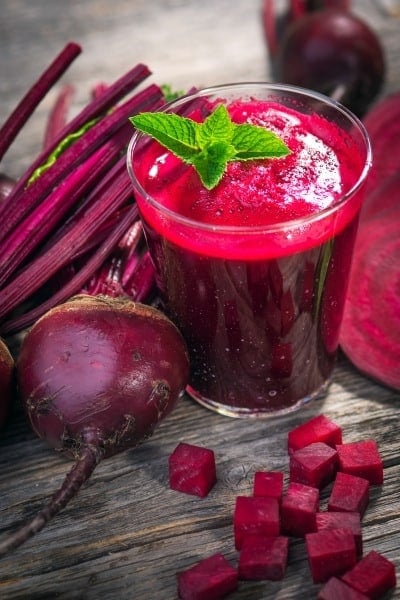 Is Beet Juice High in Potassium?
One glass (200 ml or 8 ounces) of beet juice contains around 290 mg of potassium, so other juices are safer for those on a low-potassium diet.
However, beet juice is very nutritious, is high in iron, and replenishes your electrolytes.
Are Beet Greens High in Potassium?
One cup of raw beet greens contains 290 mg of potassium, whereas half a cup of cooked contains 655 mg.
Followers of a low-potassium diet may be able to add some raw beet greens but should avoid cooked.
They're also an excellent source of iron, vitamin A, vitamin K, and magnesium.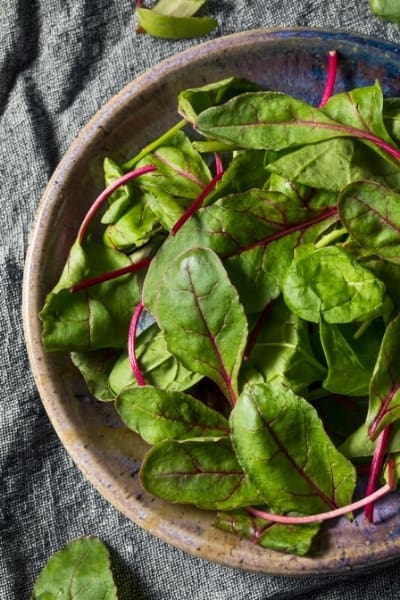 Are Pickled Beets High in Potassium?
Half a cup of pickled beets contains 118 mg of potassium, so they should be suitable for most people with potassium sensitivity.
Although they're tasty and nutritious, they're high in sodium, so eat them in moderation.
Conclusion
Beets are an excellent dietary addition for those wanting to increase their potassium intake; however, those with kidney problems should only add them to their diet sparingly, if at all.
Don't know which foods are high in potassium? Read our article, 15 Best Food Sources of Potassium. We also have a guide to this important mineral: Potassium 101: All You Need To Know About Potassium.