The Vitamix 7500 is now almost 8 years old. That's not a problem (it's still a great blender!) except for the fact that the price has barely changed.
Now the newer models - with all the new features - cost basically the same. Let me show you what I mean.
Vitamix 7500 Classic Blender
This is a great Vitamix blender... that they forgot to change the price on. Newer models are cheaper and have more features. There's really no reason to pick a 7500 today.
For this reason, we don't recommend buying a 7500. For a better Vitamix at about the same price, we recommend the Vitamix Ascent A2500 which has 3 preset blending programs, dishwasher safe containers, the ability to switch container sizes, and a 10-year warranty, all of which the 7500 doesn't have.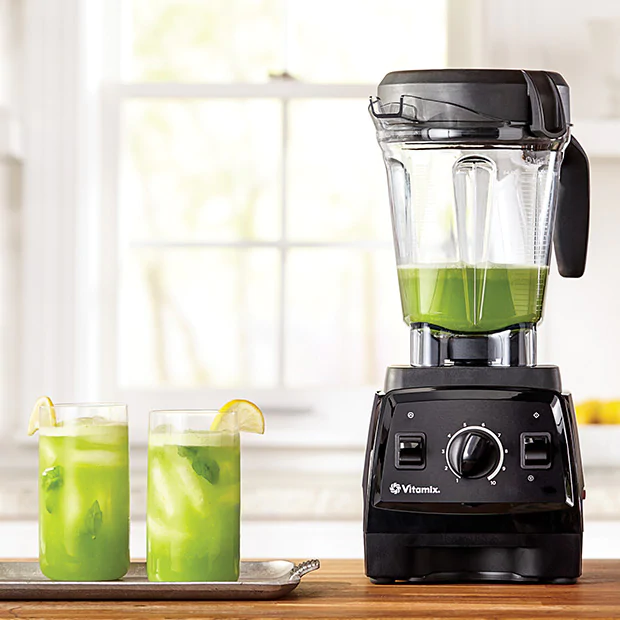 Of course there's plenty more we can say on the matter. For the full review of the Vitamix 7500, carry on reading below.
Of course, the Vitamix 7500 is an incredible blender. You've seen the commercials. Maybe your friend has one. Maybe you saw one spitting out Frappucinos at your local Starbucks. They're powerful, they're versatile, they're life-changing, and you didn't need me to tell you any of that.
The question you're here to answer is: Should you get one? Specifically, should you get this one?
Today there is a whole range of Vitamix blenders, with different features and at different price points. My job from here on is to help you decide on the right one for you, whether that's the 7500, or another. Having penned more than 50,000 words covering every available Vitamix model, I promise you I can answer that question and help you make a quick decision.

Table of Contents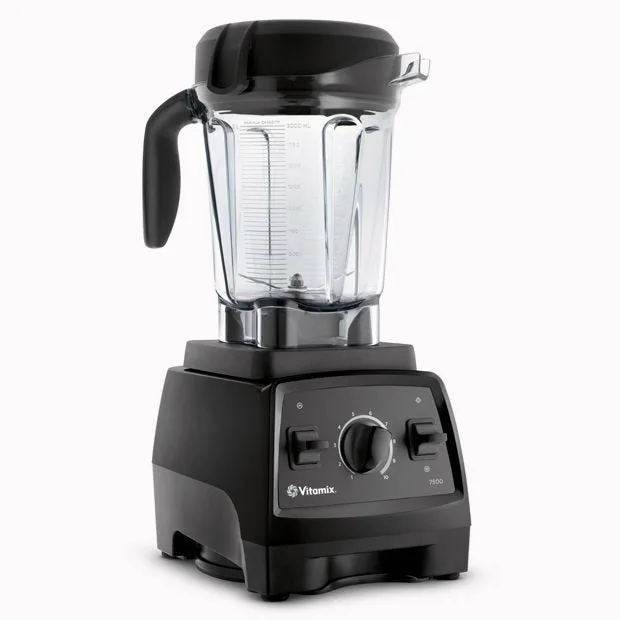 Ok, from the top:
It's an Older Model
The first thing you should know is that the Vitamix 7500 is from their "next-generation" range of blenders... which is in fact now the "previous generation". Of the models still available today, there's only really the 5200 and 5300 which are from an older line (the Classic line) than this one.
That's not necessarily a bad thing. It means:
You get the stainless steel parts around the dials and casing (these changed to hard plastic parts on newer models like the Explorian series) which helps reduce noise and improve durability.
You get the big 2.2HP motor (the most powerful they've done) and the pulse feature so you can make any of the things you've heard of making in a Vitamix (Yes to hot soups, yes to frozen desserts, yes to dough, nut butters, flours, pizza bases, guacamole and so much more.)
Many people still buy from these older lines to get the durability and longevity that the brand is known for.
It's Kinda Pricey...
That's the second thing I want you to know. The Vitamix 7500 blender comes in much more expensive than the latest Ascent Series A2300. Why's that important?
Because the Ascent A2300 has the dishwasher safe container (the 7500 does not)
The Ascent A2300 has a digital timer (the 7500 does not)
The Ascent A2300 has a 10-year warranty (The 7500 has a 7-year warranty)
And yet almost everything else about these two machines (the container size, the motor size, the casing quality, the variable speed control, the pulse feature etc) is the same.
This is ultimately why this model did not make our Best Vitamix Blenders of the Year list. It's a great blender, it's just not as great value for money as some of the newer models.
What's in the Box?
Nonetheless, here's what you get in the Vitamix 7500 blender package when you purchase. Your box of goodness will arrive complete with:
The 2.2 horsepower motor which will be set in a sturdy unit with sucker pads for stability and an easy to read illuminated control panel.
The low profile 64oz container made from BPA free materials.
A tamper to allow continuous processing of thick ingredients
7 year warranty
Professional recipe book
A helpful getting started DVD
What's Great About It?
It has the pulse function – But so does every Vitamix blender at this price. That said, being able to pulse the ingredients helps you stay in control and give a mix a few seconds to finish it to the right texture. Sometimes, depending on what you're making, a more food processor-like pulse function is helpful.
It has variable speed control – As do all Vitamix blenders. The variable speed control helps users to vary the speed mid-blend which is especially helpful when you're working with different fruits and veggie textures in one container. If you're making a smoothie with a lot of raw and hard items (e.g. carrots, apples etc) you might need to ease in slowly and amp up the speed once the fruit/veggies are a little more chopped.
Low profile 64oz container – It easily slides under most kitchen cupboards. This is a feature you don't find on all other models. For example, the older 5200 has a taller container, making it slightly more cumbersome. And newer models like the Explorian E310 only come with a 48oz container, making them only suitable for individuals or couples rather than families.
The best thing about the low profile containers is the extra space between the blades and the side of the container. You can scrape ingredients out of our blender more easily with these containers and get a higher yield from each blend.
It's just that, again, there are cheaper models with more features that also have a 64oz container. Eg, the Ascent Series A2300.
Makes delicious green smoothies – This is a given. It's as powerful as any other model, and well known for its ability to properly blend leafy greens leaving no chunky fibrous fragments in your drink.
Compatible with other containers – Not every Vitamix blender is compatible with other container sizes or types but with the 7500 you can buy the dry container for creating flour for artisanal baking.
This is great, but - have I said this enough? - the Ascent A2300 (and for that matter, the A2500 and A3300) is cheaper and has the same feature, including the ability to add other sized containers if you like.
Nut butter success – the fast sharp blades and variable speed allow you to churn delicious and high-quality nut butter. The best way to do this is to start the nuts on slow or pulse them a couple of times and turn the speed up to finish the blend and make a smooth, buttery consistency.
Hot Soups - the Vitamix 7500 hot soups are also a major selling point to users across the internet. The blender is so powerful that it can literally blitz cold vegetables into hot soups when you add water and blend for 3-6 minutes (times will vary slightly based on ingredients, follow the recipes in your Getting Started cookbook).
How Loud Is It?
As a Vitamix owner, I can say that it's not quiet. If it's on full speed and someone's standing next to you, you won't be having an easy conversation with that person but the volume increases as you turn the speed up and you don't need to use full speed for everything.
If the noise is bumming you out, you can always turn it down a fraction and blend it for longer on a lower setting. OR in the absolute worst-case scenario, you can load up your ingredients, and carry it into the next room to turn it on. I've done this before when we've had visitors staying.
In general, it's no different with other blenders that have less power. My friend has a Ninja BL660 and I saw him change rooms once when we stayed with him too!
Last thing to say about the noise level: The 7500 is measured to be quieter than models like the Explorian series and the 5200, but slightly louder than the 750 pro, and the Ascent series blenders.
FAQ: Does stuff get stuck/trapped in the middle because the container is big?
If you're preparing a really small amount of ingredients, this can happen. It happens when the level of the ingredients doesn't rise above the bottom of the blades. That's how small a quantity I'm talking about.
Is this common? No. Does it happen with any Vitamix blender? Yes, including those with smaller containers. It's completely a user-controlled issue.
The big container doesn't contribute to this problem. In fact, the low profile 64oz container makes removing small quantities of goods from the blender easier.
FAQ: Do I need a separate wet or dry container with this model?
Whether you need a wet container (which is the default container type with all models) or a dry container depends entirely on what you want to make.
The question is: Do you want to make something that requires a dry container? And if so, does the model you're considering support a dry container.
The second one's easy: The Vitamix 7500 blender does support the dry goods container. You can buy it from the official website any time.
To the first question: Do you want to make flours? Do you want to knead dough? Do you want to work with nuts a lot? If the answer is yes to any of those, the dry goods container is worth considering.
Note: You DON'T need the dry goods container to make nut butters. The wet containers are fine for this.
How Does it Compare?
My readers regularly ask me what the differences are between various blender models. Below are the comparisons I have already been asked about:
vs Ascent A2300
I'm putting this comparison first because I think it's the most relevant. As mentioned above, for much cheaper you can get everything the Vitamix 7500 has, but with an additional:
3 years on the warranty
Clear lids that are dishwasher safe
Digital timer
Ability to fit any other container (48oz, personal smoothie, baby food)
Wifi connectivity
The Ascent Series A2300 is objectively a better buy at the moment, no matter who you are. Our full review of the Ascent A2300 is here.
vs Ascent A3500
Now you're comparing the Vitamix 7500 to their latest top of the line blender. The A3500 costs much more and for that, you get literally everything Vitamix has to offer: That is, everything I listed above for the A2300 PLUS 5 pre-set programs that even adjust their settings to different containers you put on them!
The A3500 is an incredible machine.
vs 750
These two blenders are pretty similar as far as features go. They have the same motor and the jugs are identical. You can buy the 750 in two finishes, but you get a choice of three colors with the Vitamix 7500.
However, there is one important difference: the 750 comes with five preset programs. Presets mean you have a setting for frozen desserts, hot soups, and smoothies, and to get the perfect texture you just select that program you want and start blending: No experimenting trying to get the right texture. No watching and waiting for it to look right.
Preset programs are a big advantage if you value convenience and - usually - you're willing to pay the higher price. The 750 usually costs more than the Vitamix 7500.
If you're interested in the idea of this feature then find out more about the Vitamix 750 in my full review here.
vs 5200
There are some major differences between the Vitamix 5200 and the 7500. They look different and work differently. First, the 7500 is a low profile blender with a wider and shorter blending jug. It is 3 inches shorter, so fits under most kitchen cabinets. The blades of these two devices are different too. They are a different shape and the blades are an inch longer than the 5200s (to cover the lower, wider container).
When in use it's also quieter than the 5200. The 5200, which was designed six years earlier, does not have the same vibration dampening built-in. In addition, it's more powerful with an additional 0.02 horsepower.
The only advantage of the Vitamix 5200? It's usually cheaper. Our full review of the 5200 is here.
vs 300
First, the Vitamix 300 is now only available in the UK. The Vitamix 7500 is not available in the UK. Both blenders have the 64oz container (but it's called a 2-liter container... because the metric system :)).
vs Explorian E320
The choice between a newer Vitamix model E320 and a 7500 is a tricky one. The E320 is cheaper. The features look close. The differences are these.
Buying an E320 instead means a shorter warranty by 2 years. It means a little extra noise. It means a few exterior parts being plastic instead of stainless steel. That's it. Whether that's worth the saving is up to you.
vs Explorian E310
This one's a little easier. The E310 (being from the same Explorian range) has those same bits missing and it has a smaller container size, at only 48oz. This is one to buy if you're looking for maximum value, not maximum features.
vs 780
Both the Vitamix 7500 blender and the 780 are next-generation models, so they both have sleek design and unmatched power. However, the 780 was unique because it was the first model with a touch screen.
The 780 gives you 5 pre-programmed settings. Aside from these automated settings, you also get a self-cleaning mode. With all its advanced features, it's also worth noting that the Vitamix 780 is also more expensive.
vs 5300
The Vitamix 7500 has a next-generation motor and motor housing, compared to the 5300's 2.2 HP standard motor and housing. Aside from this suspended motor design being more powerful, it's also quieter. When you get the Vitamix 7500 blender, you also get an instructional DVD and a 'Simply Fresh' cookbook, which has over 200 recipes. This is in addition to the Getting Started Guide, which you get with both blenders.
Everything else about these two models is identical, including the price. If you're choosing between the two, go for the 7500. If you want better value, the Ascent Series A2300 has more features and costs less than both of them.
vs Creations II
The Creations II only has a 48oz container. It's also an older model from the Classic range so it doesn't have some of the noise reduction features of the 7500's Next Generation (or G-series) range.
Otherwise, these two blenders are identical. The Vitamix 7500 just costs more.
If you think a 48oz container might be enough for you, you can save even more money and purchase a newer model if you go with the Explorian E310.
vs Vitamix 500
These two are close to the same price. They both have a 64oz container, but the professional series 500 has the taller container.
The major difference between these two models is that the Vitamix Pro 500 comes with 3 preset programs for smoothies, hot soups, and frozen desserts.
If you really want presets though, I think the pro 750 is the better option (coming with 5 presets instead of 3, the low profile container, and only slightly more expensive).
vs Ninja Ultima
The powerful Vitamix 7500 blender functions at 2.2-peak HP and the Ninja Ultima takes that just a notch higher at 2.5 HP. Both can create any texture you want because of 10 variable speeds to choose from, and both have a pulse feature as well. Ninja Ultima also has a patented dual-stage technology (high torque crushing technology and high-speed cyclonic blending).
The Ninja Ultima comes with a professional blender pitcher, which is bigger but also bulkier than the low-profile container of Vitamix 7500 blender. In addition to the pitcher, the Ninja Ultima also comes with 3 pro-single-serve cups that you can take with you on the go.
vs Blendtec Wildside
The main difference between the two of these blenders is the preprogramming. The Vitamix 7500 has a speed dial which means it is up to you to decide what speed is appropriate for whatever you may be trying to blend while the Blendtec Total has a preprogrammed setting for different smoothies and healthy drinks you would want to prepare. When it comes to price, the Vitamix 7500 will cost you a bit more on average than the Blendtec.
Their shapes are also quite different with the Vitamix having a cylindrical jar while the Blendtec has 4 edges. When it comes to pouring liquids, the Vitamix seems much easier to use because of its cylindrical shape and spout. They are both stand-alone blenders but the Vitamix has double the capacity of the Blendtec which means it is more suited for family use. This almost makes it a great option for when you are hosting because you can make 8 cups of healthy smoothies at once.
vs Blendtec
The Blendtec designer series brings with it a whole lot more technology than the Vitamix 7500 and this means that the Designer series is a lot quieter than the Vitamix 7500. Yet, it still manages to spin just as fast and create healthy drinks in just about the same amount of time as the Vitamix. It also has a unique feature that is able to shut down the blender when the motor is overheating.
When it has cooled down, it will start again which means you can safely use it for commercial blending and not worry about it getting burnt out. It has pre-programmed settings and the blender computers can monitor the progress of whatever you are blending. The Blendtec Designer series, therefore, has a lot more features than the Vitamix 7500 and it is slightly cheaper as well. You might consider this an upgrade at a reasonable price.
Can I find a used Vitamix 7500 for sale?
You can save a lot of money by buying a 'certified reconditioned' or slightly used model. These reconditioned or refurbished models are guaranteed by Vitamix to be good as new. You can save anywhere from 20-40% of the original price.
While there is no reconditioned 7500 model available, you can get some blenders from the latest Ascent range reconditioned. Our pick is the renewed Ascent A2500. That's one heck of a deal.
Verdict:

Should You Buy a Vitamix 7500?

Normally I make a list like: If you are wanting to X, then this blender is totally right for you, but if you really just want Y then this other one offers better value.

But for the Vitamix 7500, there's nothing. There's no one I think should buy this model.

Whatever you could want, whether it's the 64oz container, or the older more durable models, or the 7-year warranty, or the pulse feature, or the noise reduction, there's a cheaper or better value Vitamix that will suit you better.

For the final time, for the best value around this price point, with the same features, but from the latest range, and so much cheaper, go with the Ascent Series A2300.