Buying a Vitamix used to be easy. They had 2 or 3 blenders. You bought one. You got everything. Now there are options. Upgrades, downgrades, containers, motors, tampers. Compact, professional, older, newer. You get the idea.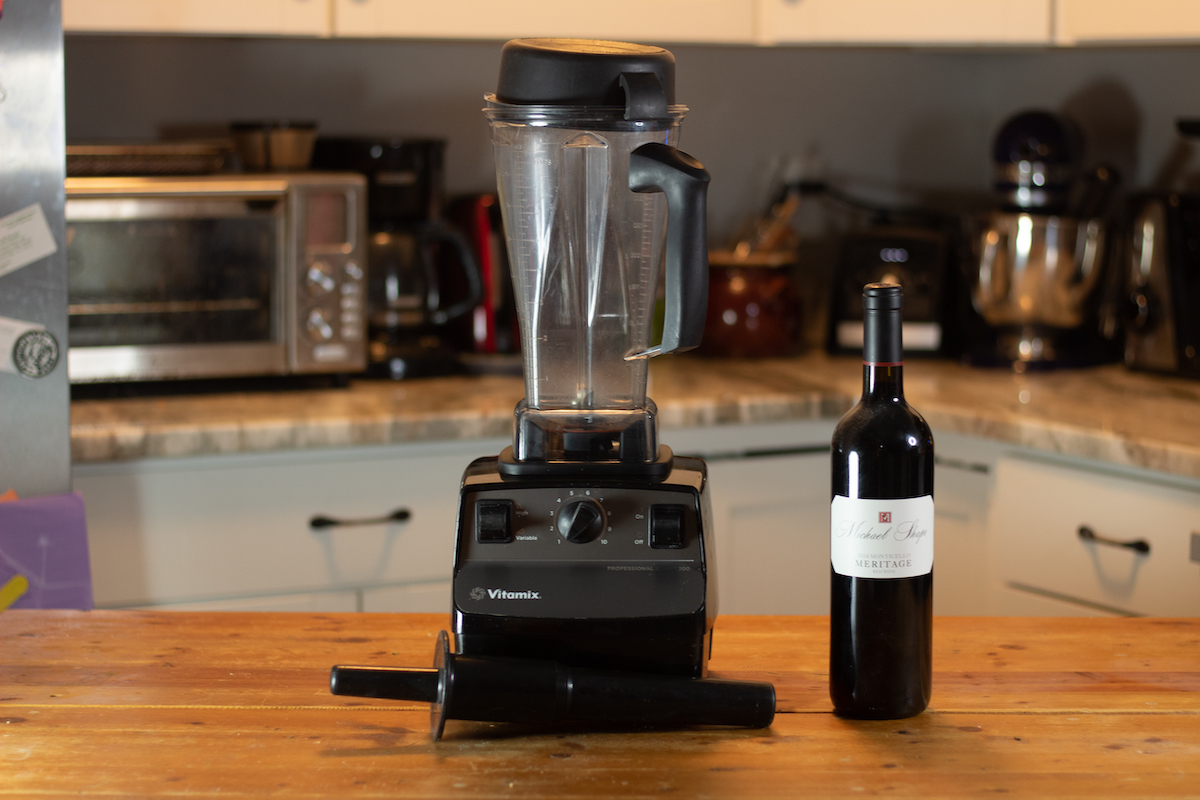 In this post, my goal is to tell you everything you need to know about the Vitamix 5200 so that you can decide whether this particular Vitamix is right for you.
And to that end, I'd like to start with the first and most important facts:
The Vitamix 5200 is an older model. Around 10 years old in fact. And it usually sells for $449.
Update: But one of the latest Vitamix models, the Vitamix Ascent A2300, with a host of new and additional features, plus all of the existing ones, and currently sells for LESS at Vitamix.com!
This is why despite being an outstanding machine - despite being the Vitamix I personally own and have done for almost 10 years! - I now recommend the A2300 over the 5200 for anyone looking for their first Vitamix.
Why do some people buy a Vitamix 5200 anyway? That's what the remainder of this article is about.
Note: The Vitamix 5200 also didn't make our "Best Vitamix of The Year" list, where the A2300 did.
You can keep reading for all the info, or use the table of contents below to quickly navigate through the review:
Throughout my career in professional kitchens, there have been few tools more omnipresent than Vitamix Blenders. I've used these blenders at dozens of different restaurants, and I'm not being hyperbolic when I say, I have rarely if ever seen a different blender solution being used in a commercial kitchen.
The reason so many professional kitchens and chefs look to Vitamix when it comes to a blender for their business is that they have been one of the best blending appliances on the market for the past 3 decades.
The Vitamix 5200 is in my mind the quintessential Vitamix Blender. It has the classic design I've come to associate with Vitamix accessories, from a square, rugged base to a slender hard plastic carafe. It comes with a tough rubberized lid, variable speed control, and a pulse function along with a blender tamper that helps agitate food as it blends.
Overall, the 5200 is identical to the blenders I've used for years in a professional setting. With an incredibly rugged design, powerful motor, and straightforward operation, the Vitamix 5200 is a distillation of what makes Vitamix blenders such powerful kitchen appliances. If you want a feature-rich blender with blue tooth capabilities and multiple programs then the Vitamix Ascent line will better suit your needs. However, if you are in the market for an incredible blender that's simple to use and will last for years, the Vitamix 5200 is one of the best options on the market.
Table of Contents
What's in the Box?
Inside the Vitamix 5200 packaging I found:
1 Vitamix Blender Base/Motor
1 64oz Vitamix Blender Pitcher
1 food agitator stick
1 rubberized lid
1 Vitamix Perfect Blend Cook Book
1 User Manual/Quickstart guide
How Does It Look/Feel/Sit?
The Vitamix 5200 Blender is a part of Vitamix's Legacy series of blenders and has what I think is the classic Vitamix design. It has a thoroughly utilitarian base that is flat black with stainless steel accents. With an analog speed knob, an on-off switch, and a high/variable speed switch. The cord fits neatly beneath the flat black body and coils on the underside of the blender.
The 64oz blender pitcher is made from BPA Free Tritan Plastic and is made to take a beating and keep on ticking. With a rubberized lid and the classic blender tamper, the Vitamix 5200 is definitely built for a purpose.
One frustration many have with the older Vitamix models is the higher profile design thanks to the tall, slim blender carafe. At just over 20 inches when assembled, it's difficult to easily fit this blender beneath a cabinet or on your countertop, especially if you have overhead cabinets as well.
The stainless steel blades in the bottom of the blender are incredibly sharp, as is to be expected on a blender. This can make cleaning difficult especially in the cramped confines of the tall, skinny blender pitcher. I like to use a bottle brush to help clean stuck-on food away from the blender blades, but a quick soak in warm soapy water should help dislodge anything that's stuck down there as well.
While Vitamix has certainly updated its designs in recent years, with the Ascent series and other innovative offerings, the classic, functional look of the 5200 is still striking. I have used these appliances for years, and I still love the way they look!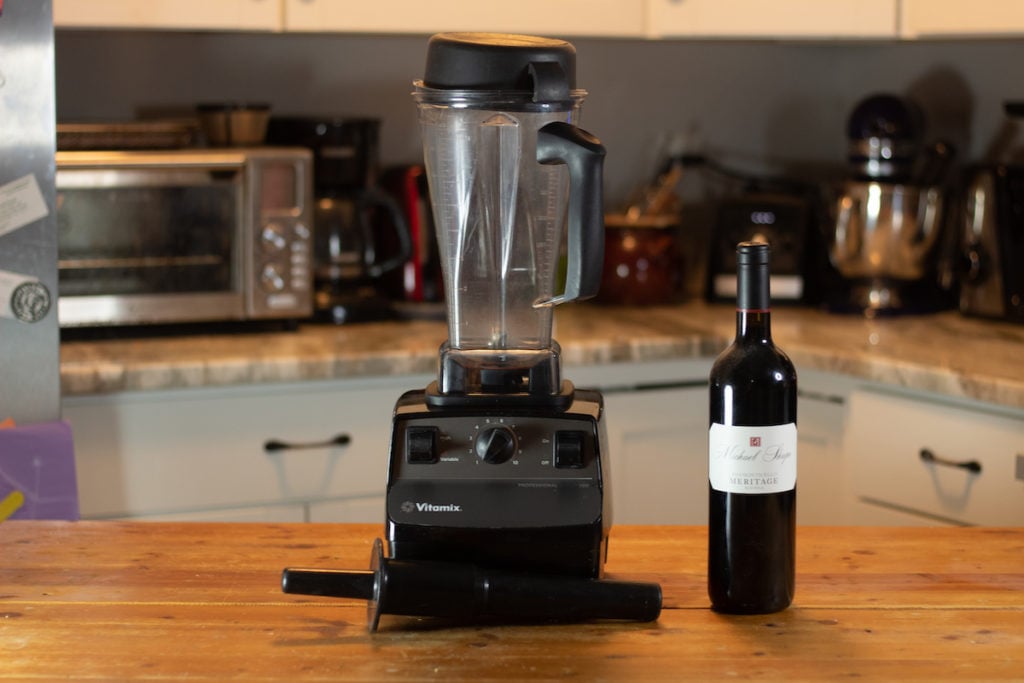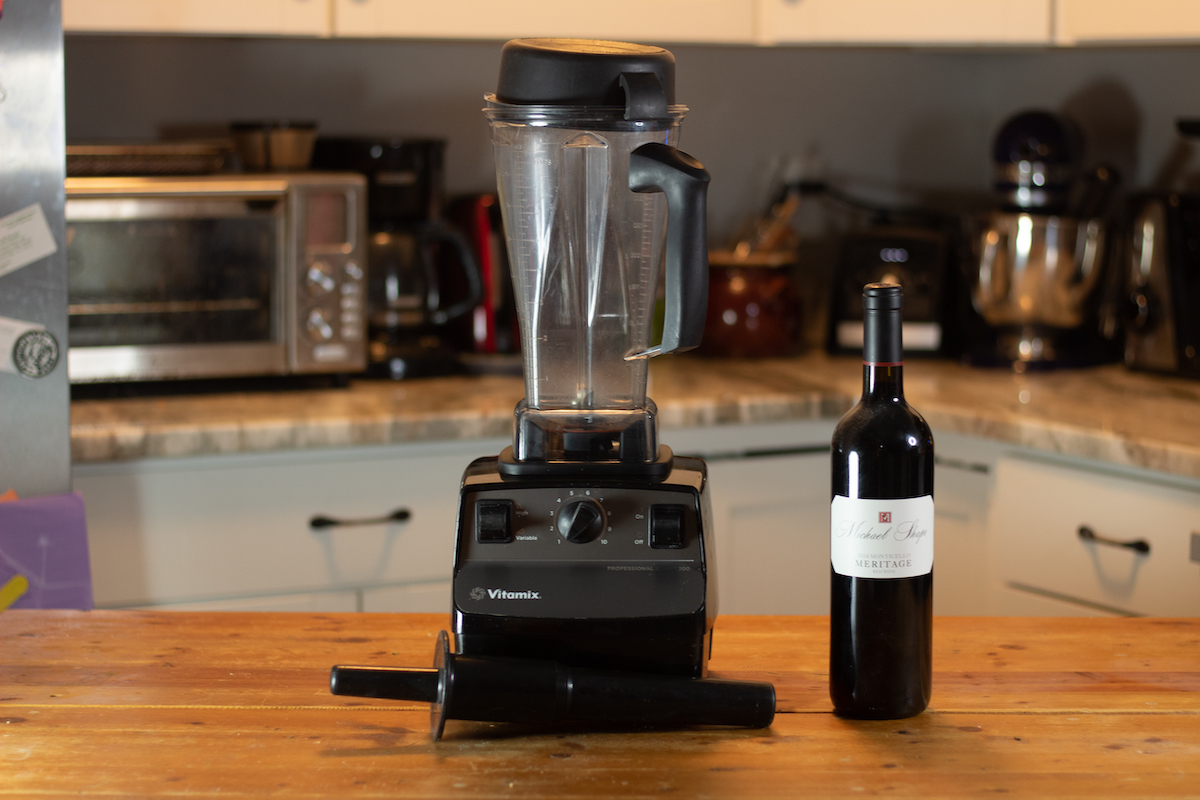 How Easy is it to Set Up?
Setup for any Vitamix is a pretty straightforward affair, but with the classic models, you don't have to worry about digital displays or optional apps/accessories. Simply remove the blender from its packaging, rinse the Blender pitcher, lid, and tamper with warm water, and get ready to blend up some delicious smoothies, shakes, and more.
Test #1: Smoothie
I've been making smoothies 3-5 mornings a week for most of the past decade thanks to my Vitamix 5200, in fact, my toddler refers to the blender as "daddy's smoothie machine" because that has definitely been its primary function for most of her life.
Making incredible smoothies is definitely one of the places Vitamix blenders shine, and this is really evident in all the models, but especially the Legacy series like the 5200.
Thanks to the tall skinny carafe, the Vitamix 5200 funnels hard, frozen ingredients down towards the stainless steel blades powered by a super-strong motor. This helps finely chop and blend frozen fruits and ice into super smooth, refreshing smoothies.
To test the smoothie capabilities of the 5200, I combine 1 cup of mixed frozen fruit, with 1 banana, 1 clementine, ½ a cup of hemp hearts, and 1 cup of milk in the Vitamix container and attached the lid. I placed the blender carafe onto the Vitamix base and began to blend the smoothie at low speed.
It's important to allow the ingredients to begin to blend at a lower speed especially when working with frozen ingredients, this helps chop the ingredients into smaller more manageable pieces that won't bind up and freeze the mixture before it can begin to puree.
After blending at low speed for 20-30 seconds I increased the speed to level 10 and used the blender tamper to agitate the ingredients until they began to blend freely. After 1-2 minutes of blending the smoothie was a perfect consistency.
Making this smoothie in the Vitamix 5200 was a very easy process, but some of that can be attributed to my experience with these blenders. Lots of reviewers lament less than ideal results when they first bring their Vitamix blenders home, and this is primarily because there is a bit of a learning curve to these appliances.
Yes, Vitamix Blenders make incredible smoothies, purees, soups, sauces, and dips. However, they do take some getting used to. Because of their high-powered motors, super-sharp blades, and utilitarian design, there is not a lot of ability to "set it and forget it" when it comes to using a classic Vitamix like the 5200.
To truly get the most out of your blender you are going to have to use it a bit and get used to the way it functions. I can absolutely say that it's worth it to learn to use these appliances, but for some, it can certainly be frustrating to use the first few times.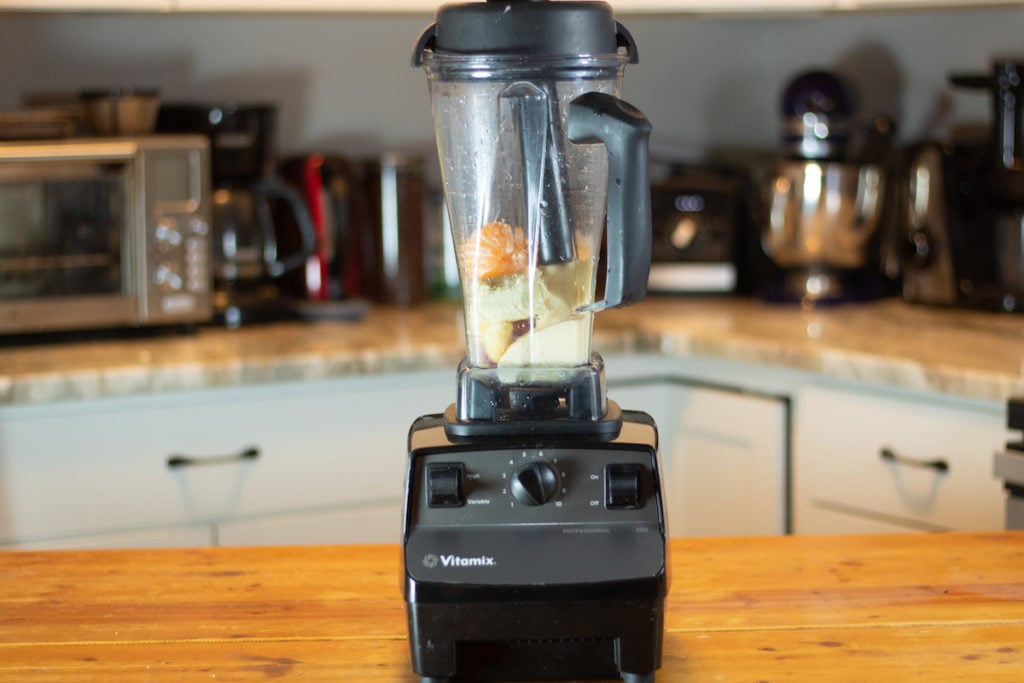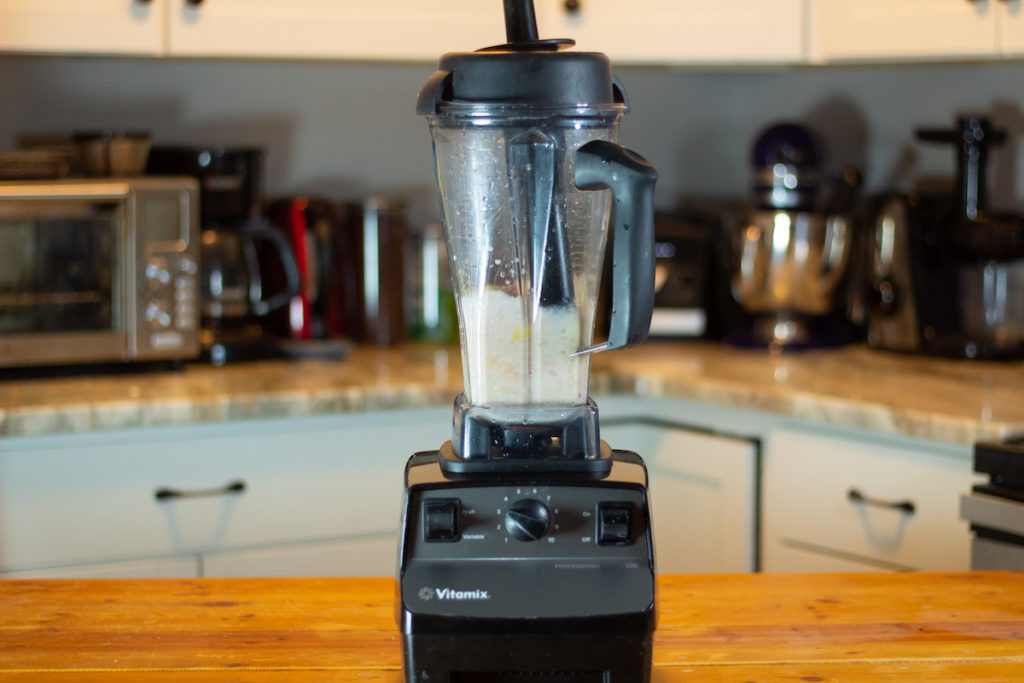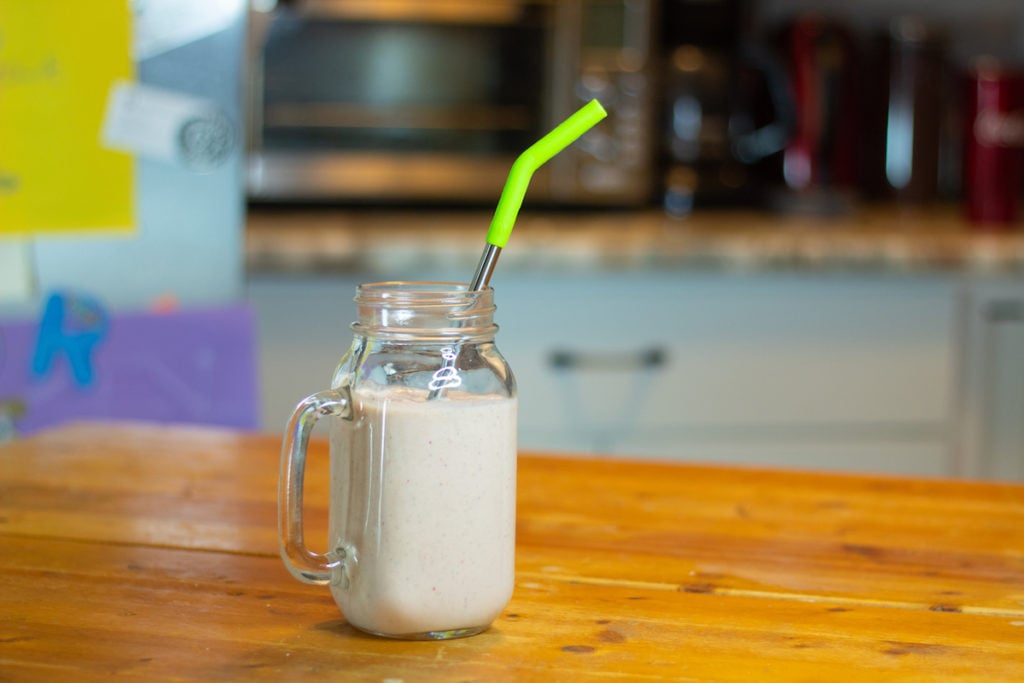 Test #2: Frozen Dessert
One of my favorite frozen treats of all time is a Dole Whip. For the uninitiated, a Dole Whip is a frozen pineapple soft serve product that is addicting and incredibly refreshing. It's made from pineapple, juice, some dairy, and a bit of sugar, but the amazing texture is primarily a product of the starches found in pineapple.
One benefit to having a high powered Vitamix blender around at home is the ability to make your own "Dole Whips" from frozen fruit available year-round, and I have recently become enamored with "Mango Whips", which is just like a Dole Whip but made from frozen mango and coconut milk, making it vegan friendly and dairy-free.
To make a super refreshing batch of Mango Whip, I loaded a 1lb bag of frozen mango chunks into my blender and added 1.5 cups of coconut milk, a healthy squeeze of agave nectar, and a small splash of OJ. I fixed the lid in place and popped the blender carafe onto the blender base.
I started blending on medium speed and after 30 seconds I cranked it up to high. I used the tamper stick to help agitate the mango as it pureed and after another minute or so I had reached the point where the blender could run at full speed and all the contents were easily mixing.
I let the blender run for another 30 seconds before turning it off and serving the Mango Whip.
To serve the frozen treat I scooped it into bowls and topped it with a spoonful of Cool Whip along with a sprinkle of cayenne and sea salt.
Making frozen treats in my Vitamix has been a joy for me and it is a huge selling point for a blender like the Vitamix 5200. The ability to craft delicious, healthy, frozen desserts at the drop of a hat is a luxury everyone needs in their life!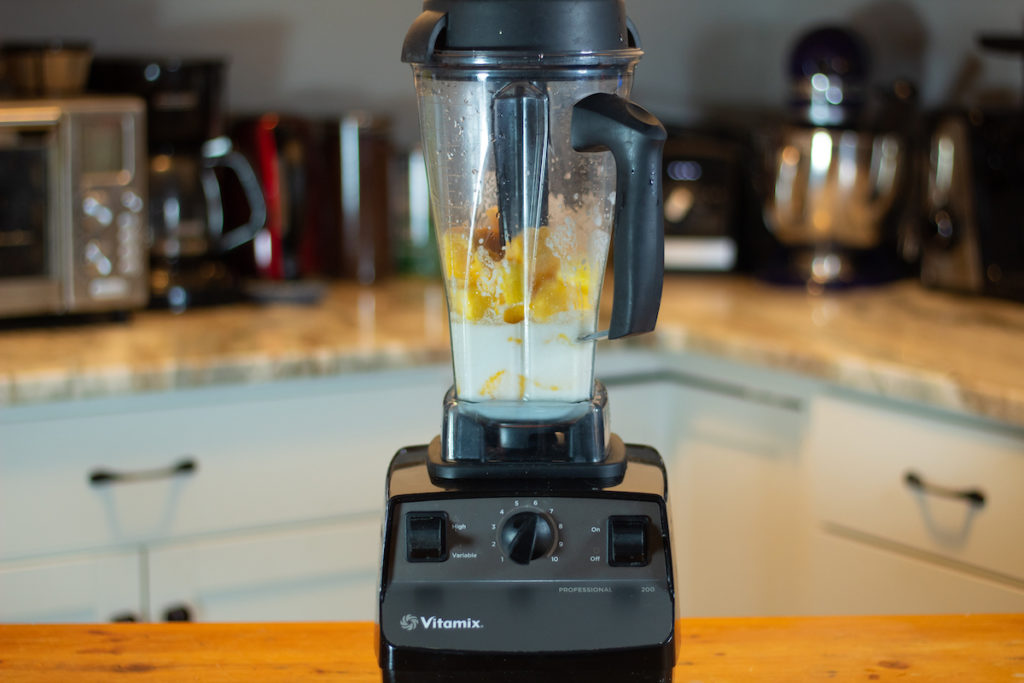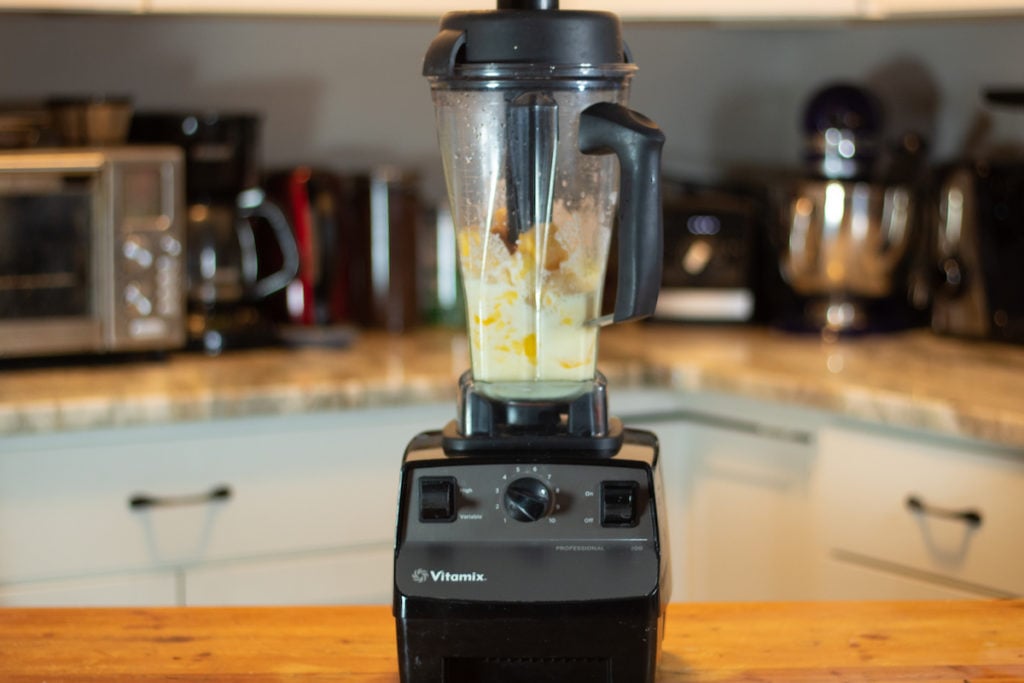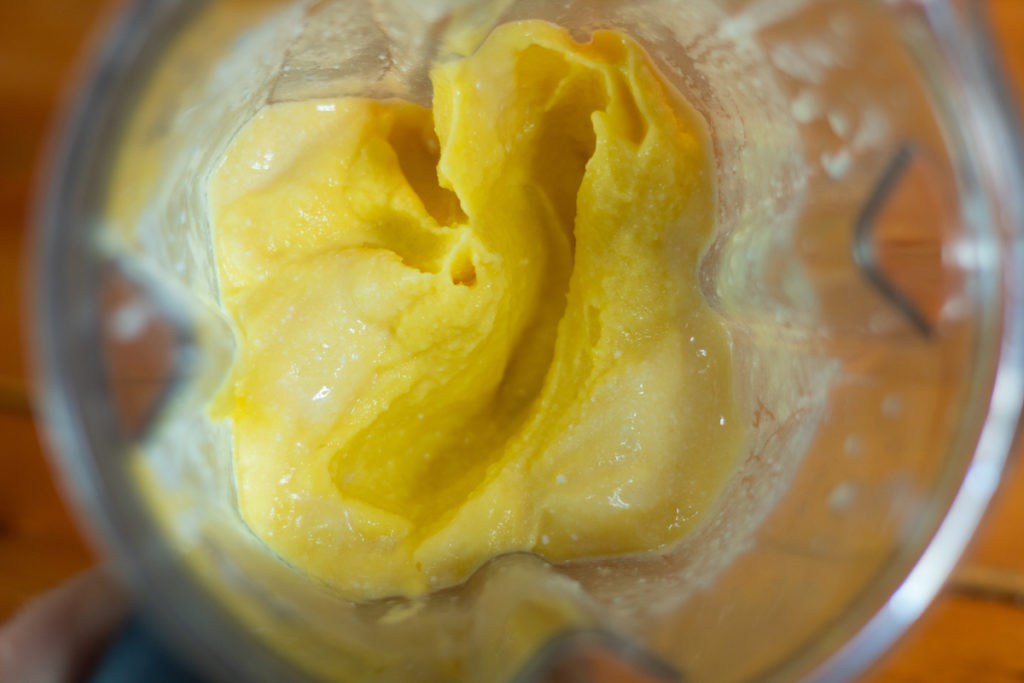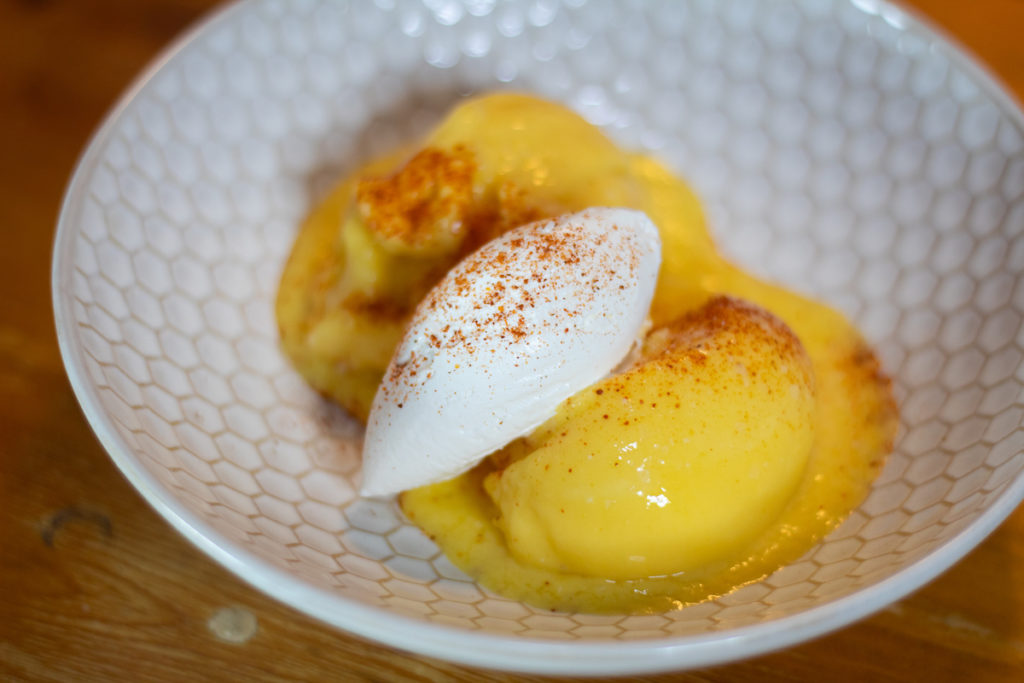 Test #3: Ice Crushing
Even though I love Vitamix Blenders, I've always found them less than ideal for crushing ice, especially in the legacy models. The more traditional Vitamix models like the Vitamix 5200 come with taller, more slender blender carafes, and while these are excellent for making perfect purees, soups, frozen drinks, and smoothies, it doesn't work nearly as well with ice crushing
When you crush ice cubes, you want the ice to be able to move as freely as possible. This will help the ice blend quickly and evenly, but because of the taller, skinnier carafe, the Vitamix 5200 has a harder time with this. Even under the best conditions and smallest batch size I still regularly found an inconsistent texture to my crushed ice, with larger pieces mixed in with snow fine crushed ice.
Overall this isn't really an issue if you plan on using the crushed ice in beverages or cocktails, however, if you plan on making snow cones or crushed ice desserts then you might find the texture to be less appealing overall.
I've found the best way to crush ice in the Vitamix blender is to work quickly and to use the pulse function, while also keeping the batch size as small as possible. This works well for ice for 1-2 servings, but if you are planning on hosting a party with crushed ice beverages, you might be spending more time at the blender than you anticipated.
Testing Crushed Ice in the Vitamix 5200 was tough for a few reasons. The biggest is that the 5200 doesn't have a pulse feature, it only has an on of switch and though you can toggle it just fine, it still doesn't work quite like the pulse switch and I worry about the damage I'm doing to the motor.
If you don't pulse the ice when crushing it in the Vitamix, the super high powered motor, combined with the friction from the blades over crushed the ice and creates a snowball around the blade system.
The best way to crush ice in the Vitamix is to pulse it gently with the on/off switch and use the tamper stick to agitate the ice as it blends, working quickly to avoid melting/snowballing the ice. After the ice is pulsed down to a smaller size you can run the blender on speed 1-2 for 30 seconds before stepping up the speed to finely chop the ice.
After some testing, I was able to get the ice to a decent consistency but it was still not the best-crushed ice I've ever made. The problem truly is in the pitcher design. A Vitamix, especially the older models isn't really designed for crushing ice, it's made to blend things powerfully and quickly, which for ice crushing is less than ideal.
The funnel effect of the skinnier taller pitcher forces food towards the blades, making purees, smoothies, dips, and sauces a breeze, however, it doesn't make the greatest crushed ice.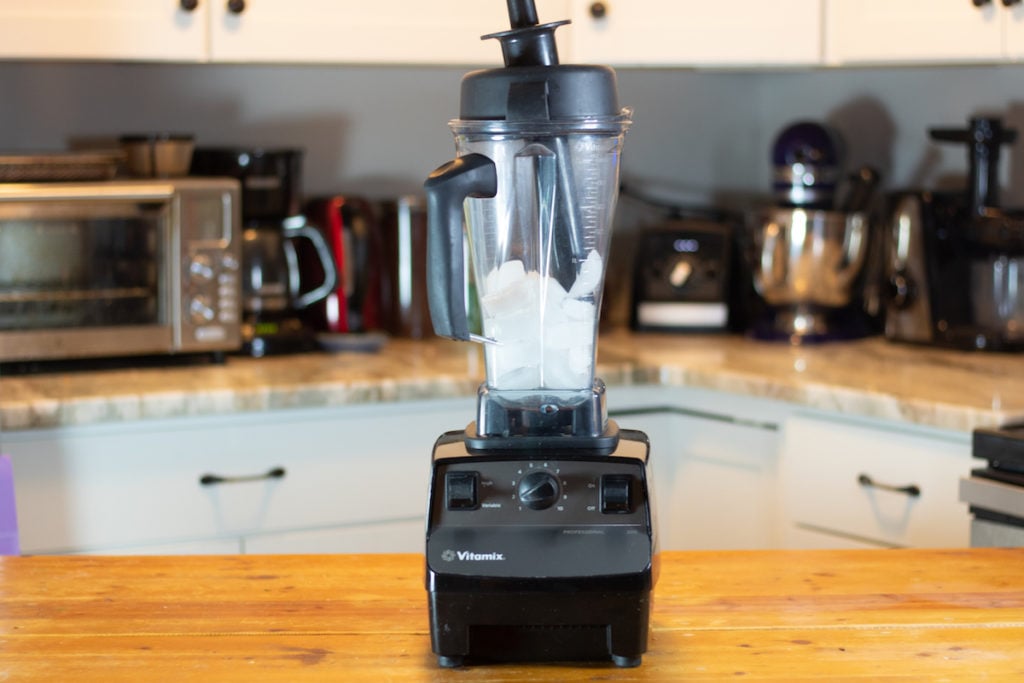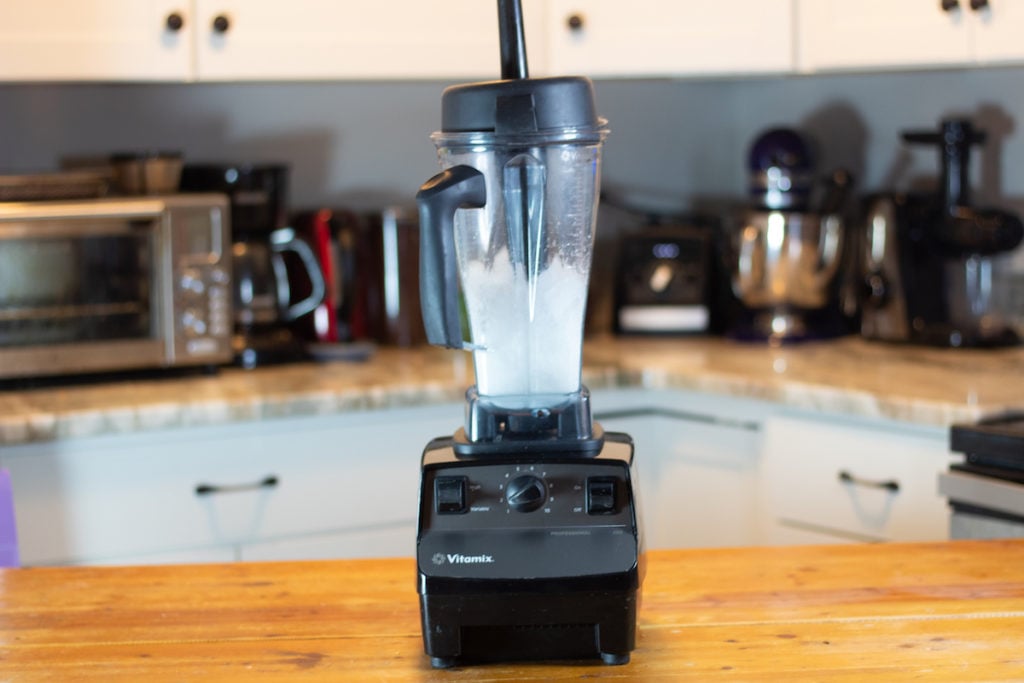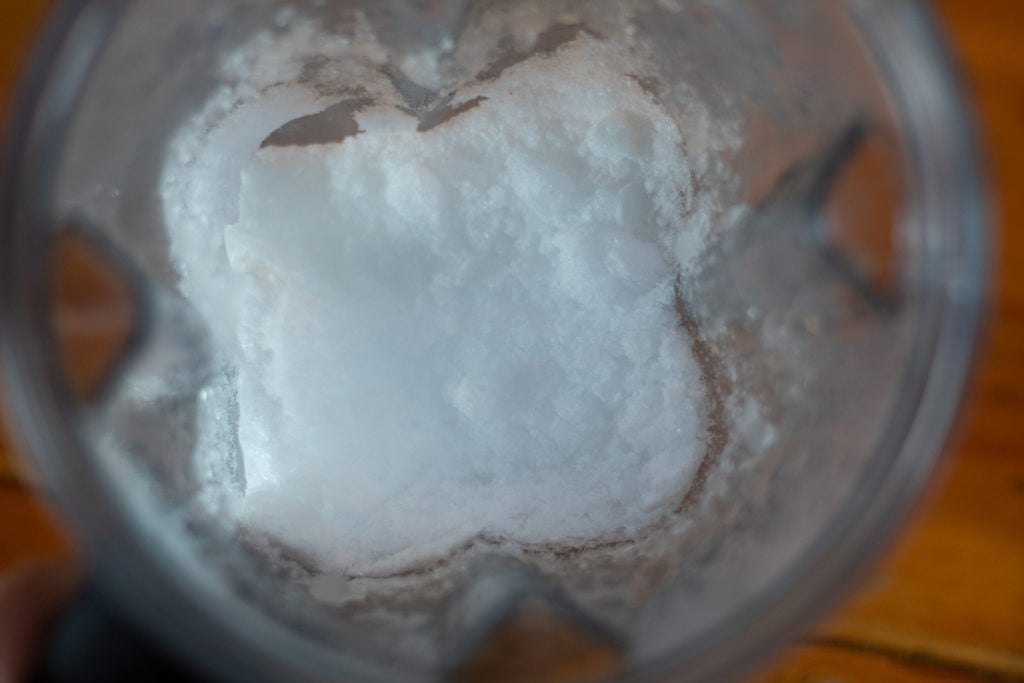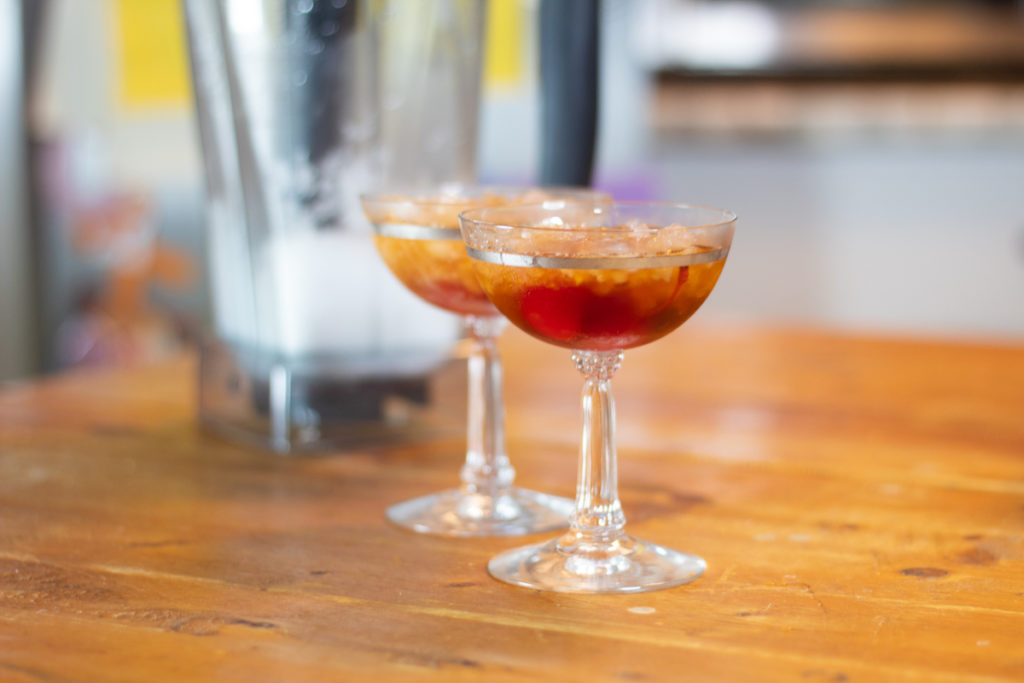 Test #4: Hot Soup
Making hot soup from scratch in a Vitamix is hands down one of the coolest features of this family of blenders. Thanks to the high-powered motor, Vitamix blenders create friction heat that can literally boil liquid if you let it run for long enough. You can make everything from cream of asparagus to leek and potato soup with nothing more than some veggies, stock, and your trusty Vitamix 5200.
For this test, I decided to go with a spicy curried sweet potato soup that tastes delicious with some crushed-up crackers and a heavy drizzle of olive oil.
To begin I peeled and chopped 1 large sweet potato, and added it to the blender with 1 clove of garlic, 2 cups of vegetable stock, and 2 tablespoons of olive oil. I added a scoop of tomato paste and some seasonings before popping the lid in place and setting the blender carafe onto the blender base.
I started the blender at low speed and allowed it to run for a minute to fully chop all the ingredients before stepping the speed up to 8 on the speed selector. Then, I set a timer for 10 minutes and sat back while my soup blended away.
One drawback to this process is the noise level. Vitamix blenders are not quiet appliances and running them for 10 minutes straight can make quite a ruckus.
After the time had elapsed I stoped the blender and tasted the soup. At this point, the soup was almost boiling. I temped the steaming hot soup and after 5 minutes of continuous blending, it was sitting at a toasty "210°F" just under boiling.
I needed to adjust the seasoning so I added some salt, pepper, and a touch of lemon juice before blending the soup again for another 30 seconds.
Once the soup was ready, I poured it directly into bowls and served crushed-up wheat thins and a drizzle of extra virgin olive oil. One blender pitcher will hold about 50 oz of hot soup at one time. Even though you can potentially fit 64 oz of liquid in the blender pitcher I don't recommend blending that much at once. Sometimes the pressure from too much liquid can cause the lid to become loose and you can make a pretty big mess if you happen to have a spillover. This recipe only made 32 ounces of soup total, but you can safely increase that by ½ without issue.
Overall, making soup in a Vitamix is a breeze. It takes almost no time at all and tastes great. Plus the only cleanup at the end is a cutting board and your blender.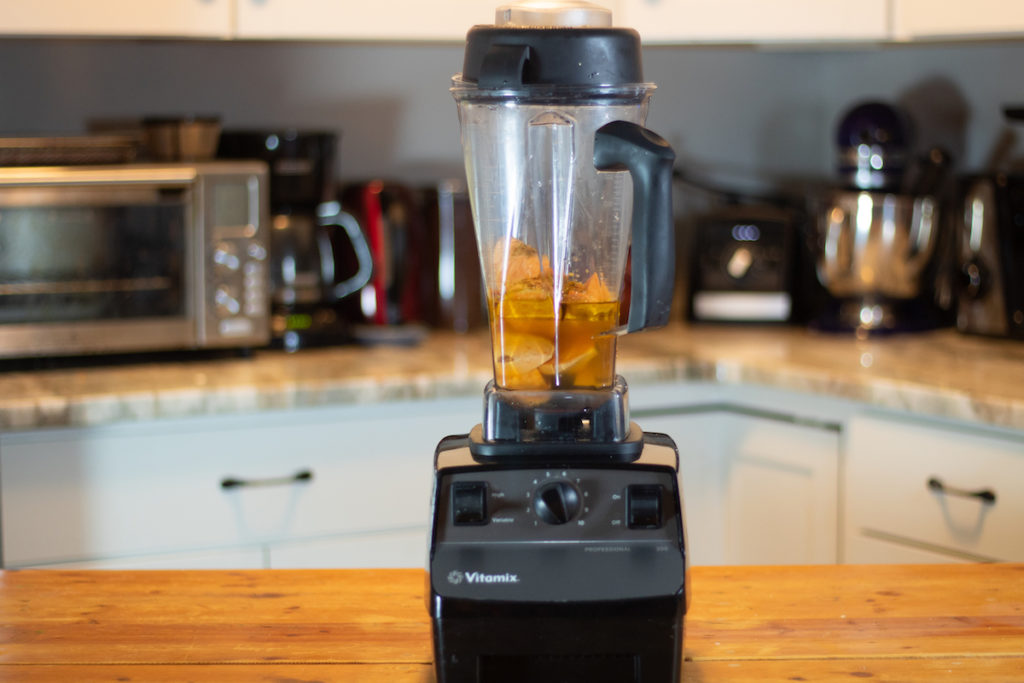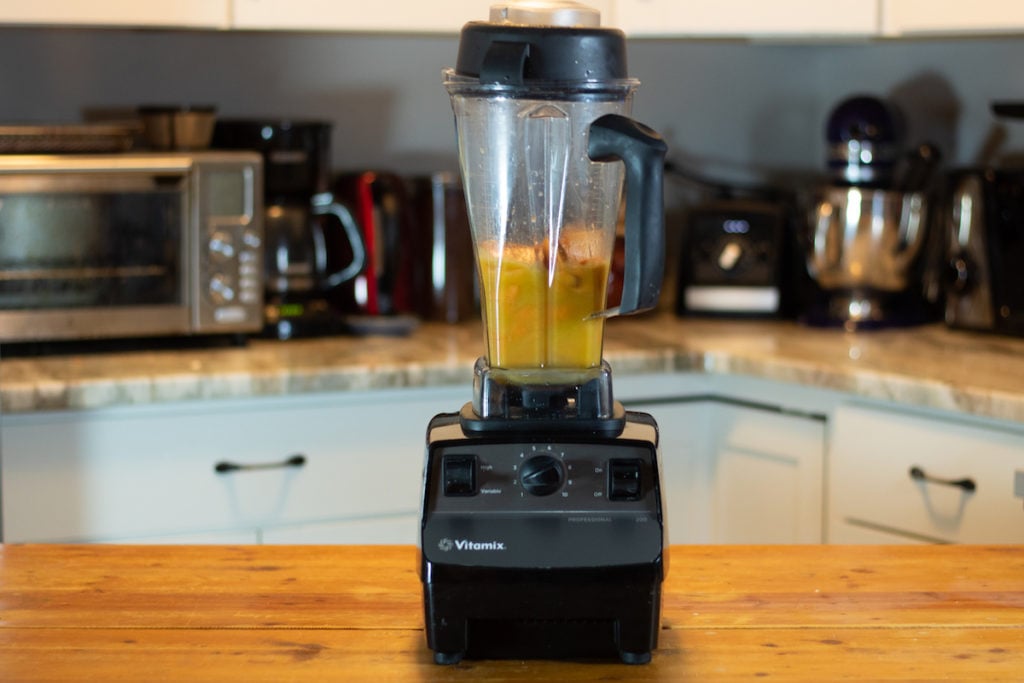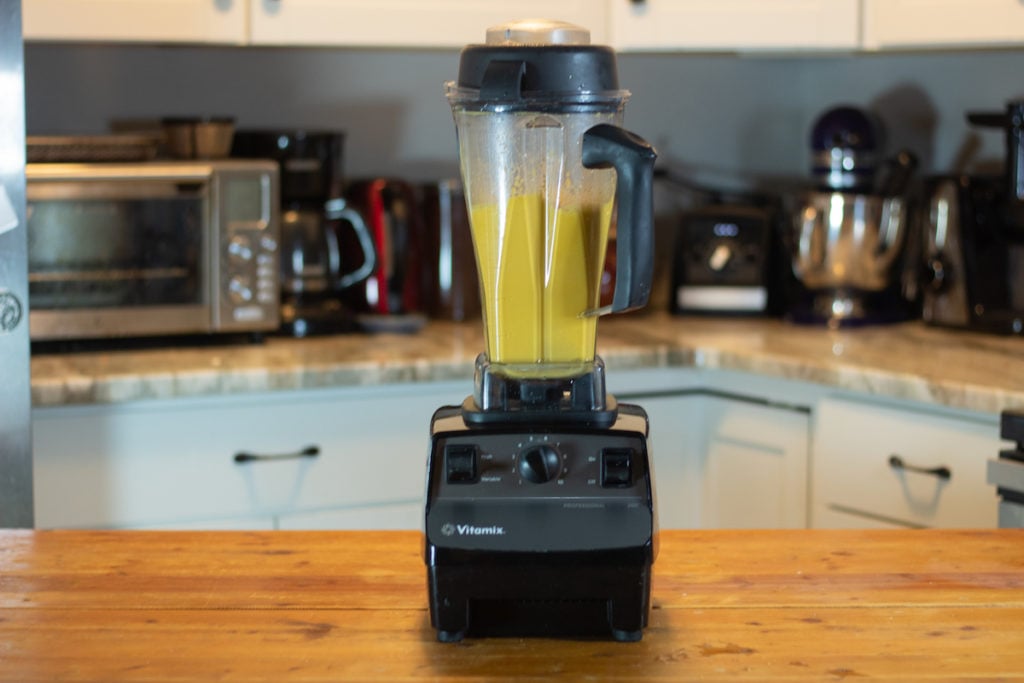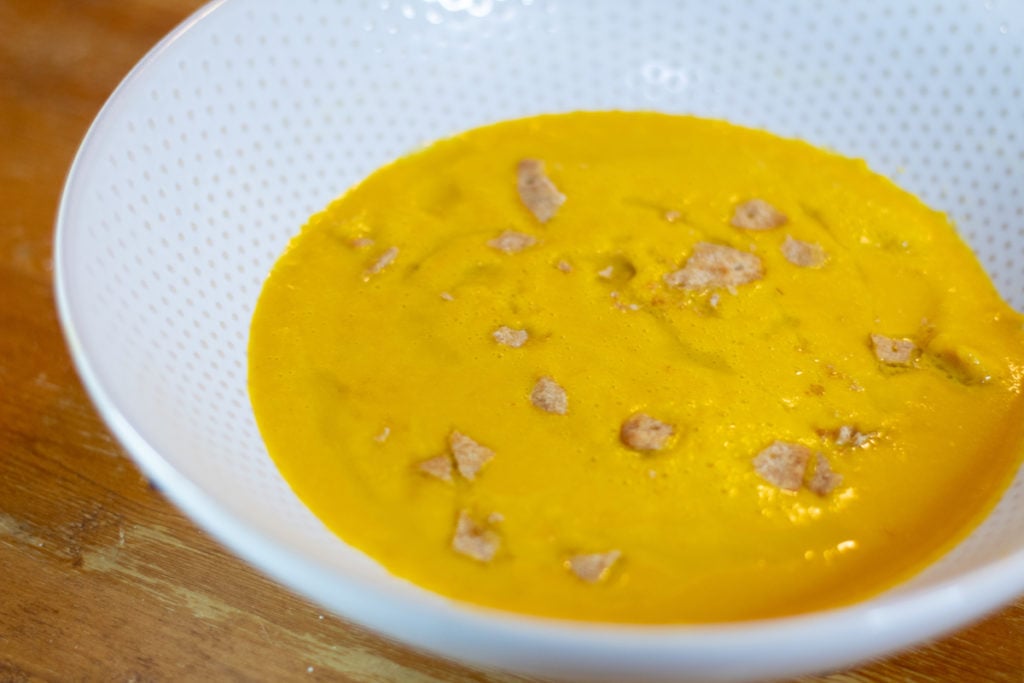 Test #5: Dips/Spread
Blender hummus is a life hack that I think everyone needs to be aware of. For years I feel like I wasted time making mediocre hummus in my food processor when I had a blender the entire time. It took spending some time with good friends from the middle-east to learn the error of my ways, and I can tell you, blender hummus is some of the best you'll ever have.
The secret is in using tahini as a thickening agent, this definitely makes hummus more expensive but, it tastes a lot better for it.
To make hummus in my Vitamix, I rinsed a can of chickpeas and drained it before adding it to the blender with 2 cloves of garlic, 2 tablespoons of lemon juice, ¼ cup olive oil, and ½ a cup of water along with salt and seasonings.
I turned the blender on medium/high speed for 1-2 minutes until the chickpea puree was completely smooth. At this point, I turned the blender down to low speed and proceeded to add 1 cup of tahini to the blender. After the addition of the tahini to the hummus thickened up quickly, so I tasted it for seasoning and then turned the blender off once I was satisfied with the flavor.
I transferred the hummus to an air-tight container and placed it in the refrigerator for an hour to cool down and set up fully. After an hour I removed the hummus from the fridge and served it with fresh olive oil and warm pita bread as an afternoon snack!
Thanks to the design of the Vitamix 5200's blender pitcher, the 5200 forces the food downwards in a funnel towards the blade/motor and it is easy to create super smooth purees with little to no effort. This helps create an incredibly smooth hummus that's almost fluffy and seems to melt away as you eat it leaving behind the perfect blend of spicy garlic, rich sesame paste, and earthy chickpea flavor with just a hint of lemon.
Beyond hummus, and salsa, you can use the Vitamix to make nut butter like almond butter, peanut butter, or even sun flour seed butter with little more than some toasted nuts or seeds and a few drops of oil. Seriously, the high-powered motor on a Vitamix is not a joke.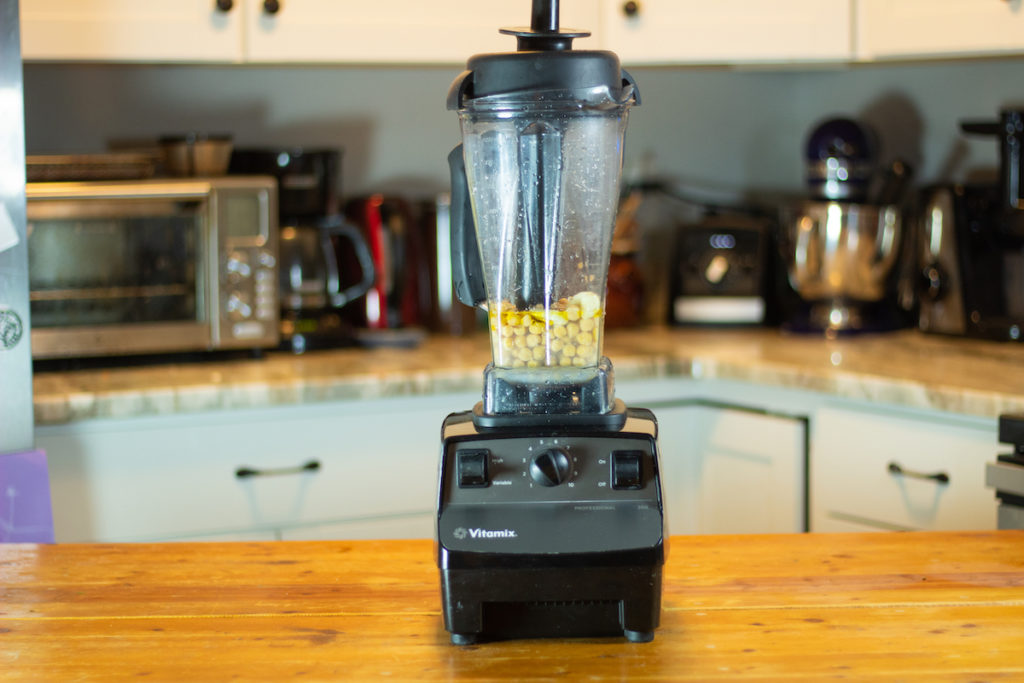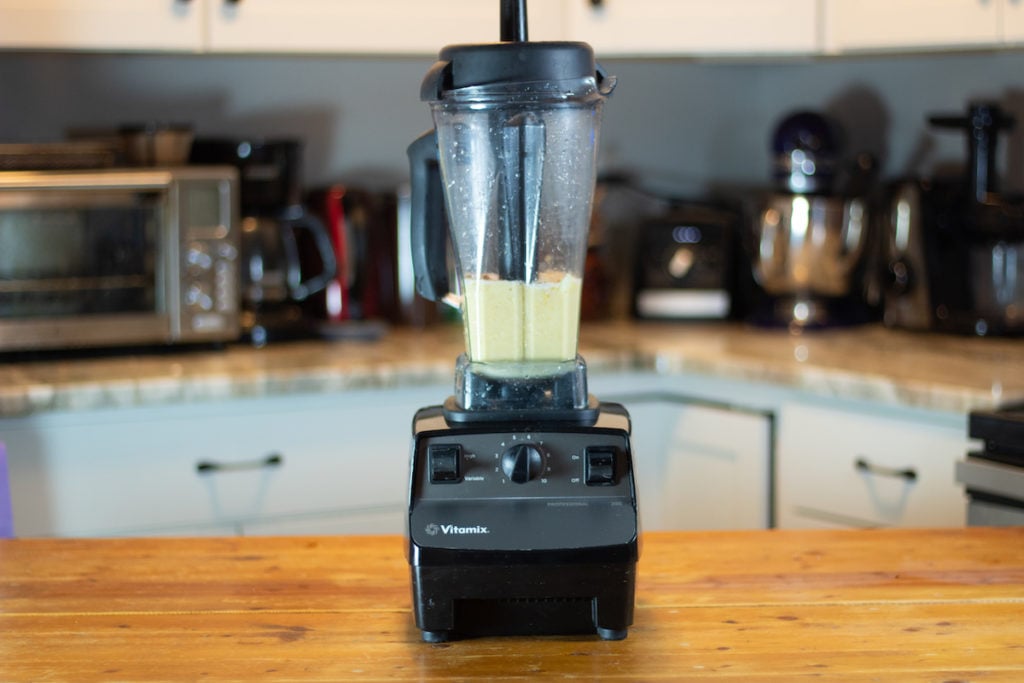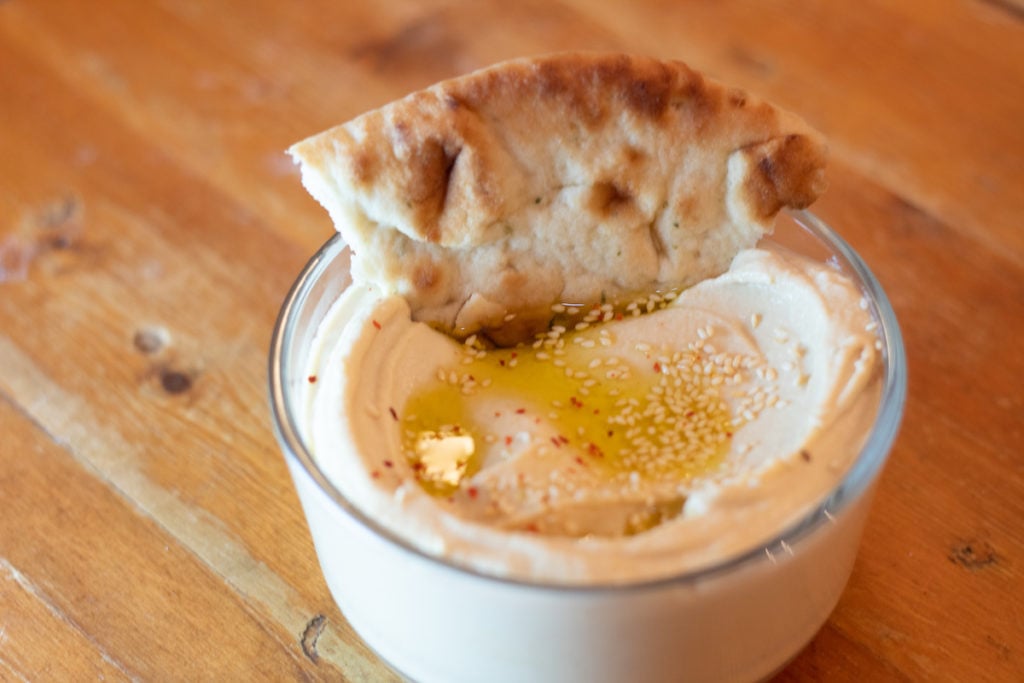 About the Noise Level
Vitamix Blenders are not quiet appliances, and in my experience, the Legacy models run louder than the newer releases. Some of this is design-based, but overall, these appliances are built with an incredibly powerful motor that produces a ton of sound. While this has never been a problem for me, if you live in a small space, or have thin walls, you may find these blenders are louder than you'd like.
I decided to try the self-cleaning feature of the Vitamix 5200 at the same time as the noise level of the motor. While there isn't a self-cleaning "function button" thanks to the high-powered Vitamix motor and its ability to create friction heat, you can easily clean your blender carafe with some water and a few drops of soap.
To test the sound level I filled the Vitamix container halfway up with warm water, added a few drops of dish soap, and secured the lid in place. I placed the blender carafe onto the Vitamix 5200 base and set it to the lowest speed. I turned the blender on and recorded the sound level using a decibel meter on my phone.
After recording the sound level at low speed, I kicked the blender into high gear and recorded the sound level at high speed as well.
At speed 1 on the speed selector knob, the Vitamix 5200 produces 66 decibels of sound, and at speed 10 that goes up to 95. When you flip from variable speed to high speed the high-powered blender goes up to 99.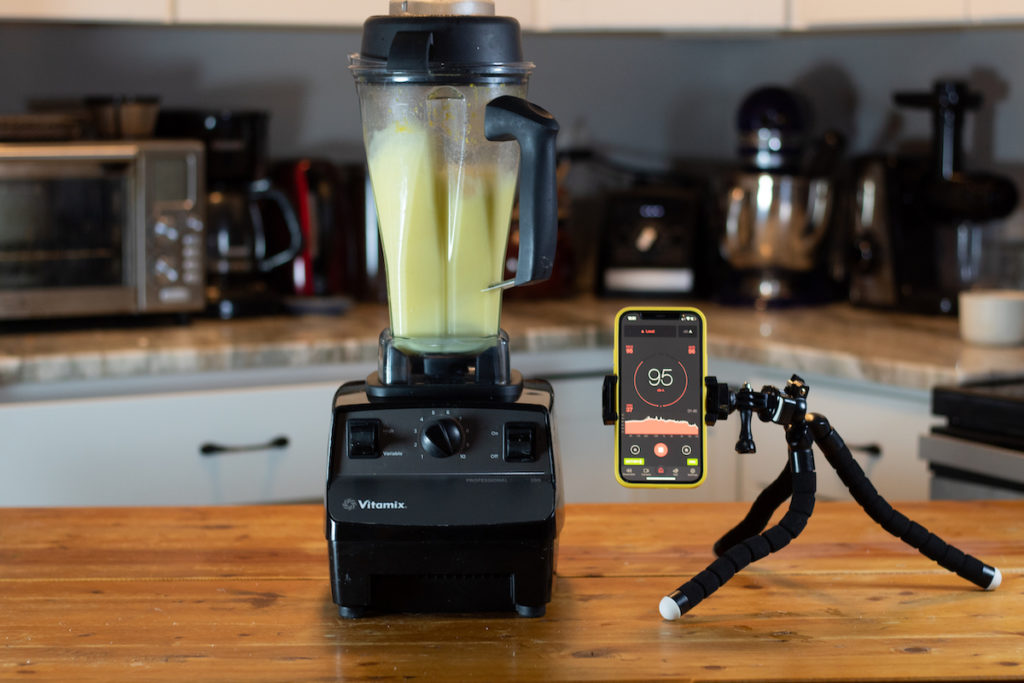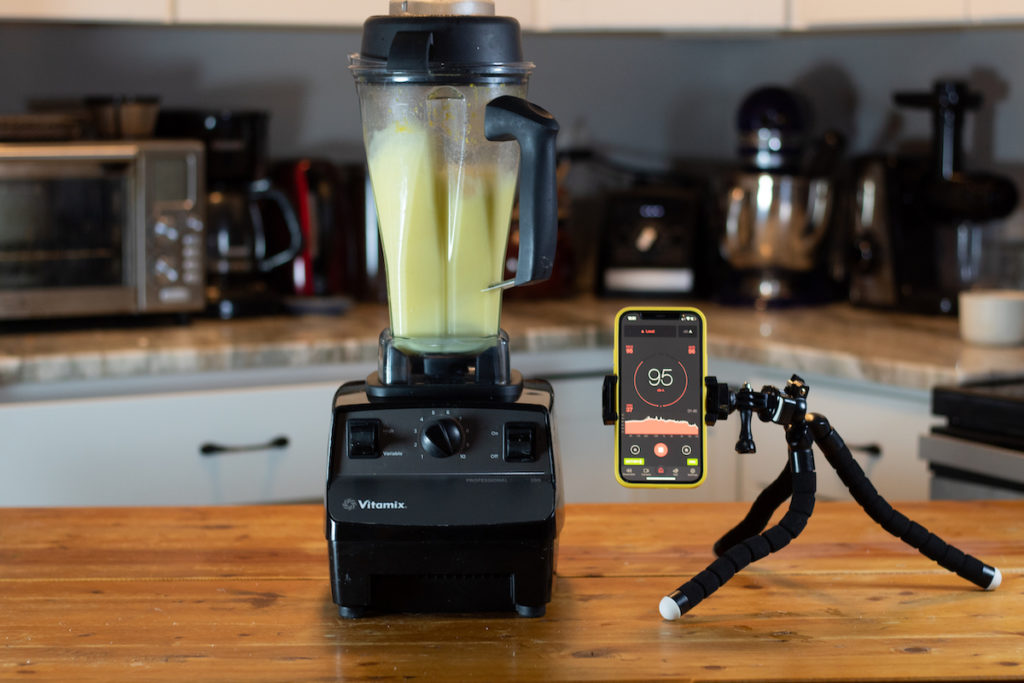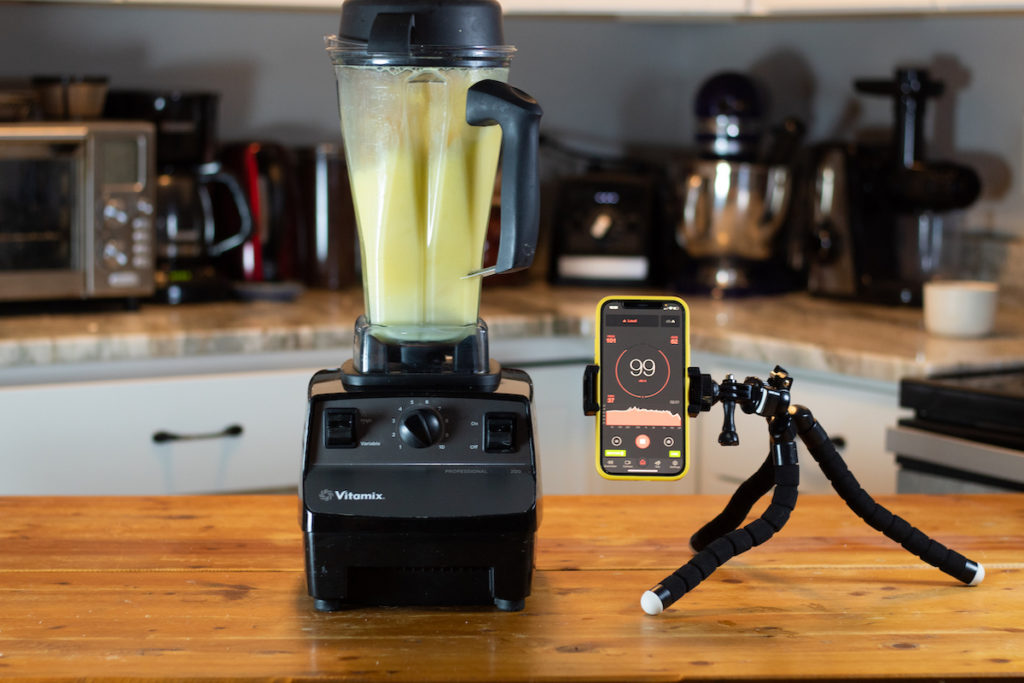 How Easy Is It To Clean?
Cleaning the Vitamix 5200 is fairly simple. With a basic, analog design you can wipe down the exterior with a damp rag or even scrub it lightly with soapy water without worrying about potentially damaging a digital screen or touchscreen input.
The top of the blender base has a rubberized mat that is easy to remove and allows you to get at any crumbs or spills which can build up over time, while I don't remove it after every use, I try to clean it regularly to avoid buildup.
Cleaning the carafe is the biggest part of maintaining your Vitamix and I highly recommend handwashing it where possible.
You can actually clean the blender carafe by filling it with 2 cups of warm water and a few drops of soap before putting it back on the blender base and allowing it to blend at high speed for 2-3 minutes. This helps dislodge any stuck-on food or ingredients that get trapped beneath the blades.
To finish cleaning the pitcher simply dump out the soapy water and rinse well with hot water before allowing it to air dry.
About the Longevity
I've had a Vitamix 5200 for the better part of a decade now, I received my first one as a gift for my wedding almost 7 years ago now, and it has continued to be a fixture in my kitchen. While many say that the older, legacy-style blenders are more durable than the newer, flashier models, I'm not 100% certain if this is true or not.
My feeling is that the reason the simpler, classic Vitamix models last so long is that there just isn't a lot that can go wrong with these machines. While the Ascent Series boasts a digital display, Bluetooth capabilities, and lots of bells and whistles, the Legacy series is analog all the way. It has 2 switches and an analog speed selector knob. Realistically, there aren't a lot of places the Vitamix 5200 can fail, which can be a huge selling point.
One reason Vitamix blenders seem to live forever is the thermal protection system that has been a part of the Vitamix design for as long as I've had the privilege to use them. This system will automatically shut off the blender and render it inoperative if the motor temperature rises above a certain level. While this can be annoying if you are in the middle of a project, it protects the blender from catastrophic failure as a result of overheating.
I currently have both a 5200 and an Ascent series blender and I love them both. They both have high points and shine in places where the other doesn't, but overall, both are incredible machines and well worth their price tag.
How Would I Improve the Vitamix 5200?
Overall, using a Vitamix like the 5200 model is a joy. Vitamix has remained a brand standard for high-quality blending equipment for the past 3 decades for a reason. As a rule, they produce incredible blenders that far outperform most of their competition. However, there are a few things I wish they might consider incorporating in future models.
Include a wrench for the blade assembly. The Vitamix blender assembly is almost impossible to remove without a specific tool that doesn't come included in the purchase of your blender. This is rarely an issue because you can thoroughly clean the blender without removing the blade, however, I like to be as thorough as possible, and without the blade assembly tool, you aren't really able to remove the blade. Though you can buy the tool separately, I think for the price of a Vitamix it might be nice to include the tool in the packaging.
Switch from a rubberized lid to a hard plastic lid. Most of the newer Vitamix models, especially the Ascent series come with hard plastic tops that fit snugly onto the carafe. These lids have the added benefit of a smaller profile that helps the blender assembly fit under a countertop or overhead cabinet on your counter without issue. The rubberized lid on the 5200 is nice and definitely familiar as it's been a feature of the Vitamix line for a very long time, but I far prefer the hard plastic lid of the newer models.
[Possible IMAGE 8: Photo of the feature that was an issue/could be improved]
What's the Warranty?
The Vitamix 5200 series Blender comes with an incredible 7-year warranty that covers almost anything that could go wrong with our blender. The 7-year warranty covers 2-way shipping costs, parts, labor, and applies to any factory defect or manufacturing flaw along with failure associated with normal wear and tear.
While not necessary, the Vitamix company "recommends" registering your new blender upon receipt to make any warranty claims as simple and straightforward as possible. Considering the investment attached to any Vitamix purchase, I highly recommend heading to the warranty page and registering your product as soon as you bring it home if only to avoid headaches should something happen to your new blender. Head to the Vitamix warranty page for more information about the warranty program for the Vitamix 5200 blender.
Verdict
While I love the Vitamix 5200 it's important to recognize that given the price tag and Vitamix's newer additions, this blender is not for everyone.
If you are looking for a blender with a lot of different presets, functions, and 1-touch operation, the Vitamix 5200 is probably not the best blender for you. Given the capabilities of the Ascent Series or even the new Vitamix One, there are a lot of options out there that give you the ease of use you might be looking for.
On the other hand, if you are looking for one of the most powerful culinary appliances available, and you're not put off by the learning curve, or lack of presets, the Vitamix 5200 is still pound-for-pound, one of the best blenders available today.
I would recommend the Vitamix 5200 to almost anyone who wants a high-powered blending appliance that will last for years to come. As the owner of a 7-year-old Vitamix 5200, I can attest to its ability to create a lot of value in your kitchen.
How Does the 5200 Compare With Other Vitamix Blenders?
The 7500 is newer than the 5200 and is well worth looking at, especially if you want the latest and greatest on the market. The 7500 has a similar-sized container, but the base is wider. This makes it easier to get the blended food out of the container, especially thicker liquids.
It also has a slightly more powerful motor and is said to be quieter, but reviews show that it gets noisier over time, so that benefit might not stand the test of time. While it has some perks, the 7500 is considerably more expensive than the 5200, so if you're looking for a stable and reliable family blending system, you might not need to make the leap in price and features to the 7500.
There is very little difference between the Vitamix 6300 and 5200. The only notable difference is that the 6300 has a preset function. The motor, blades, and containers are basically the same, so there appears to be minimal justification to spend more on the 6300.
The Vitamix 750 series is designed for professional use in bars and cafes. It is definitely quieter (designed that way to keep customers happy) and the fact you can choose a preset setting, turn it on, and walk away is handy. However, similar to the 7500 comparison, I'm not sure it is worth the average home user paying an additional $100 or more for that functionality.
For me, the 5200 is the best option in the Vitamix range for regular family usage. It offers everything you need for daily use for a relatively low price. Given that the Vitamix motor strength is more or less the same across the board, there is little reason to spend substantially more for fancier settings.
If you're still not convinced and think you might need a few of the more elaborate features, then please check out our review to find out more about getting the Vitamix 750 at the best price.
vs Vitamix pro 200
The Vitamix 5200 blender shares some common features with the professional series, while at the same time offering unique outstanding features to distinguish its capabilities. Some of the common features include the use of BPA-free Eastman Tritan copolyester material for the containers with the aim of boosting safety and durability.
The material used to make the containers is shatterproof so they serve you in the long term. They also allow for variable speeds, which plays a key role in boosting flexibility and creativity when they are in use.
They both come with 64-ounce container, but the professional blender has the addition of a dry grains container. The wet containers can hold different types of smoothies, soups, and sauces for a medium or large family. With the professional blender, you can mix dry grains to make flour and even stimulate your kneading process, allowing you to prepare dough for baking.
Both blenders come with two cookbooks so you can use your blender to the maximum. They both aim at meeting functionality as well as durability.
vs Vitamix 6000
While the 5200 model allows for different speeds, the 6000 model takes this a notch higher with the addition of an automated feature. This makes the 6000 model easier to use and more reliable since you do not have to wait for it to complete the blending process before you can stop it. The different speed settings will allow you to take on different ingredient sizes. However, the 6000 model comes with a pulse feature that will size down larger chunks.
Both feature a 64-ounce container that is strong and durable to serve you in the long term. The difference in the containers lies in the spill-proof, vented lid that comes with the 6000 model. This plays a key role in preventing spills, thus retaining all the content and preventing waste. The 2500 model has fewer features as compared to the 6000 model, though they meet on functionality and the ability to blend all your ingredients.
Other than sharing the same brand, both of these models are safe thanks to their BPA-free material that ensures you are not intoxicated. Their containers can both hold 64 ounces of liquid content. The series 500 features a spill-proof lid to prevent any wastage of your content as well as prevent you from dirtying your countertop. In addition, the lid comes with a removable plug, making it convenient when in use.
While both offer variable speed controls, thus boosting flexibility depending on your ingredients, the series 500 comes with three pre-programmed settings for more accuracy. With the aim of boosting efficiency as well as performance, it comes with a pulse feature to take on larger ingredients. The series 500 comes with a powerful motor to produce faster results. While both aim at delivering on quality and durability, the series 500 is powerful thanks to its powerful motor.
vs Vitamix 300
While these blenders have similar motors, the 5200 model is designed to meet more moderate blending requirements, whereas the professional series 300 model is designed to meet more demanding needs thanks to its powerful motor. This contributes towards blending a larger variety of ingredients ranging from fruits to grains in order to blend a smooth consistency.
They both come with 64-ounce container that are BPA-free, and they are also easy to store away when they are not in use. The size of the containers makes it ideal for use even with larger families.
Despite having multiple speeds, the professional series 300 model comes with ten variable speeds, allowing you to choose the texture and consistency you need. The 300 also comes with a pulse feature that allows you to gain full control when blending especially larger chunks of ingredients.
Even though the E320 is a newer release, there are still reasons to buy the 5200 instead, provided you have tall kitchen cabinets that the 5200 container can slot under. For one, it's cheaper. For two it's probably more durable (a statement not supported by some empirical point, but by combining in my head all the anecdotes I've heard and read on this question in the last 5 years.)
Vs Vitamix E310
The E310 is cheaper, and that's the only meaningful way it's better than the 5200. Oh and maybe the shorter low profile container if you really need that. Otherwise, the E310 has a smaller container capacity (48oz), it's louder, it has a shorter warranty and a 0.2HP smaller motor.
These two blender models may be easily confused as they share many features. Other than coming from the same manufacturer, they offer variable speed controls, allowing your results to have the textures you desire. In addition, they will both allow you the ability to rotate the dial for precise control. This ensures that you are always in control of the outcome.
The similarities do not stop at this, as they also come with a 64-ounce container that is ideal for use in a family setting. The difference lies in the motor capabilities, with the 5300 model offering a more high-performance motor. This means it can give similar results in a shorter time compared to the Vitamix 5200 blender. The design may also carry similar traits, but the 5300 comes in a more compact design that takes up less storage space.
vs Ninja 1200
The Ninja blender 1200 is designed to make the blending process easier so everyone can obtain the best results without having to go through cookbooks and other blending material. This is due to its Auto-IQ technology that allows you to time the processes so the consistency is just right. Included are intelligent blending programs that serve the purpose of perfecting the experience as you will not have to guess what settings you need or how long you will need to blend.
Whether you want a smoothie, puree, or frozen drink, all you have to do is select your desired button and insert the ingredients. It also comes with a more compact design to help minimize the space required when in use as well as when stored. They share the similarity of meeting great safety standards and functioning with high performance. They are both BPA-free to prevent and their blades are strong and durable.
vs Nutribullet
These two blenders vary both in design and performance capabilities. Concentrating the performance, functionality, and design, these two brands may have a few similarities; they come with quite a number of differences to remain competitive in the market. Comparing the designs, the Nutribullet has a more compact design with smaller dimensions, which makes it easy to store away when it is not in use.
It also comes with a powerful 1,700-watt motor to meet the functionality of the Vitamix. As an added advantage, it comes with hands-free SMART technology that makes it easier to use compared to the 5200. For those who would love to prepare soup, it also provides a heating cycle so your soup and sauces do not go cold after preparation. Despite the diverse differences, they are both strong and durable.
vs Ninja Ultima
Shark Ninja is giving the Vitamix 5200 blender a run for their money. They are both designed to handle all the ingredients you put in them, but with a more competitive edge, the Ninja Ultima has the added advantage that it can also crush ice to help you make some cold beverages. You can throw in whole fruits without the risk of congesting your blender. Whereas the Vitamix 5200 comes with one container, the Ninja model comes with two cups that have sip-and-seal lids to keep your beverage intact.
While the Vitamix 5200 blender comes with variable speeds to help leave you in control, the boosting flexibility and creativity of the Ninja Ultima feature high-speed cyclonic technology to blend all types of ingredients and leave you with a smooth puree. The speed variables are better with the Ninja model with the availability of 10 speeds as well as a pulse feature so you are always in control.
These two models vary in that the features they offer have a few similarities but also have significant differences in their design. They have powerful motors to help enhance their performance so you can have your beverage ready in no time. With the advancement in technology, the Blendtec Total blender beats the Vitamix 5200 blender as it comes with a digital touchpad that outlines all the controls.
This provides preprogrammed blending cycles to ensure that you have perfect beverages. However, both will allow you to produce different types of beverages, such as juices or purees, with the difference of how fast each can complete the process.
While the Vitamix 5200 can crush more or less all ingredients, including grains, the Blendtec model will meet this objective in addition to crushing even ice so you can enjoy a cold drink. In an effort for the Blendtec to boost safety, it comes with an auto shutoff feature so that, when it is not in use, it will automatically shut off, thus also saving on power.