Green veggies... we need them. But we don't always get enough through our meals alone. Perhaps this is why you're looking toward a juicer to help you maximize the green stuff. Well, you're in luck as we have put the hard yards into finding out which juicers are best for extracting the goodness from your greens.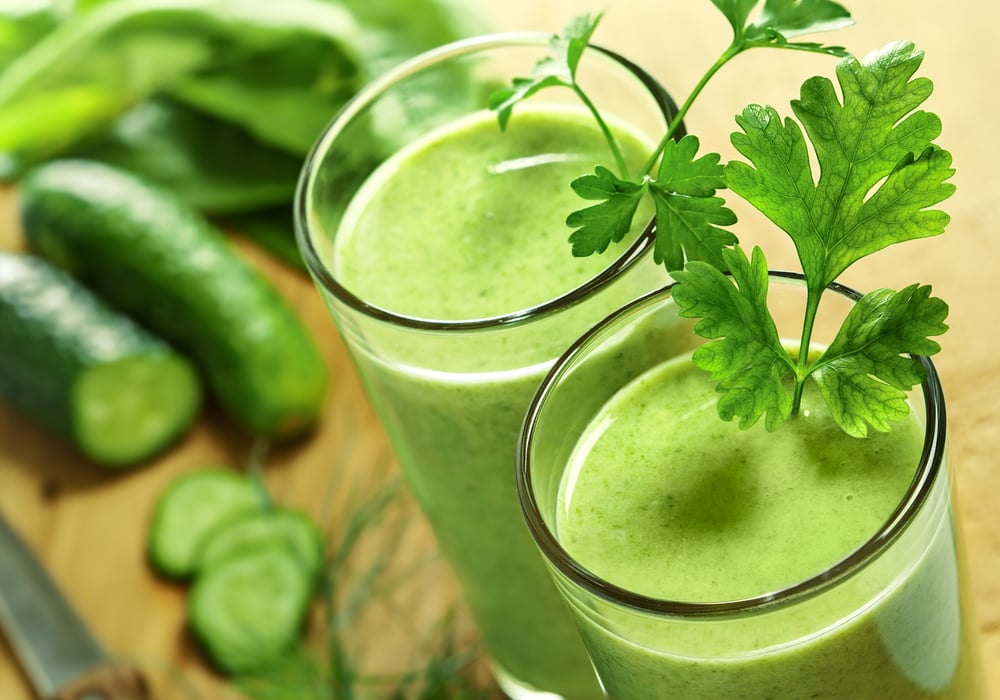 We do get a bit technical with words like "masticating" and "centrifugal", but if you're in the market for a juicer you'll be familiar. If not? We'll make sure you're up to date.
What kind of juicer is best for greens? What makes a juicer efficient for juicing greens? Are there affordable options out there? What's the difference between centrifugal and masticating, and which is best?
Table of Contents
In a Rush? Here's The Verdict
Juicers that can properly extract maximum juice from leaves, grasses, and celery are not cheap. But they typically last 10 years or more (covered by long warranties), and they reduce your grocery bills because you get more juice per gram of food you put in.
If you get that, and you're ok with the cost, your best value for money juicing machine for greens is the Omega MM900HDS Masticating Juicer on Amazon here. It's cheaper than other slow juicers, and unlike most, it comes with a special end cap adjustment specifically for juicing celery.
If you're not down with the high cost but you still want green juice, we recommend the very affordable Hamilton Beach Pro Juicer on Amazon here. It won't give you the same yield, you might get a bit of froth in the juice... but it can handle celery, spinach/kale, and broccoli and you will save a small fortune.
Neither of those quite right? Want all the details. Carry on reading below.
The Best Juicers for Greens by Juicing Mechanism
Best Masticating Juicer for Greens
Masticating juicers take their time to really grind, pulverize and mash all the juice and health-giving goodness out of the ingredients. Imagine a hard drill slowly rotating and mashing the foods against the sides of the juicer, using pressure to release the juice. They extract a high yield from hard greens without inadvertently adding oxygen. Here are your best options:
The Omega MM900HDS is a compact masticating juicer that sits inconspicuously on your benchtop. It has a nice low speed of 80 rpm to grind the goodness from your greens without corrupting the enzymes with heat. It has a "reverse" function which comes in handy if you get any clogs or blockages. It's a great little machine for greens because it's specially designed for maximum juice and very dry pulp. It also has the all-important attachment end cap specifically for juicing celery. This means you won't have stringy parts getting caught in your juicer gears (which can happen with even high-end juicers).
Special features
Yields lots of green juice and really dry pulp
Has a "reverse" button for unblocking clogged green debris and sinewy pulp
Grinds at a low speed of 80 rpm for lots of juice and preserved nutrients
Automatically ejects the pulp from the machine
Specific celery end cap adjustment makes cleanup easier.
Best Centrifugal Juicers for Leafy Greens
Centrifugal juicers spin the ingredients around at a super-fast rate which causes the juice to separate from the solids (i.e. the pulp). It's a very rapid process and is a lot more fast and furious than the masticating process we looked at above.
The Cuisinart CJE1000 is a simple juicer with a powerful 1000-watt motor which is more than enough for efficient green juicing. It has a sturdy, durable construction and nice touches such as an adjustable flow spout and 5-speed dial. If you're after a simple centrifugal juicer for juicing greens, and your budget is modest, this could be the one.
Top features
1000-watt motor for handling hard, gristly greens
2-liter pulp jug with handle for easy removal and cleaning
5 speeds for different food types (i.e. low speed for juicy oranges, high speed for less yielding greens and veggies)
Adjustable flow spout for controlling juice flow and drippage
Great 3-year warranty
Dishwasher safe parts
Tough housing made of die-cast and stainless steel
The Kuvings NJ-9500U is a simple machine with a surprising ability to get the best out of greens. I say surprising because it runs on 350 watts which seems measly compared to the Cuisinart. All it means is that you can't go crazy with multiple batches of juice, but will be 100% fine with a modest serving of green juice.
Top features
Simple "low" and "high" speed choices for softer versus harder greens
Reasonably priced
3D juicing screen finely grates, chops, and breaks open the greens and pushes them through fine holes to ensure the most juice possible is extracted
For how great the BJE510XL is, the price is pretty great. It has a powerful motor with 900 watts to easily churn through hard green veggies. It's an attractive, sleek model with a long-lasting stainless steel body.
Top features
900-watt motor for really getting the most out of dry, hard greens
5 speeds including one especially for "hard veg" which runs at a major 12500 rpm
Large pulp container
Efficient stainless-steel mesh cutting disk slices and grates to get the utmost juice out of greens
Best Slow Juicers for Greens
Slow juicers, cold press juicers, and masticating juicers do pretty much the same thing. They extract juice and nutrients by way of a slow, grinding process as opposed to rapid spinning and subsequent heat.
The Hurom Elite is a very slow juicer indeed, at 43 rpm. The greens are crushed by the auger and go into a tough-as-nails strainer, where the juices are thoroughly extracted. This makes it ideal for greens, as they need a slow, hard, and concentrated grind to get the maximum juice. If pretty colors are your thing, you're in luck, as the juicer comes in some nice shades like wine.
Slow rotations for thorough juice extraction
Strong, tough strainer
Nice and quiet
This pretty cool-looking juicer from Omega has a maximum speed of 80 rpm, which makes it efficient at grinding the juice out of fibrous greens and preserving the nutrients. This is a little faster than some other masticating juicers, but slow enough to keep cool. Some people have noted that this juicer does require some of the tougher greens to be cut into smaller pieces in order to get the best results.
Top features
Slow enough speed for getting the most out of greens without adding heat
Easy to clean, just run water through the juicer and use the brush to dislodge green fibers
Comes with two jugs with handles, one for juice and one for pulp
Light and compact, great for littler kitchens
Best Cold Press Juicers for Leafy Greens
Cold press juicers are masticating juicers that are designed especially to keep the juice cool to ensure the enzymes stay alive until they reach your body. These are the best ones out there, as of now.
The Tribest is a well-made cold press juicer with a mind-blowing 12-year warranty. Tribest boasts a very high extraction of nutrients with the 5050 compared to other cold press juicers. The inner workings have been designed to act like human teeth (the ultimate green-chewing devices), with stainless-steel gears. Tougher, stringier veggies like celery and kale are handled easily by the tough, sharp gears. This is a pricier model though.
Top features
Tough, sharp, stainless steel gears which mimic the grinding motion of human teeth
Slow rotation (110 rpm) for getting the most out of greens without ruining nutrients with heat
Comes with 4 different screens for different consistencies (i.e. lots of pulp or hardly any in your juice)
The pressure-adjustment mechanism for handling different types of foods (i.e. hard or soft greens)
Attractive, sleek design
Although a slightly lesser-known juicer than the likes of Omega, Breville, and Hamilton Beach, the Aietto is no less credible. It's a brand owned by Haier. It gets a spot on the list because it is reasonably priced and highly rated. Plus, the brand promises a 90% juice yield!
With a tested noise level of less than 60 decibels, the Aietto lets you juice with calm and ease. The body parts that are BPA-free, which makes this juicer ideal for making baby food and juices for your infants and toddlers. Customers have also found that they can juice just about anything with this guy—even tough, stringy greens.
Top features
Patented design for 90% juice extraction from your greens
Easy to clean
Smart lock system promises drip-free juicing so no wastage or sticky mess
Crushes the greens really slowly at 47 to 60 rpm to keep them cool to preserve enzymes
Pretty decent price for the quality
What Are the Best Juicers for Greens by Brand?
Breville and Omega are frontrunners in the kitchen appliance world, including juicers. To save you trawling their catalogs, we've picked their best juicers.
Best Breville Juicer For Greens
There are many Breville juicers with impressive features and high ratings. But when it comes to greens, a little more care needs to be taken to find the right one. For example, the BJE200-XL is extremely popular, highly-rated, and raved about, but it's a centrifugal juicer. It's not as ideal for greens as it is for juicier fruits and veggies. So which is best?
We've gone for the BJS600XL because it is a masticating juicer which is by far the best choice for juicing greens if your budget allows. It's designed for harder, tougher veggies such as carrots, wheatgrass, and gristly greens. It's also designed to let more of the fiber into the juice than other juicers, which is great for greens as the fiber is a shame to waste. Some people have commented that the clean-up process could be easier as it does take a little more time than desired. Now, it is proving a little hard to source as it's sold out or unavailable at a few places as of now, but it should come back soon.
Top features
High juice yield
Lets fiber into the juice for a thicker, more nutritious drink
Grinds at a slow rate of 80 rpm for getting the best out of greens and saving the nutrients
Best Omega Juicer For Greens
You can't really go wrong with the Omega J8006, it's up there with the very best of the best. It uses a slow grind and a powerful two-horsepower motor to mash the life out of the hardest of greens. It's super versatile too, so when you're not guzzling green juices you can make nut butter, grind coffee and make soft foods like baby food. Definitely, a front-runner if you're getting serious about juicing your greens on a regular basis.
Note: If you want everything the Omega 8006 has but with a bigger feed chute and extra capabilities, the Omega NC800 is also an excellent choice.
Top features
Low speed (80 RPM) so the greens are ground slowly, thoroughly, and without any added heat
Ensures really dry pulp (the dryer the green pulp, the more the green juice)
Has a powerful two-stage motor for handling the hardest, toughest greens
Comes with different nozzles and accessories for other nutritious foods like nut butter
What Are the Best Inexpensive Juicers for Greens?
A bargain will make your juice taste even sweeter. Not really, but you get the gist. The thing is, the cheapest juicers are generally centrifugal. This isn't so bad, as there are some great ones out there. It just means that you might be compromising on some of the nutrients from your greens. But sometimes a really low price tag means giving up a few features.
Hamilton Beach is great at supplying consumers with affordable, high-quality appliances. Now, the 67608A Juicer is a centrifugal juicer which may seem contradictory to the "masticating juicers are best" talk. But, the price and convenience let it pass. It has a really large chute so you can chuck whole fruits and veggies in without having to pre-chop.
Clean-up is easy as you can just pop the parts into the dishwasher or use the included cleaning brush to give them a quick manual clean. This is a great choice for people with small budgets and very little time on their hands. It's ideal for people who want to make a juice with a mixture of juicier fruits with added greens for nutrition as opposed to all-out, full-green health juices.
Top features
Large chute for fitting whole greens without having to chop
Great for people in a rush who want their green juice fast
Easy to clean, dishwasher-safe parts
Great price
Breville BJE200XL is a super popular model with a tidy, compact design for easy storage and modest countertop usage. It is a centrifugal juicer, but it has an extremely hard and sturdy extractor made of titanium-reinforced stainless steel to get the most out of greens and fruits. Plenty of customers have reported their glee at how well this model juices their greens. A great juicer for people with little time but who want the most juice out of their greens without investing in a masticating juicer.
Special features
Compact design for little countertops
Strong mesh extractor for getting the best out of greens
Great price
Easy to use
Juices greens and veggies surprisingly well
Conclusion
Hopefully, you're feeling armed with info to help you choose a juicer for your greens. As you can tell, it's quite confusing out there, with all the different brands, terminology, and promises. Just ensure you're choosing a juicer with strong construction, a decent wattage, a slow grind (for masticating juicers), and an easy-clean design. Anything from Omega is not going to disappoint, or for a cheaper option take a closer look at the Hamilton Beach 67608A Juicer.
Good luck and happy juicing.
What Are the Different Kinds of Greens and Why Do They Matter for Juicing?
There are many kinds of greens out there, some more popular than others. Here's a little tutorial on the different kinds of greens, their families, and whether or not they're suitable for juicing.
Gourds, squash, and the daisy family
These are the more "watery" greens such as cucumber from the gourd group, and lettuce from the daisy family. Squash varieties such as courgettes and marrows are also more watery greens which soften upon cooking but aren't so great for juicing. However, cucumber and lettuce are fine for juicing as they add lots of moisture and nutrients but don't overpower with taste.
Brassicas and cruciferous veggies
The brassica/cruciferous family has members such as kale, collard greens, broccoli, Brussels sprouts, and cabbage. I generally stay away from juicing veggies like broccoli and cabbage as they can be a bit harsh on the tummy. It's also been found that large amounts of cruciferous veggies can have an adverse effect on thyroid function. However, this is argued as it is also said that you'd have to eat an awful lot of raw cruciferous veggies to have any kind of negative response.
Other great veggies for juicing
Spinach and celery are fabulous for juicing as they are full of vitamins and pack your gut with good things when juiced thoroughly and kept cool. Fennel and other herbs such as dandelion can also be wonderful additions to your green juices.
If you're ever unsure if a particular green is safe or suitable for juicing, a quick online search is always a good idea.
How To Juice Leafy Greens?
It depends on which type of juicer you are using, but it's all pretty much the same process. Pop the greens in...marvel at the juice pour out and discard the pulp.
However, there are a few tips and tricks to get the best out of your greenies:
Start with the bulkier, more watery ingredients first, this means you can get a sense of how much juice you're ending up with and you don't overload the quantity before getting to the lighter, leafier stuff
Roll leafy greens before adding them to the juicer, this can help them to pass through the blades and mesh plates more effectively depending on the type of juicer
Don't disregard the stalks and woodier parts of the greens, they're full of nutrients
Add citrus fruits to cut through the "grassy" taste some green juices can have
Experiment with your juicer to find the best method for you and your chosen greens
What Types of Juicers are Best Suited to Leafy Greens?
Greens are full of exceptional goodness, but they generally lack juice and flesh like what we expect from an orange or apple. This means we need a juicer which is up to the job of eking out the last drops of nutrition from less yielding plants.
So, there are masticating juicers and centrifugal juicers, these are the two main types we are dealing with. Read on to find out how they work and what the key differences are...
Masticating juicers/slow juicers/cold press juicers
Masticating juicers, slow juicers, and cold press juicers are all basically the same thing. They follow the philosophy that juice must be slowly pressed from the source, without adding any corrosive heat which can ruin nutrients. Masticating juicers generally have an auger (or two augers for a twin gear juicer) that presses and chews the greens against blades and mesh plates to get the juice and nutrition out of the greens.
It's argued that masticating juicers are better than centrifugal juicers because they squeeze more goodness out of the ingredients with their slow and steady process (generally running from 60 to 120 rpm). They extract more minerals and enzymes, and often more juice while keeping the juice cool to preserve all the goodness.
Centrifugal juicers
Centrifugal juicers chop the greens and spin them at a really high speed to whip the juice from the hard material. There are arguments that centrifugal juicers can actually deplete the juice of some nutrients as it can heat up slightly due to the speed of spinning. That's why slow juicers (like masticating juicers and cold press juicers) are very popular among the health-conscious.
The verdict?
I'm going to go ahead and say masticating or slow juicers are best for greens because they get the most out of the ingredients they're faced with. If you're going to juice greens, you want to get the very best nutrition you can...that's the whole point, right?
There are other aspects to consider such as the cleaning process, the size of the juice jug and pulp jug, the weight, dimensions, and color. But we will touch on those points as we move through the best juicers in the biz.