I love Vitamix blenders. I've been cooking professionally for 20 years and throughout that time one constant in almost every single kitchen I've had the pleasure to work in has been a Vitamix blender.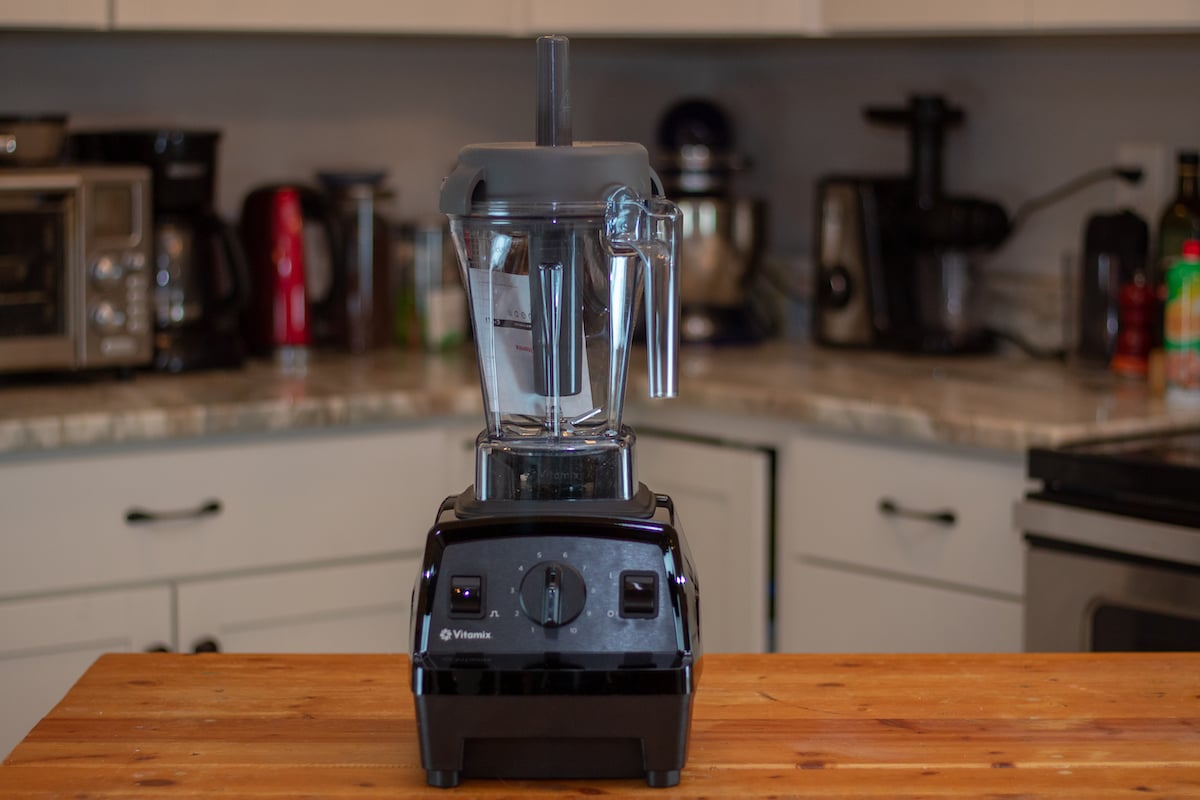 Vitamix blenders are the brand standard for blending appliances in the professional kitchen and the Vitamix E310 is no exception to this rule. I've been a Vitamix owner for 8 years now, and while I love my Vitamix 5200 and my Vitamix A2500, I'm always interested in learning about different Vitamix blending products.
Recently I had the opportunity to take the Vitamix E310 for a spin, and I am very glad I did. If you are in the market for a new blender, and you are thinking about a Vitamix, you should really consider the Explorian 310. With a convenient-sized blending pitcher for smaller batches or a smaller household and all the power/strength of the Vitamix motor, this is a great little blender at a very attractive price point.
Table of Contents
What's in the Box?
The Vitamix E310 is a pretty sparse machine in terms of accessories and manuals. The box is a well-branded Vitamix package, prominently displaying the blender as well as some fun facts about its construction. Inside the box I found:
1 Vitamix blender base
1, 48 oz Vitamix blender pitcher
1 tamper
1 quick start guide
1 recipe book titled "First Blends"
Everything inside was well packaged and secure, Vitamix does a great job of minimizing packaging while also creating a super-secure shipping container and the Vitamix Explorian 310 was no different.
How Does It Look/Feel/Sit?
Compared to the Vitamix blenders I'm used to using in my day-to-day, the Vitamix E310 is definitely on the short side, but then again that's sort of the point of this machine.
The Explorian 310 has a smaller blender pitcher at 48oz. This smaller container size compared to the larger 64oz container, allows for a much shorter profile. This shorter profile allows the Vitamix to easily fit under overhead kitchen cabinets, something the larger professional series blenders can't do.
The Explorian Series is a legacy Vitamix which means it features the more utilitarian, squatter blender base that is common on the professional models, and again is the type of Vitamix I have the most experience with. The newer Ascent series is sleeker with a more aesthetically driven design, but I have always loved the older Vitamix bases personally.
How Easy is it to Set Up?
Setting up a Vitamix is a snap. There aren't a lot of parts or accessories to fiddle with, so it's really as simple as rinsing the blender pitcher out with hot water as well as the lid and the tamper. Then simply plug the base into your nearest outlet and get to blending!
Test #1:

Smoothie

I love smoothies, and my Vitamix has always done a bang-up job of crafting large batches of delicious breakfast smoothies for myself and my family. I wanted to see how the e310 would do with a pretty standard smoothie recipe for 2 people, I began to load the ingredients but quickly decided to reduce my recipe size.
Theoretically, I could have fit the full batch in this blender, but it would have pushed the volume capacity to the edge. Because smoothies use bulkier ingredients like frozen fruit, ice, or veggies, you often start with much more than you might end up with after everything is fully pureed.
Once I reduced the recipe I loaded the blender pitcher with the blueberries, almond milk, hemp hearts, and strawberry yogurt. I started by using the pulse feature and then turning the blender low speed to get the ingredients moving before stepping it up to speed 8. This prevents the cold ingredients, like frozen blueberries from sticking and creating an air pocket, preventing the blender from doing its job.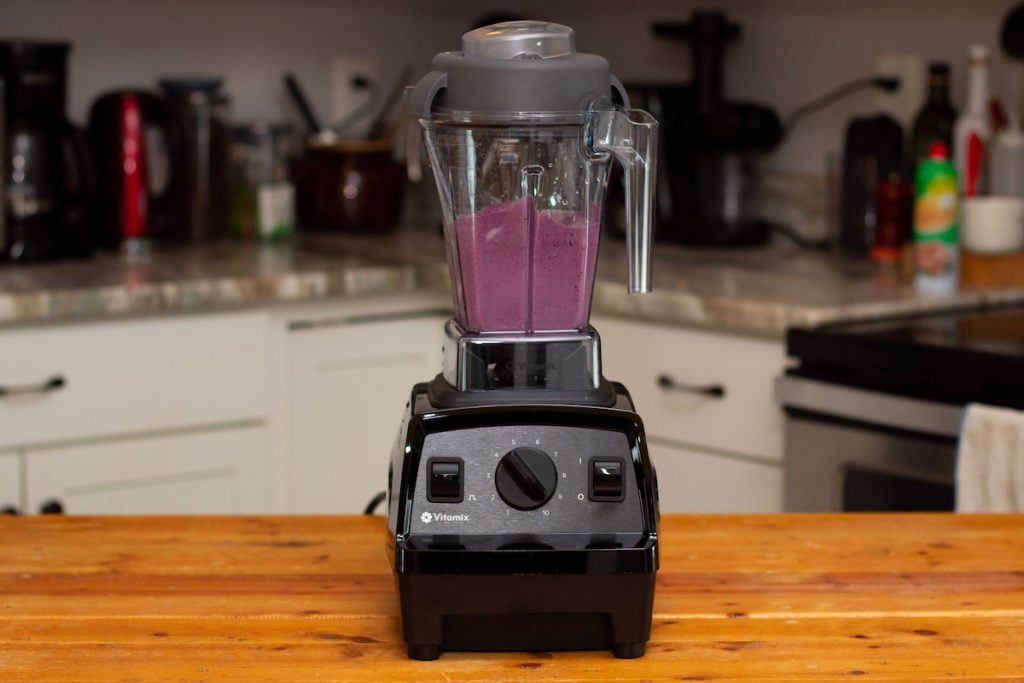 After the smoothie blended for a minute or two, I turned the blender off and had a perfect blueberry almond smoothie.
Like most Vitamix blenders, the E310 does a great job making smoothies. The super sharp blades and the funneling design of the blender create a perfect environment for creating super-smooth purees, and smoothies are no exception.
Because of the smaller carafe size, I barely ended up with two servings, which for me is a bit of a drawback because I like a larger, fuller smoothie in the morning to help carry me through until lunchtime. I usually make enough for myself and my wife but with a smaller pitcher, I would have to make two separate smoothies. This isn't an issue if you're only cooking for 1 but if you want to make a few smoothies at once it will prove difficult.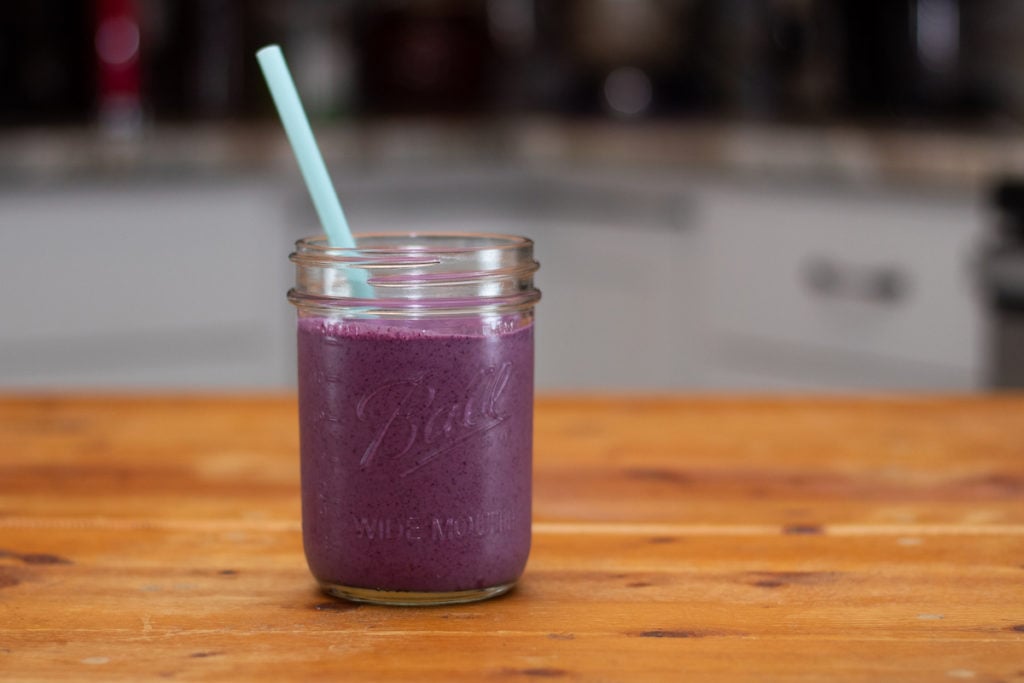 You can grab the Vitamix E310 on sale for $50 OFF until 5/23 at this link >>
Test #2:

Crushing Ice

Crushing ice in a Vitamix is often more difficult than it should be. While these blenders do a lot of things really really well, the older design with the slimmer carafe often has trouble crushing ice properly. Sadly I found this to be the case with the E310 as well.
To begin I loaded the blender base with 3 cups of ice or around 24oz. I began by using the pulse feature to chop up the ice into smaller pieces that would make it easier to crush. Next, I dialed the speed to 8 and turned the blender on. At this point, the ice began to mix and crush, but quickly stopped and stuck.
I removed the pitcher and agitated the ice to try to break it up before returning the pitcher to the blender base to blend again. I used the pulse feature again a few times to be sure it was mixing and then turned the machine on again. Once more the ice quickly stuck.
Because of the slimmer design of this blender pitcher the ice funnels towards the bottom and the high-performance motor/blade assembly. This is great when it comes to making smoothies or purees, but when it comes to crushing ice it's not ideal.
Basically, the ice funnels down towards the rapidly spinning blades and the friction causes the ice to warm up essentially creating a snowball inside the blender. To properly crush ice the ice needs to be able to jump as it's being crushed rather than to blend instantly and stick together.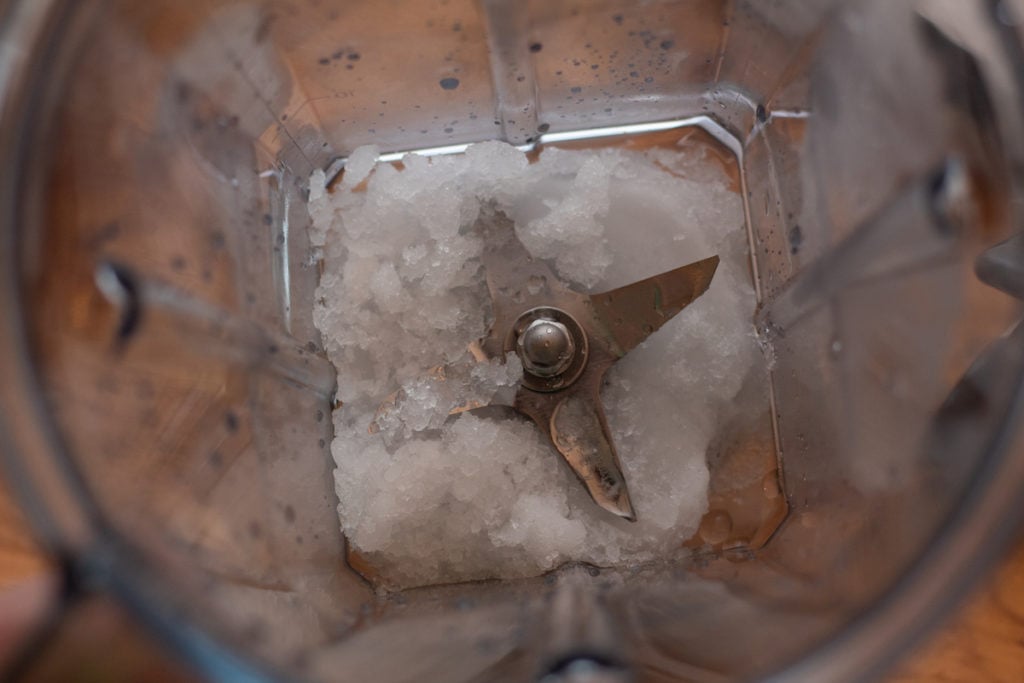 I went back and retried this experiment. By using much less ice and going straight to the blending mode, skipping the pulsing step, I was able to get a much more acceptable product, but it was only enough ice for 1 or maybe 2 drinks.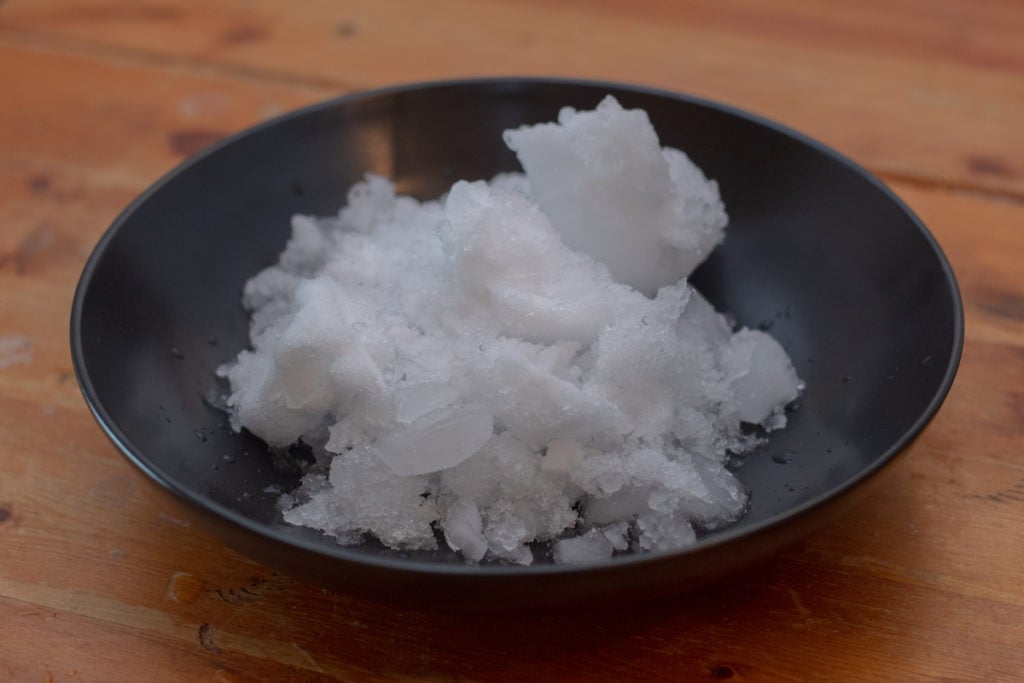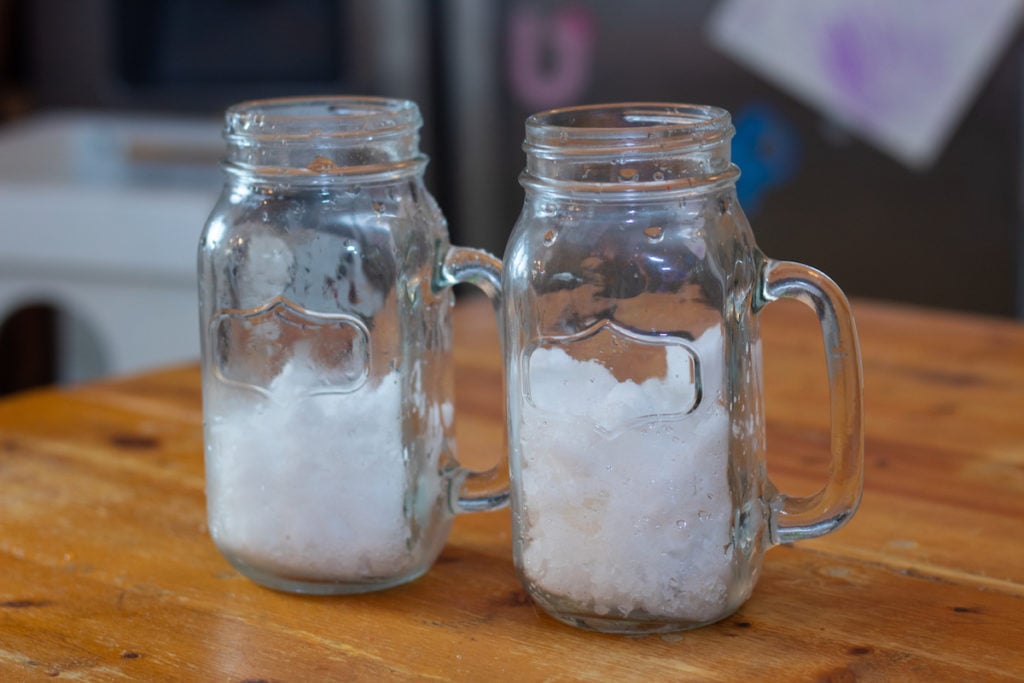 Test #3:

Frozen Dessert

I love making "Nice Cream", which is basically a frozen puree that combines the starches of frozen fruits, a small amount of sugar, and yogurt in a blender to create the perfect ice cream-like texture.

One of the benefits of owning a Vitamix is the ability to create perfect nice cream with ease, thanks to the motor and blade assembly of the Vitamix design. To test one of my favorite nice cream recipes I loaded strawberries, powdered sugar, coconut milk, and strawberry yogurt into the blender pitcher of the E310.
Once again, I had to half the recipe because of the smaller capacity of the Explorian blender, but I expected this would be the case so it didn't cause any issues. Once the pitcher was loaded I placed it onto the blender base. I began by using the pulse feature and then mixing at low speed while using the tamper to move the food around.
The tamper is one of my favorite parts of the Vitamix design. It is a perfectly measured plastic utensil that allows you to push food around inside the blender while it is blending without worrying about hitting the blade assembly and ruining your recipe.
Once the strawberry nice cream was blending, I stepped the speed up to speed 8 and allowed the mixture to blend for another minute before stopping. I removed the perfectly blended nice cream from the blender pitcher and transferred it to an airtight container and loaded it into the freezer to chill for an hour.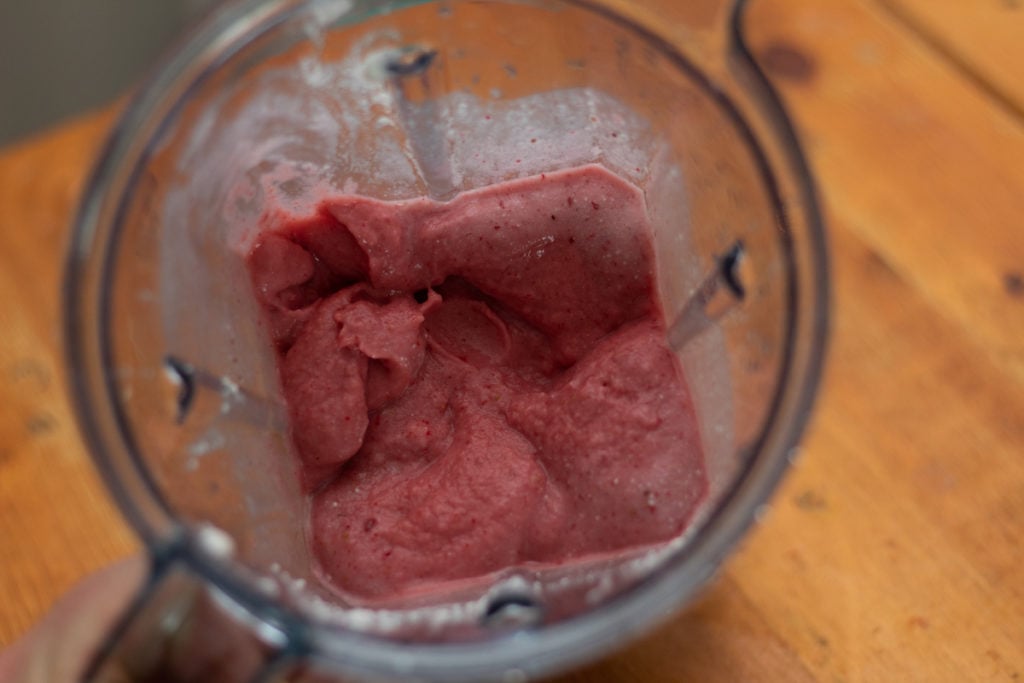 Once the strawberry nice cream was set up enough, I scooped a few portions and enjoyed it over crushed graham crackers!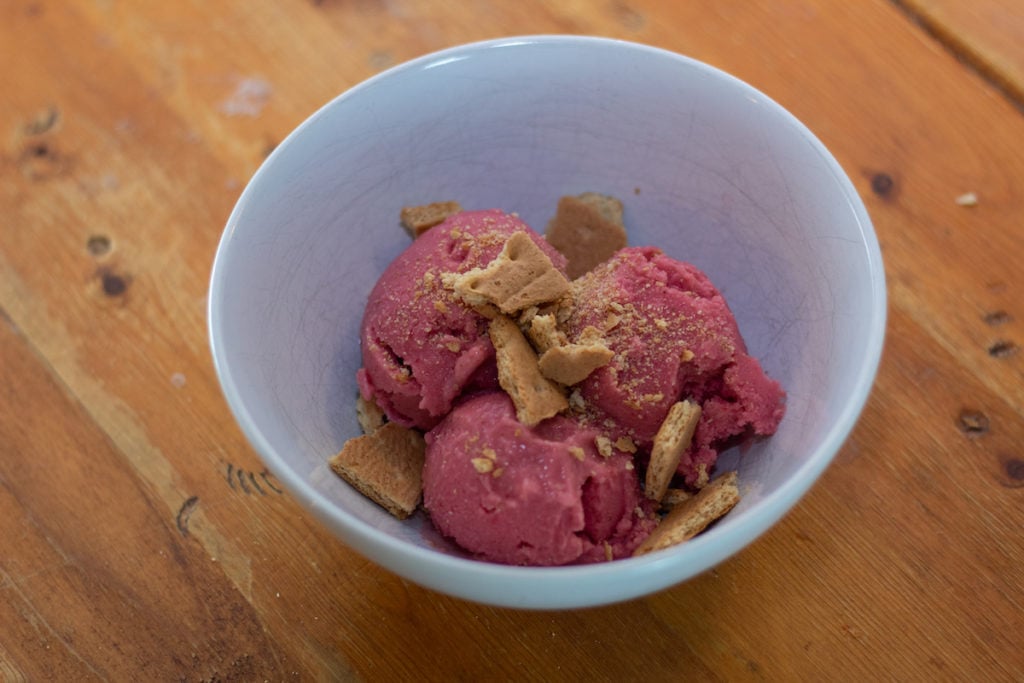 Overall the E310 creates incredible frozen desserts but because of the smaller capacity, you can really only make 2-3 servings at a time. If you work in batches this isn't really an issue and you can still create a large amount of delicious ice cream, it just takes a little more effort because of the smaller blender carafe/capacity.
Test #4:

Hummus

Hummus is one of those foods that everyone loves, but no one makes it at home. Even though it's super easy and inexpensive to whip up a batch of custom, homemade hummus, most of us don't bother with it because it's often just easier to purchase it instead.

One secret I learned after spending a while in a middle eastern kitchen was the best way to make perfect hummus is to use a blender. Many people swear by a food processor for making delicious hummus, but I promise you the best way to do it is in a blender.

To make blender hummus you make a thin, lemony, chickpea puree and then add tahini to thicken it. This results in a perfectly smooth hummus that almost melts away in your mouth as you eat it. With a strong tahini flavor and rich texture, blended hummus is a great way to make hummus.

While the capacity of the E310 had affected my smoothie and ice cream recipe, the slightly smaller size didn't cause any scaling problems for my hummus recipe.

I loaded a can of rinsed chickpeas, water, lemon juice, olive oil, salt, and garlic into the blender pitcher. I placed it on the blender base, dialed the speed to 5, and began to blend the ingredients. After a minute I increased the speed to 9 and allowed the chickpea mixture to blend until perfectly smooth.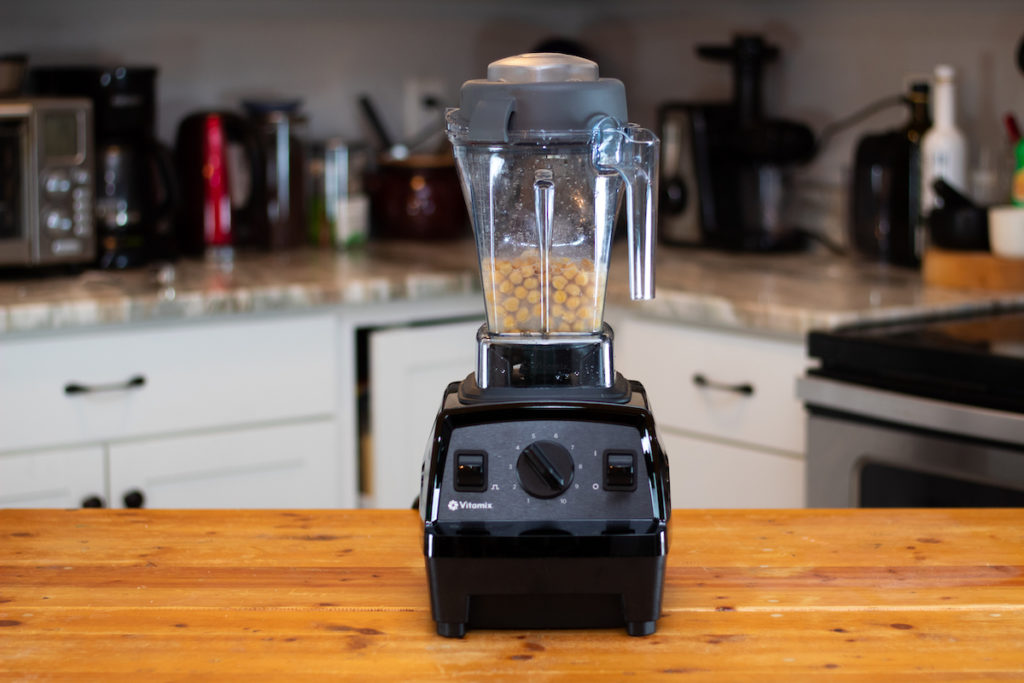 Finally, I added a large amount of tahini to thicken the hummus and allowed it to blend for another 10 seconds. After adding the tahini the hummus thickened greatly and the blender began to slow from the firmer consistency. Once thickened I transferred the hummus to an airtight container and placed it in the refrigerator to chill and set up for 30 minutes.
After the hummus was chilled I portioned it into a bowl and garnished it with some cayenne pepper mixed with paprika. The hummus I made in the E310 was absolutely perfect. It was rich, creamy, and perfectly smooth. I couldn't have asked for better hummus, and even with the smaller capacity, 1 can of chickpeas made enough hummus for 3-4 people!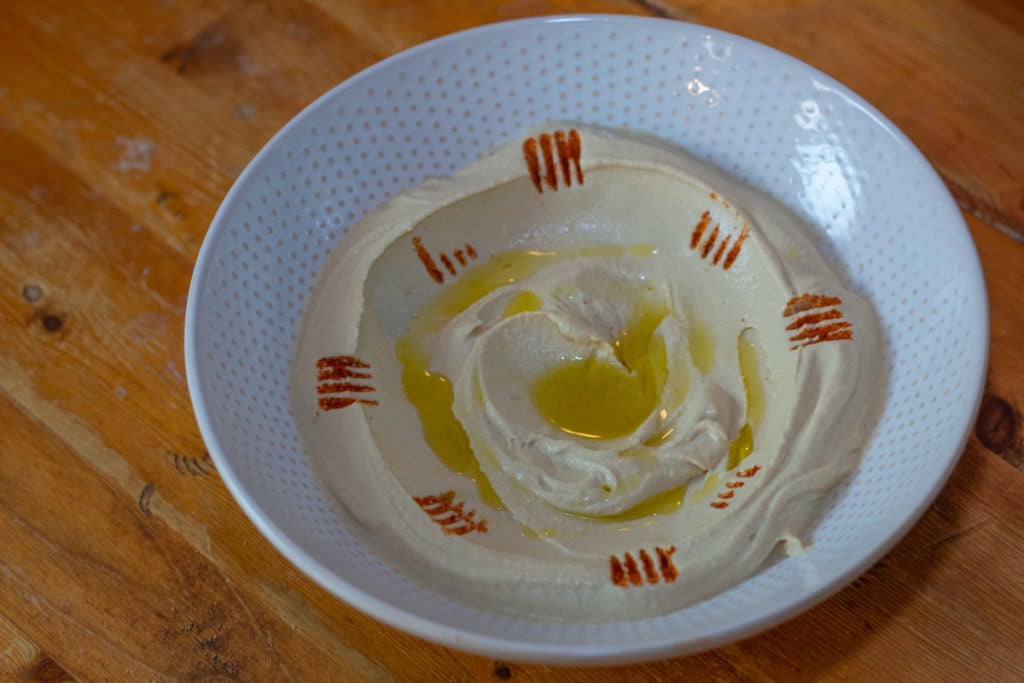 Test #5:

Hot Soup

One of the selling points behind the Vitamix line has long been the fact that you can make hot soups entirely in the blender container itself. Because of the high-powered motor, it is possible to create hot soups simply from the blade friction heating the ingredients.

While it does take upwards of 10 minutes sometimes to create the perfect hot soup in the Explorian E310, it is definitely worth it. By cooking the soup entirely in the blender pitcher you can create simplicity and purity of flavor that's hard to replicate and very different from traditionally made soups might taste. While both ways have their merit, I think it's pretty fun to make perfect soup in my Vitamix and I do so regularly.

To test hot soup in the E310 I decided to go with a pretty classic, cream of mushroom soup. To start I loaded the blender pitcher with sliced cremini mushrooms, garlic, shallot, cream, chicken stock, and seasonings.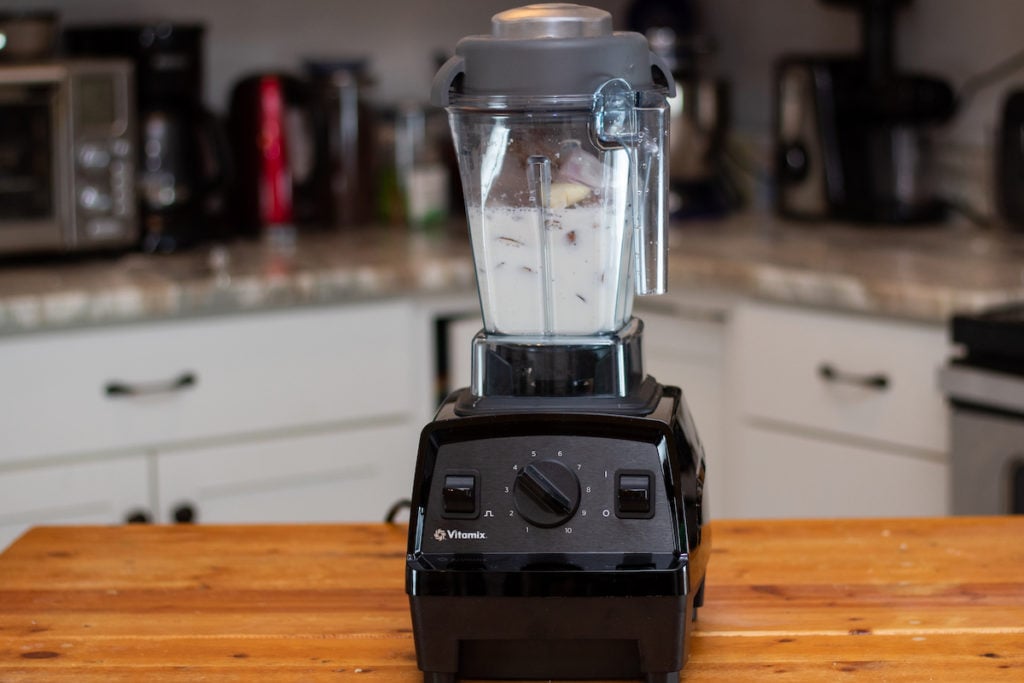 I placed the blender container onto the motor base and dialed the speed control to 5. I allowed the soup to blend until the ingredients were well chopped before moving the speed control to high speed and setting my timer for 5 minutes.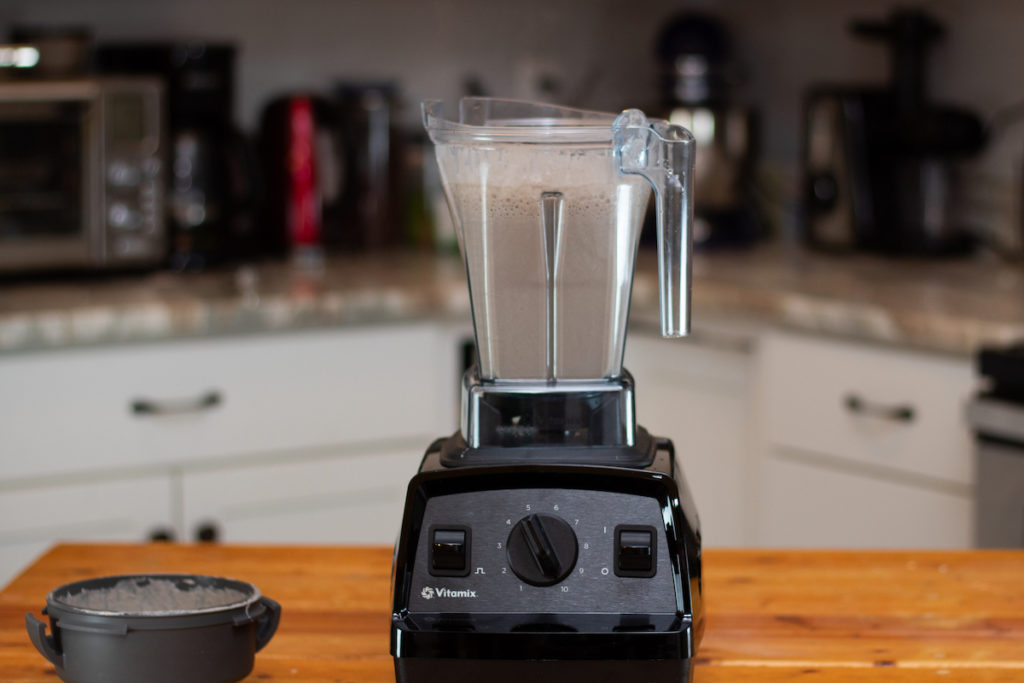 After 5 minutes had elapsed I turned the blender off to check the temperature and texture of the soup. What I found was a perfectly smooth soup that wasn't quite hot yet, so I returned the blender pitcher to the motor base and turned it on again. I set my timer for another ten minutes and waited patiently for the soup to finish.
Once five more minutes had elapsed I returned to smooth, piping hot, cream of mushroom soup. I poured some into a bowl, garnished it with some of my favorite seasonings and toppings before digging in.
Like many soups I've made in my Vitamix, the E310 produces perfect, smooth, rich soup with a ton of flavor. Though it took a touch longer for this soup to heat fully it was definitely worth the wait.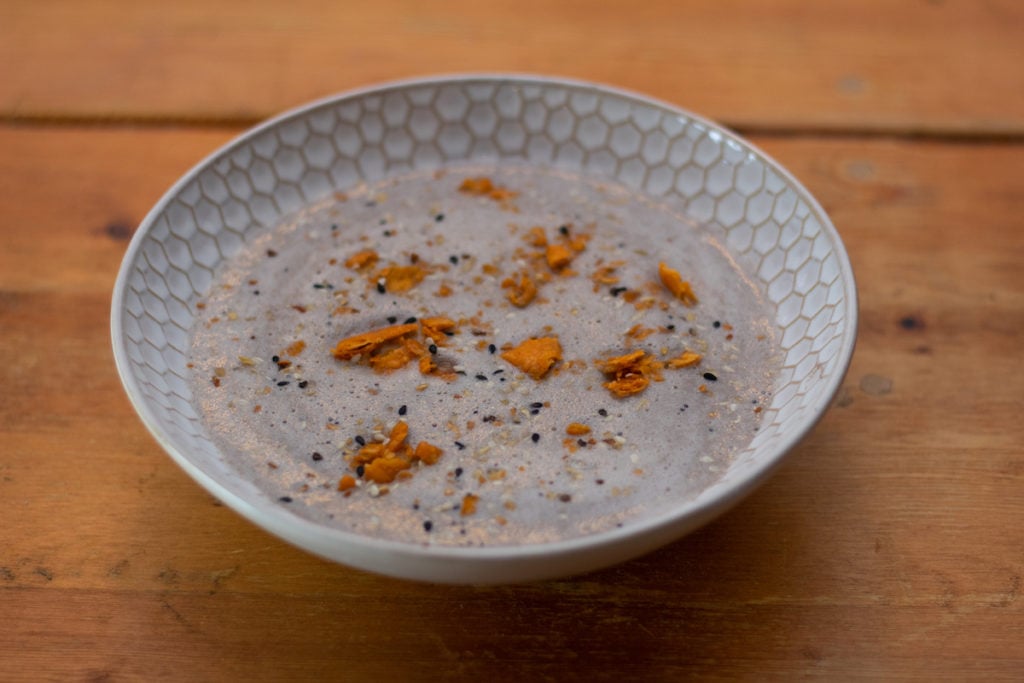 About the Noise Level
While some say that the Explorian Series E310 and the entire Explorian Series in general, make a lot of noise compared to other Vitamixes, I'm not 100% sure this is true. Vitamix blenders are in general noisy machines. They have very high-powered motors and they are definitely not "whisper quiet" to begin with.
Compared to the E310, the Ascent series hit much the same decibel levels through my testing, especially when blending thicker or tougher ingredients like ice or a smoothie.
Here's the decibel level on low then high with the E310.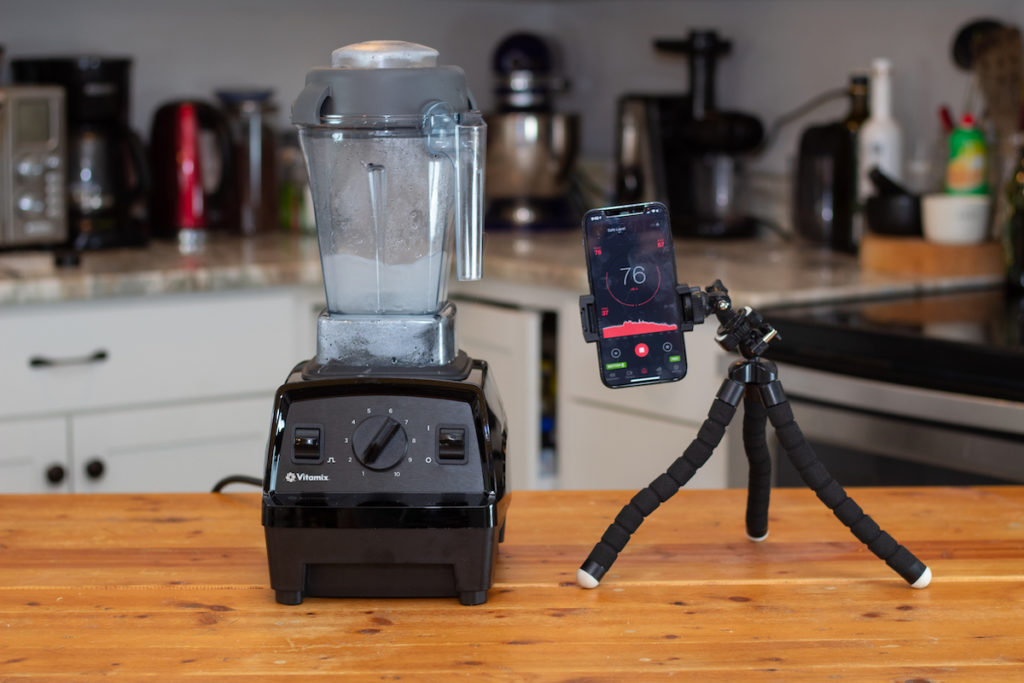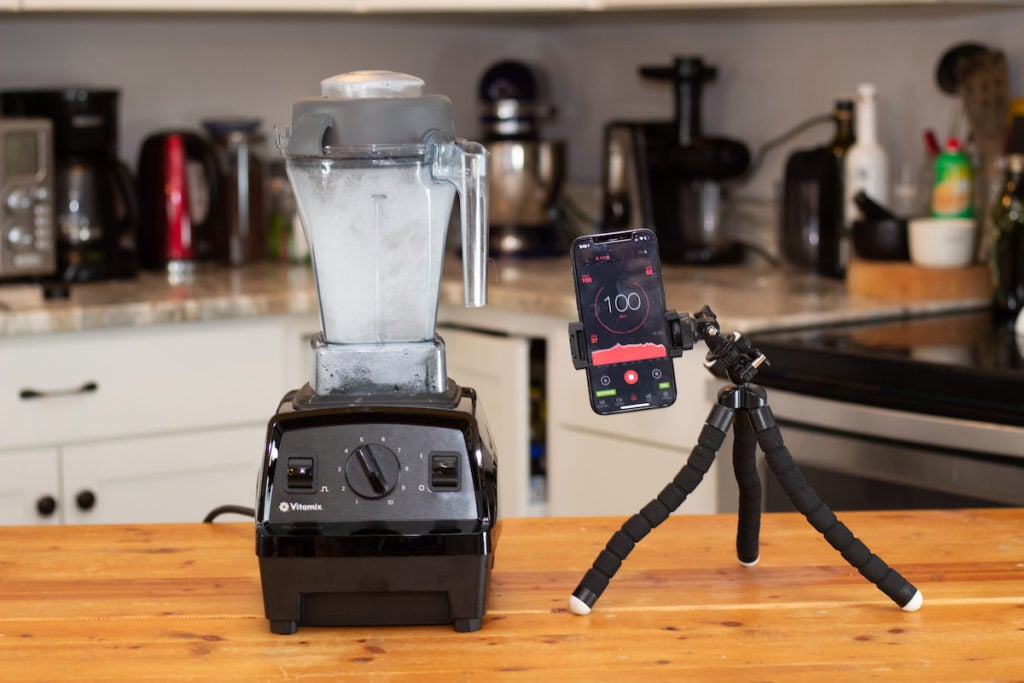 Both the Ascent A2500 and A3300 regularly hit decibel levels close to 100 throughout my tests, and the professional series might be even louder than that. Here's a test of the A2500 with some ice even at low speed.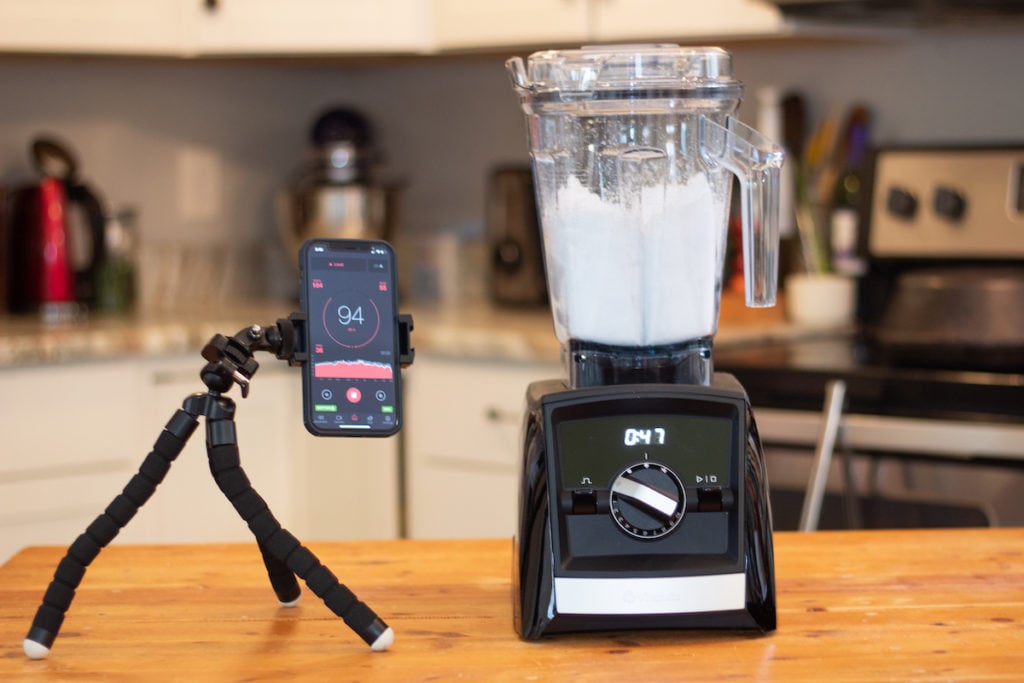 The quietest Vitamix blender available is the A3500, but it's also double the price of the Explorian E310 and not that much less noisy overall. This is another big reason why the E310 is such a good deal, even when it's not on sale.
No Presets?
While the E310 doesn't have presets I don't feel it's a deal-breaker for this machine, especially considering all the positives associated with this value-priced Vitamix. Preset programs are great especially if you want to simply press a button and get an awesome smoothie or crushed ice. That being said they are far from necessary to create great blended or puréed foods.
The majority of my Vitamix experiences have been in the professional kitchen. As a Chef, I would say I use a Vitamix 2-3 times a daily depending on what recipes I'm working on. Almost every Vitamix I've had the pleasure to use has been similar to this Explorian series and lacked presets.
While the Vitamix E310 doesn't have presets it does have a variable speed control which allows you to control the way your food moves as it blends, in turn allowing you more control over the texture and consistency of your recipes. While learning to get the results you want without presets may take a little time, I truly feel that learning to use a Vitamix without the presets has given me a better ability to manipulate foods in the Vitamix more easily and effectively than with a preset.
For some, presets are a must, one-button operation can be incredibly convenient. But if you are looking for a blender that can make great purees/smoothies and presets aren't a "must-have" then this blender is a great option
How Easy Is It To Clean?
The Explorian E310 like most Vitamix products is a cinch to clean up. Both the BPA-free blender pitcher and the rubberized lid are dishwasher safe which is nice. Personally, I don't like to use the dishwasher for bladed appliances as I find over time the dishwasher will dull the blades more quickly than handwashing will. That being said, it is nice to be able to throw the pitcher assembly in the dishwasher, press a button, and walk away.
Some Vitamix models come equipped with a self-clean preset. Though this is a nice feature that makes it super easy to clean your blender with the touch of a button it's easy to recreate the preset with an egg timer. Simply fill your blender pitcher with a drop of dish soap and warm water. Lock the top into place before turning the blender on high.
Allow the blender to blend on high for 2-3 minutes until you see the water start to steam. Once the timer has elapsed simply rinse the blender with clean and allow it to air dry.
How Would I Improve the Vitamix E310?
Overall I wouldn't change much about the Explorian Series E310. I could say that I would increase the size, but that would defeat the point of this blender. The smaller size combined with a more bare-bones function set allows this blender to sell for much less than most Vitamix offerings.
One thing I would urge Vitamix to consider is including the tool to remove the blade assembly with their products. Because of the stress placed upon the blade assembly, it is tightly secured to the blender pitcher and to remove it you need to use a specially designed wrench. Though there isn't often cause to remove the blade assembly, I like to clean the o-ring and fittings once a month or so to ensure cleanliness and without the wrench, this can be almost impossible.
What's the Warranty?
The Vitamix Explorian Series E310 comes with a 5-year warranty. This warranty covers the motor base, blender pitcher, and accessories for a period of 5 years from manufacturer defects and failure associated with normal use.
To ensure your warranty is honored, make sure to register your product upon purchase and visit this website for more information.
Verdict
Vitamix blenders are consistently excellent appliances and the Explorian E310 is no exception. Though it does have a slightly smaller 48-ounce container this isn't a big enough drawback to dissuade most potential buyers. The high-powered motor, sharp-bladed assembly, and high-quality construction all make this a top-of-the-line blender.
Put another way, if you're a single or a couple, the smaller container size won't affect your life in any meaningful way. Grab your Vitamix E310 now ($50 off) and be happy.
The shorter profile of this blender, especially compared to other blenders in the exploring and professional series is a huge point in its favor. While I will always love my Vitamix Professional series, the taller blender pitcher prevents it from easily fitting under my kitchen cabinets when assembled. This is an issue that the E310 luckily doesn't have because of the smaller blender container.
I would recommend the Vitamix Explorian 310 to anyone who is in the market for a Vitamix but also wants to keep the purchase price as low as possible. If you are only planning on blending medium batches for small family meals, or space is at a minimum in your household then this is the Vitamix for you.
On the other hand, if you are looking for preset functions or a larger capacity size, then you might think about checking out some of Vitamix's other offerings.
How Does it Compare?
Because it's got a lower price, let's compare the E310 to some different blenders this time, namely:
Vs Blendtec 575
Blendtec and Vitamix have been synonymous with high-quality blenders for as long as I've been cooking. While my experience has always been with Vitamix, I know a lot of Chefs who have great things to say about Blendtec products.
The Blendtec 575 is slightly less expensive than the Explorian Series E310, but feature-wise it really sets itself apart. With 5 speeds, 4 pre-programmed settings, and a 90-ounce volume the Blendtec is a great blender from a great blender company.
While the Blendtec 575 is slightly larger in overall volume the recommended blending capacity is 36oz, which is 12 oz less than the Vitamix's capacity. I would like to note that one thing I found throughout this review was the fact that I had to lower recipes, not because the blender couldn't handle the final volume, but because it didn't have the capacity for me to load all the ingredients I need. This wouldn't be an issue in the Blendtec pitcher.
If you are looking for a great blender with a large capacity, a simple touch display, and preset functions, then the Blendtec 575 is for you. If you are looking for the best blender you can get at this price point and pitcher volume, then the Explorian Series E310 is for you.
Vs Breville Fresh & Furious
Both of these companies also make great products, Breville is known for its high-end kitchen appliances from blenders to ovens, microwaves, or stand mixers. Breville makes a lot of really great stuff.
Vitamix is also known for its status as a producer of high-end kitchen appliances, but where Breville has an expansive line of options, Vitamix is focused purely on blending products.
Price-wise these two blenders are neck in neck. Realistically they are so close in price it's not even a talking point because for the price of one you could have the other. Where these two blenders truly differ is in design and approach to blending.
Where the Vitamix Explorian Series E310 is a functional if bare-bones blender, the Breville is far more feature-rich with a more aesthetic-driven design. With a sleek stainless steel base, and multiple presets the Breville Fresh& Furious has a lot going for it.
I would recommend the Breville Fresh & Furious to anyone who wants to spend ~$300 for a great blender but also really antes the convenience of preset functions.
Vs Cuisinart Hurricane
While the previous two blenders were almost the same price as the Explorian series E310, the Cuisinart Hurricane is about ⅓ less expensive overall. With a 2.5 hp motor, larger capacity than the E310, and preprogrammed smoothie/ice programs the Cuisinart Hurrican is a very attractive blender.
Compared to the Explorian E310 the Hurricane is more aesthetically pleasing with a. rounded gunmetal grey base, and a large 60-ounce pitcher, compared to the 48-ounce container of the E310. The E310 is also slightly lower in the horsepower category at 2 hp.
The Cuisinart Hurricane is a great blender for almost anyone, especially at its price point. With a strong motor, large capacity, and two convenient present functions, it's easy to see why this blender is popular with consumers. If you are looking for a high-quality blender but are still trying to keep the purchase price as low as possible, the Hurricane will work great.
On the other hand, if you want to add the dependability of a Vitamix to your kitchen, without breaking the bank the Explorian Series E310 is a great place to start.
Comparing the Vitamix Explorian E310
If you're still not sure whether it's for you, these are the main factors that distinguish it from all the other popular Vitamix blenders.
Vs E320 (renewed)
First, understand that right now, the E320 is only available in a renewed model (which brings its price down, and unfortunately, makes the decision between it and the E310 a tiny bit harder).
Hopefully, we've covered this but to be short: They're the same machine, with different container sizes. E320 has the 64oz container where the E310 has the 48oz. For that bigger container, you're gonna pay an extra fee. See above if you're still not sure whether you need that bigger container.
Vs 5300
The 5300 is a model currently only available in it's refurbished form. It used to be much cheaper than it's current price, so it's not a model I recommend. If you're curious however, the 5300 is a little quieter, has that extra 0.2HP, and has a 64oz container. On the downside, it's much more expensive and it currently only comes in red.
Vs 750 Pro
First, the 750 is a professional machine, intended for businesses, but used by a lot of home cooks. It's a professional price too, typically costing much more than the E310. For that money you get a quieter blender, a slightly more powerful one, with a bigger container, and all possible preset programs. The 750 almost has as many extra features as the A3500 below.
Vs 7500
You'll notice a theme here... Comparing the E310 to any other Vitamix starts with saying the other one is more expensive. The 7500 is more expensive because it has a bigger motor, bigger container, and it's got the features to make it quieter. If I can make a statement here without further justification: If you're thinking of getting a model instead of the E310, don't make it the 7500. Go with the Ascent 2300 or the reconditioned 5300 instead.
Vs A2300
Now we're comparing to the new Ascent range blenders so feature-wise, there's a lot different. The Ascent blenders (including the A2500 and A3300 models) have the digital timers, touch screens, self detect containers that you can interchange. They're also quieter and more powerful, and they have 64oz containers as standard. All that you'll pay for, The A2300 is usually much more expensive.
Vs A3500


Ascent A3500
$649.95


Explorian E310
$349.95
Container
64oz
48oz
Presets
Hot Soups, Frozen Desserts, Dips/Spreads, Smoothies, Self Clean
0
Timer
Count Down
N
Clear Lids
Y
N
Dishwasher Safe Containers
Y
N
Fits Baby Food Container
Y
N
Fits Food Processor Attachment
Y
N
Cord Length
4ft
4.5ft
Weight
14lbs
10.5lbs
Height
17 Inches
18 inches
Renewed
N
N
Warranty
10 Years
5 years
Check Price on Amazon
Check Price on Amazon
This is comparing the lowest end Vitamix to one of the highest. The A3500 is another Ascent blender, but with even more features like pre-sets, a programmable timer that counts down rather than just up. It has everything the Ascent A2300 has, but is more expensive again.