The A2300 is the most affordable blender in Vitamix's latest Ascent range. It comes with most of their latest tech, including the digital "count-up" timer, the ability to swap between container sizes, and - importantly - the dishwasher-safe containers.
A little secret we discovered is that although this model doesn't have the famous Vitamix "preset program" buttons on the control panel, the A2300 does pair with their "Perfect Blend" app that allows you to upload and run preset programs with the blender anyway!
SAVE 9%
VALUE PICK: Vitamix Ascent A2300 Smart Blender
The Vitamix A2300 gets you everything you want from a Vitamix, at a reduced cost, without having to settle for a dated model. The smoothies are lump-less. The hot soups are still ready in 6 minutes. We think this model is a winner.
Yes, it's got the full-sized 64oz container. Yes, it has the full 2.2hp motor with 10 speeds and the cool variable speed control dial to afford maximum blending precision. The Ascent A2300 will do everything you've ever heard of someone doing with their Vitamix, it just won't have those preset program buttons for things like "dips/spreads" and "self-clean "... and we don't think that matters.
Below is our complete review of the A2300 with all its features analyzed in excruciating detail. Use the table of contents to skip to the thing you want to know most, or simply keep on scrolling.
In the review below, I'll go into the details of what's special about the Ascent 2300, the features you should care about (and the ones you won't care about), and the reasons why you would consider making this model your model. Of course, that will also include the reasons why you should choose a different model.
Table of Contents
The A2300 blender has everything that people loved about next-gen Vitamixes (powerful motor, blend-anything capacity, different container options, nice controls) and newly added luxuries, without an offensively high additional cost.
Let me try to summarize the important mainstay features of the Ascent 2300 (+ their improvements) and then highlight the new luxuries.
#1 The Motor Is (Slightly) Better Than Classic Models
Compared to the Classic Vitamixes (like a 5200 and 5300), the motor base on the A2300 ascent series is 2.2 peak horsepower (the previous were described as 2-2.2 peak). So there's a little extra power.
Will you notice this? Most likely not. But given that the price of the Ascent 2300 is hardly more, it's good to feel like you're getting more power for your money.
With the A2300 blender you'll still be able to blend and process anything you want, from smoothies to hummus to ice cream to coffee to nut butter.
You may notice an apparent improvement to the motor (and casing), which has resulted in slightly less noise on the Ascent models. No one can be upset about that.
#2: Beautiful (Feely) Variable Speed Control
In the Ascent 3300 and 3500, the controls all become digital. No knobs or switches, just digital dials with no maximum position.
Some people like that. Other people prefer the physical touch (and perception of control) offered by real touchy dials and switches. I'm ambivalent on this point, but I certainly see the value of the A2300 (new and improved) switches, particularly if you're using your blender while doing other things. For example, if you look back across your kitchen while your blender is on. With switches, you know where you're at by looking at it. With a digital dial, you can only tell by the noise it's making.
As far as the variable speed control goes: To me, this is just a staple of Vitamix. Some reviews made a fuss of this feature, but all the older Vitamixes have some version of this. Don't get me wrong: Variable speed control is the best. It allows you to prepare everything with a much greater level of precision than other blenders, and adjust things to your taste: It's just not new and important enough for it to be a reason why you buy this model specifically.
Make sense?
Now to the new luxuries...
New Luxury #1: Built-in Digital Timer
If you are stubborn, or a great cook, and want to manually process your food using the A2300 ascent series, you can. If you're not or you don't want to, there is a built-in digital timer on this bad boy that will keep you on track so you don't forget you put that hot soup in your blender exactly 5 minutes ago.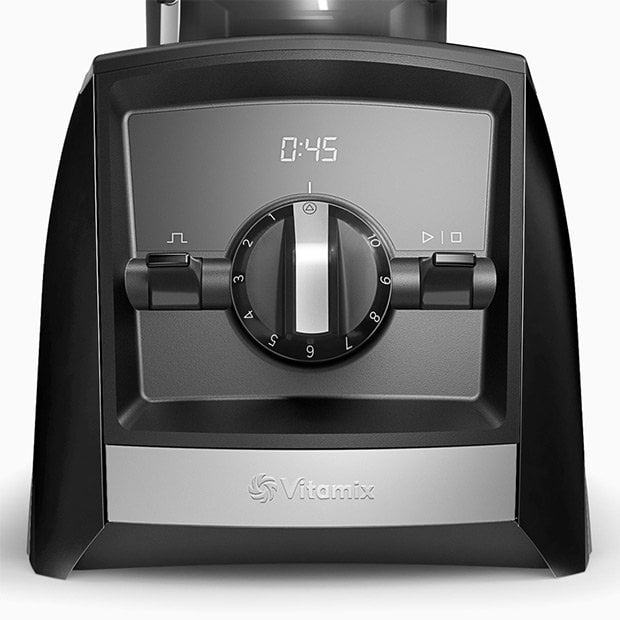 The built-in digital timer is a feature a lot of people wanted, and they did it. Even on these entry models in the Ascent range. Woo!
New Luxury #2: Better (Clear) Lids
There's some debate on this one, but my feelings are clear (pun. Boom.): The clear, better-locking lid is better.
You can now look down into your blender as you're blending to check the texture of your contents at a glance. That, to me, is better than the opaque rubber variation.
Some people seem to prefer the soft grip of the rubber lid, but the new clasp of the plastic lid with rubber lining works just fine. And you can see through it.
New Luxury #3: Wi-Fi
You heard me right. Wi-Fi in a blender.
It's a bit of a hypey thing because the truth is, right now... the Wi-Fi doesn't really do anything. In fact, it literally does nothing.
BUT... what it means is that with planned new developments, you should gain new exciting features at some point in the future. I am excited about that, and you should be too. 🙂
New Luxury #4: Extended Warranty to 10 Years
Arguably, even the 7-year warranty of the previous series was superfluous. Even if you got 5 years out of one of these things, you'd be over the moon. If you bought one for $500, you're paying $100 a year, or $8 something a month for it.
Now you're paying $4 a month for it, over 10 years, or they replace your machine. That adds peace of mind.
New Luxury #5: Dishwasher-Safe Containers
Yup. Earlier rounds of Vitamixes (like 7500) did not have dishwasher-safe containers. And some people didn't care.
I am not one of those people. I've owned my 5200 for many years, and some days, as I'm scrubbing around the edges to clean the bits the "self-clean" function didn't get out, I envy the newer models. Being able to stuff your container in the dishwasher - even if only now and then - would save considerable time over the years you'll have this thing.
Note that the lid on the container is also dishwasher safe, but that was true with the older models and their rubber lids as well.
What Do Other Customers Say?
After sifting through countless reviews, I can tell you the ratings on the A2300 ascent series are phenomenal. Everyone says it's well worth the purchase even though it's an investment item.
There were a few complaints, of course. No product is free from ridicule. I do think the complaints are universal and don't have anything to do with quality.
The "negatives" of this blender are mainly about the things it doesn't have, that the higher-priced Ascent models have.
For example, it has no preset programs. If you like those, you should consider a different model.
It also doesn't use the newest digital technology on the dials, but as I mentioned earlier, some people prefer that.
That's it. Other negative comments I've seen are only from people who bought it expecting something outrageous they'd heard through the grapevine without having researched properly.
The Unboxing: What Comes With It?
The basic pack comes with the motor base, 64-ounce container, a low-profile tamper, and the Simply Blending cookbook.
There are other container options you can choose if you think you'll use them often; things like the personal smoothie size, for taking to work, or the blender bowl size. It's important to note here that when you buy other models, you don't just have the capacity to switch containers across the whole range. For example, the 5200 container only fits the 5200.
This adds potential to your cooking, meaning if you want to cook more things with the same machine in future, you can. These containers are easy to buy separately later, even if you don't get them upfront with your blender.
Of course, this isn't a "need"... but the option is nice to have.
Last thing: It's not "in the box" as such, but the Ascent series blenders get you access to the Vitamix app, that comes with a tonne of cool recipes and instructions you can load up on your phone while cooking. Which is a nice segway into...
What Can I Make With It?
What can't you make with it? Every time I'm on the Vitamix website I realize there's another thing I can do with my blender that I didn't know about. Mincing garlic was a recent revelation.
Why not make this pineapple salsa?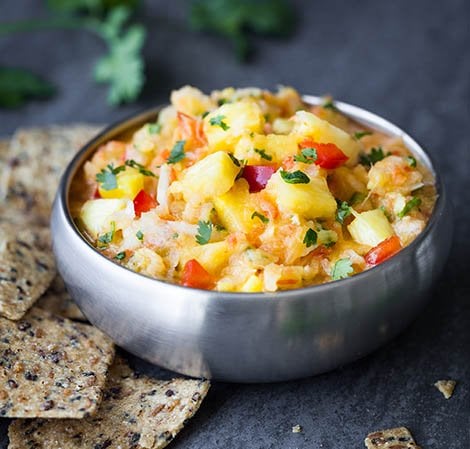 Or these buttermilk pancakes?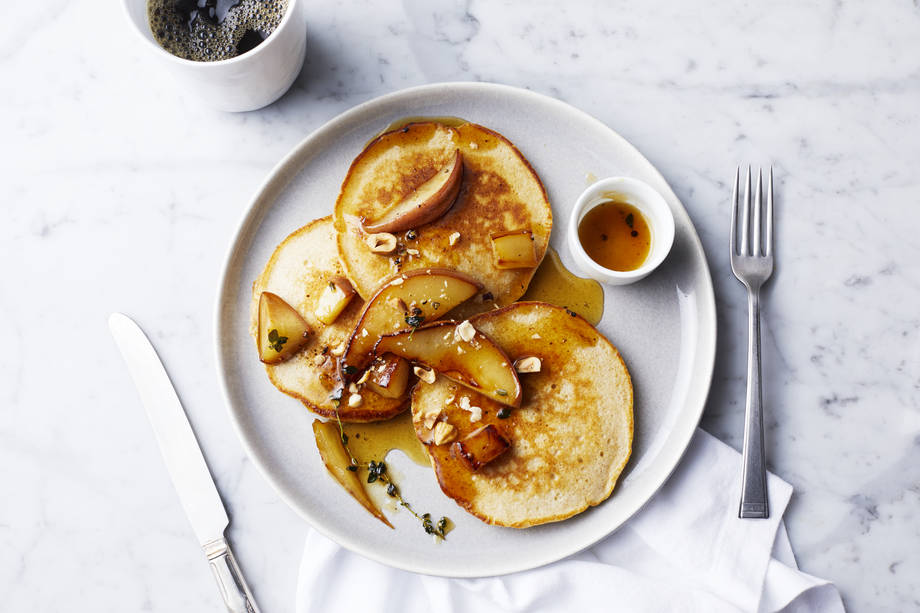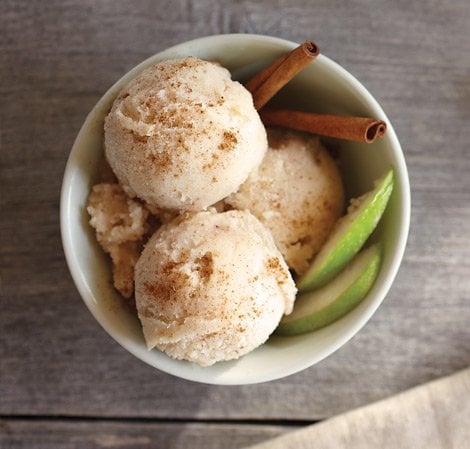 And these are just Vitamix's own recipes. Fans around the world have compiled thousands more. If you want to lose an hour and end up with a keyboard covered in drool, check out this list of 41 recipes from Greatist.
Hot soup is one of my favorite things to make in a blender. A nice tomato bisque is simple and easy with the Vitamix A2300. The blade actually creates enough friction where it will warm it up. However, if you put hot soup in the container, it will stay hot because the container is insulated.
SAVE 9%
VALUE PICK: Vitamix Ascent A2300 Smart Blender
The Vitamix A2300 gets you everything you want from a Vitamix, at a reduced cost, without having to settle for a dated model. The smoothies are lump-less. The hot soups are still ready in 6 minutes. We think this model is a winner.
Who doesn't love a nice froyo after dinner? From ice cream to fruit sorbet, it can help you create a healthy (or unhealthy) treat to satisfy your sweet tooth. Once again, the insulated container will keep your cool products nice and frosty.
Want to make some homemade pizza dough or bread? Don't buy a whole separate machine. With the pulse feature, your new blender can knead dough for you. If you want to make a batch of banana pancakes on Sunday morning, it can help you with that too. The easy pour spout will make your pancakes flawless. Shoot for the Mickey Mouse version. Any other cupcakes, cakes, or baked goods can be made with ease.
Raise your hand if you like nut butter. Now raise your hand again if you HATE the price of nut butter. Me too, me too. Vitamix to the rescue again. It can handle making almond butter, peanut butter, cashew butter, or butter of whatever kind of nuts you throw in there. I also really like that it has the capability of grinding spices and even coffee. Freshly ground coffee is not just for the rich now. With use of the pulse feature, you too can be fancy in the morning. 🙂
Of course, the puree feature makes a delicious smoothie, but why stop there? You can make savory purees, sauces, and more. It will make sure you get the smoothest of smooth concoctions, whatever you decide to put in its container.
How Does It Compare?
Let's take a look at the differences between the many different Vitamix models you can choose from, and how they compare.
Vitamix A2300 vs A3500
Well, this is comparing the entry-level Ascent to the top-level Ascent.
The main differences here are preset programs and digital dials.
The 2300 has no preset programs: 3500 has all five possible preset programs (for soups, smoothies, frozen stuff, dips, and cleaning).
The 3500 also has the digital dials we've talked about, where it's little sister doesn't.
Oh, and the price. The 3500 runs quite a bit more expensive.
Vitamix A2300 vs A2500
These two are really similar. For example, both have variable speed control and pulse feature. There's only a slight difference. The 2500 has three programs available: smoothie, hot soup, and frozen dessert. Otherwise, these two models are pretty much the same. I would suggest the A2500 only if you feel like those programs will make a difference in your life.
Vitamix A2300 vs A3300
A few differences again, here. The A3300 is more expensive. It has the touchscreen if you're into that. The A3300 does have the user-set countdown timer (slightly different to the regular digital timer) too which is a big deal for some people.
Vitamix A2300 vs 7500
There's a price hike here. The 7500 is significantly more expensive, and I don't think it's worth the leap, compared to the new Ascent 3500. The A2300 is quieter than the 7500, has the dishwasher-safe container, and a digital timer feature.
Vitamix A2300 vs 750
I consider these two very close in value but the A2300 slightly better for the average person overall. The 750 doesn't have the timer. The A2300 is slightly quieter, and incidentally, a tiny bit shorter (for fitting under kitchen cabinets). This and the Wi-Fi capability for future upgrades make it a great choice, especially because... it's cheaper!
Vitamix A2300 vs 5200
No comparison. The A2300 is cheaper and has many more features, skipping ahead 2 rounds in Vitamixes evolution.
Vs E320
Besides having the same container size, there are no similarities with the Vitamix E320. Weirdly, the prices are pretty similar on these two models, but the A2300 has the new touch screen, 10-year warranty, digital timer, dishwasher safe container and it's quieter. Go figure?
Vs E310
The E310 is the lowest end Vitamix blender. It may be cheaper, but it has none of the new features we've talked about in this article. The motor is slightly smaller. It's louder. The container is smaller. Except for price, there are no reasons to get an E310 instead of an A2300.
Where Can I Find Other Accessories?
I like the old trusty Amazon to find accessories that match the A2300. However, you could take a look at the official website or any store that sells Vitamix products. Be very careful if you stray from Amazon and make sure the products are indeed compatible with your blender.
Are My Old Containers Compatible With the Ascent?
Unfortunately, no. You can't slap a 5200 container on your new Ascent. You will have to build up a new collection of containers for the Ascent series blenders.
But again, this is a machine that is compatible with containers other than its default one, which is not true for all other models.
How Noisy Is It?
Ascent range blenders range from about 76 decibels at low speed to around 100 decibels at high speed. The more expensive models are a few decibels quieter in our tests, but unless your hearing is particularly sensitive, you won't notice it.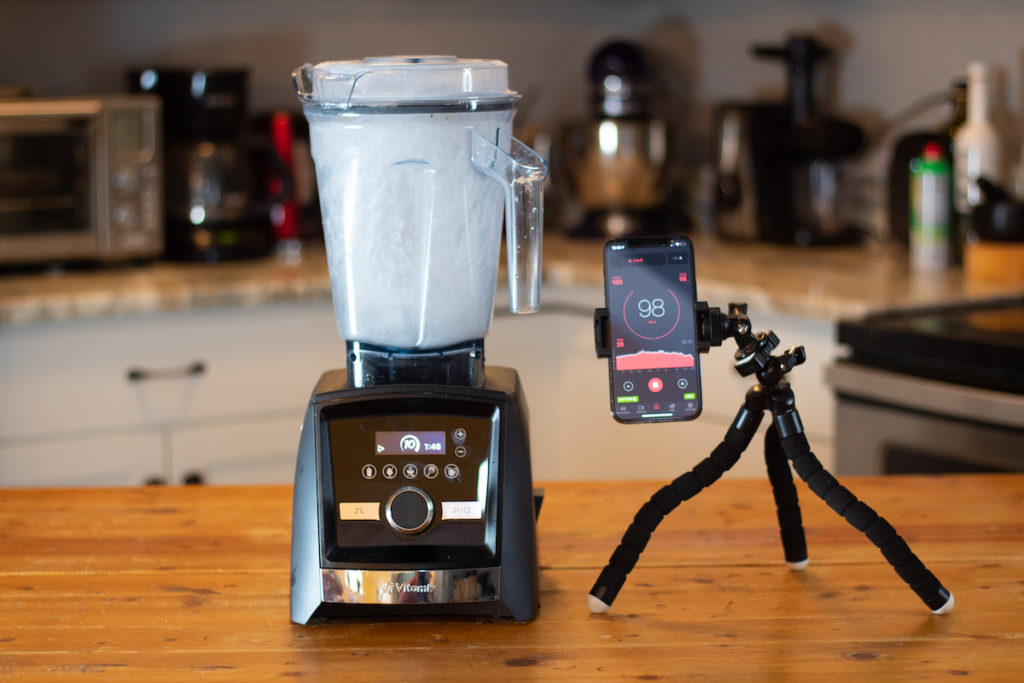 Overall, no Vitamix is quiet, because no blender with 2.2 horsepower is. But the A2300 is as quiet as you'll get for this number of features and this amount of processing power.
Is It Dishwasher-Safe?
Yes. Hooray for it being dishwasher-safe! I would suggest soaking it in warm soapy water and handwashing. That's a personal choice because I don't always get the results I want from a dishwasher. However, you certainly can run it through the dishwasher with no issues.
Where Can I Find a Reconditioned Vitamix A2300?
I like where you're head's at. Sadly, it's a no. There are as yet no reconditioned A2300's out there (beware of advertising to the contrary!) only because it's such a new model. Remember it's already a value purchase. If you want to save more, and you like the idea of reconditioned, check out the reconditioned Ascent A2500 instead.
Verdict: Is This Blender for You?
If you want:
a) Everything a Vitamix blender is known for
b) Huge value for money but without sacrificing features, and
c) You don't put much value on presets or digital dials
I think the Vitamix A2300 is an excellent choice.
SAVE 9%
VALUE PICK: Vitamix Ascent A2300 Smart Blender
The Vitamix A2300 gets you everything you want from a Vitamix, at a reduced cost, without having to settle for a dated model. The smoothies are lump-less. The hot soups are still ready in 6 minutes. We think this model is a winner.
Good luck with your decision and let me know if you have any questions!