Sure, the Vitamix 5300 looks like a great buy. But Vitamix has a lot of models. How do you know if the 5300 is really the best choice for you?
That's why I wrote this article. I've been using my Vitamix and providing research to people considering a Vitamix for the last 5 years.
And I feel confident that as long as you're sure about a few key things that we'll discuss below, you can make the right decision on this purchase, and be happy with your Vitamix for years to come.
What follows is absolutely everything I know about the Vitamix 5300 blender, to help you decide whether it's the right investment for you and your household.
Choose your most pressing issue from this table of contents below, or simply keep reading to see the full breakdown and review.
First thing's first: The big difference.

Table of Contents
The Vitamix 5300 is now ONLY a Reconditioned Model
That's the thing. The first thing you need to know.
This is an option that's available for the 5300 blender but NOT for all other Vitamix models around the same power or price point. It's the most distinctive and most appealing feature of this model, and it's the reason why it comes in number 2 on my list of best Vitamix blenders of the year.
The reconditioned 5300 that you can see on Amazon here offers a a massive saving.
I'm going to tell you all about what "Reconditioned" means below, but for now, just ponder the saving. Having reviewed almost 100 blenders, I can tell you there's not a way to save an amount like that on a blender like this anywhere, any time.
The second thing you need to know?
There is No Compelling Reason to Buy a Vitamix 5300 Blender
New

for the Full Price.

None. If you were thinking of doing this, stop.

If you've got that amount in your budget, spend a little more and get a Vitamix A3500: Their latest and greatest machine for home use. Get 5 program settings, a touch screen display, a dishwasher safe container, and a countdown timer... for a little more. It's a no brainer.

Ok, so we've established that from here, you're only thinking about whether you should save a big pile of cash by getting a reconditioned 5300 blender, right?

Now let me help you decide whether you actually want to do that...
What is "Certified Reconditioned" Exactly?
When you buy something labeled "certified refurbished" or "certified reconditioned" from Vitamix, that means it's as good as new.
It could be something as small as a customer purchased it then and returned it for one reason or another, usually because they changed their mind about the product.
Vitamix themselves "refurbish" it to their high standards, and Amazon resells it.
This video below shows a customer unboxing their certified reconditioned Vitamix 5300 blender so you can see exactly what comes in the package, and you can see the quality of it too.
As you'll see, the thing is literally gleaming when it arrives...
It's not like they can't guarantee the quality anymore because it's "2nd hand". Quite the opposite, they still guarantee a very high level of quality and provide a 5-yr full warranty (7-yr warranty for a new model).
What still surprises me is how few people have picked up on how good the value of a refurbished model is. You can see by the reviews that relatively few people have taken the leap and grabbed one, but that those who have been extremely happy.
Buying Tip: The certified reconditioned model still comes with a full 5-year warranty. Only 2 years less than what you get for a new model (7-years). Many shoppers don't realize that there's very little additional risk purchasing a discount certified refurbished model, or that they are entitled to the same level of customer support and guarantee from Vitamix.
What Are The Main Features?
Whether new or certified reconditioned, it comes with the same unique features, and they are as follows:
2.2 HP high-performance motor
With a motor equipped with a 2.2 HP, this blender can process even the toughest of ingredients and won't give up on you when you need it the most. But even with this power, you can expect that it's a lot quieter than other blenders with the same motor capacity.
Easy-to-operate variable speed control
For maximum flexibility, this blender has a variable speed control dial that you can easily adjust and change before and while you're using the blender. From the smoothest of vegetable purees to the chunkiest of salsas, you can use the dial to adjust the blend into the texture that suits you best.
4-inch stainless steel blades
The blender comes with laser-cut, stainless-steel hammermill and cutting blades that help you achieve a consistent mixture.
64-ounce low profile container
The blender's large 64-ounce container ensures that every time you use it, the entire family can enjoy it with you because you can make more than enough for everyone.
Note: The low profile container is opposite to the old style Vitamix container which is much taller. The low profile container means you can store it more easily in a kitchen cupboard when you're not using it (if you're short on space like me), or it means it will tuck easily under a cupboard on a kitchen bench.
Which Accessories Are Included?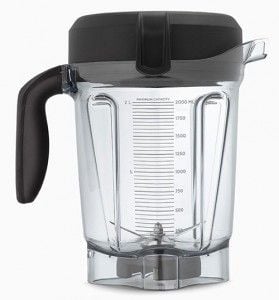 The Vitamix 5300 blender comes as a complete blender set with the blade and low-profile container, as well as the low-profile tamper that can help you push the ingredients to the blade while you blend.
You also have to remember that by default, it comes with a wet blade. This means that if you plan to process dry ingredients frequently, you may want to purchase an additional dry blade and dry container. For infrequent use, the wet blade can still process the dry ingredients, but if you're looking for optimal performance, the dry accessories blade is the only way to do it.
How Much Power?
Regardless of what ingredients you plan to put into this blender, the Vitamix 5300 blender is more than capable of crushing it. Given that it has a 2.2 HP motor base, this blender is relatively more "powerful" than the usual blenders that we're used to. It has 120 voltage, 50/60 Hz, and 11.5 Amps.
This power means that it will not give up on you even if you use it many times in a day, and that's a good thing especially if your lifestyle calls for blending fruits, vegetables, and nuts into smoothies and purees all the time. The high power also makes it work even if you plan to use it commercially.
What Colors Does It Come In?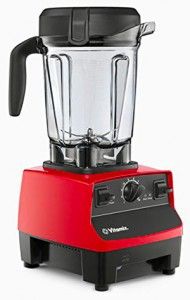 Like most blenders, the Vitamix 5300 blender comes in black, which gives it a sleek feel and professional-looking design. However, if you plan to be on the more stylish and adventurous side, there's also the option of getting the one with a red motor base. In terms of functionality, picking one color over the other does not affect how the blender functions. Color just affects the design and no matter what color you pick, the functionality remains the same. It's really just a matter of preference and how it matches with the rest of your kitchen.
What do Reviews Say?
There's no doubt that the Vitamix 5300 blender is a great option, but it's worth taking a look at what others are saying about it. Reading through customer reviews will tell you that generally, those who have already used this blender are satisfied with it. It has a rating of 4.7 out of 5 stars on Amazon, which is an indicator of the consistent quality and performance of the blender.
One thing customers are especially happy about is the pulse setting of the blender, which allows you to adjust it to the right speed and setting, depending on what kind of ingredients you're processing.
This flexibility is something that a lot of users appreciate, especially because different settings are needed to achieve different kinds of blends. So whether you're making a bowl of healthy vegetable soup or crushing almonds, you can adjust the pulse setting accordingly. It also helps that the machine is a bit compact and takes up less space compared to other blenders. This makes it easy to store. Another feedback that is common in many customer reviews is that it makes less noise compared to others.
Even though it's not a small investment, most customers who have tried it feel that they have made a good choice, especially because it is very durable and will last a long time if properly maintained. Also because of its value relative to other models.
What Are the Dimensions?
Designed to be just right size so it can fit under most kitchen cabinets, it measures 7.2 x 8.8 x 17.2 inches and weighs 12 pounds. When you order it and have it delivered, the shipping weight will be around 15.2 pounds.
How Does It Compare?
While the Vitamix 5300 is a good choice, it's worth noting that there are other blenders you can choose, whether from the same Vitamix brand or others. So how does the 5300 compare? Read on to find out.
vs 5200
There isn't a great deal of difference between the Vitamix 5200 and 5300 and they're usually about the same price, so you've got to dig a little deeper to figure out what will be the tipping point for you.
Both have the same great quality that Vitamix blenders are known for, but compared to the 5200, the Vitamix 5300 has a more powerful 2.2 HP motor base compared to the 2 HP of the 5200.
The 5300 also comes with a pulse setting that's easily adjustable instead of an on/off switch that you need to manually set.
The Vitamix 5300 also takes up less space because it comes with the newer low profile container compared to the classic taller container of the 5200. The motor base is also slightly shorter. The added perk of the low profile container is that you won't need to use the tamper nearly as much - creating a more hands-off experience for everyone.
There are more color options available with the Vitamix 5200 if that is a biggie for you. You can purchase the 5200 in white, stainless steel, platinum and red. The 5300, on the other hand, is only available in black and red.
To sum up, if space and power are your focus, you need to go with the 5300. If color-matching your blender to your kitchen decor is a priority then the 5200 is the way to go.
vs Ascent Range Blenders
The Ascent Range Blenders (see our reviews of the A2300, A2500, A3300, and A3500 at those links) are the newest Vitamix models available, and as such, the old 5300 doesn't compare too favorably. Even though the jump up in price is small, the extra features you get on Ascent range blenders are enormous. Depending which you pick, you might get preset programs or a programmable timer for the extra spend. And no matter which you pick, you'll always get wifi connectivity, clear lids, dishwasher safe containers, and self-detect containers for the spend.
If you're looking to save, the 5300 reconditioned is still great. If not, make the upgrade. You won't regret it.
vs 6300
The Vitamix 5300 comes in black and red, while the Vitamix 6300 comes in discontinued. How's that for a quick comparison? 🙂
vs 750
Both the 5300 and 750 come with a 64-ounce container, so they're both easy to store. The 750 is a bit more pricey though because it has a more powerful motor base and comes with 5 pre-programmed settings: smoothies, purees, hot soups, frozen desserts, and automated self-cleaning.
vs 7500
With the same 64-ounce container, both the 5300 and 7500 are ideal for those who are concerned about storage. But the Vitamix 7500 has a next-generation motor, which makes it quieter compared to the 5300. It's also much more expensive than the reconditioned 5300. Both models don't have pre-programmed settings.
vs E320
The reconditioned 5300 and the newer Vitamix E320 are close in price and on the surface, close in features too. The 5300 has the extra 0.2HP and is somehow still quieter. They also have the same warranty length and the same container size. This is why we recommend the 5300 reconditioned instead of the E320.
vs E310
Here you have more differences. The Explorian E310 only has the 48oz container. The E310 is the cheapest new full-featured Vitamix, but next up the price ladder (I mean, only marginally more expensive) is the reconditioned 5300. Unless you're looking for the lowest cost Vitamix possible, get the reconditioned 5300 here.
vs Vitamix 300
The Vitamix 5300 is part of the C-Series (classic blenders) while the Vitamix 300 is part of the G-Series (next-generation blenders). However, both the 5300 and 300 come with the 4-inch blade that's far more efficient than the 3-inch blades of earlier models. They also both come with a 2.2 HP high-performance motor as well as a low-profile 64-ounce container. container that has a wider bottom and easy to place under kitchen cabinets.
In addition, both blenders also come with 10 variable speeds that one can control through a dial. The pulse feature is also present in both blenders. While both blenders work really well, the Vitamix 300 comes with ultra-responsive controls and a quieter motor. Also, it comes with a cookbook and a DVD to help you get started with your culinary journey.
vs Vitamix s55 & s50
The Vitamix S Series has a forty-ounce pitcher and a twenty-ounce travel cup. The 5300 blender does not feature a travel cup and only has the 64 oz low profile container. The S series has four pre-programmed settings and a safety interlocking system with an automatic off switch. The S series only has a five-year warranty, however, compared to the 5300's seven-year warranty. The S series has more features and accessories but the 5300 blender has a larger capacity and a better warranty. So, these are somewhat comparable models and the difference is merely in how large you need the pitcher and to what degree you are concerned about the warranty.
The difference between these two products mostly boils down to size. The S50 has a 40 oz. capacity with a 20 oz. "go cup" and two-speed functions. It also features a pulse function as well. The Vitamix 5300 blender has a 64 oz. capacity without the go cup and does not features more than two speeds which means it has more options for settings but it is not as space-efficient and does not give the option for a portable cup. If you want more speed settings with a larger capacity then you would most likely use the Vitamix 5300 blender more and if you want to save space the S50 would be a great space saver.
vs Vitamix 500
Both of these items are very much alike. The only difference is the number of settings, and that the Series 500 has a slightly more powerful motor. The Series 500 can blend and mix a variety of foods that may not be possible for the 5300. It can even make sorbet and grind coffee.
Both have a full 7-year manufacturer's warranty. One of the major differences is cosmetic. The Series 500 comes with a metallic finish and the 5300 is a plain black color. The Series 500 tends to be a bit more expensive but both are high quality and will give the user many years of performance. If you are more practical and don't mind missing a few settings and a metallic finish then you might like the 5300. If you want all of the bells and whistles then you should seriously check out the Series 500.
vs Blendtec
Vitamix and Blendtec are two brands that are known for producing quality blenders. While the Vitamix 5300 gives you a manual pulse setting that you can adjust to reach the consistency that you need, Blendtec blenders come with the patented Smart-Touch Technology, which is an automatic program cycle that allows you to press a button and you can just leave it to work on other things in the kitchen. Blendtec products are also known for being more compact than their Vitamix counterparts, although the Vitamix is just as easy to store because of the low profile container.
vs Blendtec 570
Blendtec 570 is a 3-horsepower blender, so it's really a commercial-grade blender. It also comes with 3 speeds and pulse technology, with preprogrammed cycles of smoothie and hot. In contrast, the Vitamix 5300 comes with a pulse setting and no preprogrammed cycles. Another thing you can expect from the Blendtec 570 is a touchpad interface and an illuminated LCD timer display, and it comes in black and pomegranate colors.
vs Blendtec 625
The Blendtec has a bigger motor at 3hp compared to 2.2hp These two are alike in most capacities but the 625 has more speeds and is able to blend soups and grind coffee. So, this will be a better model for those wanting more options. The Vitamix does not quite have the range of function or speed controls that the Blendtec offers. If you are looking for a more powerful blender that has a variety of uses besides simply blending foods, then you may want to choose the Blendtec Designer 625.
vs Blendtec Total Blender
Both it and the Blendtec Total Blender are commercial-quality blenders that you can count on. However, the low-profile container of the Vitamix makes it a lot easier to keep under cabinets. On the other hand, the Blendtec Total Blender comes with a 2-quart square blending jar.
Another difference is the controls. Blendtec Total Blender has digital touchpad controls and pre-programmed cycles, while Vitamix 5300 has a dial that allows you to go on variable speeds. This is a lot simpler than the high-tech dials of Blendtec, but it also depends on what you prefer.
When it comes to power, the Blendtec Total wins at 3 hp, but the average user won't notice this difference in day to day blending.
vs Ninja
When it comes to blenders, Ninja is another brand that is synonymous with superior quality and the ultimate kitchen experience. Both Vitamix and Ninja come with an extensive line of blenders, each with their own set of unique features. In terms of cost, however, the Ninja line is a lot less expensive and you would normally pay a lot more for a Vitamix blender that has similar features. This is mostly because Vitamix and all its component parts are manufactured with pride in the USA. Compared to the Ninja, it is a bigger investment cost-wise, but it also gives you higher returns especially if you plan to use your blender frequently.
vs Ninja Mega
The Ninja Mega Kitchen System is perhaps the ultimate kitchen companion, given that compared to the Vitamix 5300 it has an extra-large container (72 oz). It is also ideal for processing all kinds of food ingredients including dough, which you can mix in just 30 seconds. Aside from the 72 oz extra-large container it also has a 64 oz processor bowl as well as other accessories like Nutri Ninja cups, which allow you to extract nutrients and vitamins from fruits and vegetables.
vs Ninja 1500
There are some fairly big differences between these two products. As far as the blending pitchers are concerned the Vitamix blender has the 64 oz low profile container, while the Ninja Mega Kitchen has a 72 oz. pitcher. The Ninja Mega Kitchen has a 2 hp motor and the Vitamix blender has a more powerful 2.2 hp motor. The Vitamix blender has a variety of speed settings, but the Ninja Mega Kitchen has only three-speed settings plus a pulse function. So if more options are important, the Mega Kitchen is the better choice.
One of the big differences is also the warranty that is offered. The Ninja Mega Kitchen offers a 1-year manufacturer warranty, but the Vitamix offers a 7-year warranty. The Mega Kitchen offers a food processing bowl and a set of Nutri Ninja cups in the 16 oz. version. The Mega Kitchen is more diverse and has a wider variety of uses but the Vitamix has a focus on powerful blending and mixing.
Do You Get Black Flecks From This Model?
In 2014 and early 2015, there were some remarks about 'black flecks' that customers have noticed in their Vitamix blenders, the 5300 model included. What they've noticed is that after blending, some 'black flecks' mix into their smoothie or shake. Vitamix has since then fixed this, so if you buy a new or certified reconditioned 5300 today, you won't encounter this problem.
The 'black flecks' are basically tiny particles of polytetrafluoroethylene (PTFE), which is the same black substance used in non-stick pots and pans. In the case of Vitamix blenders, the black flecks come from the bearing seal that can be found at the bottom of the containers. While it's a concern for many, these particles are harmless. PTFE is chemically inert so it won't react with anything, and ingesting such a tiny amount of these particles doesn't have adverse effects.
Either way, Vitamix has recalled the units with the problem and is also quick to issue replacements when needed.
Verdict: Is This Blender For You?
If you know you want a high powered blender, but you aren't willing to pay the BIG big price for one...
If you value the shorter machine that fits with convenience into your kitchen...
If pre-set blending programs aren't important to you...
And if you're planning to use it for more "wet" things (smoothies, shakes, juices, soups, etc) than dry things (powders, crushing nuts, steak rubs, spice mixes, etc)...
The Vitamix 5300 - the reconditioned one - might be the best value you'll find.