The first thing to say about the Vitamix 300 is that it is part of the firm's professional range. That means while it's not the cheapest Vitamix blender, it's still very popular for home users.
On this page, I am going to explain what you get if you opt for the Vitamix Professional Series 300. I explain what you can make with the blender and have scoured the web reading Vitamix Pro 300 reviews to work out the pros and cons of this blender. Below I have summarized what I have found out from people who have bought and actually use this blender.
My aim is to save you the hassle of having to do that all yourself leaving you free to spend more time watching cat videos - It is no good denying it I know you watch them!
====>> NOTE: The Vitamix 300 is a discontinued model. We recommend instead the #1 rated Vitamix A2500 >> or checking our list of the best Vitamix models of the year in this article.
Or feel free to use the table of contents below to quickly navigate through the article:
Table of Contents
What do you get when you buy the Vitamix Professional 300?
A 64oz pitcher style blending container made from shatterproof, BPA-free Eastman Tritan copolyester.
A full 7-year warranty
Laser-cut 4-inch diameter stainless steel blades
2.2 peak HP 120 volt motor
The Vitamix Create recipe book
A getting started DVD and guide
A tamper
What can you make with the Vitamix Professional Series 300 Blender?
This blender really can do everything. It is designed to blend, cream, heat, grind, and chop. That means it can be used to make the following:
Fruit smoothies
Vegetable smoothies
Nut butter
Soup
Homemade cosmetics like face packs and moisturizer
Frozen desserts
Snow cones
Whole grain flours
Batters
Dips and Salsas
Sauces
The pros and cons of the Vitamix 300 blender
Below is a summary of the main plus and minus points of the S300 series blender:
The plus points
Makes great green smoothies – Unlike some other blenders, this one makes perfect green smoothies. No bits of kale stuck in your teeth when you make green smoothies in this blender.
Wide blades – the wider than normal blades are the reason this blender works so well.
Built-in cooling fan – the fact that the motor has a cooling fan built-in means far fewer cutouts.
Durable – Many people use this blender every day, often several times a day, and they have updated their reviews several times over the years. It is clear from those reviews that this blender performs reliably and does so for many years.
Variable speed and pulse – the ability to vary the speed and use the pulse function make it easy to create great smoothies even when using tough to blend ingredients like nuts. It is especially good for frozen desserts that include whole ice, something that many other blenders struggle with.
Great looking – this blender is great looking. It comes in two different colors, which means it fits in well with most kitchens.
The issues
The price – this blender is not cheap. As I said earlier, it is designed for the professional market and has a 7-year warranty, which means it is made with high-grade parts, so it has a relatively high price tag.
A bit big – some consumers felt that this blender was too big. It is a little bigger than some other blenders, but that is largely down to the good build quality and we are only talking a difference of a few centimeters.
Black specks – When you are sent the blender, you are asked to test it with a cup of water this ensures the motor is working right and helps to clean the blender ready for use. Some people have said that they have noticed a couple of tiny black specks in the water. This is very rare and nothing to worry about, simply contact Vitamix and let them replace your jug.
The overall verdict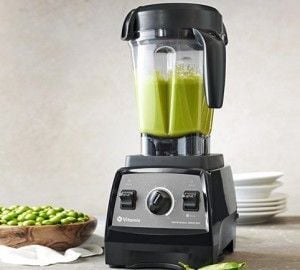 Pretty much wherever you look on the web the reviews for this blender are good. It scores very highly across all sites, with an average score of 4.7 out of 5. In fact, across the over 300 reviews that I read only eight people rated this blender below 4 stars. The vast majority gave it five stars.
This blender is not the cheapest on the market (especially compared to other models like the 5300), but it still represents good value for the money. It is built for professional use and has a 7-year warranty meaning that when other blenders are in the trash the 300 will still be going strong. If you have the money and are serious about blending, it really is worth investing in this machine.
How Does it Compare?
Here's how the Vitamix 300 stacks up against the most popular models.
Vs E320
Comparing to the E320 is a little unfair unless the metric is the price. The E320 is from the starter range of Explorian blenders and is much cheaper. The reason it's cheaper is that it doesn't have pre-sets. It doesn't have the same noise reduction capabilities. It doesn't have a long 7-year warranty either. How much cheaper is it? Significantly.
Vs E310
The E310 is Vitamix's cheapest blender. Compared to the Pro 300 it gives up pre-sets, the stainless steel casing that reduces noise, the 64oz container, and the warranty. It does bring the price down even further though.
Can I buy Vitamix blenders on Amazon?
You can now buy genuine Vitamix blenders on Amazon. It is a great place to find and buy blenders. I have noticed that there are some great blender deals on Amazon.
If you want to find, the best Vitamix 300 deals click the link below to check on Amazon for the best price as of TODAY.