When it comes to blenders, Vitamix is a brand that's highly trusted and easily recognizable. For many years, Vitamix has been coming up with high-quality blenders and complete kitchen solutions. Their wide range of blenders has made it to the kitchens of so many satisfied customers, and one of the newer products in its line is the Vitamix 780.
read through this review to explore the newest offering of Vitamix and find out whether or not it's the blender for you.
====>> NOTE: The Vitamix 780 is a discontinued model. We recommend instead the #1 rated Vitamix A2500 >> or checking our list of the best Vitamix models of the year in this article.
Otherwise, we've left our previous review of the 780 below, in case you saw one come up for sale in a store.

Table of Contents
What Are The Main Features? (And Are They Better?)
The Vitamix 780 has several features that make it worth considering. Here are the most important ones:
Easy-to-use touchscreen control panel
The Vitamix 780 is the first in the Vitamix family to be equipped with touchscreen technology. It has an LCD control panel that's made of hardened glass which makes it resistant to scratches and cracks. The touch screen panel is something that many people have been waiting for because, for the longest time, Vitamix blenders only had manual dials and switches. The good thing about this hi-tech control panel is that it is only activated by the touch or tap of the hand.
Automated blending with 5 program settings, variable speed control, and a pulse feature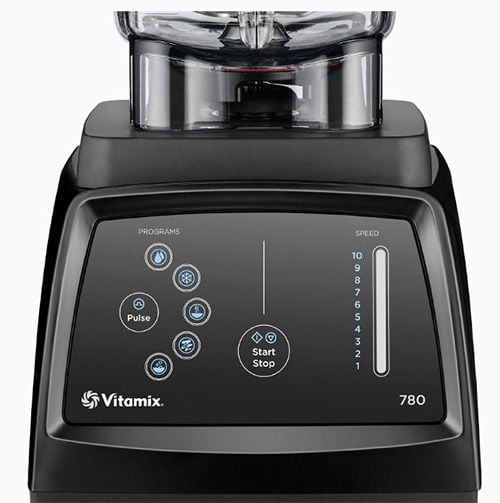 Compared to other blenders in the Vitamix line that only have a pulse feature or a few pre-programmed settings, this one has 5 of the most popular program settings that you can choose from: smoothies, hot soups, frozen desserts, purees, and self-cleaning. It also has the pulse feature, which allows you more flexibility in your blends, layering coarsely-chopped ingredients over the smoothest of purees. This feature is quite helpful when you're making salsa or a hearty soup with mixed vegetables.
64-oz low profile container
The BPA-free low-profile container gives you enough versatility to blend enough for the entire family (or even to prepare for a party!) without having to think about storage space. This is because it's small enough to fit into most kitchen cabinets. This also means it's less bulky than other blenders, that tend to take up a lot of space.
A next-generation motor with stainless steel laser-cut blades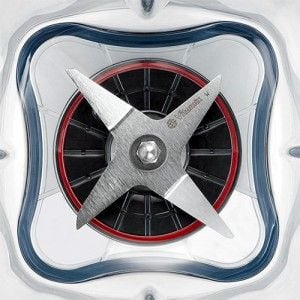 The Vitamix 780 also comes with a next-generation 2.2 horsepower motor and sharp blades that allow you to cut through almost anything. It has 4-in laser-cut, stainless steel blades that are effective in cutting vegetables, fruits, nuts, ice, and almost any ingredient that you need to make the healthy meal or smoothie of your choice.
Radial cooling fan and thermal protection system
As an added feature, you also get a thermal protection system and radial cooling fan that allows you to use the blender many times over without worrying about overheating. This is very important especially if you plan to use this blender several times in a day, just like in a commercial setting (i.e. a café or restaurant). Even if you're just using it at home but plan to use it a lot, then this feature is very helpful.
What Do Reviews Of The Vitamix 780 Say?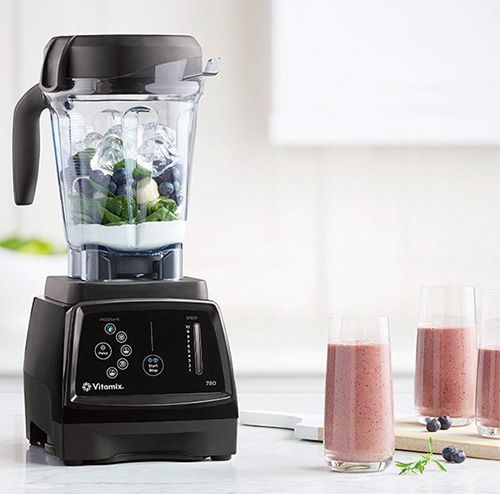 The Vitamix 780 is highly recommended by those who have tried it. But given that it's a new model, not a lot of people have tried the product.
There are a few things that you need to consider before purchasing this though, based on the testimonials of those who have tried it out for themselves. One is that while the touchscreen panel is sleek and advanced, many Vitamix loyalists are actually quite used to the classic feel of the dials and switches that old Vitamix blenders have. So while the new technology is a very welcome addition, it just might take some getting used to for those who have owned a Vitamix before.
In terms of functionality, this new product is as well-reviewed as the older Vitamix models, because the next generation motor makes it just as efficient. A lot of people are also highlighting the fact that this blender is very easy to use, especially now that it has 5 pre-programmed settings, which technically allows you to just press a button and nothing else.
Another feature that customers liked is the 7-year warranty that this product comes with. For something a little pricey like this blender, it definitely gives customers a lot of assurance because they know that if the blender breaks down, they are covered for 7 years. So if there are any manufacturing defects that will cause you problems, you can return it to Vitamix and have it replaced or repaired, for as long as it's still within the warranty.
How Does It Compare?
Vs Vitamix 750?
[css3_grid id='1c']
The Vitamix 780 has a lot of features that are similar to the 750. The main difference is the digital interface of the Vitamix 780, which allows you to process ingredients with the touch of a finger. Because the 780 has no dials and switches and even comes with LED lights, it also looks a lot fancier than the 750 or any other older Vitamix model. It's also easier to clean because all you have to do is wipe the touchscreen panel and not worry about food getting stuck in the dials.
Both the 750 and the 780 feature 64-oz low profile containers, so they are just as handy and easy to store. Both of these blenders are equipped with 5 pre-programmed settings, variable speed control, and a pulse control, so in terms of the actual blending, they are more or less the same.
There are some slight differences though, such as the fact that even if they use the same 2.2. HP motor, the Vitamix 780 is less noisy compared to the 750, especially when you use the slower speeds. This might be because the glass face might actually muffle some of the noise coming from the motor.
Another difference is that even if both have 5 pre-programmed cycles, the Vitamix 780 has LED lights that show you the progress of the blender as it goes through the cycle. This makes it cooler and more appealing.
Vs Explorian E320
First, you've got a huge drop in price here, but for the clear reason that you're losing all the new features. An E320 means no touch screen, no pre-sets, as well as a louder model with a lower warranty. It's savings vs features on this one.
Vs E310
It's a similar situation with the Vitamix E310 but you lose container size too. It only has a 48oz container. That said, this is the cheapest Vitamix you can get. If you're looking for the Vitamix that's the polar opposite to the 780, you've just found it 🙂
What's The Best Price For The Vitamix 780?
The Vitamix 780, for all its wonderful qualities, also comes at a hefty price. Its list price on the Vitamix website was $780. Literally every blender in Vitamix's latest Ascent range is cheaper. Yes, that's the Ascent A2300, A2500, A3300 and A3500.
If you pick the 5-month payment plan, for example, you only pay 20% of the list price upfront. The 3-month payment plan on the other hand makes you pay 34% at checkout, which is still affordable if you really want to invest in this new blender.
You may also purchase the same product through other online sellers. On Amazon, it usually sells for a bit less, but you may want to check there directly since the prices change from day today.
I usually advise people to click this link to see TODAY'S best deal on Amazon.
You should also note that on Amazon, the Vitamix 750 currently sells for quite a lot less than the 780 and still is an amazing blender.
The Verdict?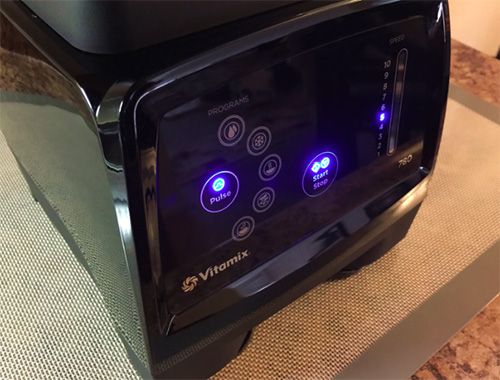 We can honestly say that the Vitamix 780 really delivers its brand promise. It functions the way it's supposed to and exactly as promised, so anyone looking for a commercial-grade, the high-power blender will be satisfied with this one.
Is it worth spending the money over, say a reconditioned Vitamix 5300? I personally don't think so.
If you're determined to invest in the latest Vitamix blender before all your friends get the same product, then now is the best time to get the Vitamix 780. In terms of functionality, it's just as stellar as the 750, but it gives you the added feature of the touchscreen panel. So if you want to be one of the early adopters and first customers of this brand new product offering, then the Vitamix 780 is worth a try.
But keep in mind that it really comes at a more expensive price tag, and if you purchase this you really have to be serious about using your blender. It will be worth the purchase if you plan to use it all the time, for meals that require a lot of food processing. It's also something worth considering if you plan to switch to a healthier lifestyle and make your entire family join in on this lifestyle change.
Another consideration you should look at is the design. If your kitchen looks modern and you want a blender that fits right in, then the Vitamix 780 will be a great addition. As far as sleek and modern blenders go, this is a sure winner.