Ninja makes some absolutely wonderful kitchen appliances. From awesome blenders to air fryers and multi-cookers, the Ninja really knows how to make a kitchen tool.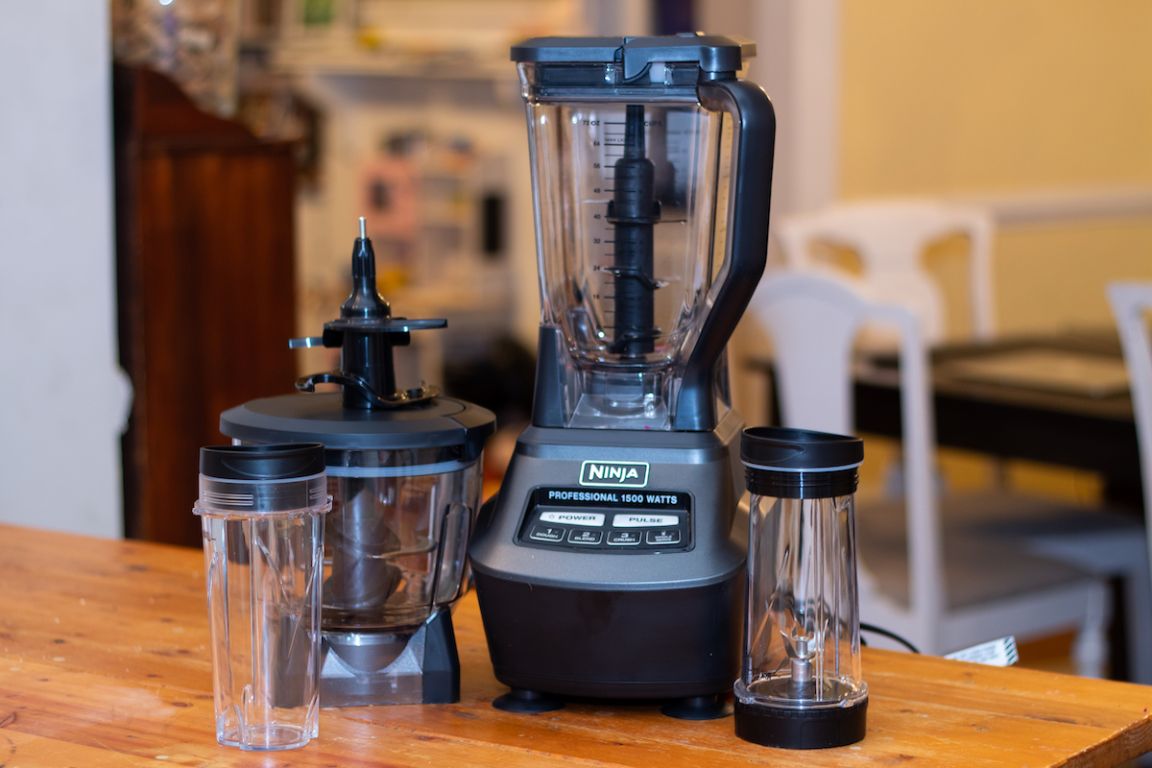 I first became aware of Ninja through their line of high-end blending systems, and that continues to be the category that most connects with their brand. As a Chef, I've been using expensive blending systems for the majority of my career. Whether making purees, vinaigrettes, or milkshakes, a high-powered, professional blender makes life a lot better.
I first encountered a Ninja Blender in the home of a peer of mine and he raved about the quality of this "Ninja" blender he'd received as a gift. Considering we'd cooked together and I trust his opinion on kitchen tools, I knew that Ninja had to be doing something right with their design and functionality.
Recently I have been in the market for a new blender and I had the privilege to take a long look at the Ninja Mega Kitchen System Blender/Food Processor. The Ninja Mega Kitchen System is an incredible appliance, it comes with a ton of accessories and it handled every test I put it through with ease. The food processor was well made, and the removable blade system was made for super easy cleaning.
If you read no further than this intro, you can be certain that the Ninja Kitchen Mega Kitchen System will handle all of your food processing and blending needs.
Table of Contents
What's in the Box?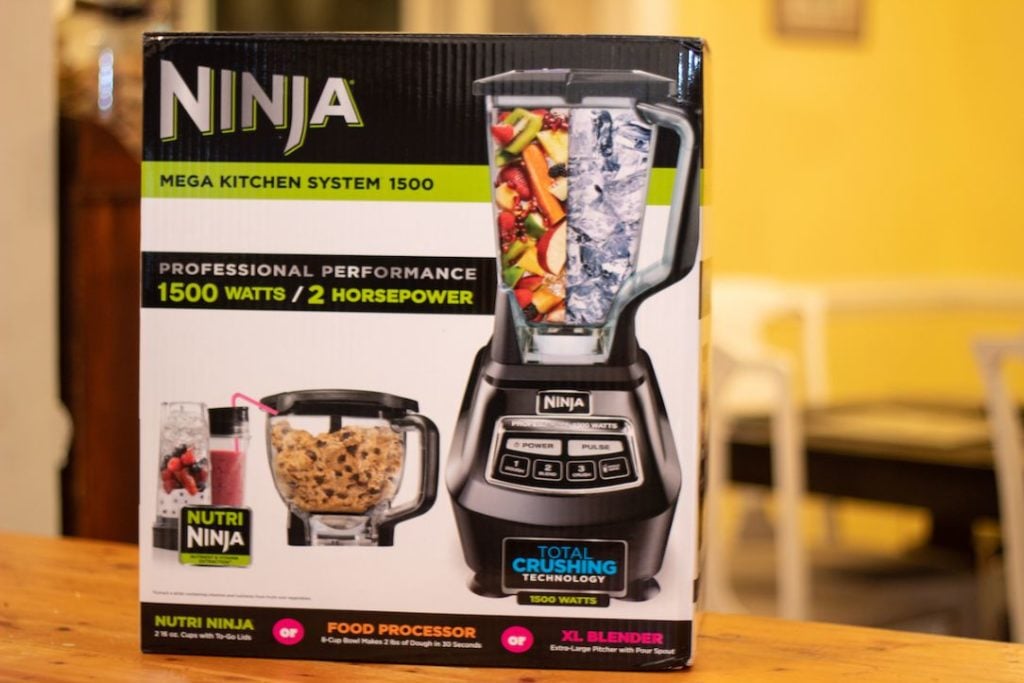 Unpacking the Ninja Mega Kitchen System was a bit of a process. There is a lot in the box, and it's all really well packaged. Once I got everything out of its individual bags and arranged here is what I found inside the box:
1 Ninja Professional 1500 Blender Base
1, 9 cup blender pitcher
1 blender blade
1, 5 cup food processor pitcher
1 food processor blade
1 food processor dough blade
2 single-serve blender cups
1 single-serve blender blade
2 single-serve drink lids
1 quick assembly sheet
1 Owner's guide
1 Ninja inspiration guide
How Does It Look/Feel/Sit?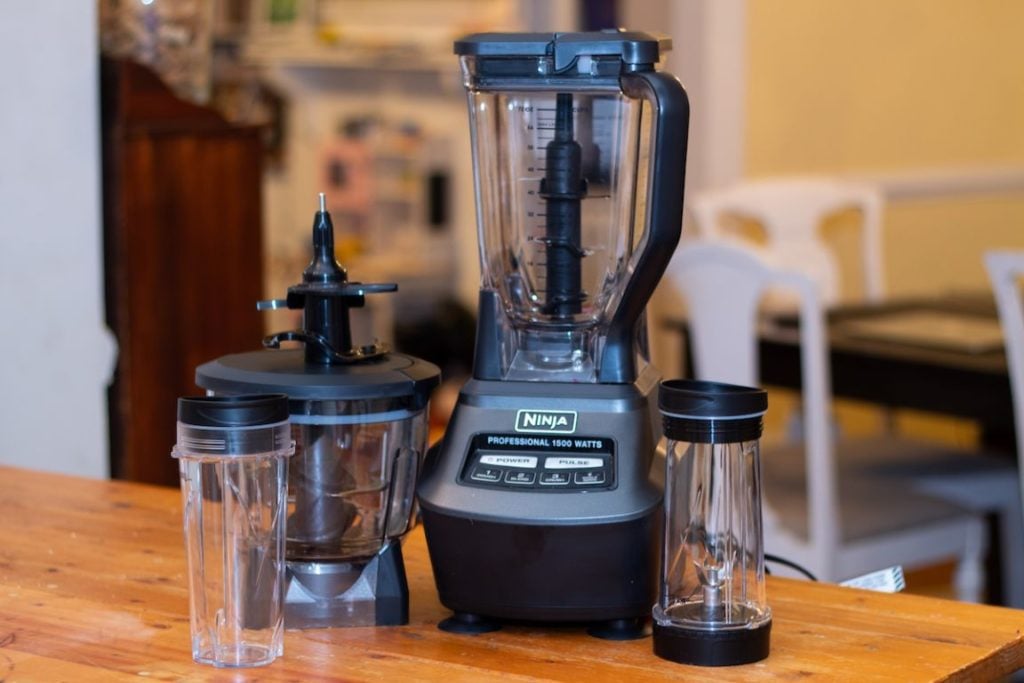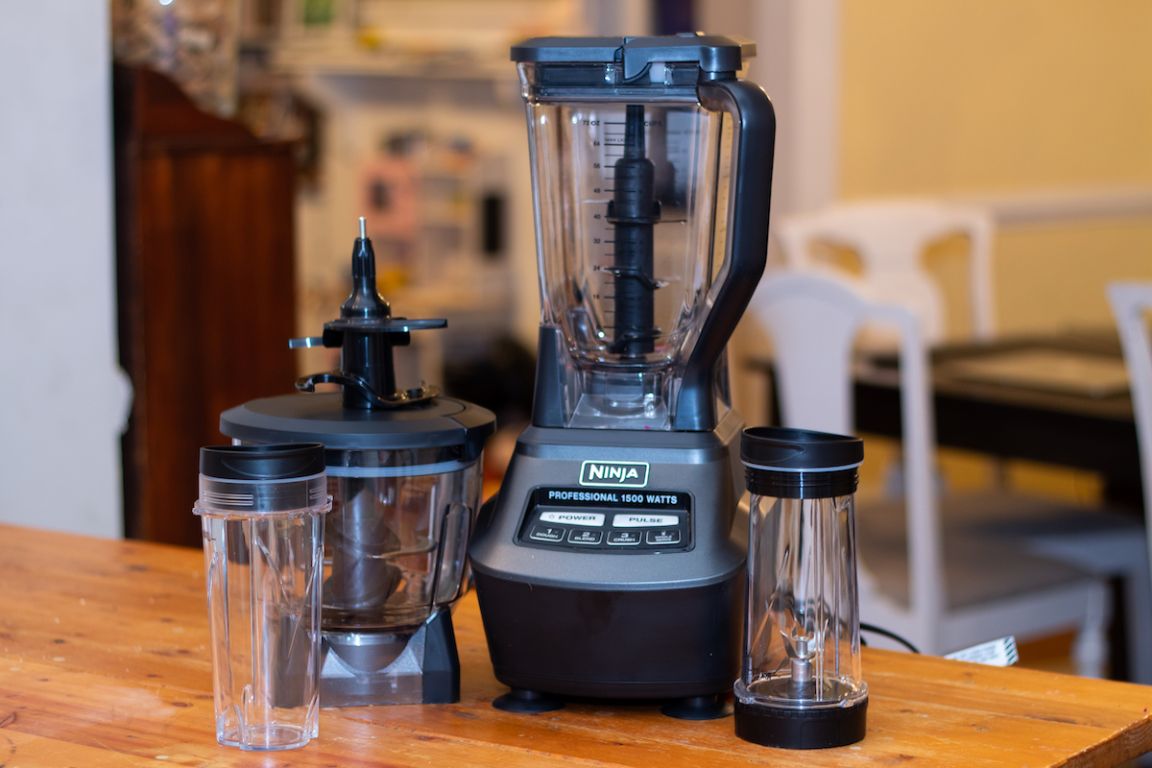 The Ninja Mega Kitchen System feels like a professional-grade piece of cooking equipment, especially the base. With a simple matte black finished, straightforward control panel, and sturdy design this machine feels like you could use it in a professional kitchen without issue.
The pitchers are well made, from thick heat-safe plastic and the lids have a unique locking design that stops the operation of the blender if not correctly locked(more on this later). All the blades for this machine are incredibly sharp, and because of the unique design, they are also a bit more dangerous than most blender blades.
Most blenders have a fixed blade system, while food processors usually have a removable blade. One of the many things that make Ninja blending systems unique is their blade assembly. Many of the Ninja blender models come equipped with a removable blade with 4 blades situated around the central blade stem.
The single-serve blending accessories are reminiscent of the Nutrisystem personal blenders, and I love to use these for making smoothies at home. They are easy to prepare and with an easy-to-attach drink lid, you can take them on the go with little issue. As with everything in this system, the single-serve cups and blades are very well made.
How Easy is it to Set Up?
The Ninja Mega System Blender and Kitchen System is pretty straightforward to set up. It does take a little maneuvering to understand the exact positioning and locking of the blender pitchers as well as the lid. Thankfully the "quick assembly sheet" takes the mystery out of the process and can help get you ready to go in no time.
Once the blender was set up and I understood the process, it was really simple to get going. The control panel is incredibly straightforward, with 3 settings, dough, blend, and crush, as well as a pulse option. Other than a power button there's not much else to worry about!
Test #1:

Crushing Ice

Being able to create great crushed ice on demand is one of the best perks of owning a high-powered blending system. Whether you are making snow cones for your kids, or cocktails for guests, crushed ice is a great reason to own a blender.

Creating snow fine crushed ice is pretty easy to accomplish, especially if you own a Ninja Mega Kitchen. To start I loaded the blender pitcher with ~5 cups of cubed ice and locked it into place on the blending base.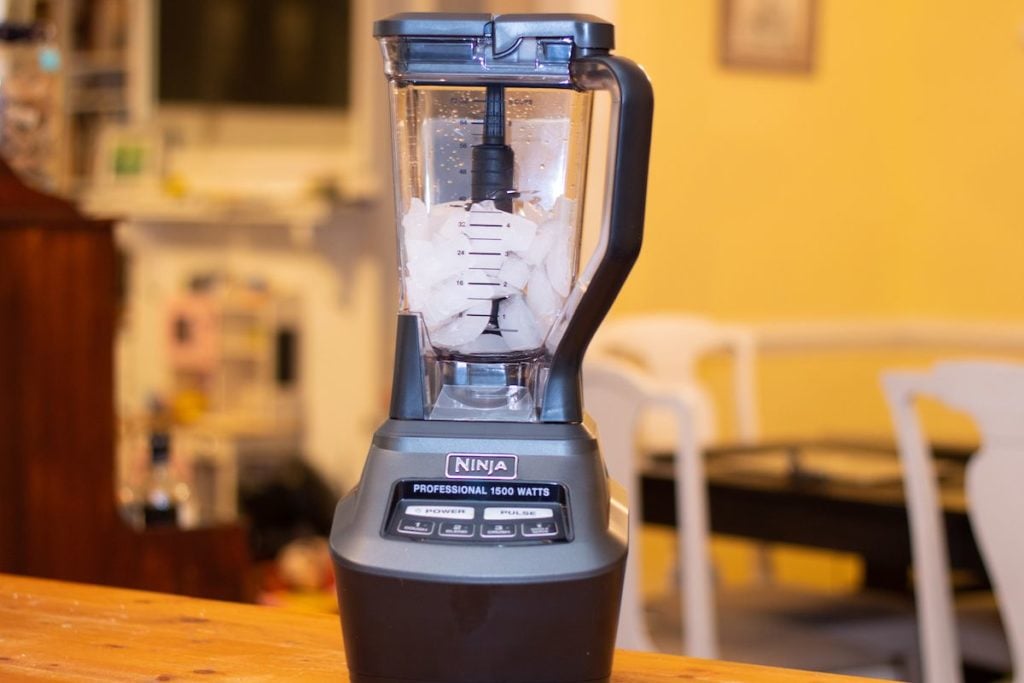 I locked the lid down and powered on the machine. I chose the crush function so I could get a shot of the blender in action and it did an admirable job of creating really fine crushed ice. Normally I like to use the pulse function for something like this because it allows for the most control over the crushing process.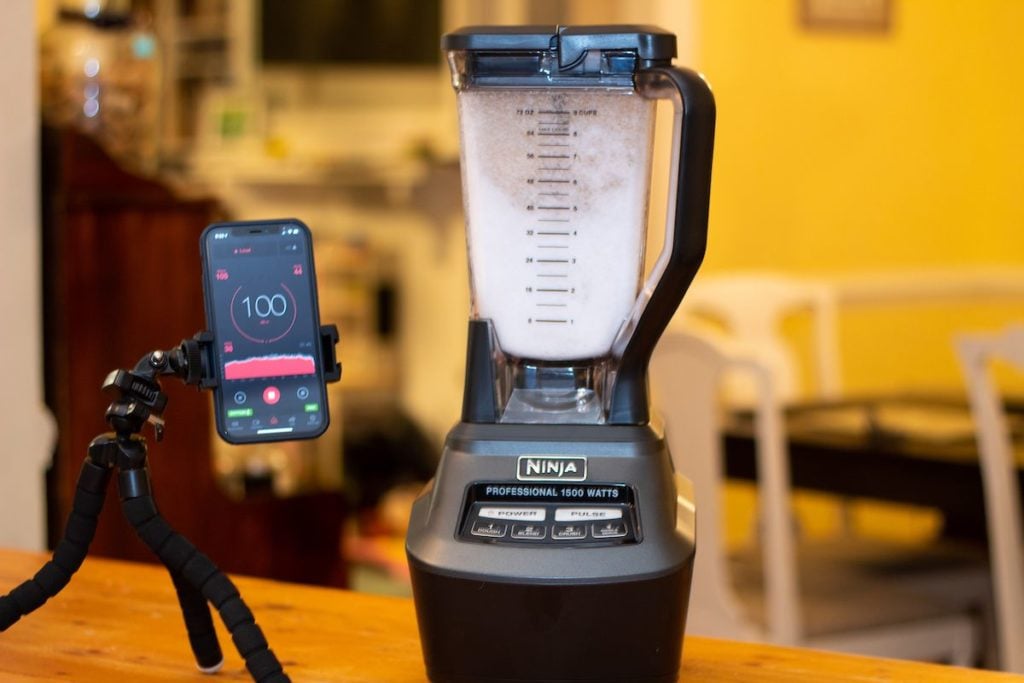 After about 30 seconds of blending the Ninja created crushed ice that I was satisfied with. I could have allowed the blender to keep working for another 10 seconds or so, but much longer than that and the ice would have started to compact and melt.
At the end of the test 5 cups or so of cubed ice had reduced down to 3 cups of crushed ice, but because of the unique four-bladed system, I could fill the blender all the way to the 8 cup capacity and still get even consistent crushed ice.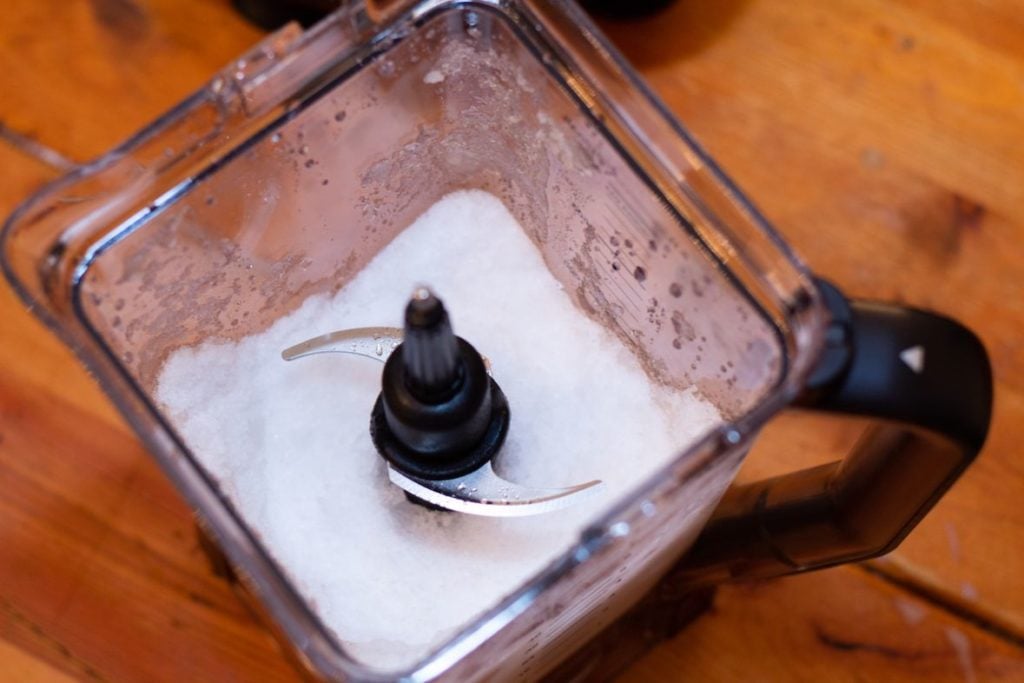 One thing I will say about this blender, especially when dealing with brittle, hard ingredients like ice, is that it is quite loud. Crushing ice came in at just over 100 decibels, other tests were more reasonable, but it's important to note that this is a high-powered kitchen appliance and it makes a commensurate amount of noise.
Test #2:

Making a Smoothie

I love making smoothies. I've never been a fan of a big breakfast, and most days I forget to eat anything before leaving the house. By making smoothies I'm able to hydrate and also get some great body fuel to start the day.

Personally, I absolutely love the single-serve blending cups, I like to make "smoothie bombs" at night so I can put together my morning smoothie quickly, especially when I'm trying to get a toddler ready for the day. I usually load a banana, some frozen fruit, or veggies into the single-serve cup and pop it in the freezer in the evening. The next day I'll add yogurt, almond milk, and chocolate chips if I'm feeling indulgent, before popping the single-serve blending cup on the blender base to whip up my smoothie in seconds. Once I'm done I trade out the blender blade for the drink lid and I'm on my way.

For this test, I chose to use the actual blender pitcher to make my smoothie. The single-serve blender cup only operates on a pulse function which would make it hard to get an accurate shot of its operation, but I can assure you that it works really well.

First I loaded a banana into the blender alongside 1 cup of frozen peach slices and 1 cup of yogurt. Finally, I added a cup of almond milk and loaded the pitcher onto the blender base. Normally I like to add things like hemp hearts, chia seeds, or nuts to round out the smoothie, but in this case, I wanted to keep the recipe on the basic side to get a good baseline for performance.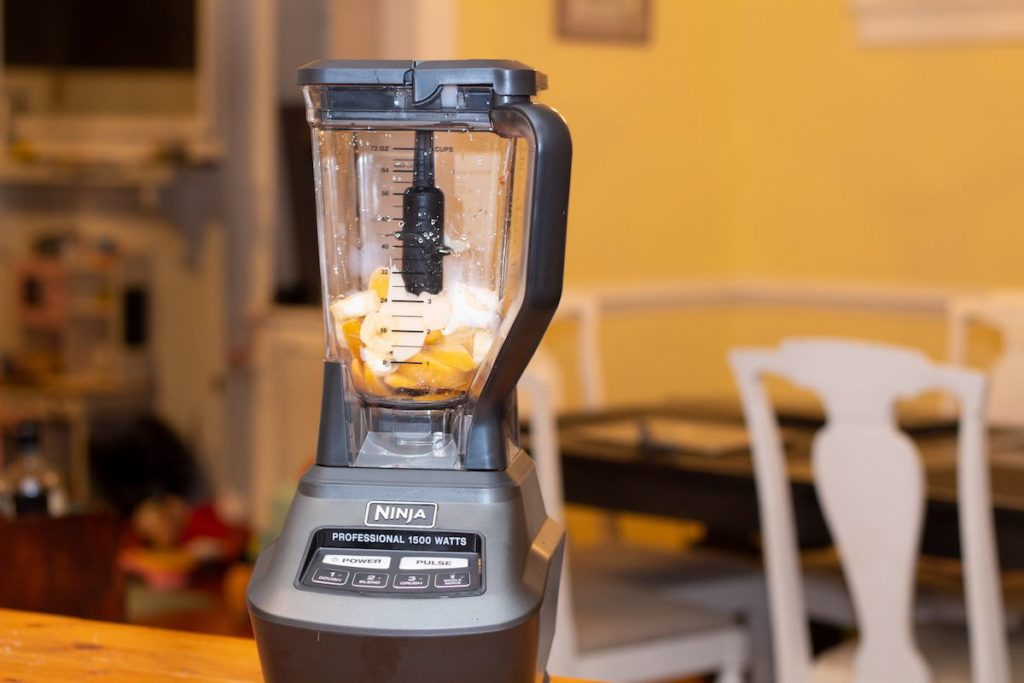 For this test I chose to use the blend function, it seemed to be the best option for a smoothie. I powered the blender on, pressed blend, and let the blender get to work. The frozen peach slices allow the smoothie to create a really rich and frozen texture but they can also put stress on any blender's motor. The Ninja Mega Kitchen System powered right through and in under a minute I had a perfectly blended banana peach smoothie.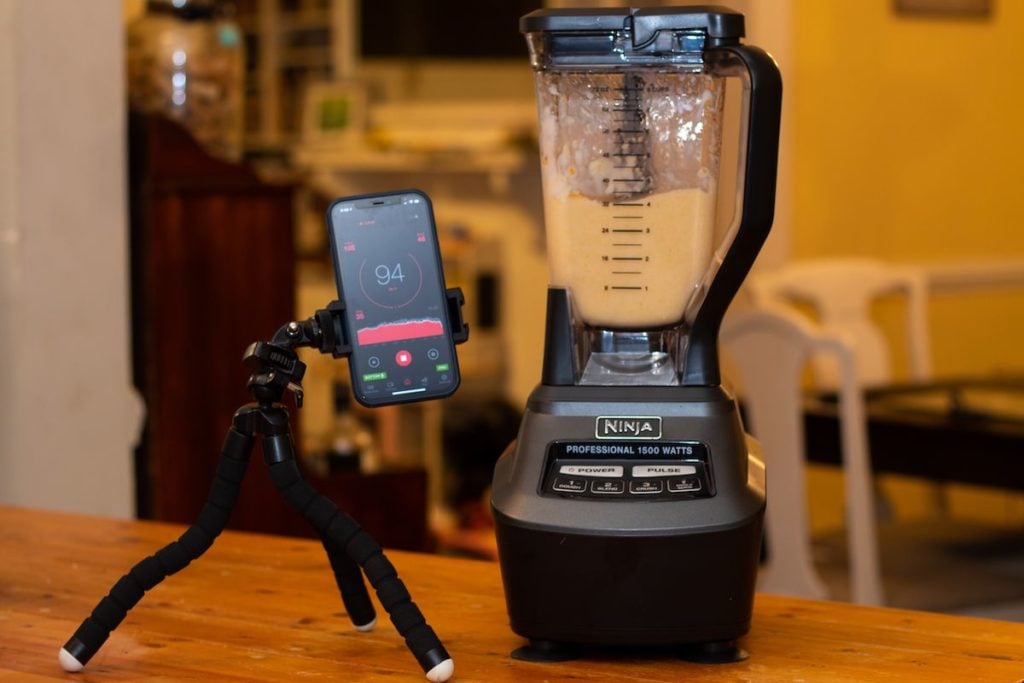 I have brought up the unique blade system in this review a few times so far and I'm going to keep talking about it because of how much it changes the way this blender works versus other high-end blenders (like Vitamix, Blendtec or Breville). Most blenders pull food towards the bottom and catch it in a high-powered spinning blade.
The Ninja Mega Kitchen System does the same thing but with 4 blades spaced in a spiral around the central assembly, it chops food from top to bottom. Creating super smooth purees while blending even the toughest ingredients.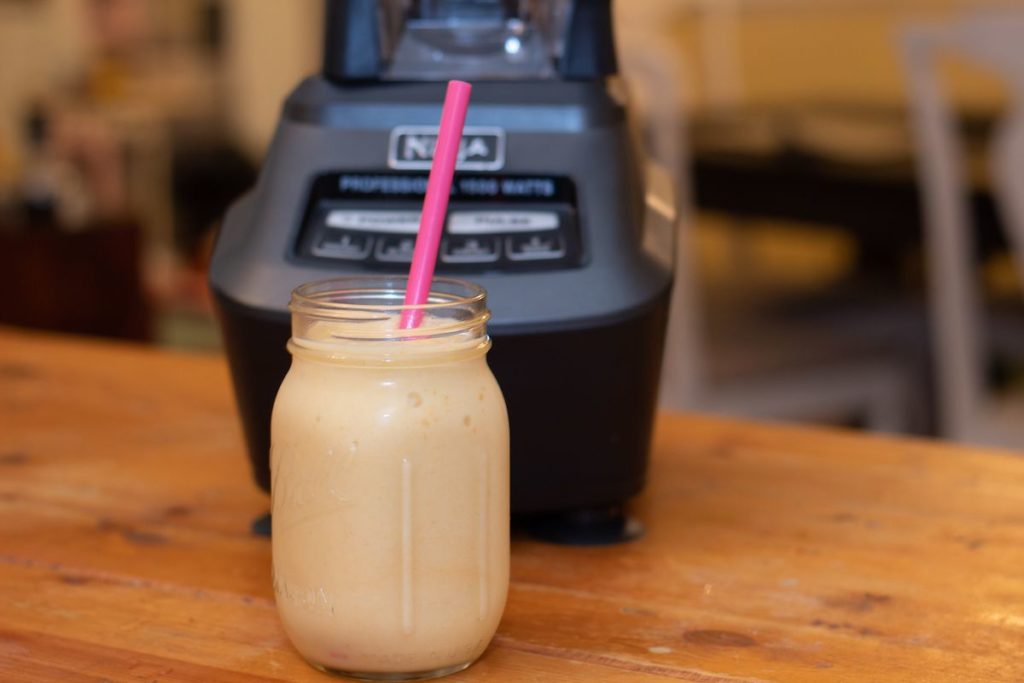 Test #3:

Making Salsa

Making salsa in a food processor is a snap. Seriously, it's so easy you will wonder why you haven't been food processing your pico de gallo all along!

One of the best features of the Ninja Mega Kitchen System is the food processor accessory. With a super sharp blade system, a separate dough blade, and a 5 cup capacity, you can create a ton of awesome chopped and processed foods.

To make my favorite, super easy pico de gallo, I started by cutting 3 tomatoes into ¼'s. Then I did the same to a jalapeno pepper, and a 1 red onion. Finally, I added 4 peeled cloves of garlic, a tsp of salt, and two tablespoons of lime juice. I locked the food processor into place and the lid as well, then I pressed the crush button and stood back to watch the food processor work.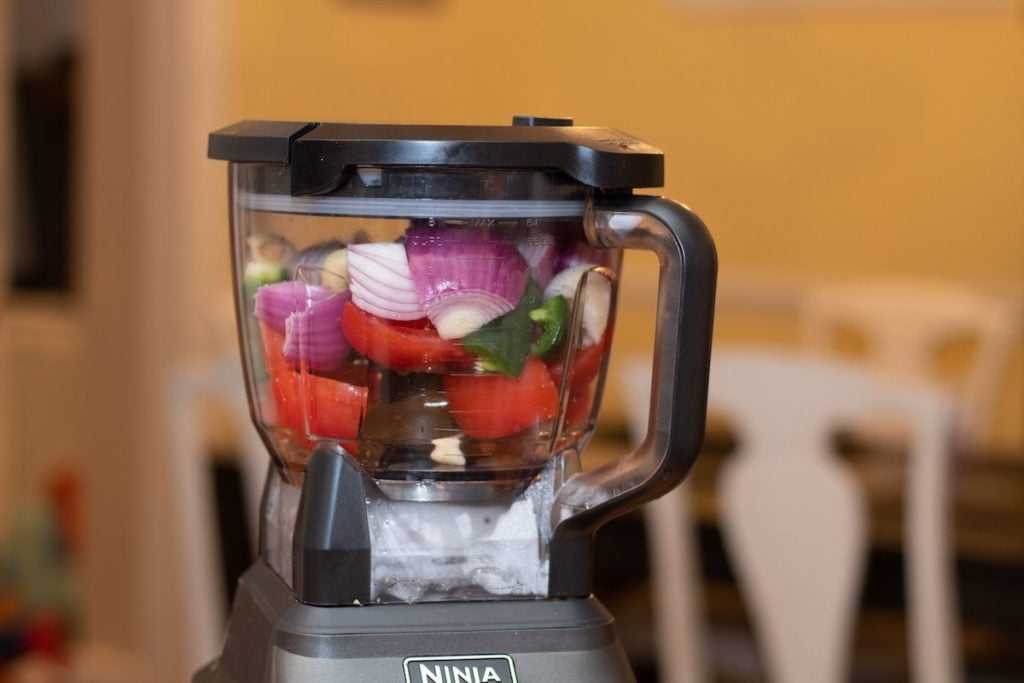 Normally, like with crushed ice, I like to use the pulse feature for making salsa or chopping food in general, but to get a shot of the blender in action I decided to see how the preset speed worked. After about 30 seconds the salsa was done. To be honest, it was a touch over chopped, but it was still delicious. This is easily remedied by using the pulse function in the future.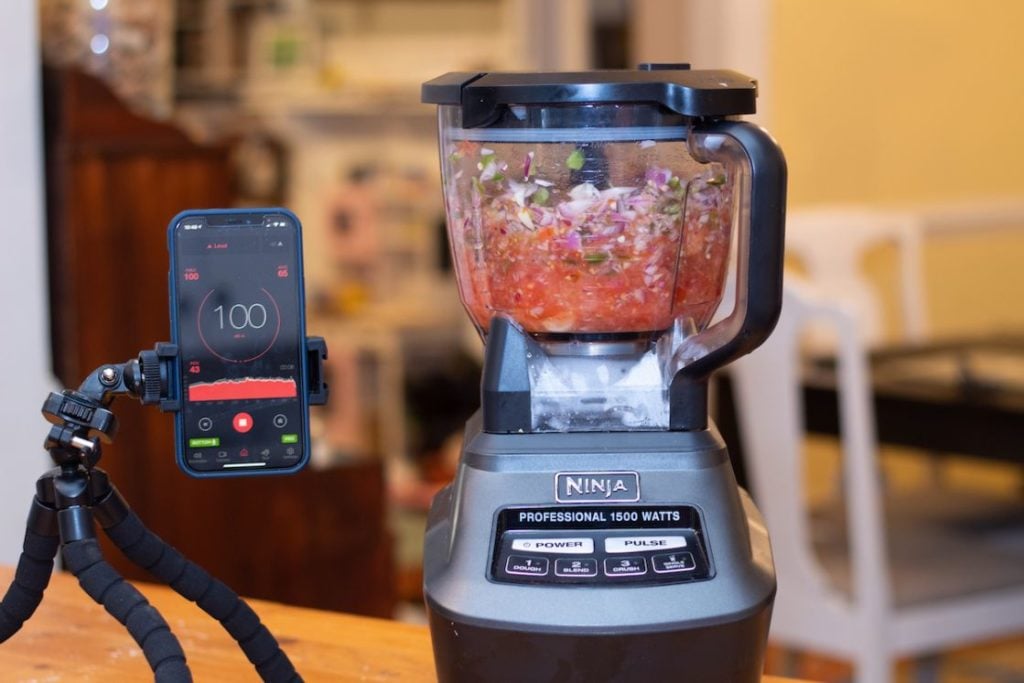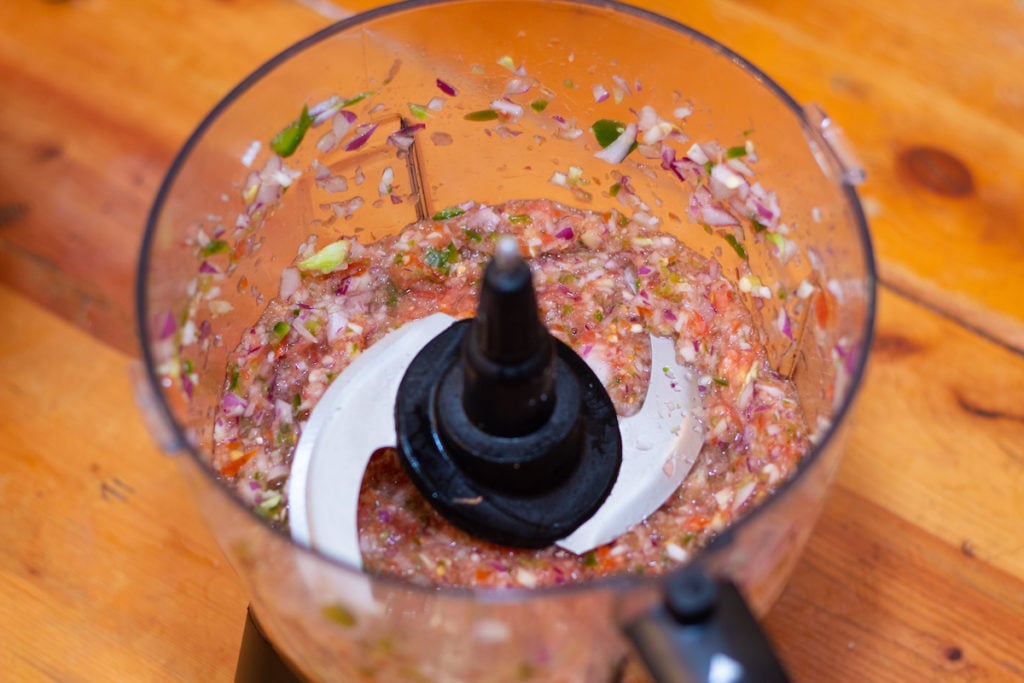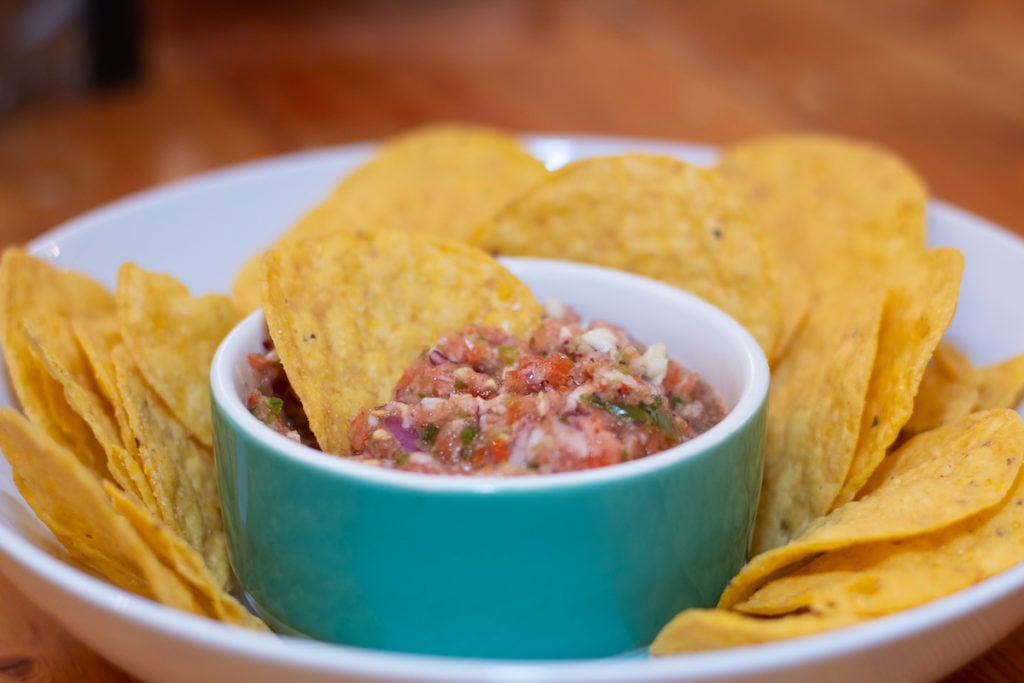 Test #4:

Making Dough

Making dough in a food processor has always been one of my favorite kitchen hacks. Stand mixers can be too expensive, and also bulky for many kitchens, so the ability to use a food processor to make dough recipes can be really helpful.

Though you're not going to want to rely on a food processor to make bread doughs, you can absolutely make easy biscuits, pie dough, or cookies in a food processor with ease.

I decided to make cookies for this test, mostly because I was looking for an excuse to make chocolate chip cookies. To begin I loaded butter and sugar into the food processor with the dough blade attached. I allowed the food processor to mix until the butter and sugar were light and fluffy.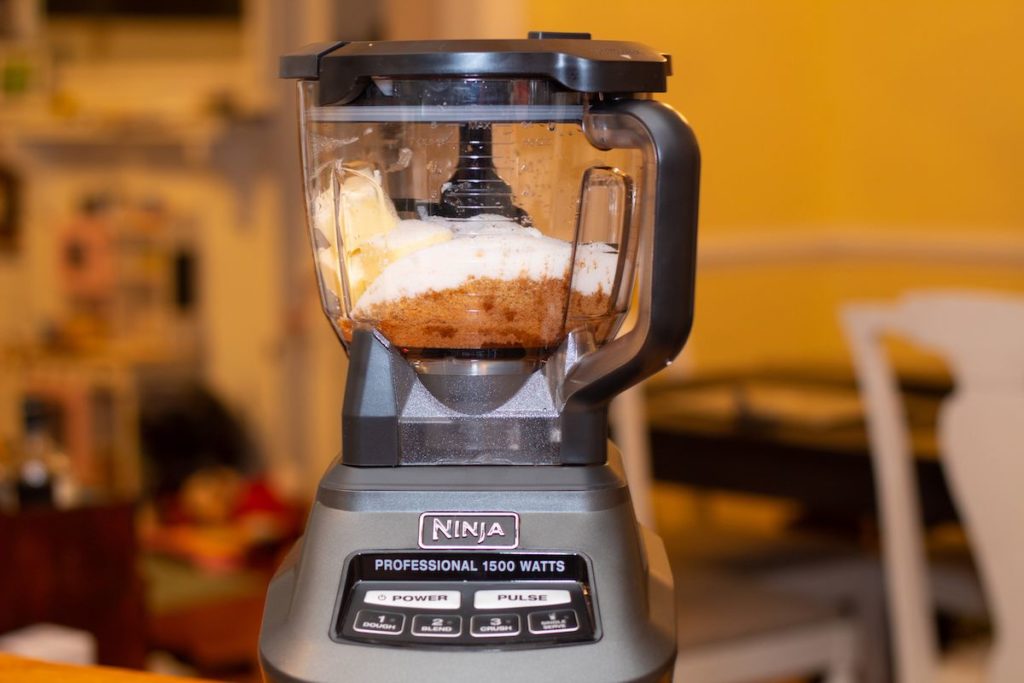 Next, I added an egg, as well as the vanilla extract to the processor and allowed it to mix again. Then I added the flour, salt, and baking soda to the mixer and finished mixing the dough.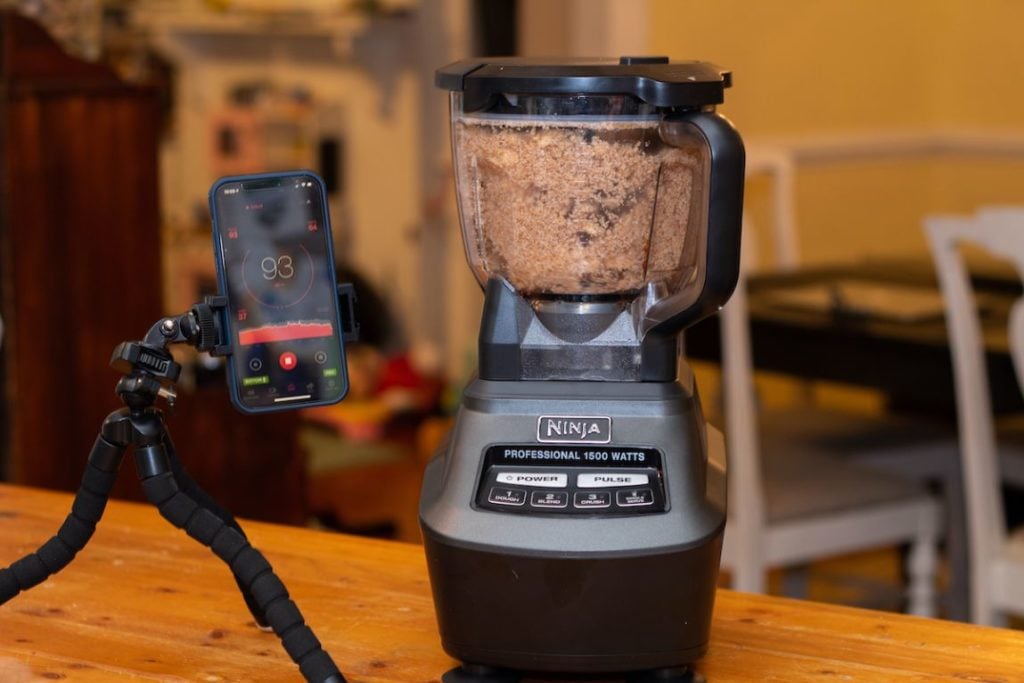 Lastly, I added the chocolate chips and walnuts to the dough and pulsed it for 15 seconds before removing the dough from the food processor pitcher and rolled it into cylinders.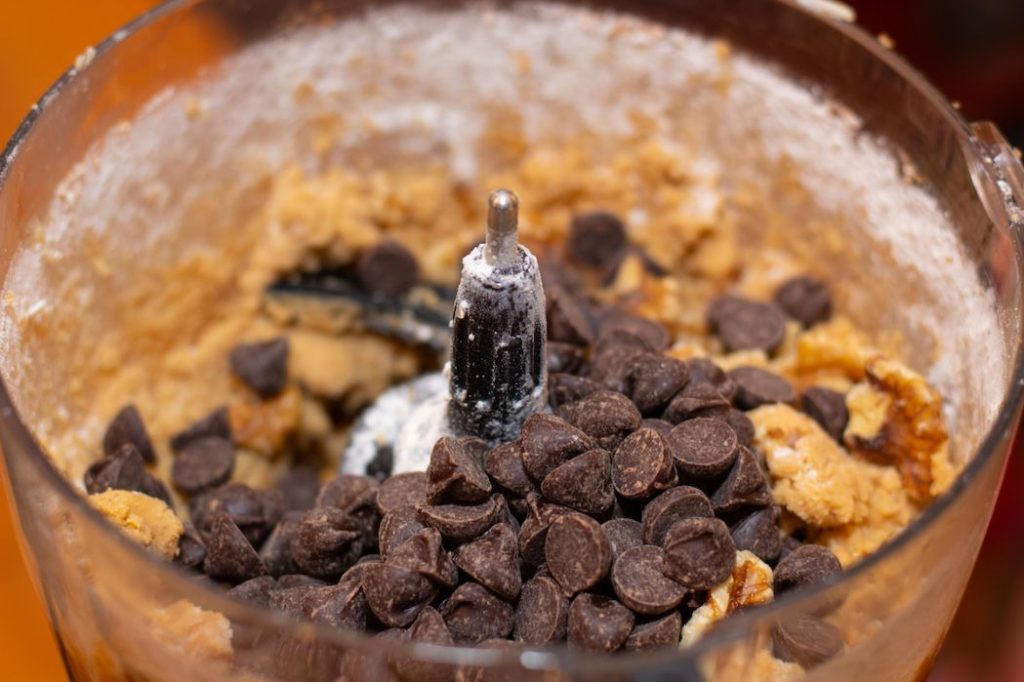 Rolling cookie dough in parchment paper cylinders and refrigerating before slicing and baking is one of my absolute favorite baking hacks. By rolling the dough into a cylinder you make it super easy to slice and bake just like premade cookie dough.
Overall, the food processor accessory handled the dough without a ton of issues. I did find myself having to open the lid more than I would have liked to scrape down the sides and the locking mechanism on the lid made this difficult. When making doughs in a stand mixer or with a handheld mixer you can easily scrape the bowl while mixing. With a food processor scraping the bowl to make sure the dough mixes evenly is a bit more difficult.
Though it wasn't as easy as I would have liked, the cookie dough was overall delicious and it is completely possible to make great doughs in this food processor.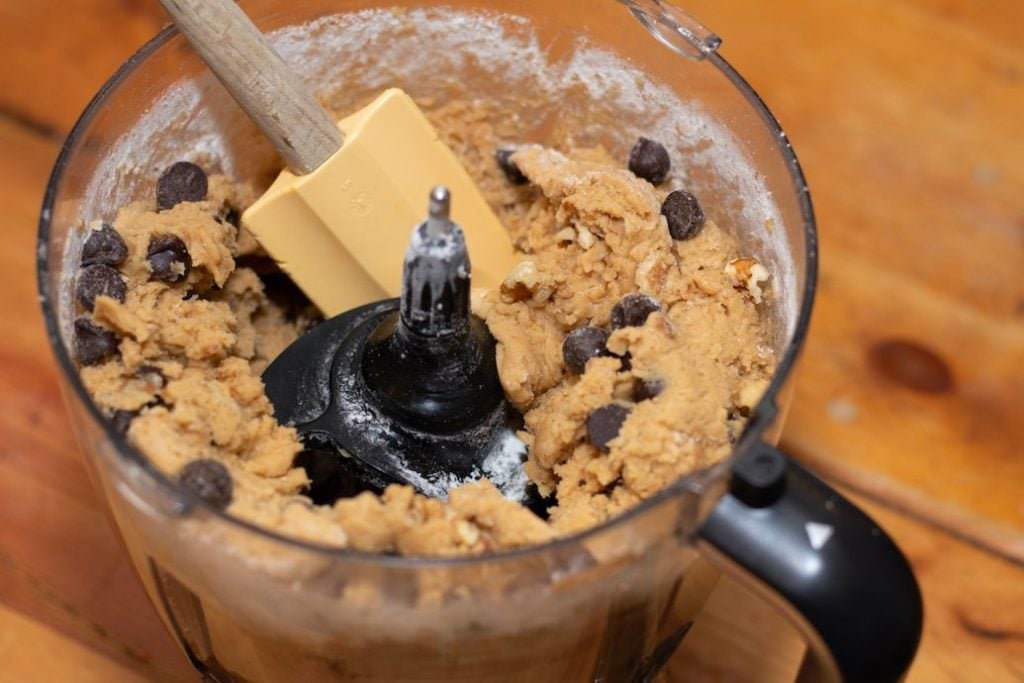 Test #5:

Pureeing Vegetables

Working in fine dining kitchens I have grown to love vegetable purees. In terms of adding unique flavors to a dish, or really pretty plating elements, veggie purees are a great option.

When making vegetable purees, it's important to get the silkiest texture possible, and this is only really achievable with a blender that has a very strong motor. Interestingly, veggie purees and baby food have this in common.

When we had our first child, my wife and I decided we wanted to try to make as much baby food as possible. Over the first year, we experimented with a lot of methods, but at the end of the day, I simply replicated what I'd learned working in high-end kitchens and our kid loved it.

One of my favorite purees to make in restaurants is a carrot lime puree, it's tart, rich, and heavy on the carrot flavor. Interestingly my child loved this puree as well. I would make medium to large batches of this delicious carrot puree and then freeze it in ice cube trays. I'd pull out a few at the beginning of the day and come lunch/dinner time we'd have delicious homemade baby food, with zero chemicals or preservatives!

To make the carrot lime puree I loaded 2 cups of baby carrots into the food processor and chopped them until they were about ⅛" in size. Then I put the chopped carrots into a small saucepan and added 1 cup of vegetable stock as well as seasoning.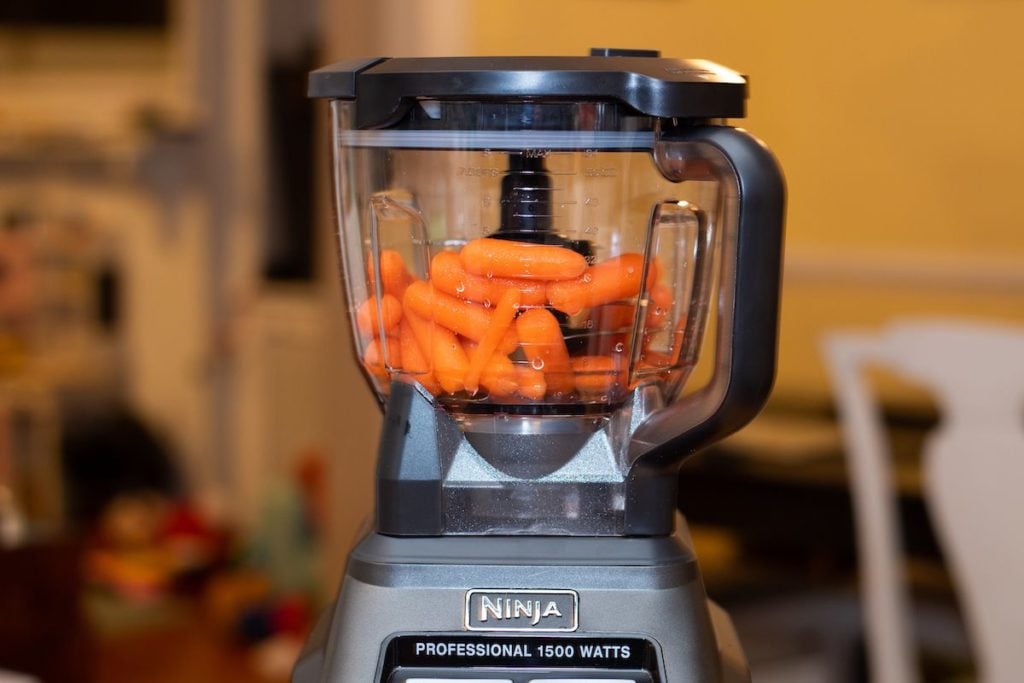 I cooked the carrot until they were completely tender and then I put them into the blender pitcher. I added 1 tablespoon of olive oil and 1 tablespoon of lime juice before locking the lid into place.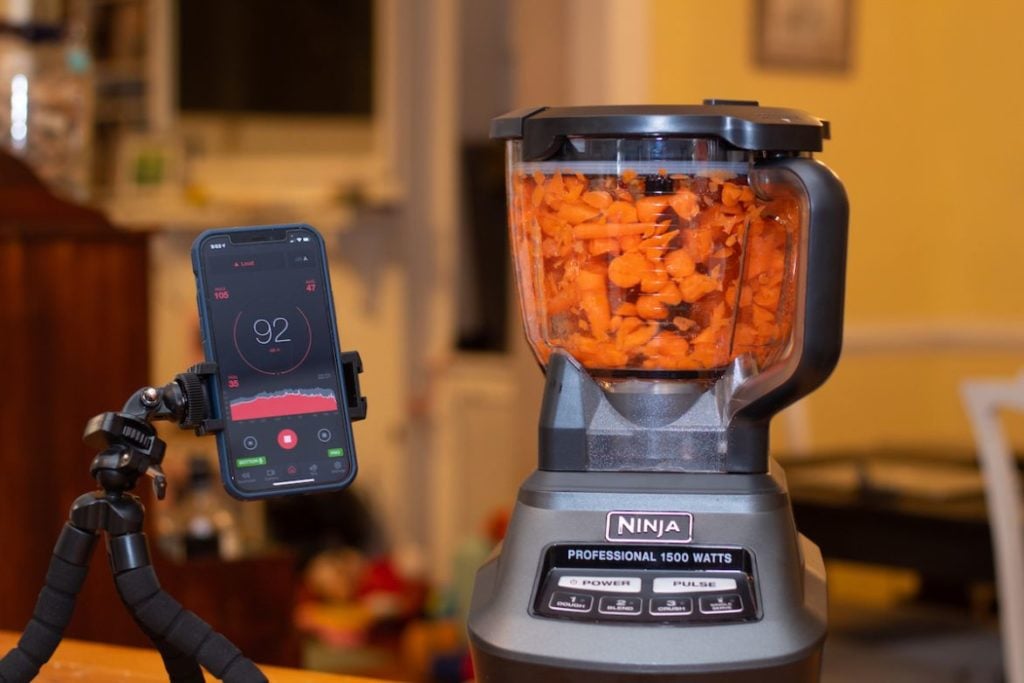 After fixing the pitcher to the blender base I selected the blend function and allowed the blender to begin mixing. After 2-3 minutes of continuous blending, the puree was smooth enough for my purposes. I only made a small batch of the puree and because of the smaller volume, the blender was less efficient, taking longer to puree the carrots completely.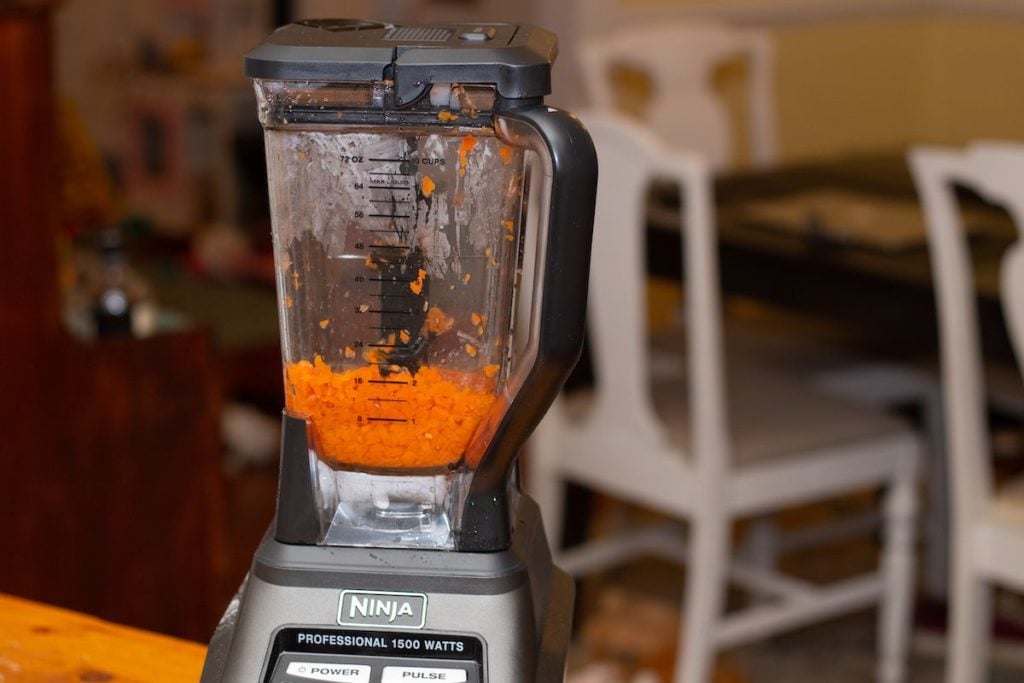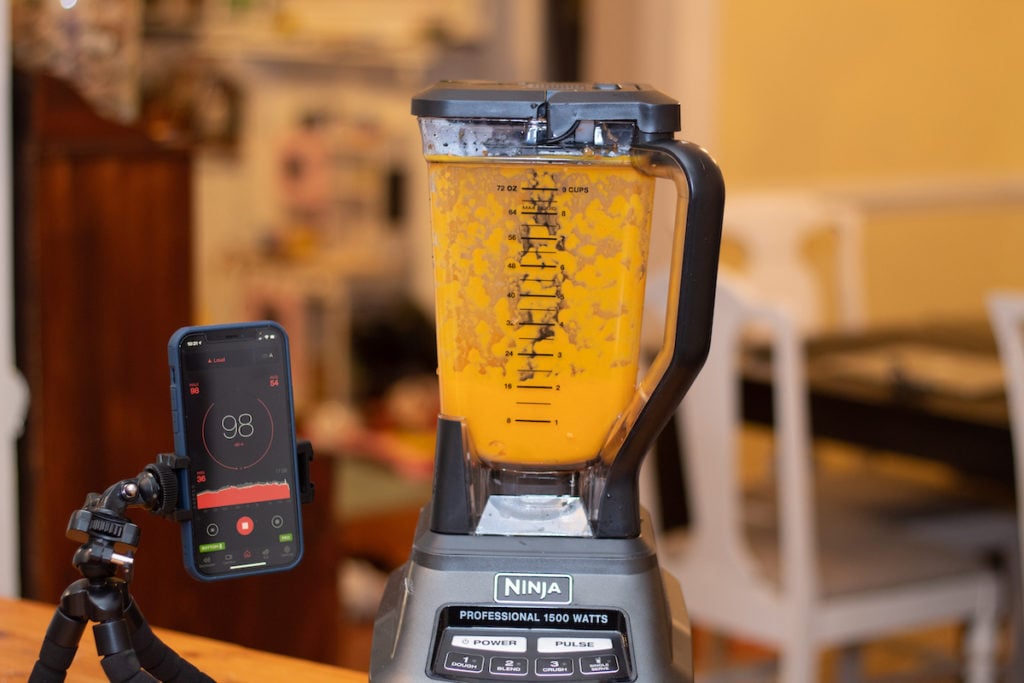 Regardless of how long it took, this puree was perfect. It was smooth, silky, and didn't need any adjustment for texture. Like some other high-powered blenders, the friction from blending was enough to almost cook the puree as it blended.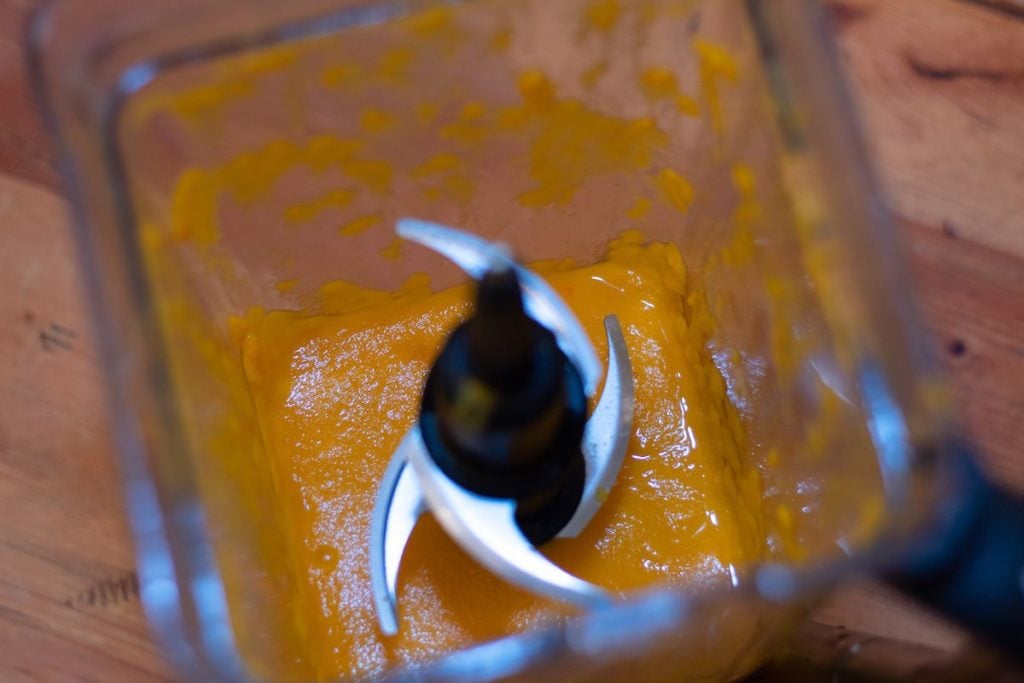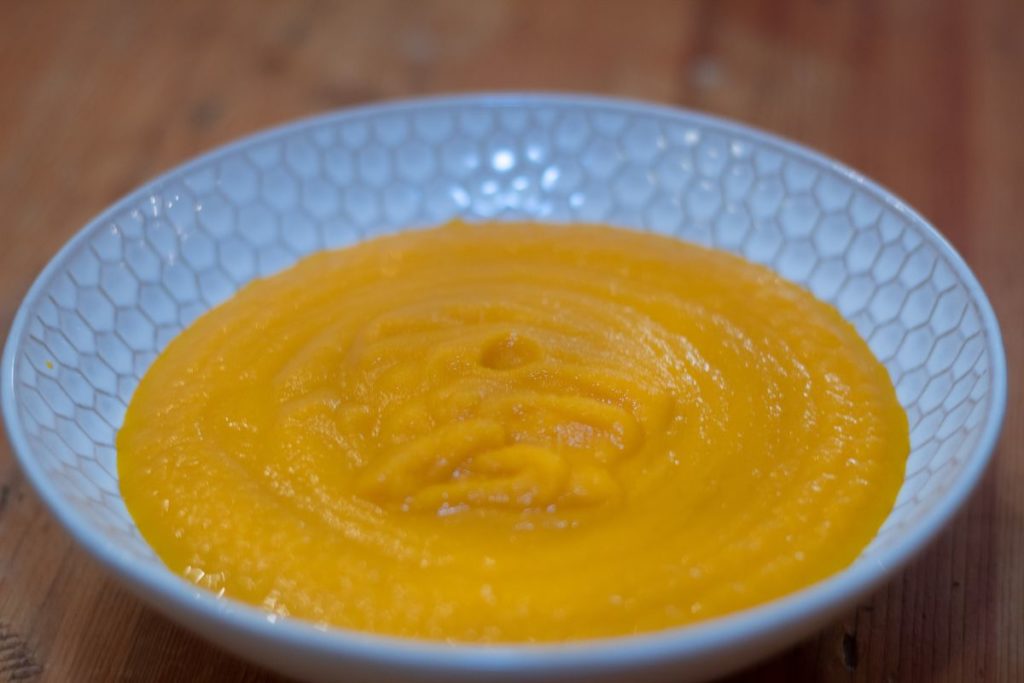 How Easy Is It To Clean?
Thanks to the removable blade system the Ninja Mega Kitchen System is incredibly easy to clean. Normally blenders with fixed blade assemblies get food build up around the bottom/blade and you have to remove the bottom to truly get the blade area clean.
Because of the removable blade assembly, you are able to easily rinse the blade separately and safely. Then you can wash the inside of the blender pitcher with a sponge without worrying about cutting or injuring yourself with the sharp blade.
Luckily, all the parts to this blender other than the blending base itself are dishwasher safe. I would recommend washing the locking lids and the blades by hand. This will help extend the life of the blades as well as keep the springs and mechanisms that operate the locking lid in good working order. It is really nice to be able to just put the blender pitcher or food processor pitcher into the dishwasher, especially when you are short on time for clean up!
How Would I Improve the Ninja Mega Kitchen System?
Overall the Ninja Kitchen Mega System is an awesome blending/food processing appliance. With a strong motor, sharp blades, and high-quality professional design this blender checks a ton of boxes for me as a potential buyer. That being said there are a few things to improve upon:
There's no removable lid part on the food processor or blender: While the main lid for both the blender and food processor can be easily removed, most blenders include a second opening/lid so you can add ingredients to the blender while it's mixing. This can be especially important when making vinaigrettes or dressings.
No slicing or shredding attachment for the food processor: One of my favorite features of a food processor is a slicer or shredder attachment. While I get that this kitchen system already comes with a ton of accessories and features, it would have been nice to include a slicer/shredder attachment.
What's the Warranty?
The Ninja Mega System comes with a 1 Year Limited Warranty that ensures the blender and accessories are free from material defects and workmanship for 1 year from the date of purchase. There is a $19.99 fee for shipping and handling associated with any repairs or replacements. Furthermore, all repairs and replacements are to be done at the discretion of the Shark/Ninja corporation, so it's a bit of a mystery as to what exactly will be covered, but as with most warranties it never hurts to talk to customer service if you have an issue!
To initiate a warranty claim contact 1-866-826-6941. It's also important that you register your Ninja product to be able to take advantage of the warrant, to do so go to registeryourninja.com .
Verdict
The Ninja Mega Kitchen System is an awesome blender for anyone who wants professional capabilities, a simple-to-use interface, and a ton of power. The removable blade system and large capacity as a powerful food processor attachment make this a great addition to any kitchen.
I love any tool that can handle multiple cooking functions, and the combination of a high-quality blender with a great food processor made this combo machine extremely attractive. It's easy to an easy investment to make, especially considering the wealth of accessories you'll find in this system. The single-serve blending cups are wonderful, and a food processor is an outstanding appliance.
I would recommend this blending system to anyone who wants a sleek, well-made machine, without a ton of functions or confusing presets. With an easy-to-understand interface and relatively few options, this blender is simple to use and creates consistently amazing food. You can grab one on Amazon at this link.
How does it Compare?
While the Ninja Mega Kitchen System is a great blending system there is rarely a one size fits all option when it comes to kitchen appliances. So here are a few other options in this category that might work just as well!
Ninja Mega Kitchen System Vs Oster Pro 1200
I had the chance to take both of these blenders for a spin and I can tell you they are both great in their own specific ways.
The Oster Pro is the less expensive option. It has a slightly smaller capacity and a more feature-rich interface, but that isn't necessarily a positive. One feature the Oster Pro 1200 does have that I wish had been included in the Ninja Mega Kitchen System is the ability to add liquid efficiently to the food processor attachment.
The Ninja Mega System is the more powerful of the two, and thanks to the unique removable blade, it's both easier to clean and tends to blend more finely than the Oster Pro 1200. While the Oster model comes equipped with a shredding attachment the Ninja Mega System comes equipped with 2 single-serve blending cups for individual smoothies.
I would recommend the Oster Pro 1200 to anyone who's looking for a great blender that also expands into a food processor while also saving as much money as possible. On the other hand, I would recommend Ninja Mega Kitchen System to anyone who wants a simple, straightforward, professional blender with a lot of accessories options including the ability to make single-serve smoothies!
Vs Hamilton Beach Wave Crusher
While the Ninja Kitchen Mega System is an entire blending appliance combo, the Hamilton Beach Wave Crusher is a value-priced blender and that is all.
With a classic design, glass pitcher, and familiar if dated control panel, the Hamilton Beach Wave Crusher can handle all your blending needs with ease. From hot soups to smoothies or milkshakes, this classic blender will definitely fit the bill if you are looking to save a few bucks.
I would recommend the Ninja Kitchen Mega System to anyone who looking to add a high-powered suite of blending appliances to their home kitchen. On the other hand, if you are looking to save as much money as possible while still getting a quality, high-powered blender, the Hamilton Beach Wave Crusher is for you.
Vs Ninja Foodi Hot & Cold
While both these products are Ninja brand blenders, they are super different in form and function. The Ninja Mega Kitchen System is a very professional, utilitarian appliance, with few bells or whistles outside of extremely functional accessories. With only three major pre-sets and a pulse button outside of the power switch, no one would consider this a "smart product". The Ninja Mega Kitchen System does a lot of things well because it's straightforward and easy to use, it's also of extremely high quality, and has a great blade system.
On the other hand, the Ninja Foodi Hot & Cold is about as smart as a blender can realistically get. With a ton of preset functions, and the ability to actually heat products in the pitcher while blending, thanks to an 800w heating element in the base, this is a very different type of blender.
Price-wise these two blenders cost almost exactly as much as one another but what you get in the purchase differs greatly. With the Ninja Mega Kitchen System, you'll get a high-powered blender with a lot of accessories. With the Ninja Foodi Hot & Cold, you'll get a truly high-end blender that can not only puree your foods but cook them as well.
One thing to note is that while some parts of the Ninja Foodi Hot & Cold are dishwasher safe, the blender pitcher is actually not. Because of the heating element in the base, it's not safe to submerge in water. It does have a neat cleaning function that automatically boils water in the blender pitcher while mixing, but this doesn't necessarily make up for the lack of dishwasher compatibility.
vs Vitamix 750
There are a good number of differences between these two appliances. Besides the blending capacity, these two models have little in common. The Nutri Ninja Mega Kitchen has a 72 oz blending pitcher while the Vitamix 750 has a 64 oz. blending pitcher. The Nutri Ninja has a food processor bowl and 2 hp motor, while the Vitamix has a bit more powerful 2.2 hp motor and no food processing ability.
The Vitamix has five programmed settings whereas the Nutri Ninja has three set speeds with the option for a pulse setting. If you were asking whether the Ninja 1500 is better than any Vitamix blender, however, that may be a different story.
vs Blendtec
This is another instance of these two products having limited similarities. The Blendtec Total Blender has an amazing 1560 watts of power and a 3 hp motor and the Nutri Ninja has a 1500 watt 2 hp motor. The Blendtec blender has programmable features with a digital display. It blends at 29,000 rpm and is guaranteed to crush ice quickly.
The Nutri Ninja Mega also has the ability to crush ice quickly and evenly. The Nutri Ninja has a 72 oz blender pitcher and the Blendtec blender has a two-quart pitcher. The Blendtec blender does not feature the food processor attachments or the Nutri Ninja cups.
vs Nutribullet
The Nutribullet RX is an extra-large Nutrient extractor with a 1700 watt powerful motor and the Nutri Ninja has a 1500 watt motor. It also features a heating function for soups and other liquid that is best served how. It has a 30 oz. and a 45 oz oversized cup rather than the 16 oz cup that the Nutri Ninja Mega Kitchen comes with.
The NutriBullet has a resealable stay-fresh lid and soup pitcher. The Nutri Ninja Mega Kitchen comes with a food processor bowl, an attachment for chopping and mixing dough, a set of Nutri Ninja cups, and three settings with a pulse option. If you want a kitchen accessory that has a wide range of functions and uses then the Nutri Ninja Mega Kitchen System 1500 might be right for your needs. If you are focused more on blending and Nutrient extraction then the NutriBullet is designed more for those functions.
Vs Breville Sous Chef
The Ninja 1500 comes in with more power than the Sous Chef (having just 1200 watts). It has more containers (blender, food processor, and smoothie cups) whereas the Sous Chef only has two food processor containers, small and large.
The Ninja can't do "food processing" (think chop, slice, grate) functions with anywhere near the level of precision as the Sous chef and you also won't be able to mix dough or batter well.
But the Ninja is also much cheaper. To me, this is a question of what exactly you plan to make most often.
vs Calphalon Blenders
With Calphalon, you're not getting food processing capacity. There are no other blades or flatter containers with these blenders, so if food processing is on your "need" list, read no further.
The Ninja 1500 gives you more wattage, more containers, more blades, and more possibilities for only a slight increase in price. To us, this decision should be an easy one.
Comparing the Ninja 1500 to blenders like the Breville Fresh & Furious is a little unfair to the latter. The best thing about the Ninja Kitchen system is that the same motor base can blend the ingredients of your food processor container, blender jug, and smoothie maker, and you don't get that with any Breville blender even though, the two products cost near the same price.
How Does It Compare to other Ninja Models?
If you're trying to decide between this Ninja blender and others in their range, these comparisons might help.
vs Ninja Ultima
Both of these Ninja products feature a 1500 watt motor which means that they deliver a great amount of power with a great amount of control. Both products feature the Nutri Ninja Cups for extracting nutrients and vitamins from your food. Both blending pitchers are 72 oz.
The Mega Kitchen features a food processor mixing bowl that can be used to prepare all of your meals that need quick and thorough blending and mixing. The Mega Kitchen features three speeds plus a pulse option. The Ultima Blender features ten speeds plus a pulse option.
The difference between these two items is their functionality. The Ninja Mega Kitchen is made for chores related to cooking and processing food for recipes. The Ultima Blender is designed to be used mostly for drinks and extracting wholesome juices from foods. If you need versatility and the ability to use one of these products for a wider variety of cooking uses, then the Ninja Mega Kitchen is what you probably want to purchase.
vs Ninja 1100
These models are quite similar. Both offer the ability to use the unit as a blender and a food processor. Both come with a chopping blade and a dough paddle. Both of these units feature total crush technology so that blending drinks and crushing ice is simple and complete.
The Ninja Mega Kitchen has a 64 oz food processor bowl while the Ninja Professional Kitchen 1100 has a 40 oz food processor bowl. The Ninja Mega Kitchen also features the Nutri Ninja Cups but the Ninja Professional Kitchen 100 does not come with them.
If you are looking for a more simple and smaller version of the Ninja product line then the Ninja Professional Kitchen 1100 is a great value for the money. If you want a complete system with all of the bells and whistles then the Ninja Mega Kitchen is the one you want.
vs Ninja 1200
Both of these products feature a 72 oz. blender pitcher that has enough power to crush ice in moments and make the tastiest, well-blended drinks possible. All of the accessories for both models are also BPA-free and dishwasher safe.
The Ninja Blender 1200 has 1200 watts of power whereas the Ninja Mega Kitchen has 1500 watts of power. The Ninja Blender 1200 has programmable intelligent blender settings to help take the guesswork out of blending your favorite foods or making tasty frozen beverages.
Another difference is that you do not get the Nutri Ninja Cups with the Ninja Blender 1200 or the food processor bowl. What you do get is a more customer blending experience with the Ninja Blender 1200. The blender 1200 is more suited for those individuals that are looking for a superior blender that can give them incredible results rather than a product that has a variety of kitchen uses.
vs Ninja bl771
Both of the Ninja Mega Kitchen models include many of the same features. Both have a 2-horsepower 1500-watt motor. Both feature 2 Nutri Ninja cups that are 16 oz. each. They both have the 72 oz. blending pitcher, 3 speeds with a pulse option, a chopping blade, and a dough paddle. Both are BPA and have dishwasher-safe accessories and parts.
So you may be asking what is the difference between them? The answer is the BL771 model has a 3 cup bowl that fits inside of the regular food processing bowl. The extra 3-cup "bowl in a bowl" feature of the Kitchen System is great for final touches and smaller batches of food, dressing, or toppings.
vs Nutri Ninja Auto IQ
If you are looking at the Nutri Ninja blenders, you will find many with the "Auto IQ" feature, like the BL770 model. The Nutri Ninja Nutri Bowl Duo offers two 24 oz Nutri Ninja portable cups, and also has a programmable blending feature with Auto IQ.
It is meant for those individuals that want to have the ability to have fantastic blending options as well as "Nutrient Extraction and Nutrient Infusion" capabilities whereas the Mega Kitchen is designed for people that want diverse capabilities as far as food preparation with food processing functions. The Mega Kitchen has a blending function but does not have the range of abilities that the Nutri Ninja Nutri Bowl Duo with Auto IQ Boost has. If you are focusing on nutrition drinks and nutrient extraction rather than a multiple-function kitchen accessory then the Nutri Ninja Bowl Duo would be the perfect selection for you.