Let me cut to the chase: By the end of this review, you're going to know whether the 750 professional is the right Vitamix for you. I know that because I've assisted with almost 1000 Vitamix blender purchases through my reviews and comparisons here at Tastylicious.
You're going to know whether it does that one thing you've been thinking of making (maybe a little sorbet, grain flour, or pizza dough?). You're going to know where the best price can be found. You're going to know which features it has, which features it's missing. You'll know whether you care about any of those features, missing or not.
Without further ado, here's your decision sheet for whether to buy a Vitamix Professional Series 750. Carry on reading or use the table of contents below to quickly navigate through the article.
SAVE 11%
SUMMARY: Vitamix 750 Professional
Even compared to the latest Ascent range of Vitamix blenders, the legacy 750 compares very well. It's quiet, powerful, and with no plastic parts around the casing, more durable than even the highest-end alternatives.
Table of Contents
Soon we're going to discuss which features the 750 has and everything you can do with it, but I think it's important first to highlight why it stands out. Before you make this purchase you need to be clear that it's this Vitamix you really need, not one of the other (mostly cheaper) ones.
I think the standout features are as follows:
#1: All Stainless Steel Parts (Read: Noise Reduction + Durability)
This model was made with a construction that many newer models don't have. The motor base and all the surrounding parts are made from stainless steel with rubber trims. There are no plastic bits. For this reason, the Pro 750 has beaten other models in numerous decibel tests, proving to be the quietest model, along with the most recent Ascent A3500 (another professional machine).
Then there's the durability. This same construction is what helps ensure your Vitamix is going to last. It comes with a 7-year warranty, which is the second-longest only to the latest Ascent range of blenders (the A2300, A2500, A3300 and A3500) that come in at 10 years. But here's the thing about that: The Ascent hasn't been around for 7 years so we're yet to learn from customers how well they hold up over the long term.
The 750 professional has been around for so much longer. It's time-tested and proven. It's a versatile machine, and it goes the distance, usually until long after the warranty date is forgotten.
#2: Preset Programs
It's not the only model with preset programs, but it has 5 of them (for frozen desserts, smoothies, hot soups, purees, and self cleaning), and that's only true of one other currently available model (The Ascent A3500).
These programs set the time and speed of your blend so that you can put the ingredients in and walk away.
In a commercial kitchen, this convenience is essential. For a home kitchen, it's optional. You don't need preset programs to do everything awesome a Vitamix does. But if you're usually cooking while doing 3 other things at the same time (say helping a kid with homework, and calming a crying baby) you'll come to rely on your presets for reducing stress at mealtimes, without sacrificing quality.
Lastly, it's important to note that preset programs are one of the main contributors to pricing across models. Most models you can buy without presets and with them, usually for $100 to $200 more.
TIP: Knowing whether you really need preset programs is key to saving money when you buy a Vitamix.
What Does It Come With?
Next, let me break down what it has and doesn't have to help if you're comparing with other models.
2.2 horsepower motor: That's the biggest motor they've made. You'll find confusing comments about motors like that one is a "classic motor" and one is a "next gen" motor. But as far as real differences in your blending, this motor is the biggest, and there's no other model with a motor that gets you more effective blending power.
Low profile 64oz container (that's 1818mls in case you're wondering. Yeah, you, with the accent.) with lid that has a removable plug to allow you to add ingredients without removing the lid. This is bigger than the 48oz container on models like the Explorian E310. It's also shorter and more convenient than the high profile 64oz container found on older models like the 5200.There's no bigger container you can get than this, so don't worry about that. Note this container is not dishwasher safe, like the 64oz container of the A3500 and for some people that's an important factor.
Stainless steel laser cut blades: But all Vitamixes have this.
10 variable speeds and pulse control: The dial adjusts as you move it, so there's not only 10 speeds but many as you slowly turn the dial. All models have this too.
Tamper Tool: For pushing stuff down into the blades when you need to. It's super useful and all models have one.
Pre-Programmed Settings for "walk away" convenience and consistency: We talked about this above.
Recipe book in print format: But you'll get most of your recipes online anyway. Newer models come with an app, in case that's important to you?
7-year warranty: Which we talked about it. Only the 10 year warranty on the Ascent models is higher.
Here's a little unboxing video if you want to get the full experience:
What it DOESN'T Have
I'm listing these things here because they're features of other models or they're addons. Don't expect to be getting any of the following with your Professional series 750:
Dishwasher Safe Containers: As I mentioned, you wash the container with the self cleaning preset, and occasionally a good old scrubbing brush. No dishwashers allowed like with the Ascent A3500.
Digital Timer: You might have seen these in commercials. They're from the Ascent range and don't come on the 750 Pro.
A Touch Screen Display: In case you saw that somewhere I should tell you it's not a feature of the 750 professional.
WiFi anything: If you heard about newer models having WiFi capability, note that's not a feature of the 750.
Self Detect Containers: Another thing you might have seen in commercials is the feature where you can put different containers on the blender (like the baby food container or the personal smoothie container) and the preset programs will adjust their time and speed to the new quantity. That's also a feature only of the Ascent range blenders and not the 750 Professional.
A Dry Goods Container: You might have seen these other containers with different blades, that propel ingredients upward instead of sucking them downward? They're better for making flours and a few other things. The 750 professional doesn't come with one as standard, but neither does any other model.
Understand that all of these features (besides the dry goods container) DO come with the Ascent A3500 and DON'T come with the 750 Professional.
And it's here that I have to make a critical point:
The 750 Professional, and the Newer Ascent A3500 Are
The Same Price Right Now
These are the company's two top of the line blenders, and until a couple of months ago, the Ascent A3500, having all those additional features, was much more expensive.
But that has changed. These two machines both cost $599 now and I don't think there's a strong enough argument for buying a 750 Professional over an A3500 anymore.
If you didn't realize that point, and you want to read my review of the A3500 instead, click here. If you want to read more about the 750 Professional anyway, let's continue!
What Can you Make?
It's not an exaggeration to say that anything requiring food prep, you can make with this blender. Cafes use it. Restaurants use it. I was watching a Masterclass video recently where a chef who specializes in Mexican cuisine was using it to make her salsas.
You really are unlimited with this blender. Here is a taste of just some of the delicious things you can expect to make easily:
Slush puppies and snow cones
Cocktails
Vegetable juices
Hot and cold soups
Sauces
Salad dressings
Nut butter
In terms of capability, the main functions of the Professional series 750 are as follows:
Puree
Chop
Blend
Cream
Liquify
Beat
Heat
As you gain experience with the variable speed dial, you'll use this machine for more and more food prep tasks. If you cook at home a lot, you'll soon learn that the people who call it life-changing... are only exaggerating slightly.
Notes From Customer Reviews
In terms of the experience of owning this blender, here are a few points that come up regularly in user reviews that may be helpful to your decision making.
The Clip on Lid: The lid of this blender is thick and sturdy and clips down firmly in place. This gave people the confidence to use it even for hot food. I once had a blender that would occasionally pop clear off the blender from the pressure of the steam build up whenever I tried to use it for hot foods. You can rest assured that won't happen with this blender. Hot soups to keep you warm in winter will be a no brainer.
Handles big chunks of food well: The sheer power behind this blender means it has no problem handling large chunks of food even when frozen or raw. With many other blenders, you'll find yourself having to cut up the food beforehand to stop the blades from getting stuck but that isn't an issue with this model, saving you both food prep and blend time. I've made smoothies with whole apples, frozen bananas, and even a raw carrot and they all were blitzed to a pulp no worries.
Easy and quick to clean: Yes, the blender jug and lid are not dishwasher-friendly, but you can wash it very easily by putting some warm water in it with a drop of detergent and turning it on. Some friends of mine that have one sometimes give it a little soak with some apple cider vinegar to freshen it up from time to time. There are no nooks and crannies where food can hide from this kind of cleaning. Many other blenders have little recesses where the handle joins the jug or under the blade where food can build up this makes cleaning them tricky. This doesn't seem to be an issue.
Easy to get stuff out: The low profile container puts more space between the blades of the blender and the sides of the jar. This means it's easier than other models to get those last little bits of chunky blended stuff out of the bottom of the container and into your bowls or glasses.
Makes fantastic nut butter: Several users were so pleased with the nut butter that this blender produced that they made a special mention of it in their reviews. Nowadays store-bought nut butters are often so jammed full of salt, thickeners and who knows what else so its a no-brainer to blend up some simple but delicious almond, cashew or peanut butter for you to use in smoothies, on fresh bread or even by the spoonful if you're having one of those days.
Green smoothies made easy: This blender handles heavy greens exceptionally well. It does not shred the leaves leaving gritty bits in your smoothie, rather it pulverizes them, which produces a much smoother result than many other blenders do. I always throw in a handful of spinach and kale into my smoothies and never saw a trace of them in the drink.
Helpful customer support staff: Most people reported very favorable experiences with the company's customer support. I haven't had to contact them personally but read positive reviews about their helpline on several websites.
Can You Do Juicing With It?
Yes, it can be used as a juicer by blending your usual ingredients smoothie-style and straining out the pulp. You'll find all kinds of suggestions online on what to use for straining - some weirder than others. You can grab a muslin, cheesecloth, nut milk bag, or even women's stockings/tights and squeeze the smoothie pulp through to produce your fresh juice.
Then as an added benefit, you can use the remaining pulp for so many different things, including:
Soup broth
Veggie patties
Healthy baked goods (muffins, cookies etc)
Veggie chips
Smoothies
Garden compost
Sauces for pasta and lasagna
Understanding Preset Programs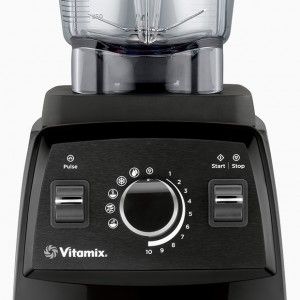 Hopefully, you get by now that the preset programs are the main reason to invest in the Professional series 750 and not the cheaper models. You heard me say that presets let you load ingredients, select what you want, then walk away... but how exactly does it work? And what do you find when you walk back?
A preset program chooses a blend speed and time that suits the thing you're looking to make: Smoothie, hot soup, frozen dessert or a puree (don't forget the self cleaning). You put the ingredients in, and it runs the program: Starting at a particular speed and ending at another, over a set number of seconds.
Of course, this adds a lot of convenience: You don't have to stand there at the blender watching to see when it gets done. But perhaps as importantly, this feature adds consistency. As long as you load the same volume of ingredients, your end soup, dessert or smoothie is exactly the same. Every time. Without you having to think.
This is a video of someone making Hummus using the puree preset, to give you a sense of how it works. (Ironically, she uses the tamper at the end, which you don't have to do if you just let the preset run... but hopefully, you get the point :))
Let's Talk Noise
If you're about to get your first Vitamix blender, we have to talk about the noise. You're about to put a 2+ Horsepower motor up on your kitchen counter and if you've never done that before, it's helpful to start with the right expectations.
None of them are "quiet". Let me start there. This amount of power used in a home kitchen will make a sound. How much sound?
For your Professional series 750 - and the A3500 incidentally - approximately 88 decibels. How loud is that? Apparently, human conversation is about 60 decibels.
The good news for you is that you can't get any quieter. Other models, even newer ones like the A2300 get over 90 decibels, and Explorian model Vitamixes have been tested at over 100 decibels.
Overall, unless you're really sensitive to noise, I don't think you'll find your Vitamix a problem. Pause your conversation while you're blending. Close relevant doors if you're blending while people are sleeping. If you live in an apartment with thin walls, don't blend late at night unless you hate your neighbors?
Do You Really Need THIS Model?
It's quite possible that you want a Vitamix, and that having one would really improve the quality of your life... but you don't need to spend $600 on a Professional Series 750.
SAVE 11%
SUMMARY: Vitamix 750 Professional
Even compared to the latest Ascent range of Vitamix blenders, the legacy 750 compares very well. It's quiet, powerful, and with no plastic parts around the casing, more durable than even the highest-end alternatives.
Pre-set Programs, we talked about. If you don't think you'll use them that much, we recommend an Ascent A2300. That gets you newer features like a digital timer and the dishwasher safe containers. You still get the 64oz container and it's only $449.
The other biggie is container size. Is this blender just for you and a partner? If so, you probably don't need the 64oz container, and you can save even more on your purchase. Models like the Explorian E310 come with 48oz containers, they give up the presets (as well as being a little higher on the noise scale) but come in at $349!
How Does it Compare?
In case you're looking for a comparison to some other blender I haven't mentioned yet, this section has you covered. Here's how it's the same and different to every similarly priced blender you could possibly imagine:
vs Ascent A3500
Even though we've discussed it above, I'll summarize again: For the same price, the A3500 gives you the same motor power, container size and preset programs, but with the addition of dishwasher safe containers, a digital timer, touch screen display, self-detect feature (so the presets adjust automatically if you put a baby food container or a dry goods container on the base!) and a 10 year (instead of 7 year) warranty. Dollar for dollar, it's an objectively better buy than the 750 right now.
vs Ascent A2300
The A2300 gives up the pre-set programs but saves you $150 (at time of writing). As well as the saving going with this instead of a 750 Professional, you'll get the dishwasher safe container, clear lids (helpful for controlling a blend), and a digital timer feature that you can set manually. You'll also get the extra 3 years on a warranty. To pick the 750 over the A2300 you have to know you'll use those presets and really value that convenience and consistency.
vs 7500
Both the 7500 and 750 have the same 2.2 HP motor, same 64oz container, and they both have virtually the same footprint. However, there are some differences. The 7500 is available in three colors whereas the 750 is only available in the brushed stainless steel.
The 7500 is cheaper but that's because it doesn't have preset programs. Both blenders have ten variable speeds, pulse and constant settings but the 7500 doesn't have the 5 presets we've mentioned, and that walk away convenience that just keeps on paying for itself.
vs 5200
The 5200 has a solid 2.0 hp motor, but the 750 has a more powerful 2.2 hp motor. In addition, the 750 has a more efficient cooling function, as well as better sound insulation than the 5200.
Both blenders have a 64oz container, but the 5200 is a high profile container rather than a low profile one. This will be important to you if you're conscious of space. The wider design of the Professional Series means there is less need to keep pausing the machine to push the food down because in the wider jug the food falls back onto the blades more easily.
The Professional Series blades have a 4-inch spread, but the older 5200 has just 3-inch blades. It also has the 5 preset programs, where the 5200 does not.
vs E320
Here you're comparing a professional model to an entry-level one, so the differences aren't surprising. The 750 is quieter, slightly more powerful, and has all the preset programs, where the E320 has none. Removing all those features lets the E320 sell for hundreds of dollars less, as you might expect.
vs E310
Compared to the 750, the E310 has no preset functions, a reduced warranty, it's louder and slightly less powerful. On top of that, it only has a 48oz container. You get an E310 if you want a starter model on a budget.
vs 5300
The Professional Series 750 has 5 pre-programmed settings to help you create your favorite recipes. Whether you want to make smoothies, frozen desserts, hot soups, or purees, you simply have to turn the knob and pick the setting you want. This is in addition to the self-cleaning mode and the 10-speed settings that are available.
The 5300, on the other hand, only comes with the 10 settings and no pre-programmed ones. Both have a pulse feature and a low-profile 64-ounce container. For the Professional series 750, the container is made of BPA-free Eastman Tritan copolyester. It also comes with new features like soft-grip controls, vibration dampening, and an illuminated panel.
What's the Best Price?
I wrote the first version of this article in 2015. I can tell you that since then, no matter which store, online or offline, the price has hardly changed (with the exception of the occasional sale).
You can see today's unsurprising price for the Vitamix 750 on Amazon when you click this link.
To Buy or Not to Buy
Here's the final decision tree for you:
You should get a Vitamix 750 if:
a) You need a 64oz container
b) You need pre-set programs
c) You prefer the classic models and you're betting on them lasting longer than the newer built Ascent range.
d) You're fine without a touchscreen display, dishwasher safe container, digital timer, or self-detect technology.
If that's 4 yeses, go grab your Vitamix 750 at Amazon here.
If you answered no to any of those questions, but you're willing to spend $599, get an Ascent A3500.
If you answered no to b) and or c), but you don't want to spend as much as $599, get an Ascent A2300 for $449.
And I'm going to leave it there 🙂
If you have any other questions, don't hesitate to ask me in the comments below. I wish you all the best with your decision, and enjoy your new blender!