I really love smoothies. Not only because of all the health benefits they provide but also how delicious they can be. It's a shame they're so expensive from stores. It's also a shame you don't know how long they have been sitting there. That is why I love to make smoothies at home using my personal blender. I can make any kind of smoothie I want as well as food purees, milkshakes, and healthy juices. Once I started using a blender to make my smoothies, I never went back to buying them again.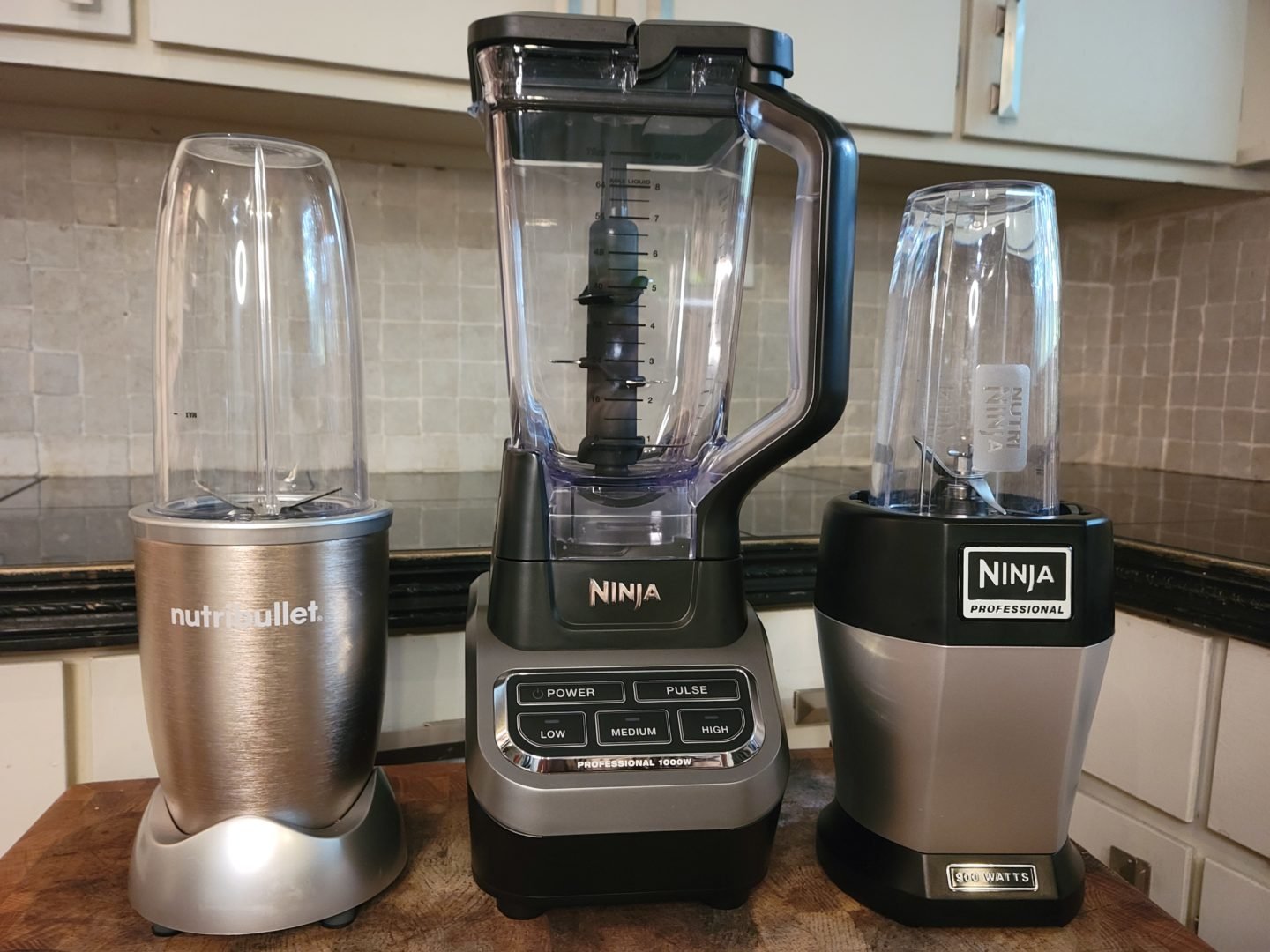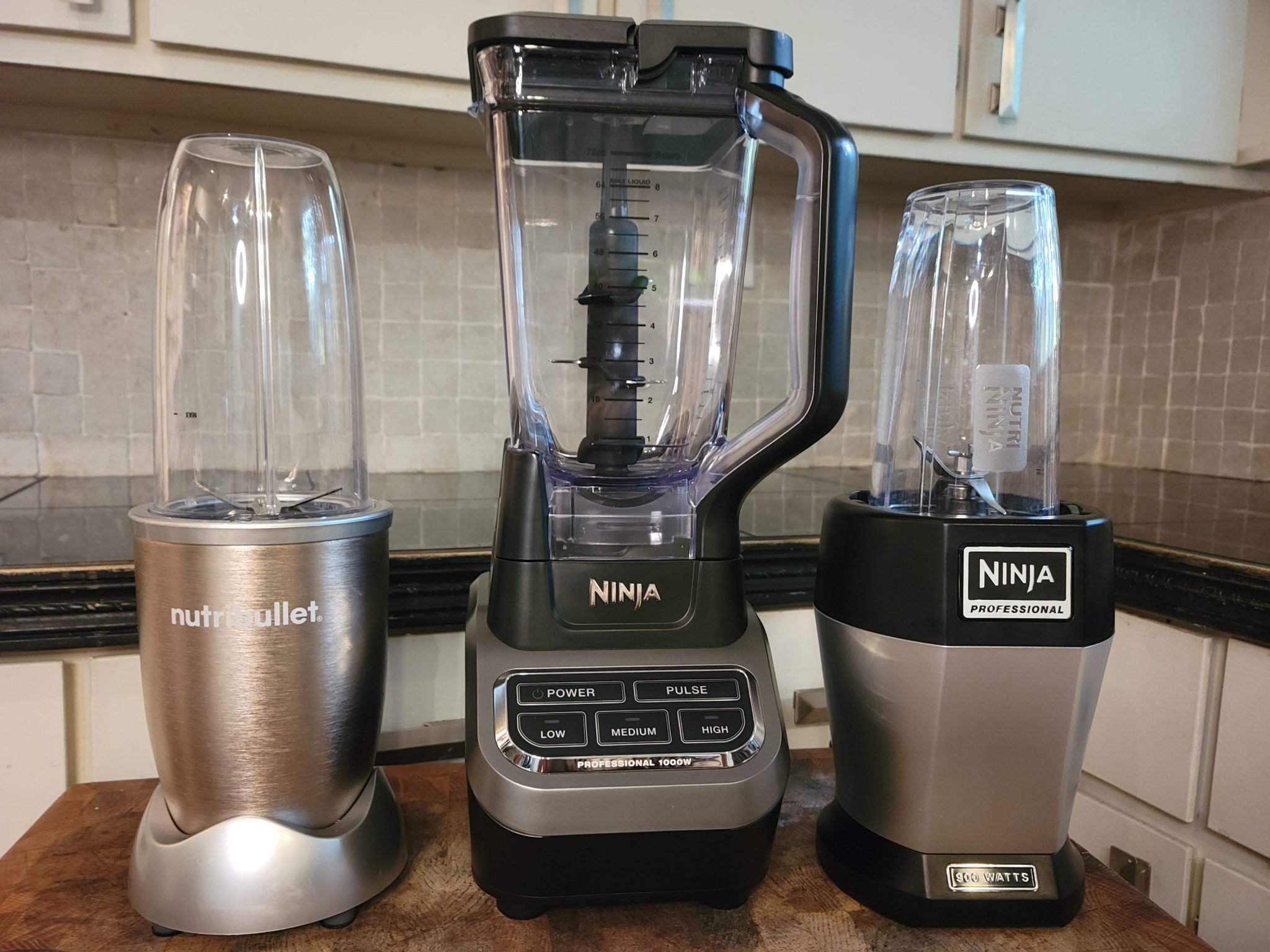 Before I leaped at a new blender purchase, I decided to test out 7 different models that came highly recommended. After reviewing them all, I can honestly say that the NutriBullet Pro 900 is the best value blender for smoothies you could want. The blender was extremely efficient, priced low and came with all the accessories you could need to have all the smoothies you want, anywhere you want.
BEST VALUE: NutriBullet Pro 900
In each test I ran, the Nutribullet Pro 900 smoothified my ingredients, rarely taking more than 30 seconds. It also has more add-ons and attachments than any other model at this price.
When it comes to making smoothies, you are going to need a very powerful blender to ensure all the ingredients get blended well and the drink becomes smooth. There are plenty of blenders available to choose from but not all are created equal. Not all blenders will be able to get a drink equally smooth. Some blenders can't handle certain ingredients.
The best blender for smoothies will firstly need to have a powerful motor base with at least 700 watts of power. This will help ensure that all ingredients, including the frozen ones, get blended well. Other blenders are even more powerful and can even break down ingredients like seeds, rinds, tough leafy, fibrous, and stalky vegetables. Not all smoothies need to have these types of ingredients, but it is nice to have the option if you wanted to include them in the drink.
You also need to think about how large you want the blender's capacity to handle. If you are making smoothies just for yourself or another person then there are plenty of personal blenders that are made for this type of job. If you are wanting to have the ability to make more than one or two drinks at a time then you may want to spring for a large capacity model usually reserved for larger families or for restaurants and bars where this time saving is critical.
You also need to think about what you will be using the blender for. If you are just wanting to make smoothies and nothing else, there's a best smoothie blender for you. If you are wanting to utilize the blender for other applications like crushing ice, making soups or purees, then you need a different model. Not all blenders will be able to do all of these things correctly or even at all.
While there are plenty of blenders to choose from, the larger and more powerful blenders can be quite expensive. They do make other blenders that are going to be less expensive but typically they are smaller and less powerful or they won't be able to do everything you want them to. If you are on a budget, then chances are you won't be able to have your cake and eat it too. Make sure to make a list of what is important to you in a blender, then compare and contrast those models against each other depending on their cost.
All of this can be a lot to process when choosing a new blender and to be quite frank, it can take a lot of research to find the right one for you. We have compiled this list of the best blenders for making smoothies with a wide array of options depending on their size, power, abilities, and cost. We wanted to make sure there was something for everyone on the list to help you make a better decision. All of these products would be great for making smoothies. They are all very different from one another. Depending on what you want out of your blender and what your budget is, you will be able to find what you are looking for in this article.
Table of Contents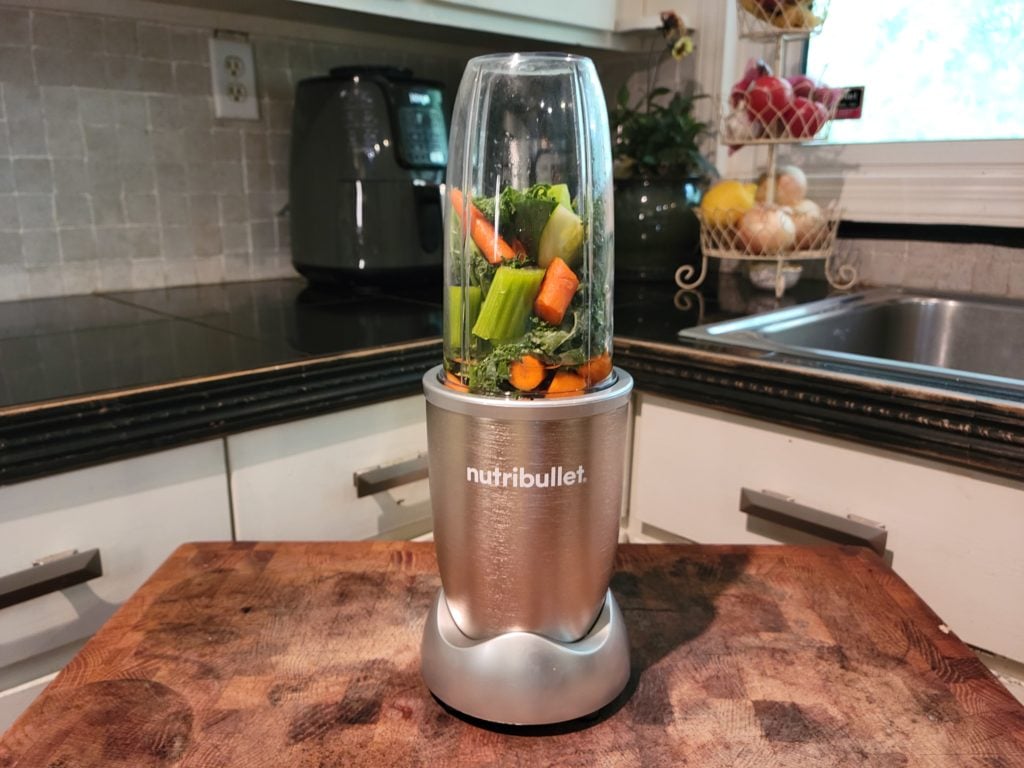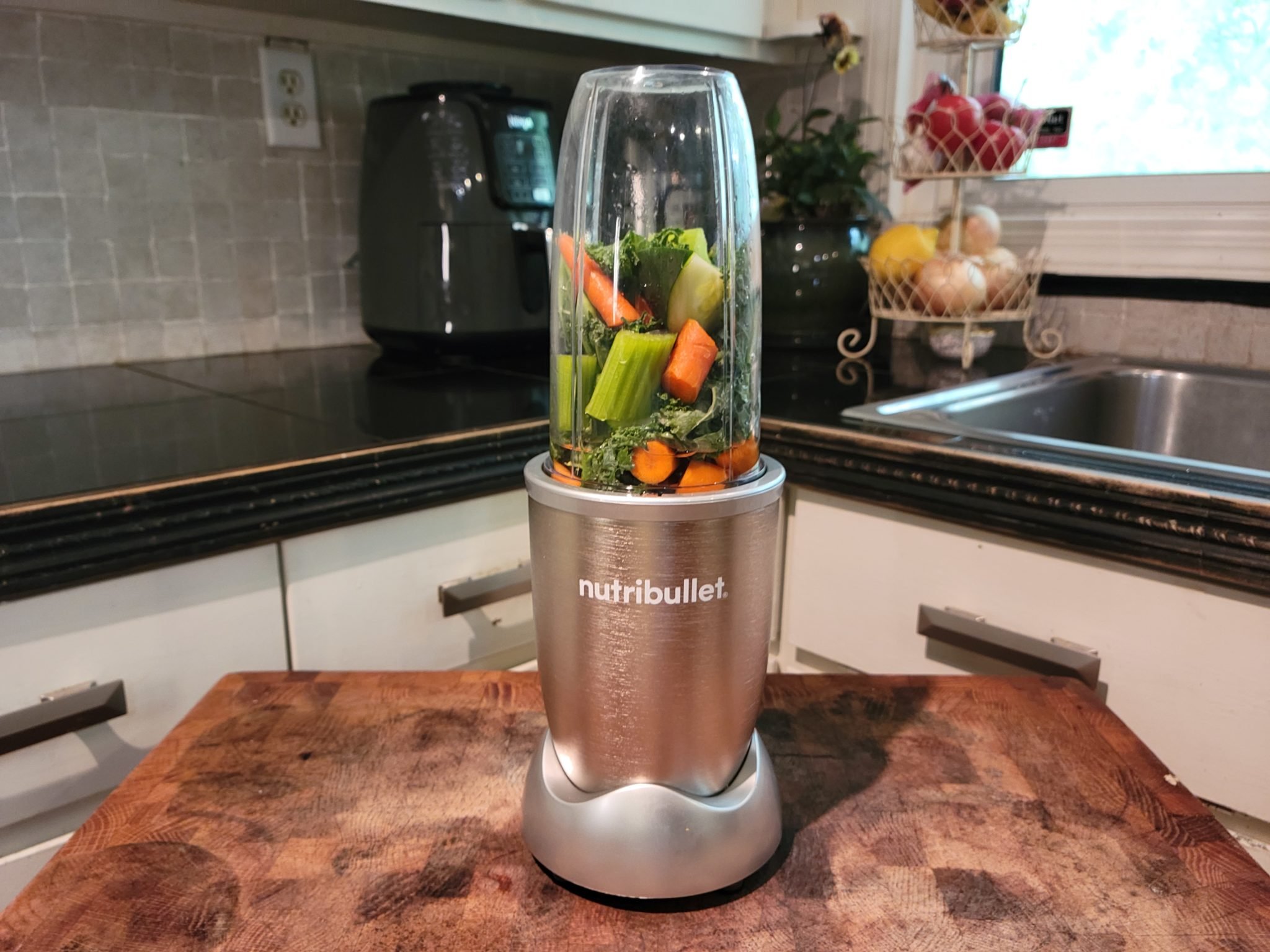 The Nutribullet Pro is a wonderful compact blender that is perfect for anyone looking to make smoothies for one or two people at a time. We have placed it in the number one position for a few reasons. For one, the Nutribullet Pro was constructed to specifically make smoothies and does a great job at it.
It also comes at an affordable cost to just about anyone looking to buy a blender for making smoothies. In addition, the Nutribullet Pro comes with loads of accessories and helpful information to help you on your smoothie-making journey. Included with the blender are two 32 ounce containers, two soft lip rings, two soft lip rings with handles, and two flip-top travel lids for taking the smoothie with you on the go. While the other blenders may come with some accessories, the Nutribullet Pro blows them out of the water in this area.
The Nutribullet Pro 900 also comes with a beautifully crafted hardcover cookbook that is filled with all kinds of ideas for making smoothies, soups, and purees. In the cookbook are loads of helpful hints and tips to use your Nutribullet Pro which are all accompanied by vibrant and colorful pictures or recipes, fruits, and vegetables. The blender also comes with a small nutritionist booklet that helps you to construct the perfect smoothie. It talks about several types of fruit and vegetables like what the benefits are from consuming them and how to build the smoothie with the proper amount of each ingredient without the use of a recipe.
The Nutribullet Pro is perfect for making one or two smoothies at a time. The Nutri Ninja blender (further down on our list) may be able to do the same thing but in our tests, the Nutribullet Pro made a smoother drink with a slightly larger capacity container. It also has a couple of other safety features that the Nutri Ninja doesn't have like the lock that fixes the container to the base.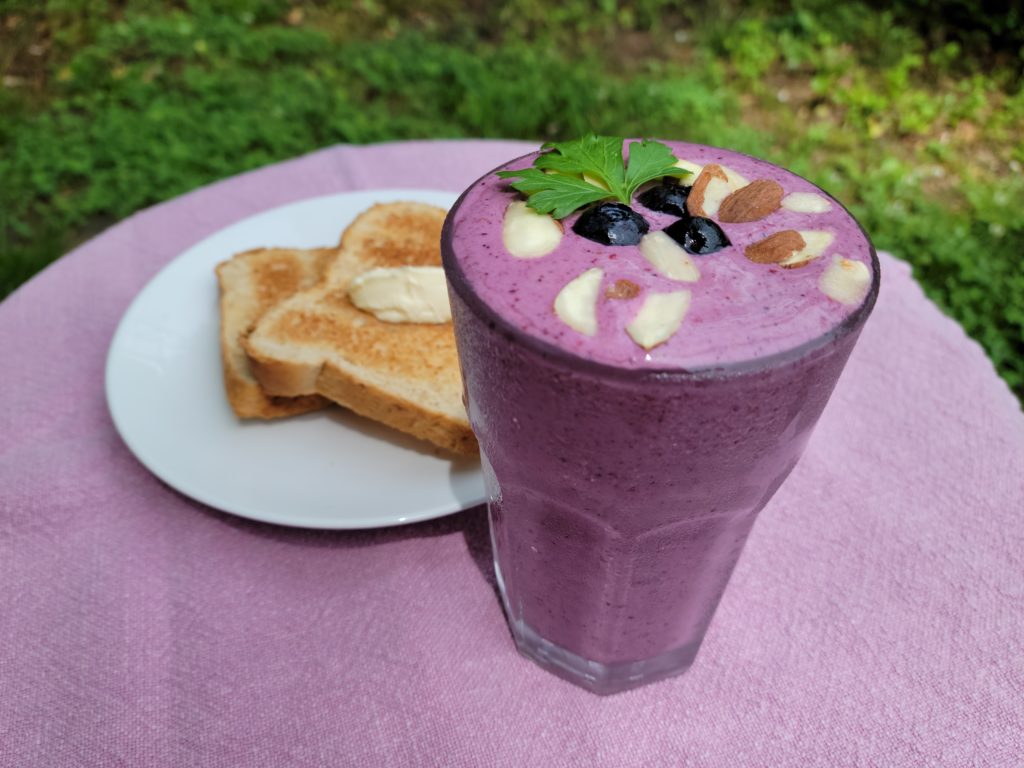 While it may not be as big as some of the other blenders on the list, it is sure to get your smoothie incredibly smooth. Another model on our list, the Ninja Professional blender had some problems getting certain ingredients blended to smooth, but the Nutribullet Pro had no trouble with any ingredient we threw at it.
The only downside? The Nutribullet Pro will not be able to crush ice like the Ninja Professional blender, The Vitamix E310, or the Oster Pro 1200.
All in all, the Nutribullet Pro will be a great addition to any kitchen. It will be able to make perfectly rich and creamy smoothies every time no matter the ingredients.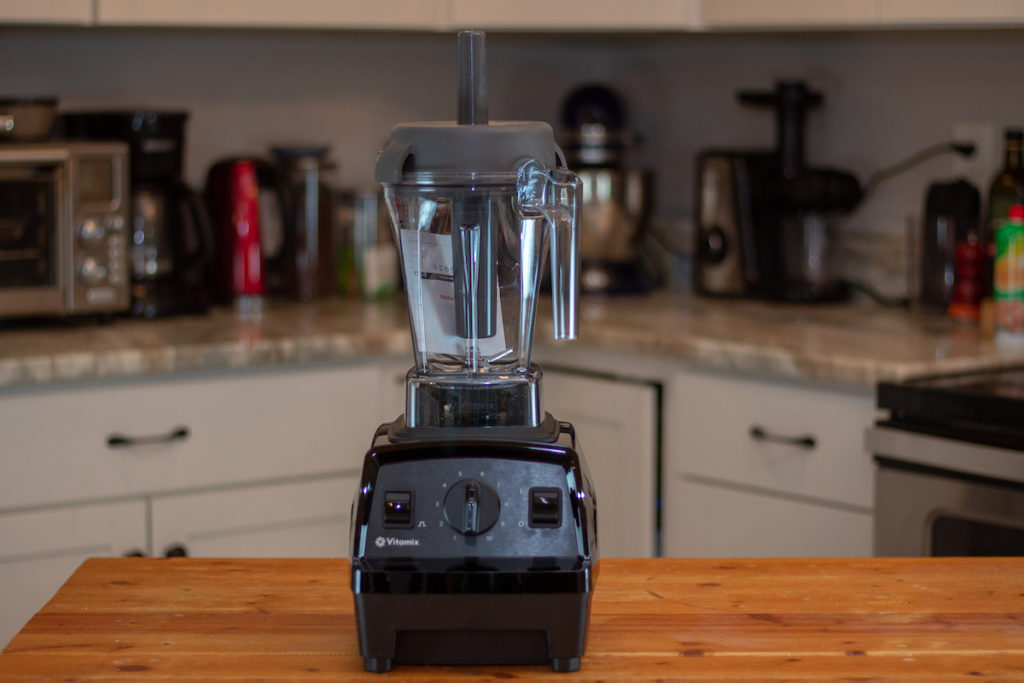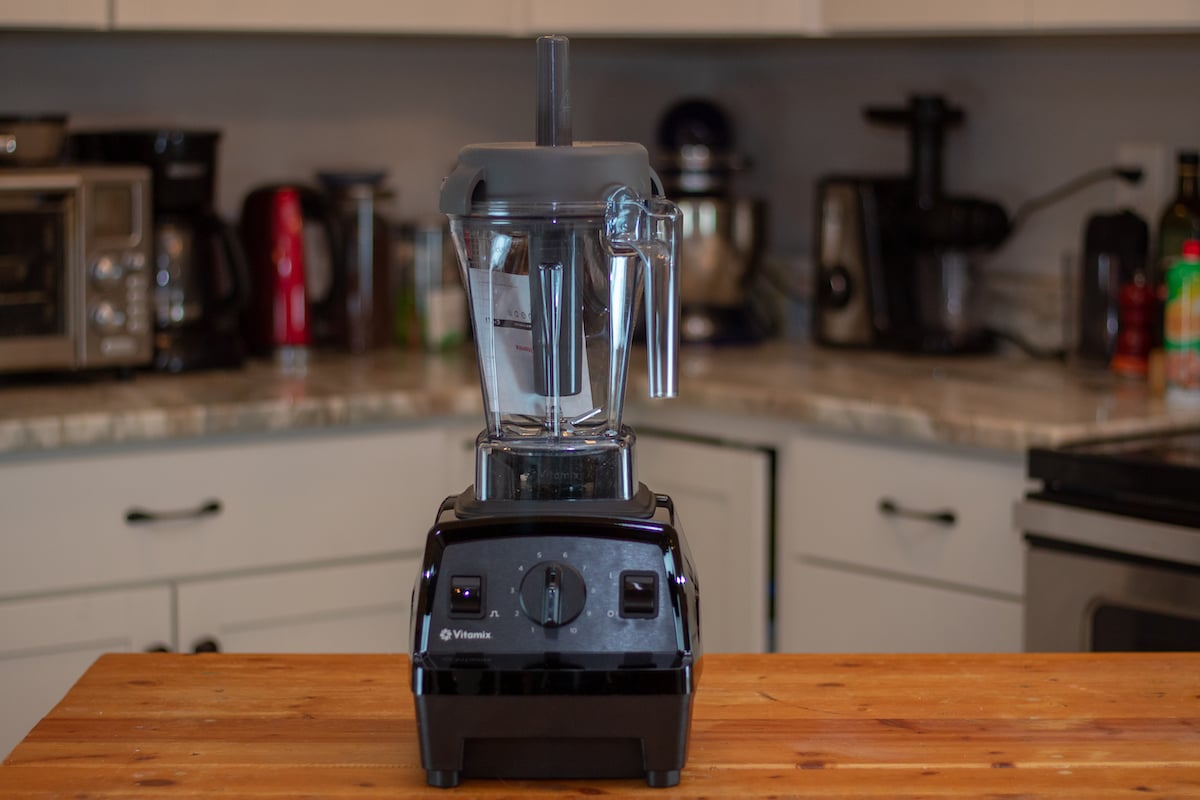 The next blender on the list is the all-powerful Vitamix E310 Explorian Blender. The only reason this blender is not at the top of the list is because of how expensive it is. Don't let the price tag deter you from purchasing this blender though because it is totally worth the money. Not everyone can afford a Vitamix blender but if you have a chance to use one, you will fall in love immediately.
This blender can really do it all. It has one of the most powerful motors at 2HP. It can literally do anything you throw in it. From emulsifying sauces and dressings to pulverizing nuts and seeds. It is so powerful and can blend at such a high speed that it will even heat up fluids and in some cases, cook foods like soups and purees.
Reason #1 to Choose a Vitamix Instead: (WAY) More Power
The Vitamix E310 blender is perfect for a small to medium-sized family with a 48-ounce pitcher that will blend up several nice-sized smoothies. Since it has 10 different variable blending speeds, it can take on tasks at lower speeds like making chunky salsa or finely chopped vegetables. The higher speeds are used to create creamy and smooth drinks, purees, and smoothies. It will also be able to crush ice which the Nutribullet just can't accomplish.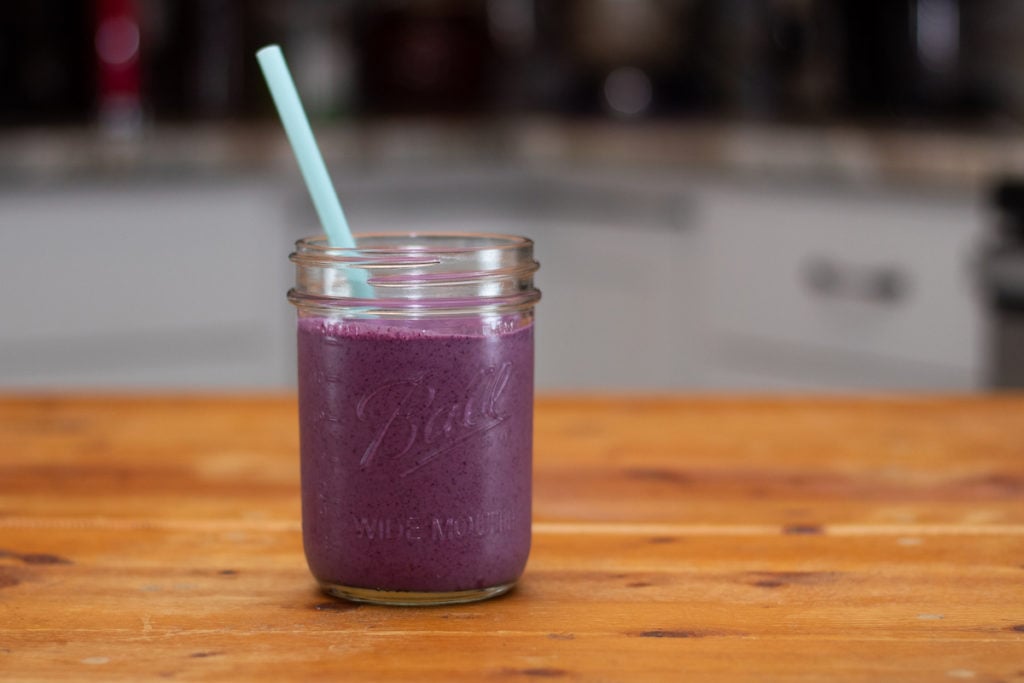 Reason #2 to Choose a Vitamix Instead: Works for Longer
The Vitamix E310 Explorian blender also triumphs over the Nutribullet in terms of how long it can be used. The Nutribullet can only be used in one-minute increments without overheating, while the Vitamix E310 will blend as long as you need it to. The motor base is equipped with a radial cooling fan and a thermal protection system that will prevent the blender from overheating when used for long periods of time. This is a huge bonus when you need to make other types of foods than just smoothies.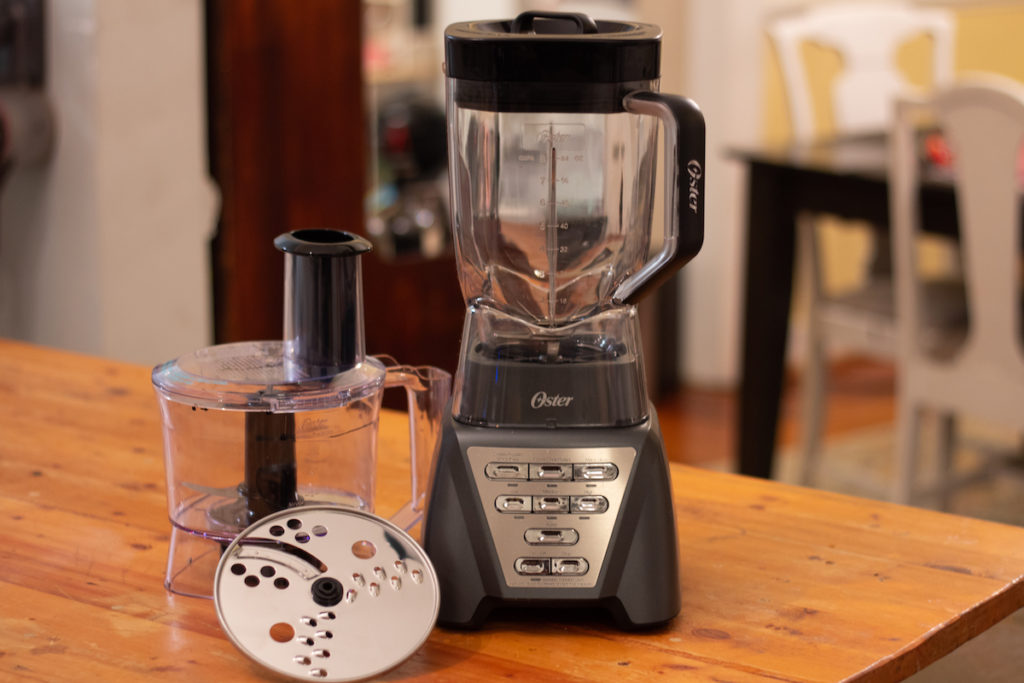 The Oster Blender Pro 1200 is a great blender if you don't have a lot of money to spend but still do not want to cut corners on the quality of the machine. You would think that since the blender is so affordable, it would not be able to handle most blending tasks the other blenders can do. But the Oster Pro 1200 is still able to create a delicious smoothie or perfect puree with ease.
The blender comes with a very powerful 1200 watt motor which makes it capable of blending dense foods to create purees, soups, and smoothies. It is equipped with 7 different speeds including three pre-programmed settings for common blending applications. The blender also has a large capacity container with a volume of 6 cups. Unlike any other model on the list, the Oster pitcher is made of tempered glass, meaning it's less likely to scratch, warp or break with repeated usage. It's also dishwasher safe.
Reason #1 to Choose the Oster Instead: 10X Warranty
Even though the Nutribullet is still very affordable, the Oster Pro 1200 blender is a better deal overall, considering what it can do. In addition to the lowered product cost, the Oster Pro 1200 blender comes backed with a 10-year limited warranty which blows the Nutribullet's warranty out of the water. The Nutribullet comes with a 1-year limited warranty. This could be a game-changer down the road and may sway you in your decision-making.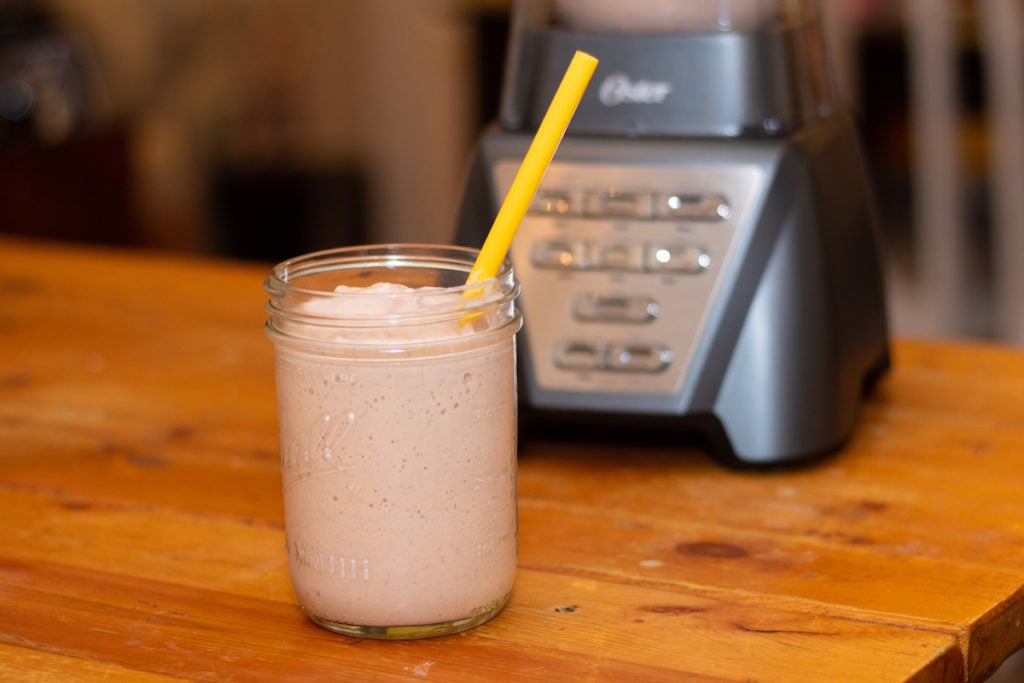 Reason #2 to Choose The Oster Instead: Low-Cost Ice Crushing
The Oster Pro 1200 is also able to crush ice, which the Nutribullet Pro just cannot accomplish without damaging the motor base. Even though the Oster Pro 1200 has a 1200 watt motor for blending, it utilizes only 900 watts to crush ice. With this amount of power, the blender will still be able to turn ice into snow with ease. The larger volume capacity of the pitcher makes it easy to blend drinks as well as crush a large amount of ice at one time.
Another unique feature of the Oster is that the blades can move forward and backward to make sure all ingredients are blended thoroughly.
This blender is very similar to the Vitamix E310 in the sense that it can do a lot of the same tasks. However, this model does cost more than the Vitamix which is why it is lower on our list. Although the blender does come at a higher price, the level of power the motor can harness is astonishing. The motor base has 1560 watts of power which is far higher than just about any other blender out there. Not that you will need that much power to make a smoothie, but it is better to have it and not need it than need it and not have it.
In addition to making the smoothest smoothies and drinks, the Blendtec Designer 650 Blender has the ability to make a large array of blended foods. The blender is equipped with seven varying blending programs that allow you to make chopped vegetables to smooth vegetable purees. Since the blender is incredibly powerful, it also has the capability to heat up soups and sauces as it blends through blade friction heat. This blender is also perfect for large families with its 90-ounce pitcher.
Reason #1 to Choose the Blendtec Instead: The Most Speeds + Preset Programs
Since the blender is able to blend ingredients at several different speeds, this opens up many different food options to create. The Nutribullet is only equipped with one speed and won't work for any mixing task that requires a softer touch (making salsa for example), or a harder touch (mixing dough).
The Blendtec 650 blender can create a variety of textures with its variable control speeds. The control panel has a LED-backlit display to make it easy to read during the day or night. In addition to the variable speeds, the blender is equipped with a timer function. The timer will show the duration of the blend, how much time is left and it will turn off automatically when the cycle is complete. This could come in handy for a multitude of blending applications that the Nutribullet just cannot do.
Reason #2 to Choose The Blendtec Instead: Safety
The Blendtec Designer 650 blender can chop, pulverize, grind and demolish a wide variety of fruits, nuts, seeds, and vegetables. The reason it is able to do this so well when compared to other blenders is the patent blade structure which is 80% thicker than the Nutribullet Pro blades. The blade has been forged with stainless steel and modified to have wings at the tips of the blade. The blade is not only thick but also dull which makes it that much safer to handle. It has been claimed to have a blade system that is ten times stronger than any other blender blade on the market. The added strength and dexterity of the blades make it much more versatile blender the Nutribullet Pro.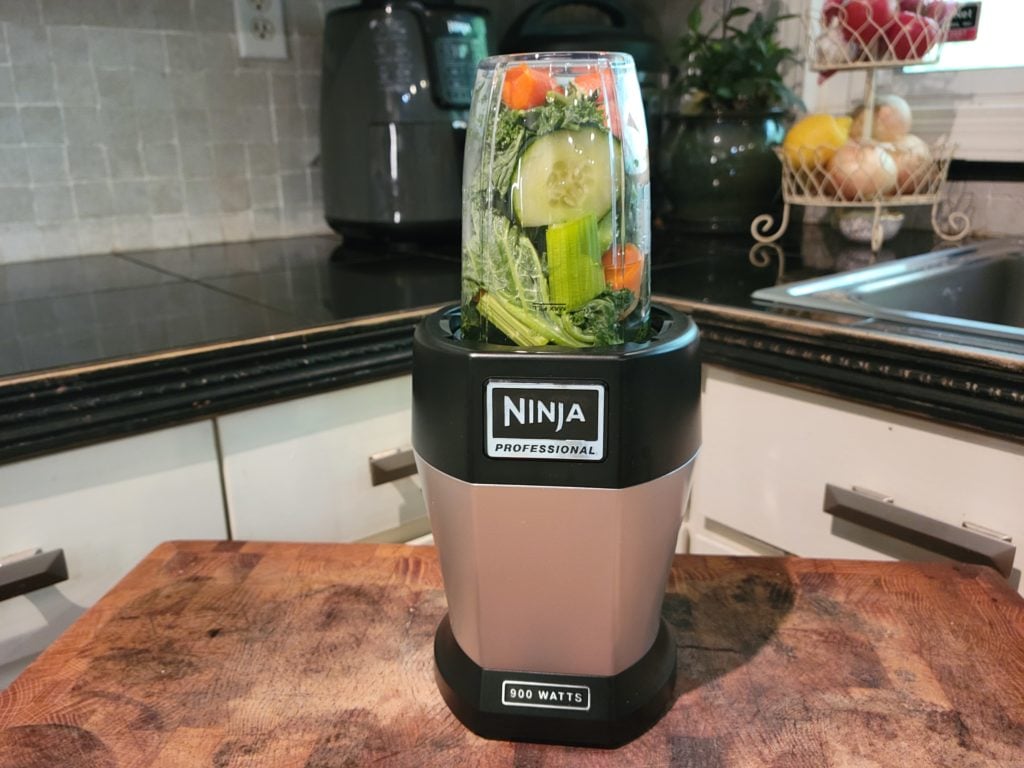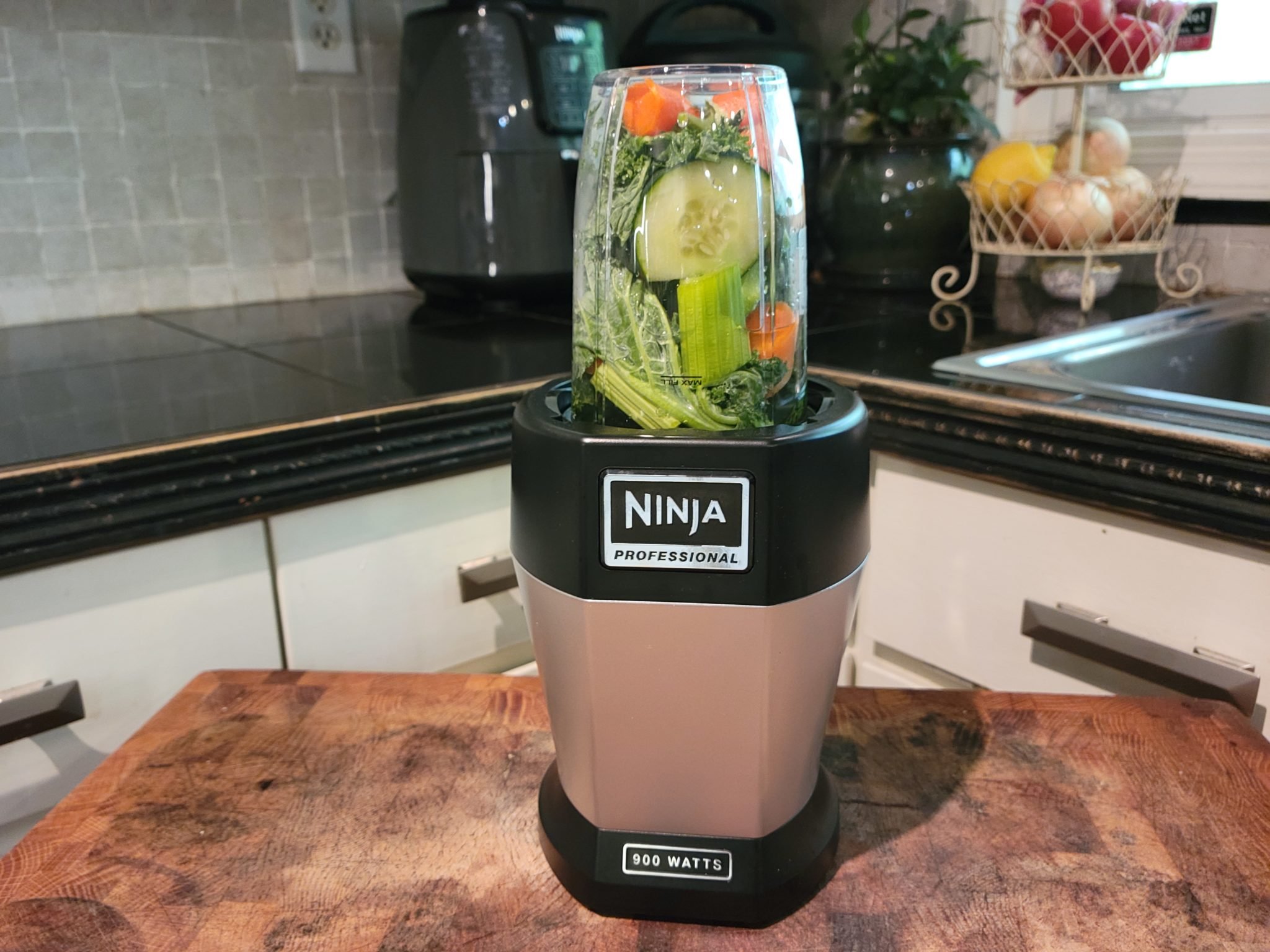 On the surface, the Nutri Ninja Pro and our #1 Nutribullet Pro are very similar. But the differences between them will be a big deal to some people.
Even though both blenders come with two containers for blending ingredients, the Nutri Ninja Pro Blender comes with two different-sized containers. One of the containers is 24 ounces in size which is perfect for making one or two smoothies at a time and the other is 16 ounces. The 16-ounce container is perfect for a large smoothie or recipe for one person.
What's more, since the container is shorter, it may be able to fit under lower hanging shelves in the cabinet or in the fridge, when compared to the Nutribullet Pro.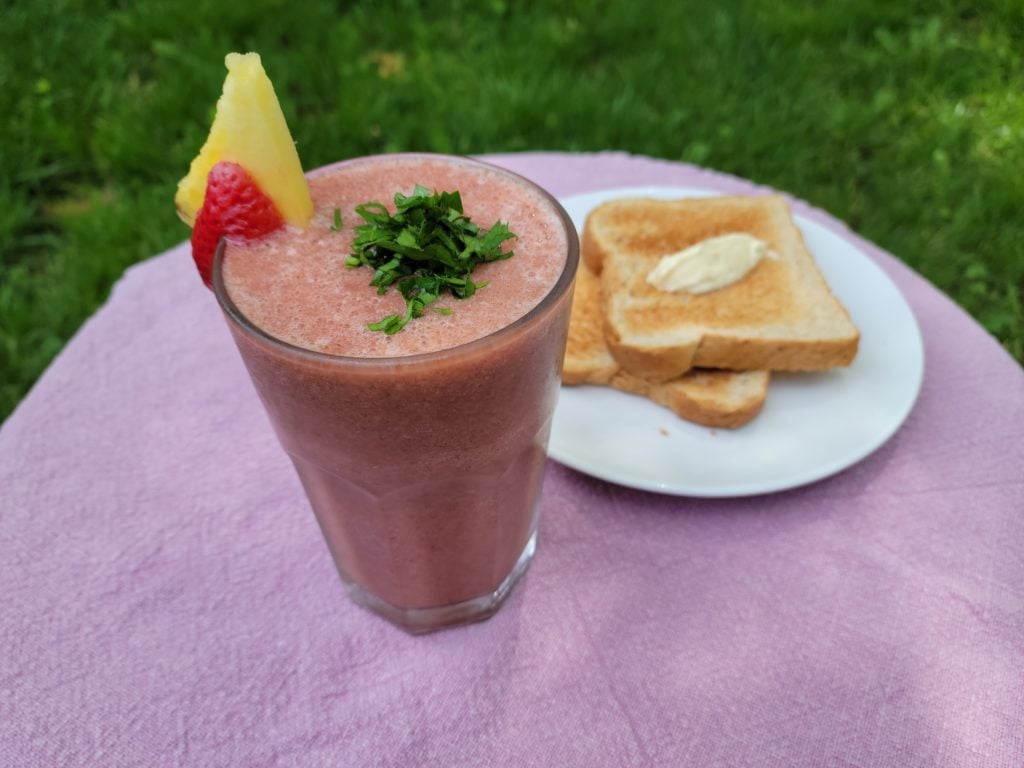 Reason #1 to Choose The Nutri Ninja Instead: Greater Blending Control
The Nutribullet and the Nutri Ninja Blender both operate by applying pressure to the top of the container to start the blending process. The Nutribullet locks into place during the blending process while the Ninja Nutri blender requires you to constantly apply pressure while blending.
This could be seen as a fallback but in other ways, it is a bonus. Since you have to apply pressure, this will allow you to control the blending process. Meaning you will be able to pulse the ingredients while the Nutribullet cannot do this action without unlocking the container. It may also serve as a safety measure to some people, but it will really depend on the consumer's preference at this point.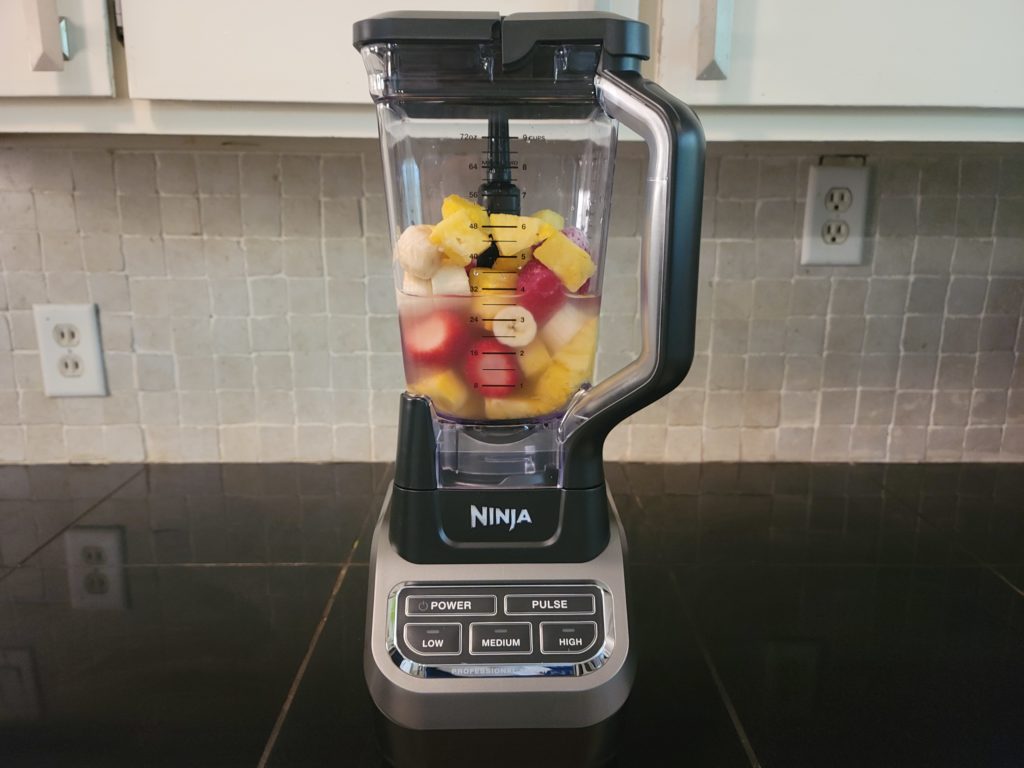 This is a great blender for a multitude of blending applications and really does look great on any kitchen countertop. Ninja makes really great-looking products with an all-black motor base and polished chrome finish. The large 72oz pitcher looks great with its thick plastic handle and clearly labeled volume measurements on the side.
The blender also has many safety features. Firstly, the pitcher must be locked into the motor base in only one direction to insert the blade spindle. Once the ingredients are placed in the blender, the lid must be placed on the pitcher and locked into place for the blending process to begin. If these measures are not taken, then the blender will not turn on.
The blender did have a couple of fallbacks when it came to making smoothies specifically. To get the drink very smooth, I found you have to fill the entire pitcher full of ingredients and make a full batch. With a 72-ounce volume capacity, this can be a lot of smoothies to make at one time. In all reality, this blender will only be suitable for larger families or commercial bars and restaurants.
Reason #1 to Choose The Ninja Professional Instead: Largest Low-Cost Ice Crusher
The Ninja Professional blender has a much more powerful motor than the Nutribullet pro at 1100 watts. It is also equipped with three different speed variations which makes it a better option for making a wide array of dishes the Nutribullet just will not do. One of the major things the Ninja Professional Blender can do is crush ice to an almost snow-like consistency at any capacity. Along with the Oster 1200, it's the cheapest blender on our list that can crush ice. But compared to the Oster, it has a much larger capacity.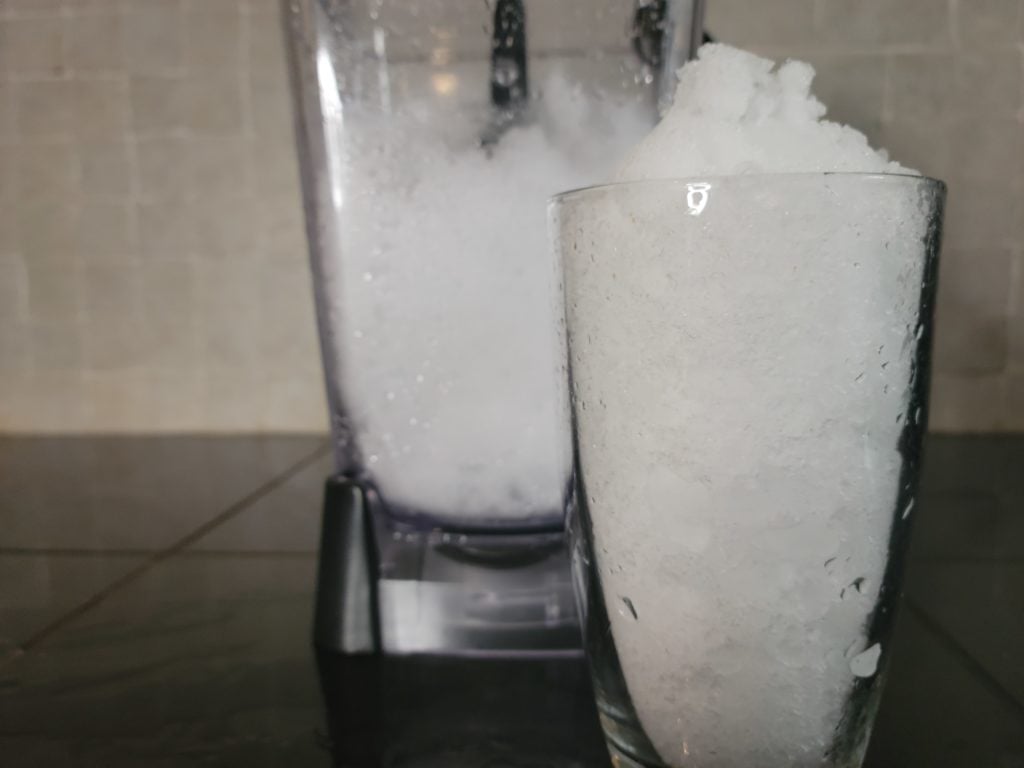 Reason #2 to Choose This Product Instead: Add Ingredients While Blending
The Ninja Professional blender is also an actual blender that can handle many other tasks the Nutribullet can't. The Ninja Professional Blender has a lid with a collapsible opening that can be used to add ingredients and liquids during the blending process. If your drinks or smoothies are too thick, you can just add fluids during the blending process to thin them out. The Nutribullet Pro requires you to stop the machine and open the container to add liquids.
The last blender on our list is the PopBabies Personal Blender which is perfect for anyone who likes to blend on the go, travel with their smoothies, or just does not have the option or luxury of blending their drinks at home. It comes at a very affordable price, in fact, it's the cheapest blender on our list.
The blender has the same pod-style design as the Nutribullet Pro and has most of the same capabilities and limitations in terms of what it can do. The container is much smaller than the Nutribullet Pro at 14 ounces which makes it perfect for one person who is constantly on the go. The blender was originally designed for mothers to make baby food or vegetable purees but was soon realized that it was able to make a rich creamy smoothie as well.
Reason #1 to Choose The PopBabies Blender: Battery Operated
The main reason this product is better than the Nutribullet Pro is the fact that it can be used anywhere you want without the use of electricity. The PopBabies blender is a compact blender that operates off of sustained battery power. The motor is only 200 watts but since the container is so small it is still able to create smooth drinks and purees with ease. The motor base can be recharged using a small USB cord and will also operate while it is actively charging. So if you wanted, it will still be able to use electricity like any other blender while reserving the battery power.
Reason #2 to Choose The PopBabies Blender: Space Saving
The overall size of the blender is very small coming in at only 10 inches in height which is much shorter and smaller than the Nutribullet. It makes it very easy to store at home anywhere as well as pack in a small travel bag, workout bag or carry-on. The compact size of the blender and container makes it an ideal choice for moms on the go, people with little to no time to spend at home, or someone who is always traveling.
Comparing The Top 5 Models


Nutri Ninja Pro
$99.87


Vitamix E310 Explorian Blender
$349.95


Oster Blender Pro 1200
$84.76


Blendtec Designer 650 Blender



Nutri Ninja Pro Personal Blender
$105.00
Watts:
900 watts
1200 watts
1200 watts
1560 watts
900 watts
Capacity:
32 ounces
48 ounces
6 cups
90 ounces
24 ounces and 16 ounces
Jug:
Plastic
Plastic
Glass
Plastic
Plastic
Speeds:
Blend
10 variable speeds
Green Frozen Smoothies, Food Chop Salsa, Milkshakes, Low, Medium, and High.
8 varying speeds with a control knob
Blend
Pulse:
Yes
Yes
Yes
Yes
Yes
Accessories Included:
two 32-ounce containers, two lip rings, two lip rings with handles, two flip-top travel lids, 1 nutritionist booklet, one recipe cookbook, free Nutribullet application.
mini tamper, cookbook
A 24-ounce smoothie travel cup with a lid
none
one 24-ounce container, one 16-ounce container, 1 extractor blade, two flip-top travel lids, one recipe booklet with 75 recipes
Height:
13 inches
18 inches
14.25 inches
15 inches
14 inches
Warranty:
1-year limited warranty
1-year limited warranty
10-year limited warranty
1-year limited warranty
1-year limited warranty
Dishwasher safe:
Yes
Yes
Yes
Yes
Yes
Check Price on Amazon
Check Price on Amazon
Check Price on Amazon
Check Price on Amazon
Check Price on Amazon
The Question of Noise
When it comes to the amount of noise a blender makes while operating, there isn't much difference from one machine to another, according to our test. We saw $50 blenders operate at the same decibel range as $500 blenders.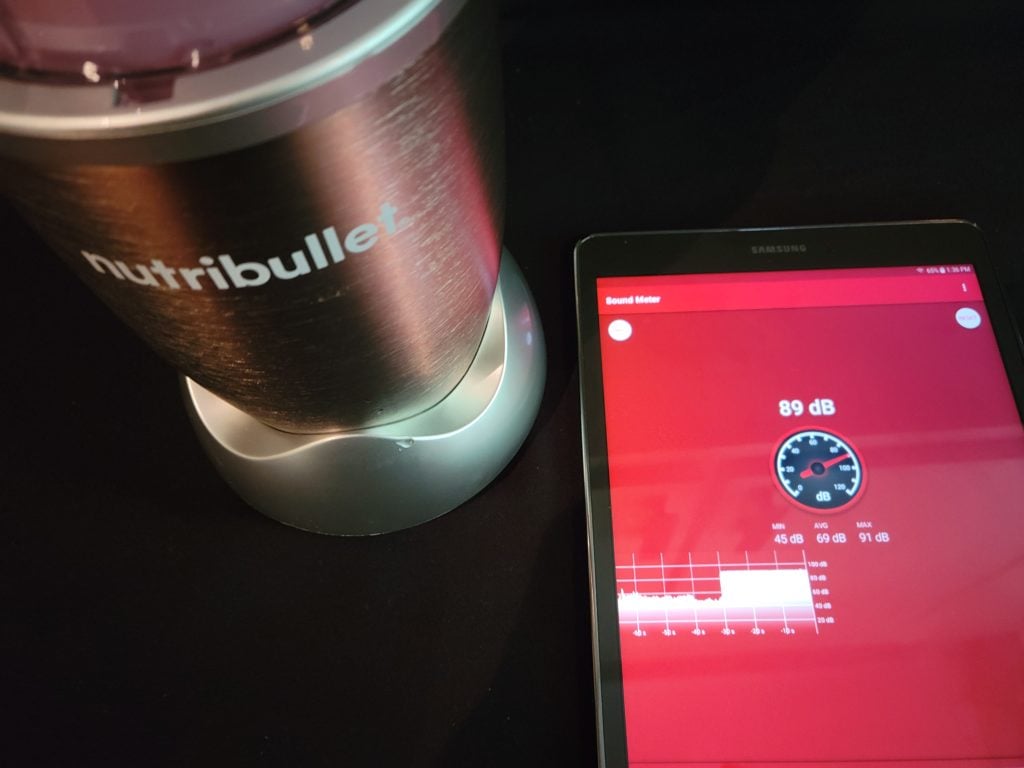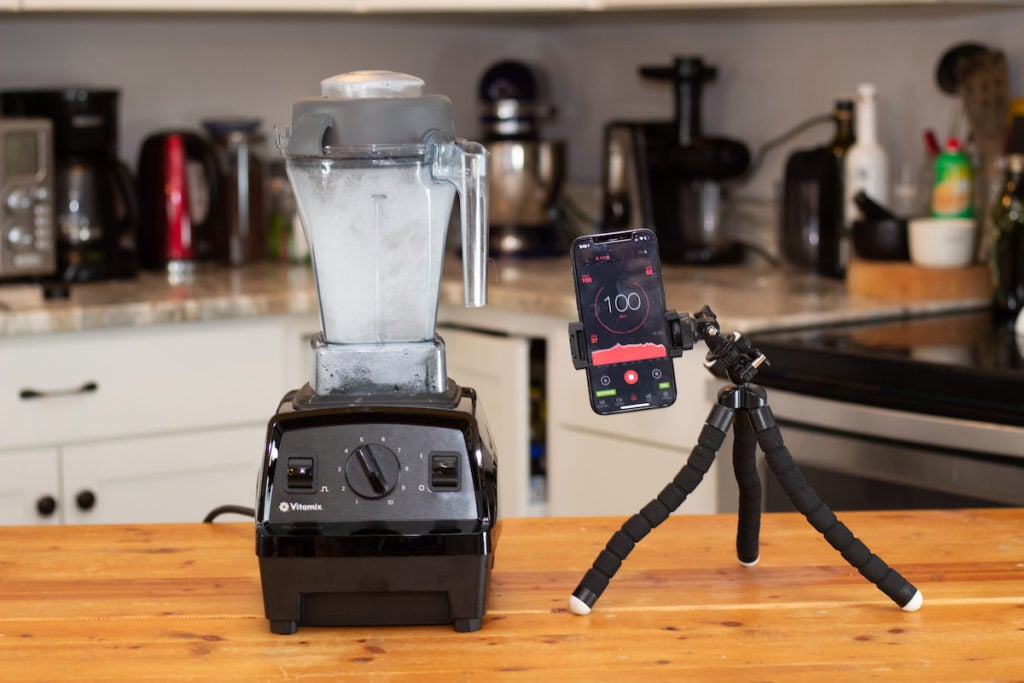 But for those with sensitive ears, the small differences can matter.
When we tested the noise levels on all of the blenders we used a decibel reader to see the actual amount of noise it created. We used the same ingredients every time for all the blenders and at the highest speed that was allowed. All of the smoothie blenders registered around 80-100 decibels.
If you really want to reduce noise, blenders with a Soundshield are your only option. They can all make smoothies. The prices tend to be higher. You probably want to read our article on quiet blenders for the full breakdown.
Summing Up
If you are looking for the best value smoothie blender, then the NutriBullet Pro is your best bet.
If you are looking for a blender to do everything and money is not a problem, then the Vitamix E310 Explorian Blender is the best choice.
If you want to own a really great blender at an affordable price, then the Oster Blender Pro 1200 is perfect for you.
If you are looking for the most powerful blender, then the Blendtec Designer 650 Blender has the rest beat in this arena.
If you don't have a lot of money to spend but still want a quality smoothie maker, then the Ninja Nutri Pro Personal Blender is the blender for you.
If you want to get the best innovative blender for a good price, then the Ninja Professional Blender may be the right choice to take.
If you are constantly on the go and don't have time to use your blender at home, then the PopBabies Personal Blender will get the job done for you anywhere.
The Ice Crushing Problem
For some of the smaller blenders like the Nutri Ninja Blender, The Nutribullet Pro, and the Popbabies personal blender, you will find that crushing ice is not in their wheelhouse. The reason is that for these blenders to operate safely and correctly, you have to add a liquid to the ingredients when you blend them. If you don't add liquid, the motor will overheat. This will cause loads of problems for the contents of the container during the operating process as well as damage the motor base permanently.
If you want a blender that has the ability to crush ice, then any of the other choices on our list will be able to fulfill that for you. They have all been designed to crush ice or turn ice into snow quickly and consistently.
How to Choose a Blender for Smoothies
When you choose a blender to make smoothies you need to make sure the blender is going to do the work for you. Ideally, the blender should either be built for making smoothies specifically or at least mention that it can make smoothies. If the blender just vaguely says it will blend ingredients up to a smooth consistency, that is not good enough for a lump-free smoothie.
You'll also want to consider:
Capacity: Keep in mind the number of smoothies you want to create in the blender. If it is just for one or two people, then a smaller and more compact smoothie blender is going to be the best option. Anything with a 16-ounce to a 32-ounce container will be a wise choice. If you are wanting to make a larger quantity of smoothies at one time, then maybe splurge for the larger blenders on our list. Their capacities go all the way up to 72oz, while still being able to create a smooth drink you can enjoy the same way.
Making More Than Smoothies? If you are wanting to do more with your blender than just make smoothies like make pureed foods, soups, salsa, and crushed ice, then keep that factor into consideration. You might be interested in the Nutribullet Pro which is on the top of our list for making smoothies. However, if you want to also crush ice and make other foods, you may want to spring for a larger yet more expensive model like the Vitamix E310.
Frequency of Use: You should also take into consideration how often the blender will be used. If you are planning on using the blender more than once a day or constantly in a commercial kitchen then maybe think about protecting the blender. Some of the cheaper and smaller blenders do not have as long or as comprehensive enough warranty as to the more expensive models. This could be a huge deciding factor when choosing the best blender for smoothies.
Most Common Ingredients: Keep in mind the types of ingredients you will be blending regularly. If you are going to be sticking to softer fruits and vegetables with milk, juice, and yogurt, then the Ninja professional blender or the Oster Pro 1200 personal blender will be the best choice. If you want to be able to blend a wide variety of ingredients including seeds, celery stalks, and dense vegetables go for the Nutribullet Pro or the Vitamix E310.
The Most Important Features for a Smoothie Blender
Power: The amount of power a blender has will determine how well it can blend ingredients. You want to make sure you have a powerful motor to extract all the vitamins and minerals from the fruits and vegetables. You also want to make sure it will be able to rip through dense seeds and nuts while still creating a smoothness throughout the drink leaving little to no chunks.
If the motor is not strong enough it will not be able to tear leafy greens, rip through fibrous veggies and pulverize seeds and nuts. This doesn't mean you need to have an exorbitant amount of power. Any motor with at least 700 watts of power will do the trick just fine. If you are torn between a 900-watt motor and a 1000 watt motor, there really is not much of a difference. You will still end up with the same result in the end.
Pulse Function: The Pulse function is not necessary but it does come in handy in some cases. If the contents of the container are not blending or extracting properly, you can use the pulse function to help break up the ingredients inside. However, this can also be solved by removing the container from the motor base and either shaking it up or tapping it gently on the counter. You can also open the container and give it a good stir or add more liquid to help the blending process.
Preset Programs: Some people like to have preset options for making different types of meals or drinks. In my experience, all I really need is a button to blend and that is it. These presets do not always work the best and chances are you will end up blending the contents again after they have run their cycle.
Container Size: The size of the container is going to matter depending on how much you are making at one time. Both of the different sized pitchers whether they are 16 ounces or 72 ounces will be able to get a nice and creamy smoothie as long as you fill each with ingredients to the fullest maximum. But if you decide to underfill the container or pitcher, you may end up with a less "smooth" smoothie. If the container is full of ingredients, there is a better chance of everything being blended correctly. This leaves less negative space and air in the container for ingredients to escape the blades during the blending process.
Travel Cups: The travel cups and flip-top lids can come in handy if you are a person on the go. Maybe you like to take your smoothie to work or the gym for a pre-workout drink. If that is the case, then these will come in handy. the lids also make it great for storing a smoothie in the fridge for later. Just make sure that the container the travel lids come with can fit the cup holders of your car. Other than that, it also helps to reduce the number of dirty dishes you create by blending and drinking out of the same container.
How to Make A Smoothie Properly in a Blender
Some people think it doesn't matter what you put in the blender to create a smoothie. Those people would be wrong. If you are just throwing anything you want into the blender then it technically doesn't constitute a smoothie. It could be just a healthy drink or shake at that point. There needs to be a proper amount of ingredients included in each recipe for it to be a good quality smoothie people will actually want to drink.
It also matters the type of fruits, vegetables, and boosts you add to the mixture as well as the order they are added to the container. The order they are added into the container will help the blender get your smoothie to the finest texture in the shortest time, without any ingredient sticking or chunking up.
There are 5 components to an excellent smoothie. Those ingredients are liquids, ice (unless you are using frozen fruits), boosts, fruits, and leafy greens. There is a wide array of ingredients in each of these categories.
Liquids: water, coconut water, juice, milk, almond milk, etc.
Boosts: protein powders, nuts, seeds, acai berries, goji berries.
Fruits: banana, blackberries, avocado, pears, peaches, apples, grapes, blueberries, etc.
Leafy greens: kale, spinach, mustard greens, swiss chard, rainbow chard, etc.
Before blending the ingredients, the order they need to be placed in the container is as follows:
Leafy greens (they can take up 40% of the container since they don't have a lot of mass)
Fruit (frozen or fresh. They can also take up 40% of the container)
Boosts, no more than 2 tablespoons
Ice (Optional)
Liquids, usually to cover the ingredients or the desired amount depending on the thickness of the smoothie
If you focus on those ratios and that load order, it'll be hard for your smoothie to turn out bad.
From a chef's perspective, there are many different combinations of flavors you can play around with. Any chef will tell you that there are no wrong answers here, just experiments that have gone wrong. Think of the ingredients you are adding just as if you were cooking. Would these ingredients complement or contrast each other to form a delicious smoothie? As long as you follow the formula written above, it will be difficult to mess up any recipe you come up with.