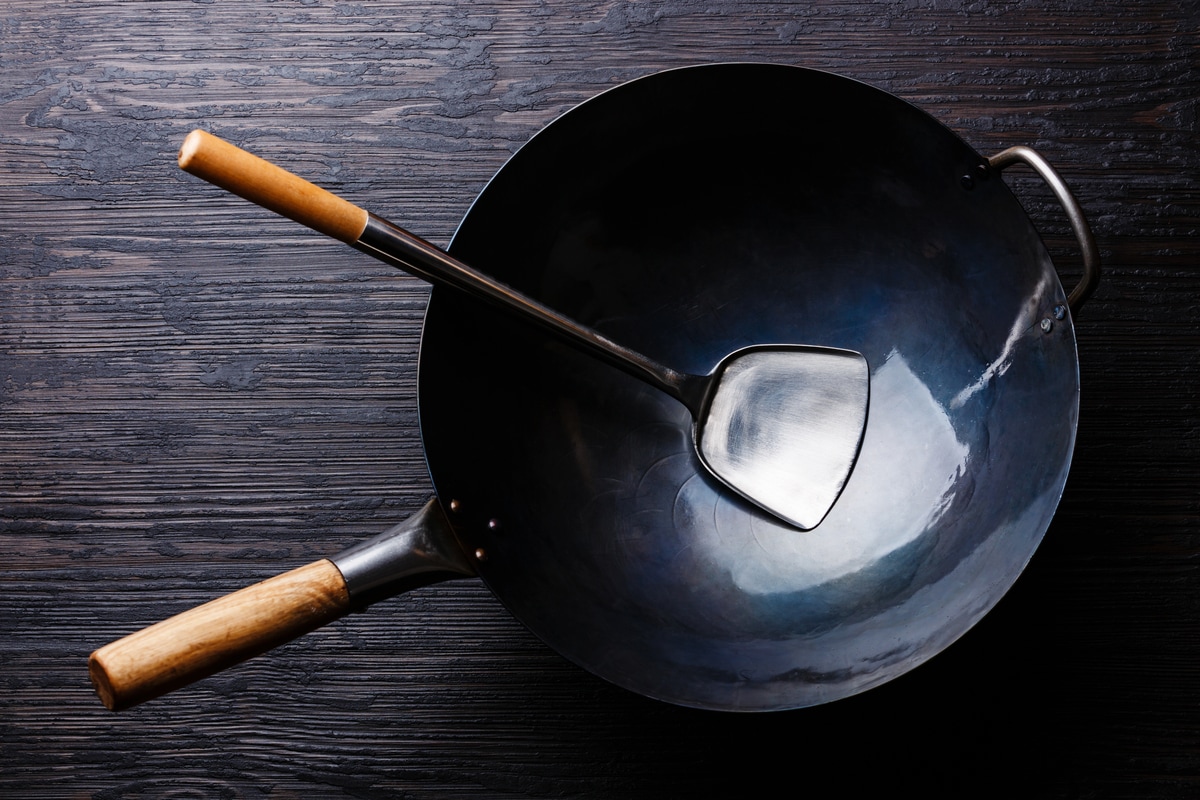 There's a whole world to explore when it comes to wok cooking. Whether you want to create stir-fry, simmer a soup, or deep fry some chicken, the choice is yours.
However, seasoned chefs know that there is more to woks than meets the eye. One choice any aspiring wok aficionado must make is choosing between a flat bottom wok vs. round. In this article, I will break down the differences between these two wok styles.
Take a look below, and understand how heat distribution, stove type, and other factors play a role in your decision.
Table of Contents
How Are They Different?
While many factors go into choosing the right wok, there are few more important than the shape. Before deciding whether a flat bottom or round bottom wok is right for you, let's start by understanding how they're different.
Round bottom woks have, as you might guess, a curved bottom. The overall shape is a wide dome that is evenly smooth all the way across. Round bottom woks are the traditional style and have been used in China for thousands of years.
While they certainly have their advantages, you must remember that round bottom woks don't work with all stoves. You may require a wok ring adapter to keep them stable.
Flat bottom woks are a relatively recent invention designed to be compatible with all stoves. By flattening the bottom curve, home chefs can take advantage of wok cooking without buying specialized hardware. The size of the flattened portion can vary from wok to wok.
While the flat bottom is a useful modern convenience, it also changes the pan's heat distribution.
Understanding Heat Distribution
A wok's curved shape is for more than looks. In fact, it plays a dramatic role in how this unique pan operates.
For most pans, even heat distribution is the goal. Cooks can avoid hot spots by spreading the heat evenly across a skillet or saute pan's surface. This results in more predictable results when preparing all kinds of food.
On the other hand, a round bottom wok strives to achieve higher heat in the center of the pan and gradually decrease heat on the sides. This allows the center of the pan to reach higher temperatures, which is useful for stir-fry. Also, it gives the chef more control over cooking, letting them alternate between temperatures.
You can think of a flat bottom wok as a hybrid between the two. It has a more even heat distribution than a traditional wok but less than a standard pan. It also has the benefit of staying in place on your stove.
Your Burner Type
Aside from heat distribution, the key factor when choosing a wok is the type of burner you're working with. Make sure you understand whether a wok is compatible with your stove before buying one.
Gas Stove Burners
You're in luck if you have a gas stove, as professional wok chefs use this kind of burner. All factors considered, gas stoves offer the most authentic stir fry experience, especially at high temperatures.
Gas burners are known to lose more heat than other types of stoves. However, when using a wok, this is actually an advantage. The excess heat raises the temperature of the pan's sides, allowing you to use every inch of the cooking surface.
Because of the shape of gas burners, you can use round bottom or flat bottom wok pans without fear. The metal grilles of your gas range will cradle the curve of your wok, keeping it in place.
Electric Stove Burners
While the coils on electric stoves can provide some support, they are not recommended for a round bottom wok. Attempting to do so can result in your wok rolling off the heating element while in use. This is especially dangerous when cooking with high-temperature oil.
Instead, a flat bottom wok can be a perfect fit for an electric stove. The more stable surface will keep the pan in place while offering the same benefits as a traditional wok.
If you have your heart set on a round bottom wok, you can consider trying a wok ring adapter.
Heat Induction Burners
Induction burners require more specific pans, both in terms of shape and material.
In general, round bottom woks cannot be used on heat induction burners. This is in part because the flat surface of the cooktop can not support the curved shape while cooking.
The other factor that makes induction stovetops a bad match for wok cooking is how induction cooking works. Simply put, induction stoves need to be within a few inches of the pan to heat it properly. Since the sides of a wok are so tall, they won't receive any direct heat from the burner.
This means that it's also impossible to use a wok ring with induction stoves. By raising the pan a few inches off the burner, it will fail to heat at all.
It is also important to note the pan's material composition when cooking on an induction stove. Because induction cooking uses magnets to produce heat, only ferrous metals are compatible with them. This includes cast iron and carbon steel, but not aluminum, copper, glass, or stainless steel pans.
Finally, it is best to avoid hand-hammered woks when cooking with induction. Since these woks include many small divots on their surface, they won't heat evenly.
Ceramic and Glass Cooktops
Both electric and induction stoves may use a ceramic or glass cooktop. When cooking with a round bottom wok, these are less desirable as they can not keep the pan in place.
Because the surface of glass and ceramic cooktops are so flat, even a flat bottom wok can become unstable. For maximum stability, choose a flat bottom wok with a wide bottom.
Other Factors to Consider
When choosing between a round and flat bottomed wok, there is a range of factors to consider. Be sure to understand all the options before making your choice.
Material
A carbon steel wok is the most traditional material available today and offers several advantages. They are both lightweight and quick to heat. In addition, they provide a natural nonstick coating which is essential when stir-frying.
To get a perfectly nonstick wok, you have to season the pan with layers of burned oil. The process is relatively simple and takes only a few minutes.
Cast iron wok pans are another excellent choice made with two short iron handles. What differentiates a cast iron wok from carbon steel is that they are heavier and heat up faster. Generally speaking, they can be used the same way as a carbon steel wok.
Nonstick wok pans are made with other materials, though most of these are not recommended. Stainless steel does not conduct heat as well as a cast iron or carbon steel wok. Teflon woks aren't always a good choice as their PFOA coating degrades with high heat.
Manufacturing
Traditional Chinese wok pans were hand-hammered and covered in a pattern of slight indentations. These not only look attractive but serve to keep the food from slipping down the sides of the pan. They cost a bit more but are well worth the money.
Spun woks are another quality option, made with a series of slight grooves created by a lathe. The subtle marks left by the manufacturing process serve the same purpose as the indentations on hand-hammered woks.
Finally, there are stamped woks. While they are a bit cheaper than the above two options, they are generally more flimsy. The smooth sides mean food will slide down when you don't want it to.
Size
When choosing a wok, it's a good idea to know how many people you plan on cooking for. While woks come in all sizes, most range between 10 and 18 inches. You will also need to know the size of your burners.
Larger, 18-inch woks are commercial-sized and not well-suited for home use unless you have a high BTU stove. 10 or 12-inch capacity woks can be a good choice if you are cooking for two or three, but not more.
For most people, a 14-inch wok is a good choice that is neither too big nor too small. It can serve a family of four to six while staying small enough to heat well on a household burner.
Handles
The most practical option for most people is a long-handled wok, also called a pow wok. This design allows you to handle the wok easily without risking burns with a wood or metal handle.
A Cantonese wok uses a slightly different design, with two small metal handles on either side. This makes it easier to lift but more difficult to handle while stir-frying. Unless you're trying to save space in your kitchen, a pow wok is probably the better option.
Aside from style, handles also come in different materials—wood and metal. Metal handles are more durable, though they require the use of oven mitts. While wood handles can't go in the oven, they can be gripped directly, making them easy to use.
What Type of Wok is Best for Your Kitchen?
Considering all the options above, many may still feel unsure which wok style is right for them. While round-bottomed wok pans offer more concentrated heat, flat bottomed woks are more versatile.
If you're stuck between the two, I recommend giving the flat bottomed wok a try. You may not be able to achieve the same heat as in a round wok, but this won't matter for most applications. Flat bottomed wok pans can be used on any stove, for any purpose, and are great for beginners.
Making a Case for Round Bottom Woks
If you're a more advanced chef and have already cooked a few stir fry dishes, it might be time to upgrade to a round wok.
While less versatile, round bottom woks have a significant edge over flat designs for stir-frying. Since they have a completely smooth surface, smoothly tossing the food becomes much easier. This results in more evenly cooked dishes and an easier time cleaning.
Working With Wok Rings
If you're planning on working with a round-bottomed wok, a wok ring adapter is almost always a must. Even though they're unnecessary for gas stoves, they make it much easier to handle the pan. In addition, they protect the bottom edge of your pan from scratches.
There are two main types of wok rings: ones made of thick wire and ones made with strips of enclosed metal. The wire wok rings are designed for gas stoves, allowing for plenty of air circulation. Meanwhile, the second type is perfect for electric stoves, holding the heat in and directing it upward.
No matter which option you choose, position your wok ring with the narrow side facing down. This gives your wok more stability than placing it on the wider side.