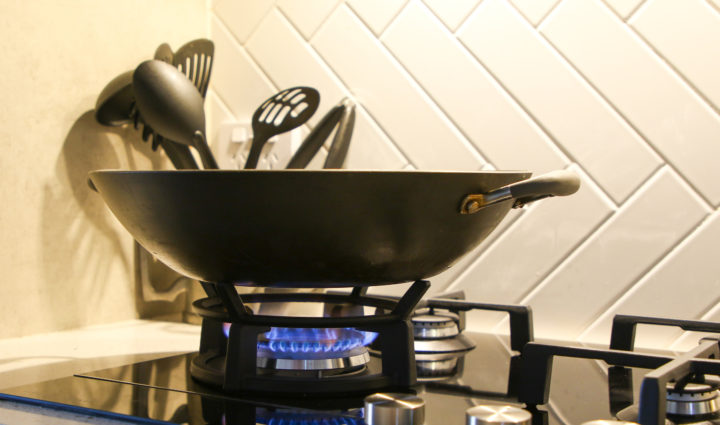 Home cooks across the world are beginning to discover the advantages of wok cooking. Aside from being delicious, it offers a fast and easy way to get traditional stir-fry without having to order takeout. As we continue to perfect our wok technique, every tip and trick makes the difference.
If you have been cooking stir-fry without the help of a wok ring, it's time you learn about this helpful little tool. Easy to use and affordable enough for anyone to buy, a wok ring is one of the best investments an aspiring wok chef can make. However, while simple in design, it does take a bit of knowledge to use correctly.
If you're new to wok cooking or just want a quick refresher on how to make the most of your wok ring, check out this guide. Here, we'll take a look at how to use a wok ring correctly, how to choose the right wok ring for your stove, and other helpful tips. Soon, you'll know everything you need to master any stir-fry dish of your choice.
Table of Contents
What Is A Wok Ring?
A wok ring is a circular metal cooking tool that is designed to help with wok cooking. Historically, woks were hung over an open fire, providing plenty of direct heat for all kinds of cooking methods. Since home cooktops work much differently, wok rings have been created to help bridge the gap.
However, not all woks or stoves require a wok ring. To make the best use of your wok ring, you need to learn first a little about the advantages it offers.
What Do Wok Rings Do?
While simple in design, wok rings offer a number of surprising benefits. Take advantage of yours by understanding all the ways it can help.
Stabilize - Especially when cooking with a round-bottomed wok, a wok ring can add much-needed stability. It cradles the bottom of the wok to keep it from rolling across your cooktop.
Direct heat - Since stir-fry and other forms of wok cooking require high heat, finding a way to direct your flame can make a big difference. A wok ring helps trap and direct heat rather than letting it escape out the sides of your pan.
Protect - The metal grates on gas stovetops can stabilize a wok, but they also scratch it, leaving it open to rust. A wok ring helps protect your pan from wear and tear, ensuring that it lasts longer.
Knowing When to Use a Wok Ring
Wok rings can really make the difference when making one of your favorite stir-fry recipes. However, not all situations call for one, and in some cases, they can actually be detrimental.
Stove Type
Gas stoves are ideal for wok rings, as their heat can be directed upward by the ring, creating more intense heat. In addition, the shape of their grates can interlock with a cast iron wok ring, making for a more stable cooking surface.
Electric stoves are also compatible with wok rings. Since they often have a smooth cooking surface, the wok ring adds extra stability. It lets you use round bottom woks that would otherwise roll around during cooking.
Unfortunately, induction cooktops are usually not compatible with wok rings. The reason is that induction cooking creates a magnetic field to heat your pan. This field has a limited range, and since a wok ring lifts the wok away from the cooking surface, it also decreases the transferred heat.
Wok Type
Round bottom wok pans are a natural match for wok rings. Their curved shape fits perfectly inside the ring and is securely cradled during cooking. The convex dome also comes into closer proximity with the heat source, absorbing more heat.
Flat bottom wok pans, on the other hand, are not ideal. They can easily slide off the edge of the wok ring, creating a safety hazard. Luckily, a flat bottom wok can be used without a wok ring.
Getting Optimal Results From Your Wok Ring
Knowing how to use a wok ring isn't hard. Simply position it over your burner and then cook as normal. However, knowing how to use it like a professional is a different matter altogether.
Follow these tips to make the most out of your wok ring and take your stirfry up to the next level.
Cook with High Heat
The best wok cooking is all about caramelization. By tossing meat and vegetables over the surface of your wok, you can create even browning and sublime flavor. Except this is only possible when working with very high heat.
That's why you should crank your burner to its maximum temperature when stir-frying. A wok ring helps here by directing all the BTUs your stovetop can put out and concentrating them on the bottom of your wok.
Use a Smaller Burner
This might sound a bit counterintuitive, given the point above. However, a small burner is often bigger than a big one when it comes to wok cooking. The reason all comes down to heat distribution.
Unlike cooking with a traditional pan, woks don't want evenly distributed heat but concentrated heat. A smaller burner paired with a wok ring allows you to concentrate all your stove's heat to the center of the pan. This created deeper browning and a better flavor.
Use Caution on Glass Cooktops
While wok rings can be used on electric stoves with glass cooktops, it is important to take caution. They can scratch the glass if not used carefully, which can be expensive to repair. Also, since they concentrate heat, they may raise temperatures to unsafe levels, also damaging your cooktop.
The best way to avoid these issues is to buy carefully. Most wok rings will say if they are compatible with electric stovetops.
Safety Tips When Using a Wok Ring
Wok rings are designed to make wok cooking more efficient and safe. However, they're only effective when they're being used properly. Make sure to keep all these safety tips in mind next time you're using yours.
Don't handle the wok ring when hot. While it may seem obvious, it's easy to forget that it gets just as hot as your pan and can take several minutes to cool down.
Never use a wok ring with a flat bottom wok. Not only is it unnecessary, but if your pan slides off the edge, all the hot contents can spill and burn you.
Make sure to have the right wok ring for the job. A cast iron wok ring is useless on an electric stove, for example. Learn more about choosing the right wok ring in the section below.
No matter what type of wok ring you have, make sure it is secure over your burner. If it wobbles or doesn't sit flat, it's time to readjust your setup.
Beware of overly hot temperatures. Especially when working with an electric stove, it may be a good idea to try a test run before cooking at full heat. Since wok rings concentrate heat, they can damage your stove.
Make sure your wok ring is well-fitted to the size of your wok. For more information on sizing, see the section below.
Choosing the Right Wok Ring
Even though wok rings are relatively simple tools, they come in more than one shape and size. Knowing how to use them properly requires you to have the right type for your needs.
Types
Wok rings come in three main varieties, each designed for a specific purpose.
Steel band wok rings are the classic design, made of a ring of steel with small holes punched in the sides. These holes allow just enough air to reach the flame while directing excess heat up to the bottom of the wok.
Wireframe wok rings are a more lightweight design, constructed of stainless steel wire. Unlike steel band wok rings, they only provide support to your wok without directing heat upwards. This can be a good choice for types of cooking other than stir-fry.
A cast iron wok ring is usually designed for gas stoves, with grooves on the bottom designed to interlock with your burger grates. This makes them extra stable, as they lock securely in place.
Diameter
Your wok ring's diameter should be matched to the size of the wok you're using. Too big, and it won't suspend the wok properly. Too small, and the wok may be unstable while cooking.

Luckily, getting the right size is easy. Just remember that a properly sized wok ring should be four inches smaller than the diameter of your wok. The diameter is measured at the widest point of the wok, at the top.
Height
Generally, you want your wok ring to be tall enough that it keeps the bottom of your wok from coming into contact with your burner grates. However, it should not be so tall that you lose unnecessary heat when cooking. Most wok rings are one to two inches in height, and shooting for the middle of that range is a good place to start.
Frequently Asked Questions
By now, you probably think you know just about everything regarding wok rings. However, just like with any cooking tool, there's always another unanswered question. Take a look at some of these common queries to master the art of wok cooking.
Is a wok ring necessary?
The short answer is no, though it may depend on what kind of wok you're using. Flat bottom wok pans should never be used with a wok ring, as this setup can be unstable. Round bottom wok pans on a gas stove don't require a wok ring but can be a good way to protect the bottom of your pan from scratches.

The only time you definitely need a wok ring is when using a round-bottomed wok on a ceramic glass cooktop. Without a properly fitted wok ring, your pan will roll over the surface of your range, creating a hazard.
Which side of my wok ring faces up?
If you are using a band-style or wireframe wok ring, the wider side generally goes up. However, most wok rings can be reversible, depending on which side fits your pan better. Remember, the top of your wok ring should be four inches smaller than the diameter of the mouth of your wok.
Are wok rings safe?
As long as they're used properly, wok rings are completely safe. In fact, they give extra stability to your pan, ensuring it stays in place while cooking.

However, if used improperly, wok rings can become a kitchen hazard. You can find our list of safety tips above. The main point to keep in mind is to never use a wok ring with a flat bottom wok, as it may slide off.