The woks' unique design makes them one of the most versatile pieces of cookware available, meaning you'll always want to have one on hand. However, having access to a high-output burner is a must to get that classic stir fry flavor. If you're living in a dorm room, are going camping, or just have a kitchen with limited space, this isn't always easy.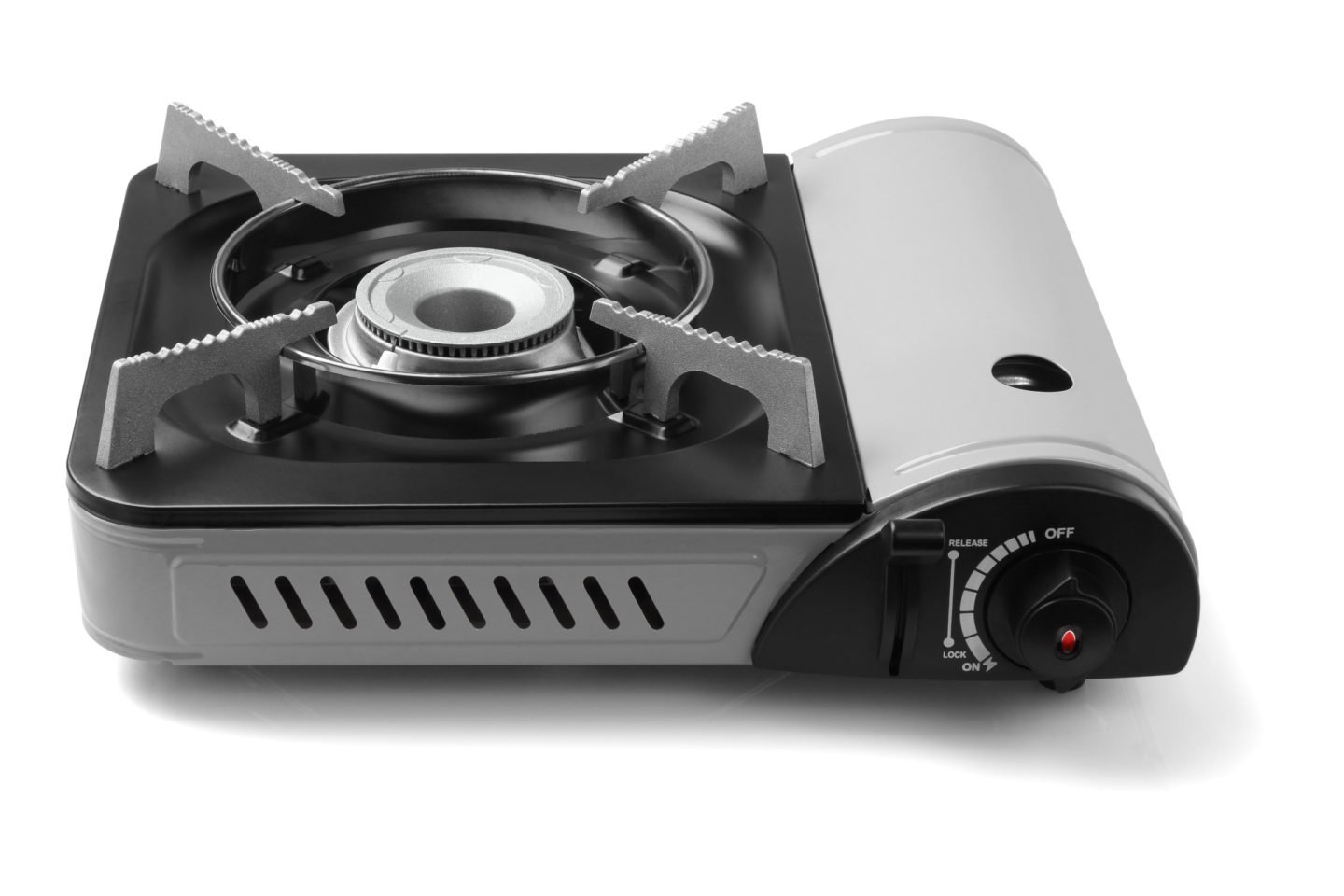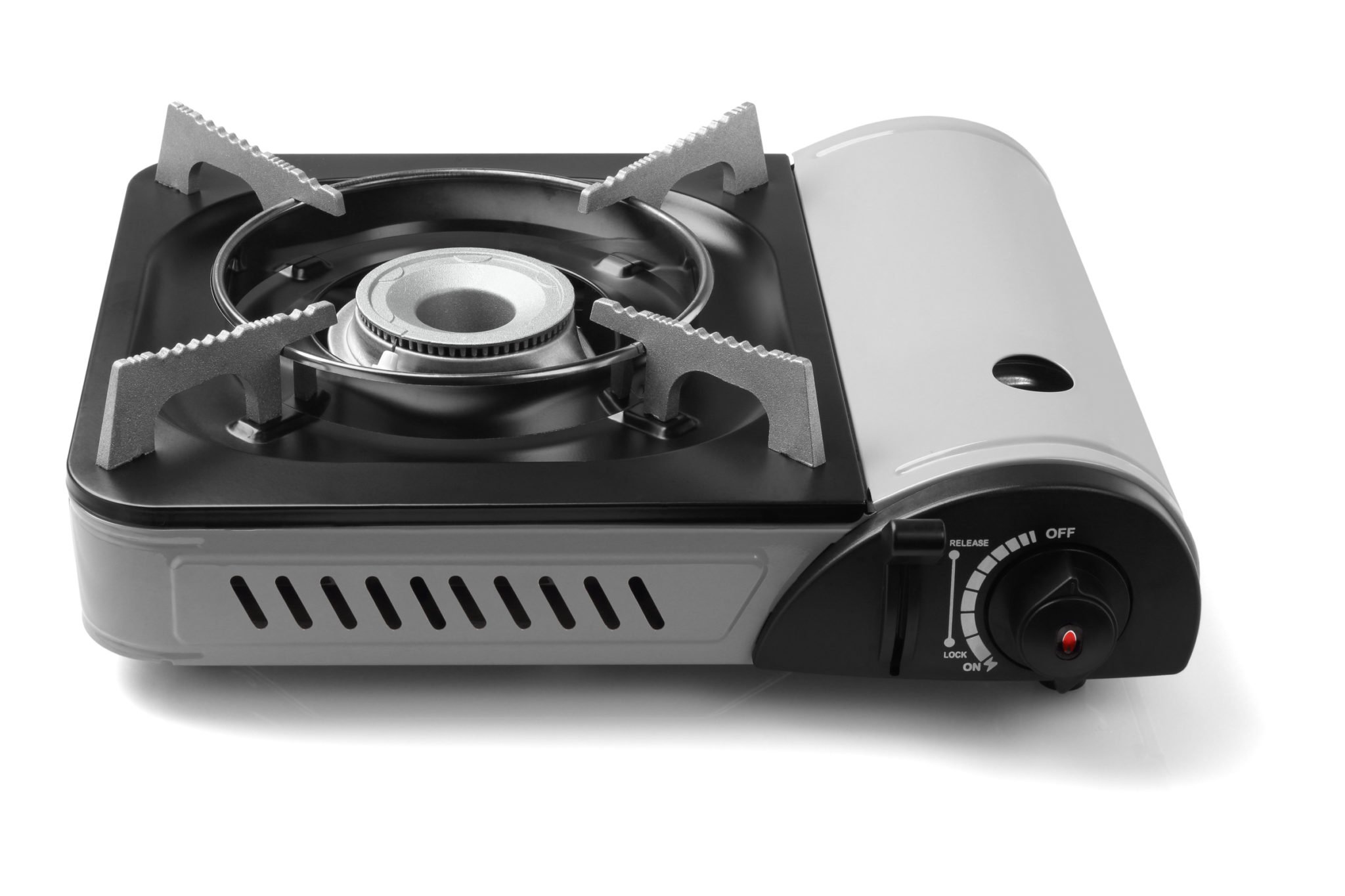 The good news is indoor wok burners let you get all the power you need for a traditional stirfry in a compact package. Whether you prefer gas, electric, or induction burners, there are plenty of options to choose from. The next challenge is finding the one that's perfect for you.
We've put together this list to simplify your search considering the power, fuel type, portability, controls, and safety features. While not every work can fit every taste, there's always one out there for everyone. So take a look at the six best indoor wok burners below, and choose your favorite.
Table of Contents
Best Overall: Iwatani 35FW Butane Stove
SAVE 6%
Iwatani 35FW Medium Metallic Butane Stove
We love how this indoor wok burner fits so much power into such a small package.
Pros: 15,000 BTU, just 4.4 pounds, automatic safety stop
Cons: It can be hard to find replacement parts.
When looking for the perfect indoor wok burner, your ideal choice will be one that's powerful, compact, and easy to use. However, finding the complete package may not always be easy. The Iwatani 35FW butane stove features a Japanese design that's ideal for wok cooking.
This butane stove's 15,000 BTU heating element is a must-have for a wok burner. Since authentic stir-fry relies on rapid caramelization, you'll frequently find yourself craking your heat output to maximum. This burner ensures you're never at a loss for heat while staying safe indoors.
The automatic safety stop is its core safety feature, which automatically cuts off fuel in unsafe conditions. The Japanese design also incorporates a built-in windbreaker, protecting your flame from drafts or letting you use it outdoors.
Best of all, this little stove is only 13 by 12 inches and under five pounds. That makes it easily portable for camping trips, backyard barbecues, or other occasions. Though even with its small size, it's never lacking in power.
This indoor wok burner is the perfect choice if you're looking for a balance between power and portability. Whether trying to stir-fry, boil or steam, you won't be disappointed with its quality design.
Best Electric: Techwood Hot Plate Portable Electric Stove
SAVE 32%
There may be no more efficient indoor burners than electric. They require no external fuel source and are one of the safest options available. The Techwood hot plate portable electric stove uses its electric heating element to great effect, with a smart and compact design.
Its 1500 watt heating element is able to deliver power and deliver it fast. It heats quickly and is able to bring even cast iron pans up to temperature in just a minute. The heated surface is 7.6 inches in diameter, which is plenty of space for even large-sized woks.
When it comes to safety, electric cooktops are a great choice. You don't need to worry about gas refills or potential leaks. This burner also includes rubberized feet to help keep it in place while cooking.
Overall, this electric burner is made to last, boasting an 18-month warranty. This speaks well of Techwood's confidence in their product and lets you rest assured you're making a smart purchase.
Try this indoor wok burner if you're looking for an electric option that goes beyond the basic hot plate. However, just keep in mind that it might not offer the same power output as a gas-powered burner. If you're looking to maximize power, try a butane option.
Best Dual Fuel: Gas ONE GS-3900P New Dual Portable Stove
Gas ONE GS-3400P Dual Fuel Portable Gas Stove
The standout feature of this indoor wok burner is its dual-fuel design, which lets you use it with propane or butane.
Pros: Compatible with butane and propane, fuel lock safety switch, lightweight design
Cons: A little more complicated than other options
Why limit your fuel options when you can have a cooktop that lets you pick and choose? Dual fuel burners allow you to use whichever fuel you happen to have on hand, giving you the best of both worlds. The Gas ONE GS-3900P new dual portable stove provides all this versatility in a smart design.
At just three pounds, it's easy to take this portable stove anywhere you need. It's compact enough to fit in a car trunk or even a backpack while still being able to support a full-size wok. It also makes it a good emergency preparedness cooker, letting you store it in a drawer until needed.
The included carrying case is another nice addition that helps with portability. It ensures your burner doesn't get damaged, even if you're taking it along with you on long trips.
The controls are simple for anyone to use. A single dial on the front lets you turn the heat up or down. Butane or propane canisters are easily loaded and then disengaged with the cartridge ejection system, which automatically ejects the cartridge if the pressure becomes too high.
This is the ideal option for those who want to maximize the versatility of their burner. Butane and propane each offer their own cooking benefits, and this cooktop lets you choose both at once.
Best Portable: TECHEF AGNI Portable Butane Gas Stove Burner
SAVE 8%
TECHEF AGNI Portable Butane Gas Stove Burner
The magnetic locking system on this portable burner helps set it apart, making it more safe and easy to use.
Pros: Sleek and compact design, magnetic locking system
Cons: Lower BTU output than others, not ideal for larger pots and pans
One of the big advantages of an indoor wok burner is its ability to set up quickly and take anywhere. That means it's equally perfect for emergency preparedness, dorm room cooking, or camping trips. The TECHEF AGNI portable butane gas stove burner features a compact and user-friendly design that fits into any bag.
What caught our eye in this indoor wok burner is its compact design. It's only 13 by 13 inches wide and slim enough to fit in any kitchen drawer. Plus, the fact that it uses butane canisters makes this burner compact and easy to store and carry.
You'll be surprised at how many high-end features TeChef has fit into such a small package. The magnetic locking system is designed to simplify installation and improve safety. The advanced shutoff is another safety feature, which cuts off the gas when the pressure gets too high.
The only thing to keep in mind is that its power output and pan capacity have shrunk alongside its physical size. While it's still a good choice for wok cooking, it's probably best to stick with smaller pans to take full advantage of its 11,500 BTU.
If you're looking for a portable wok burner that lets you cook anytime, anywhere, this is the option for you. In terms of pure power, it might not offer the same BTU output as other options, however. Though most will find its 11,500 BTU is plenty for stir-frying.
Best Induction: CUSIMAX 1800W Double Hot Plate
While induction stovetops may not be the most traditional option for wok cooking, they offer a number of unique advantages. They're energy-efficient, compact, and safe, making them a practical choice, especially for travel. The CUSIMAX 1800W double hot plate offers a pair of high-performance heating elements.
Because of all its unique advantages, an induction hot plate is one of the safest options for indoor cooking. The twin heating elements on this appliance are cool to the touch, even when cooking on high heat. Plus, since there's no open flame, it can be used anywhere.
The other advantage of induction is it's easy to care for. The stainless steel upper surface is as easy to wipe down as its burners, with just the swipe of a rag. All of the components are quality built and highly durable.
It's true that induction cooktops aren't always the choice for wok cooking. That's because lower-powered burners aren't always able to heat the upper edges of the pan evenly. This compensates for this lack with its 1800 watt heating element, which uses its extra power for souped-up performance.
Try this hot plate if you're already familiar with induction cooking and want a portable option. Just keep in mind all of the little quirks that come with induction cooking. If you're not used to choosing specialized cookware, a standard electric option might be a better choice.
Best Butane: Chef-Master 90011 Butane Countertop Range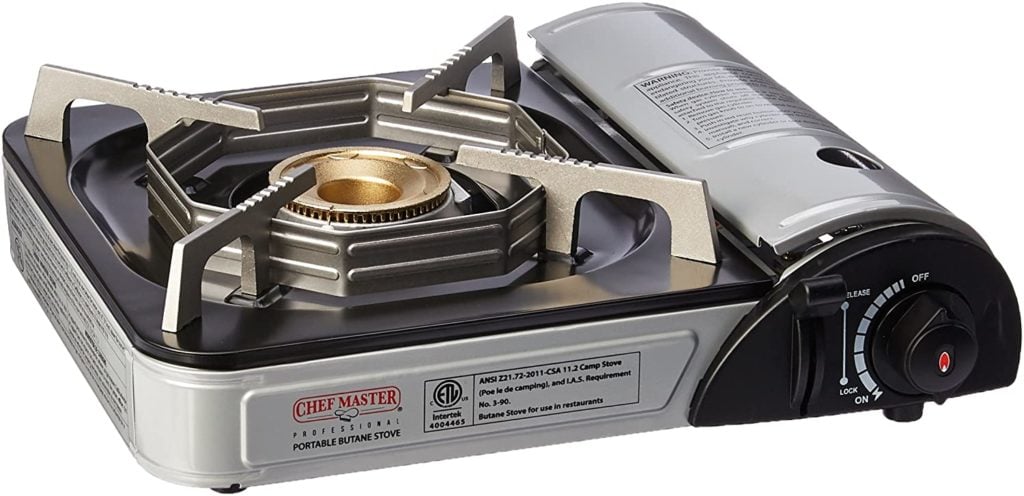 This butane burner has an extra-sensitive temperature control dial, letting you fine-tune your heat.
Pros: Brass grilles, automatic ignition, safety stop feature, sensitive temperature control
Cons: Less powerful at 10,000 BTU
If you've never cooked with butane before, you may not be aware of all its advantages. In addition to being environmentally friendly, it's inexpensive, fast-acting, and easy to transport. The Chef-Master 90011 butane countertop range takes advantage of this with a compact, high-performance design.
At first glance, you might notice that the metal grates on the top of this burner look a little different than others. That's because they're made of brass, which offers high durability and superior heat conduction. It's a perfect fit with butane's fast heating, letting you get to cooking more quickly.
Even though its heat output is less than other models, its 10,000 BTU is still plenty for stir-frying. In addition, you can control the heat via the dial on the front, which offers a high degree of precision. This helps improve versatility, as you can cook at precisely the temperature you need for frying, sauteing, or boiling.
Other features include a built-in windbreaker, automatic shut-off, and electric ignition. It also comes with a high-impact carrying case to ensure it doesn't get damaged in transport. Together, these features improve its versatility and ease of use even more.
Give this butane burner a try if you want an extra-compact option. At just two pounds and requiring one small butane canister, you can easily take it anywhere. However, if you want to maximize power, you may prefer to look at 15,000 BTU options.
Best Indoor Wok Burner Buying Guide
If you're unfamiliar with indoor wok burners, understanding all their features may take some time. Luckily, we've put together this buying guide to help put things in perspective. Make sure to keep all of these must-have features in mind when making your choice.
Power
Gas-powered burners measure their power in BTU, while electric ones are measured in watts. Generally, you want at least 10,000 BTU for stir-frying, though anything above 20,000 BTU could be unsafe for indoor use. For electric burners, 1500 to 2000 watts is a good range to aim for.
Fuel Type
The fuel types mentioned in our list are butane, propane, and electric. Butane and propane are similar in many cases, though propane is more energy-efficient while butane is more compact. There are also dual-fuel designs that let you decide which you want to use.
Electric burners don't always offer the same heat output as gas ones. However, they are usually more compact and don't require you to buy fuel refills.
Portability
Most indoor wok burners are actually quite compact, usually less than 5 pounds. This makes them a great choice for camping and parties, in addition to weeknight cooking. If you want to maximize portability, choose butane as a fuel type, as it is compact and doesn't require an external power source.
Controls
All of the models listed above feature streamlined controls, usually consisting of a single dial on the front. The key factor to look out for is temperature precision. If your burner only has two or three heat settings, it probably doesn't offer the level of control you need for wok cooking.
Other Features
As technology continues to advance, portable burners are incorporating more surprising features into their designs. An automatic shutoff is one good safety feature, especially when cooking indoors. Another basic feature to look out for is a wind guard, which will help protect your flame from drafts.
FAQs
If you're still eager to learn about indoor wok cooking, take a look at these frequently asked questions.
Can I use a wok on an electric burner?
Traditionally, gas burners have been the preferred choice for wok cooking. This is because gas stoves provide high heat that reaches the upper edges of the pan. Gas is also superior for heat control and output.

However, electric wok cooking is becoming more and more popular as home chefs appreciate the advantages of electric cooktops. Just make sure to choose an option that has a high enough wattage, at least 1500 watts.
Do I need a wok ring?
Wok rings are a good way to protect the bottom of your wok from damage when cooking over a stove's metal grate. It's also necessary to keep a round-bottomed wok pan stable if cooking on a flat-top heating element.

Whether or not you need a wok ring depends on the type and shape of your burner. Many specialized wok burners are designed to cradle the bottom of your pan naturally. However, if you're worried about the sharp angles of your stovetop grilles scratching your pan, a wok ring is a worthwhile investment.
What are the benefits of using a wok?
Wok cooking has a history thousands of years old and is rapidly becoming popular around the world. The reason is that it's able to produce delicious meals quickly, and with less fat than other cooking methods. Once you understand how to use a wok, it can be an effective and versatile tool.