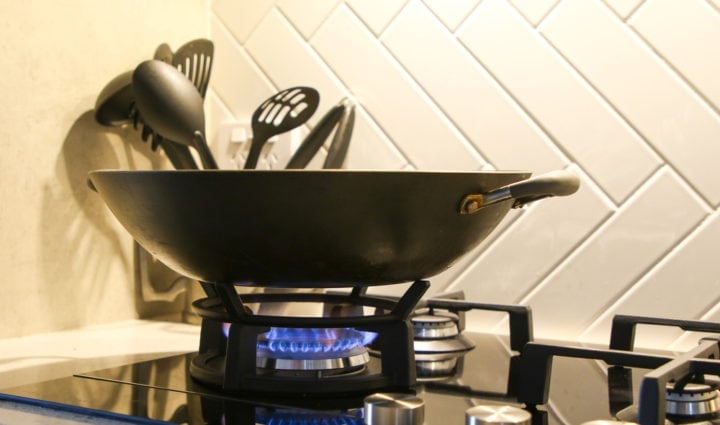 If you're looking to improve your weekly stir fry game, there's no better friend than a round bottom wok. However, unlike professional chefs, home cooks don't have access to cooktops specialized for woks. That means you need a little extra help to get the job done.
Wok rings are simple and affordable tools that let you use a round bottom wok on your home cooktop without worry. By fitting over your heating element and cradling the bottom of your wok, they ensure your stir fry stays stable.
But how do you know what type of wok ring is right for you? There is a wide variety of wok rings available, each with its own advantages and disadvantages. To make the right choice, it pays to do your homework.
That's why we reviewed all the top wok rings available online. By factoring in material, size, style, and compatibility, we narrowed down our list to the best of the best. See for yourself what they have to offer, and choose the option that works best with your stove.
Table of Contents
Best Overall: Mcampas Universal Non-Slip Wok Ring
Mcampas Universal Non-slip Wok Ring
This wok ring by Mcampas takes our top spot because it can be used with virtually any gas stove.
Pros: Durable cast iron construction, grooved bottom to prevent sliding, compatible with all stoves
Cons: Doesn't add as much height, heavier than other options
Stoves come in all shapes and sizes, which only makes finding the right wok ring more difficult. While there are plenty of wok rings specialized to specific stovetop designs, it's hard to beat one that's made for versatility. That's just one of the reasons we love the Mcampas Universal Non-slip Wok Ring.
However, there are plenty of other reasons to try this wok ring out for yourself. For one thing, it's made of durable cast iron, which means you can expect it to last for years. The added weight also helps it stay in place.
It also features a grooved bottom to help grip your stovetop grills. Of course, stability is a top priority when working with wok rings, and you can tell Mcampas goes the extra mile in this regard.
When it comes to versatility, this wok ring is designed to sit comfortably on a range of different stovetop designs. You can check the product description for yourself to see the long list of models it works well with. It's also made to accommodate woks of all different sizes, so you can work with your choice of pan.
The only drawback to this design is that it doesn't capture heat in the same way as solid band-style wok rings do. So if your burners aren't powerful enough, you might not get that nice browning of the meat as you would otherwise.
Best for Gas Stoves: Linkidea Wok Ring for Gas Stoves
Linkidea Wok Ring for Gas Stoves
We love this wok ring for its durable design that is made to last for years.
Pros: 5-claw design gives extra stability, sturdy and durable
Cons: Prone to rusting if it gets chipped or scratched
While some cooks use wok rings on electric stoves, gas ranges are where they really shine. This Linkidea Wok Ring for Gas Stoves is made to work with 5-claw cooktop grills, making it a good choice for many home chefs.
The 5-claw design of this wok ring means that it's compatible with similarly shaped burner grills. While this may restrict some users from trying it out, those who have a compatible grill will surely benefit from its added stability. As compared to 4-claw designs, it stays in place more reliably.
The design is straightforward and fits directly over the burner grills when in use. The five angled tabs gently cradle your wok, minimizing contact and unnecessary scratching. The streamlined profile also makes it easy to clean when needed.
Like any good cookware accessory, this wok ring is made to last. Its cast-iron construction makes it durable and hefty, which is another asset that adds to its stability. Each of the five cast-iron tabs is securely welded to the ring.
Overall, it's much less bulky than other cast iron wok rings. When it comes time to store it, the paired-down design helps save cabinet space.
Best Cast iron: BBQ-Plus Wok Support Ring
BBQ-Plus Wok Support Ring
The added durability of this cast iron wok ring helps it stand out.
Pros: Extra durable, simple design is easy to clean
Cons: Heavier than stainless steel wok rings, designed for 4-claw grills, may rust
When it comes to durability, there is no better material than cast iron. However, unless cast iron pans, the added weight is only a benefit for wok rings. The BBQ-Plus Wok Support Ring features a solid cast-iron design made to steady your wok while in use.
While this wok ring is advertised for use with GE appliances, the truth is that it's compatible with any 4-claw burner grill. The grooves on the underside of the wok ring fit securely over the grills, keeping it safely in place during cooking. While the 4-claw design doesn't have as many points of contact with your stovetop, it's still quite stable.
The ring is made of a single, solid piece of cast iron, without rivets or welding. This adds to its durability, eliminating breakage points.
The only factor to be careful of when working with cast iron cooking accessories is rust. Generally, home cooks haven't had much trouble with this wok ring rusting, though it pays to be careful of chipping and scratching.
Best Stainless Steel: Rluii Stainless Steel Wok Ring
Rluii Stainless Steel Wok Ring
The best thing about this stainless steel wok ring is its slim and lightweight design.
Pros: Simple and lightweight design, works will all types of grills, doesn't rust
Cons: Less durable than cast iron, will tarnish with use
Stainless steel is another good material option to consider when choosing a wok ring. While remaining durable, it's lighter than cast iron and more resistant to rust. The Rluii Stainless Steel Wok Ring takes full advantage of this in a slim and attractive design.
The wireframe construction of this wok ring makes it a little different from other options. This allows it to carry the full weight of a loaded wok while cutting down on material. This makes it more affordable and doesn't block airflow to your burner's flame.
Another major advantage of stainless steel is that it's completely immune to rust. That means you don't have to worry each time you scratch its surface.
Unlike comparatively flat wok ring designs, this ring by Rluii suspends your wok more than two inches above your burner. This helps ensure the bottom of your wok won't come into contact with the burner and get scratched.
Generally, stainless steel wire frame wok rings will be a bit less sturdy than solid cast iron designs. For day-to-day use, this won't be a problem, as they can easily support even heavier woks. However, they may not be the best choice if you're planning on frequently boiling large pots of water on them.
Best Wire Wok Ring: Joyce Chen Chrome Wire Wok Ring
Joyce Chen Chrome Wire Wok Ring
The low cost of this wok ring helps it stand out against the competition.
Pros: Slim and lightweight design, doesn't rust, low cost, versatile
Cons: Less durable, not dishwasher safe
Wire wok rings have the advantage of being lightweight, easy to store, and easier on your budget. The Joyce Chen Chrome Wire Wok Ring is all of these and more with a pared-down design.
The great thing about this wire wok ring is that it works with any wok or stovetop setup you can imagine. It's 10 inches in diameter, which is a good size to accommodate large and small woks alike. The wireframe fits nearly over your burners or directly on top of the grill.
The stainless steel construction doesn't rust and is highly durable. However, the wire is a bit thinner than other wok rings and could bend with extended use. In general, however, home cooks have found it to be reliable.
The only factor to keep in mind is that putting this wok ring in the dishwasher might damage it, so hand washing is recommended. However, when used correctly, it isn't likely to get very dirty in the first place.
Best Solid Wok Ring: Tunder Group Medium Wok Ring
Thunder Group Medium Wok Ring
This wok ring stands out for its design, which encloses the burner and allows heat to gradually build.
Pros: Direct heat upward, solid design adds stability, works well with all stovetops
Cons: Lacks the stability of grid-locking designs
Wok rings come in a variety of styles, but solid-style wok rings are the best for heat control. With a continuous band of steel encircling the bottom of the wok, they contain heat, allowing you to brown foods at higher temperatures. The Thunder Group Medium Wok Ring is designed with this use in mind, making it a great choice for stir fry enthusiasts.
When the wok is placed over the top of the wok ring, it encloses the burner, allowing heat to gradually build. The series of holes around the edge of the wok ring allows the right amount of airflow for optimal heat. This is especially useful for lower-powered stovetops that lack the BTU output for traditional wok techniques.
The design also has greater stability when compared to wireframe wok rings. It can easily support a full wok and is made to last for years. Considering the low price, this adds up to a great investment.
Its universal design works with just about any stovetop. It fits over the top of the burners or metal grill and suspends the bottom of the wok about two inches above. The only drawback of this design is that it may slide during use, so care should be taken when moving the wok.
Best Energy Efficiency: Hemoton Stainless Steel Wok Rack
Hemoton Stainless Steel Wok Rack
The innovative energy-efficient design of this wok ring sets it apart from its competition.
Pros: Great heat retention, rust-proof stainless steel build
Cons: Can't be used with larger woks, difficult to clean
Wok cooking requires high levels of heat to caramelize food rapidly. Wok rings can be a great way to protect woks from getting scratched. However, many designs leak heat during cooking. This Hemoton Stainless Steel Wok Rack is designed to counteract this problem with a heat-retaining design.
Unlike many other wok rings, this one isn't a ring at all but a dome shape. This design allows it to fully encase your burner and the underside of the wok, trapping heat. The result is less heat lost and more directed to the cooking surface itself.
This is not only useful for stir-frying but also saves energy during the cooking process. Gas cooktops are known to be the least energy-efficient when compared to electric and induction stoves. Hemoton's wok ring helps contain this heat, which cuts down on your monthly gas bill.
The body of the wok ring is made entirely of stainless steel. This makes it durable and also rust-proof, so you won't have to worry about flaking or scratches. The edges are smoothed to prevent damage to your pan.
Best Extra-Tall: MOODUUTY Gas Stove Wok Ring
MOODUUTY Gas Stove Wok Ring
We love this gas stove wok ring for its solid band-type design that captures heat better.
Pros: Solid design offers greater durability, the tall shape fits over burners easier
Cons: May risk greater heat loss, may discolor with use
When shopping for wok rings online, finding the right fit for your stove is crucial. Universal wok rings fit the vast majority of stoves, but the fact is they're not compatible with some models. This MOODUUTY Gas Stove Wok Ring features a slightly taller design to ensure that it will fit over stoves of all shapes and sizes.
The wok ring features a familiar band-type design, which helps with durability as well as heat retention. Heat retention, in particular, is an important criterion, as the ring's larger size may contribute to heat loss. The holes along the sides let in just enough air to feed the flames of your burners.
Depending on the size and shape of your wok, you can use either the wide or narrow side turned upward. This allows for greater versatility and more flexibility when choosing your cookware.
Also, don't worry if this wok ring discolors a bit after the first few uses. Since wok cooking requires high heat, stainless steel may change color during the process. This won't affect the durability of the metal, however.
Best for Stability: Nazysap Four-Claw Wok Ring
Nazysap Four-Claw Wok Ring
With four or five claw options available, these wok rings can work with any stove grill.
Pros: Durable cast iron construction, energy-efficient, highly stable
Cons: Bulkier design, may rust
Especially when stir-frying, cooking with a wok often requires a lot of rapid movement. That's why the best wok rings are those that stay securely in place throughout the process. The Nazysap Four-Claw Wok Ring does just that, with two different designs made to fit your stovetop.
Whether you have a four or five-claw burner grill, these wok rings can attach securely to your setup. The cast-iron components fit over the grills snugly, preventing them from moving or wobbling. While not a universal design, it is compatible with the majority of stovetops.
To make it even more versatile, this wok ring can even be turned upside-down. This helps it accommodate other pots and pans without a domed bottom when a bit of extra height is needed.
While the extra material does at a bit of bulk, it also helps conserve energy. Rather than allowing the heat from your burner to escape out the sides, it directs it upward. This cuts down on gas costs while also boosting the heat output of your stove.
It should be remembered that cast iron does take a bit of extra care. This cast-iron wok ring is covered with a protective coating to keep out rust. Though if it gets scratched, it may lead to rust.
Best Square-Shaped: Sleeri Pot Support Ring
Sleeri Pot Support Ring
The best thing about this square-shaped support ring is the extra stability it adds while cooking.
Pros: Stabilizes while cooking, a round option is also available, durable
Cons: Less versatile than other options, a bit more expensive
Since stovetops come in all shapes and sizes, finding a wok ring that fits perfectly is essential. This Sleeri Pot Support Ring is designed to fit in stoves with square-shaped recesses. This makes it a highly specialized tool with added stability.
While the square design isn't compatible with all stoves, Sleeri also adds a rounded option to choose from. Either way, both designs are made to fit snugly into your stovetop to prevent unwanted sliding while cooking.
Both options are made of enameled cast iron, which adds durability as well as a bit of extra weight to keep them in place. However, it also makes it more expensive than stainless steel options. If you're planning on using it well into the future, it should prove to be a worthwhile investment.
Once installed, it has a low profile and can be left in place when other pots and pans are used. The feature goes a long way toward improving kitchen storage, as it won't take up space in your cabinets.
Best for Versatility: Lanyinxianzi Universal Wok ring
Lanyinxianzi Universal Wok Ring
The fact that this wok ring can be used with all stovetops makes it the most versatile option on our list.
Pros: Universal design works with any stove, is durable, works with all woks
Cons: Lacks the stability of other models
If you're not sure what size or style of wok ring fits best with your stove, a universal option is usually the best bet. This [aawo link="B08BZ519M3" title="Lanyinxianzi Universal Wok Ring"/] not only fits a wide range of stovetops but woks as well. While it may not be as specialized as other designs, it offers plenty of functionality.
The way it works is by attaching directly to your stovetop grills if you have them. If not, the included metal inserts can be used to suspend it above the burner. Either way, it stays stable and can fit a wide range of different wok shapes on top.
When the metal inserts are removed, the wok ring collapses to a compact size which is perfect for storage. Even though the individual pieces are quite thin, their cast iron construction makes them durable enough for extended use.
The only drawback comes down to cleaning. This wok ring is not dishwasher friendly and should be cleaned by hand. If metal inserts are being used, this could be a bit of a chore.
Still, the versatility and functionality make it well worth the effort. Even if you only use your work occasionally, it is an affordable and useful kitchen tool to have on hand.
Best Extra-Large: Town Food Equipment 10" Wok Ring
Town Food Equipment 10-Inch Wok Ring
The universal design of this extra-large wok is what sets it apart from other options.
Pros: Extra-large size accommodates bigger woks, made of durable plated steel, universal design
Cons: Not ideal for smaller woks or stoves, lacks the durability of cast iron
The first step to wok safety is making sure you have a wok ring that's the right size. If you're using a wok that's 14 inches or larger, a 10-inch wok ring is a must. This Town Food Equipment 10-Inch Wok Ring has a classic design that's made for larger cookware.
The band-style design should be familiar to wok enthusiasts. It's durable, stable, and helps direct heat toward your pan. Even when scaled up to this 10-inch size, it does its job flawlessly.
Part of its durability comes from its plated steel construction. This ensures that it is made to last, able to support large pans while also resisting rust. Even with the occasional scratch, you won't have to replace it.
While it doesn't have any particular bells and whistles to speak of, it's a reliable wok ring at an affordable price.
Best Budget: Ycanware 2-Pack Steel Wok Ring
Ycanware 2-Pack Steel Wok Ring
The fact that these wok rings come in a pack of two makes them a clear choice for price-conscious cooks.
Pros: Very affordable price, solid construction, classic design
Cons: A pack of two is not necessary for most homes
Wok cooking is well known to be tough on cookware and wok rings alike. Even the most durable wok rings can take a beating, which is why it pays to shop with value in mind. This Ycanware 2-Pack Steel Wok Ring offers everything you're looking for in a wok ring, with a spare thrown in at no extra cost.
The truth is, most homes don't need a wok ring replacement for years. However, if you're a small business or a family who cooks a lot of stir fry, trying this double-value wok ring can't hurt.
The design is made of durable alloy steel, with holes in the sides to promote airflow to your burners. They're ideal for woks around 11 or 12 inches in diameter. They're just as durable as other similar products, and so it's unlikely you'll need your spare for some time to come.
Wok Ring Buying Guide
The right wok ring for you depends largely on the kind of stove you have and the cookware you're using. Make sure to have both of these pieces of information at hand when making your decision. Once you do, take a look at these criteria to find the right option.
Grill Compatibility
Universal wok rings are made to fit with all kinds of stovetops, however, they sometimes lack the stability found in claw-style wok rings. 4 and 5-claw wok rings are made to fit over your stovetop grills, which hold them securely in place. The added stability is a huge advantage, but only if it's compatible with your setup!
Material
The most common wok ring materials are cast iron and stainless steel. Cast iron is heavier and more durable, though when extended use, it may run the risk of rusting. Stainless steel is completely rust-proof, though they don't often have the same durability.
Size
The average size of wok rings is between 7 and 9 inches wide and 2 inches tall, though this can vary between manufacturers. These sizes are generally compatible with most medium-sized woks. However, if you have an extra small or large wok, finding different size options can be a good idea.
Style
Wok rings come in a wide range of innovative designs, though the two most traditional ones are the solid band and wireframe wok rings. Band-style wok rings fully enclose your burner with small openings along the edge to allow airflow. These are great at directing heat upward and are also more durable.
Wireframe wok rings are more lightweight and usually feature universal designs. While they don't have the durability of other styles, they are usually more affordable.
FAQs
Wok rings may look like simple kitchen gadgets, but the truth is that there's more to them than meets the eye. Learn everything you need to know with these frequently asked questions.
What is a wok ring used for?
Wok rings are placed over stovetop burners to stabilize woks during cooking. If you're using a round-bottom wok on a smooth cooktop, a wok ring is necessary. On gas stoves, however, it is possible to cook without one, though a wok ring will protect the bottom of your wok from damage.
Can I use a wok ring on an electric stove?
Wok rings can be used on electric stoves, allowing you to use a round bottom wok over electric heating elements. However, extra care should be taken when doing so, especially with smooth ceramic glass cooktops.

Since smooth electric ranges don't have metal grills, the wok ring may slide around during cooking. If you're not careful, this could cause a safety hazard in your kitchen.

However, wok rings cannot be used with induction stoves. This kind of cooktop requires direct contact with the cookware in order to heat it properly. That means a flat bottom wok is required.
Can I use other pots and pans with my wok ring?
Wok rings can also be useful when used with other types of pots and pans, allowing you to protect their bottom surfaces from damage. However, whether or not you can use a wok ring with your other cookware depends on a few specifics.

Most universal wok rings can be used with flat-bottom pans, as long as the wok ring doesn't have sharp corners. Also, you need to make sure the pan fits securely on the wok ring and doesn't risk sipping.

If you're not sure, never use a wok ring with flat-bottom pots and pans, as this can cause a hazard.
What size wok ring do I need?
A good rule of thumb is that your wok ring should be four inches smaller than the diameter of your wok's mouth. This will ensure a snug fit that doesn't risk slipping while cooking.

However, it's important to keep in mind that woks come in all different shapes and sizes. Getting the right fit sometimes comes down to trial and error. Luckily, there are many affordable wok rings that should make the process easy.
Are wok rings safe?
Wok rings are safe to use in home kitchens as long as a few simple safety rules are observed.

First, make sure your wok ring fits securely on your cooktop. Woks with grooves on their bottom that allow them to fit into your stovetop grills are good bets.

Second, ensure your wok ring is appropriately sized to your wok. Too big and your wok won't have the stability it needs. Too small and you risk tipping it over while cooking.

Third, take care when cooking with your wok. While vigorous stirring and flipping are common techniques, don't overdo it.