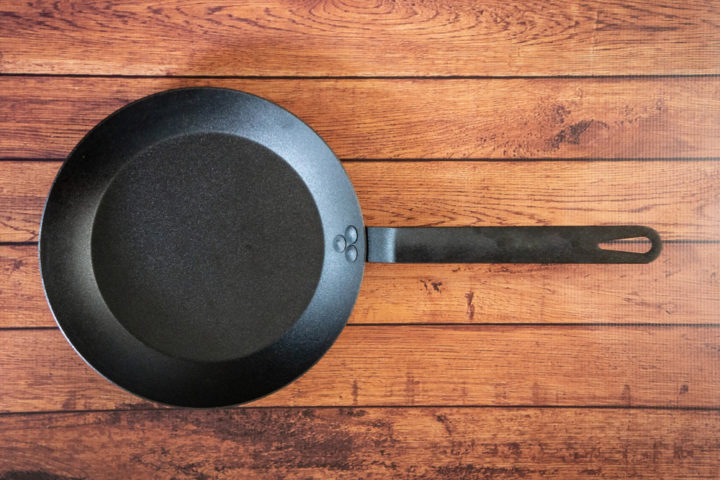 There's a reason professional chefs insist on using carbon steel in the kitchen. It's lightweight, naturally nonstick, and has excellent heat retention. Plus, when compared to stainless steel and other common materials, it's very affordable.
However, finding the right carbon steel pan takes time and effort. Factors like style, size, and durability all need to be taken into consideration. Often, finding the right balance can be a daunting task for those without experience.
That's why we've put in the time and done the research to round up 16 of the best carbon steel pans available today. We've selected options of all different types and made for all different needs, so finding the ideal option for your kitchen should be no problem. Take a look for yourself and start building your collection.
Table of Contents
Best Overall: Ballarini Professionale 3000 Frying Pan
If you're looking for a reliable, all-purpose piece of cookware, it pays to go for the quality option. Investing in the right carbon steel pan means having a tool that can be used for a wide range of day-to-day tasks. The Ballarini Professionale 3000 Frying Pan stands above the rest with a classic design that's made to last.
This frying pan delivers everything you expect from carbon steel cookware. It's lightweight, easy to handle, and has great heat retention. It can be moved from the stovetop to the oven without issue and is safe up to 600 degrees Fahrenheit.
The shape is also designed with versatility in mind. The sides are not too steep or shallow, making it a good middle ground between a frying pan and a saute pan. This also makes it well suited to tossing and flipping.
While the handle may not be the most ergonomic, it's slim and lightweight. This cut's down on the weight of the pan even further, making it easier to handle at just over 3 lbs.
Of course, some maintenance issues are important to keep in mind when working with carbon steel. Be prepared to oil it regularly and maintain its seasoning. If not, it may be a better idea to try a pre-seasoned pan.
Best Frying Pan: Merten & Storck 10-Inch Frying Pan
There's a reason why frying pans are a go-to for most professional chefs. They're versatile and easy to use, which means that they're also a great choice for home cooks looking to build their cookware collection. The Merten & Storck 10-inch Frying Pan is a great place to start, with a functional and user-friendly design.
If you've shied away from carbon steel cookware in the past, this pan is a great option for you. It comes pre-seasoned, which means you can use it right out of the box. While you'll still need to maintain its seasoning over time, this will give you a good head start on maintenance.
You'll want to maintain it, too, because this pan is made to last. The triple-riveted handle is highly durable and stays resistant to loosening. The cooking surface is also tough and can be used with all kinds of utensils, even metal.
The 10-inch design is a good place to start, but this pan also comes in 8 and 12-inch varieties. This allows you to scale up or down depending on the size of your family or the dishes you have in mind.
The only aspect to be cautious of is the handle, which can conduct heat while in use. When cooking with high heat, be sure to use an oven mitt or kitchen towel to keep yourself protected.
Best Wok: Craft Wok Hand-Hammered Wok
Wok cooking and carbon steel go hand-in-hand, taking advantage of the material's lightweight and naturally nonstick surface. This Craft Wok Hand-Hammered Wok is a case in point, with a classic pow wok design that is well-suited to stir-fry, boiling, deep-frying, and more. Like all good woks, there's little it can't do.
The first thing you'll notice about this carbon steel wok is its deep basin and long handle. Both of these are chosen to make stir-frying easier, allowing you to toss and flip your food easily. Since it's so large, it can cook food for up to six people.
The handle is wood, protecting your hand from the high heat often used in wok cooking. It's attached with three steel rivets, keeping it firmly in place for the long term. On the opposite end, the smaller metal handle helps for lifting heavier loads.
What you might not know about woks is that it's craftsmanship that counts. The hand-hammered design not only looks attractive but helps with the cooking process. The lightly-textured surface helps food cling to the sides rather than slide down.
Don't forget that this wok is designed for use with gas stoves. While you can use it on an electric cooktop with the help of a wok ring, a flat bottomed wok may be a better option.
Best Griddle: Lodge Carbon Steel Griddle
While frying pans are good multitaskers, sometimes it pays to get the right tool for the job. When it comes to pancakes and burgers, there's nothing quite like a carbon steel griddle. This Lodge Carbon Steel Griddle is the best in its class, with an elongated design that leaves you plenty of space to work with.
If you haven't worked with a stovetop griddle before, the design of this pan might look a bit unfamiliar. Rather than featuring a single long handle to allow easy handling during cooking, this pan is designed to be stationary. Simply arrange it over two stovetop burners and heat.
The double handles on either end of the pan are added with this in mind. They are large enough to easily handle, even with oven mitts, while staying out of the way when cooking.
Similarly, the pan's sides are kept low and angled slightly outward to make sure you're not knocking them with your spatula. While only about an inch tall, the sides on Lodge's model are a bit higher than some other options. This could be an advantage or a disadvantage, depending on your priorities.
Still, it's a quality pan overall, with durable construction and smart design. It can be used on gas, electric, and induction stoves, or even on your backyard grill.
Best Egg Pan: de Buyer Mineral B Egg Pan
When it comes to unitaskers, there's no pan more dedicated to its specialty than the egg pan. Designed with a single foodstuff in mind, this little piece of cookware can be your best friend at breakfast time. The de Buyer Mineral B Egg Pan takes advantage of all these qualities and packages them in a sleek design.
You should know upfront that this pan is only 4.75 inches in diameter, which means it can cook one egg at a time. While this might seem restrictive, it's actually the best part of the design. Rather than your egg whites running all over your cooking surface, they'll stay contained in a neat circle.
However, if you're cooking for one, you should probably buy an extra to cook multiple eggs at once. Once you have both of them fired up, you'll see how much easier it makes your morning breakfast routine.
Aside from its shape and size, there are plenty of other features to enjoy. Its carbon steel cooking surface is perfectly suited to eggs, as it's smooth and nonstick. Only a small amount of butter or oil is required to easily slide your eggs out.
Even if you're buying more than one, storage will be no problem. The slim handle makes these pans easy to stack, and with such a small diameter, they'll hardly take up any room in your kitchen cabinets.
Best Pancake Pan: BK Black Carbon Steel Pancake Pan
If you're having trouble perfecting your pancakes, the missing ingredient might be the right pancake pan. This BK Black Carbon Steel Pancake Pan has everything you want when cooking flapjacks. However, it's also a surprisingly versatile piece of cookware that can be used for a variety of dishes.
The main factor that separates pancake pans from other varieties is their wide cooking surface and low sides. Like a griddle, this helps facilitate flipping and offers plenty of space to cook.
The smooth surface of the pan helps here as well. This, in combination with the smooth, nonstick surface offered by carbon steel, makes flipping pancakes effortless. You won't have to worry about breaking up your pancakes and seeing pieces of them stuck on your pan for a second.
In addition to pancakes, this pan can be used for almost any grill top food. Burgers, eggs, and even larger cuts of meat are no problem, as long as excess fat isn't a problem. Just remember not to crank up the heat too high, as this may damage your pan.
If you're on the fence about getting your own carbon steel pancake pan, don't let storage space stop you. Since this pan is so thin, it's easy to have it stand on its end and tuck it out of sight without cluttering your kitchen cabinet any further.
Best Omelet Pan: de Buyer Mineral B Omelette Pan
Getting the perfect omelet is all about technique, which means you should start with the right pan. The de Buyer Mineral B Omelette Pan is precisely the right shape, size, and style for making perfect omelets. While it might look similar to an ordinary frying pan, it's the subtle differences that count.
What makes omelet pans different from other cookware is the low and curved edge. Generally, they're shallower than frying pans and also a bit smaller. This not only makes it easy to slide the omelets out when done, but also when rolling and flipping them.
The carbon steel cooking surface is another important asset. As the layers of seasoning build over time, the surface of the pan will become smoother and more resistant to sticking. While it does require a bit of extra maintenance, it's well worth the effort.
The small size is well-suited to a single omelet. While it may be a bit small for cooking larger quantities of food, it's still a versatile pan.
Best Crepe Pan: de Buyer Force Blue Crepe Pan
When trying to make authentic crepes from scratch, it makes sense to look for a French-made pan. The de Buyer Force Blue Crepe Pan is as authentic as it gets, straight from a well-respected maker of French cookware. It's more than just a name though; it has plenty of important features to offer.
Finding the perfect crepe pan is all about paying attention to the shape. This design features a cooking surface that looks a bit like a dinner plate, with low, shallow sides. While not ideal for sauteing meats and vegetables, it's perfect for making crepes.
This unique design makes it easy to scoop, fold, and flip crepes easily, helping you master this difficult technique. The French-style handle also helps in this regard, staying slim and lightweight. Of course, you'll need to handle it with an oven mitt or kitchen towel to protect your hands from the heat.
The cooking surface is made of 100% carbon steel, which helps with heat distribution and retention. This is crucial when making crepes since they burn so easily. By preventing hot spots, this pan will help ensure perfectly cooked crepes every time.
Best Paella Pan: BK Black Steel Paella Pan
For those unfamiliar, paella is a classic Spanish dish that gets its unique texture from a layer of pan-crisped rice. While not overly complicated to make, it requires a specialized pan to get the right effect. If you're looking to make your own, this BK Black Steel Paella Pan is a good place to start.
Traditionally, paella is made in extra-wide pans, which allow the rice to be spread thinly over the surface. While a good option for commercial chefs, it's not exactly a practical option for home use. However, a similar effect can be achieved with a scaled-down version.
This carbon steel paella pan is 15 inches in diameter, which leaves plenty of room to make paella for up to four people. Even at this large size, its carbon steel construction makes it lightweight and easy to handle. It's just over five pounds, which will be easy to lift with the dual side handles.
BK's signature black steel offers all the advantages of traditional carbon steel, with a few extra benefits. It's corrosion-resistant, stain-resistant, and more durable than more common materials.
While perfectly suited to cooking authentic paella, this pan is also suitable as a frying pan or braiser.
Best Roast Pan: Lavo Home Carbon Steel Roast Pan
Roast Pans are designed a little differently than other cookware, giving them a special niche in the kitchen. They feature deep sides and a wide base, made to accommodate large amounts of food to feed plenty of guests. The Lavo Home Carbon Steel Roast Pan is a great example and perfect for hams, turkeys, and other large roasts.
The pan features an extra-deep design, which is perfect for keeping large roasts stable during cooking. Even those like duck, which loses a lot of fat in the oven, can be cooked without fear. The 11" x 16" base is big enough to comfortably hold even a large turkey.
The removable wire rack adds a bit of versatility to the pan. It's designed to suspend meat over drippings and allow for more air circulation during the cooking process. It's easily removable to simplify cleaning.
What you may not notice at first are the wire side handles, which make it easier to transfer the roasting pan into and out of the oven. They fold down when not in use, allowing the pan to fit in smaller ovens when needed.
Best BBQ Pan: BK Black Carbon Steel BBQ Pan
Did you know that carbon steel cookware can even be used on your home grill? This BK Black Carbon Steel BBQ Pan offers a unique design that lets you take stovetop cooking outdoors. This lets you get all the smoky grilled flavor you crave with a high level of control.
This pan works just the same as any indoor frying pan. Simply heat it over your grill, add in any meats or vegetables, and use the pan to stir and toss the food as it grills. It's designed to allow excess fat to drip away while allowing the flavors of your grill to come through.
It's designed to stand up to high heat and plenty of use, with scratch-resistant and corrosion-resistant carbon steel. It does require seasoning, although the extra fat coming off your barbecued meat will help protect it from rust.
Overall, the design works well, though you may find the handle slightly cumbersome at times. It needs to be positioned over the fire to close the lid of your grill. Because of this, you'll need a sturdy pair of oven mitts to handle it safely!
At just over three pounds, the pan is about the same weight as a traditional frying pan. This lets you flip and toss your food easily.
Best Budget: Winco French Style Frying Pan
If you're looking for a single standby pan to begin building your collection, a frying pan is a good place to start. This Winco French-Style Frying Pan offers everything you need to cook basic meals at a price that anyone can afford. You might even like it enough to get two!
The pan is made in Spain but features the same classic French style that professionals use. A thin, bent handle makes it easy to stack and store while cutting down on excess weight. It's attached with three rivets to ensure long-term durability.
It has slightly taller sides than the typical frying pan, which works well with its smaller size. They're tall enough to contain food while stirring and angled outward to ensure easy flipping.
Even at its low price, this pan is made to last. When first picking it up, you'll find it to be a little heavier than you'd expect. This is a testament to its quality construction, which will serve you well for years.
The small size also makes it very lightweight, at under 2 lbs. However, if the 8-inch design is too small for you, you can scale it up to one of Winco's other affordable frying pans. There are five in all, all the way up to 12 ⅝" in diameter.
Best With High Sides: de Buyer Mineral B Country Pan
While country pans are one of the lesser-known varieties of cookware, the truth is that they offer plenty of utility in the kitchen. Able to saute, deep fry, boil, and even stir-fry like a wok, they definitely earn their place in your cabinet. The de Buyer Mineral B Country Pan is an excellent example, with a design all its own.
This pan also comes in a 12.4-inch size, which is closer to a standard wok. However, we like the 9.5-inch option, as this is better suited to the intended uses of country pans. Keep in mind, however, that this size refers to the outer diameter, while the inner diameter is closer to 6.5 inches.
With a flat bottom and steep sides, this pan can be used as a hybrid between a saucepan and a frying pan. It's great for boiling and deep-frying in small batches, as well as browning meats and vegetables. The gentle curve to the sides makes it ideal for tossing food, even in larger quantities.
It's made of 2.5 mm carbon steel, making it a durable option that won't warp with use. While it can be used in the oven, it's not recommended to be used in a 400-degree oven for more than 20 minutes.
Best Durability: BelleVie Heavy-Duty Carbon Steel Frying Pan
When choosing a frying pan to invest in, it pays to go for quality. Getting used to the size, weight, and shape of your pots and pans will go a long way in the kitchen. The BelleVie Heavy-Duty Carbon Steel Frying Pan is a carbon steel frying pan that's made to last with durable materials and quality construction.
This pan is made entirely of 11-gauge carbon steel. While this makes it a bit heavier than other pans, it still only weighs in at 2.5 lbs. The added thickness will help prevent warping while also improving heat retention.
The French-style handle is triple-riveted to ensure it will not get loose. Its thin design and hanging hole make it easy to store.
Both the handle and cooking surface are safe to transfer in and out of the oven. This makes it a great multitasker, and useful for more complex cooking techniques. Of course, the metal handle means hand protection is required when using it.
Keep in mind that, while this pan offers plenty of durability, its seasoning needs to be well maintained to prevent rust. If you're planning on investing in a high-end carbon steel pan, be sure you know how to properly care for it.
Best Ergonomic: Yosukata Coating-Free Frying Pan
Many professional-grade pans feature French-style handles, which are slim and lightweight but not always practical for home use. The Yosukata Coating-Free Frying Pan remedies this with an attractive and comfortable wood handle. This not only makes it easier to grip but also protects your hands from the heat of your stove.
This is the perfect solution for home cooks who are tired of hassling with potholders. The wooden handle makes it easy to hold even when cooking at high heat.
However, this pan is also just as versatile as any design with a French-style handle. Since the wood portion can be removed, the entire pan can be put into the oven for baking and braising techniques. It's a bit less convenient than an all-metal pan, though it's nice to have both options.
The pan is available in three sizes, ranging from 7.9" to 11.8" in diameter. Even the smaller options are a good buy, as the tall sides make it easy to handle large amounts of food.
It requires seasoning just like any carbon steel pan, though the pre-seasoned coating saves a bit of time and effort. Just make sure to clean off the protective coating when it arrives.
Best Large-Sized Pan: Lodge 8" Carbon Steel Pan
Whether you have a special dish in mind or are cooking for a large group, having an extra-large pan on hand is always a good idea. This Lodge 15" Carbon Steel Pan offers plenty of cook space for burgers, paella, and other dishes. While this may mean it comes with a bit of extra maintenance, we think it's well worth the effort.
The ring handles on either side of the pan are designed to help carry heavy loads. While they don't allow fast flipping, they are a must-have for a pan this heavy. They are durably secured and easy to grip, even when wearing oven mitts.
At over 6 lbs, it's likely to be the heaviest pan you have in your arsenal, but this extra weight comes with a few advantages. It's extremely durable, for one thing, and will stand up to years worth of use.
Its large size also makes it a highly versatile option. It can be used as a paella pan, skillet, or saute pan, without the risk of spilling or leaking grease. The tall sides are an advantage here and are angled outward so they won't get in the way of flipping.
Don't forget that a big pan needs a powerful burner. If yours can't put out at least 1,000 BTUs, then a smaller option might be a better idea.
Carbon Steel Pan Buying Guide
It's important to know what you're looking for when choosing the right carbon steel pan. Make sure you take all of these factors into consideration before buying yours.
Style
As you can see, carbon steel pans come in all shapes and sizes, and knowing where to start isn't always easy. If you're looking for a versatile starter pan, a frying pan or saute pan can be good options. On the other hand, if you find yourself often making pancakes or frying eggs, trying a few specialty pans could be a better idea.
Size
The pans listed above range in size from 8 inches to fifteen inches, with 10 inches being about average. You can determine the size you need based on the number of people you're cooking for. Families of four will need a larger pan, while couples can manage with a smaller one.
Durability
There are several ways to measure a pan's durability, but the most reliable is its steel gauge. Look for pans that are made of 11-gauge steel or higher, as this will improve its lifespan significantly. Its handle should be either welded or triple-riveted for ideal durability.
Handle Type
For frying pans, you want a long, slender handle that lets you easily flip your food. Wood can be a good way to protect your hands but don't forget that it can't go in the oven. For heavier brasiers and roasters, look for pans that have two handles that are large enough to easily grasp.
Preseasoning
No matter what kind of carbon steel pan you buy, you're going to have to get used to the idea of keeping it seasoned. However, some pans also come pre-seasoned, which can save a bit of time and effort. Either way, make sure to wash off the protective wax coating on your pan before using it.
FAQs
There's always more to learn about carbon steel pans. See what other home chefs like you are asking and get the answers you need.