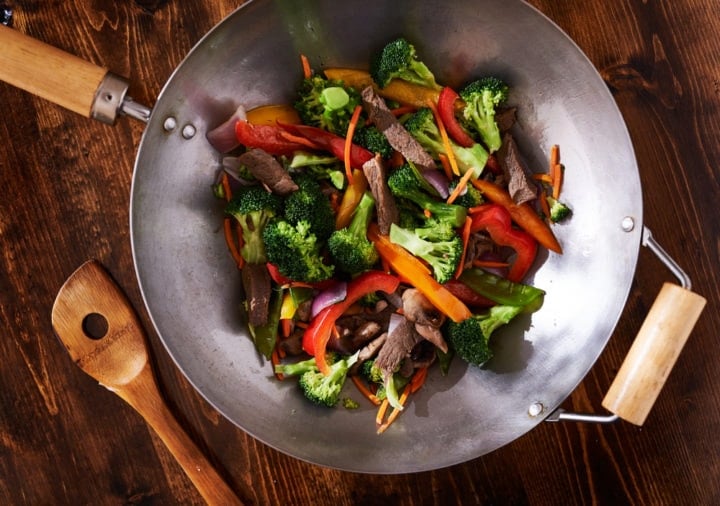 Have you ever thought about what makes stir-fried Chinese cuisines flavorful? You might know the distinct taste by different names, like "wok hei," "breath of wok," or "wok chi," attributed to a unique technique using traditional woks. Now, there are arguments for carbon steel woks over cast iron woks, and vice versa. Since the cooking process for wok hei involves a lot of tossing, carbon steel woks have the advantage of being lightweight.
Although the proper maintenance of a traditional carbon steel wok can mean hard work, specific steps are defined for both carbon steel woks and cast iron woks. In fact, carbon steel woks — preseasoned or unseasoned — are often sold with written or video care instructions. And again, both options will have their pros and cons, as we've explained in Carbon Steel vs. Cast Iron.
So if you're in the carbon steel wok school of thought who prefers tossing lighter stuff, how do you then tell different carbon steel woks apart? Do the handle, weight, and supporting accessories determine what's best? Read on for our list of the best carbon steel woks available in the market today.
Table of Contents
Best Overall: Craft Wok Traditional Hand-Hammered Carbon Steel Pow Wok, Round Bottom and Flat Bottom
SAVE 9%
Craft Wok Traditional Hand-Hammered Carbon Steel Pow Wok
A traditional wok that's lightweight but tough enough to handle stir-frying, deep-frying, sauteing, and even braising. Also available with a flat bottom for flat stovetops.
Pros: Comes with two handles, available in round and flat bottom
Cons: Comes in one size, short handle is steel, wooden part of the long handle seems short, expensive
Craft Wok Store's Traditional Hand Hammered Carbon Steel Pow Wok, available in both a round bottom and a flat bottom, is our choice for the best wok in the market.
The wok of commercial-grade gauge 15 carbon steel, at approximately 1.8 millimeters in thickness. Both options are 14-inch woks with tiny handy helpers — short handles — on one side and a long partly-wooden handle on the other side. This hand-made wok is also one of the lightest woks on our list, weighing in at 4.6 pounds.
We certainly love that this is a hand-hammered wok from China, the country known for woks. That said, hand-made cookware involves an intricate process, making this option somewhat expensive.
Also, we like how Craft Wok is offering the wok in both flat bottom and round bottom options. It affords us flexibility, mainly because most households have flat stovetops compatible only with the flat bottomed woks.
Despite these advantages, this carbon steel wok isn't perfect. While it comes with a small handy helper on one side, which is ultimately a plus for the wok, using steel as the material is a bit of a conundrum. But we get how using wood would've been a manufacturing challenge, so it's not all bad.
Of course, steel gets incredibly hot, so always take cautionary measures when using both handles. Speaking of, the wooden part of the long handle feels a bit short for big-handed users. We also caution you from getting burned by the unprotected parts of the long handle.
Even so, the Craft Wok lightweight carbon steel wok is still our favorite for wok cooking or stir-frying.
Best in Customization: Yosukata Carbon Steel Wok Pan
SAVE 26%
Yosukata Carbon Steel Wok Pan
This wok is not only beautiful to look at, but it's also durable and customizable -- a perfect combination for those with practicality and aesthetics in mind.
Pros: Incredibly versatile, comes with two handles, commercial-grade
Cons: Steel handy helper, silver variant is unseasoned
The Yosukata's Carbon Steel Wok Pan comes in various colors, thicknesses, bottom shapes, sizes, and uses for cooks fond of matching cookware. Despite having a handy steel helper similar to Craft Wok's, the availability of choices is impressive, and it is our pick for a customized kitchen look.
The wooden portion of the handle is longer than the metal part, which means maneuvering and control are more manageable. Yosukata uses beechwood, an affordable yet durable type of wood commonly used for cooking utensils. Beech hardwood is also popular in furniture and structures.
Colors
There are three available colors to choose from — black, blue, and silver. The blue and silver carbon steel wok collections are made of 15-gauge carbon steel, while the black collection is made of 16-gauge carbon steel. A sheet metal gauge indicates the thickness of a material. Here's how you use it: the higher the number, the thinner and lighter the material gets. Either way, these woks are durable and expected to serve a lifetime with proper conditioning.
Fun fact: If carbon steel's natural color is silver, how does Yosukata make blue and black woks? They have a unique surface-hardening and bluing method that transforms the woks' tint finishes. Remember that when these blue and black variations may lose color throughout their serviceable lives. When they do, restoration is easy by following the manufacturer's guide.
Bottom Types
Yosukata offers their carbon steel woks in three bottom types — stable round, round, and flat. The stable round-bottomed woks are blue and silver, while the round-bottomed and flat bottomed woks are black. Of course, always ensure you buy a bottom type that suits your use. Or at least get a wok ring for round-bottomed woks. Here's a summary of the stovetop compatibility per bottom type:
| | | | | |
| --- | --- | --- | --- | --- |
| | Gas | Open Fire | Electric | Induction |
| Round bottom | ✔ | ✔ | | |
| Stable round bottom | ✔ | ✔ | | |
| Flat bottom | ✔ | ✔ | ✔ | ✔ |
Size and Weight
The lightest in the collection weighs 2.9 pounds and has a 13.5-inch diameter. In contrast, the heaviest in the group weighs 4.7 pounds and has a 14-inch diameter. Furthermore, the black carbon flat bottom wok comes in both 13.5-inch and 11.8-inch diameters.
| | | | | | |
| --- | --- | --- | --- | --- | --- |
| | Black carbon steel round bottom wok | Blue carbon steel round bottom wok | Silver carbon steel round bottom wok | Black carbon steel flat bottom wok | Black carbon steel flat bottom wok |
| Weight | 3.8 pounds | 4.7 pounds | 4.7 pounds | 2.9 pounds | 3.6 pounds |
| Diameter | 14 inches | 14 inches | 14 inches | 13.5 inches | 11.8 inches |
Best Set: Joyce Chen, Classic Series Carbon Steel Wok Set
For an all-in-one solution, Joyce Chen's Classic Series Carbon Steel Wok Set is a perfect choice. It comes with its own wooden spatula and wok lid, plus the latter has a nonstick coating.
We understand how its lack of size options and bottom types can be disadvantages. But because the available size is the standard 14-inch diameter and the bottom type is flat, these shortcomings didn't bother us much. That said, the Joyce Chen carbon steel wok is a bit on the heavy side, weighing at a hefty 5.59 pounds.
Still, this choice has a lot going for it. One feature that we totally loved was its two bamboo handles. Bamboo is a lightweight material with a solid tensile strength that can withstand pressures above steel's thresholds. We also like that the wooden part of the long handle is longer than the metal part. Sure, wearing protective gloves should be your priority. Still, the comfort of knowing it's not going to burn you on either handle is indispensable.
Since this carbon steel wok comes flat-bottomed, compatibility with stovetops is not a concern. Indeed, the Joyce Chen is a fabulous set that can be your buy-and-forget solution for your favorite Chinese cuisines.
Best in Innovation: Carbon Steel Wok for Electric, Induction, and Gas Stoves by Souped Up Recipes
SAVE 34%
Carbon Steel Wok for Electric, Induction, and Gas Stoves by Souped Up Recipes
A wok you can depend on for all occasions! It comes with accessories and can be used on induction, electric, and gas stoves.
Pros: Can work on all stovetops, comes with recipes and a gift set, detachable wooden handle, spout lip for soups, nice aesthetics, oven safe
Cons: Comes in one size and bottom shape, no small handle, heavy
The Souped Up Recipes' Carbon Steel Wok is undoubtedly unique in more ways than one, from its grooves to its spout lip and detachable handle. It comes in a set of useful accessories, too, including a wooden lid and a metal wok spatula. But it does come in only one size, a 12.5-inch flat bottomed wok that weighs 5.5 pounds. With its flat bottom, though, the wok works on all types of stovetops, such as electric, induction, and gas stoves. So the lack of options is okay.
The cooking surface is precisely sketched, with visible grooves and hammerings that make it stand out. It also comes with a spout lip, which is relatively uncommon for woks but is perfect for pouring soup. The spout lip also serves as a steam vent when using a lid with your wok.
Of our picks for the best carbon steel wok, the Souped Up Recipes' offering is the only one with a detachable wooden handle, making oven use a breeze.
Conversely, the lack of a small handy helper is unfortunate, especially at this weight. Tossing becomes a struggle for some people.
Nevertheless, the pretty wooden lid complements the aesthetically pleasant groves for a chic wok set on rustic tabletops.
Best Lightweight: Mammafong Carbon Steel Wok Pan
SAVE 24%
Mammafong Carbon Steel Wok
If you enjoy wok cooking with a flair, then you'll love this! This wok is ideal for high-flame tossing and stir-frying.
Pros: Lightweight, comes in two sizes and bottom shapes, wok lid is available, with choice of seasoned or unseasoned
Cons: Wooden part of the handle is short
The Mammafong Carbon Steel Wok Pan is the lightest 14-inch wok on our list, weighing in at a meager 3.3 pounds, making it perfect for recipes that require tossing. Although, some of us found the wooden handle too short.
The unseasoned woks come in two sizes and shapes, with the 12-inch variant sold by itself and the 14-inch option bundled with an aluminum wok lid — the lid is actually pretty decent. It comes in both a round and flat bottom, with its flat base measuring 4.5 inches.
The manufacturer also offers a preseasoned carbon steel wok which is in bluish color with 14-inches in diameter. And all of Mammafong's offerings are hand-hammered woks.
Ultimately, the Mamafong carbon steel wok pan is ideal for high-flame meat-soaring theatrical cooking. Its weight makes tossing easier. At the very least, it's a fantastic carbon steel wok to practice and perfect your tosses.
Why Use Carbon Steel Wok
Whether you choose a carbon steel wok over a cast iron wok or even a stainless steel wok will come down to your preferences. They all have pros and cons. Otherwise, people would just stop making them if they didn't have advantages, right? For carbon steel woks, its benefits include weight and heat conduction.
Weight of Carbon Steel Wok
Assuming all other factors remain the same, the weight of a carbon steel wok is lighter than cast iron because carbon steel is a lighter mixture of alloys. We know that stir-frying requires continuous maneuvering and tossing. And that's a strong argument for the more lightweight carbon steel cookware for the Chinese cooking technique.
Heat response and distribution rate
Stir-frying is a frying method performed quickly through high heat and constant stirring. In other words, it is essential to use a wok with a cooking surface that has fast heat response rate and distribution rate.
Carbon steel has a higher conductivity rate than cast iron. That means that carbon steel gets hot quicker and distributes heat across the wok pan faster than cast iron would. So this is another attribute that makes carbon steel wok pan better for your stir fry dishes.
Carbon Steel Wok Buying Guide
There are many points to consider when buying a carbon steel wok. We've categorized them into the following brackets for your reference: size, the thickness of the wall, shape plus concavity of the bottom and wall, handle, whether it's preseasoned or not, and budget.
Size
Carbon steel woks come in different sizes, ranging from 10 inches to 20 inches in diameter. Smaller woks, of course, have a smaller cooking surface and are relatively lightweight compared, all things equal.
Your specific uses will determine the ideal size. For example, a small-sized 12-inch wok should be sufficient for the average family. While the larger 14-inch or 20-inch woks might be better for commercial use.
On the contrary, erring on the side of larger woks has advantages. Smaller portions fit larger woks, but not the other way around. Larger woks, therefore, give you versatility. But you certainly have to balance the added usefulness with the add-on weight.
Moreover, consider the size of your wok burner and the challenges of cleaning and maintaining a larger wok. These, too, affect your overall experience.
The thickness of the wall, measured in gauges
The thickness of your carbon steel material is expressed in a metal gauge. This relates to the rate of heat distribution and heat transfer over your cooking surface. A higher number signifies a thinner metal sheet, which translates to faster heat transfers.
In comparison, a lower metal gauge number corresponds to thicker materials and slower heat transfers. Although the discrepancies between gauges are negligible at a microscopic level, there is a notable difference in the heat response rate that expert chefs can tell.
Additionally, there is a necessary compromise between durability and thickness. That is, the thinner carbon steel woks are less durable. Nevertheless, being less durable isn't exactly fragility, and even the thinnest carbon steel woks don't break easily.
But again, holding all things constant, thicker carbon steel woks tend to be more durable and long-lasting.
Shape and concavity of the bottom and wall
The wall of a carbon steel wok is deliberately designed to be high and curved. This structure allows heat to transfer fast, simultaneously supplying it in uniform distribution. Its design helps achieve wok hei, so a traditional wok often comes with a round bottom shape.
On the other hand, the design of a contemporary flat bottomed wok suits stovetops of different forms: electric stove, induction cooktop, and gas stove. But a flat bottomed wok is also less concave than a round-bottomed wok. This means there is a concentration of heat at the bottom of a flat bottomed wok.
And while a round-bottomed wok doesn't have this problem, it does require a wok ring if you're using it on electric or induction stovetops. Though the additional purchase can be worth it for some.
So under the circumstances, both round bottom and flat bottom woks have their advantages and disadvantages. Choosing one then comes down to the buyer's preferences.
Handle
Carbon steel has a high thermal property that allows it to get hot fast. Consequently, we recommend carbon steel woks with wooden handles to prevent burns.
But not all wooden handles are of equal utility. The length and shape of your wok's handle matter. Specifically, longer and ergonomically designed handles make tossing easier. Also, heed the wooden part of the handle. Most handles are only partially wooden, and greater wooden coverage obviously means a safer and easier-to-handle wok.
Some handles are detachable for quick and easy oven uses. Others, while not ideal, have removable screws. Consider this if you typically use an oven for your dishes.
Preseasoned or unseasoned
Not all woks in the market are preseasoned, so this is another factor you will want to think about. Regardless of choice, make sure you condition your woks properly.
Budget
We say carbon steel woks are decently priced, given their durability and versatility. With proper care and maintenance, a carbon steel wok can last decades. At least with carbon steel woks, you generally get what you pay for, so spend as much as you can afford.
FAQ
What features should a good carbon steel wok have?
A good carbon steel wok should at least be 14-gauge for sufficient durability. It should have a long wooden handle and preferably a tiny handy helper on the other side. The ideal carbon steel wok is also lightweight, where shaking the wok isn't too demanding.
What are the common drawbacks of carbon steel woks?
Carbon steel woks require perpetual seasoning. They are also not ideal for cooking with acidic ingredients such as tomatoes, lemon, and vinegar. But for many, these are acceptable drawbacks to the advantages of carbon steel woks.
When is carbon steel preferred over cast iron?
A carbon steel wok comes in handy for stir-frying, flash frying, and sauteing. The deep walls of a wok and the quick heat-time are essential elements for these cooking techniques. Cast iron is ideal for dishes that require prolonged heat retention.
Is a carbon steel wok better than a nonstick?
Concerning health safety and serviceable life, a carbon steel wok turns out to be the better option. Carbon steel is made of non-toxic materials, such as carbon and iron. On the other hand, nonstick-coated cookware may contain toxic materials. Heat retention is also better with carbon steel woks.
Should a wok have a lid?
Pairing woks with a lid makes them versatile cookware, so we say wok lids add value. They provide you with more cooking options, such as boiling, steaming, and searing. That said, many traditional woks don't come with lids because they're unnecessary for many dishes that necessitate a lot of stirring and tossing.
Which is better, flat or round bottom wok?
A round-bottomed wok spreads heat more evenly than a flat-bottomed wok. But the latter is compatible with plenty of stovetops. So first, check if you even have compatible stovetops. Do you frequently use an induction hob?

Alternatively, a wok ring converts your round-bottomed wok for use with flat stovetops. The added expense may be justified for people who want the appeal of a traditional round-bottomed wok.
Why are wooden handles best for a carbon steel wok?
Woks with wooden handles make cooking easier and safer. Wood has a low conductivity rate and stays relatively cool despite its exposure to heat.
Can you cook eggs in a carbon steel wok?
Yes, you can cook eggs in a carbon steel wok because the cookware is virtually nonstick.