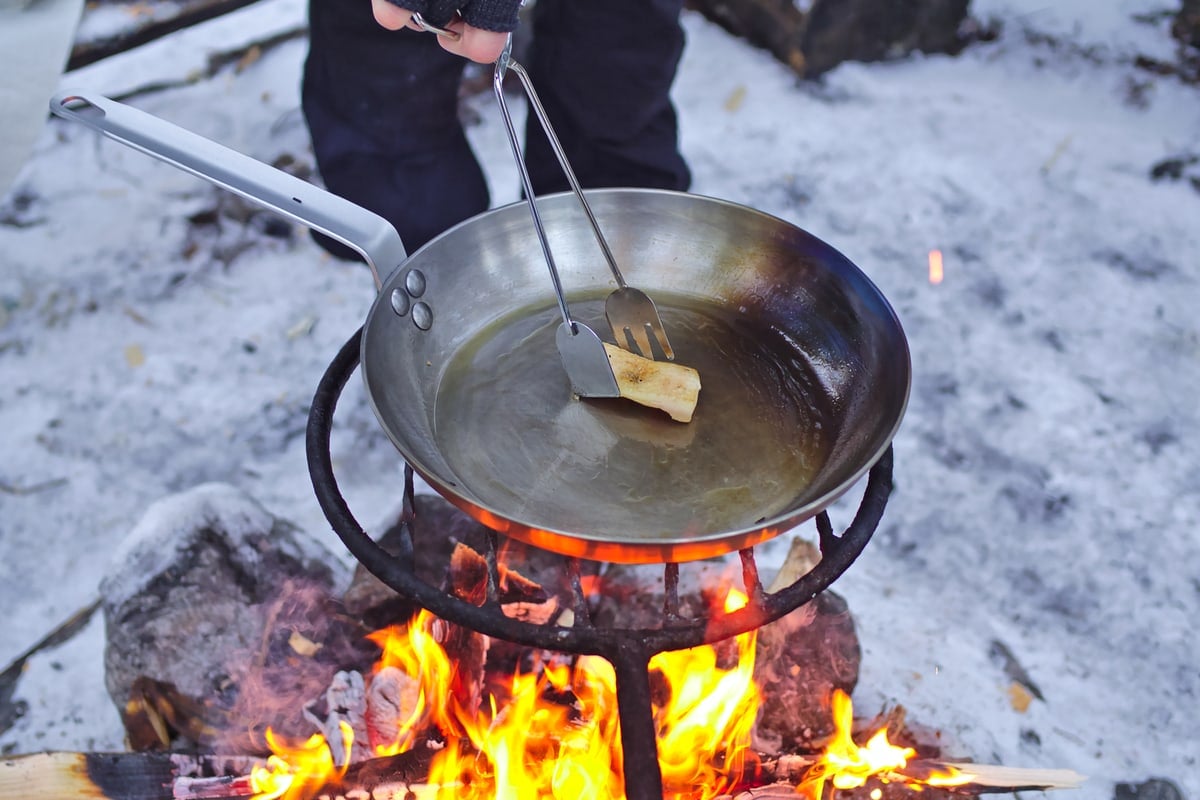 There are plenty of reasons to love carbon steel cookware—it's lightweight, durable, responsive to heat, and versatile. It's no wonder it's the material best loved by professional chefs.
However, if you're thinking about trying out a carbon steel pan or wok for yourself, step one is understanding how to season it properly.
Luckily, the process is simple, straightforward, and will ensure that your pan brings you years of reliable use. Learn more about how to season a carbon steel pan below, along with information on the benefits of seasoning and long-term maintenance.
Table of Contents
Why is Seasoning a Carbon Steel Pan Important?
Seasoning your carbon steel pan or wok is crucial to ensure the long-term health of your cookware. Because carbon steel can rust, it requires a protective coating to keep looking new. Failing to season carbon steel can lead to rust in as little as a few days, which may lead to irreparable damage.
In addition, seasoning also creates a smooth finish which is ideal for cooking. A well-seasoned pan releases food easily, and can even compete with stainless steel or nonstick pans.
Seasoning a New Carbon Steel Pan
To season a carbon steel pan or wok is a simple process that can be completed in about half an hour. All you need is a kitchen towel and some cooking oil with a high smoke point, like grapeseed or canola.
Wash Thoroughly
Start by washing your pan thoroughly. Most new carbon steel pans are covered with a coating designed to prevent rust. This coating can differ between manufacturers, so it's best to follow the packaged directions when removing it.
When in doubt, hot water and a kitchen sponge should be all you need. Be sure to scrub all surfaces of the pan to fully remove the coating.
Dry Completely
Now that the protective coating has been removed, it's important to dry the pan thoroughly right away. Failing to do so can quickly lead to rust, which can cause long-term damage to your pan.
Simply run a dry kitchen towel over the surface of the pan to pick up heavy moisture. Then, set it on the stove over high heat for several minutes until all the excess water has completely evaporated.
Heat
Before you begin seasoning your carbon steel pan, it's important that it is at a very high heat so the oil goes on thinly. If it's already drying over a burner from the previous step, all you need to do is crank the heat up to high and wait for another minute.
There are also seasoning methods that use a preheated oven. But, while the stovetop method can be used for all new pans, not all pans are oven safe.
Apply the Oil Thinly
Now grab a fresh kitchen towel or paper towel and lightly grease it with your oil. It's important not to apply too much, as this will leave a sticky residue on your pan that needs to be washed off. In general, try to apply the oil as thinly as possible, since you can always put on more coats later.
As mentioned above, you want to use an oil with a high smoke point to avoid breaking down the oil as it heats. Avoid olive oil, flaxseed oil, and especially lard or shortening. In addition to grapeseed and canola oil, common vegetable oil works just fine.
Once your towel is lightly coated in oil, rub it over every surface of the hot pan, including the bottom and handle. Once this is done, use another dry towel to immediately wipe off any excess oil until any visible trace is gone.
Apply Heat Evenly
Leave your pan over the heat and soon it should begin to smoke. At this stage, it may be a good idea to turn on the fan over your stove or open the windows.
What you're looking for now is for the pan to gradually change to a deep brown patina. This can take several minutes, as the heat causes the oil on the pan to form a polymer. If you want to help the process along, try moving the pan over the surface of the burner for more even heat.
You will know the process is complete when the pan stops smoking and the pan is free of any liquid oil.
Repeat
Repeat the last two steps again, applying another coat of oil and waiting for it to thoroughly polymerize after each one. Three coats should be a good goal for a new pan, or until the entire surface has an even, deep brown color.
Test Your Pan's Surface
Once you have built up enough thin layers of oil, it's time to put your pan's surface to the test. One tried and true method is the egg test.
Setting the pan to medium heat, drizzle 2 tablespoons of oil into it, swish it around, and crack an egg onto the hot surface. Cook the egg as normal, until the bottom is fully brown and crisp. Then, try to slide the egg out of the pan and onto a plate.
A well-seasoned pan should allow you to easily remove the egg with a gentle nudge from a spatula. If no bits of white or yolk are left behind, you know you completed the process successfully.
Long-Term Maintenance
After your pan is seasoned for the first time, the polymerized oil should protect it completely from rust. Best of all, as you continue to use the pan, additional layers of oil will build on the surface, providing even more protection. Soon, your pan will have a black, glossy finish.
Seasoned cast iron pans and woks don't require much maintenance, however, there are some important tips to keep in mind:
Reseason when needed. If you spot any chipping or other damage to your pan, be sure to reseason again immediately. Failing to do so can lead to rust.
Avoid using any strong chemical cleaners or abrasive sponges when cleaning. These can erode your oil coating over time or scratch the surface. Usually, a soft sponge and warm water is enough to clean it.
By the same token, avoid cooking highly acidic dishes like tomato sauce, or excessive quantities of vinegar. These can also damage the surface of your pan over time.
Don't let water sit in your pan if you're not heating it. This may lead to rust.
Frequently Asked Questions
Below are some of the most frequently asked questions about seasoning carbon steel cookware.
Why is my pan sticky after seasoning, and what should I do?
Sometimes after seasoning your pan you'll find a sticky residue left on the surface. This is the result of applying too much oil to the hot pan.

To remove it, you'll need to redo the seasoning process. Wash the residue off completely, dry the pam, and then reapply the oil in light, even coats.
Should I season both sides of my pan?
It's important to season all surfaces of your carbon steel pan unless you have a handle made of wood or another material. The reason is that seasoning is the pan's only defense against rust, and any exposed surface can erode in a matter of days.
What is the best oil to season my pan with?
When seasoning your pan, use an oil with a high smoke point, so that it can stand up to the heat of your stove. Grapeseed, canola oil, and vegetable oil all work well.
What do I do if my seasoned pan rusts?
Rust on a carbon steel pan is a serious issue, but luckily it doesn't necessarily mean it's time to toss it. Light rust can be scraped off using steel wool, cleaned thoroughly, then reseasoned. Just be sure to remove every trace of rust, or it will continue to spread.

Keep in mind that excessive rust can undermine the durability of your cooking surface. If you have left your pan to rust for more than a few weeks, or the rust is too heavy to be scraped off, you will have to dispose of the pan.
How Often Should I Reseason My Pan?
After seasoning your pan, the protective coating can last for months or even years without needing to be reseasoned. However, wear and tear can sometimes leave their mark on the surface of your cookware, potentially leading to rust. If you're concerned about this, re-seasoning your pan every two to three months can be a good idea.