When it comes to cooking, the products you use make a world of difference. Not only do you need to make sure that you use the right type of cookware, but you also need to use the best materials.
Cast iron is an excellent option that comes in a wide variety of shapes and sizes. Because of its durability and versatility, many chefs swear by cast iron and use it all the time. However, because this metal requires more care and attention, some amateur cooks can feel hesitant about using it.
So, we wanted to look at what to cook in cast iron and how to use this material effectively. Here's everything you need to know.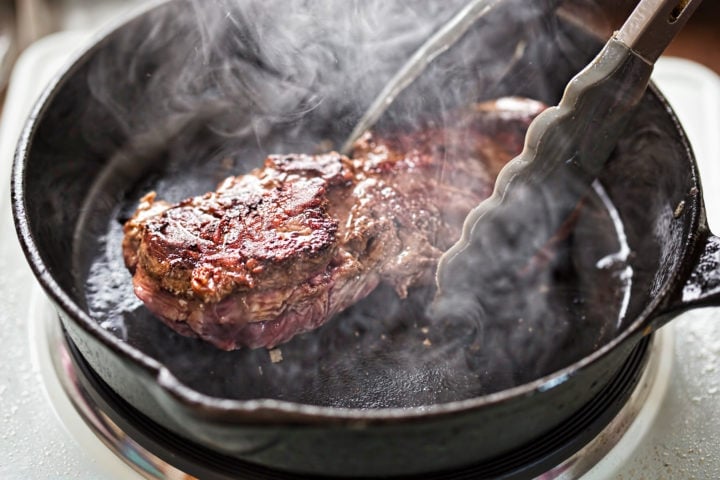 Table of Contents
What is Cast Iron Cookware?
This material dates back to the sixth century in China. Iron has long been used for various purposes, including cooking and tool-making. There are a few varieties of iron, and cast iron gets its name from how its made. Iron ore is melted in a blast furnace, then poured into a cast to harden into a specific shape.
This production process leaves surface impurities in the metal, which is why bare cast iron skillets and pans have tiny bubbles in them. These impurities work well for cooking because they can absorb oil to create a nonstick pan. While other frying pans and skillets may be non-stick, cast iron is naturally better at it. That said, you can also get enameled cast iron, which is an even better option for non stick cookware.
That said, as we'll discuss later, you do have to put some extra care and attention into your cast iron cookware. Unlike stainless or carbon steel, you can't just wash your iron skillet and be done with it.
Pros and Cons of Cast Iron Cookware
Although many chefs swear by cast iron, this material is not 100% perfect. So let's dive into the advantages and disadvantages you can expect from cast iron pans.
Pro: Natural Non-Stick Pan
As long as you take care of your cast iron skillet, you shouldn't need to use non-stick coatings like vegetable oil sprays. As we mentioned, the cooking surface absorbs oil automatically, which helps prevent food from sticking.
Con: Cast Iron Needs Seasoning
If you've ever heard of seasoning your cast iron pot or pan, the term means baking cooking or canola oil into the metal to ensure a non-stick surface. You can season your pans yourself, or you can take them to a professional. Once you've seasoned your pans, it's much easier to reseason them later on.
Pro: Long-Lasting Material
Technically speaking, cast iron is more brittle than stainless steel or copper. However, that only matters if you accidentally drop your cast iron pan or skillet on the ground. Even if you do, chances are that it won't break in half. Instead, cast iron cookware can easily last decades. Some families have passed down their cast iron grill pan through multiple generations without losing any cooking abilities.
Con: Cast Iron Takes a While to Heat
One of the issues with cast iron skillet cooking is that the pan won't heat up as fast as carbon or stainless steel. If you're in a rush, cast iron can be a bit too cumbersome. However, as we'll discuss later, this material is excellent for low and steady cooking. For example, a cast iron dutch oven can sit over hot coals for hours and make a perfect cobbler dessert. Overall, this issue is primarily a problem for a frying pan or grill pans.
Pro: Naturally Boosts Your Iron Intake
Iron is a necessary element in your body. If you don't get enough iron, you can experience various health problems like anemia. Since cast iron is so porous, it will naturally leach into your food. While most people in modern society don't have to worry much about iron deficiencies, it's nice to know that your cast iron skillet has your back.
Con: Heavy and Unwieldy
If you're not used to cooking with cast iron, you may be surprised by the weight of each piece. Compared to carbon steel or other metals, cast iron is much denser and heavier. This density can work in your favor when making some dishes, but it can also make the pan harder to use.
What to Cook in Cast Iron?
Now that you know the pros and cons of cast iron cookware, let's look at some cast iron skillet recipes. However, rather than providing full recipes, we'll outline the best things to cook in cast iron based on ingredients. Whether you're an old pro at using cast iron or you're brand-new to the material, these recipes are sure to bring out your inner gourmet chef.
Meats
When practicing cast iron cooking, you'll want to take advantage of the metal's non-stick capabilities. Since meat can often cling to other metals, you can get more mileage from a cast-iron skillet. The best meats to cook in one of these pans include:
Steak - Most people make the mis-steak of turning their meat too quickly. If you do that, you'll wind up with charred bits stuck to the bottom of the pan. Instead, using a cast-iron skillet means that you can let your steak simmer for a while before flipping it. Plus, since cast iron doesn't get as scalding as other metals, you can easily work with thick-cut steaks.
Bacon - Since oil helps make a non-stick skillet, you can upgrade your pan's seasoning by cooking naturally fatty and oily foods. Bacon is pretty hard to beat, considering that you'll wind up with lots of leftover grease. In fact, if you notice that your pan is starting to lose its non-stick abilities, cooking a batch of bacon should help it get back to normal.
Whole Roasted Chicken - Another advantage of cast iron is that you can place your pan or skillet directly into the oven. Again, the density of the metal is what makes it work so well. Ideally, you'll have a cast-iron lid for your pan, but if not, aluminum foil should do nicely.
Fried Chicken - Although it can take a while for the oil to heat up to the right temperature, cast iron will hold that temp for longer than other metals. So, you can make a big batch of fried chicken without burning your vegetable or olive oil.
Chicken Casserole - Since you can place your pan into the oven, you can toss all of your ingredients in there first. One-pan meals like a chicken casserole work well in cast iron since you don't have to spend so much time stirring and monitoring your dish.
Fried Egg - An egg isn't technically meat, but we'll include it here anyway. Cast iron pans work wonderfully for eggs because you don't have to rush to flip them. Instead, they can cook entirely on one side without burning up.
Vegetables
Meats aren't the only thing that can benefit from even heat during the cooking process. Roasted vegetables work beautifully in a cast iron pan or skillet. Some examples include:
Brussels Sprouts - There's nothing better than getting a nice char on the edges of your Brussels sprouts. Best of all, you can leave the sprouts in the pan without burning them to a crisp.
Potatoes - Pretty much all potatoes work well in a cast iron pot or frying pan. Roasted potatoes, hash browns, sweet potatoes, fries, mashed potatoes - cast iron can handle them all.
Okra and Tomatoes - Most people think that tomatoes and other acidic ingredients will ruin cast iron. As we'll discuss later, this is a myth that shouldn't affect how you cook your next dish. Yes, excessive acidity will cause your pan's seasoning to wear off faster, but you can alleviate that problem by whipping up another batch of bacon.
Asparagus - Pretty much any hearty vegetable that can cook for a while (i.e., broccoli or spinach) will roast well in cast iron. Asparagus is always tasty with butter, too, meaning that you can season your pan and make a delicious and (somewhat) healthy dish.
Baked Goods
Once again, cast iron's natural non-stick abilities come to the rescue. You shouldn't need to place anything beneath your ingredients to prevent them from sticking to the bottom of the pan. Some delicious baked treats you can make in a pan or dutch oven include:
Cobbler - Letting your cobbler simmer for a couple of hours ensures that your fruit melts in your mouth afterward.
Cornbread - You can get some pretty crumbly and flaky cornbread by cooking it in a cast-iron skillet or pan.
Dutch Baby - This skillet dessert is easy to make and works perfectly in a dutch oven. However, you can also use a deep frying pan to get the same results.
Chicken Pot Pie - Who says that your baked goods have to be sweet? Pot pies are a savory treat that can be cooked in cast iron with minimal effort. That said, you'll need a smaller pan to make this dish unless you're stretching the definition of a "pot pie."
Cookie Cake - Instead of ordering one of these desserts from a pizzeria or chain restaurant, you can make it yourself. The process is actually much easier than you might imagine. Simply pour your cookie dough into the pan and bake it as you would normally.
Tips and Tricks for Getting the Most From Your Cast Iron
If you're new to this material, you're probably worried that you might ruin your pot or pan. In most cases, you're likely overthinking and coming up with problems that aren't real. Here are some top tips for making cast ironwork better for your needs.
Don't Shy Away From Cooking Oil and Fat
As we mentioned, seasoning a cast iron pan means baking oil into its surface. If you want to avoid reseasoning every year, you can simply cook high-fat foods. Doing this will automatically allow most of the grease to seep into the metal, ensuring that it stays non-stick forever with minimal maintenance.
Wear Hand Protection
One issue with cast iron cooking is that the handle can get hot since it doesn't have a protective covering. We recommend wearing an oven glove or wrapping the handle with a damp paper towel. Otherwise, you might get burned by accident.
Don't Worry About Soap
One warning you may have heard about cast iron is that soap is forbidden when cleaning. The issue is that the soap can soak into the surface and then leach back into your food later on. While this idea is a bit of a myth, soap will erode the oil that has been absorbed into the pan. Fortunately, this tip ensures that you don't have to spend hours scrubbing your cast iron skillet to get it clean. Just scrape off any big bits, and you'll be fine.
Make Sure to Dry Your Pans
Cast iron can rust pretty easily if it gets damp. Once you're finished washing your pan, leave it on the stovetop for a few minutes with low heat. Doing this will help any excess water evaporate, leaving a clean and dry lodge pan.
FAQs About Cooking With Cast Iron
There is a lot of information about cast iron cookware, but not all of it is truthful. Here are some answers to frequently asked questions about this material.
Does cast iron take longer to clean?
Since you're not "supposed" to use soap, you may think that it's impossible to get cast iron pots clean. However, remember the non-stick surface. In most cases, you can simply scrape off any leftover bits, then wipe the whole thing down with a scrub sponge. As long as you're not using steel wool (since it will remove the seasoning), cleanup is a breeze.
Will acidic foods ruin cast iron cookware?
The answer depends on what you're cooking. If you're tossing some tomatoes or lemon juice into the pan, don't worry about it too much. The problem is when you're simmering acidic foods for long periods. So, you'll want to skip the tomato sauce in a cast iron pan. Otherwise, the acidity of your food shouldn't matter.
If my cast iron rusts do I have to toss it?
No, you don't. Rust can be removed pretty easily from cast iron. Simply scrub off any noticeable spots, then rinse the metal to wash off any lingering dust. You'll want to reseason your pan or skillet afterward to ensure that it will get back to its non-stick status.
Bottom Line: Understanding Cast Iron Can Help You Become a Better Cook
Overall, don't overthink what to cook in cast iron. That said, you might want to practice various dishes so that you can learn the nuances of the material. For example, there will be hot spots at first, but eventually, the metal will get hot and stay hot for a while. Once you master the minor learning curve, you'll be able to cook anything in cast iron (as long as it doesn't have too much lemon juice or tomato sauce).