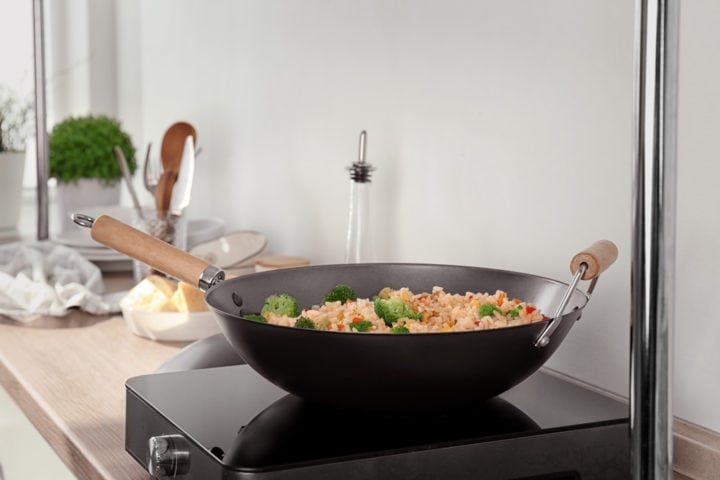 While electric stoves aren't traditionally used for wok cooking, the fact is that they're a perfect match. Just like gas stoves, electric cooktops can produce the heat needed to achieve that classic stir-fry flavor. All it takes is the right wok.
However, not all woks are suited to electric stoves, and finding the right one means knowing what to look for. Shape, material, style, weight, and level of maintenance are all top factors when choosing the perfect wok for your electric stove.
To help simplify your search, we rounded up twelve of the best woks available. All of them are compatible with electric stoves and offer plenty of surprising features that will make cooking easy and fun.
Table of Contents
Best Overall: HexClad Hybrid Stainless Steel Wok
HexClad Hybrid Stainless Steel Wok
This unique wok took our top spot because of its one-of-a-kind, laser-etched design.
Pros: Nonstick surface, works with electric and induction, scratch-resistant
Cons: A bit heavy, may lose non-stick coating over time
The ideal wok for an electric stove should have the durability of stainless steel, with the non-stick coating of carbon steel. While most have to satisfy for one or the other, the HexClad Hybrid Stainless Steel Wok successfully manages both. Equipped with its patented HexClad technology, it takes wok cooking to a whole new level.
The signature hex pattern is laser-etched onto the cooking surface for a distinctive look. However, it's more than just for show.
The unique design was specially crafted to allow wok chefs to get a deep, flavorful sear while staying non-stick. This makes it possible to maximize flavor while minimizing oil use, making for delicious and healthy meals. It also heats evenly and retains heat, for easy cooking every time.
Unlike many non-stick wok pans, this HexClad wok is resistant to scratching. That means you can use any cooking utensils you like, even metal ones. In fact, HexClad offers a lifetime warranty to show how confident they are in their product.
The only downside of this pan to be aware of is that it's on the heavy side, at just over 5 lbs. While this won't stop you from using it, it might be a bit more unwieldy when full of food.
Best Carbon Steel: Yosukata Blue Carbon Steel Wok
Yosukata Blue Carbon Steel Wok
We love this carbon steel wok because it comes pre-seasoned and ready to go.
Pros: Comes pre-seasoned, naturally non-stick, welded handle
Cons: Handle is a bit short, requires some maintenance, seasoning may chip off
There's a reason professional wok chefs use carbon steel. It's durable, lightweight, and has a naturally nonstick coating when properly seasoned. This Yosukata Blue Carbon Steel Wok comes pre-seasoned, saving you time and effort while offering all the benefits.
This wok is made of quality materials, including 15-gauge carbon steel for durability. The hand-hammered bowl of the wok is hand-hammered, a testament to its quality craftsmanship. The wood handle is comfortable and durable while protecting your hand from high heat.
While everything about this wok attests to a traditional design, its flat-bottom shape makes it compatible with electric stoves. Unlike many flat-bottomed wok pans, it has no sharp angle where food can get caught. Instead, its cooking surface has a gentle slope, which makes flipping and turning food easy.
Of course, choosing carbon steel always comes with some maintenance, and this wok is no exception. Even though it comes pre-seasoned, this seasoning should still be maintained to keep it protected from rust.
However, with the right care, it will prove to be a versatile piece of cookware and well-suited to stir fry in particular.
Best Stainless Steel: Cook's Standard Stainless Steel Wok
For those who prize durability and low-maintenance design, stainless steel is the clear pick. The Cook's Standard Stainless Steel Wok comes with all the benefits you'd expect from a stainless steel wok. However, it also has a few hidden perks that make it worth a close look.
Stainless steel cookware has the advantage of being resistant to scrapes and scratches. This makes it a good choice for wok cooking, which requires plenty of spatula work. The 18/10 stainless steel cooking surface will stand up to intense cooking for years.
What you might notice first is the pan's aluminum core. This helps reduce the weight of the pan while also distributing heat more evenly across its surface. Of course, even with the aluminum core, stainless steel tends to be a bit on the heavy side, so keep this in mind.
If you're thinking of steaming food in your wok, this could be a good option to consider. The domed lid makes it easy to cover your pan, even when completely full. It's also made of solid stainless steel.
While the handle may get hot during high-heat cooking, this is actually less of a problem than you may think. The stay-cool handle is designed to allow for maximum air circulation, keeping it cool.
Best Nonstick: TeChef 12" Art Pan
TeChef 12" Art Pan
This made our pick for the best nonstick wok because it's PFOA-free and always safe to cook with.
Pros: Nonstick surface is easy to clean, PFOA-free, high walls
Cons: Nonstick coating degrades over time, heavier than other options
While nonstick wok pans may be a newer innovation, there are plenty of reasons to consider getting one of your own. The TeChef 12" Art Pan is a good choice for anyone who wants to give them a try. With a smart design and quality construction, it is well worth the price.
The distinguishing factor that separates this pan from other non stick wok pans is that it is PFOA-free. That means you don't have to worry about harming the environment or your body in case the coating starts to peel off. It has a total of six coatings to ensure durability and resistance to scratching.
The pan itself is forged from extra-heavy aluminum, which provides a good balance of durability and ease of use. The quality construction ensures that the handle and all other components stay securely attached.
Of course, it's important to remember that nonstick wok pans are not designed for high-heat cooking. That means it's probably not the best option for stir fry. Though if you're looking for a low-maintenance option for other wok dishes, it can be a good bet.
Best Cast Iron: Wangyuanji Cast Iron Wok
SAVE 20%
Wangyuanji Cast Iron Wok
This Cantonese-style wok was our top pick because of its traditional design and quality craftsmanship.
Pros: Double handle design, holds and evenly distributes heat well
Cons: Handles are short, on the expensive side
Many wok cooks aren't aware that cast iron is actually the most traditional wok material. The Wangyuanji Cast Iron Wok is a great example of a time-tested design made with quality materials.
This two-handle design is what's known as a Cantonese-style wok. While it isn't as easy to toss and flip like a long-handled wok, it is well suited to handling build and steamed dishes. The twine-wrapped handles help protect against heat while also providing aesthetic appeal.
Like carbon steel, cast iron wok pans are naturally non-stick, letting you cook and clean easily. Over time, the layers of seasoning will build, adding authentic flavors to all the dishes you cook. While it takes some maintenance to maintain this coating, this wok is easy to maintain, requiring only a bit of water after each use.
It's available in three different sizes, letting you choose the option that best fits your family. Since it's compatible with all stoves, you can trust that it's the perfect option for any meal.
Best Aluminum: Oberon Series Aluminum Core Wok
Oberon Series Aluminum Core Wok
The extra durability of this pan made it our favorite aluminum wok.
Pros: Oven safe up to 600 degrees Fahrenheit, high heat conductivity
Cons: Metal handle may get hot, cooking surface has a sharp bend.
An aluminum wok is a great choice for those who love lightweight and low-hassle cookware. The Oberon Series Aluminum Core Wok is both of these and more, with quality construction and a lifetime warranty to back it up.
This is a great wok for browning foods for stir-fry, as well as braising, steaming, and deep-frying. The durable aluminum body excels at conducting heat, meaning it heats up fast and cooks evenly.
Like stainless steel, aluminum wok pans are easily cleaned by hand, as they have a slick surface that resists scratching. This wok is also dishwasher friendly, which can save time after preparing your favorite stir fry dish.
The lid is made of 4mm tempered glass, designed for use on the stovetop or in the oven. It seals securely to trap heat inside and includes a venting hole to prevent pressure from building.
The handle is also made of solid aluminum, meaning you don't have to worry about screws or rivets coming loose. However, this does mean you'll need an oven mitt or kitchen towel when cooking at high heat.
Best Pow-Style: Mammafong Flat Bottom Carbon Steel Wok
SAVE 24%
Mammafong Flat Bottom Wok
Our pick for best pow wok, as it features a classic design made of sturdy and lightweight carbon steel.
Pros: lightweight and easy to maneuver, nonstick after it's properly seasoned, long wood handle
Cons: needs to be seasoned, may rust if not cared for
A pow wok is a perfect choice for those trying to master the art of stir fry, with an elongated handle that's great for tossing and flipping hot food. While there are many good flat-bottom woks available, the Mammafong Flat Bottom Wok is the best.
Like most professional-grade pow woks, this one is made of hand-hammered carbon steel. The benefit of hand-hammered woks is that they help keep food in place while cooking. This can be a major advantage when zoning your food in hot and cold areas of the pan.
The carbon steel cooking surface comes with all the advantages you'd expect from this material. It's naturally non-stick once seasoned, which protects the pan from rust.
However, don't forget that carbon steel also comes with a bit of extra maintenance. If you're not prepared to season this pan before cooking, then it might be better to look elsewhere.
Best Two-Handle: Lodge Pro-Logic Wok
SAVE 44%
Lodge Pro-Logic Wok
We love this two-handle wok for its durable cast-iron construction and great heat retention.
Pros: Comes pre-seasoned, large handles are easy to grip, highly versatile
Cons: Very heavy, need to maintain the seasoning
While two-handle woks aren't as useful for stir-frying, they are actually some of the most versatile cookware you can buy. This Lodge Pro-Logic Wok is useful for searing, sauteing, frying, grilling, boiling, and more.
The large handles are actually part of a traditional, Cantonese-Style wok. This makes the wok easier to lift when full of water or oil, adding an extra layer of safety in the kitchen. The handles are wide and easy to grip, though you will probably need kitchen towels to protect your hands.
If you're worried about seasoning this wok, don't be. It comes completely pre-seasoned and ready to go out of the box. Simply wipe down with a bit of water, set on the stove, and start cooking.
Once you give it a try, you'll see the advantage of cast iron. This wok heats evenly and holds its temperature well. This makes it an ideal choice for putting a thick sear on cuts of meat.
Keep in mind that this wok is quite heavy, at a full 11 lbs! Because of this, it's probably not the ideal choice for stir-frying. However, this extra weight also comes with plenty of durability, meaning you can count on it for years to come.
Best Budget-Friendly: Kenmore Flat-Bottom Carbon Steel Wok
SAVE 25%
Kenmore Flat-Bottom Carbon Steel Wok
The classic carbon steel design of this wok helped it stand out, among other budget-friendly options.
Pros: Very affordable, long wooden handle, PFOA-free
Cons: Not dishwasher-friendly, a bit larger than other options
The cost of a quality wok can range widely, from less than fifty dollars to as much as two hundred. When selecting this Kenmore Flat-Bottom Carbon Steel Wok, we looked for a balance of low cost and quality craftsmanship. It will be a good choice for those just trying wok cooking for the first time.
It's surprising that this wok is so affordable since it's made entirely of 1.8 mm carbon steel. This gives it a professional look and feel, along with good heat retention. The handle is made of riveted acacia wood and is comfortable to grip.
The carbon steel cooking surface also means it's compatible with all stove types. It's a good match for electric stoves, as well as gas or induction. The wide base is designed to sit flush with electric heating elements and will stay stable while in use.
While it's stamped rather than hand-hammered, the overall quality is high, and most who have used it, found it to be reliable and durable. As long as you're prepared to reseason the carbon steel surface when needed, it will last for years.
Best Mini: NordicWare 8.5 Inch Steel Spun Wok
SAVE 17%
NordicWare 8.5-inch Steel Spun Wok
Our favorite thing about this mini wok is the high walls, which let you cook enough for two.
Pros: High walls, long handle, comes in a variety of sizes
Cons: The metal handle can get hot, can only make small portions
Most professional woks are between 12 and 14 inches wide, which is large enough to cook for up to six people. However, those making meals for just one or two may prefer this smaller NordicWare 8.5-inch Steel Spun Wok. It has all the advantages of a full-sized wok, scaled-down for easier use and cleaning.
The high walls are the key feature that helps this wok stand out. They allow you to fit in a bit of extra food while leaving enough room to toss and flip. The walls are a bit more vertical than other woks, which helps contain food as well.
While the cooking surface is scaled-down, the handle is full-sized, offering a bit of extra control. Be careful though – it's made of metal and is liable to get hot, especially with your burner turned too high.
What many don't know is that smaller woks are actually better suited to household stoves. While most burners struggle to heat a full-sized wok to the heat required for a traditional stir fry, they have no trouble with this smaller wok.
Nordic Ware also offers 12-inch and 14-inch wok pans, so you can scale up if you decide you need to.
Best Wide-Bottom: Aneder Carbon Steel Wok
Aneder Carbon Steel Wok
What we love about this wide bottom wok is the textured surface, which enhances your cooking.
Pros: Textured cooking surface, wooden handle to prevent burns, includes a spatula
Cons: A bit smaller than other options, slightly shallow
Woks with a wider bottom offer more stability than other designs, as well as extra cooking space. The Aneder Carbon Steel Wok features a unique design with an extra-wide base, letting you master stir-frying on an electric stove.
The advantage of a wide-bottom wok is that it can serve as a wok/frying pan hybrid. The wide, flat area can sear large cuts of meat much better than a traditional round-bottom wok. At the same time, the steep sides allow for cool spots to heat vegetables and thinner cuts.
What makes this wok stand out is its textured cooking surface. The ripples work much the same way as the dimples on a hand-hammered wok. They prevent food from sliding down the sides and have a nice aesthetic appeal.
While hand-hammered wok pans are not always safe to use with glass-top electric stoves, this one pairs well. The exterior is perfectly smooth, meaning that it won't scratch or dent class cooktops.
The wok comes with a lid and spatula included, giving you everything you need to start cooking. The handle is detachable, which is useful if you want to move your wok from the stovetop to the oven.
Best for Steaming: Kseroo Flat-Bottom Wok
Kseroo Flat Bottom Wok
The best thing about this steamer wok is that it includes all the equipment you need to get started right away.
Pros: Includes metal steaming basket, wood handle, wide base
Cons: Prone to rusting, the lid is not as durable as the wok pan
Sometimes, the best wok is the most versatile one. The Kseroo Flat Bottom Wok is great at more than just stir-frying, with all the equipment you need to get started steaming. A steaming basket or rack, spatula, and glass cover are all included.
Woks are ideal steaming vessels as they can heat a large amount of water and still fit a whole steaming basket. This basket is perfectly sized to fit the wok and will let you fit plenty of vegetables, dumplings, or whatever else needs steaming.
Aside from its steaming features, it's a good wok for stir-frying as well. The textured surface helps grip food to prevent it from slipping. The long wooden handle is specially designed to prevent burns and is easy to handle.
While not dishwasher-safe, this wok is easy to clean by hand. All it takes is a bit of cold water and a coat of oil, and it's ready to store. Just keep in mind that it requires regular seasoning to prevent rust.
Wok for Electric Stoves Buying Guide
It's important to consider all the factors when choosing the right wok for your electric stove. Make sure to take a look at this checklist before making your decision.
Shape
When cooking on an electric stove, you must choose a flat-bottom wok. Round bottom woks, while useful, won't stay stable on your heating elements, possibly causing a hazard in the kitchen. Flat-bottomed woks come in all shapes and sizes, so be sure to choose one with a wide base.
Material
Carbon steel is the material most often used by professional wok chefs, but cast iron and stainless steel are other good choices. Nonstick wok pans can be a good option as well, but make sure they are PFOA-free. Teflon and some other non stick materials can be harmful to your health and the environment.
Style
The two main styles of wok are pow woks and Cantonese woks. Pow wok pans have a long handle, which makes them a good choice for stir-frying. Cantonese woks are usually heavier, made of cast iron, and feature a pair of heavy-duty handles on each side of the wok.
Weight
Woks can range in weight anywhere from 2 lbs to as much as 12 lbs. Generally, lighter is better, as wok cooking often requires quick, repetitive motions. However, heavier woks are usually more durable and retain heat better.
Maintenance
Carbon steel and cast iron pans are helpful but usually can't be put in the dishwasher. If you want a low-maintenance wok, stainless steel, aluminum, or nonstick wok pans may be better options.
Frequently Asked Questions
Before buying your next wok, it can be a good idea to learn a bit more about how they're used. Take a look at these frequently asked questions for more information.
Can I use a round-bottomed wok on an electric stove?
Generally, flat bottomed woks are better suited to electric stoves because they are more stable. However, if you want to use a round bottom wok, all you need is a wok ring. This will help stabilize the wok while allowing it to heat as normal.
What is a wok ring and how do I use it?
Wok rings are small cooking tools that fit over the top of your burner. There are styles available for gas and electric stoves, so be sure to choose the right one. Electric stove wok rings are designed to trap as much heat as possible and direct it up to the wok.

To use a wok ring, simply fit it over your heating element, with the wider side of the ring facing upward. Then, place the wok inside the ring and use it as normal. This will help stabilize the wok and also protect it from damage that may be caused when coming into contact with your stove.
Can I use a cast iron pan on an electric stove?
Cast iron is perfectly compatible with electric stoves. Since they retain heat so well, the natural fluctuations that happen in electric stoves' heating elements can be evened out. However, it is still possible for hot spots to form.

For best results, turn your burner slightly cooler than you would otherwise. This will help prevent hot spots and still get your pan to a high enough temperature for wok cooking.
Are woks safe to use on glass-top electric stoves?
As long as you are using a flat-bottom wok or a round bottom wok with a wok ring, glass-top stoves are safe to use. The only exception to this rule is hand-hammered woks.

These are covered in small divots leftover from the manufacturing process. While useful for cooking, these divots can concentrate the weight of your wok and potentially scratch or crack your stovetop.

Instead, opt for stamped or spun woks, which offer many of the same benefits.