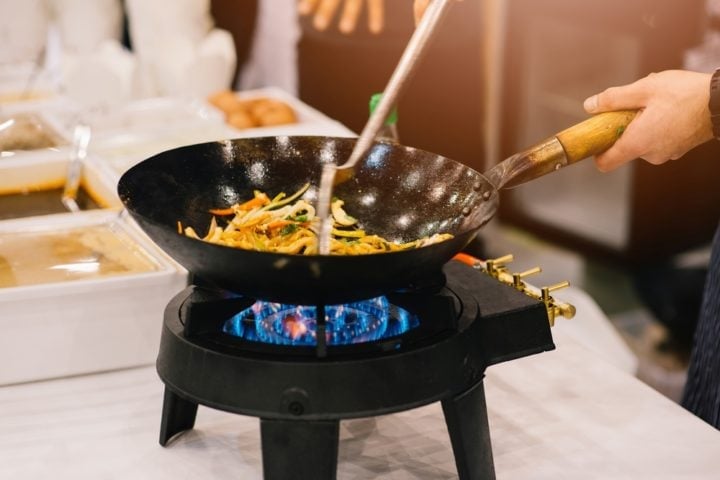 The wok cooking style uses high heat, producing vast clouds of smoke in the process. Although wok cooking is possible inside the house, most home kitchens are not equipped with the proper ventilation and safety mechanisms. One alternative is to renovate your kitchen to accommodate the demands of wok cooking. Clearly, this is an expensive solution. Another answer is to use an outdoor wok burner.
Indeed, this is one of the benefits of an outdoor wok burner. They are an affordable way to try wok cooking, plus they're portable for outdoor cooking when camping or other occasions.
Outdoor burners come in a number of BTU capacities, ranging from 5,000 BTU to 270,000 BTU. Also, the bundling of handy accessories and components is standard practice. And, of course, prices run the gamut, too. So how do you pick? We're here to help with our list of the best outdoor wok burners in the market today.
Table of Contents
Best Overall: GasOne BTU Square Heavy-Duty Single Burner Outdoor Stove Propane Gas Cooker
200,000 BTU Square Heavy-Duty Single Burner
No need to assemble. Just grab and cook! It's a heavy-duty burner with great safety measures.
Pros: Heavy-duty, plug-and-play, easy to use, durable, high heat output burner, efficiency
Cons: Expensive, a bit on the heavy side (but this can be a plus)
GasOne's 200,000 BTU Square Heavy-Duty Single Burner is the smallest and heaviest in our list of the best outdoor wok burners, with a size of 16 x 16 x 12.25 inches and weighing in at 25 pounds. The versatile outdoor stove has many impressive features, and we say the high price is worth it.
For one, we love that it's an easy-grab, plug-and-play outdoor stove. There's no need for assembly, plus it's very intuitive to use. GasOne's outdoor wok burner also comes with a black plate air controller for adjusting airflow and combustion. This means a skilled cook can use it efficiently with minimal wastes.
Also, the high-pressure psi regulator comes with two safety features: a steel braided hose and a brass inlet fitting. The steel braided hose will be superior to a rubber hose in preventing its bursting. While brass is a durable and corrosion-resistant material that can withstand high temperatures.
The GasOne outdoor stove has a single heavy-duty cast iron burner. It, in fact, accounts for a bulk of the cooker's weight. While cast iron has low thermal heat conductivity, it is a high-density material that excels at providing stable heat. And despite its bulky weight, the heavy-duty burner is supported by four sturdy legs that carry up to 300 pounds. Definitely pretty strong for something so small.
And while some people see the GasOne as overkill, we beg to differ. The high BTU is there when you need it, and we found no issues using it with our 12-inch and 14-inch woks.
Overall, this outdoor wok burner is great for wok cooking. The heat concentration is right below the bottom of the wok; it can hold round-bottom woks of different sizes — from 14 inches to 24 inches; the 200,000 BTU is sufficiently powerful for wok dishes and other uses. That's enough power for commercial use.
Runner-Up: GasOne B-5350 270,000 BTU Rugged Propane Burner Cooker With 0-30 PSI Regulator and Steel Braided Hose
B-5350 270,000 BTU Rugged Propane Burner Cooker
It burns hotter than any other burner but is quite effective for cooking outdoors. Easy and safe to use, durable, and durable!
Pros: Heavy-duty, plug-and-play, easy to use, durable, high output burner, efficiency
Cons: Even more expensive, a bit on the heavy side (but this can be a plus)
Another GasOne product makes our list of the best outdoor wok burners. This one's actually an improvement of the 200,000 BTU cooker by the same manufacturer. It is larger, heavier, burns hotter, and is more expensive. But the B-5350 270,000 BTU Rugged Propane Burner Cooker is our runner-up because its output is where we draw the line between "sufficiently powerful" and "overkill." 270,000 is just not necessary for most wok dishes.
But again, this propane wok burner boasts the same impressive features as the 200,000 BTU variant — easy to use, no assembly necessary, and the construction is of safe and durable materials. Hardcore cooks will love having this outdoor wok burner.
Most Compact: Eastman Outdoors Portable Kahuna Burner
SAVE 23%
Eastman Outdoors Portable Kahuna Burner
It's small but quite capable of doing what it has been designed to do: cook your food while you enjoy the great outdoors.
Pros: Compact, detachable and adjustable legs
Cons: Rubber hose, expensive, awkward control valve placement, low wind guard
If you're looking for a portable outdoor wok burner, then the Eastman Outdoors Portable Kahuna Burner is our pick as the best option. And although the small package is perfect as a camp stove for campers, glampers, and hikers, it is also a reliable home cooker.
The Kahuna is robust and productive, capable of producing 65,000 BTU, ideal for wok cooking. It also works well with other types of kitchenware of varying sizes, from 18-inch woks to pots of up to 36 quarts.
As a portable option, its tripod is a critical component. Fortunately, we found the tripod legs easy to put together and take apart. The detachable steel legs can also slip inside a small metal handle for easy storage and transportation. Furthermore, the tripod legs are also adjustable in height, bringing the burner up from 18 inches to 26 inches and making it suitable on uneven ground.
Unfortunately, the rubber hose that comes with the Kahuna is a letdown. Rubber hoses melt under extreme temperatures, so it's certainly not the best choice for a burner. That said, the rubber hose is replaceable, so we recommend getting a compatible steel hose.
We also found the control valve placement a bit awkward. Specifically, the adjustable propane regulator for modulating the flame is closer to the propane tank than the burner. We prefer a propane gas regulator closer to the burner since fine-tuning the heat while cooking becomes more manageable.
And finally, the wind guard doesn't help much. It's just too low to protect your flames from winds. This is a pity because we like using the Kahuna outdoors.
Despite its shortcomings, the Kahuna is still an incredible product. Its compactness is topnotch, and its remarkable portability makes it a worthy addition to any collection.
Best Value Set: King Kooker Portable Propane Outdoor Cooker with Wok
SAVE 32%
King Kooker Portable Propane Outdoor Cooker
This product brings greater value for your money because of the bundled wok and cooking accessories.
Pros: Useful accessories, built-in wok ring, flame protective wind guard, affordable
Cons: Frail, rubber hose, awkward control valve placement
An outdoor wok burner doesn't have to be expensive, and the King Kooker Portable Propane Outdoor Cooker bundle is our choice for people on a budget. The bundle comes with a wooden spatula, a deep-fry thermometer, and an 18-inch steel wok. That is fantastic value for money, considering its functionality and useful add-ons.
Although, it is somewhat frail for an outdoor burner. We recommend bringing in some leg reinforcements just to make sure it doesn't topple.
The King Kooker burner is taller but lighter than the GasOne's. Its dimensions are 18.5 x 8 x 18.5 inches, with a weight of just 15.97 pounds. It also has a built-in wok ring design to hold your cookware — the wok ring is 18 inches in diameter and only works with woks around the same size.
Now, let's talk about the wok that's in the set. We think it's an absolute delight that the outdoor wok burner set comes with a wok. No more faffing around wondering about compatibility. Like traditional woks, seasoning is necessary for optimal use. And from the looks of it, the bonus wok is pretty decent. We expect it to last long with proper maintenance.
As for power, the King Kooker burner has a BTU of 54,000, which is suitable for wok hei. Its burner is made of heavy-duty cast iron, and we think the wind guard sufficiently protects it — tall enough to keep the flame going.
Unfortunately, it's not all beautiful compliments for King Kooker. We've noticed a few quality issues, which in reality isn't too surprising considering the price. The rubber hose, too, isn't ideal. And lastly, the steel structure is frail. Rethink bringing this out in poor weather. Or, at the very least, consider placing a heavy object to support the burner when the wind is puffing.
Still, this is a solid buy that makes our list of top outdoor wok burners.
Best Two-Burner Stove: Camp Chef Explorer Two-Burner Stove — Two 30,000 BTU Cast-Aluminum Burners
SAVE 13%
Camp Chef Explorer's Two-Burner Stove
When you're serious about cooking in the great outdoors, you get a two-burner stove. This twin-burner is also ideal for an outdoor kitchen.
Pros: Two durable burners, appliance-style flame controls, easy to assemble, large cooking surface, detachable and adjustable legs, bonus accessories
Cons: Expensive, less power than some single-burner stoves
A two-burner stove has a lot of benefits, such as having flexibility, a backup, and maybe even improved productivity. Of the many choices in the market, the Camp Chef Explorer's Two-Burner Stove is our favorite. It is the tallest outdoor burner on our list, with a maximum height of 29 inches. It also features a large cooking surface of 14 x 32 inches and similar flame controls to regular indoor stoves. Unsurprisingly though, this easy-assembly outdoor two-burner stove is on the expensive side.
Setting up the Camp Chef outdoor twin burner is easy. You basically just place the windshields — or wind guards — and attach the four legs. That's it. Also, since the legs and wind guards are detachable, this gives you the option of using the stove burner as a standalone. The burner may sit on top of a picnic table, a block in your outdoor kitchen, or any other flat and safe surface.
The removable wind guard design is helpful because it allows you to use larger cookware. They are also reversible, and we prefer setting the Camp Chef branding on the outside just to ensure the stamp doesn't melt.
As for the detachable legs, they are also adjustable by two inches. This allows you to use the burner on uneven surfaces, too.
Like our overall top pick, the two burners are made of heavy-duty cast iron, making the Camp Chef twin burner incredibly heavy at 36 pounds. But in terms of heat, the single burner GasOne B-5350 produces more BTU power than the combined capacity of Camp Chef's dual burner of 60,000 BTU — 30,000 BTU per burner. Still, this amount of heat is sufficient for most uses.
Bonus Accessories
You can buy the Camp Chef Two-Burner Stove solo or with an add-on of your choice. The add-ons are great, though, and we recommend getting one of the four options: a bag, a cover, a frying griddle, and a grill-frying griddle combo.
Bag
The bag is made of weatherproof material and an industrial zipper with various compartments for the components of your outdoor burner. It also has two wrap handles for support, and it fits most models by Camp Chef.
Cover
Covers help keep your wok burners safe. This stove cover comes with bungee cords and hooks to secure your wok burner in inclement weather. It also fits Camp Chef's other stove models.
Frying Griddle
The third accessory choice is a frying griddle that is 14 x 16 inches. It's a quality griddle with a drain and a cup holder for holding grease.
Grill + Frying Griddle Combo
The grill and frying griddle in one option is also of good quality and is the same size as the frying griddle.
And although these features and bonus accessories don't come cheap, we think the Camp Chef two-burner stove is an excellent choice for large families and groups.
Best for Beginners: GasOne Propane or Butane Stove GS-3400P Dual Fuel Portable Camping and Backpacking Gas Stove Burner with Carrying Case
GasOne GS-3400P
This burner is most suitable for beginners because it doesn't need assembly, it's cost-efficient, and it has safety features.
Pros: Lightweight, butane and propane fuel compatible, safety features, plug-and-play, affordable, electronic ignition system
Cons: Low heat power, a poor option for stir fry dishes
The GasOne GS-3400P is the cheapest and lightest on our list. We understand how not everyone wants to fork out a ton for a wok burner or how some people want to test the waters first. We think the GS-3400P is perfect for this niche. It's quite affordable and weighs a measly 3.1 pounds. At only 8,000 BTU, its power capacity is not at par with our other top choices. But at this price, that isn't a surprise either.
We like its compatibility with butane and propane fuel. You also get a propane adapter hose in the set, along with a handy carrying case.
This stove burner is suitable for beginners because its use and mechanics are straightforward, with no assembly necessary. It also has an electronic ignition system, which translates to gas efficiency. But you're free to use a kitchen ignitor if that floats your boat.
The GasOne GS-3400P also boasts two safety features: an automatic gas shut-off system and a cartridge ejection system. Specifically, the burner automatically stops the gas flow. Then it ejects the gas cartridge when it detects an irregular gas flow or pressure. That's one less thing to worry about for beginners and dedicated enthusiasts alike.
All in all, the benefits outweigh its low heat power, and the GS-3400P makes our list. It's excellent for beginners to get their hands dirty. It is portable enough for camping trips, and it's a great backup for emergencies in the kitchen.
Outdoor Wok Burner Buying Guide
Burner capacity is clearly one of the important considerations when buying an outdoor wok burner. But other things like efficiency and compatibility matter, too. More BTU is nice, but it isn't necessarily better. And of course, we also need to consider factors that make the cooking experience more manageable, such as height, compatible components, and the burner's overall design or form factor. Let's go through these contributing factors one by one.
Burner Capacity
Also called burner rating, burner capacity is the maximum BTU a burner can produce while running under satisfactory conditions — stable flame emission and efficient combustion. BTU standards for "British Thermal Unit" and is a unit of measurement for energy. More precisely, it is the amount of energy you need to increase a pound of water's temperature by one degree Fahrenheit. A higher BTU means more power.
For context, home burner capacities are around the range of 3,000 to 12,000 BTU, while an industrial kitchen stove will likely be around the 20,000 BTU range. In contrast, outdoor burners offer a wide range of capacities, with the high end of the spectrum generating as high as 270,000 BTU.
The choice of BTU depends on budget, typical outdoor weather conditions, cooking styles, and types of food. A higher BTU isn't necessarily better because efficiency also matters. Still, it does give you some leeway, all things the same.
Burner Efficiency
As mentioned, a higher BTU isn't necessarily better. For one, it also means more gas consumption. Another is burner efficiency — inefficient burners use more gas at the same output.
Different brands use varying mechanisms and accessories to improve burner efficiency. These include the electronic ignition and an air or gas flow controller. For the most part, our top picks are generally efficient burners. Nevertheless, consider burner efficiency when choosing an outdoor wok burner that is not on this list.
Form Factor
Outdoor wok burners have different designs. Some have tabletops in mind, while others come with legs — fixed or adjustable and detachable. The option that suits you best will depend on your needs.
Sometimes, a tabletop burner is more convenient. Other times, you'll want something that's sturdy and stands on robust legs. So consider your use case before deciding on a form factor.
Wok Compatibility
Outdoor burners are typically not just for one type of cookware. This is both good and bad. On the one hand, it means you can use it with a variety of cookware. On the other hand, that might mean your wok won't fit. So choose your burners accordingly and prepare for workarounds, like removing wind guards or using wok rings or a wok bracket.
Height
Outdoor wok burners are generally shorter than our standard home stoves. Twin-burners usually come in taller heights, but they are also more expensive than single burners. If the burner's height is a concern, consider getting a tabletop burner and place it on an elevated surface like a picnic table.
Accessories and Components
Some brands bundle their burners with useful accessories or components such as bags, covers, utensils, hose regulators, or inlet fittings. Do these add-ons impact your experience? Again, it depends. Sometimes, the right add-on can make a product. So consider what accessories and components are compatible with your wok burner.
FAQ
Are wok burners any good? What are the benefits of an outdoor wok burner?
Wok burners can produce the high heat that's necessary to get those unique and flavorful tastes like wok hei. Wok hei is the distinct smokey taste unique to wok cooking, and high heat is a necessary component to creating wok hei.

Also, most home kitchens have tiny exhaust fans, and high heat can damage them. A workaround is to have your wok dishes outside, so an outdoor wok burner helps.
What kind of burner do you need for a wok?
A wok burner is really just a typical burner — it's a butane or propane burner you can use to heat a wok. When we say wok burners then, we mean burners that provide high heat and, more importantly, can fit a wok.
What type of wok can I use on a burner?
Because a wok burner is typically another burner, you can use the wok material of your choice: stainless steel wok, cast iron wok, carbon steel wok.
How powerful should the wok burner be?
A wok burner should ideally produce at least 30,000 BTU. Of course, this depends on what you intend to cook. We recommend higher BTU wok burners for stir fry dishes.
What features to look for in an outdoor wok burner?
Although a higher BTU is not necessarily better, at the end of the day we still recommend buying a higher BTU wok burner, all things the same. Since not all things are the same, also consider its burning efficiency and if it makes cooking more manageable. Have a look at our buying guide for more details.
What should I cook on a wok burner?
You should cook dishes that require high heat in a short period. Some examples include stir-frying, deep-frying, and smoking.