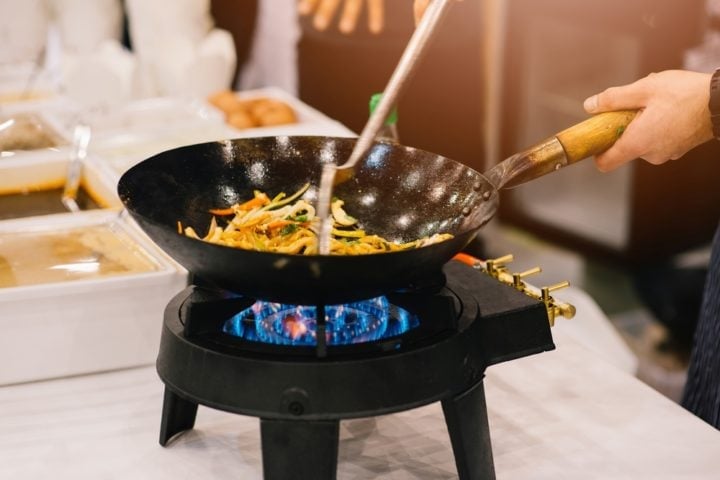 The wok cooking style uses high heat, producing vast clouds of smoke in the process. Although wok cooking is possible inside the house, most home kitchens are not equipped with the proper ventilation and safety mechanisms. One alternative is to renovate your kitchen to accommodate the demands of wok cooking. Clearly, this is an expensive solution. Another answer is to use an outdoor wok burner.
Indeed, this is one of the benefits of an outdoor wok burner. They are an affordable way to try wok cooking, plus they're portable for outdoor cooking when camping or other occasions.
Outdoor burners come in a number of BTU capacities, ranging from 5,000 BTU to 270,000 BTU. Also, the bundling of handy accessories and components is standard practice. And, of course, prices run the gamut, too. So how do you pick? We're here to help with our list of the best outdoor wok burners in the market today.
Table of Contents
Best Overall: GasOne BTU Square Heavy-Duty Single Burner Outdoor Stove Propane Gas Cooker
200,000 BTU Square Heavy-Duty Single Burner
No need to assemble. Just grab and cook! It's a heavy-duty burner with great safety measures.
Pros: Heavy-duty, plug-and-play, easy to use, durable, high heat output burner, efficiency
Cons: Expensive, a bit on the heavy side (but this can be a plus)
GasOne's 200,000 BTU Square Heavy-Duty Single Burner
Another GasOne product makes our list of the best outdoor wok burners. This one's actually an improvement of the 200,000 BTU cooker by the same manufacturer. It is larger, heavier, burns hotter, and is more expensive. But the B-5350 270,000 BTU Rugged Propane Burner Cooker
If you're looking for a portable outdoor wok burner, then the Eastman Outdoors Portable Kahuna Burner
An outdoor wok burner doesn't have to be expensive, and the King Kooker Portable Propane Outdoor Cooker
A two-burner stove has a lot of benefits, such as having flexibility, a backup, and maybe even improved productivity. Of the many choices in the market, the Camp Chef Explorer's Two-Burner Stove
The GasOne GS-3400P is the cheapest and lightest on our list. We understand how not everyone wants to fork out a ton for a wok burner or how some people want to test the waters first. We think the GS-3400P is perfect for this niche. It's quite affordable and weighs a measly 3.1 pounds. At only 8,000 BTU, its power capacity is not at par with our other top choices. But at this price, that isn't a surprise either.
We like its compatibility with butane and propane fuel. You also get a propane adapter hose in the set, along with a handy carrying case.
This stove burner is suitable for beginners because its use and mechanics are straightforward, with no assembly necessary. It also has an electronic ignition system, which translates to gas efficiency. But you're free to use a kitchen ignitor if that floats your boat.
The GasOne GS-3400P also boasts two safety features: an automatic gas shut-off system and a cartridge ejection system. Specifically, the burner automatically stops the gas flow. Then it ejects the gas cartridge when it detects an irregular gas flow or pressure. That's one less thing to worry about for beginners and dedicated enthusiasts alike.
All in all, the benefits outweigh its low heat power, and the GS-3400P makes our list. It's excellent for beginners to get their hands dirty. It is portable enough for camping trips, and it's a great backup for emergencies in the kitchen.
Outdoor Wok Burner Buying Guide
Burner capacity is clearly one of the important considerations when buying an outdoor wok burner. But other things like efficiency and compatibility matter, too. More BTU is nice, but it isn't necessarily better. And of course, we also need to consider factors that make the cooking experience more manageable, such as height, compatible components, and the burner's overall design or form factor. Let's go through these contributing factors one by one.
Burner Capacity
Also called burner rating, burner capacity is the maximum BTU a burner can produce while running under satisfactory conditions — stable flame emission and efficient combustion. BTU standards for "British Thermal Unit" and is a unit of measurement for energy. More precisely, it is the amount of energy you need to increase a pound of water's temperature by one degree Fahrenheit. A higher BTU means more power.
For context, home burner capacities are around the range of 3,000 to 12,000 BTU, while an industrial kitchen stove will likely be around the 20,000 BTU range. In contrast, outdoor burners offer a wide range of capacities, with the high end of the spectrum generating as high as 270,000 BTU.
The choice of BTU depends on budget, typical outdoor weather conditions, cooking styles, and types of food. A higher BTU isn't necessarily better because efficiency also matters. Still, it does give you some leeway, all things the same.
Burner Efficiency
As mentioned, a higher BTU isn't necessarily better. For one, it also means more gas consumption. Another is burner efficiency — inefficient burners use more gas at the same output.
Different brands use varying mechanisms and accessories to improve burner efficiency. These include the electronic ignition and an air or gas flow controller. For the most part, our top picks are generally efficient burners. Nevertheless, consider burner efficiency when choosing an outdoor wok burner that is not on this list.
Form Factor
Outdoor wok burners have different designs. Some have tabletops in mind, while others come with legs — fixed or adjustable and detachable. The option that suits you best will depend on your needs.
Sometimes, a tabletop burner is more convenient. Other times, you'll want something that's sturdy and stands on robust legs. So consider your use case before deciding on a form factor.
Wok Compatibility
Outdoor burners are typically not just for one type of cookware. This is both good and bad. On the one hand, it means you can use it with a variety of cookware. On the other hand, that might mean your wok won't fit. So choose your burners accordingly and prepare for workarounds, like removing wind guards or using wok rings or a wok bracket.
Height
Outdoor wok burners are generally shorter than our standard home stoves. Twin-burners usually come in taller heights, but they are also more expensive than single burners. If the burner's height is a concern, consider getting a tabletop burner and place it on an elevated surface like a picnic table.
Accessories and Components
Some brands bundle their burners with useful accessories or components such as bags, covers, utensils, hose regulators, or inlet fittings. Do these add-ons impact your experience? Again, it depends. Sometimes, the right add-on can make a product. So consider what accessories and components are compatible with your wok burner.
FAQ
Are wok burners any good? What are the benefits of an outdoor wok burner?
Wok burners can produce the high heat that's necessary to get those unique and flavorful tastes like wok hei. Wok hei is the distinct smokey taste unique to wok cooking, and high heat is a necessary component to creating wok hei.

Also, most home kitchens have tiny exhaust fans, and high heat can damage them. A workaround is to have your wok dishes outside, so an outdoor wok burner helps.
What kind of burner do you need for a wok?
A wok burner is really just a typical burner — it's a butane or propane burner you can use to heat a wok. When we say wok burners then, we mean burners that provide high heat and, more importantly, can fit a wok.
What type of wok can I use on a burner?
Because a wok burner is typically another burner, you can use the wok material of your choice: stainless steel wok, cast iron wok, carbon steel wok.
How powerful should the wok burner be?
A wok burner should ideally produce at least 30,000 BTU. Of course, this depends on what you intend to cook. We recommend higher BTU wok burners for stir fry dishes.
What features to look for in an outdoor wok burner?
Although a higher BTU is not necessarily better, at the end of the day we still recommend buying a higher BTU wok burner, all things the same. Since not all things are the same, also consider its burning efficiency and if it makes cooking more manageable. Have a look at our buying guide for more details.
What should I cook on a wok burner?
You should cook dishes that require high heat in a short period. Some examples include stir-frying, deep-frying, and smoking.
Healthy, Easy Meals