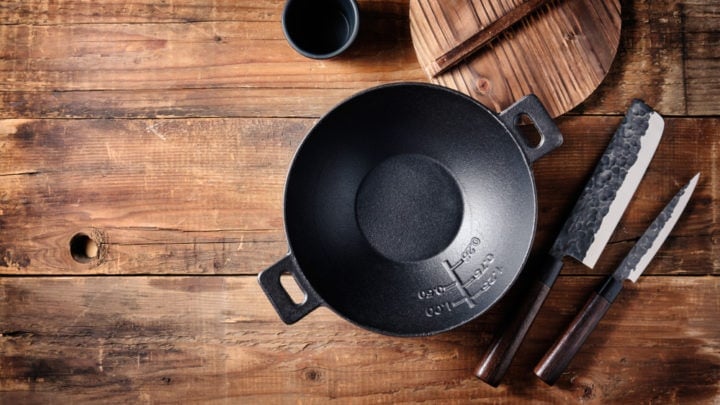 Choosing to cook in a wok is both a methodological and economical choice. Achieving "wok hei," deep-frying, and stir-frying are undoubtedly technical reasons to use a wok. But also, due to its concentrated heat distribution design, a wok is economical because it makes efficient use of your gas, ingredients, and time.
Evidently, regardless of cooking volumes, woks require about the same amount of inputs. So while an average-sized wok of 12-inch to 14-inch typically serves a group of 4 to 6 individuals, preparing dishes for smaller groups means we don't make good use of the wok's capacity. This is where a small wok comes in handy.
The small woks mean you aren't wasting resources when cooking smaller volumes. Today, manufacturers offer woks in smaller sizes, ranging from a 6-inch mini wok to an 11-inch small wok. They also provide these small woks at varying bottoms and material types. Some bundle their woks with neat accessories, too.
We have narrowed down the best small — and mini — wok variants in the market today, with the relevant information you will need to know.
Table of Contents
Best Overall: Cuisinart CCW-800 Pre-Seasoned Grilling, 10" Cast Iron Wok
SAVE 9%
The Cuisinart Pre-Seasoned 10-Inch Cast Iron Wok is our top pick for the best small wok. It works both indoors and outdoors and is compatible with any stovetop. But since the Cuisinart CCW-800 wok is from cast iron, it is also relatively heavier than the alternatives, at 6.34 pounds, and it requires disciplined maintenance to last.
The wok has two small handles on either side. We like that they curve wide enough for our hands to avoid touching the hot cooking surface. The two handles also give you a better grip. Plus, by not having one particularly long handle, the Cuisinart also saves you some storage space.
As a small wok made of cast iron, expect it to last generations with proper seasoning and maintenance. And yes, as with all cast iron cookware, you do need to season it regularly. Have a look at our top pick for cast iron conditioners in 2021.
Unlike a round-bottomed wok, the CCW-800's flat bottom also means you don't need a wok ring to use it on a flat stovetop. And as a magnetic wok, you can use it on an induction cooktop as long as you smoothen out the bottom.
Now, we understand how some people dislike its uneven surface. But for us, it is part of the appeal of using cast iron. There's a badge-of-honor feel with using cast iron over time, kind of like creasing leather that gets better through time.
All in all, the preseasoned cast iron small wok by Cuisinart is an excellent investment for any kitchen. This is a strong buy for us!
Best Cast Iron Mini Wok: Lodge Cast Iron Mini Wok With Loop Handles
SAVE 6%
Cast Iron Mini Wok With Loop Handles
This pre-seasoned cast iron wok works on all stovetops. It's ideal for cooking hearty meals for one or two people.
Pros: Comes in two mini sizes and handles, stovetop-compatible, durable material, nonstick surface
Cons: Relatively heavy, very short handles, tiny bottom, regular seasoning necessary
Lodge offers the Cast Iron Mini Wok With Loop Handles in two sizes: a 6.25-inch and a 9-inch wok. The options come with two small handles on both sides and are compatible with any stovetop. For serving sizes of two, we think this is the absolute perfect size. But other than size, it does have a few minor flaws.
The Lodge Wok With Loop Handles has two strong points going for it. One is that it is made of durable cast iron. And the second is that it is a product of the renowned brand Lodge. Cast iron is a durable material known for its excellent heat retention, and Lodge is a reputable kitchenware maker. Like all things that Lodge offers, the wok is pre-seasoned. Still, we recommend regular seasoning anyway, just so it lasts longer and retains its easy slide nonstick coating.
The Lodge mini wok works with all stovetops, including an induction cooktop and electric stove. That said, you might be wasting a little bit of electricity with a standard electric stovetop. At only about 3 inches in diameter, the wok's base is just too small for full coverage. Its small handles are also unfortunate. With the relatively heavier cast iron, maneuvering the wok can be a struggle. Perhaps the same small handles would be better in an aluminum wok or even a stainless steel wok.
Nevertheless, this oven-safe cast iron mini wok is an excellent choice for small cooking volumes.
Best Small Wok for Beginners: Cooks Standard Flat Bottom With Lid 11-Inch Hard-Anodized Non-Stick Wok Stir Fry Pan, Black
SAVE 23%
Cooks Standard's 11-Inch Hard-Anodized Nonstick Wok Stir Fry Pan
This wok is a great choice for beginners! It has a tempered glass lid with a steam vent and a non-stick body that's safe to use in an oven.
Pros: Made of durable materials, oven- and dishwasher-safe, no seasoning requirement
Cons: Not induction compatible, expensive
Cooks Standard's 11-Inch Hard-Anodized Nonstick Wok Stir Fry Pan is a low-maintenance small wok that is a good investment for starters. While the wok and its components are of good quality, this aluminum wok does not work on an induction hob.
This flat bottomed wok comes with a tempered glass lid and a stainless steel handle. The see-through cover is very handy as it allows you to check the food without lifting the wok lid. It also comes with a steam vent, which is a useful feature to have — not all separately sold wok lids have it. The Cooks Standard wok and its cover are also oven-safe. Keep in mind, though, that the small wok and the glass lid have different heat capacities. Specifically, that's 500 degrees Fahrenheit for the wok and 350 degrees Fahrenheit for the lid.
Furthermore, the wok's handle is made of quality stainless steel. Stainless steel has low thermal conductivity, which means it does not get hot quickly. The handle's design deliberately lets air flow freely, keeping it cool even longer. Nonetheless, we recommend using potholders to get the wok out of the oven.
The wok's body is made of rugged anodized aluminum that is 5.2 millimeters thick. However, aluminum is not magnetic. This means the hard-anodized nonstick wok by Cooks Standard will not work on an induction hob that uses magnetic fields to function.
Despite that drawback and its price, this six-pound small wok makes wok cooking manageable for experts and beginners alike. Aluminum is lightweight, plus it is a good conductor of heat. It does not require seasoning, and it is easy to clean — you can place the wok set in a dishwasher or wash it with soapy water and a sponge. That's right, there's no seasoning necessary, not like your cast iron or carbon steel wok. And that's definitely a huge plus for beginning cooks.
Best Stainless Steel Small Wok: Anolon Triply Clad Stainless Steel Stir Fry Wok Pan, 10.75 Inch, Silver
Anolon Triply Clad Stainless Steel Stir Fry Wok Pan
Clad in three layers of sturdy materials, this small wok distributes heat evenly and is dishwasher-safe and oven-safe.
Pros: Three-ply cookware, sturdy handle, oven- and dishwasher safe, stovetop compatible
Cons: Heavy, no handy helper, expensive
The Anolon Triply Clad Stainless Steel Stir Fry Wok Pan has three layers of durable metals. It also sports a long stainless steel handle with a loop on its end. However, this expensive stainless steel small wok is a bit on the heavy side at 2.7 pounds.
Anolon's cookware combines two layers of stainless steel with one aluminum core. Stainless steel and aluminum are an ideal match for wok cooking mainly because stainless steel is good at distributing heat evenly. In contrast, aluminum is an excellent thermal conductor. But the combination of three layers is also why it is on the heavy end of the spectrum of stainless steel woks.
The handle is also made of stainless steel, remaining cool while cooking. Moreover, the ring at the end of the long handle is a nice touch for hanging in the kitchen. This three-ply wok is dishwasher-safe and oven-safe up to 500 degrees Fahrenheit. It is compatible with all stovetops, including induction coils.
Sad to say, though, that the Anolon Triply Clad lacks a small handy helper to support the wok. And because it weighs relatively heavier than comparable alternatives, we missed the handy helper even more. Balancing and transferring the wok is more challenging than it really has to be.
At any rate, this tri-clad, oven-safe small wok by Anolon is our pick for the best stainless steel small wok in the market today.
Best Value Small Wok: Amazon Basics 11 Wok Pan
It's the small wok you can rely on to do the work without fuss. It's non-corrosive, non-stick, and non-toxic -- plus, it's dishwasher-safe!
Pros: Affordable, dishwasher-safe, silicone-wrapped handle, oven-safe, corrosion-resistant, nonstick material
Cons: Incompatible lids, requires seasoning (optional)
The Amazon Basics 11-Inch Wok Pan is our budget pick for small woks. It has one size, the interior and exterior finishes are quality-made, and it comes with a silicone-coated handle. Unfortunately, we found it hard to find a matching lid for the somewhat awkward 11-inch diameter size.
Amazon's small wok is made of 304 stainless steel. The high nickel and chromium content present in 304 stainless steel makes this austenitic steel resistant to corrosion. Another feature we liked from this reasonably priced wok is the stainless steel handle with a silicone coating. For sure, the handle stays cool despite the heat from your wok.
Additionally, the inside of the wok pan is layered with Whitford Xylan coating. Aside from being corrosion-resistant, this type of coating can also handle extreme temperature ranges, from negative 420 degrees Fahrenheit to 550 degrees Fahrenheit. But for everyone's safety, let's just follow Amazon's product guide that limits the lower range at 350 degrees Fahrenheit.
A double-layer nonstick, PFOA-free film is also added on top of the Whitford Xylan coating. This is a good thing. PFOA stands for "perfluorooctanoic acid," and that is not safe for your health.
As for maintenance, we recommend adding a thin layer of oil before storage, just like with cast iron wok and carbon steel wok. The layer of fat helps keep the protective coating intact. The Amazon Basics small wok is dishwasher-safe, but we prefer a soft sponge for prolonged life.
Sadly, the lack of a compatible lid is a bit of a letdown. We found that even Amazon's endorsed lid doesn't sit nicely on top. But despite the minor flaws, we think this is the best value small wok you can buy.
Small Wok Buying Guide
We think there are at least five essential considerations when choosing a smaller wok. Size, of course, is the first part to think about. Do you intend to cook for a party of four people? Maybe more or less? Next is your choice of material. Some people have an affinity for cast iron, while others hate it. There are those who swear by aluminum, as well as proponents of carbon steel or stainless steel.
Then you will have to consider the wok's shape and concavity. The handle is also an important consideration because of your direct contact with it. And to be sure, you will have to choose a small wok that suits your budget.
Size
Standard-sized woks are around 12 to 14 inches in diameter. But woks can go as small as 6 inches in diameter. With smaller woks, the cooking surface will limit your serving sizes from one to three persons. Consider your expected volume requirements to decide on a size that makes sense to you.
Material
Small, and mini, woks are made of varying materials: cast iron, carbon steel, stainless steel, aluminum, or a combination of these. Now, different materials have unique properties. These include thermal conductivity power, weight, heat retention ability, compression strength, and density. And each attribute offers various benefits and drawbacks.
For instance, although cast iron is heavier than carbon steel, its heat retention is also superior. Indeed, the "perfect" cookware depends on the situation. Your choice, then, boils down to your preferences and cooking needs.
Depth and Concavity of Its Walls and Bottom
Unsurprisingly, small-sized woks have shallow walls. They are also less concave than regular-sized woks. So if you need more room for mixing and tossing ingredients, maybe a "larger" wok works best. This may mean opting for a small wok over a mini wok.
Handle
Woks come with different handles. Manufacturers offer them in varying shapes, materials, and sizes. Some have one-sided wok handles, while others hold double-sided wok handles. Furthermore, woks with two handles are either with two short handles or one long handle with a handy helper on the other side. Handles may also come as bare metal or wrapped with silicone or rubber.
If you don't like working one-handed, then the two-sided woks should be a better choice. Some handles stay cool, while others get hot quickly. We get it. The plethora of options can be confusing. Ultimately, select the one you feel will improve your cooking experience at a budget that fits.
Budget
Under the right circumstances, a small wok can actually save you money in the long run. We don't mind spending a bit if it means long-term savings. Nonetheless, cheaper options are available, too, with some compromises.
FAQ
What size range is a mini wok and a small wok?
We categorize mini woks as woks with diameters somewhere between 6.25 inches to 8 inches. A small wok has a diameter from 8 inches to 11 inches. On the contrary, a regular-sized wok is usually around 12 to 14 inches, although they're technically small, too.
What is the smallest wok size?
The smallest wok size we have found in the market has a diameter of 6.25 inches. But no surprises either if a smaller novelty wok exists.
How much is a small wok?
The price of a small wok may vary, but it won't punch a hole in your wallet.
Is a mini wok or a small wok better than a standard size wok?
We prefer a mini wok, or a small wok, for cooking small servings because it requires less oil. Clearly, a mini wok and a small wok will require lesser time commitments for cleaning and maintenance.
How do you use a small wok?
Other than size, mini and small woks function exactly like their larger counterparts. The handling, seasoning, and maintenance are the same. The more relevant question then is the materials used for the wok. Is it a stainless steel wok, cast iron wok, carbon steel wok, and so on?