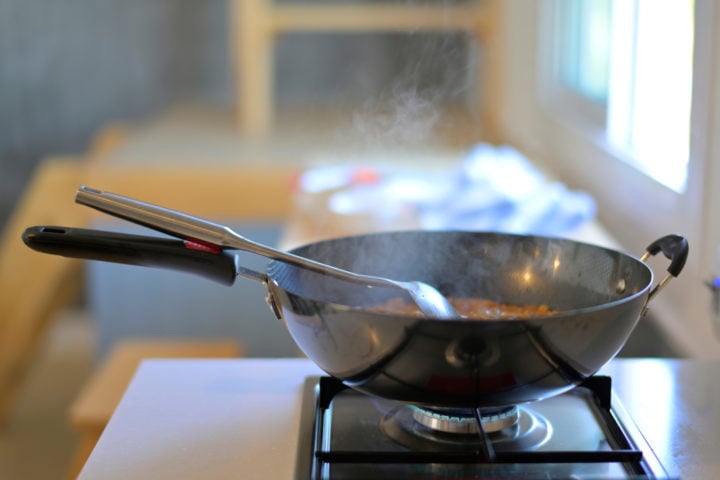 A gas stove is a traditional option for wok cooking, offering high, consistent heat and fine-tuned control over temperatures. So whether you're working on a home range or a beefier commercial grill top, you can expect quality results.
However, the key to perfect stir fry is finding the right wok to pair with your gas stove. That is easier said than done as the number of woks grows day by day. To make the right choice, you need to be able to tell the difference between top-tier cookware and pans that are only mediocre.
These eight best woks for a gas stove were chosen with size, material, shape, and style in mind. Using these criteria, we selected only the best brands and models for home use. Compare our picks side by side, and choose the one that matches your needs best.
Table of Contents
Best Overall: ZhenSanHuan Chinese Hand Hammered Iron Wok
ZhenSanHuan Chinese Hand-Hammered Iron Wok
This unique wok stands out for its traditional, hand-hammered construction for professional results.
Pros: Traditional hand-hammered construction, comes preseasoned, nonstick surface
Cons: Can be susceptible to rust, handle gets hot while cooking
Since gas is one of the most traditional ways to cook with a wok, it makes sense to find a traditionally-made pan to work with. That means a hand-hammered cast iron option is best. The ZhenSanHuan Chinese hand-hammered wok is as traditional as it gets, with plenty of modern features to enjoy.
The hand-hammered construction looks beautiful but also fills a practical function. By creating thousands of small facets on the cooking surface, food is better able to cling to the surface. This allows you to utilize the sides, offering more options when cooking.
When properly seasoned, the cooking surface is completely nonstick, making stir-frying a breeze. It also means you don't need to use as much oil while cooking, resulting in healthier meals. The pan comes preseasoned, saving you a bit of extra effort upfront.
The handle and cooking surface is constructed of a single solid piece of iron. This makes the pan much more durable and does away with bolts or rivets altogether. The result is a more sleek design without any unnecessary hardware.
If your goal is to invest in a high-end pan that will deliver professional results and last for years, you won't be disappointed with this one. However, don't forget that its cast iron construction comes with a bit of extra maintenance. If you're not willing to put in the work, a stainless steel or aluminum pan may be better for you.
Best Carbon Steel: Kenmore Hammond Flat Bottom Carbon Steel Wok
SAVE 25%
Kenmore Hammond 14-Inch Flat Bottom Carbon Steel Wok
We love that this pan is able to deliver quality at such a low cost.
Pros: Low cost, a flat-bottom base for stability without a wok ring, lightweight
Cons: Steel is not as heavy-gauge as some other options, not oven-friendly
There's a reason why carbon steel is the preferred material for professional wok chefs. Durable, lightweight, and naturally nonstick, it offers everything you need for quality results. The Kenmore Hammon flat-bottom carbon-steel wok is a great choice for those just trying this unique cooking material for the first time.
The flat-bottom design of this wok makes it compatible with all cooktops, though it's most at home on gas ranges. The bottom face of the pan reaches the highest temperatures for quick-searing, while the sides stay relatively cool. This allows for traditional stir-fry techniques to maximize flavor.
The wood handle is a great addition, which protections your hands even when you're cooking on high heat. It also has a small helper handle on the opposite side to help when lifting heavy loads. Of course, the addition of these means that you won't be able to use the wok in the oven.
Its 14-inch diameter is a useful medium-large size that is perfect for families. Even though it has a large capacity, it weighs less than six pounds, which means you won't have trouble maneuvering it while cooking.
If you haven't tried carbon steel before and are in the market for a good starter pan, this is the one for you. It's not as high-end as some other options, but it delivers all of the benefits of carbon steel at a fraction of the prices. Once you've gotten used to using it, you can consider investing in a more expensive option down the line.
Best Cast Iron: Lodge Pro-Logic Wok with Flat Base and Loop Handles
SAVE 44%
Since woks are such great multitaskers, you'll find yourself using yours for almost everything. That means you need to find a quality wok that will stand the test of time. The Lodge Pro-Logic wok with flat base and loop handles is highly durable, with a solid cast iron design.
The two-handle design of this wok makes it an excellent choice for heavier soups and stews, letting you get a firm grip when it's time to move. The fact that it can go in the oven also adds versatility. While it may not be the best choice for stir fry because of its weight, it can do just about everything else.
The great thing about cast iron is that it's naturally nonstick, meaning you don't have to worry about PFOAs or other harmful chemicals. As long as you regularly apply new coats of seasoning, this pan will serve you well. It even comes preseasoned, saving you an extra step.
When compared to other woks, this one is a bit shallower and wider which makes it especially handy for braising or roasting. The shape is also perfectly suited to gas stovetops, as it catches any excess heat that rises from your burner.
This wok is a great choice for anyone who wants a reliable kitchen standby that is made to last. While its cast iron design may be a bit bulky, it's a great choice for braising, stewing, and roasting.
Best Stainless Steel: Michelangelo Stainless Steel Wok With Lid
SAVE 5%
Stainless steel may not be a traditional material for wok cooking, though it offers plenty of advantages all its own. It's durable, low hassle, and has an excellent performance by evenly distributing and retaining heat. The Michelangelo stainless steel wok with lid offers all this and more, with a unique design.
The hybrid honeycomb design laser-etched into the cooking surface really helps this pan stand out. In addition to looking great, it also enhances performance by combining the advantages of stainless steel and a nonstick cooking surface. That means you get all the durability and heat retention as well as a slick surface.
The glass lid is another nice bonus, which lets you steam and boil as well as stirfry. It comes with a plastic handle which makes it easier to remove without oven mitts. Just remember to remove the lid before putting the wok in the oven.
Best of all, this wok is durable, so you can enjoy everything it has to offer for years to come. Its cooking surface is scratch-proof, even with metal utensils.
If you already have a bit of experience cooking with a wok and want to try something new, you'll appreciate all this pan has to offer. Just keep in mind that it is a little smaller than other options on this list. If you're cooking for a large family, a large wok may be a better option.
Best Aluminum: Koch Systeme 12" Wok Pan
If what you want is a lightweight and low-maintenance wok pan, aluminum is an option worth considering. Designed to simplify cleaning and save time with cleanup, it's a great choice for those just getting started with wok cooking. The Koch Systeme 12-Inch Wok Pan offers a compact design that's easy for anyone to use.
The cooking surface of this pan is stone-derived, which lends a smooth, nonstick finish. It's a great way to cook healthier meals as it requires less oil than stainless steel pans. With just a tablespoon of fat, you can stir fry a meal for the whole family.
The smaller size makes it easier to clean, though it is also perfectly dishwasher safe. Just remember to keep it out of the oven as the plastic handle can melt under high heat. It's perfect for the stovetop, though, protecting your hands without the need for mitts.
With high sides and a flat bottom, the overall shape of the pan is unique. Since it's a little deeper than other options, you can cook larger batches of food without the risk of spilling.
Try this pan if you're still learning the art of wok cooking and want a simple way to get started. It may not have the heat retention or hand-hammered surface found in other pans, though it's solidly made.
Best Budget: Jim Beam Pre Seasoned Heavy Duty Cast Iron Wok
SAVE 28%
Since it's so fun and easy, more and more people are getting interested in wok cooking every day. If you're just trying it for the first time, a budget wok can be a good way to kickstart your hobby. The Jim Beam pre-seasoned heavy-duty cast iron wok is very affordable and doesn't skimp on quality.
Cast iron is a great option for a gas stove since it retains heat and evenly distributes it across the entire cooking surface. Plus, its extra-wide shape helps catch excess heat that would otherwise be lost. Since this pan has a small ridge on the underside, you don't even need a wok ring to protect it from getting scratched.
It's also a good choice for those who don't have much experience with cast iron. The pan comes preseasoned, so you can use it right out of the box. Because of the naturally nonstick surface, you can get away with using less oil, making for healthier meals.
The double-handle Cantonese style is a great choice for boiling and braising. It's also a good match for cast iron since it gives more stability when lifting.
If you're trying wok cooking for the first time but still want a pan that will last, this is a great option. As long as you make a bit of effort to keep the cast iron in good condition, it will serve you well. However, if you're looking for a more low-maintenance wok, try an aluminum one instead.
Best Cantonese Style: Anolon Advanced Hard-Anodized Nonstick Stir Fry Wok
Cantonese-style woks are actually the traditional variety, set apart by two small handles on either side. While they're good at many different dishes, soups, stews, and braised meats are their specialty. The Anolon Advanced hard-anodized nonstick stir fry wok is an updated design with a few surprising features.
One thing that stands out about this wok is that its handles are nice and wide. It's one of the reasons we chose it, as many other Cantonese-style woks had handles that were too small. As a bonus, they feature a SureGrip coating, which protects against heat and makes them easier to hold.
That glass lid is another nice touch, letting you steam in the wok for added versatility. It has a nice rounded shape so that you can fit taller items inside without worry. The handle has the same SureGrip coating as the ones on the sides.
The cooking surface features a triple layer design, including a variety of materials for heat retention, heat distribution, and nonstick properties. It's not quite as durable as a cast iron pan, though it can stand up to regular use, even with metal utensils.
Give this wok a try if you're looking for something that goes beyond the traditional. It's a well-rounded pan that's good for just about anything you'd like to use it for. However, if stir fry is your main priority, a pow wok could be a better option.
Best Pow Wok: Yosukata Blue Carbon Steel Wok Pan
Yosukata Blue 14-Inch Carbon Steel Round Bottom Pow Wok
This pow wok stands out for its deep and wide design, letting you stir fry large batches at once.
Pros: Deep and wide cooking surface, wood handle for heat protection, comes preseasoned
Cons: Not oven safe, requires regular seasoning
If you plan on doing a lot of stir fry, a pow wok is your best option. With an elongated handle, it's the best way to maneuver your wok over high heat while keeping yourself protected from heat and splatter. The Yosukata Blue carbon steel wok pan is a classic design with a gorgeous finish.
The first thing you'll notice about this wok is the iridescent blue finish on the cooking surface. It looks beautiful but is also highly durable and functional. With a slick coat of seasoning, it's smoother and more nonstick than any Teflon pan.
It's true that you'll have to put a bit of effort into maintaining the surface. However, it comes preseasoned, letting you get used to it before applying your first coat of seasoning. Over time, as you apply additional layers, the pan will add flavor to your dishes.
The wooden handle is another bonus, which protects your hands while cooking, eliminating the need for oven mitts. It's also nice and long, so you can get a firm grip while flipping and tossing your stir fry.
Add this pan to your cookware collection if you're looking for a dedicated stir-frying tool. Just keep in mind that its wood handle prevents you from using it inside the oven. If you want a more versatile wok, go for a Cantonese wok with all-metal handles.
Choosing the Right Wok for a Gas Stove
If you're feeling a bit lost after reading about all the options above, take a moment to learn about all of these criteria. Decide which are the highest priority for you to make your decision easier.
Size
The size of your wok should be decided based on the type of food you plan to cook and the number of people you're cooking for. Generally, stir fry requires a bit of extra space to cook properly.
If you're cooking for a family of four, choose a wok around 14 inches in diameter. If you're just cooking for one or two, 12 inches is a good size and can save storage space.
Material
This list contains woks made of carbon steel, cast iron, stainless steel, and aluminum. Carbon steel and cast iron are the most traditional, as they have excellent heat retention and are naturally nonstick. Stainless steel and aluminum can be good choices if you want to simplify cleaning by using the dishwasher.
Round vs. Flat Bottom
The great thing about cooking on a gas range is that you can use either round or flat bottomed woks. Many prefer round-bottomed woks as they allow food to move more fluidly, though a wok ring is often required to protect the bottom of the wok from scratches. Flat bottom woks are convenient because they don't need a wok ring.
Style
All woks fall into the category of either Cantonese style or pow style. Cantonese woks have two small handles on either side which makes for easy lifting. Pow woks, on the other hand, have a single elongated handle which improves maneuverability for stir-frying.
FAQs
Still have questions about using a wok on a gas stove? See what others are asking and find out what you need to know.
What kind of wok is best for a gas stove?
When cooking with gas, a round bottom wok is often considered the best option. It allows the food to slide fluidly across the cooking surface while directing excess heat up along the sides.

If you're just trying wok cooking for the first time, you should also consider trying a pow wok with an elongated handle. It will be more familiar to wok beginners, as it can be held much like a regular frying pan.
Do I need a wok ring?
Wok rings are sturdy metal circles that are designed to suspend your wok a few inches above your heating element. When cooking on a gas stove, a wok ring is not always necessary. However, you might consider using one anyway to protect the bottom of your pan from getting scratched by the metal grades on your cooktop.
Do I need to season my wok?
If you are cooking using a carbon-steel or cast iron wok, you definitely need to season it before use. Failing to do so can result in rust, which will eventually destroy your pan. Seasoning the wok also provides a nonstick surface, making stir-frying and cleaning even more effortless.

It's also essential to maintain the seasoning of your wok regularly. That means applying an extra two or three coats every few months and checking for any scratches after cooking.