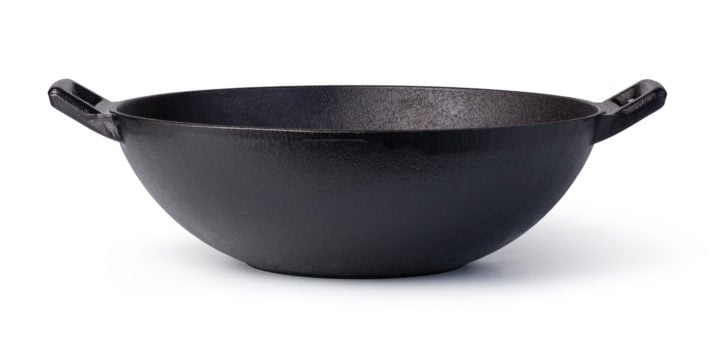 While best known for stir fry, woks may actually be one of the most versatile pieces of cookware around. They let you boil, braise, steam, and even smoke, making them one of the best kitchen multitaskers to have on hand. This goes double for extra-large woks, which offer more room for whatever kitchen projects you have in mind.
To make sure you get the most out of your purchase, it's crucial that you know what exactly to look for in a wok. Factors like size, material, style, and shape should all be carefully considered for optimal performance. Unfortunately, not all home cooks are familiar enough with wok cooking to make an informed decision.
That's why we've rounded up the five best large wok pans for you to choose from. After considering all the essential criteria, this list can help narrow down your selection to take the hassle out of shopping. Take a look at all the options for yourself to find out which is the right choice for your kitchen.
Table of Contents
Best Overall: HexClad 14 Inch Hybrid Stainless Steel Wok
A large Chinese wok should offer a good balance of performance, ease of use, and a low-hassle design. The HexClad 14 Inch Hybrid stainless steel wok is a quality option that delivers a balance of all three. With a patented hex design, it's both highly durable and perfectly nonstick.
The first thing you'll notice about this wok is the cooking surface, which features HexClad's patented hex design. This is for more than just looks, as the laser-etched surface is specially designed to offer the durability of stainless steel and the nonstick properties of carbon steel. Together, they make for a truly unique cooking experience that is ideal for wok cooking.
The Cantonese-style design includes two short handles on either side. This makes the wok especially useful when cooking large quantities of food, especially soups and stews. Of course, it does mean that hand protection is needed when handling the wok.
The entire wok is dishwasher safe and perfectly compatible with all kinds of cooking utensils, even stainless steel. This is crucial for a high-end wok, as maintaining the slick surface is necessary for making perfect stir fry.
This large non stick wok is a great option for just about anyone who is willing to pay a bit extra. While it is a bit more pricey than other woks, the quality construction and original design make it well worth it. You can tell HexClad is confident in their product, as they offer a lifetime warranty.
Best Large Cast Iron Wok: Amazon Basics S015 Pre-Seasoned Cast Iron Wok
Cast iron is the oldest and most traditional material choice for a large Chinese wok and offers a number of unique benefits. It's durable, naturally nonstick, and great at retaining heat. The Amazon Basics S015 pre-seasoned cast iron wok carries the tradition forward with its own extra-wide design.
Before investing in cast iron cookware, it's important to understand that they require a bit of extra maintenance. They need to be washed carefully by hand and require regular seasoning to maintain their nonstick coating. Luckily, this wok comes pre-seasoned, which makes it a great choice for cast iron novices.
As you use this pan, it will gradually accumulate layers of seasoning with each meal. This not only protects the pan from rust but also builds a natural nonstick coating. This is ideal for stir-fry dishes, fried eggs, and a range of other common wok favorites.
The entire wok is composed of a single, solid piece of cast iron, meaning there are no joints that can weaken over time. The cooking surface is also highly scratch-resistant, ensuring that it will stand the test of time.
Give this large cast iron wok a try if you're looking for a durable material that will last a lifetime. Just make sure to remember its weight–nearly nine pounds in total. If you lack the upper arm strength, a carbon steel option may be better.
Best Large Carbon Steel Wok: Craft Wok 731W138 Hand Hammered Carbon Steel Pow Wok
Most commercial wok chefs these days use carbon steel pans for their cooking, and the reason is plain to see. Large carbon steel wok pans are more durable, lightweight, and nonstick than stainless steel or cast iron. The Craft Wok 731W138 Hand Hammered Carbon Steel Pow Wok offers all the advantages of carbon steel, with a classic pow wok design.
At 16 inches, this carbon steel wok is the biggest on our list, letting you cook extra-large batches of stir fry. However, even at its large size, the pan stays relatively lightweight and manageable. That's because of its carbon steel design, which stays lightweight while offering top-level durability.
The elongated handle is specially-geared for stir fry, letting you take advantage of the lightweight to flip and toss like the pros. The handle is made entirely out of wood, so you can grip it without the need for mitts or towels. On the opposite end is a steel helper handle to lift heavy loads with ease.
The cooking surface uses a traditional hand-hammered method of manufacturing. This is perfect for stir fry as it adds many small facets over the inner dome of the wok. These help food cling to the sides without sliding down, giving you more control over your cooking.
Add this large carbon steel wok to your collection if you want to cook like professional wok chefs. You won't even have to pay much extra. Just be sure you know how to care for it properly, with gentle handwashing and regular coats of seasoning.
Best Large Stainless Steel Wok: Cuisinart 726-38H Chef's Classic Stainless Steel Wok
A large stainless steel wok is a highly versatile kitchen tool that's as good for stir fry as it is for boiling and braising. The extra durability and dishwasher-safe properties of this material are just icing on the cake. The Cuisinart 726-38H Chef's Classic Stainless Steel Wok offers great performance in a hassle-free design.
This wok offers higher sides, which makes it especially useful for stir-frying larger amounts of food. The 14-inch diameter is just the right size to feed a family while also fitting comfortably in kitchen cabinets.
Unlike the other options on this list, this wok has a flat-bottom design. That means it can be used on any cooktop but is especially well suited to electric stoves. The flattened bottom keeps the wok secure and stable while cooking.
Give this large stainless steel wok a try if you're looking for a low-hassle option that will last for years. Just don't forget to use a bit of extra oil when cooking to keep the cooking surface nice and slick.
Large Wok Buying Guide
The world of wok cooking offers a wide range of pans to choose from, leaving some buyers to feel overwhelmed at first. If you're still not sure which large wok is ideal for your kitchen, be sure to keep all of these criteria in mind.
Size
Size is the first consideration when choosing the right wok for your family. Most of the woks on this list are 14 inches, which is larger than the average size of 12 or 13 inches.
A large wok is ideal when cooking for a family, as it allows plenty of room to flip and toss stir fry during the cooking process. This is essential, as woks must never be overcrowded to achieve the desired result. If you have an especially large family, a wok as large as 16 inches may be an option worth considering.
Material
The most common material used by professional wok chefs today is carbon steel and cast iron. These materials are durable, inexpensive, and naturally nonstick, though they do require a bit of extra maintenance when it's time for cleanup. If you're looking for a more low-hassle wok, aluminum or stainless steel are good alternatives.
Style
The two main styles of a wok are the Cantonese-style and pow styles. Cantonese woks are a good choice for extra-large sizes, as they offer two handles, one on each side, for extra stability. Pow woks have an elongated handle which is the best choice if you plan on doing a lot of stir fry.
If you're using a gas stove, a round-bottomed wok is the best option, letting you stiff and flip food more easily. However, electric or induction stoves require flat-bottom woks to work properly. If you want to use a flat-bottomed wok on an electric range, a wok ring is necessary.
FAQs
Wok cooking has a history dating back thousands of years, so it's no surprise that there's always something new to learn. If you're looking to brush up on your knowledge, check out these frequently asked wok questions.