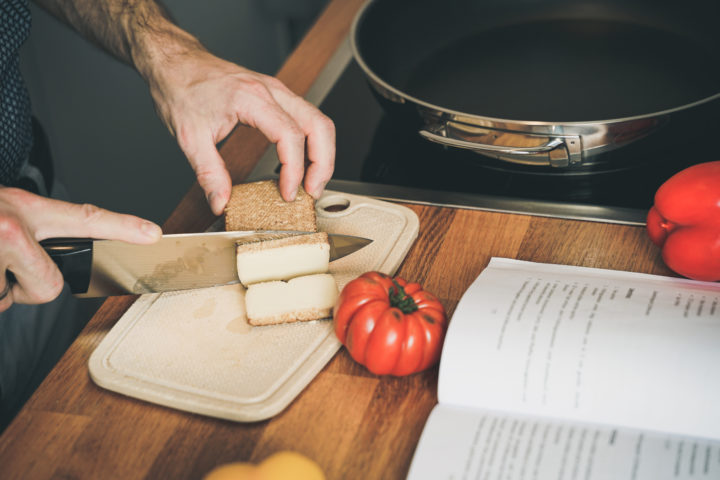 Thank goodness for Google. Search engines are huge timesavers, allowing us to find recipes very quickly. Computer algorithms, in general, are super handy. Interestingly, cookbooks still sell very well despite the universality of online recipes.
Sure, we could attempt to justify the popularity of cookbooks with rational arguments. Maybe people prefer physical cookbooks on the kitchen counter? But the truth is not everything is explained by logic, and cookbooks touch people emotionally. The appeal of hardcovers and the connection you build with the author are fascinating yet hard to define attributes. And for that reason, cookbooks are likely going to stay.
For this list, we identify the best wok cookbook you can buy in 2022. Whether you need one for takeaway recipes, stir-frying-specific cooking, or a book that helps you maximize the use of your wok, we've got you covered. Let's go over the list.
Table of Contents
Overall Best Wok Cookbook: The Essential Wok Cookbook: A Simple Chinese Cookbook for Stir-Fry, Dim Sum, and Other Restaurant Favorites
The Essential Wok Cookbook is one of Naomi Imatome-Yun's four Asian cookbooks with high praises and is a Wall Street Journal Best Seller. Yes, the Wall Street Journal distinction of "A Simple Chinese Cookbook for Stir-Fry, Dim Sum, and Other Restaurant Favorites" says a lot about its quality. But even more impressive is Naomi's consistency as she's authored three best-selling cookbooks. That says a lot about the caliber you're getting here.
Amazon offers four formats to choose from: Kindle, hardcover, paperback, and spiral-bound. The spiral-bound option is especially easy to lay flat on a kitchen counter for hands-free referencing of recipes.
Some wok recipes can be hard to follow, mainly when they rely on specific ingredients — Asian store-specific ingredients. Fortunately, Naomi offers alternatives for hard-to-find ingredients. We understand how frustrating missing ingredients can be, so her inclusion of other options is a big plus.
But arguably more important than the lists of alternative ingredients is Naomi's approach towards budget-friendly recipes. She understands cooking on a budget, with some recipes costing under ten dollars.
If we were to criticize this wok cookbook, it's likely due to the minimal pictures she includes with her recipes. More pictures would've been nice.
Really, though, that's just us nitpicking. We do think Naomi's recipes were well-written with clear explanations. This is an awesome wok cookbook to buy for yourself or a gift to people. If you don't have specific uses for your wok — which we'll touch on shortly — then this is the best wok cookbook in the market today.
Best Wok Cookbook for Quick Recipes: Chinese Takeaway Cookbook: From Chop Suey to Sweet' n' Sour, Over 70 Recipes to Re-create Your Favourite
Chinese Takeaway Cookbook: From Chop Suey to Sweet 'n' Sour
Restaurant-ready favorites at the comfort of your home.
Pros: Available in two formats; plenty of colorful visuals; quick and easy recipes ready in 20 minutes or less
Cons: Kindle version's large file size is cumbersome; use of British English can be confusing for some
Kwoklyn Wan is another established author in the realm of Chinese cuisines, and his Chinese Takeaway Cookbook: From Chop Suey to Sweet' n' Sour, Over 70 Recipes to Re-create Your Favourite makes our list of the best wok cookbooks you can buy. Kwoklyn and his family are pioneers in the UK market, establishing several Chinese restaurants in Leicester, the United Kingdom, during the 1960s and 70s. Needless to say, his books are in British English, which can be confusing for some Americans.
The book certainly shines as a collection of the author's family recipes and legacy. Also, it's full of recipes that require 20 minutes or less of cooking, perfect for takeaways and quick fixes. Each recipe also comes with enticing pictures of the final product.
Sadly, this wok cookbook is only available in two formats: a Kindle edition and a hardcover version. The Kindle edition is also extremely heavy at about 518MB in size. We wouldn't recommend it for older Kindles where speed is an issue.
The hardcover version, though, is perfect. It's undoubtedly our preferred wok cookbook for quick and easy recipes.
Best Wok Cookbook for Stir-Frying: Stir-Frying to the Sky's Edge: The Ultimate Guide to Mastery, with Authentic Recipes and Stories
Yes, woks are versatile cookware you can use for steaming, deep-frying, and more. But ultimately, the cookware is best known for stir-frying. A wok cookbook focused on this Chinese cooking technique deserves to be on this list. We choose Grace Young's Stir-Frying to the Sky's Edge: The Ultimate Guide to Mastery, with Authentic Recipes and Stories as the best wok cookbook for stir-frying.
Grace is a renowned author and a recipient of multiple international awards for cookbooks like The Wisdom of the Chinese Kitchen, The Breath of a Wok, and this book, Stir-Frying to the Sky's Edge. Needless to say, she's respected when it comes to Chinese cuisines and wok cooking.
This wok cookbook is a collection of stir-frying techniques infused with cultural influences the world over. More specifically, it's a compilation by Chinese cooks living in Peru, Jamaica, Burma, Malaysia, Singapore, Taiwan, Vietnam, Macau, India, Indonesia, South Africa, and the Mississippi Delta. The diversity makes this book special, even relatable. We also like how engaging pictures accompany every recipe and story.
On top of the lovely pictures, this wok cookbook is also very informational, with details on where to get the necessary tools and ingredients.
Unfortunately, while the book is available in both Kindle and hardcover format, we wouldn't recommend the electronic version. It is poorly organized and doesn't give justice to the book's quality.
We definitely recommend the hardcover version — the pictures by themselves are worth it. At the very least, this is the best stir-frying cookbook on sale today.
Best Runner Up Wok Cookbook: Every Grain of Rice: Simple Chinese Home Cooking
SAVE 36%
Every Grain of Rice: Simple Chinese Home Cooking
A book by Fuchsia Dunlop, the first foreign student to attend China's best culinary institution.
Pros: Available in two formats; plenty of colorful visuals; well-written; contains a glossary of ingredients; Winner of the James Beard Award
Cons: Relatively expensive hardcover cookbook; the Kindle format is subpar
Even though this book doesn't win our best overall wok cookbook, we would be remiss to lay it aside as an afterthought. The book by Fuchsia Dunlop could have easily taken the top spot on our list.
Fuchsia received her training at the Sichuan Institute of Higher Cuisine, China's top culinary school, at a time when foreigners were mostly forbidden. Sichuan cuisine is one of the Four Great Traditions of Chinese cuisine. Their dishes are known for their hot and spicy flavors exuding from Sichuan pepper. The result of this education is the book Every Grain of Rice: Simple Chinese Home Cooking.
With the book's history, it is no surprise then how many of the recipes are of spicy dishes. As a native English speaker, Fuchsia successfully brings out the tang from traditional Sichuan cooking, with no translation issues found in other wok cookbooks.
Aside from the easy-to-understand English, the book is filled with enjoyable pictures. The book also has a helpful glossary, which is uncommon for wok cookbooks. In our opinion, every wok cookbook should have this feature, with each ingredient shown by its English and Chinese names. Glossaries are definitely underrated, and they make shopping for ingredients a lot easier.
This wok cookbook is available in two formats: Kindle and hardcover. Like the Stir-Frying to the Sky's Edge wok cookbook, we recommend getting the hardcover version over the Kindle. Fair warning, though, the hardcover is a lot more expensive than the Kindle. But the improved organization and pictures make buying the hardcover worthwhile. The book is a winner of the James Beard Award, which says something about its quality.
As a book that could've easily made our top stop, we're glad to recommend Fuchsia's wok cookbook.
Wok Cookbook with the Most Variety: The Ultimate Wok Cookbook: 1000 Days Simple and Delicious Stir-fry Recipes for Beginners and Advanced Users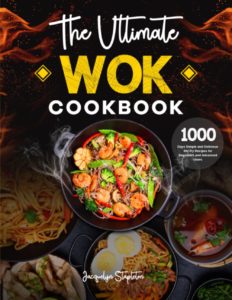 The Ultimate Wok Cookbook: 1000 Days Simple and Delicious Stir-fry Recipes for Beginners and Advanced Users
Test out a unique dish every day with years' worth of recipes.
Pros: Publishes recipes with calorie count; available in three formats; part of the Kindle Unlimited library
Cons: Large downloadable file size; black and white visuals
Trying out a new recipe every day is certainly a luxury. But that's an indulgence you can have with The Ultimate Wok Cookbook: 1000 Days Simple and Delicious Stir-fry Recipes for Beginners and Advanced Users. This is an easy recommendation.
With this much variety, you're sure to find one that satisfies your tastes. This book practically covers all types of dishes: vegetables, poultry, beef, pork, lamb, dumplings, eggs, tofu, fish, seafood, sauces, snacks, sweets, soups, rice, and noodles. It also covers a wide range of cooking skills — beginners and advanced cooks alike.
Furthermore, recipes have a calorie counter for guilt-free enjoyment of your favorite Chinese cuisines. Macro-counting people will definitely appreciate this bit.
Sadly, this wok cookbook fails to capture the vibrant colors of Chinese dishes, with pictures shown in black-and-white. We're not sure why they published their images as such, but it sure is unfortunate.
Nevertheless, The Ultimate Wok Cookbook is part of the Kindle Unlimited library. It's a no-brainer then for people on the subscription. The file size is quite large for a book, though, at 355MB — is this why they opted for colorless images? For other readers, the book is also available in hardcover and paperback editions.
Wok Cookbook Buying Guide
Format and Usability
There are two general formats of wok cookbooks available in the market: hard and soft copies. You can select from paperback, spiral-bound, and hardcover options for paper copies of cookbooks. Conversely, electronic versions are in MOBI, EPUB, and PDF formats, downloadable on a Kindle or similar, a tablet like the iPad, or even a computer.
Many prefer paper copies in a kitchen with lots of liquids slashing around. But some Kindles, like the Kindle Paperwhite 2018, are waterproof, so there's less worrying about damaging your device. Be mindful of this option, though, as some cookbooks just don't translate well on a Kindle, with disorganized formatting and cut-off texts. Still, its bookmarking features make navigating more manageable and convenient.
However, hard copies are usually — preferably — printed in color, which is an advantage over the E-Ink used by Kindles and other ebook readers. E-Ink is meant to replicate paperback texts, so Kindles will show images in grayscale. It is also essential to consider that not all hardcopies show colored images.
Colored images, then, are an advantage of iPads and tablets over Kindles and Kobos. But then again, most tablets aren't waterproof.
Of the different paper versions available, the spiral-bound format is the easiest to use in the kitchen since you can lay it flat on a countertop. This means less time faffing around, looking for your recipe.
Visuals
While poor images aren't dealbreakers, excellent visuals are especially appealing for cookbooks. In turn, the quality of visuals depends on your book's format. For the most part, hard copies come with colored images. But be wary because some very good cookbooks come with black and white, grayscale images. And as mentioned, Kindle versions will have grayscale images.
Relevance
The creative facet of Chinese cuisines can sometimes mean using atypical, hard-to-find ingredients. These ingredients may be unique to Chinese culture and available exclusively in Chinese stores. A good wok cookbook presents alternatives to inaccessible ingredients.
Story
People are intrigued by the stories that go along with each recipe. It's easy to find recipes online, but the best chefs know that cooking is more than just a collection of ingredients. A good wok cookbook will have these complex intangibles.
FAQs
What makes a good wok cookbook?
A good wok cookbook has clear instructions that are easy to follow, with enough variations to please various budgets and complexities. But more than just a collection of recipes, the best wok cookbooks have stories to share behind every dish. These narratives create a genuine appreciation of the dish and lasting impressions.
What format should I get for a wok cookbook?
Although choosing between an electronic or hard copy of a book comes down to preference, the spiral-board versions seem to be the most convenient to use on a kitchen countertop.

Ebooks are easy to navigate, but then you'll have to worry about damaging your gadget. Waterproof Kindles are available, but pictures will be displayed in grayscale. Tablets display colored images, but it's rare to find waterproof tablets.

In the end, though, every format works. See our Wok Cookbook Buying Guide above for more information.