If you and your family enjoy stir-frying food, you know how important it is to have the right type of seasoned wok. In this article, we will learn all about the wonders of the cast iron wok. Also, we will review some of the most popular cast iron woks on the market.
Woks are incredibly hard-working multi-cooking kitchen wonders, and every cookware set should include a solid wok. Although similar to Dutch ovens in design, woks distribute heat more evenly because of the way they are designed.
The original Chinese wok was made of cast iron, so finding one of the best cast iron woks will take you a long way towards creating delicious meals.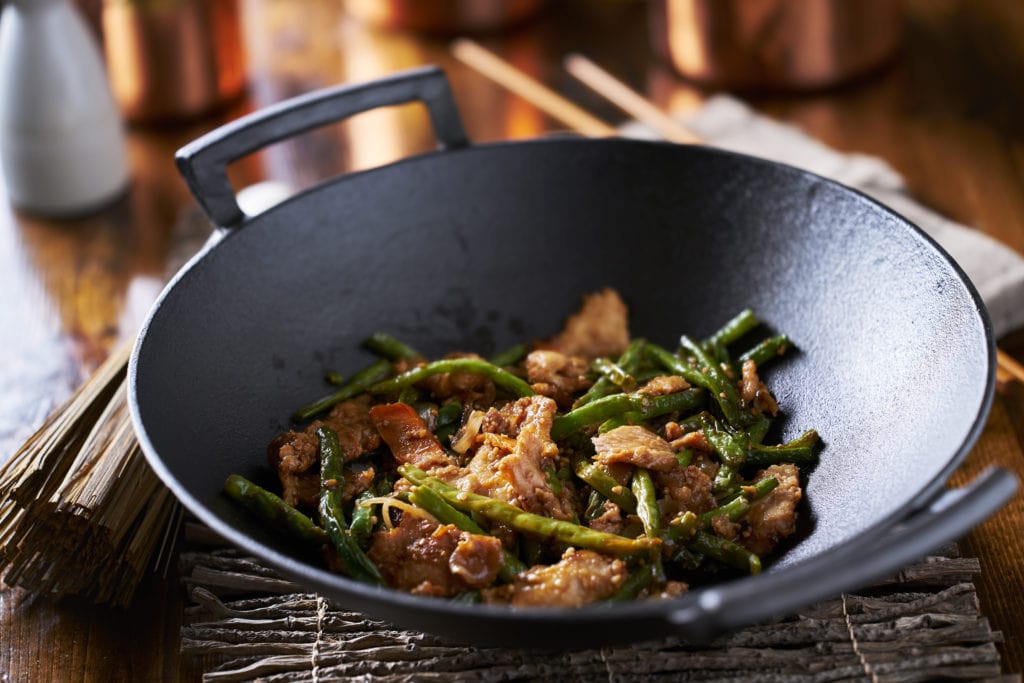 Table of Contents
History of the Cast Iron Wok
More than 2,000 years ago, the Han Dynasty ruled China. During this time, artisans smelt cast iron into a unique frying pan. The pan had a curved bottom that flared out to a high-walled expansive width with sloping sides. The result was a cast iron wok.
The design of this unusual cast iron pan allowed the walls to retain both ingredients and heat. The Cantonese language was spoken in the region where this pan was created, so the people called this new type of fry pan simply a "wok," which means "cooking pan" in Cantonese.
Benefits of Using a Cast Iron Wok
Because of the way it is designed, a cast iron wok has a concentrated cooking surface. If stir-frying food is something you want to do, you need a wok to achieve the best results.
When you cook in a cast iron wok, one thing you will notice is that you can sear vegetables and strips of meat in minutes without the worry of steam collecting at the wok's base.
Equally rewarding, the sizzle lasts for the entire cooking time instead of prematurely petering out as it does when cooking in something like a carbon steel wok or stainless steel wok.
Understanding Wok Hei
Wok hei is defined as the "breath of the wok." If you've ever seen traditional wok cooking, you've probably witnessed wok hei. Wok hei occurs when there are small flare-ups bursting up like little celebrations in whatever you're cooking in your wok.
Wok hei is the viral difference between briskly wok-prepared stir fry and sadly sauteed vegetables.
The Downside of Cast Iron Woks
The most obvious downside of working with a traditional cast iron wok is the sheer weight of the pan. When a cooking pot weighs up to 14 pounds, it can take both hands to lift it off the stove.
For the most effective wok cooking, you need to be able to quickly maneuver the pan while you're cooking. Suppose you are in a situation where you're concerned about having the strength to work with a heavy pot. Consider one of the light cast iron woks. Some wok cooking requires flipping the food, and you can't do a lot of flipping with a heavy cast iron wok.
Some cooks have noted that cast iron doesn't take well to added starch, as opposed to a carbon steel wok, stainless steel wok, or a wok with a non-stick coating. Also, because of the heavy material, it takes a bit longer to heat up and cool down cast iron woks.
Finally, if a light cast iron wok is too thin, it can be extremely fragile and can crack in half if it's not set down gently enough.
What Is Best Cooked in Cast Iron Woks?
In many cases, a wok can serve as a dutch oven, a saute pan, a non-stick pan and can even be used as a frying pan for deep frying foods. However, only wok cooking can create traditional stir-fry dishes as they were intended to be prepared.
When you cook vegetables in your wok, you can expect them to be perfectly blistered for extra crispiness but still tender and juicy. Likewise, the meat you cook in your cast iron wok will have sufficient browning without the problem of drying out that is caused by other types of cookware.
With a wok, you can cook ingredients with high volume. For example, vegetable-heavy dishes typical in Asian cuisine cook beautifully in woks.
Specifics of Cooking with Cast Iron
Cast iron cookware poses different types of challenges. So we've compiled a quick and dirty list of tips for you to make the most of cooking with cast iron cookware.
1. Always Preheat Your Cast Iron
Once a cast iron skillet or wok gets hot, it holds heat well. However, contrary to the myths surrounding cast iron doesn't conduct heat well. Therefore, you should preheat your cast iron cookware for about five minutes before you begin to cook.
2. Get the Pan Extremely Hot Before Flipping Food
Some foods are more likely to stick to your cast iron wok. However, flipping your food is much easier once your pan is super hot. Cast iron pans have a naturally non-stick surface, but they work best when hot.
3. Relax About the Whole Seasoning Issue
Some cooks feel intimidated by the prospect of cooking with cast iron because the process of keeping it nicely seasoned seems confusing. However, it's not that big a deal to learn how to season a cast iron wok.
The company that is most associated with the cast iron wok, Lodge, has on its website a comprehensive guide to seasoning your cast iron cookware. Essentially, you can use any oil — usually vegetable oil or shortening — and heat the pan to the point where the cast iron absorbs the oil, darkening its cooking surface.
Protecting the Seasoning on Your Cast Iron Cookware
Once your cast iron wok is adequately seasoned, it's not a huge challenge to keep it that way. The main thing to remember for preserving your cast iron seasoning is that you have to minimize the pan's contact with water.
For example, you don't want to leave cast iron pans soaking overnight in a sink full of water. If you do that, you will end up with a severely rusted cast iron wok.
4. Clean and Dry Your Cast Iron Cookware Properly
But what about soap? Won't using soap on cast iron cookware destroy the seasoning? Back in the day, most of our grandmothers would have been mortified to think of using soap on their pans. However, today's experts maintain that you can use soap to clean cast iron cookware without impacting your pan's seasoning as long as you rinse it very well.
This is super important: Be sure to dry your wok pan or other cast iron cookware immediately after washing it. After you dry your wok with a towel, put it back on the stove and turn the burner on low. Allow the wok to sit there for a few minutes as all of the moisture evaporates.
Above all, never wash your cast iron pans of any type in the dishwasher.
5. Use the Correct Tools and Products
The key to maintaining your cast iron cookware is using the correct tools and products. For example, there are products on the market that can help you with seasoning your cast iron. You can also buy a special stainless steel scrubber that will clean your cast iron pans without damaging the seasoning you've worked so hard to maintain.
Other good investments are a wok spatula and a wok lid. Keep in mind that if you're cooking with enameled cast iron, you will need to do some research on how to care for the outside of these pans.
Also, having a wok ring helps to keep your round-bottomed wok in place on cooking surfaces that are flat. A wok ring is also called a wok stand. You can find a good wok ring on Amazon.
Traditional Cast Iron Woks
What is the difference between a traditional cast iron wok and other types of woks? For example, you will find woks of all types, including an electric wok, aluminum wok, carbon steel wok, non-stick wok, and stainless steel wok. Woks with non-stick coating are also popular. However, the traditional wok is made of cast iron.
The main difference lies in heat distribution, durability, and seasoning. In terms of these factors, cast iron is king.
You are probably familiar with traditional cast iron cookware. For example, many homes have at least one cast-iron skillet. However, cast iron woks are enjoying a comeback in today's kitchens.
9 Traditional Cast Iron Woks
Below, we've listed some of the most popular traditional cast iron woks.
The Cuisinart CCW-800 pre-seasoned wok has an unusually large 10-inch cooking surface and weighs 6.34 pounds. Customers love this wok's easy-grip handles.
One downside is that the sides of this wok aren't as high as you usually see in a traditional wok. However, for small meals or meals that need a larger cooking surface, this non-stick wok may work perfectly.
The Jim Beam pre-seasoned wok has ergonomically designed cast iron handles and a curved base, which gives you a nice cooking surface and makes handling easier.
This wok weighs 5.61 pounds, so it's borderline lightweight. Because of that, this might be an excellent wok for someone who wants a lighter traditional wok.
Reviewers noted that this wok is made in China, and some people take issue with that. Also, at 12 inches, it's a bit smaller than some of the larger traditional woks.
This is a wok with a borderline weight of 8 pounds. Like some of the other woks on this list, the Uno Casa wok has cast-iron handles, but one thing that makes it unique is that it comes with a silicone lid.
This is a flat-bottomed wok that takes up less space than some woks, and reviewers note that it's easier to carry. Some reviewers noted that the wok didn't appear to be pre-seasoned and that it has a low-grade finish.
Lodge cast iron is the king of cast iron cooking, so having a Lodge cast iron wok makes a lot of sense to some cooks. A 14-inch wok, this pan comes pre-seasoned with vegetable oil. The Lodge cast iron wok comes with sturdy cast iron handles and is a round-bottomed wok.
One of the most popular woks on Amazon, this beauty weighs 11 pounds. This wok is a favorite with cooks who have an induction cooktop or induction hob. Since its handles are made of cast iron, too, you can use it in your oven.
Some reviewers noted that in some of the Lodge cast iron woks that are shipped out, there are small protrusions (pits) inside the wok that get in the way of using cooking utensils. However, the flat base on this wok is popular with some cooks.
The 8.51-pound Amazon Basics cast iron wok has great reviews and is oven safe to 500 degrees Fahrenheit. This wok measures 14 inches across, so it's a great large cast iron wok.
The handles on this wok are surprisingly small, which annoyed some reviewers. There are also reports of the coating coming off and getting into the food.
Another wok with a wooden lid, the Klee wok, has huge loop handles like Bruntmor woks. This wok, weighing only 12.62 pounds, is slightly lighter than the heavy Bruntmor cast iron wok.
Reviewers note that the cast iron handles get hot on this wok, which is pretty normal for cast iron cookware. However, some reviewers also pointed out that the lid doesn't fit properly.
This basic cast iron wok from Bruntmor has a sturdy base that customers love. Also, the handles are large loops that make this wok easier to handle. Like most woks on our list, this one comes pre-seasoned.
The Bruntmore basic wok weighs 11.88 pounds and measures 14 inches across. Reviewers noted that the wok is too dense to work properly, but that may be subjective. This wok is heavier than most of the woks on this list.
This Brutmor wok comes with a handy wooden lid and the large loop handles that Brutmor is known for. This wok weighs a whopping 13.22 pounds and measures 14 inches across.
The wooden wok lid has an extended lip so that you can remove it without burning your hands.
Customers love the quality of this wok and the heavyweight plays into that. On the other hand, the weight may be a downside for some cooks.
Another wok with a wok lid, the Kasian House pre-seasoned wok is smaller and lighter than the other traditional woks with lids on this list. This one measures 12 inches and weighs 9 pounds.
This flat bottomed wok has the standard Kasian House guarantee, which is something that not all cookware companies offer.
As a downside, reviewers were unhappy with the wooden handle and said that it doesn't tighten sufficiently. On the other hand, the wooden handle won't get as hot as a cast-iron handle.
Light Cast Iron Woks
By design, traditional cast iron is heavy, but there are lots of options if you're looking for a lightweight cast iron wok.
Traditional cast iron woks typically weigh between nine and 14 pounds. However, lightweight cast iron woks weigh between one and six pounds and are much more comfortable to use.
Why Do People Use a Light Cast Iron Wok?
The problem with traditional cast iron is that it's heavy. Many cooks have a hard time navigating their kitchen with the types of cast iron cookware that their grandmothers used.
The good news is that while a traditional cast iron wok can be an invaluable kitchen tool, there are some excellent light cast iron woks available.
If you're in the market for a lightweight cast iron wok, you probably want all of the benefits of cooking with cast iron without the required weight lifting.
Benefits of Lightweight Cast Iron Woks
Using a traditional cast iron wok that weighs between 10-14 pounds creates a whole new challenge in the kitchen. You have to lift your wok when you're cooking, but you also have to lift it when you're cleaning and rinsing it.
Whether you're cooking on a gas stove, induction cooktop, or electric stove, you can't go wrong with a light cast iron wok that has the proper seasoning.
6 Light Cast Iron Woks
Listed below are the seven most popular lightweight cast iron woks.
This light cast iron wok has a 14-inch cooking surface, making it a nice-sized wok for its weight. The wok comes pre-seasoned with soybean oil.
With this wok, the sides aren't as tall as some other woks, so it may not be the best wok for some recipes or for cooking for several people.
The Excelsteel wok claims to be 50% lighter than traditional cast iron woks, and at 4.69 pounds, it keeps its promise.
One common battle you see is the battle of the cast iron wok vs carbon steel wok. One reviewer wrote "cast iron vs carbon steel wok" and rated this one as the best.
However, some reviewers had complaints about the seasoning, saying that it wasn't vegetable oil. Other reviewers said that they never could get it as well-seasoned as other woks they've had in the past.
Almost as popular as a Craft wok, the Joyce Chen wok has a long wooden handle and a silicone exterior that is easy to clean. At 14 inches across, it's a full-sized wok, but it only weighs 4.2 pounds.
Note that cookware that has wooden handles is not safe to put in the oven. Some reviewers stated that this wok isn't as durable as the more traditional cast iron woks. Furthermore, some customers said that the top coating peeled off into their food.
Another non-stick wok, the Homeries lightweight wok comes pre-seasoned and measures 14 inches across. Instead of a rounded base, this wok comes with a flat, sturdy base that reduces the chance of the wok falling and spilling.
This wok also comes with a wooden lid with a lip. The best thing about this wok is that it only weighs 1.85 pounds. Reviewers say that they wish it had a long handle on one side.
The Victoria cast iron wok is a flat bottomed wok. It's the only wok on our list that has the distinction of being 100% Kosher Certified. Also, it is certified as seasoned with non-GMO flaxseed oil, which is a huge bonus for some customers.
This wok weighs 5 pounds. Reviewers noticed that the surface is rougher than they would like.
The Imusa light cast iron wok has one long wooden handle and a short wooden handle on the other side. This wok weighs 4.29 pounds and measures 14 inches across. It comes pre-seasoned with soybean oil.
Customers love that this is a flat bottomed wok, while one person said that it was cheap quality.
Summary
Which Chinese wok is best for your needs? With all of the different types of woks available, it can be confusing to decide which type will work for you. Now that you know about all of your options for cast iron woks, you're all set for preparing delicious stir-fry meals and more. Enjoy!