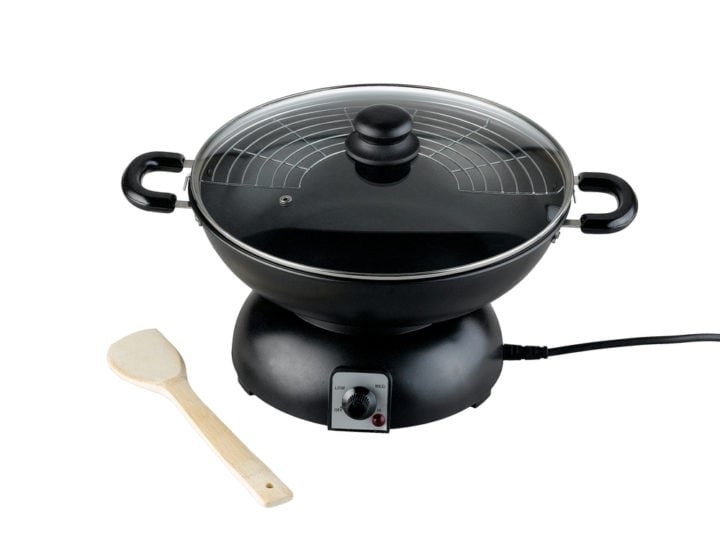 You can't beat the rawness of a traditional wok. From the spirit of wok hei, to the display of flying ingredients, woks imbue an appealing sense of crudeness that, to be honest, is quite hard to explain. But as much drama as a traditional wok has, an electric wok comes in humble.
An electric wok is ready to serve the careful yet equally bold cooks. They don't try to be flashy. Rather, their performance is deliberate and on the mark. Who says you can't have wok cooking without the drama?
Alright, enough of the drama and theatrical intro. Let's get on to our list of the best electric woks on sale today!
Table of Contents
Best Overall: Breville BEW600XL Hot Wok, Brushed Stainless Steel
Breville's 600XL Electric Wok
The Breville BEW600XL Hot Wok is the complete package; worthy of taking our top spot as the best electric wok in the market.
Pros: Made of durable materials, nonstick coating, has a glass lid with a steam valve, large cooking surface, detachable control and base, 15 temperature settings, dishwasher safe
Cons: Takes up space, expensive
Breville's 600XL Electric Wok boasts incredible features and components. Not only does it come with a high-quality wok, but it is also clear how the components' design is made with intention. The electric wok set includes a quick-release base, a tempered glass cover, and a heat control knob with 15 settings.
Its base and temperature control are detachable, so cleaning is simpler than many electric woks — others have a fixed base. We also like how the lid is made of tempered glass and that it has a moisture valve. The transparent lid means you get to peek without lifting the lid, and the adjustable moisture valve lets you regulate steam easily. Of course, the 15 heat options allow you to set the cooking temperature just right, no matter the cuisine.
Interestingly, different materials make up the components of the Breville BEW600XL. The bowl is aluminum, while its detachable base and lid rim is stainless steel. Aluminum and stainless steel are both sturdy materials that we expect will last a long time.
The large electric wok from Breville holds up to six quarts and can serve groups of four to six people. The thick aluminum walls are also tall enough for deep frying.
Moreover, the nonstick electric wok's interior coating is QuanTanium — four layers of coating that produce a scratch-resistant and non stick surface. Specifically, QuanTanium coating combines film layers strengthened by a unique mix of titanium, resulting in a robust coating. Nevertheless, we recommend using non-metal cooking utensils to avoid scratching.
And despite its huge handles and the large space, it takes up in storage, the Breville BEW600XL is our pick for the overall best electric wok on offer today.
Most Innovative Electric Wok: Oster 2124087 DiamondForce Electric Wok, 4.7-Quart, Black
Oster 2124087 DiamondForce Electric Wok
The non stick coating is special, plus a tiny light lets you know when it's ready to cook.
Pros: Made of durable materials, nonstick coating, steam vented glass lid, detachable temperature control with six settings, preheating light signal
Cons: Fixed-base makes it difficult to clean, awkward heat control placement
The Oster 2124087 DiamondForce Electric Wok is a diamond-coated wok that comes with six heat control settings.
Let's talk about the coating first. Oster calls it their Diamond Force, where the cooking surface is infused with diamond particles. On top of the added strength, it is also the reason for the wok's nonstick surface.
In addition to the Diamond Force coating, this electric wok is also unique in having a tiny preheating signal light. When the wok is preheating, the light remains on. It then turns off when the wok is hot enough to cook on.
Although the six heat control settings are sufficient for most cuisines, as it simmers up to 420 degrees Fahrenheit, that does pale in comparison to the Breville BEW600XL's 15 discrete settings. Also, this nonstick wok has a 4.7-quart capacity, which is less than Breville's 6-quart capacity. Still, 4.7 quarts is probably good for four to five people.
Like the BEW600XL, Oster's wok set also includes a glass lid with a small steam vent. Moreover, the lid features a cool-touch knob that makes it easy to carry around the kitchen.
Unfortunately, there are a few quirks that cause it to lose out on the overall top stop. For instance, although the control is removable, it is awkwardly positioned right underneath the handle. The main handle blocks your view of the heat controls at this orientation, making adjustments a bit fiddly.
Another con is the non-removable base, which makes cleaning the wok a chore. Unlike the Breville BEW600XL electric set, the Oster set has a non-detachable base. While the wok interior is easy to clean, we found the fixed base can get in the way. Electric mechanisms are inside it, too, so submerging it in water is out of the question.
Nevertheless, we think the signal light is clever, and the diamond-infused coating is an excellent feature. So despite its flaws, the Oster 2124087 deserves a spot on our list.
Best in Accessories: Aroma Housewares AEW-306 Electric Wok with Tempered Glass Lid Easy Clean Nonstick, Black
SAVE 16%
Aroma Housewares AEW-306
The host of add-ins make the Aroma Housewares electric wok a versatile tool in any kitchen.
Pros: With useful accessories, detachable base, control-moisture lid, dishwasher safe
Cons: Unmarked heat settings
The Aroma Housewares AEW-306 is an electric wok set that comes with many useful add-ins, from a domed glass lid to a set of wooden chopsticks and a steaming rack. It even has a tempura frame!
The domed glass lid is excellent. Aside from being able to see what you're cooking without lifting the lid, it is also domed high enough to put a steaming rack inside. Come to think of it, the AEW-306's versatility starts with the domed lid. Moreover, the lid also features a control valve that allows you to manage moisture buildup. And of course, the tempura rack comes in incredibly handy for deep frying — okay, so we're a little biased for some tempura.
However, one weird point is the lack of temperature-specific knobs to the heat controller — all you see are ordinal numbers one to ten. Although the electric wok sufficiently heats up and, in due course, you'll probably get used to the imprecise numbers, we still think it would have been better with defined temperatures.
Luckily, Aroma Housewares' base is detachable, so cleaning is easier than the Oster electric wok. Not to mention the wok and lid are dishwasher safe. In the end, the bundled accessories make this a winner in our book. It's definitely a top choice for deep frying.
Best Lightweight: Presto 5900 1500-Watt Stainless-Steel Electric Wok
SAVE 7%
Presto 5900 1500-Watt Stainless Steel Electric Wok
At just 5.25 pounds, the Presto 5900 weighs less than half weight of an average electric wok.
Pros: Made of durable materials, handy side loops for carrying around, comes with a wooden spatula, dishwasher safe, removable temperature control, glass lid lets you see through the cover
Cons: Large footprint consumes a lot of space, no steam vent
Like the Breville BEW600XL hot wok, the Presto 5900 1500-Watt Stainless Steel Electric Wok is made of stainless steel and aluminum. While you don't need to condition stainless steel, we still recommend it for the best results.
As a 4-legged 5.25-pound electric wok, the Presto 5900 is both sturdy and lightweight. Moving the wok bowl around the kitchen is effortless with the two handles, or loops, it has on either side. These handles are also made of stainless steel. That's good, considering the material's low thermal conductivity. In other words, the handles don't get hot quickly.
Also, Presto sells this electric wok with a wooden spatula and a glass lid. Sadly, the glass lid doesn't have a steam vent. So for steaming dishes, a workaround is by leaving a small gap for the steam to escape. Not the most convenient, but it isn't a dealbreaker either.
Fortunately, the temperature control of the Presto 5900 is removable, which means the unit is submergible and relatively easy to clean. Although the wok is dishwasher safe, we think washing it in a sink is best over the long haul.
And in spite of the large footprint, space-hogging design, we recommend this electric wok, period. It weighs significantly less than alternative electric woks while maintaining strength with its durable materials.
Best Large Electric Wok: VonShef 7.4Qt Electric Wok with Lid - 14 Inch
VonShef 7.4Qt Electric Wok with Lid
With its high walls, the VonShef is fantastic for deep frying, boiling, and steaming.
Pros: Made of durable materials, silicone-wrapped handles and lid knob, lightweight, deep walls, steam vented lid
Cons: Limited temperature control, not dishwasher safe, non-detachable base
The VonShef 7.4Qt Electric Wok with Lid is an electric wok with a flat bottom and deep walls. This wok bowl has a capacity of 7.6 liters, with light but sturdy materials.
This non stick electric wok is about six inches deep, and the flat surface diameter is six inches, too. Its large size is perfect for deep frying, boiling, and housing a steaming rack. In fact, with its enormous flat surface, you could even treat it like an electric frying pan or a large wok bowl with tremendously deep walls.
Another feature that makes it suitable for steaming is the steam vented glass lid. The clear glass makes it possible to see what's inside without opening the cover. Should you need to lift the lid, its knob is wrapped in silicone for safety purposes. The handles are silicone-coated as well.
Unfortunately, washing can be a challenge because of its three fixed legs. Although the control probe is removable from the base, so at least that is one less thing to worry about.
Also, the VonShef electric wok has limited heating options with only five levels in a rotary dial: off, warm, low, medium, and high. The warm, low, medium, and high settings are set at 176, 302, 374, and 446 degrees Fahrenheit, respectively. They worked fine, but we still would've wanted to have the precise temperature levels on the control.
All in all, the good stuff outweighs the bad, and this electric wok is the perfect alternative for your electric frying pan, boiler, and steamer in one.
Best Small Electric Wok: Professional Series Chef Electric Wok, 4.5 Quart, Black
Professional Series Chef Electric Wok
A petite electric wok for small groups and limited storage spaces.
Pros: Made of durable materials, good for small volume cooking, saves on space, nonstick coating, steam vented glass lid, low energy use
Cons: Short electric cord, low heating power, shallow walls, the fixed base makes it hard to clean, awkward heat control placement
The Professional Series Chef Electric Wok is the smallest electric wok on our list at only a 4.5-quart capacity, equivalent to 4.25 liters. At this size, it is perfect for small groups of two or maybe three people. And unsurprisingly, the Professional Series electric wok is a space saver in the kitchen cabinet.
Its size isn't representative of its strength, though. The electric wok is as sturdy as the other best electric woks in the market today. In fact, the body is well built with stainless steel, while its inner surface has a nonstick coating layer. Additionally, the bundled lid is tempered glass, with a small hole for steam to escape.
Funny enough, the electric cord comes short, too, very much like a cruel joke. Although you could argue how this isn't much of a problem by using an extension cord.
Some other concerns we had were the low wattage and shallow walls. At 900 watts, it's just lacking in terms of power for those high heat dishes. At least it also consumes less energy. And maybe at its relatively small capacity, you could forgive its shallow walls.
And like the Oster, this wok has a heat control valve awkwardly placed underneath one of the handles.
Still, the Professional Series Chef's electric wok certainly deserves a spot on this list. Despite its imperfections, it's one of those "small but incredible" things in life.
Electric Wok Buying Guide
While you should consider the usual suspects — size, material, handle, budget — when buying an electric wok, there are electric wok-specific attributes you will want to take note of. These include the wok's wall concavity, temperature control settings, and whether or not the base is detachable. Let's take a look at these factors one by one.
Size
Different brands offer electric woks in varying sizes. The size determines the cooking capacity of your wok. When selecting an electric wok, try to assess your volume requirements based on the intended use. Six quarts will likely be sufficient for four to six people.
Material
In contrast to traditional woks (i.e., carbon steel or cast iron), stainless steel and aluminum are the most commonly used metals for electric woks. Specific materials will have their strengths and weaknesses: thermal conductivity power, weight, heat retention ability, compression strength, and density.
Although both stainless steel and aluminum are dishwasher safe, these metals offer different cooking and maintenance experiences. For example, even though aluminum will weigh lighter, stainless steel is going to be stronger. Different materials will have compromises in strength, weight, and price.
Depth and Concavity of Its Walls and Bottom
Aside from flat bottomed and round bottomed woks, its walls' concavity also matters. The walls are engineered to varying depths and degrees of concavity. The resulting structure will dictate the optimal cooking method for that specific wok.
Consequently, woks with high or deep walls are best for deep frying or steaming, as they can house metal racks. On the contrary, woks with shallow walls are good for searing or browning. Consider your preferred cooking styles and intended use when choosing an electric wok to buy.
Handle
Electric woks usually have two short handles on both sides for carrying around the kitchen. They are either wrapped in silicone or just bare metal. Although bare metal seems unsafe, manufacturers now use slow heat-conducting materials. That means the handles remain cool even when you're cooking with the electric wok.
However, the effectiveness of its grip should likewise be a consideration when buying an electric wok. Since the walls get intensely hot, having a good grip is a safety feature, at the very least, when working with a wok.
And of course, also consider the handle's size. If it's too wide, narrow, big, or small, an otherwise good grip will amount to nothing if it doesn't feel right in your hands.
Accessories
Many manufacturers bundle their electric woks with useful accessories. These can be a set of chopsticks, a steaming rack, a drying rack, or a lid. Needless to say, the accessories' appeal will depend on your needs, so they may or may not be a big deal.
We think the lid pulls the greatest weight of the usual accessories that come with an electric wok. They come in many variants, too — relatively flat versus dome lids or with versus without a steam vent. Another handy add-in is the tempura rack. Well, okay, maybe we're a little biased.
Temperature Control Settings
Getting the precise temperature is essential for wok cooking, and we like having precise control on our electric woks. That said, many otherwise wonderful options stick to vague heat controls like low, medium, or high instead of a specific Fahrenheit. Nevertheless, you'll probably get used to the controls over time anyway, so it isn't as big of a deal, all things considered.
Also, some electric woks have a wide range of heat options, while others have their limits to three to four heat levels. Having more options also means precision. But of course, more options also mean more costs to manufacturers, who in turn pass it to us.
So yes, it's going to cost you. The highly adjustable electric woks will be more expensive than those with limited heat options. Whether that's a tradeoff you'd like to take is up to you.
Base
The base, or the lower portion of an electric wok, holds its electronic components. You either get a detachable or fixed base, where fixed bases mean the electronic components are permanently attached to the wok.
Fixed bases can be a problem for people who love their dishwashers. These types of electric woks are not submersible, so clean with caution.
Like your temperature control settings, there will be a compromise between cost and convenience. Particularly, electric woks with detachable bases will likely be more expensive.
Budget
In the end, it all ties to your budget. Electric woks sell at a wide range of prices, with some sold at twice the price of others. That's a vast range of prices to choose from.
Although these electric woks work as intended, going for the cheaper ones will likely mean accepting compromises. There's a balance between cost and functionality, and that is something you will have to figure out.
FAQ
Are electric woks any good?
An electric wok does almost everything a traditional stovetop wok — carbon steel wok, cast iron wok, stainless steel wok, or aluminum wok — can. But while electric woks are generally good alternatives to a traditional wok, wok hei can be difficult to achieve.

That said, electric woks work as intended with other cooking styles anyway. So while there are limits to its uses, an electric wok is still a worthwhile investment for anyone against cooking with gas.
Should I choose an electric wok over a standard wok?
An electric wok and a standard wok function similarly. But users who don't like faffing around maintenance work should get an electric wok. This is because a standard wok is usually carbon steel or cast iron, and these metals demand proper conditioning.

In contrast, an electric wok is typically aluminum or stainless steel, layered with a non-scratch coat. And while we do recommend conditioning your electric woks anyway, the effects aren't as adverse as with a carbon steel wok or a cast iron wok.
What can I cook in my electric wok?
If you can cook it with a traditional wok, you can probably cook it with an electric wok. Makers offer electric woks in different designs and sizes. This means electric woks cater to all cooking styles, too — stir frying, deep frying, steaming, boiling, and searing.
Does my electric wok get hot enough? Can you boil water in an electric wok?
Electric woks are capable of generating heat enough to boil water. As a matter of fact, the available electric woks in the market today can heat up with 1500 watts at 790 degrees Fahrenheit.
Can you deep fry with an electric wok?
Like a traditional wok, you can convert an electric wok to a deep fryer. Keep in mind the walls of your wok, as they should allow you to hold large amounts of oil. Consequently, opt for an electric wok with high and deep walls, just to be sure.
Can you stir fry with an electric wok?
Stir frying, which requires high heat and constant stirring, is possible with an electric wok. However, most techniques also require tossing ingredients, which isn't possible with an electric wok. Accordingly, stir frying with an electric wok will involve adding your ingredients while continuously stirring on high heat.
How do you clean an electric wok?
Most electric woks are dishwasher safe. The exception is when the base is permanently attached to the wok since the base will likely contain its electronic components. Wiping with a lightly moistened sponge or smooth cloth for electric woks with fixed bases is your best cleaning option.