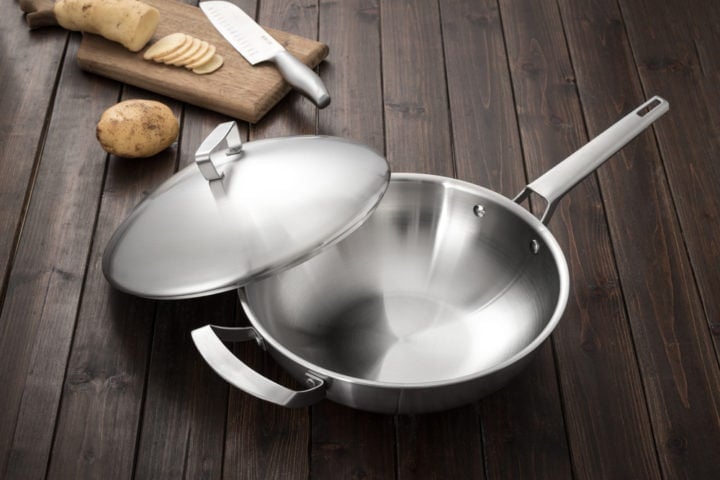 Anyone who's dabbled in Chinese cooking will be familiar with the plethora of wok choices. From the distinct variations in shapes of flat bottomed woks and round bottomed woks to the differences in wielded alloys, there is no shortage of options — cast iron wok, carbon steel wok, aluminum wok, stainless steel wok. And although a stainless steel wok is the least common of these choices, there are compelling reasons to get one.
Using stainless steel woks is a practical choice for many people. It weighs lighter than comparable woks and, owing to the alloy's inherent properties, maintenance isn't as demanding as the alternatives. Seasoning stainless steel cookware is suggested but not required. And that means more time cooking than cleaning.
And while stainless steel may not be ideal for specific cooking techniques such as stir frying, it more than does the job for steaming, stewing, and braising. At the very least, it's definitely the choice for cooking acidic foods.
But you probably already know this! After all, you're here to look at our choices for the best stainless steel woks available in the market. Let's go through the list without further ado.
Table of Contents
Best Overall Stainless Steel Wok: Cooks Standard Stainless Steel Multi-Ply Clad Wok
SAVE 7%
Cooks Standard Stainless Steel Multi-Ply Clad Wok
This premium stainless steel wok goes well with both a high dome lid and a glass lid.
Pros: High-grade quality materials, options for two sizes and lid types, stovetop compatible
Cons: Heavy wok and lid, wok lid handle can get hot
Cooks Standard Stainless Steel Multi-Ply Clad Wok is our choice as the best stainless steel wok in the market today. It is a flat bottomed wok made of high-quality materials, with three layers of metal and a lustrous look.
The multi-ply clad label comes from its three layers of metal. Specifically, it has an aluminum core between two layers of 304 stainless steel at 18/10. In this context, 18/10 represents stainless steel's chromium and nickel content mix. The nickel alloy adds luster to the metal while enhancing its corrosion resistance. That is precisely why this stainless steel wok looks fabulously glassy. The screwed-in handles on both sides of the wok are also stainless steel and do not get hot quickly.
As part of the Cooks Standard brand, you're assured of its quality. The fact that we have options for size and lid types is a welcomed addition, too. But to be clear, you can't permutate since the 12-inch stainless steel wok will pair with a flat, steam-vented glass lid, while the 13-inch comes with a stainless steel domed lid.
Even so, the tempered glass lid looks as sturdy as the stainless steel domed lid. Although both lids are oven-safe, you have to mind the maximum tolerable temperature of the glass lid, which is only 350 degrees Fahrenheit. In contrast, the stainless steel domed lid can tolerate temperatures up to 500 degrees Fahrenheit.
The handles for both lids, though, could use some improvements as they are a bit short. Just watch out for hot surfaces, and you're good.
Overall, we really like the Cooks Standard wok. Despite its weight, the durability and assurance of a renowned brand more than make for it. Go for this wok if you want the best!
Best Value Stainless Steel Wok: Cuisinart 726-38H Chef's Classic Stainless 14-Inch Stir-Fry Pan with Helper Handle and Glass Cover
SAVE 13%
Cuisinart 726-38H Chef's Classic
An affordable stainless steel wok that looks good, too.
Pros: Stovetop compatible except induction, dishwasher safe, oven safe, heat resistant riveted long handle, aluminum base absorbs heat very quickly, glass lid, the large cooking surface
Cons: Uses a different material for the small handle, heavy lid, takes up a large space
Budget options don't have to look cheap, and the Cuisinart 726-38H Chef's Classic is a chic and shiny flat bottomed stainless steel wok. With a diameter of 14 inches, the wok is pretty large and good for deep frying. But you do need to have some kitchen space to store it.
Cuisinart's stainless steel wok comes with a tempered glass lid. But the lid does not have a steam vent and, amazingly, is heavier than the wok. Nevertheless, we like that it's made of glass so you can check your dishes without lifting the lid. Cuisinart also markets this as a no-drip lid, which we found to be quite accurate.
Unfortunately, like Willow & Everett's stainless steel wok, Cuisinart doesn't disclose the wok's material grade. But you can be sure that the base layer is aluminum, making the 726-38H not compatible with an induction coil. Aluminum is a good heat conductor though, which is a desirable trait as it can absorb heat very quickly.
Another feature we found useful is the long, heat-resistant handle. Well, at least we found it is more heat-resistant than the opposite supporting small handle. As always, we recommend wearing protective gear anyway.
And finally, the entire wok set is dishwasher safe and oven safe. Not surprising for a stainless steel wok. But one thing to keep in mind is the discrepancies in maximum tolerable temperatures between the wok and its lid. The wok can withstand 550 degrees Fahrenheit, while the wok lid can take a maximum temperature of just 350 degrees Fahrenheit.
All in all, this is the budget stainless steel wok we recommend to our readers. And did we mention its mirror finish looks nice?
Best High-Walled Stainless Steel Wok: Willow & Everett Wok Pan | Non-Stick Stainless Steel Stir Fry Pans With Domed Lid & Bamboo Spatula
Willow & Everett Wok Pan
Its high walls and domed lid combine to house steaming racks easily.
Pros: Stovetop compatible, comes with useful accessories, deep walls for deep frying, dishwasher safe, oven safe, heat-resistant long handle
Cons: Uses a different material for the small handle
The Willow & Everett Wok Pan is a three-ply stainless steel wok that is 1.5 millimeters thick, with a diameter of 13 inches. It comes with two useful accessories — a domed lid and a spatula. Both add-ons are also made of stainless steel.
The set's dome lid, creating lots of room and perfectly complements the Willow & Everett wok's high walls. You could easily house a steaming rack inside, that's for sure. Not to mention the lid's density, which efficiently locks up the steam inside. Likewise, the spatula is also stainless steel and comes with a bamboo handle. But while the wok spatula does the job, and we like having a bamboo handle, keep in mind that it may leave scratches on your stainless steel wok.
Speaking of the wok, it has two stainless steel films and an aluminum core, adding up to three layers. Unfortunately, neither Willow & Everett's website nor the wok's packing mentions the quality, or grade, of its stainless steel and aluminum components.
Nevertheless, the wok heats up sufficiently fast. And with the wok's compatibility with all types of cooktops, including an induction hob, it is likely made of magnetic-grade stainless steel. The bottom of the wok is mostly flat, too. Or at least adequately balanced to sit nicely on top of an induction hob.
Because the lid and long handle are also stainless steel, the entire set is oven safe up to 500 degrees Fahrenheit. But be mindful of the small supporting handle as it heats quicker than the long handle. It is likely made of a different material, as we found it to heat disproportionately faster. As we always preach, use protective gear anyway.
The wok is also dishwasher safe and is easy to clean. Overall, the Willow & Everett wok pan is a specialized set that deep fry aficionados will love.
Best Small Stainless Steel Wok: Anolon Triply Clad Stainless Steel Stir Fry Wok Pan, 10.75 Inch, Silver
Anolon Triply Clad Stainless Steel Stir Fry Wok
Clad in three layers of sturdy materials, this small wok distributes heat evenly and is dishwasher-safe and oven-safe.
Pros: Sturdy handle, dishwasher-safe, oven-safe, stovetop compatible, optimal size fit for small-volume cooking
Cons: Relatively heavy, no handy helper
The Anolon Triply Clad Stainless Steel Stir Fry Wok is a tri-clad stainless steel wok that also made our list of the best small woks. We'd be remiss not to include it in a list of the best stainless steel woks.
The tri-clad combines two layers of stainless steel with one aluminum core. At its size, the Anolon is perfect for small groups like a family. It is also dishwasher-safe and oven-safe up to 500 degrees Fahrenheit.
For a full review of the Anolon Triply Clad, check out our list of the Best Small Woks.
Most Innovative Stainless Steel Wok: HexClad Hybrid Stainless Steel Wok Pan with Stay-Cool Handle
SAVE 19%
HexClad Hybrid Stainless Steel Wok Pan with Stay-Cool Handle
An exceptionally modern wok boasting a patented design surface that is scratch-resistant.
Pros: Special nonstick coating, metal utensil-safe, comes with a pouch, available in two sizes, dishwasher safe, stovetop compatible
Cons: Extremely expensive, heavy
The HexClad Hybrid Stainless Steel Wok Pan with Stay-Cool Handle is a contemporary stainless steel wok sold in two sizes: a 12-inch wok and a 14-inch wok. The 12-inch wok pan sells as a standalone product and has one short handle and a long handle on the other side. In contrast, the 14-inch wok comes with a domed lid with two short handles on both sides.
HexClad packages these woks in a nice pouch, so it's a perfect luxury gift. And that'd better be an incredibly special person because this wok doesn't come cheap. It's two to three times more expensive than the other "best stainless steel woks."
What makes the tri-clad cookware stand out is the eccentric design of its surface. The specially engineered ceramic nonstick coating, ingrained with diamond particles, creates a metal utensil-safe surface. By that, we mean it is scratch-resistant, and you can wash it with rough cleaning materials like a steel wool pad. That said, stainless steel is dishwasher safe, so why bother.
HexClad advertises the hybrid wok as a high-grade stainless steel wok with a high-grade aluminum core. Unfortunately, there is no mention of the wok's metal grade — see our buying guide below — on the manufacturer's website or the original box, so we don't know for sure. But basing our assumptions on relative weight and sturdiness, it most likely is of high-grade quality.
Besides the scratch-resistant surface of the HexClad Hybrid wok, the hybrid domed lid shows us HexClad's attention to detail. Specifically, the dome is primarily stainless steel, but the top portion is glass.
The wok is also oven-safe up to 500 degrees Fahrenheit, and the stainless steel handles do not get hot quickly.
Ultimately, there are strong arguments to the HexClad Hybrid wok's claim as the best overall stainless steel wok in the market. So why don't we? Well, its price is a huge turnoff. At twice the cost of a Cooks Standard stainless steel wok and around three times the price of other high-caliber woks, we just can't call it the best choice. But if you're after true innovation and don't mind the price, then, by all means, get this!
Best Value Non Stick Wok: MICHELANGELO Wok Pan with Lid Set 4-Piece, Stainless Steel Wok with Lid
SAVE 5%
MICHELANGELO Wok Pan with Lid Set
A reasonably priced non stick wok alternative to the HexClad Hybrid Stainless Steel Wok Pan with a handy trick.
Pros: Stovetop compatible, option to buy in a set or as a standalone, made of durable materials, special nonstick coating, dishwasher safe, oven-safe wok pan
Cons: Lid handle needs assembling
The MICHELANGELO Wok Pan with Lid Set is a low-walled, tri-clad stainless steel wok with a nonstick honeycomb interior. There are several layers underneath the unique pattern, including a layer of food-grade nonstick coating, a stainless steel layer, an aluminum film, and finally, another layer of stainless steel. And unlike most alternatives on this list, the metal grade is apparent — the base of the pan has the SUS 304 engraving.
SUS 304 is the Japanese equivalent name for stainless steel 304 or SS304. There are contentions on whether or not they're the same. But really, if they're not exactly the same, the differences are irrelevant. SUS 304 and SS304 have similar chemical properties, with 18% chromium and 8% nickel content. They are both commercial-grade metals that are resistant to temperature swings, corrosion build-up, and oxidation spreads.
Other than steel grade, the other engravings on the bottom of the wok show a list of its stovetop compatibilities. These include ceramic, gas, electric stove, induction hob, and oven. The wok is also oven safe up to 500 degrees Fahrenheit.
MICHELANGELO also offers its stainless steel wok in two sizes and types: a 12-inch one-sided handle wok and a 12.5-inch double-sided wok. The 12-inch wok bundle comes with a strainer, steaming rack, and a glass lid, while the 12.5-inch wok sells individually.
What makes the glass lid unique is its handle. Its eccentric design allows the lid to stand upright. Not only does this save you on storage space, but it also means you avoid touching the kitchen top with the lid's rims. Those are pretty handy tricks that nullify the hassles of having to assemble the lid. Still, couldn't they just connect the handle to the lid right out of the box?
Despite this minor drawback, the MICHELANGELO stainless steel wok is a fantastic value alternative to the HexClad's nonstick wok pan.
Stainless Steel Wok Buying Guide
The battle isn't over after you decide to buy a stainless steel wok versus the alternatives carbon steel or cast iron. Following your decision to purchase stainless steel, the next points to consider are its size, metallic grade or properties, shape, handle, whether it's preseasoned or not, accessories, and budget. Let's talk about all of these factors one by one.
Size
Stainless steel woks come in different sizes, ranging from 10 inches to 20 inches in diameter. Smaller woks, of course, have a smaller cooking surface and are relatively lighter. At least assuming the differences in thickness and stainless steel grade are negligible. For the wok cooking style, being lightweight has benefits. But remember to balance the weight advantage with the smaller serving sizes possible.
Your specific uses will determine the ideal size. For example, a small-sized 12-inch wok should be sufficient for the average family. While the larger 14-inch or 20-inch woks might be better for commercial use.
On the contrary, erring on the side of larger woks has advantages. Smaller portions fit larger woks, but not the other way around. Larger woks, therefore, give you versatility. But again, you certainly have to balance the added usefulness with the add-on weight.
Moreover, consider the size of your wok burner and the challenges of cleaning and maintaining a larger wok. These, too, affect your overall experience.
Metallic Properties
We will refer to metallic properties as your stainless steel's mechanical properties, physical properties, and chemical composition. Bear with us. This isn't as hard as you may think.
We convey the mechanical and physical properties of your stainless steel in metal grades. Mechanical properties describe compressive and tensile strength, elongation, and hardness. On the other hand, physical properties relate to density, melting point, electrical resistivity, thermal expansion, and conductivity.
The most common stainless steel grades for cookware are 304 and 316. Other than molybdenum, these two grades share almost the same properties. Unlike 304 stainless steel, 316 stainless steel contains a modest amount of molybdenum. This chemical element intensifies the alloy's innate abilities to resist corrosion. But the added benefit, though, comes at a cost, and the presence of molybdenum makes 316 stainless steel more expensive than an otherwise comparable 304 stainless steel.
On the other hand, we can express the chemical composition of your stainless steel in numbers, where the first and second numbers correspond to the chromium and nickel content, respectively. The lower the nickel composition, the duller and less durable the stainless steel is. Conversely, a higher nickel content means greater luster, more durability, and added costs.
Although you will have to choose between the inherent properties and price, most stainless steels are sufficiently robust and will not break easily. But yes, premium and expensive stainless steel options will likely be more durable.
Shape and Concavity of the Bottom and Wall
The walls of woks are deliberately designed to be high and curved. This structure allows heat to transfer fast, simultaneously supplying it in uniform distribution. Its design helps achieve wok hei, so a traditional wok often comes with a round bottom shape.
On the other hand, the design of a contemporary flat bottomed wok suits stovetops of different forms: electric stove, induction cooktop, and gas stove. But a flat bottomed wok is also less concave than a round bottomed wok. This means there is a concentration of heat at the bottom of a flat bottomed wok.
And while a round bottomed wok doesn't have this problem, it does require a wok ring if you're using it on electric or induction stovetops. Though the additional purchase can be worth it for some.
So under the circumstances, both round bottom and flat bottom woks have their advantages and disadvantages.
Stainless steel woks come in different depths, too. Some are built with high walls while others have shallow walls. The walls determine the wok's cooking style capability. Deep walls are best for deep frying, boiling, and steaming, while low walls are best for browning or searing. Choosing one then ultimately comes down to the buyer's preferences.
Handle
A stainless steel wok usually comes with two handles. But there are variations. Some come with two short handles, while others have one long handle and a handy helper on the opposite side. Some wok handles heat quickly, while others stay cooler longer — this mostly depends on the quality of materials used.
Working one-handed can be challenging for some. If that's you, then a wok with two handles will likely be a better choice. Some handles stay cooler than others, too. These are some of the considerations you will want to remember for the best cooking experience.
Nonstick or Unseasoned
Not all stainless steel woks in the market are unseasoned. Some have a layer of non stick coating. While the nonstick surface is easier to clean, these coatings eventually wear off due to regular use. Furthermore, nonstick wok pans are also more expensive than non-coated ones.
Accessories
Some stainless steel woks sell with useful accessories. These accessories include a steaming rack, a spatula, a strainer, and a wok lid.
Lids also come in different shapes and materials. They can be dome-like or simply flat; stainless steel, glass, or a combination of both.
Budget
For the most part, stainless steel woks are expensive because of their durability and hassle-free maintenance. At least with stainless steel woks, you generally get what you pay for, so we encourage you to spend on what you can comfortably buy.
FAQ
Is stainless steel good for a wok?
While woks are usually built of cast iron or carbon steel, alternatives include stainless steel and aluminum. There are pros and cons to using stainless steel. It conducts heat slowly, but it is also good at distributing heat evenly across the wok pan. This means stainless steel fits some cooking styles and not others. For instance, stir-frying is best done on a wok with higher thermal conductivity. That said, stainless steel woks are easier to maintain, so you spend more time cooking than cleaning.
Is a stainless steel wok better than a cast iron?
In terms of ease of maintenance and tensile strength, stainless steel is better than cast iron.
Are stainless steel woks safe? Is chromium in stainless steel safe?
The minute quantities of chromium and nickel in stainless steel are largely safe. However, it releases low levels when you cook with acidic ingredients. These low levels are not enough to harm most people. They may be an issue for people with allergies, so tread cautiously when preparing meals with acidic ingredients — vinegar, lemon juice, applesauce, or honey.
How can you tell the quality of stainless steel?
The quality of stainless steel is shown as metal grades and the ratio among its metal components. For a more detailed explanation of the quality of stainless steel, you may refer to the Metallic Properties section of our buying guide.
Will a stainless steel wok stick?
Preheating and applying a thin layer of oil before cooking is necessary for stainless steel woks to avoid sticking.
Is a stainless steel wok better than a nonstick?
A stainless steel wok with no seasoning or with nonstick coating appeals to different markets. Bare stainless steel is for budget-conscious cooks who don't mind the cleaning work. On the other hand, nonstick stainless steel attracts those willing to shell out more for ease of maintenance.
How do you take good care of a stainless steel wok? Do stainless steel woks need seasoning?
Stainless steel wok maintenance is easier than properly maintaining carbon steel or cast iron. It is dishwasher-safe and it doesn't require seasoning. And although we recommend seasoning your stainless steel woks anyway, the fact that it is voluntary is reassuring for most.