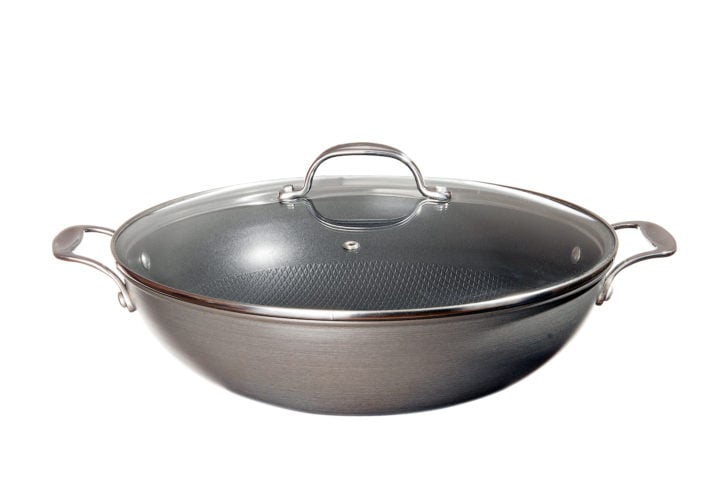 Woks are perhaps most well known for stir fry, but in reality, they can do so much more. Whether you want to steam, broil, bake, braise, deep fry, or even smoke, they can do it all. When it comes to a particular wok's versatility, one of the most important factors is the lid.
But how can you tell what size and shape wok lid you need? There are hundreds of different models available, each with its own pros and cons.
To help simplify your search, we've put together this list of the three best woks with lids available today. Starting with a long list of possible options, we narrowed them down using a comprehensive list of criteria. Shape, cooking surface, lid material, handle type, and style were all considered.
If you're still scratching your head over the perfect wok for your kitchen, take a look at the options below. There are sizes, shapes, and styles for all tastes and needs.
Table of Contents
Best Overall: HexClad 14 Inch Hybrid Stainless Steel Wok Pan
SAVE 21%
HexClad 14-Inch Hybrid Stainless Steel Wok Pan with Stay-Cool Handle
It's the durable stainless steel lid that makes this wok stand out, with its well-proportioned shape that's not too tall or too flat.
Pros: Patented hex design cooking surface, durable stainless steel lid, double handle design
Cons: Lid handle will get hot, on the expensive side
Adding a lid to a wok turns an already-versatile cooking tool into the ideal kitchen multitasker. However, the exact size and shape of the lid play a huge role in overall functionality.
The HexClad 14 inch Hybrid stainless steel wok pan offers a well-shaped pan that's ideal for a range of different cooking techniques.
Both the inner and outer cooking surface is lined with a patented laser-etched hex surface. This next-gen cooking surface looks great and also lends a high degree of durability. The black portions are nonstick too, which means it has all the benefits of stainless steel and nonstick pans.
This pairs perfectly with the domed lid, which lets you use the pan for any cooking application you can think of. Since the lid and two handles are made of stainless steel, the entire wok can go in the oven without issue.
Give this wok a try if you want to maximize the versatility of your cookware. It's deep enough to steam, yet lightweight enough to whip up some stirfry, and can even go in the oven. As long as you're able to make the extra investment, it will serve you well no matter what you're cooking.
Best Flat-Bottom Wok: Helen's Asian Kitchen Flat Bottom Wok
Flat-bottomed wok pans have the extra advantage of being compatible with both gas and electric stovetops. When you add in a domed lid, you can cook anything you like, wherever you need. The Helen's Asian Kitchen flat bottomed wok maximizes versatility by incorporating both into its design.
The lid has a high dome shape, which lets you easily fit a tall steamer inside. On the top is a wooden knob allowing you to remove it without the need for oven mitts. Of course, don't forget that this also means it can't be put in the oven.
Even without going in the oven, it's still highly versatile with plenty of cooking applications. Its carbon steel surface is the same material that the pros use, which is both lightweight and durable. As long as you keep it seasoned, it will serve you well for years to come.
This carbon steel wok is a great choice for anyone working on an electric stove, and it's also perfectly suitable for gas stoves as well. However, remember that flat-bottom woks feel a little different than round-bottom wok pans when stirfrying. If you want the classic experience, try a round-bottom option instead.
Best Nonstick: Michelangelo 5 Quart Nonstick Wok
What you may not know if you're new to wok cooking is that a nonstick surface is essential to the process. Not only does it allow your stirfry to glide effortlessly over the cooking surface, but it also makes it easier to clean. This Michelangelo 5 quart nonstick wok has a ceramic coating that's both durable and perfectly nonstick.
The glass lid is a little flatter than others, which decreases the amount of space in the wok. This may make it harder to fit large steamers, though it will speed cooking times. The surface of the lid is made of glass, letting you monitor food while it cooks.
The elongated handle is part of the pow wok design, which is ideal for stir fry. Though no matter what kind of cooking you're doing, it's easy to handle with the ergonomic grip.
The wok also comes with a fry basket and steaming tray for added versatility. Together, they let you cook a wide range of different foods.
This is a great wok for anyone who is looking to cut down on hassle in the kitchen, as it's dishwasher safe. However, keep in mind that this pan's ceramic coating means it can't be heated above 400 degrees Fahrenheit. If you're looking for an option that can go in the oven, stick with carbon steel or stainless steel.
Woks with Lids Buying Guide
Make sure to take all of these criteria into consideration when choosing your wok.
Cooking Surface
The most common materials used in woks are stainless steel, carbon steel, cast iron, and aluminum. In addition to these, there are also nonstick surfaces like ceramic or Teflon, which can make the pan slicker.
Carbon steel and cast iron wok pans are the most common materials in commercial kitchens, as they are durable and naturally nonstick. However, stainless steel is much easier to care for and is often a good choice for home kitchens.
Lid Material
You will commonly find lids in stainless steel, glass, and wood varieties, each offering its own advantages. Stainless steel and wood are the most durable. Though, of course, wood can't go in the oven. Glass lids let you easily monitor your food and may or may not be oven safe depending on the manufacturer.
Handle Type
Two-handle woks are called Cantonese woks, and they're specially designed to give you a bit of extra grip for heavy loads. Pow woks are the other main variety, with a single elongated handle that's great for stirfry. Consider what type of cooking you'll be doing most when making your choice.
FAQs
There's still plenty more to learn about woks and wok lids. See what other home cooks are asking.
How do I steam in a wok?
Steaming in a wok is a simple, healthy way to cook. Follow these steps to do it yourself:

First, start by putting a small amount of water in the bottom of your wok. This should be at least a few inches but should not touch the food sitting in the bottom of your steamer. Turn up the heat to medium-high.

Next, place the steamer loaded with food over the water. The water should not directly touch the surface the food is sitting on. When the water starts to boil, turn the heat down to a simmer.

Then, close the lid of your wok and steam. Cook time will vary depending on the size of your food, between 5 and 15 minutes.
Which lid material is best for a wok?
The best material for a wok lid depends on what kind of cooking you're planning to do.

Glass lids are great for steaming, as they let you monitor your food as it cooks. Stainless steel wok lids are the only ones that are oven-safe, making them great for braising. Wood wok lids have a traditional look and protect your hands without the need for oven mitts.
Can my wok lid go in the oven?
Whether or not your wok lid can go in the oven depends on its material. Only all-metal lids are oven-safe, as well as some glass lids. Ones that are made of wood or that have wood components are not safe for oven use.