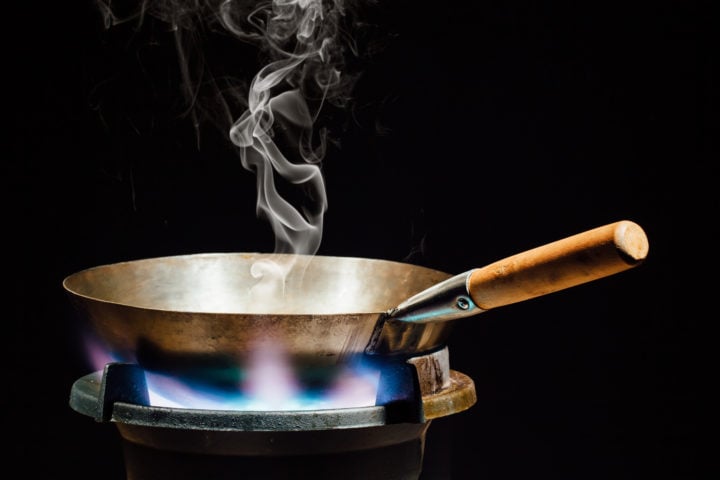 Loving the great outdoors and wonderful wok cooking can mix. These two don't have to be incompatible recreational activities. So for self-proclaimed dedicated cooks like ourselves, portable wok burners are indeed encouraging. After all, great meals go well with nature.
But how do you select the best portable wok burner? Is it the wok burner that is capable of producing maximal BTUs? Or is portability more important than capacity? Is every burner even compatible with your wok? What accessories will you need to bring outdoors?
We cover all these and more! Yes, the best option depends on your needs. Our buying guide should help, since choosing the right one also gets easier when you know what to look for. For this post, we picked what we consider to be the best portable wok burners you can buy in the market in 2022.
Table of Contents
Best Overall Portable Wok Burner: Concord Banjo 16-Inch Single Propane Burner; 200,000 BTU One Burner Portable Gas Stove
SAVE 6%
Concord Banjo 16-Inch Single Propane Burner
It's a small but incredible wok burner with enough capacity to boil a gallon of water in five minutes.
Pros: High-heat output burner made of durable materials; detachable legs can support up to 400 pounds; efficient burner design that wastes minimal gas
Cons: Heavy portable burner weighing 20 pounds; requires assembly and a wok ring
Small packages usually come at the expense of power and capacity. But the Concord Banjo 16-Inch Single Propane Burner is an efficient burner with a capacity of 200,000 BTU.
For proper support, Concord uses cast iron, a durable material able to withstand the high-heat output. Cast iron is also cheap, another plus for the Banjo 16-inch burner.
Its portability, though, relates to its size rather than weight. At 20 pounds, it is certainly not light. But the heavy mass is to be expected with a cast iron burner. Fortunately, its three detachable legs support the body just fine — an important detail considering cast iron has poor impact resistance.
If you do choose to buy this one burner, also consider that it requires assembly before use. While the inconvenience can be troubling for some, it also means greater portability. Also, a wok ring is necessary for round-bottomed woks, so that is another inconvenience to think about.
Nevertheless, your efforts will be worth it. Its blue flames signify burner efficiency, and we think this is the best portable wok burner you can buy now.
Best Value Set: King Kooker Portable Propane Outdoor Cooker with Wok
SAVE 30%
King Kooker 24WC 12-Inch Portable Propane Outdoor Cooker with Wok
Includes everything you will ever need for wok cooking outdoors.
Pros: Comes bundled with useful accessories and a built-in wok ring; flame protective wind guard; affordable set
Cons: Frail structure that needs reinforcements against strong winds; relatively low power may bother you
The King Kooker Portable Propane Outdoor Cooker does away with the hassles of needing to match your wok and burner or wasting time looking for a compatible wok ring, as it packages everything you'll need in a set:
An 18-inch steel wok.
A three-legged burner.
A wooden spatula.
A deep-free thermometer to boot.
All that at a fair price, too.
Woks with 18-inch diameters will also work with the set. Like the Concord's burner, its windshields also help keep its flames going.
At 15.97 pounds, this burner set weighs less than the Concord Banjo's single burner. Unfortunately, its frail, 8-inch high structure may be inadequate against strong winds and harsh weather conditions. You will need leg reinforcements to ensure it doesn't topple over.
Of course, the steel wok that comes bundled with the set is incredibly convenient — all of the set's inclusions come in handy. But like traditional woks, King Kooker's bundled steel wok requires regular seasoning to last.
This set's cast iron burner can "only" produce 54,000 BTU compared to the Concord Banjo. Nevertheless, that is enough to achieve wok hei or that distinct taste from specialized wok cooking.
With all its inclusions, sold at an affordable price, King Kooker's outdoor cooker is an easy choice for the best value portable wok burner.
Best Portable Wok Burner for Beginners: GasOne Camp Stove — GS-800P Mini Dual Fuel Stainless Portable Propane & Butane Camping Stove Burner
GasOne Portable Propane & Butane Camping Stove Burner with Piezo Ignition
This is an immensely portable burner that is super easy to use.
Pros: Compatible with propane fuel and butane; uses a matchless ignition system; safety features fit beginners; built-in windshield; comes with a case and a propane adapter hose; incredibly lightweight
Cons: Unmarked heat settings forces you to guess; needs a wok ring for round-bottomed woks; not advisable for large woks
High output capacities of burners and the need to assemble them can be too much for beginners. So plug-and-play burners, such as the GasOne Camp Stove GS-800P Mini Dual Fuel Stainless Portable Propane & Butane Camping Stove Burner, are perfect for beginners and novices who prefer easy to use kitchenware.
Its ease of use comes with a tradeoff, of course, as GasOne's burner has a heat capacity of merely 7,172 BTU. That is significantly less power compared to our first two choices. It isn't even 10% of the output capacity of Concord's burner.
Still, this option is pretty solid for travelers, and the output capacity is still a little over the capacities of average household burners. When it comes to portability, this beats our other top burner options at barely over 2 pounds — it is tiny. Plus, we like that there is a built-in wind guard around the burner. It certainly makes cooking outdoors easier.
Naturally, its small size makes using large woks unsafe. Aside from the need for a wok ring for round-bottomed woks, large woks might also touch and transfer heat to the cartridge cover. Not to mention the higher chance of toppling over.
The wok burner is housed in a polished stainless steel case and looks delightful. Aside from being compact, it also allows you to use either an 8-ounce butane cartridge or a 16.4-ounce propane cylinder. The burner owes this flexibility to the adapter hose for propane fuel included in the set.
Furthermore, the GasOne brand takes user safety seriously. It demonstrates this by incorporating safety features in its burners, including GS-800P. Specifically, this portable burner has an automatic gas shut-off system and a cartridge ejection system. This means that the gas flow automatically stops, and the gas cartridge is ejected when the burner detects irregular gas flows or pressures.
Sadly, there are no markings for its heat control gauge. You will have to rely on continued use to get a feel for which settings work best. However, despite its setbacks, we highly recommend the GasOne GS-800P for its portability and user-friendly qualities.
Portable Wok Burner Buying Guide
Hunting for the best portable wok burner becomes easier when you know what to look for. For wok burners, burner capacity and efficiency are typically the first elements buyers consider.
On the other hand, the wok's compatibility with the burner tends to be overlooked. That is, the existing wok should fit the burner you intend to buy — or at least have a wok ring that makes round-bottomed woks compatible.
And finally, the burner's form factor is an important consideration, especially in a list of the best portable wok burners. Let's go through these considerations one by one.
Burner Capacity and Efficiency
Burner capacity, also known as burner rating, is the highest BTU a burner can produce under ideal conditions. BTU, which stands for "British Thermal Unit," is a standardized way to measure energy output. Simply put, it is the amount of energy necessary to raise the temperature of a pound of water by one degree Fahrenheit. It follows, then, that a higher BTU means more power.
But higher BTU does not necessarily make for a better burner as there are other considerations to evaluate. For one, burner efficiency matters.
Assuming two burners produce the same output, the inefficient burner will utilize more gas. In turn, manufacturers implement different techniques to improve burner efficiencies. Some of these methods include electric ignition and air or gas flow controllers.
Ultimately, the choice of burner boils down to your requirements since compromises are expected. More BTU may mean heavier and less portable burners — portability is discussed later. Your needs also depend on your cooking styles, the volume you wish to cook, and even the weather conditions you see yourself using the burners.
Wok Compatibility
Most outdoor burners won't work with traditional woks — the King Kooker burner is an exception. You will probably need a wok ring for round-bottomed woks. Indeed, this consideration is simple but easy to miss.
Form Factor and Portability
Portable wok burners come in different designs, from tabletop burners to larger burners supported by sturdy legs. These legs may also be fixed to the burner's body or detachable for added height.
One advantage of tabletop burners is that you can place them on sufficiently tall tables. In contrast, a burner with removable legs might afford you greater versatility — it can be used with or without tables.
Accessories and Components
Wok burners may sell as standalone units, or manufacturers may bundle them with valuable accessories. For instance, King Kooker offers its burner as a set, which means not having to worry about compatibility issues. Of course, whether this brings value to you depends on what you already have in the kitchen.
FAQs
How powerful should the wok burner be?
The ideal capacity of your wok burner depends on your intended use. An average household burner ranges from 3,000 to 12,000 BTU for your reference. Conversely, industrial kitchen burners can go as over 20,000 BTU.

Do you intend to cook for a crowd? Or is this for a small group of 3 to 5 people? 7,000 BTU is limited but still sufficient for most uses for portable wok burners.
How many BTU do you need for wok cooking?
The idea of wok cooking is to stir fry ingredients at extremely high temperatures in a short amount of time. Many say 100,000 to 150,000 BTU is necessary to achieve wok hei. But realistically, technique matters much more, and wok hei is possible with burners at 50,000 BTU capacities.
Can you use a wok burner inside your home?
Yes, you can actually use portable wok burners inside your house. That said, the high heat can be dangerous, so safety precautions must be observed.

If you intend to use portable wok burners inside your home, make sure your house is adequately ventilated to avoid carbon monoxide accumulation. Carbon monoxide, when inhaled excessively, can cause difficulty of breathing and loss of consciousness.
What are the benefits of a portable wok burner?
A portable wok burner allows you to replicate wok hei without upgrading the rest of your kitchen. Also, a perfectly seasoned wok can be easier with a powerful outdoor wok burner.